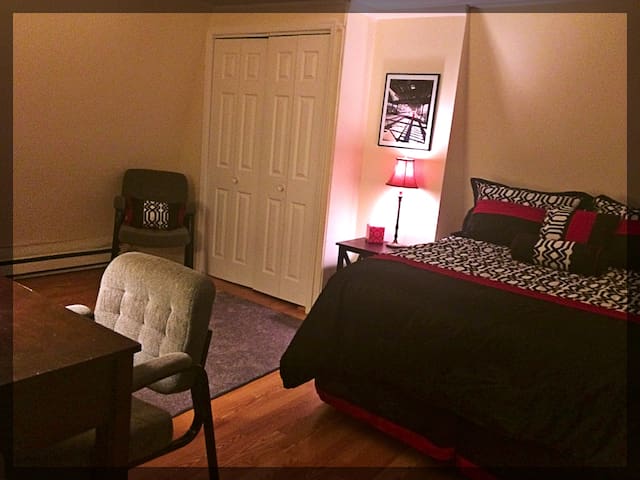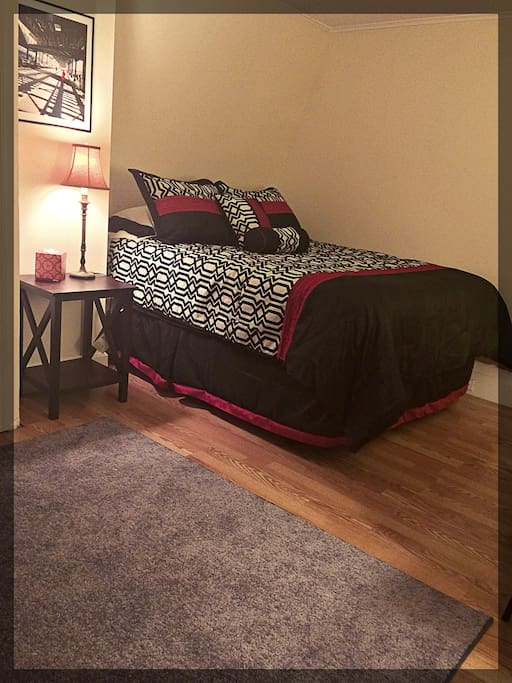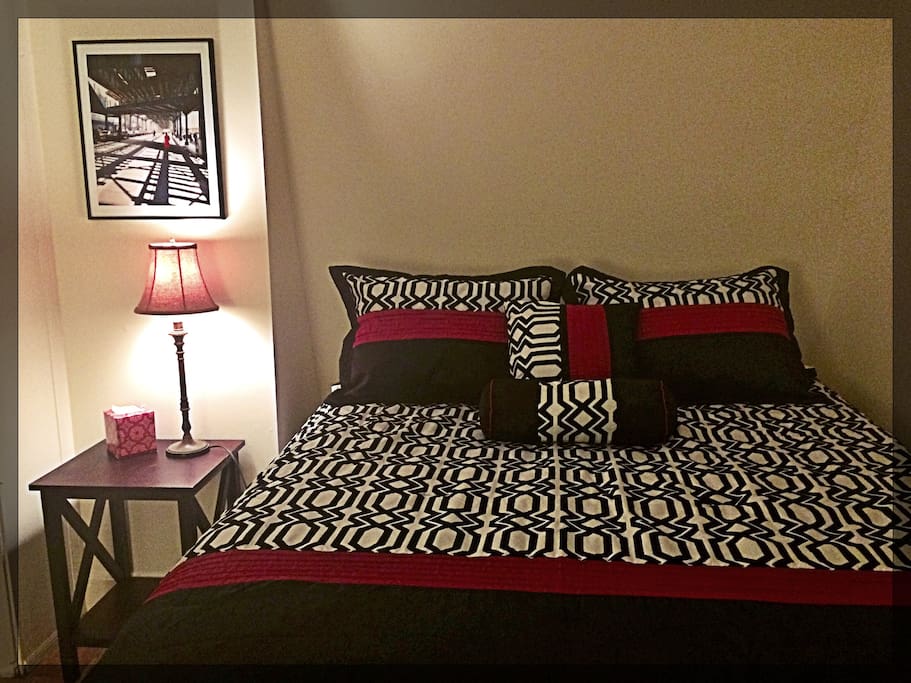 About this listing
Spacious, designer bedroom with good light (desk, bookshelf, full closet, dresser, slipper chair, end table, queen bed) shared bath & kitchen. Walk to NJ/NYC trains & buses. Week & month discounts! (Face photo, profile bio & 4 verifications a must!)
---
Check In:
Anytime after 2PM
---
---
Extra people:
£12 / night after the first guest
---
The space
This crisp, spacious, artistic bedroom comes with a queen-sized bed, end table, lamp, great desk, large dresser, bookshelf, armchair, tall mirror, and double closet! 2 minute walk to bus stop going to and from any where in NJ & NYC . 7 minute walk to NJ/NYC train station.
Quiet family surroundings. Perfect for interns and medical students.
IMPORTANT: All guests must have a profile with photo of themselves, a written description of them that gives me an idea of their character and four verifications! AND, they must read my comprehensive HOUSE RULES below designed to run a smooth home before booking a room with me.
Thank you!
Guest access
KEYS: Each room has its own key (as well as the keys to the front door and apartment) so you can lock your door when you leave.
SHARED SPACES: In addition to your room, you are allowed access to a shared bathroom, kitchen, small sitting area and dining/TV room.
KITCHEN: We all share a full kitchen with fridge, range, microwave, toaster oven, tea kettle and coffee maker. If you are staying longer than three days, I can give you a designated area in the fridge and pantry to store your own groceries.
BATHROOM: We also have a full bath & shower where guests share a large built in shelving cabinet to keep personal toiletries.
TOWELS/BEDDING: I provide you with a fresh set of towels and bedding (a few sets of sheets) - during your long-term stay you are responsible for washing your towels and bedding. I do provide a fresh set at the start of each month.
SMOKING: Smoking is banished from the house, but is allowed on sidewalk in front. Please do not leave butts on ground.
LAUNDRY: There is no washer/dryer in the building, but there are many laundromats in the area. For those of you don't have a car, there is one that does your laundry for you within walking distance right in the middle of town. I can provide you with a cart you can put your laundry in to wheel over there.
ALLERGIES: For those who are allergy-prone, please be forewarned - I DO use various nice-smelling scents around the house from time to time.
Interaction with guests
I'm a friendly but very busy host these days. I'm available by text for emergencies and questions and, on my days off, I am happy to chat and offer suggestions about local events and shopping.
The neighbourhood
My home is in a fairly quiet working class, family-oriented neighborhood. I've found it a safe place to live. There is street parking on our block, or, if it's busy, on adjacent blocks. There is ALTERNATE SIDE OF THE STREET parking Mondays and Tuesdays (10am -12pm).
ARTSTOWN: Rahway is a small historic town in the middle of a resurgence - years ago downtown Rahway was known as "the city" to neighboring towns - a bustling place teaming with stores and shops. Then the malls came - and, sadly, the stores left. We limped along for a bit until the arts started to pop up here and there. In the last 10 years, our unassuming, multi-ethnic, working class neighborhood has given way to Rahway's burgeoning Arts District!
It's a 15-20 minute walk from the house to:
THE HAMILTON STAGE
UNION COUNTY PERFORMING ARTS CENTER
THE ARTS GUILD OF NEW JERSEY
LOCAL RESTAURANTS
Of course, I'm partial to "KIM'S IN THE MIX Restaurant and Cafe:
Authentic Southern Cuisine and Exquisite Homemade Desserts" because that's MY place! We're open from 11 am on Thursdays - Sundays when we offer a killer Grandma's Sunday Brunch.
You're welcome to enjoy our great food and homey atmosphere - but, sorry, meals there are not included in your rental!
Rahway also offers:
Patria's Spanish Restaurant/Club
Luciano's Italian Restaurant
Meatballs & Brew
Cubanu Cuban Cuisine & Bar
The Waiting Room Sports Bar
and
Nancy's Townhouse - famous for the thinnest crust pizza ever!
Traveling on St. Georges Avenue in Rahway there's :
Beana's Mexican Restaurant
Just Plain Dave's - great American food
Getting around
We're THE HUB!
Centrally located, RAHWAY is the TRANSPORTATION HUB to EVERYWHERE!
BUS STOP on our block goes back and forth from Elizabeth through Rahway to Woodbridge and Perth Amboy.
To MANHATTAN BY TRAIN: Our state-of-the-art Rahway Train Station offers NJ Transit trains directly into NY Penn Station.
AND it's only a 10-12 minute walk or a 3 minute drive from our house. (There's also a 24-hour taxi company at the station - costs about $5 to go to or from.) Rahway happens to be a hub station so it gets twice the amount of trains running through it to Manhattan every day and does not require a train change like nearby Westfield and Garwood.
There are usually 3 - 4 trains each hour, the last train back is 1:52 am. It usually takes 40 minutes (35 if it's an express). SCROLL DOWN FOR TICKET OPTIONS!
To MANHATTAN BY CAR: You can get on NJ Turnpike North within 15 minutes and take the …
The Holland Tunnel into downtown NYC (Chelsea, Village, Soho, Tribeca, China Town, Little Italy, etc…) in 20 more minutes.
The Lincoln Tunnel into Midtown Manhattan takes another 20 minutes longer - and is perfect for seeing Broadway shows.
(There IS a bus that passes through Rahway and goes into Manhattan as well - but not as often. There is NO WAY to get to Staten Island unless by car.)
TO AIRPORT: We are a mere 15- 20 minutes from Newark Airport via car (NJ Turnpike or Rt 1 &9) or NJ Transit Train.
TO HOSPITAL: We're 5 minutes to Robert Wood Johnson Hospital in Rahway.
TO JERSEY SHORE, ATLANTIC CITY, PHILLY: We're 5 minutes from the Garden State Parkway SOUTH
TO HOBOKEN, JERSEY CITY, NEWARK: We're 5 minutes from the Garden State Parkway NORTH.
NEIGHBORING TOWNS: When you stay in Rahway you are just minutes away from lots of other cool towns.
We are approx. 10 minutes from Westfield, Clark, Scotch Plains, Cranford, Garwood, Linden, Elizabeth, Colonia, Avenel, Carteret, Woodbridge, Metropark and more.
We are approx. 20 minutes from Edison, Menlo Park, New Brunswick, East Brunswick, Millburn, Maplewood, Montclair, Union, Hillside, Springfield, and more.
SHOPPING MALLS: We have plenty of great big-name stores right along Route 1 & 9 and Route 27
5 - 10 minutes away: Home Depot, Target, Marshalls, AC Moore, Staples, Walmart, Dress Barn, Home Goods, Bed, Bath & Beyond, Pier One, Best Buy, PC Richard's, Kmart, Radio Shack, etc …
15 - 20 minutes away: Ikea, Jersey Gardens Mall, Woodbridge Mall, Menlo Park Mall, Short Hills Mall and more.
MOVIE THEATERS: Love movies? So do we!
We love catching flicks at AMC Aviation Plaza 12, AMC Menlo Park Dine In, Cranford Arts Cinema, Westfield's Rialto Theater and the Clairidge Arts Cinema in Montclair.
LIVE MUSIC: Feel like hearing some tunes?
The famous Robin's Nest Jazz & Blues Joint is minutes away in Linden and you can catch our local Rahway rock bands at the RailHouse "Club Car", Cubanu, Flynn's, Patria and more.
RAHWAY to NYC TICKET PRICES
One-Way Tickets
One continuous trip between the stations on the ticket. One-way tickets are valid until used (no expiration) and are non-refundable.
Adult One Way $9.25
Monthly Passes
Unlimited trips between two rail stations during a calendar month (valid until noon of the first business day of the following month). Can be purchased beginning at 5 p.m. on the 19th of the previous month, through the 10th day of the month for which the pass is valid. You can also sign up for QuikTik to receive your monthly pass by mail. Rail monthly passes can also be used on light rail or bus.
Monthly (Calendar Month) $270.00 (cost of 29 1-way trips)
(Regular Prices: $370 for 20 round trip tickets, $573.50 for 30 round trip tickets,)
Weekly Passes
Unlimited trips between two rail stations from 12:01 a.m. Saturday through 6:00 a.m. on the following Saturday. On sale beginning Thursday and continuing through Tuesday. Rail weekly passes can also be used on light rail or bus.
Weekly (Sat - Sat) $82.50 (approx. cost of 9 1-way trips)
(Regular Prices: $129.50 for 7 round trip tickets)

Ten-Trip Tickets
Ten one-way trips that are valid until used.
Ten Trip  $92.50
Children's Fares
Children (ages 5-11) save at least 50 percent at all times. In addition, up to three kids 4 and under can ride free with a passenger paying any valid fare.
Child $4.35
Student Monthly Passes
Students who attend post-secondary schools that participate in our University Partnership Program may purchase monthly student passes online and save 25-percent off regular unlimited monthly pass fares.
Student Monthly $203.00
Reduced Fare Program for Senior Citizens and Customers with Disabilities
Senior Citizens (62 and older) and customers with disabilities can travel on NJ TRANSIT trains, buses, and light rail vehicles at a reduced fare of half the regular one-way fare or less at all times.
Senior/Disabled One Way$4.35 ($4.90 discount)
BusinessPass
Offered through your employer, NJ TRANSIT BusinessPass allows you to save even more on monthly rail, bus, and light rail passes by deducting a portion of the cost from your pre-tax salaries, thus increasing your take-home pay. Your monthly pass is mailed directly to your worksite. Learn more.
Military Personnel and Their Dependents
All military personnel and their dependents will be permitted to purchase transportation at the senior citizen/passenger with disabilities reduced fare rate upon showing their military or military dependent ID card. The following military personnel are entitled to this fare: Active Duty, Reserve, National Guard or Retired members from the Army, Navy, Air Force, Marines or Coast Guard. When purchasing your ticket from a ticket vending machine or through MyTix, select Senior/Disabled to obtain the discounted fare. Tickets also may be purchased at ticket offices at stations. Eligible customers may ride at reduced fare rates on any NJ TRANSIT bus, rail or light rail service at all times, without restriction, upon presentation of authorized identification.
Other things to note
I love my home because it's a quaint older house and has a lot of history and character. It also has the original wood floors and curvy staircase railings - two of them! We are the top two floors of a three-story home so, be aware that there are two flights up to the guest rooms. (The shared bathroom is on the second floor.)
---
May not be safe or suitable for children (0-12 years)
As an Airbnb host, I've opened up my home to friendly people and enjoy getting to know you. I do require politeness and respect for me, my belongings and my other guests.
I strive to provide you with a homey, welcoming, environment for you to relax in during your stay here in Rahway.
Due to NJ hotel laws, I can NOT provide my house-guests with food, cleaning or laundry services. But I'm happy to offer you a cup of tea and share some snacks when you arrive.
The following House Rules clarify how I run my home, they are based on common sense and common courtesy. It's your responsibility to not only read these rules once, but to be aware of and follow all of them throughout your stay here. You'll be provided with a printed version in the House Manual when you settle in.
____
AIRPORT: Newark Airport is only 20 minutes away, while New York airports are over 2 hours away. You can take a NJ Transit train directly to Rahway, cabs, Uber or I may be able to pick you up or drop you off for a small fee. Please make arrangements at least 24 hours in advance.
CHECK-IN: By 1PM. Please advise me of your anticipated time of arrival at least 24 hours in advance and keep me informed if this time changes.
CHECK-OUT: By 11 am. We can arrange for me to get your keys, check your room and collect any fees you may have incurred. (There is a $25 key replacement fee for lost keys and a $25 + postage fee charge to return items left after check out.)
PERSONAL INTERACTION: I enjoy a friendly, harmonious home, so all I require is to be spoken to in a pleasant, respectful manner and to exchange a nice "hello" when we cross paths. Please let me know if you need anything or if you need to ask permission for something before moving forward (texting is fine).
YOUR PRIVATE ROOM: Comes furnished with a bed, bedside table, desk, chair, clothes storage and a hanging closet area. Your door locks with a key, which is included with the 2 apartment keys. I provide you with fresh bedding and towels.
POSSESSIONS: Guests may not bring additional furniture and are limited to 2-3 suitcases. Please leave things as they are in your room: do not remove pictures from walls, don't move furniture around, and do not remove the duvet cover from the comforter.
CLEANLINESS: I don't monitor how neat you keep your private room, everybody is different that way, do NOT take food into the bedrooms. You are provided with a full kitchen and dinning room. Thank you.
WI-FI: There is high speed Xfinity Wi-Fi with a booster available for guests to use. No TV cable.
NO SMOKING: If you must smoke outside, do not litter any butts on the ground.
FRAGRANCES: I DO occasionally use fragrances in my home - sented candles or sprays.
NO PETS: No pets/animals may be brought to my home.
VISITORS: For the security of my guests and residents, only the guests that are included on the booking are allowed onto the property. No visitors are allowed in the day or overnight. Unless authorized by myself. Guest may stay @ $15 per person per night.
INTOXICATION: I don't tolerate a guest in an intoxicated state. If a guest arrives home drunk late at night they will be asked to leave my house and find another place to stay.
NOISE: Please be mindful of others when talking on the phone, listening to music, watching movies or sports. There is an 11 pm to 8 am noise curfew - earphones are a great way to get around that!
MAIL: DO NOT use my address when ordering anything. It may be convenient for you, but it's a lifetime of junk mail for me. There is a UPS store nearby that will receive your packages and mail for a small fee.
KITCHEN PRIVILEGES: When you are done using the kitchen, leave no dishes, food, crumbs nor grease in the sink, on counters, on the stove, or in any common area. Dishes and pots must be THOROUGHLY washed and put to dry immediately after eating. Once dry, whatever you have used must be put back where it belongs. The kitchen should look as though you were never there. NOTE: Failure to follow these rules will result in losing all kitchen privileges during your (website hidden): Anyone cooking on top of the stove must wash all the grease and food bits from stove, counters and tea kettle with soap and water then dry thoroughly after each use.
BBQ: In the summer months, experienced BBQ-ers may use the backyard gas grill if they follow all safety procedures and clean up thoroughly afterward.
EATING: You may eat in the dining areas. NO FOOD should be left on the counter or stove. Any food uneaten should be wrapped and refrigerated or disposed of properly. Keep all areas clean. Thank you.
FIRE: Due to danger of fire, no candles, or open flames may be used in the house'
BACKYARD GATE: Feel free to use the backyard but watch where you step. A small dog shares it with you. Which is why the backyard gate MUST be closed at all times. Her life depends on it.
DAMAGES: Guests agree to pay for damages or loss of any property of mine that they have either damaged or lost.
RULES VIOLATION: Any guest refusing to follow house rules may result in immediate termination of the reservation and forfeiture of the total cost of the reservation.
ARBITRATION: All claims and disputes for total amounts greater than $5000, with the exception of Unlawful Detainer actions, arising under or relating to this Agreement are to be settled by Binding Arbitration in the state of New Jersey. An award of arbitration may be confirmed in a court of competent jurisdiction.
BOOKING is an AGREEMENT: Please note that by booking a room, you agree upon all rules outlined in this document and agree to all of the terms therein..
---
---
US
·
Member since July 2015
Hi, my name's Kim and for 20 years I was a professional chef with my own award-winning family-owned restaurant. I've retired from that line of work, and am carving out a career in retail but still enjoy baking delicious desserts. Soon, I hope to return to my first love making homemade ice cream - 282 flavors so far!

I have a large apartment in a two-family house with some spare bedrooms, so, after closing my restaurant I decided it would be fun to share them with some other interesting people who work hard and need a place to relax.

I like quiet times to balance my new work schedule . I love taking pictures, reading, board games, music, and a good barbecue on the grill any time, movies and occasional night out. I also enjoy good company.

I say enjoy what you do. The company you keep. The knowledge you take in. And the wonderful paths that you cross. All of these things are a beautiful life's lesson never forgotten.
Response rate:
100%
Response time:
within an hour
Explore other options in and around Rahway
More places to stay in Rahway: