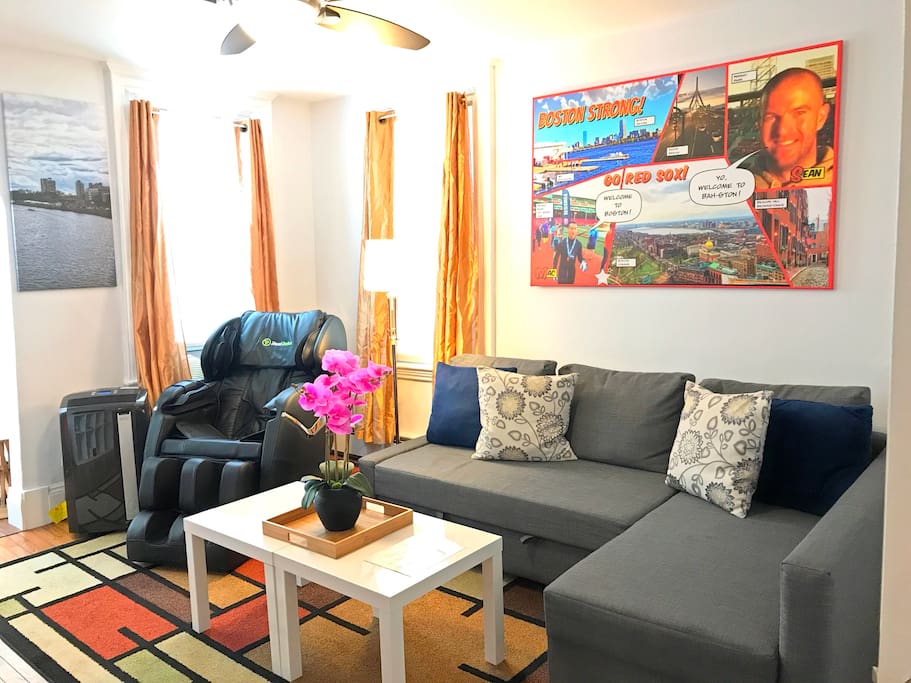 Entire 3 bed, 2 bath, 1800sqft apt w/ 7 total beds (2 Queen, 4 Twin,1 Full sofa bed). 5 min drive to Downtown and Airport, 5 min walk to the Beach/Ocean, and 10 min walk to the Redline Subway station. West side of Telegraph Hill in the South Boston neighborhood. The location is great because you've got the City, Nature, and Transportation. 1st floor & garden (lower level)- no elevator. Approx $10 Uber ride to Boston Convention Center (BCEC). No dedicated parking, limited options.
The space
ACTUAL GUEST REVIEW JUL 2017: "These guys are well prepared. Very smooth, access with codes, the place was impeccable, and the SHOWER head... oooooohhh that shower head... AWESOME! Also, the mattresses are VERY VERY COMFORTABLE ... even the bunker ones; you'll get a good rest, promised ... "
NEW UPDATE: We now have a full body MASSAGE chair in the unit that is perfect after a day of work or visiting tourist destinations!
An entire 3 bedroom, 2 bathroom apartment to your very own - approximately 1800sqft of space - this is a lower duplex meaning that the first floor is on ground level, and the lower level has 2 bedrooms and the 2nd bathroom. Complimentary laundry is in the building. The kitchen is fully equipped with a microwave, full refrigerator, popcorn popper, coffee maker (with coffee/tea/cocoa/sugar/cream) - and a few basics of ramen and mac&cheese ;). There are also board games. The space can fit 10 comfortably (2 on each queen bed), 1 in each of the twin bunk beds (2 pairs, 4 beds) and then you can add extra people: 1-2 on the pull out sofa (it's full size) and then 2 full bathrooms, one on each floor. There is also detergent and dryer sheets that you may use for laundry (it's in the utility room on the lower level).
There is a FULL kitchen with pots, pans, dishes, glasses, silverware, cutting boards, knives, etc. Microwave, Stove/Oven, Refrigerator, Coffee Maker, and even some basic snacks (ramen and mac & cheese), soda, and water, that you are welcome to utilize for free.
The calendar shows the true availability for the unit - and thus what is available, is shown as such and your request will likely be approved very quickly.
Laundry is in the basement and is free. You have free reign of the laundry detergent, bleach, and dryer sheets.
There are also board games and card games for your enjoyment.
WARM/HOT Weather: There are air conditioning units in each room, and Dyson fans (hot and cold) in the rooms – you should be very comfortable.
COLD Weather: : The unit has hot water baseboard heaters along the walls and is controlled by the Nest thermostats – feel free to turn it up or down as needed. The same portable fans above (Dyson), also provide excellent and powerful heat - one in each room with a remote control – feel free to use them – they will heat a room very quickly.
FOR LARGE GROUPS: If you have a larger number of people traveling together, this is 1 of 3 units in the same building, with another building of 3 units just a few blocks away - this is easier to do the further out you book. So depending upon availability, so we may be able to book your group into multiple units - just let us know how many you have and we can customize a solution for your group.
ACTUAL GUEST REVIEWS:
Nov 2016: "This unit is in the best part of Southie, it is very quiet but you can get to all the bars are restaurants very fast. When they remodeled the unit they did not skimp on detail and perfection. I would highly recommend staying here if you are in town for vacation or business. "
Nov 2016: "This place is a home away from home. It may sound like a cliché but Mac and Sean's taste in decoration is great, practical, and amazing. From the comfortable, spacious furnishings to detailed oriented instructions and suggestions in our surroundings, our stay went without a hitch. A mere 30 minute straight walk to downtown Boston, Convention center and surrounding area. Fluffy towels, ultra comfortable beds, ginormous tv (but you are here to explore Boston, right?). Lets not forget the strong WiFi signal (again get away, go outside this is Boston). The Spa style shower, the high quality extras, and the complimentary snacks and beverages. It's a must stay again and I forgot to mention affordable and comfortable even if you have five or six people. My colleagues in our floor were complimentary of my choice in this spacious home away from home. Great job guys!"
Oct 2016: "Mac was very accommodating and the apartment was immaculate! Having coffee, water bottles and appliances was a wonderful plus too! Would recommend to anyone wanting to stay in Southie!"
Oct 2016: "This was one of the nicest Airbnb stays I've had. All the amenities were there and the communication between the host and I was quick and easy. As a lone female, I felt completely safe in the surrounding neighborhood at night and was able to quickly travel to anywhere in the city I wanted. Great Place!"
Oct 2016: "Mac was an absolute pleasure! He made sure I had everything I needed. The apartment was absolutely beautiful with extra pillows and blankets, plenty of clean towels. Next time I'm back in Boston, I'll make it a point to do so when I can stay here. This was an absolutely great experience. Thank you!"
Oct 2016: "Mac's place was just as described -clean, organized with modern electronics and appliances. Checking in was easy and the keypad door entries were very convenient. We had everything we needed, including snacks, soft drinks and water that Mac stocked for us. Overall a great experience and thoughtful hosts."
Oct 2016: "Great apartment, conveniently located 10 min away from the convention center. Mac did a great job of communicating with us, we received a really detailed Manual before coming with the answers to all question we could possibly have and he answered really quickly to all messages. Mac went above and beyond to make us feel at home, the kitchen was stocked with coffee, tea, water bottles, sodas and the bathroom had plenty of towels. If I have to go back to Boston I will definitively stay at the same place!"
Oct 2016: "Mac was SOOOO accommodating! We had to change some things about the reservation and he hit everything in stride. The location is great, extremely great place."
Oct 2106: "This apartment in Boston had everything we needed. The apartment is nicer and larger than the pictures reflect. Everything was really clean and included lots of extra bedding and towels as well as coffee, water and sofa. Nice touch! The beds were really comfortable. Close to restaurants and transportation. Telegraph Hill restaurant and bar next door was excellent and convenient. Mac was easy to reach and quick to respond. Will definitely reserve again the next time we're in Boston!"
Oct 2016: "The apartment was very clean, with many more amenities than I'm used to when using an AirBnB ... They provided snacks and drinks ... When we needed to check in early, Mac was very responsive with how we could store our luggage. Check out was easy, and the neighborhood was great. I would highly recommend."
Sep 2016: "Great hosts, great place. The pictures don't do it justice. It is very roomy, and comfortable. This was my wife and my first trip to Boston - and our first trip with our 3 month old baby. Mac and Sean put our travels worries to rest by offering to provide a crib/pack n play, and a high chair - and we didn't even ask before they had offered! It was great. Having full laundry available was a huge plus as well. The hosts are also immediate with responding to any possible issues you may have ... The place is on a cute street right near the park, and easy walking distance to any public transportation- even with children. I'd definitely recommend this place to anyone looking for a worry free stay in Boston."
Sep 2016: " … the great location of a historic district with a great view! The actual place was great, clean, more than enough space for all of us. We enjoyed the location, train was 10 minute walk from house. Restaurant/bar down the road had a 10% discount that we used. Neighborhood was nice as well, historical site at top of hill it was overlooking Boston. Perfect for first timers to Boston!"
Sep 2016: "Immaculate and inviting, with a responsive and genial host, don't hesitate to stay here! This was a great place to come to after full days of moving our daughter into her Southie apartment! Before I left in the morning and after getting back at night, I made a b-line to that ultra-awesome, programmable massage chair! ..."
Aug 2016: "We travel to South Boston from Maine pretty much every week now for work, and we stay at one of Mac and Sean's place every chance we get. As always, it was a great experience, and we'll be back."
Guest access
The entire unit (kitchen, bathroom, living room, bedrooms), and common laundry. Parking is often available on the street during the daytime and weekends, but much more difficult at night and during snow emergencies. Keyless entry system. As your arrival date nears, 1 day prior, you will be sent a message with instructions for electronic keycode access. Check in time is 3pm, and check out time is 11am - that gives us a 4 hour window to have our cleaning crew fully clean, disinfect, change sheets, for your arrival and the guest coming in after you. You can check in anytime thereafter. Please note that this also means that the 11a check out must be strictly adhered to on your last day, as we may have another guest checking in that afternoon, and need time for our cleaning people to do the same. Unlike a hotel that has multiple rooms to shuffle around, that is not the case here.
Interaction with guests
This is a fully contained private apartment so there is no need for direct interaction with guests, though we do like to meet you and you will see us around the building doing maintenance, etc.. You may call/text/email through here anytime as well.
Before you arrive and after you leave, my cleaning crew will come in to clean and disinfect everything, replace all the sheets with newly clean ones.
Please remember that check in time is 3pm and check out is 11am - this is important because I often have guests check in/out on the same days, back-to-back.
Other things to note
TO HELP US ENSURE YOU HAVE A QUIET, PEACEFUL, AND ENJOYABLE TIME WHILE STAYING WITH US, WE WOULD LIKE YOU TO KNOW THE FOLLOWING APPLIES FOR ALL GUESTS WE HOST:
1. We ask you to remove your shoes while inside the units. Boston homes are full of charm, but are also some of the oldest in the country and thus the walls and floors are thin – and sound travels. Removing your shoes helps to both protect our floors, but also ensures the people below you also quietly enjoy their stay.
2. No loud noises before 9am and after 10pm. As noted above, sound travels. Our unit has a device by Netatmo, called the Home Health Coach, and it measures air quality/pollution, humidity, temperature, and noise levels – and amongst other things, alerts us when noise levels get too high. Sounds are NOT recorded though.
3. For your safety, we also have a Leeo which monitors for the smoke alarm and carbon monoxide alarms and notifies us if they sound off, so as to keep you safe. We get notified if an alarm goes off in the unit.
4. We strictly DO NOT allow parties. Breaking this particular rule forfeits your stay and your deposit and a fine of $2000/day of your reservation (this is how serious we take it) and we will not hesitate to throw you out.
5. All of the COMMON areas, lobby, laundry room, rear common stairs, trash room, exterior, have surveillance video cameras that also detects noise levels. Of course, there are NONE inside the units.
6. Before you arrive, your profile on here must have the green verification checkmark on it and have uploaded a government issued identification to your profile (under Trust & Safety section) – please fill out as much of the profile as you can. This lets us know who you are, and also ensures that you take full responsibility to abide by these important rules.
7. The number of guests staying is less than or equal to the number of guests on the reservation. If your numbers change, we can always amend the reservation before or during your stay. We look forward to meeting you all upon your checkin.
Upon your confirmed reservation, you agree to abide to by these terms as it will help to ensure the quiet and peaceful enjoyment for you and everyone around you. The existence of Airbnb depends upon the kind consideration of our neighbors - please help us keep up good community relations.
IF YOU ARE A USER WITH NO OR FEW REVIEWS, OR ANY NEGATIVE REVIEWS, WE WILL SEND YOU THE FOLLOWING:
HAPPY TO HOST YOU! BECAUSE THIS IS YOUR FIRST BOOKING ON AIRBNB AND/OR YOU HAVE FEW HOST REVIEWS, we require that you respond to this message with "I AGREE" and also send us a picture of a government issued identification (ID) or Passport/Visa – you snap the photo with the Airbnb app and send it on this messaging thread too. We require this before you will be allowed to check into the unit.
YOU confirm the following:
NO parties or loud music at any time, no smoking - in consideration for our neighbors above, below, and to each side of the unit. The existence of our rentals depends upon the kind consideration of our neighbors - please help us keep up good community relations. In an effort to help ensure you have quiet and peaceful enjoyment during your stay, we have "smart" surveillance video cameras in all the common areas of the building (which also detect loud audio) - of course, none inside the units. Breaking these rules forfeits your stay (you will be asked to immediately leave – yes, we will throw you out at 3AM too!) and you will lose your deposit and be fined $2000/day of your reservation – there are no refunds of your prepaid amount.
If YOU are found to host an unauthorized party in the unit, you agree to be subject to liability jurisdiction in small claims court of Suffolk County (Boston, MA).
This also means please no lingering outside the house late at night. This is because we had an Airbnb guest that had an unauthorized party that became a huge neighborhood disturbance (yes, police showed up) and as a result our neighbors are being hyper-sensitive to the point that we get phone calls and texts from them when they notice anything.
PLEASE REPLY WITH "I AGREE" and a snap of your government issued ID or Passport/Visa. By doing so, you have agreed to this binding contract.
---
This listing has essential business travel amenities.
---
Laptop friendly workspace
---
Extra people £31 / night after 3 guests
Always communicate through Airbnb
To protect your payment, never transfer money or communicate outside of the Airbnb website or app.
Learn more
---
Check in time is 3PM - 9PM
Self check-in with smart lock and keypad
PLEASE close the front lobby door behind you after you enter and when you leave each time. It's a new door and it doesn't always latch on its own.
PLEASE remove your shoes inside, and no smoking inside or nearby outside (because it drifts in) please.
NO parties or loud music at any time, no smoking period - and definitely no loud noises before 9am or after 10pm, in consideration for our neighbors above, below, and to each side of the unit. The existence of Airbnb depends upon the kind consideration of our neighbors - please help us keep up good community relations. In an effort to help ensure you have quiet and peaceful enjoyment during your stay, we have surveillance video cameras in all the common areas of the building (which also detect loud audio) - of course, none inside the units. Boston buildings tend to be old classic structures, but with thin walls, so noise travels very easily. Breaking these rules forfeits your stay (you will be asked to immediately leave) and your deposit and a fine of $2000/day of your reservation (this is how serious we take it) – there are no refunds of your prepaid amount.
This also means please no lingering outside the house late at night. We don't want to our neighbors worrying about a lot of foot traffic coming and going.
---
---
2 nights minimum stay.
From Oct 27 - 28, 2017 the minimum stay is 1 night.
---
Mac was very gracious and extremely helpful. The apartment was clean and very spacious. We were attending a conference at the Convention Center and it was an easy walk. Also, little things really stood out like a nice welcome gift, complimentary drinks in the fridge, and the ability to do laundry for free if needed. If I'm back in Boston with friends, I'll certainly stay here again!
---
I grew up in Colorado, moved to Cambridge to attend MIT, moved away to London and various places, now back in Boston. My partner (Sean) and I have a few places in town. We also like to travel and we host as we would want to be hosted when we travel - we like comfort and convenience. Come visit, play some volleyball at the nearby beach - or just head downtown - we can walk there too!
Languages:
English
Response rate:
100%
Response time:
within an hour
Explore other options in and around Boston
More places to stay in Boston: