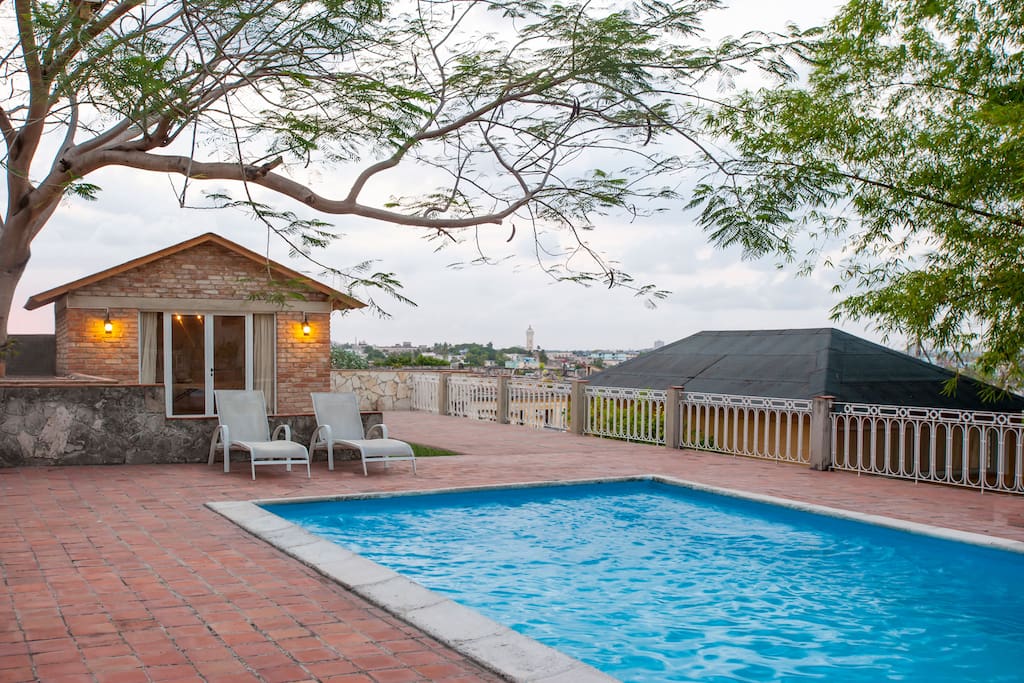 Spacious and comfortable room for two people, decorated with local handicraft iron furniture, with private bathroom.
Amplia y confortable habitación para dos personas, decorada con muebles de hierro de artesanía local, con baño privado.
---
Wow - this B&B was FANTASTIC. My partner and I stayed here on our final night of a two week trip to Cuba and this was definitely one of our favourite AirBnBs! The Rosa is not central to Havana however boasts beautiful rooms, excellent facilities, and is close to several great restaurants which Julia kindly recommended to us. Whilst we didn't travel in central Havana, others guests had no problem arranging transport through the staff at the Rosa. This BnB offered a range of luxurious facilities - a great outdoor swimming pool, gym, massage palour and staffed bar all added up to a very comfortable, relaxing stay. Our room was the last available for the night we wanted to stay.... I don't know whether it's true but I certainly felt they'd saved the best room until last! Although this was quoted as being a 'standard room' it included an extremely comfortable king-size double bed, excellent en-suite shower and toilet room, a small fridge and safe, as well as a separate living/sitting room was a good-sized TV, magazines and comfortable seating. Our only disappointment was that we couldn't stay for longer!! Thank you Julia and Silvio!
---
This is the most beautiful, perfectly equipt and well run house. I cannot recommend it highly enough. The rooms and communal areas are amazing, the staff are very welcoming, helpful and attentive, the bar in the garden is lovely and everything you could need is provided, taxis can be arranged, a map and restaurant recommendations are provided. Seriously, book it immediately if it is available!!! The only downside is that it books up quickly because it is so obviously appealing, and the calendar is not necessarily up-to-date so there maybe less availability than it appears. This house is not in a part of town where there are many tourists so you may pay a little more for taxis to Old Havana (maybe 10-12cuc each way) but it really is worth it to stay somewhere so beautiful and well managed. Being a little further out of town and with a lovely view down on the city, it is a very relaxing place. I would love to come back here.
---
Super two night stay here! This place is far enough out of the city to be peaceful and relaxing if you want a pool day, whilst being an easy taxi ride in to go and see the sights if you wish to. For us, the staff really made our experience special, especially Xavier and Mercedes who helped us out no end - from recommending places to eat/visit, booking taxis, phoning the next casa we were staying at to confirm our reservation (and even coming back from home to help us out with a locked bathroom)! We were also met on arrival at the bus station by Yoel, the taxi driver they use. The breakfasts were huge and varied each day! Other food is available during the day, the chef even cooked us crisps on request even when it wasn't on the menu! Would definitely recommend staying here to experience a different side to Havana. Thank you for a great and unforgettable stay!
---
I was pretty stunned to find this place in Havana - whereas most hotels seem a little rundown, and airbnbs are usually lacking for something (whether it's a comfortable mattress, enough toilet paper, or noisiness), La Rosa de Ortega is a darling B&B that would be considered nice in the US. Julia and Silvio have been gradually restoring Silvio's old family home for the last 22 years, and it shows how lovingly they've worked on it. Plants spill out of tea pots and old sink basins, furniture is sturdy and made of wood, rooms are relatively spartan but clean and pretty. The pool is an urban oasis; the city views from it are beautiful and there's plenty of shade. I stayed here my last two days in Havana to get away from the city and it was a wonderful choice - after a day walking around Habana Vieja or Centro Habana, I looked forward to sneaking off to read by the pool. Sometimes the other guests can be a little noisy (there was a family with young kids staying there), and like most places in Havana, you're surrounded by the sounds of life - roosters crowing in the morning, people driving past. The difference is the wall that rings the property, and garden inside. I didn't see any other truly intentional modern landscaping in Havana and was really impressed with the bougainvillea and cacti draping the entryway of the house. It doesn't feel quite as authentically Havana, in that it's an English speaking escape - but when you're out in the city all day, it can be really wonderful to have a paradise haven to come back to. :)
---
La Rosa de Ortega is beautiful and charming. What makes this place a true gem is the hospitatily of every staff we had the pleasure of meeting combined with the most comfortable and tranquil environment. When we arrived, Mercedes greeted us and invites us to the outdoor dining room where we were served delicious jugos naturales as she provided us with details and tips for our stay. Although I had a reservation for a standard room, we were provides with a generous upgrade to a beatiful suite! We walked in, the AC was in full effect, with a beatiful bathroom and sitting area in the first floor. We climbed the stairs to the second floor where the the views of Havana took our breath away! The room was beautifully decorated in light colors and is surrounded by windows with a balcony and an outdoor terrace where you can just unwind and completely relax. The bed was so comfortable and the room was simply immaculate. The pool is beautiful as well and very clean. We thoroughly enjoyed our stay here and meeting Julia, Silvio, Mercedes, Jorge and the rest of the wonderful people that made our stay so enjoyable. We will be back for sure!
---
We stayed at several places while visiting Havana, but my boyfriend and I both agreed this place was by far the best! Julia was so nice and accommodating and made us feel so at home. The house itself is even more beautiful in real life than in the pictures - it is truly paradise! Even the food was delicious! I highly recommend this b&b if you are traveling to Havana.
---
Somos una pareja de profesionales cubanos, que decidió buscar alternativa de trabajo autónomo en el sector de la hostelería a mediados de los ´90. Padres de familia con afición por la arquitectura y el diseño de interiores, el mundo de los vinos, la alta cocina, los coches ant…
Languages:
English, Español, Français, Italiano
Response rate:
93%
Response time:
within a day
Explore other options in and around Havana
More places to stay in Havana: