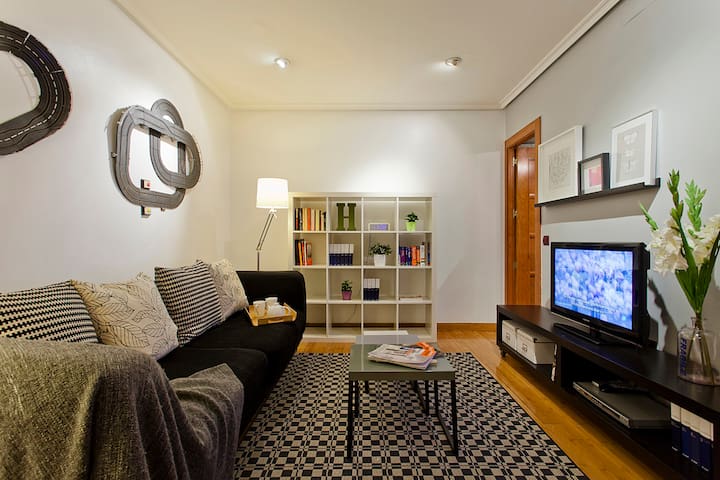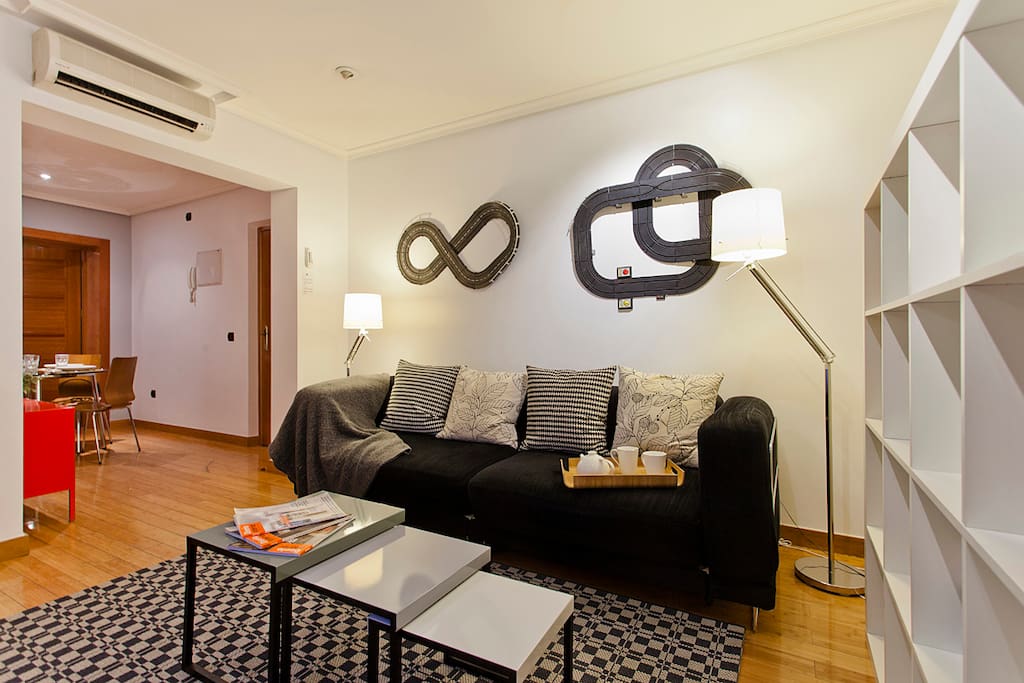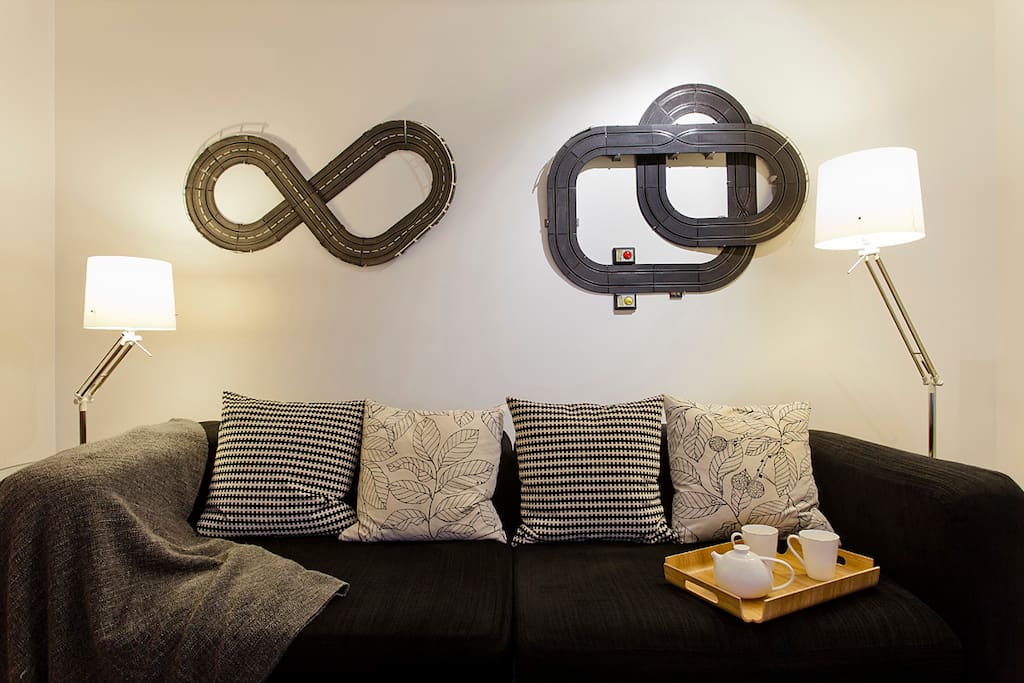 A charming and very quiet one bedroom apartment to let, in an historical and old fashioned building, with modern commodities very well located in the center of Madrid.
The space
A trendy and cozy one bedroom apartment to let, in an historical and old fashioned building, with modern commodities in the center of Madrid. This charming 1 bedroom apartment, is very well located between the famous districts of Malasaña and Chueca. The important street Fuencarral, very well know by its numerous modern shops and local bars, divides this two districts and goes directly into Gran Vía, one of the most walked streets of the city with more shops, restaurants and where all the big theater are taking place with the latest musicals and plays.
The apartment consists of a bedroom with a queen sized bed (1.50x2.00 mts.), a comfortable kitchen and a spacious living area that includes a open dining table for four seats and a comfortable lounge with a 3 seater sofa with chaise. A comfortable bathroom with shower.
Fuencarral is homely and cozy apartment in a beautiful location, this flat is interior-facing, meaning the sun does not come directly and it is exceptionally quiet with no traffic or street noise, a luxury that can be difficult to find in a busy capital city. just minutes away from all the interesting tourist attractions. Malasaña street itself is packed with great restaurants, bars and nightclubs as well as plenty of shops and places of historical interest.
Guest access
How to get to the apartment : from the airport : a 30 minutes journey in the subway that costs 2 Euro per person. Take the 8 line to Nuevos Ministerios, then a short connection to 10 line and get off at tribunal station. Once there, take the exit to Calle Fuencarral and walk two blocks until Glorieta de Bilbao, turn your left in the corner and walk a few meters.
Other things to note
RENTAL AGREEMENT: On arrival guests will be asked to sign a rental agreement and fill a form with a credit card authorization for additional services (such as cleaning and airport transfers) during the stay.
CLEANING: For monthly rentals a complete mandatory cleaning fee will be required and added to the monthly rental amount, that is not negotiable.
---
---
Extra people £9 / night after 2 guests
Weekend Price £91 / night
Always communicate through Airbnb
To protect your payment, never transfer money or communicate outside of the Airbnb website or app.
Learn more
---
Not safe or suitable for children (0-12 years)
Check in is anytime after 3PM
Conozca nuestra politica con respecto a los horarios de llegada y salida:
Se aplicará un recargo de 30 Euros en los siguientes casos:
•Llegada tarde, posterior a las 21:00 horas.
•Llegada en Domingos y festivos.
Se aplicará un recargo de 50 Euros en los siguientes casos:
•Llegada muy tarde, posterior a las 23:00 horas.
La entrada a los apartamentos es a partir de las 15 horas del día de la llegada.
La salida debe realizarse antes de las 11 horas del día de la salida.
NORMAS DE LA CASA:
Como cliente, debe respetar las normas de la casa y la comunidad a la que pertenece.
El apartamento no será usado como lugar para realizar fiestas o celebraciones de ningún tipo.
Por favor, lea atentamente estas normas para evitar cualquier tipo de problemas. Nuestro objetivo principal es que tengan una excelente experiencia durante su visita a la ciudad.
•Por favor respete a sus vecinos. Los vecinos son gente que se levanta temprano para ir a trabajar, por lo que le pedimos que modere el nivel sonoro tanto en las zonas comunitarias como dentro del apartamento.
Horario de descanso:
Lunes a Viernes 22:00h a 9:00h
Sábado y Domingo 24:00h a 10:00h
•Las fiestas e invitados están totalmente prohibidos..
•Por favor, asegúrese de que deja cerrada la puerta del apartamento al abandonar el mismo.
•No está permitido fumar dentro del apartamento. Por favor, si desea fumar, fume en la terraza o fuera del inmueble. Se ruega que no tiren las colillas a la calle o en los patios internos.
•Ayúdenos a ahorrar energía. Si abandona el apartamento por un período prolongado, asegúrese de apagar todas las luces, así como el aire acondicionado y/o calefacción.
•Si va a ausentarse del apartamento asegúrese de que cierra todas las puertas y ventanas exteriores. De esta manera evitamos que en caso de lluvia entre agua, o individuos no deseados.
•Por favor cierre la puerta del apartamento con llave al irse del apartamento. Recuerde cerrar la puerta principal del edificio también.
•En caso de que exista un ascensor, no lo sobrecargue. Se recomienda no usar el ascensor por más de cuatro (4) personas (o 2 personas con 2 maletas).
•Por favor, no deje basura o desperdicios dentro del apartamento. Puede depositarlo en los correspondientes contenedores situados en la calle desde las 20:00 hasta las 23:00 pm.
En caso de recibir quejas de los vecinos por exceso de ruido o comportamiento incorrecto por su parte (o cualquier acompañante suyo) Flat Sweet Home o un vecino podrá avisar a la policía. En tal caso, el cliente acepta abandonar el apartamento inmediatamente sin ningún tipo de compensación económica o reembolso del importe abonado por la reserva.
TERMS & CONDITIONS:
Flat Sweet Home check-in & check-out policy:
Since some operations have an extra cost, Flat Sweet Home will charge 30-Euros extra for:
•Late check-in (after 9 pm) Check-in on sundays and holidays.
•Check-ins start at 3 p.m.
Check-out should be done before 11 am.
Gabriel will charge 50-Euros extra for:
•Late check-in (after 11 pm)
In order to guarantee the owner that all the items in the apartment will be well preserved, we ask you when checkin in your credit card to assume any possible damage caused during your stay.
House Rules:
The client signing the rental contract will be responsible for the correct and appropriate behavior of all the persons accompanying him/her, according to the house rules listed below.
As a client, you are expected to respect the house rules concerning to the apartment and the community it belongs to. The apartment may not be used as a party space but only as an accommodation for sleeping, eating, relaxing, etc. Please read these house rules carefully attentively in order to avoid any problems. Our main objective is for our clients to have a pleasant stay in the city.
•Please respect your neighbors night rest. Do not make noise in the stairways and in the flat after 22 p.m. during the week and after 24 p.m. in the weekend.
•Parties and guests are totally forbidden.
•Close the doors of your apartment.
•Smoking is not allowed inside the apartment. Please smoke on the terrace or outside and please do not throw cigarette butts to the street or inside courtyard.
•When you go out, please make sure that you have turned off the lights, air conditioner and/or heating. Lock the exterior doors and the windows and the main door downstairs.
•Do not use the elevator for more than 4 people (or 2 people + 2 suitcases)
•Do not leave garbage inside the apartment and please clean the dishes when you are leaving. You can leave the garbage in the appropriate containers at the street between 18:00 – 23:00 pm.
•Remember that the check out time is before 11:00 am as we need to clean the apartment prior to the next check in.
In case of complaints from the neighbors due to excessive noise or an annoying behavior from your side (or any people from the group) FSH or a neighbor may require the presence of the police. In this case the client accepts to leave the apartment immediately and without any refund of the amount paid for the reservation.
---
---
---
The minimum night stay for this listing varies.
---
Late check in fee due to a delayed flight of 50€ and 30€ Sunday check in fee weren't necessary welcomed but good experience. Lack of light natural sunlight and dropping air conditioning unit in the bedroom were the only problems.
---
In setting up the arrival, Gabriel was flexible and helpful. Since he was busy with family when we arrived, he had us check in early with the cleaners who were preparing the place, which my wife and I greatly appreciated. However, there were some issues. Two incidents occurred that were unacceptable. In the first incident, people from the company tried entering the apartment unannounced when my wife was sick in bed. They repeatedly kept buzzing her on the intercom and though she repeatedly told them that she was not well and they would have to come back another time, they insisted on coming up. They then came up to the door without permission so, in her robe, she again told them that she was ill and told them to please come back another time. This intrusion of privacy and lack of empathy and proper behavior changed the tone of our stay immensely; my wife and I could no longer have the peace of mind that our privacy would be respected. The second incident occurred after we left. I have a policy to do a walkthrough with the host to show that the unit was left in great condition. In the past, many other hosts have been happy to do so and my wife and I have never had an incident with those who did not. In this case, we were told that it was their policy not to do so. However, the then sent us photos of a broken refrigerator drawer and claimed that we damaged it. With the goal of moving on despite clearly saying that 1. we did not break it and 2. the photos they sent were inconsistent as one did not have damage, I paid the over 51 € charge. The issue is not the property which is located in a great area and is nice and quiet since it is on the interior of the building. The issue is with the above matters regarding a lack of respect for privacy and then charging money for damage that we did not create. Additionally, the wifi consistently did not work which made it extremely hard to have (SENSITIVE CONTENTS HIDDEN) meetings from there since I could not count on the connectivity to work. This makes me extremely uncomfortable because this is the first time I have had to write a review like this. If you are fine with the above issues in exchange for a great apartment in a great location, then by all means stay here.
Response from Gabriel Avalos:
SpSpencer I am truly amazed and concerned regarding your comments and welcome the opportunity to address each of them since you always received the best service prior, during and after your stay at my beautiful apartment. Regarding the incidents commented by you I am compelled to clarify that: upon your arrival I arranged for an early checkin upon your request to accommodate to your timetable, not the other way around, there was checkout of another client on the same date and we had to clean earlier since as per our specific terms and conditions checkins are past 15:00, so no family business was ever raised to do this on our part, on the contrary I stayed over 40 minutes making suggestions and recommendations about the city during your stay. Secondly, upon your insistence and against our terms & conditions I exceptionally arranged a cleaning to take place during a weekend, therefore I had to go the following week to retrieve the used linens from the apartment and for said purpose I sent a notice which apparently did not reach you on time; I clearly identified myself and explained on the intercom, but seems that your wife did not understand. I emphasize that at no point in time the door was approached without you or your wife's permission. I thoroughly explained the situation afterwards and apologized for going to the apartment and ringing (NEVER entering the apartment without permission) without your prior knowledge. To this end we remain puzzled as to how this was a lack of empathy on my side and how this kept you from your peace during your stay, those comments are disproportionate, unacceptable to me and clearly against any comment any of our past clients have ever made in our long standing services. During your stay only once you made a comment regarding your Wi-Fi connection that we immediately solved, we are still perplexed by this allegations on a faulty service during your stay, had it been the case we would definitely addressed the situation as we always do and did with you. Lastly it is a pity that you also chose to ignore our terms & conditions and policy on checkouts clearly explained about not ever conducting personal checkouts without exception to any of our clients, hence disputing a damage made during your stay as we clearly explained in due time, you did not receive the apartment with a broken drawer or so you would undoubtedly have pointed it out without delay, as you did with a faucet you did broke and asked us not to repair until you left. We also remain extremely unconformable at this point to have to reply to such a untrustworthy and exaggerated review by a valued guest.
---
We stayed for a week in October, and the pros and cons balanced out to an average stay for us. Pros: *The location is wonderful! It's at the perfect intersection of a restaurant street and a shopping street. Downtown is walk-able and its convenient to multiple metro stops. *The apartment was clean and nice and generally conformed to our expectations from the Airbnb description. *They were willing to provide early check-in. *They provided hotel size toiletries and the blow dryer was good. They also gave us a couple of single use detergents for the laundry. Cons: *There were at least 4 different points of contact at the rental company; we found communication confusing. There were also additional contracts and credit card forms. *The wifi was spotty and didn't work for over 24 hours. Probably not a big deal if you have a data plan that works in Madrid, but we don't so for us it really complicated communication. *They offered 9 am check-in but didn't show til after ten. We were supposed to meet at the door so we waited in the cold at the door, occasionally dashing off to internet cafes until we heard from the host. *The apartment is inaccurately described as "bright". Not usually something I'd notice, but the windows open to an interior shaft where the elevator runs and it's one of the bottom floors of the building so even with all windows open it's very dark. Good if you want to sleep til noon after a night out in the city, but the lack of light and fresh air made the place feel stuffy to us.
---
The apartment is located in what seemed like the perfect area. Vibrant, hipster-y, and located within walking distance of many of the main attractions, as well as right near a tube station. The apartment is also cute and functional, and is used full-time for Airbnb, so you don't have to deal with personal affects scattered about and taking up space. Based just on the apartment and meeting Gabriel, who is very gracious and nice, I would give the experience 5 stars, but there were two hiccups for which combined I would dock for: 1) Internet didn't work the last two days of our stay. This was a network issue, so can't really blame the host, so on its own would not let it affect my review. 2) About 10 days after our departure we received an email from someone at Flatsweethome that there were 4 towels which were stained during our visit and that if it did not come out in the wash they would charge our deposit. This came from out of nowhere and my wife and I are 100% certain we did not stain any of the towels (I think we used 4 towels our entire stay and we showered right before we left and so we certainly would have noticed). I will update if I am able to with the outcome of this, but it is a frustrating logistical mishap that we have to deal with now.
Response from Gabriel Avalos:
Dear Avery, was a pleasure to host you, you and your wife were very nice and helpful, you're more than welcome if you decide to come back to Madrid. I'm concerned by your comment about the towels, we take care a lot of the house clothing to provide to our guest in very good conditions and also make a review the our guest leaves, removing towel in bad conditions We advise to our guest after they leaves if there were some house clothing stained and send the pictures taken at the moment. However, as commented by emails i will check the incident because if it was a mistake it is certainly not how we treat our guests. Kindly contact me directly to discuss.
---
Gabriel met us at the time arranged and welcomed us to the apartment. He furnished us with useful information of the area, including restaurants , cafes and sights worth exploring. The apartment was very well furnished and equipped and is in a great area, within walking distance of most of what we wanted to see and do. Being an inner apartment, there was no street noise and it was very comfortable. The area is a great choice for those wishing to sample Madrid life and has everything on the doorstep. I would certainly recommend both the area and the apartment for a trip to the city.
---
Gabriel is awesome! We reserved the apartment and after arriving there had been a slight miscommunication so he moved us to another spot (within the same bldg) and offered us a discounted rate. The 'new' spot was fabulous, modern, clean, comfortable and Gabriel is so fun. He answered our questions promptly and as we planned out our days in Madrid we'd contact him asking for recommendations for places to eat. The apartment was in a fun neighborhood called Malasana and it was fun and lot of pubs, bars, tapas near us. The apartment was quiet, private, and perfect!! Absolute gem and I would recommend this place and Gabriel to anyone coming to Madrid.
---
Venezuelan architect, italian, spanish and Argentinian descent, loves to eat and share the city secrets with everybody who visit Madrid. In 2008 starts a small holiday lettings company to complement the architecture and interior design job. I have created Flat Sweet Home and today we manage several apartments in Madrid city center and love to host people traveling, my main purpose is to give a beautiful experience to my guests providing high quality apartments and service, a warm interior design and perfect cleaning.
Languages:
English, Español, Italiano
Response rate:
100%
Response time:
within an hour
---
Business name
:
Flat Sweet Home S.L.
Explore other options in and around Madrid
More places to stay in Madrid: