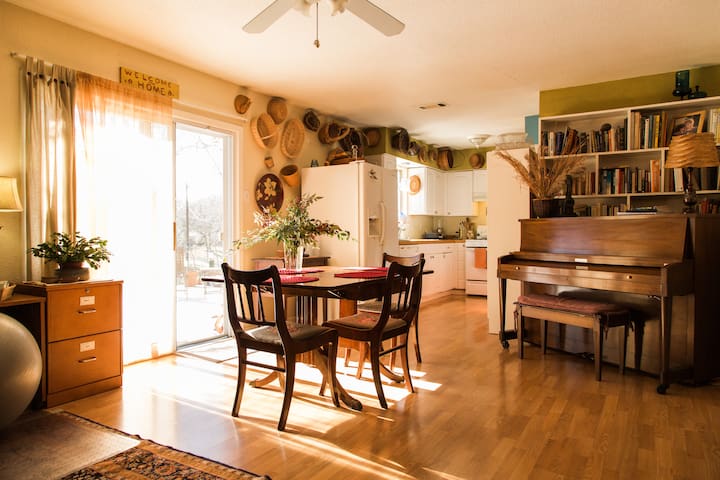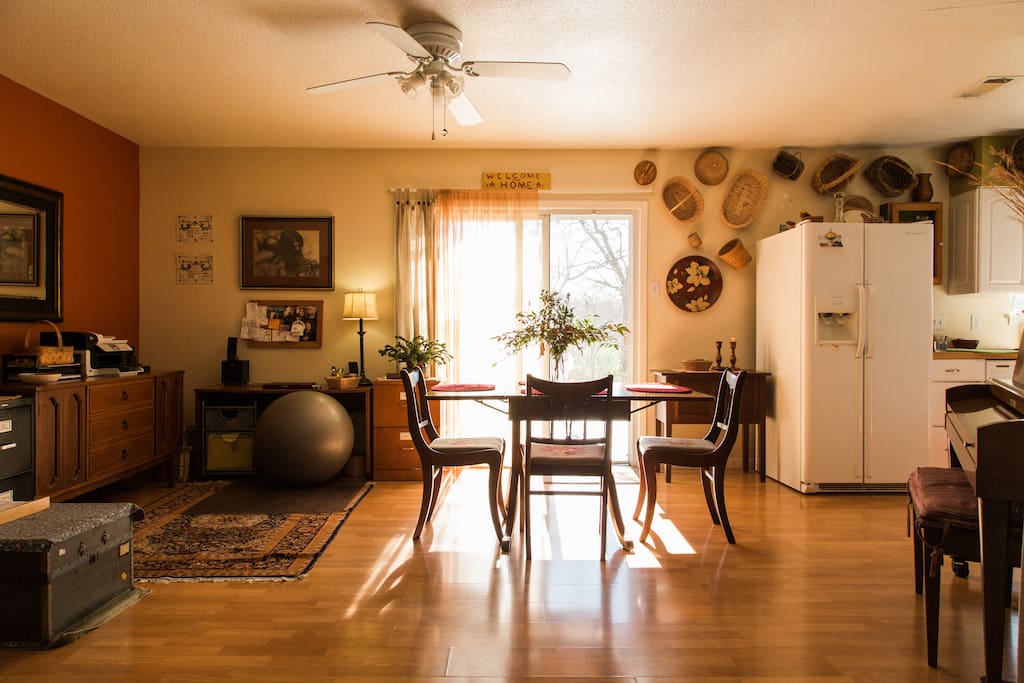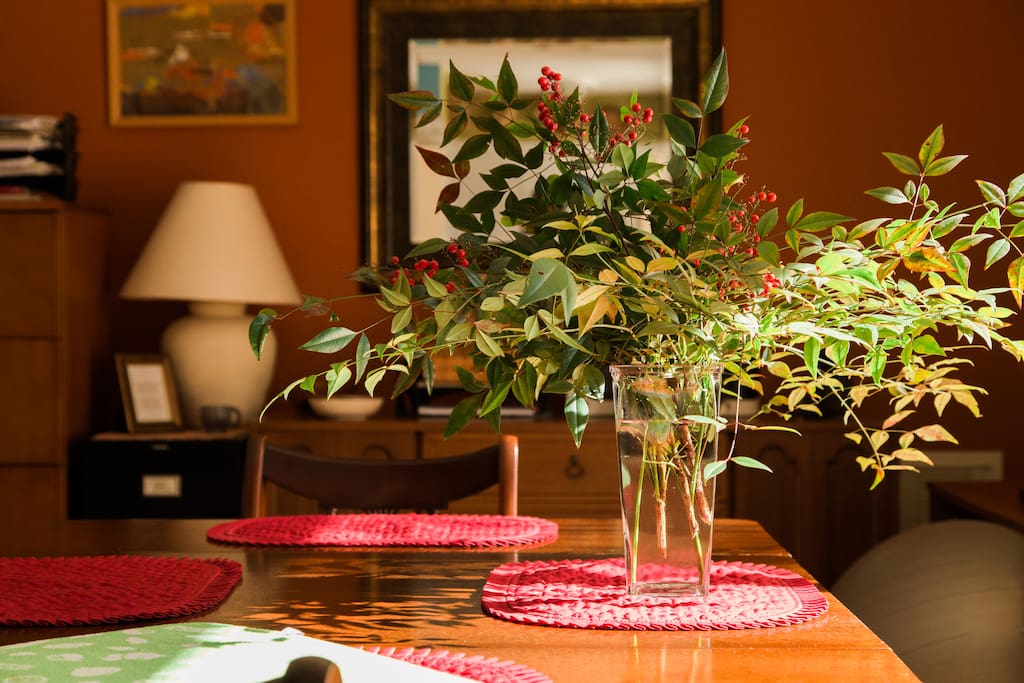 Quiet neighborhood, nice home with open floor plan and large deck facing wooded creek, 4 miles to downtown, 15 min. from airport, 5 minute walk to bus. Close to several iconic restaurants, coffee shops and stores. This is a unique, clean, quiet, private retreat minutes from all imaginable amenities and 10 minutes to downtown. Nice host!
The space
Hi! I require you to have at least TWO positive reviews/references, no negative reviews, at least a 4-star overall rating, AND a government ID, current photo and profile description to book with me! If you don't have these, please Send an Inquiry or a Request to Book. If you Instant Book without them, I have the option to cancel, and if it's within 24 hours of your date of arrival there will be cancellation fees! Please be mindful when using Instant Book!
GOOD NEWS! My home accommodates 3 to 4 people for a small group or girl-getaway. Check out my other listing: "Quiet Traveler's Retreat and Urban Woods 4 mi to DT" if you want to rent both rooms!
Quick note: I'll do my best to accommodate you! Because I'm a busy happy bee, I ask for a two-hour check-in window. If that won't work, just say so! We'll get creative! I love creative!
PRIVACY! If you're booking with me singly, I'll do my best to give you a heads up if another guest is going to stay (sometimes last minute!). Also, people who come to stay with me are the quiet, smart and considerate type!
LONGER STAYS: My listing currently supports reservations up to 7 days. If you need a longer stay, please send me an inquiry!
PETS
This room allows pets! Please review the Pet Policy (under Other Things to Note, below) BEFORE BOOKING! I charge a pet cleaning fee based on the size and breed of your dog. Let's make sure your pet will be happy here!
READY TO BOOK?
Please read through the House Rules PRIOR TO BOOKING. Please help me be as accommodating as possible by reviewing my booking policies and communicating your needs up front. Thanks!
URBAN FOREST & WOODED RETREAT
My sweet home backs up to Williamson Creek. From the large deck behind my home, you're essentially staring at a small forest, with live oaks, chinaberries, pecan, a flowering rock garden, bird feeders and a bird bath, along with abundant wildlife, including a variety of birds, squirrels, hawks, woodpeckers, hummingbirds and butterflies. Landscape lights blink on around 9 pm, and traffic noises settle down. By midnight it's just you and the cicadas and chirping frogs. It's a great place to wind down if coming in late from the madding crowd. It's a perfect place to sip coffee in the morning and plan your day. Check the photos and you'll see!
SEASONAL PERKS
In Spring, my rock-garden plantings flourish along with the cool evenings, with temps dipping to the 50s and 60s. In Summer, we get nightly warm breezes and the song of the cicadas, with temps in 70s and 80s. Butterflies and hummers are frequent visitors. Owls and hawks can be spotted along the creek. Deck plants change with the seasons, creating a sweet foreground of color, especially during dry periods. In Fall and Winter, the foliage drops, and the finches migrate and find my feeder. You can build a fire in my fire pit, toast marshmallows, and sip some of Austin's best handcrafted spirits.
While my home offers a warm, quiet space to regroup, it also offers a unique green space, providing an almost zen-like respite from Austin proper, which is only four miles away. A recent guest called it an "Urban Wilderness." It fits!
HOME AND AREA
The house is minutes from major highways and routes downtown but quiet and secluded. It's a fifteen minute walk to Radio Beer, Strange Brew Coffee, Central Market and many five-star South Austin gems. The house is clean, quiet and comfortable. It's bordered by natural spaces within a small neighborhood composed of families, students, professionals and retirees. It's all hooked in by a fortuitous location to a vibrant and growing Austin.
YOUR ROOM
This room has a warm, cozy feel with an east-facing window, full-size futon topped with 7 inches of foam, oriental carpet, dresser, nightstand, bookcase, standard closet and high-speed fiber internet. It also offers a large Toshiba flatscreen TV with Chromecast (wifi enabled to allow you to stream movies and videos). Chromecast can stream Netflix, YouTube, Spotify, Pandora, HBO Now, and thousands of other apps and games. Instructions are printed out with the House Rules.
COMMUNAL SPACES
The shared bathroom is cleaned daily and kept clean and tidy. The deck is a favorite spot for morning coffee or a glass of wine in the evening. It's perfect for reading, surfing, staring at the greenery or just kicking back. The rest of the house is for private use.
COFFEE
I provide fair-trade local or Starbucks coffee every morning, I use the pour-over method which is simple and makes a great cup of coffee. I'm also happy to make you a craft espresso when our morning routines match up!
ABOUT ME
I'm a working musician and songwriter. I work from home and perform regularly around Austin and beyond. I moved to Austin ten years ago from north Florida after raising my son to pursue my music and improve my craft. I'm from Rhode Island, and still consider myself a Yankee after ten years in Texas and 40 years in the South! I also train regularly in martial arts (Kung Fu and Tai Chi) at one of the best schools in Austin. I love to train, write, travel and stay creative as much as possible. I'm a "social introvert" meaning, I enjoy solitude, but love connecting with others on a meaningful level.
As a self-employed musician, I've developed ways to create side-income. Six years ago I began renting my rooms through Airbnb. This has become a labor of love, and I enjoy providing great experiences for guests who stay with me.
My house is an extension of myself, and therefore constantly in a state of improvement and sometimes repair. You'll find my home very clean, and my photos accurately reflect its character and charm. My yard and outdoor areas are usually in a state of flux, changing with the seasons and my home-gardening budget.
People who stay with me often remark on the "warmth" of my home, which extends to my hosting style. My emphasis on quality for my guests for an affordable nightly rate reflects my values. I truly enjoy creating a welcoming space that offers the best of both worlds for Airbnb travelers: quick city access and a quiet, clean and comfortable private retreat.
Guest access
Guests are free to access the big deck overlooking a flowering rock garden and bird sanctuary. The shared bath is cleaned daily. The rest of the house is for private use.
Kitchen use for meal preparation is available upon request for reservations longer than 5 days.
The living room is available for extra sleeping space during festival time (extra person fees apply). It can sleep four or five on air mattresses.
Interaction with guests
INTERACTION
I truly enjoy helping my guests make the most of their stay. That said I'll respect your privacy and ask that you do the same for me. If time allows I hope we get to know each other a little before you leave. It's one of the truly satisfying aspects of being a host. :)
WORK MODE
I work from home and spend a good bit of my time in my office, situated just off the deck and dining area. If you need something I'm happy to help! Just ask.
NEW TO THE CITY?
If time permits I try to block out a little time at check-in to answer questions for newcomers to the city. I'm happy to sit down with you and look up places of interest, restaurants and music venues and give logistical support. If you're new to the city and would like this kind of help, please let me know!
HOST CONTACT
I'm available by text and phone and can usually respond within 15 minutes. Myself or my co-host are happy to help if you have questions about places to check out. I recommend using the Airbnb app for communication as it has all the relevant information about your trip handy.
Other things to note
PETS
This room is Pet Friendly. If you have a pet, please review my Pet Policy BEFORE BOOKING. I charge a cleaning fee of $10-20, collectable upon arrival, based on the size and breed of your dog.
Pet Policy
Please read the following and include the breed, age and size of your dog as well as any behavior or health issues in your reservation request so I can make sure it's a good fit. If I have other guests in the house, I'll have to check with them before I can accept your reservation.
I can't host:
- puppies younger than 3 months
- pets that can't obey basic commands
- pets with active behavior or socialization issues
- pets that are aggressive or constant barkers
- pets left unattended, unless they're comfortable with me or crated
- escape artists!
Your pet must be fully house-trained. I don't allow dogs on the furniture (sorry!). If I'm available and you're comfortable with it, I'm happy to pet-sit for a few hours.
You're welcome to:
- bring a crate for your pet
- let your pet run around the fenced back yard for exercise
- let your pet sleep on their bed on the floor next to you
- let your pet relax in the common spaces, as long as other
potential guests aren't allergic
Pet Fee
I work hard to keep my house free of dander for guests who need a dander-free space. Large and tiny dog hairs attach to blankets and bedding and migrate through the house, leaving a trail of loveliness from Chihuahuas to Huskies. I charge a $10-20 cleaning fee depending on your breed. This can be added to your reservation cost in a Special Offer, or I can accept payment in cash when you arrive.
---
---
Always communicate through Airbnb
To protect your payment, never transfer money or communicate outside of the Airbnb website or app.
Learn more
---
Check in time is 4PM - 11PM
Self check-in with keypad
Please READ before booking!
Hosts love to know a little about the people they're opening their homes to!
IF YOU INSTANT BOOK:
You'll need TWO positive reviews/references, no negative reviews, 4+ star rating, Government ID, current pic & description on your Profile. If you don't have these, Send an Inquiry or Request to Book! If you Instant Book with out them, I have the right to cancel and there may be cancellation fees. Thanks!
TAXES: The City of Austin charges a Short-term Rental Guest Occupancy Tax of approximately 9% of the cost of a reservation. Airbnb collects a portion of the required tax (6%) at the time you book. Hosts are required to collect the rest (3%). This is calculated when, or after, you book and can be added to the reservation total, or collected upon arrival.
Booking as an Airbnb Host
Unfortunately I'm not set up to accommodate hosts looking for an alternate living situation while renting their homes. :(
Check in
As a courtesy, I'd love a two-hour check-in window (i.e. 4-6 pm) within 48 hours of booking. Unlike retired or absent hosts, I live, I work, I study Kung Fu! (i.e., I have scheduled activities!)
This allows me to be more flexible in accommodating you. I can arrange for my co-host meet you or offer self-check in if you have a history of great reviews!
If driving in ...
I'd love it if you updated me with travel delays, and I adore a heads up when you're 30 minutes out. This is an awesome courtesy and really makes me happy!
Please be pro-active, and specify your check-in needs up front, when you book!
PETS
This room allows pets. I charge a pet cleaning fee. If I have another guest, I'll need to check to make sure they're pet friendly. Please read the Pet Policy prior to booking to make sure your Pet will be happy here!
HOUSE RULES
Parking
Sometimes I have multiple guests, so please pull up ALL THE WAY up to the rose bush to the far left of the yard, so others can park behind you. You can also park under the streetlamp to the right of the driveway.
IDs
For each guest, I need to see a valid driver's license or passport upon arrival.
Communication
Please read through the House Rules as you get settled in. Sometimes they're updated! Let me know if you have questions!
Please communicate any concerns, needs or questions. Please reach out to me anytime, for any reason. Please let me know if something is missing, not up to par or questionable and I'll try to correct it. :)
Basic courtesies
Please:
- pick up after yourself in the bathroom
- wash and put away your glasses and mugs
- hang towels on racks & hooks in the bathroom, not on furniture / closet doors!
- refrain from using oils or lotions that could stain bedding
- protect wood surfaces
- respect my home and belongings as you would your own!
Comfort
If you're feeling too hot or cold, please let me know and I'll do my best to adjust the temps to your comfort level. I keep a fan in each room for guests who like white noise or moving air. This isn't a substitute for cold air. Let me know if you're too hot or too cold to sleep!
Quiet Hours: 10 p.m. - 10 a.m.
People like to stay here because it provides a calm, quiet respite. Please respect those around you between 10 pm and 10 am. Please observe the following guidelines between these hours. These are common courtesies and a common requirement of any hotel.
Please:
- visit or talk on the deck anytime, but keep voices low after 10 pm
- avoid loud talking or conversing in your room during quiet hours
- open and shut doors quietly: PUSH in the handle, then PULL gently to open!
- use earbuds or a headset if watching on your laptop after 10 pm
- turn the TV down to low after 10 pm
- use your "inside voices" in the morning - some people like to sleep in!
Thanks in advance for using good judgement during Quiet Hours.
Communal Space
Please feel free to access the deck anytime. Feel free to use the dining table to eat something you've brought in, but not to surf your devices or converse on the phone. This is part of my office and, generally-speaking, a private space.
Kitchen Use
Except for making coffee in the mornings, this is a private space. Feel free to:
- make coffee or tea in the morning, and toast a bagel or muffin
- access the filtered water any time (glasses are above the coffee station)
- leave your water bottle, drinks or leftovers in the fridge overnight
If you're staying longer than 5 days and you need to do some light cooking, please talk to me prior to booking.
Safety
Lock up before leaving: 1) Sliding glass door, 2) Thumb lock garage door 3) Hit the lock button on the keypad on the outside of front door as you leave.
Laundry
Feel free to do a load of laundry up until 8 pm. The washer uses HE detergent only. It weighs the clothes and uses only as much water as it needs, so cut your detergent amount in half (or you'll gum up the works!). When you load your clothes, arrange them so the center is visible, so the sensor can weigh them.
Smoking
Light smoking on the deck only. Please ask those around you before lighting up. Use the snuff box located on the ledge under the kitchen window.
Drugs
None allowed, thank you.
Damages
Please be mindful of your surroundings. Cleaning fee covers cleaning, not damages, normal wear and tear excepted.
Privacy
I sometimes work from home … and it's a small home! I'll respect your privacy and ask that you do the same for me. That said, if you need anything at all, please ask!
Connection
Spontaneous conversations can lead to wonderful connections. I love a good visit over coffee or a glass of wine. If I'm not super busy, I'll make time. It's one of the most rewarding perks of hosting for me.
Checkout
- double-check under the bed (you'd be surprised!)
- check drawers, closet, back of door
- check the bathroom for toiletries
- check freezer, fridge if you brought ice packs or water
- double-check outlets for phone chargers!
Lock up per safety card. Use the lock button as you leave to deadbolt the front door!
Please enjoy yourself!
Let me know if you have any concerns, and I'll do my best to create an environment for an awesome experience in our unique and beautiful town. :).
Thanks for observing the House Rules.
Have a great stay!
You must also acknowledge
Pet(s) live on property
Some spaces are shared - The single bathroom is shared, and kept squeaky clean throughout your stay!
---
---
---
This was my very first time staying at an airbnb home, and I truly found a gem during my stay at Paula's. Paula is very prompt, helpful, and a very friendly host. When I first arrived, Paula offered a manual booklet with suggestions on where to eat and visit. Paula's place had a very pleasant atmosphere and a calming vibe to it. One of the things I enjoyed most each morning was having a cup of coffee outdoors in her patio. The bathroom was really clean and the room was really well kept and nicely decorated. If you're looking for a quaint and peaceful place to stay while visiting Austin, I would recommend Paula's place. You won't be disappointed!
---
If you are looking for a really cozy, warm, and relaxing place to stay, I highly and strongly recommend this place. Paula is such an kind, understanding, and helpful host. She is very accommodating and the epitome of hospitable. On a scale of 1-10 of places to stay, definitely an 11. I was driving from Oklahoma on an emergency trip and came in later than anticipated. Had my dog with me due to being a last minute trip. Left my my wallet with my card and cash, but had a valid DL. Dropped my phone and broke it in front of her house. I was a hot mess... Paula was completely sympathetic of the situation. Honestly, she is such an amazing person that she helped me detox from the stressful series of unfortunate events. She made sure that my stay was as pleasant as can be. She even helped me watch my dog when I came in late and wanted to grab dinner. Staying with her will give you a sense of home; the definition of southern hospitality. Her house is really quaint and homey. The house has a pretty spacious dining area, a very relaxing and tranquil living room with various musical instruments; a large and open back yard; and an intimate, cozy, and charming bedroom.
---
Paula is a great host who will make sure you have what you need for a great stay. And added bonus, the shower is fantastic! Even better than the 5-star hotel I stayed at recently. Backyard view is great and she has coffee and tea to make your stay a little more cozy. Also she shares fun information about Austin eateries and activities. Very clean and cozy place. You won't be disappointed if you are looking for a quiet place to stay that is clean, close to the city but slightly off the beaten path, and has a comfy bed!
---
We had a very pleasant stay at Paula's. She is a wonderful, inspiring person. Helpful, kind and easy to communicate with. Our room was very comfortable, clean and quiet. The house is located in a safe neighborhood and has a backyard that is a perfect place for a morning relaxation. Would stay here again if coming to Austin.
---
I'm a performing songwriter, musician. Have lived in Austin since 2005. Before that lived in Florida and raised a son. I'm originally from New England.

I keep a tidy house and it tends to stay quiet and low key. No drama, no nonsense. I'm busy and stay focused on my career, but I love to meet new people.

My house has a calm, sweet vibe to it.
Response rate:
100%
Response time:
within an hour
Explore other options in and around Austin
More places to stay in Austin: