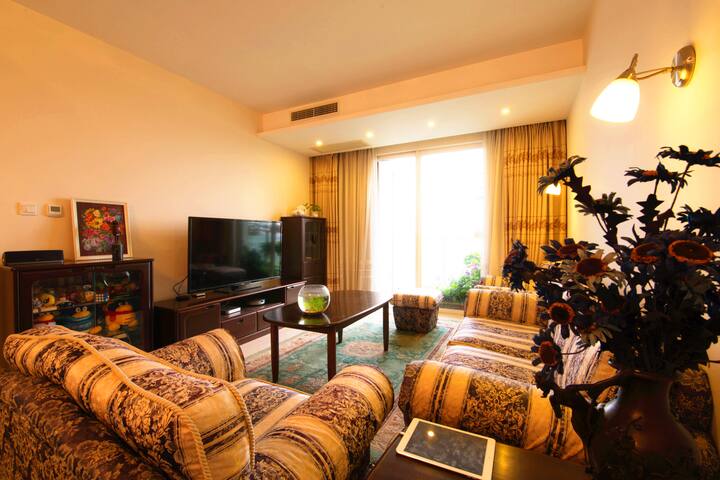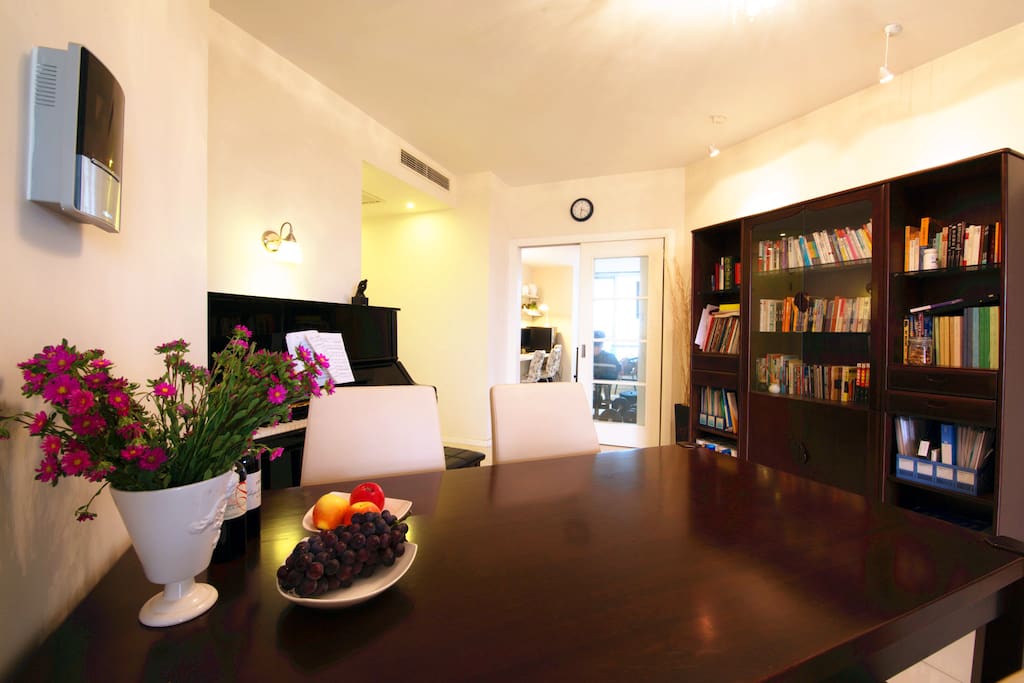 次卧:《中国新闻周刊》推荐,俯瞰鸟巢奥林匹克公园,牛排晚宴等你来
* The most convenient traffic along the Fifth Ring Olympic Park, 10 minutes on the 5th subway * Most of the furniture in the United States imported from Europe, exquisite quality * "China News Weekly" recommended reports * On the line 20 days to get the [super-landlord] * All tenants are 100% satisfied to leave, welcome to enter our guest group
*交通最便利的五环奥林匹克公园旁,10分钟5号地铁
*大部分家具美国欧洲进口,品质精致
*《中国新闻周刊》推荐报道
*上线20天就获得了【超赞房东】
*所有房客都是100%满意不舍的离开,欢迎进入我们的房客群
The space
* High-end area, there are small lakeside, swimming pool, gym ... Located in Beijing's central axis, is the Beijing Long pulse line! * Area is facing the Olympic Park, take a walk, look forward to the city of Beijing * Enjoy the endless snacks, the refrigerator in the Haagen Dazs, eight hi, Nestle, Meiji ... waiting for you to enjoy! * Large open kitchen, together with the exchange of home specialties it! Cook together, this is your home in Beijing! * At home can be equipment fitness, yoga, playing the piano, writing brush ... your good times in Beijing to continue! * Living room with 55-inch 3d TV, as well as 80-inch projector and professional curtains, you can watch 3d movies Oh! Sitting in the sofa, together with the landlord to see movies, high burst! * Outside the window overlooking the entire Olympic Park, Asia's largest forest park, you will be out of the camera! No matter the morning, sunset, night, are the United States and the atmosphere! Try a watercolor with ipad! Maybe, Beijing this haze will make You forget! Here seems like in Shenzhen! Everywhere is green! * There are two bathrooms, so your bathroom connected to your room is your own! You can also use the washing machine to wash clothes, welcome a week or two live Oh! * Usually, only I live alone! 140 square meters of two bedroom, space super big! * There is a lovely English short, called nimo, I have seen the most docile cat, he has his own activity area, but basically all the tenants are like ravaging him, ha ha! *
*高档小区,有小湖畔,游泳池,健身房…位于北京中轴线,是北京的龙脉线!
*小区正对着奥林匹克公园,散步放松,瞭望北京全城
*享受不尽的零食,冰箱中的哈根达斯,八喜,雀巢,明治…等着你随意享用!
*超大的开放式厨房,一起交换家乡的特色美食吧!一起烹饪,这就是你北京的家!
*在家中就可以器械健身、瑜伽、弹钢琴、写毛笔…你的美好时光在北京继续!
*客厅有55寸3d电视,还有80寸投影仪和专业幕布,可以看3d电影哦!坐在沙发中,一起与房东看电影,high爆!
*窗外俯瞰整个奥林匹克公园,亚洲最大的森林公园,你一定会掏出相机!无论清晨,夕阳,夜晚,都美得大气!用ipad尝试一副水彩画吧!说不定,北京这个雾霾之都会让你忘记!这里恍如在深圳!到处都是绿色!
*有两个卫生间,因此你房间相连的卫生间是你的独属!还可以用洗衣机洗衣服,欢迎一两周常住哦!
*平时,只有我一个人住!140平米的两居室,空间超级大!
*家里有一只可爱的英短,叫nimo,是我见过最温顺的猫咪,他有自己的活动区域,但基本上所有的房客都很喜欢蹂躏他,哈哈!
*
Guest access
Kitchen, ultra-high configuration of the apple, window computer, projector movies, watching TV, playing the piano, free to drink, enjoy the 7-11 snacks and ice cream! Can add a full set of equipment fitness! You can also go to the district gym ,swimming pool!
厨房、超高配置的苹果、window电脑、投影仪看电影、看电视、弹钢琴、随意喝酒,享用如同7-11的零食和冰淇淋!可以在加中用全套设备健身!也还可以去小区健身房、游泳池!
Interaction with guests
* The beginning to do airbnb, are my breakfast to the guest, since the hundreds of beautiful girls to do a great breakfast, I am very brazen eating breakfast to do. So, please do the baton of the morning, reward handsome landlord it, ha ha ha. * I have to work during the day and do not have lunch at home. So, the workday home is yours. * I have been cooking at home on weekends. Often called friends together for dinner, playing Texas Hold'em. Come and introduce some interesting friends to you in Beijing! We go to Orson in the morning and go for a walk at Orson at night! You will fall in love with the Olympic Park. * I have to practice at night, talk to you, if you will be very good, learn about! Welcome to the art of friends, meet is a fate! * My important dream is to become airbnb on the evaluation of the most interesting the most interesting and most humane landlord! Come and come, I want to become a seven-star landlord!
*最开始做airbnb,都是我给guest做早餐,自从来了好几个美丽的女生做得超棒的早餐后,我都很厚颜无耻的吃guest做的早餐。所以,请你做棒棒的早晨,犒劳帅帅的房东吧,哈哈哈。
*白天我都上班,工作日都不在家午餐晚餐。所以,工作日家都是你的了。
*周末我都在家做饭。经常叫好友一起来晚餐,打德州扑克。来来来,介绍一些北京有趣的朋友给你!
*我们早上一起去奥森跑步,晚上去奥森散步吧!你会爱上奥林匹克公园的,i believe!
*晚上我还要练琴,谈谈给你听,如果你也会就太好了,切磋一下!欢迎有艺术气息的朋友,相遇是一种缘分!
*我的重要梦想就是成为airbnb上评价最有意思最有趣最有人情味的房东!快来快来,我要成为七星级的房东!
Other things to note
If you have artistic cells, humorous, we may be good friends! Let us meet in the vast sea of people! I found that I prefer a person to the guests, so I set up only one person can stay it. So the home is relatively quiet, the two at home (and I) feel more chemistry. Welfare to slightly! Not registered friends love the letter can be registered through my link love Peter welcome account number for your first trip minus 200 yuan Oh. zh.airbnb.com/c/e030ce
如果你有艺术细胞、风趣幽默,我们可能会是好朋友!
让我们就这样相遇在茫茫人海中吧!
我发现我比较喜欢一个人来的客人,所以我就设置为只有一人可入住吧。这样家里面比较安静,两人在家(和我)感觉也更有chemistry。
福利来咯!!!
还没注册爱彼迎的朋友可以通过我的链接注册爱彼迎账号即可为您的第一趟旅程减免200元哦。
zh.airbnb.com/c/e030ce
---
---
Check in time is flexible
Check out by 12AM (midnight)
nice就好!最好别太严肃呀!
请按照入住的真实人数来预定,谢谢。
我的微xin是:frank-lei,请预定后加我(SENSITIVE CONTENTS HIDDEN),我们会给你一些guide。预定前记得要发我自我介绍哦!
---
Everything just perfect. Located next to the Olympic Park so the view is amazing and the air is fresh too. I really miss running there. And the room is big and clean with everything I need. The living room has a comfortable sofa and a nice TV and hifi. The host has been very welcoming too.
---
I booked Frank's room for my German friend. As far as I see, Frank is a very considerate and easy-going host. He communicated clearly before we arrived. And the flat is quite cosy and spacious with an amazing view of the Olympic forestry park. Personally i would highly recommend Frank's place traveller to Beijing.
---
I had a great time here. First of all, even as a Chinese, I think Frank cooks really delicious food. The apt is cute with a poodle, a cricetidae, goldfishes and green plants. The layout is nice. Everything is the same as how it looks like in pictures. Moreover, you can project movies and play stereo music in the living room. For tourists, the location is good because the apt is near the Water Cube and the Bird's Nest. Basically the best part during the stay is the host. Frank is a nice and interesting guy who enjoys life. You will see:) 前方高能;) 技能一:做美美美美味的食物,awesssssssome;技能二:傻傻和各种动物和植物玩,是的frank饲养了很多动物;技能三:播放电影儿播放歌儿&play piano. 第一天去frank煮了螺蛳粉,此处强调螺蛳是frank自己去奥森捡的,捡回家后又在清水里养了一周,另外,frank说他剪螺蛳屁屁剪了一个小时,还仔细观察每一颗螺蛳是否依旧具有蠕动的生命体征,没有蠕动的进了垃圾桶,还在蠕动的进了呲呲呲的热油锅,对螺蛳来说,好像结局是一样的嘛lol. 不过真的是完美好吗,新鲜的食材加上有水平的烹饪,螺蛳粉非常好吃啦。host煮东西真的又有技术又用心哟,come to taste, now!! 在我住的两天时间里,家里的小仓鼠逃逸了两次,一次是它自己撬开了门(并不知道它是怎么做到的),一次是frank把仓鼠抓出来和momo(五个月的小泰迪)玩...你知道他有多会玩了。最后我们都在沙发底下找到了小仓鼠,lol小仓鼠有在沙发底下安家的打算哦,它运送了好多坚果到沙发底下,好机智的小仓鼠。 最搞的是和momo玩好吗,稍等,还有一直小螳螂,这两个小可怜可能真的有后悔来到世上吧,just kidding,actualy really much fun! 我们把小螳螂放在舌头上拍照,frank让momo做180度转体的体操动作,笑cry,快乐的同时我的母性正在眼泪汪汪地爱抚着这两个小可怜。他还养了金鱼和很多green plants,这里是现代居住环境和小小大自然的结合,来制造更多的欢乐吧。 和小动物玩嗨了都忽略了那些比较正常的乐趣了,第一天晚上我们看了戴珍珠耳环的少女,这里有投影可以给你好的观影体验,客厅的沙发也很舒服。另外客厅还有一台音响和一架钢琴,健康有趣的生活中,听音乐就像吃饭一样是必要的,但是考虑到不是每个host都会这样布置自己的家,这也是一个很大的plus. 【 确实会玩,开心就好 】book frank's home right now :)
---
我在广西桂林长大,西安交大学了2年微电子后转学读了数量经济与金融,在腾讯北京做了3年产品经理,腾讯微博和腾讯微视,见证两个公司战略级的社交产品从鼎盛走向衰败。后来,投资人给了我一笔美金,从腾讯出来创业捣腾年轻人好玩有趣的社交产品。折腾出了两个自己的app产品,第一个是"seven七个人",最亲密的七个人聊天拍照;第二个是"子约",颜值前30%的用户才能注册的荷尔蒙交友。它们都只是上线小规模测试市场,还没有获得市场推广资源就因为各种原因中止了。创业失败后,15年底加入了一家创业公司,每日优鲜(目前中国最大的自营生鲜电商),负责产品和运营工作,还负责探索过高…
Languages:
English, 中文
Response rate:
100%
Response time:
within an hour
Explore other options in and around Beijing
More places to stay in Beijing: