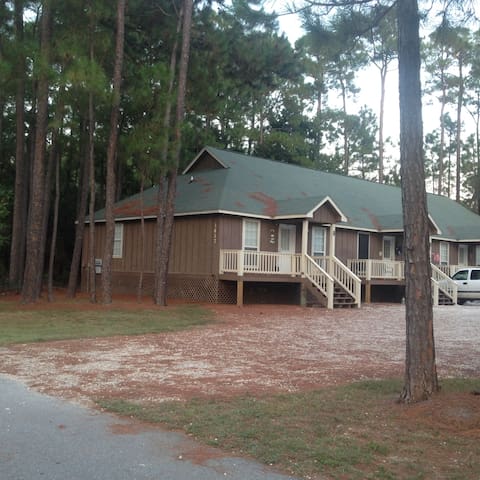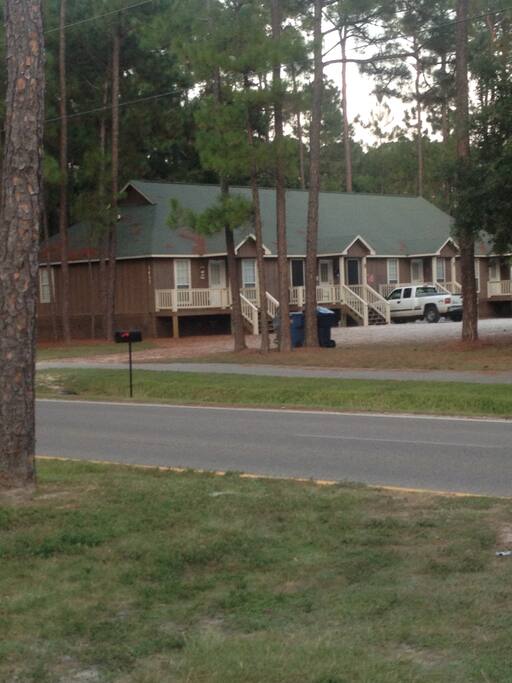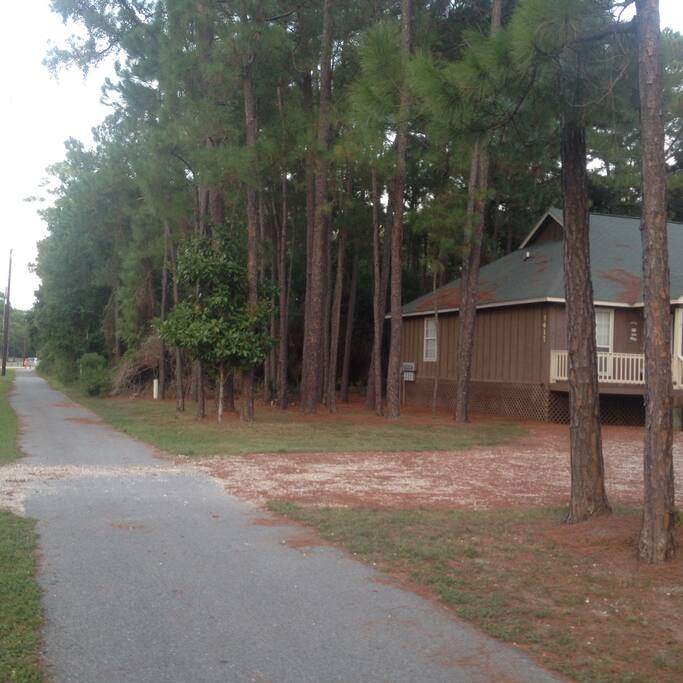 2 Bed/2 Bath Condo. Walk on the bike path to beach. Dauphin Island, AL is a barrier island located 33 miles south of Mobile, Alabama. The town is a family oriented community offering fishing, camping, swimming and bird watching. Pet friendly beach!
The space
Walking distance to beach/restaurant ~ 3-4 minutes. Take ferry over to Gulf Shores and shop in outlet malls. Relax on an Island that is very unique, laid back and charming.
Interaction with guests
Available any time, please call Brian at cell phone number.
Other things to note
Tourism activities include fishing, camping, swimming and bird watching among others. Entry to the island is made by crossing a three mile long high rise bridge which was opened in July, 1982 after the original draw bridge was destroyed by Hurricane Frederic in 1979. An automobile ferry from the eastern shore also offers an entry point on the eastern end of the island. The island is approximately 14 miles long and 1 ¾ miles wide at the widest point. The eastern six miles are inhabited while the western 8 miles are undeveloped and privately owned. It is estimated that 1300 permanent residents call Dauphin Island home. The number of residents soars during vacation and holiday times. The entire island has been designated as a bird sanctuary and thousands of visitors come to experience the annual migrations.
---
---
Leave it as you found it! Pets limited to only 1 pet. No smoking in unit, please smoke outside on deck.
By agreeing to this listing and to the extent permitted by applicable law, GUEST assumes the entire responsibility and liability for, and SHALL PROTECT, DEFEND, INDEMNIFY, AND HOLD HARMLESS the HOST from and against, any and all Claims which are made, asserted or alleged against HOST by GUEST or which arise in favor of GUEST, originating from any source in connection with GUEST presence on HOST Premises or in connection with GUEST Performing Under This Listing.
It is HOST and GUEST's intent, regarding such Claims, that to the extent permitted by applicable law GUEST SHALL PROTECT, DEFEND, INDEMNIFY AND HOLD HARMLESS the HOST against all of the consequences of
(1) (A) the NEGLIGENCE, FAULT, AND/OR STRICT LIABILITY of HOST occurring jointly, concurrently, and/or comparatively with the negligence, fault, and/or strict liability of GUEST, other than the sole negligence, imputed sole negligence, sole fault and/or sole strict liability of HOST
(B) the SOLE NEGLIGENCE, IMPUTED SOLE NEGLIGENCE, SOLE FAULT, AND/OR SOLE STRICT LIABILITY of HOST, unmixed with negligence, fault, and/or strict liability of GUEST and/or any other Person that is not a HOST and
(2) the NEGLIGENCE, FAULT, AND/OR STRICT LIABILITY of GUEST and/or any other Person that is not a HOST, including but not limited to joint, comparative, and/or concurrent negligence, fault, and/or strict liability of GUEST and/or any other Person that is not a HOST.
---
Brian & Beth's condo is very clean, comfortable and convenient. It's a short walk or bike ride to Gulf and the Bay. It is right on the bike path that spans the entire island, so we hardly even used a car the whole time we were there (we stayed for a month). Brian did a great job of communicating and checking in with us. You couldn't ask for a better condo owner. An example: I inquired about wifi access and Brian said that the closest access was at the town hall. When we arrived, we found that Brian had bought a router and installed it. That is the kind of guy Brian is. Very helpful. We are thankful for the chance to relax at Brian and Beth's condo on this quiet, unpretentious island full of friendly people. If you decide to go, you will be glad you did.
---
We had a wonderful time at the beach house. The house is comfortable, and the kitchen is fully equipped so it is easy to make meals. It is also conveniently located just a couple of minutes from the beach. Brian was quick to respond to all of my questions. He even left a bottle of wine for us! We would definitely love to stay here again.
Leah is great and super pleasant to deal with. The condo was left in great condition and Leah contacted us with questions about the island and the condo. It's great to have a fellow Tennessean come down and visit the island. We would highly recommend Leah as a guest anytime! Thanks again Leah and Go Vols!
---
Dear Brian, Beth, Kyle and Colleen, Thank you so much for sharing your beautiful condo with us. It had all the comforts of home. The well-stocked kitchen was ideal for the nights we wanted to eat in. We could not have asked for more. The decor was warm, inviting and "beachy". Another bonus was that the neighbors in the condo complex are quiet, friendly, knowledgeable and very interesting to talk to. Best of all though, was the location. It is an easy walk to great restaurants in either direction as well as to the public beach, which is only a five-minute walk away. We had some friends come over from Gulf Shores for a day-visit and they thought the whole set up was great, too. The information that you sent to us when we booked with you in October last year was invaluable. We knew just what to expect on the island and could prepare for it. Your contact with us before and during our stay was much appreciated. In the three weeks we were there we didn't get to do everything D. I. has to offer. Guess we'll just have to come back again and finish exploring. Our dogs, Maliboo and Phantom (aka "The Girls") loved, loved, loved sniffing out all the new smells to be found on the island. The beach walks were Maliboo's favorite where neighborhood walks were what Phantom preferred. We all relished the peaceful, laid back atmosphere found everywhere on Dauphin Island – even during Spring Break. Again, thank you. We enjoyed your condo and hope to be able to rent here in the future. Best regards, Mark, Wendy and "The Girls"
Mark and Wendy, we can't thank you enough and really appreciate you and the girls staying at our place on Dauphin Island. The condo was immaculate after your when we arrived for spring break with the kids. Please come back anytime! Glad you had a relaxing visit on our "pet friendly" beach. Thanks again! Brian, Beth Kyle and Colleen Carver
---
The condo is nice, clean, and comfortable, and it was well stocked with everything you need to enjoy the beach and the island. It is centrally located, just a couple of blocks from the beach, shops, restaurants, and a bar, and it's only about half a mile from the golf course. Brian was a great host, always friendly and helpful, and he responded promptly to all my questions. I had a great time on the island. It is very relaxing and unpretentious, with friendly people and nice, quiet beaches. It is the perfect place to get away from the hectic pace of modern life and relax on the beach with friends and family. I highly recommend it.
---
We bought our condo on Dauphin Island in 2004 when our first child was only 2. Our daughter was born 4 years later. We love taking the quick 3 hour trip to our Island getaway but with school activities etc we simply can't enjoy the Island as much as we used to. We would like to r…
Response rate:
75%
Response time:
within a few hours
Explore other options in and around Dauphin Island
More places to stay in Dauphin Island: