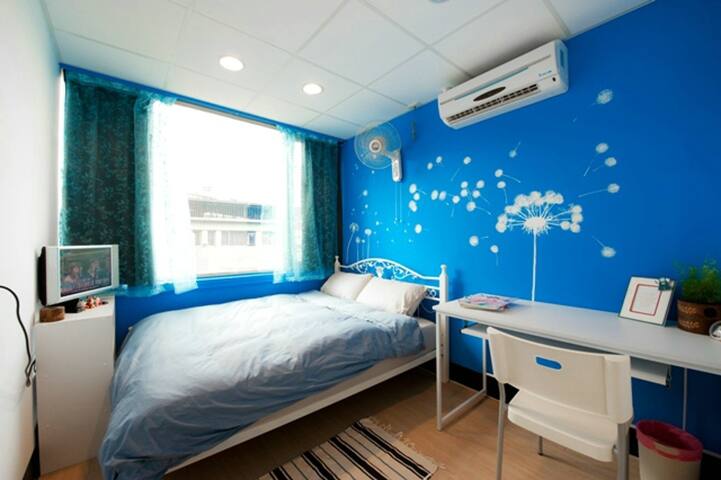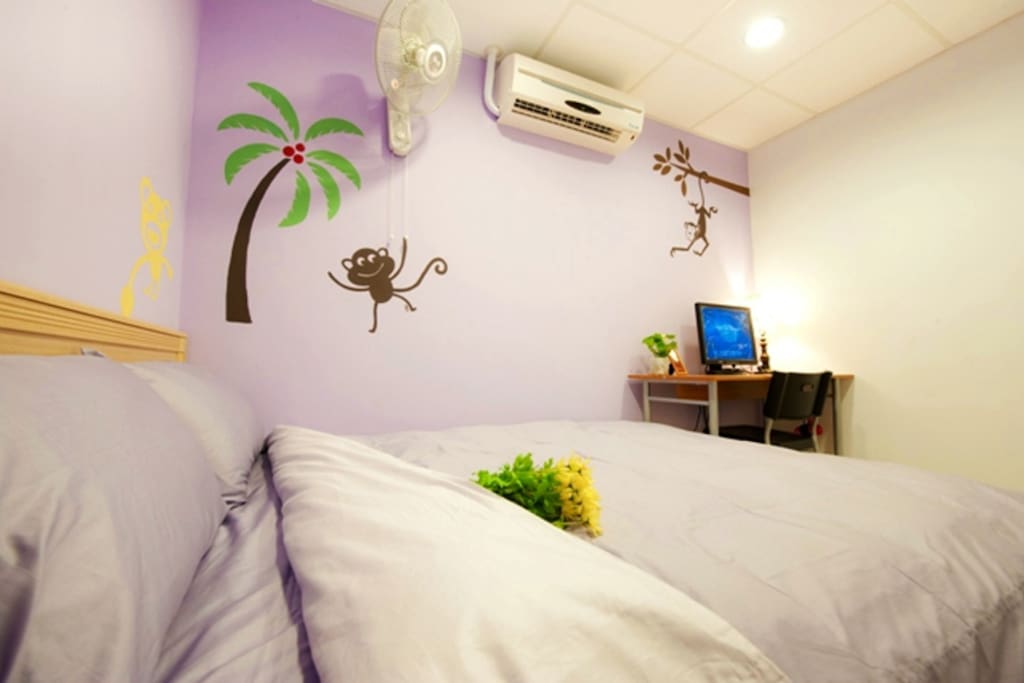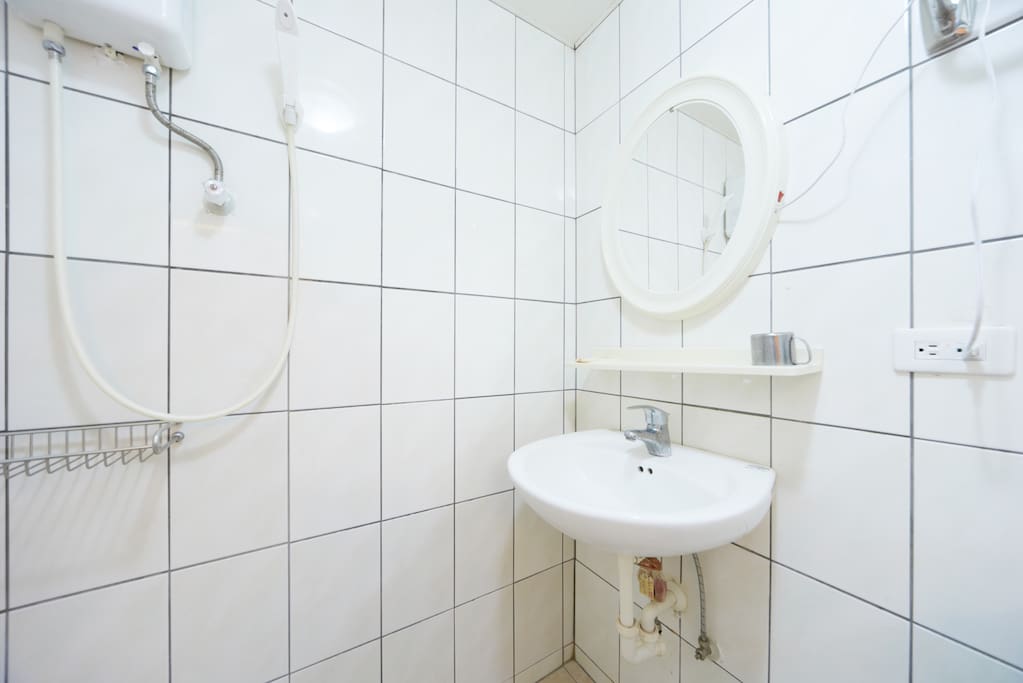 近台北市地铁站-Mrt Stay 2人套房-(使用独立卫浴)
★畅游台湾/Mrt Stay★
位于台北市热闹繁华的路段,是紧邻地铁口.更是邻近台北知名观光夜市的稀少绝品物件,纯住宿非旅馆。设施齐全.让您的租屋生活有着像回到自家般的亲切温馨,
※上附标准房参考照片.入住时视空房情况随机提供客房和床型.有多个类似,租客入住的房间可能与描述和照片略有差异.不可指定房间,由酒店安排住宿地点。
配备:床、液晶电视、冷气空调、WIFI网络、有线电视频道、热水器、电茶壶、卫生纸、洗发精、沐浴乳、洗面乳、牙膏、吹风机.请支持环保.接触到私人的毛巾/牙刷请自备
The space
***在airbnb预订之前, 请使用的[联系我]按钮发送短信给我确认房源.***
~~~~~~~~~~~~~~~~~~~~~~~~~~
*MRT Stay *
A modern and fashionable home stay, it is a shared apartment, unlike a normal hotel.
It combines a flexible term, a comfortable price, different room styles, convenient transportation and excellent location.
Its clean environment is near MRT stations and its complete amenities will make you feel at home.
Staying here will make you relax naturally and help you get to your destinations quickly.
Our location also makes it easy to sample the different foods available in Taipei.
Amenities include: bed, LED TV, air conditioning, free WIFI, free cable TV, water heater, electronic hot water kettle , toilet paper, shampoo, hair conditioner, body lotion, facial cleaner, toothpaste, hair dryer.For personal hygiene consideration, we do not provide any toothbrushes or towels.,and use shared bathroom, and its own private bathroom.
The room will be clean-up and changed the bed-sheet before your arrival. But during your stay, it will be self-serve so do keep the room clean
~~~~~~~~~~~~~
★畅游台湾 / Mrt Stay★
位于台北市热闹繁华地段,紧邻地铁口.且是邻近台北知名观光夜市的~"稀少绝品"~物件,让你可品尝台湾传统在地美食外,更是逛街采买和观看时尚潮流的好地方,新美学民宿风格,兼具现代与时尚感,纯住宿非旅馆。租期灵活,平价舒适,近地鉄口,让您的租屋生活如回到自家般的亲切温馨,房间雖不大但性價比高是您台北另一个家.因在台北租屋住宿中算是很优,若无提早订房。恐多会向隅
配备:床、液晶电视、冷气空调、全区免费无线WIFI网络、免费第四台有线电视频道、热水器、电茶壶、卫生纸、洗发精、沐浴乳、洗面奶、牙膏、吹风机.请支持环保.接触到私人的毛巾/牙刷请自备
※上附标准房参考照片.住宿位置位于多个地点.入住时视空房情况提供客房和床型.多个类似/相同的房间出租.房间布局和设施类似/相同,租客入住的房间可能与描述和照片略有差异
请留正确电邮与预约入住的时间.24小时内我们将回传当天负责接待您的管家手机号码.接待地址.接待地图.接待注意事项.请租客收信确认后回传.并凭此单入住.
歡迎連結我們(SENSITIVE CONTENTS HIDDEN)/Line-We Chat(SENSITIVE CONTENTS HIDDEN) ID- mrtstay
Guest access
租屋公約~
※租房當日請攜帶雙證件核對承租人資料,以完成租屋簽約手續。(不提供未成年單獨租屋,須由成年人簽約始能租屋居住)。
※全區(含房間、廁所、公共區域及樓梯間)禁止吸煙、酒、嚼檳榔。進出時.請留意大門是否關上.以確保安全。
※嚴禁開派對、吸毒、賭博、酗酒、色情交易等違法行為,若經發現一律報警處理。
※為了維護租戶權益與確保住家品質,請依租屋內容所示人數入住,住房人數增加須先告知並徵得屋主同意,對"不廉正"的租客我們有權請您馬上離開並拒絕您後續的入住權,除不退剩餘房款且須另補三倍的房差價。
※為維護房間清潔與衛生,禁止養寵物。晚上十點後,不可留訪客。在您連住期間.我們將不會再進入您的房內.請自我保持環境清潔.若你需要安排管家入內做房務清潔.請提早預約告知安排.(PHONE NUMBER HIDDEN)次。
※為避免打擾鄰居睡覺,在10:00pm~8:00am之間請放低音量,並勿使用洗衣機。
※響應節能減碳、請於離開房間後確實將電器用品及水龍頭關閉。若未確實執行,我們有權入內處理。
※此地無供餐,禁止使用任何炊具或可以生火之器具.不可烹飪,燒烤。牙刷,梳子,毛巾請自備。
※本館所有物品及設備皆訂有價格,如遭破壞,使用故障或遺失,除須照價賠償外,本館保留法律追訴權。
※嚴禁在公共區域隨意堆放垃圾和私人物品。退租後,遺留在室內之物品,將全視為廢物處理。
※為了方便多數租戶可以不用中途換房故若有安排上的需要,我們有將您換到同價位房型的權利
※外出離開房間時請隨身攜帶個人貴重物品與房間鎖匙。本館採自助式服務,不負擔保管責任。若忘帶鎖匙,將派專人開門並加收NT$200元服務費。若門鎖匙遺失需賠償NT$500元,若單換門鎖需賠償NT$5000元。PS:超時費另計
※租戶須遵守大樓管理規範的住戶生活公約,若違反本租屋公約或本大樓住戶生活公約,視同違約即刻終止租賃契約並將沒收餘款且無條件強制立即搬離。
※為維護居住安全,請先詳閱租屋公告,入住者將視為"已同意"所列協議。
※ Please bring your travelling documents (ie. passport) on the day of your check-in. (No minors are allowed to rent unless separately rented by their parents).
※ No smoking, alcohol, chewing betel nut in the apartment and the room (including toilets, public areas and apartment staircases)
※ No partying, drug abuse, gambling, alcohol, pornography trading and other illegal activities in the house. If found, the person will be reported to police.
※ In order to safeguard tenant rights and ensure the quality of the home, in accordance with the lease content, the host/owner must be informed and give consent of any extra person and consent of the owner to agree, We reserve the right to ask you to leave immediately and refused to your follow-up to the right to stay.
※ In order to maintain room cleanliness and sanitation, we prohibits pets. After 10 p.m., no visitors are allowed. Please open and close apartment door softly, so that you do not disturb the neighbors.
※ During you even live, and we will not re-enter your room, please keep the environment clean self . if you need to arrange a housekeeper reservations doing housekeeping cleaning.2 person room @ NT$300 /4 person room @NT$ 500.
※ In order to avoid disturbing neighbors to sleep in the 10:00 pm ~ 8:00 am, please lower the volume, and do not use the washing machine.
※ We support carbon reduction, please switch off all the appliances and faucets in the room and apartment before going out.
※ If any items of the main building and equipment are destroyed or lost due to the guest's fault, the host/owner shall reserves the right to request for price compensation of equal value of the item/s, the management reserves the right to legal recourse.
※ Dumping of garbage and personal items in public areas is prohibited. After the surrender of tenancy, the remaining items in the indoor will be treated as waste disposal.
※ In order to facilitate the majority of tenants. THe management reserves the right to request for re-arrangement/allocation of rooms of the same price/value.
※ Please be responsible of all your personal belongings. Please remember to lock your door. The management does not take custodial responsibility. Any loss of keys will be subjected to NT$200 service fee for reopening of the room by a locksmith. If the door keys is missing, the required compensation of NT $500, Any change of the lock will require compensation for NT $5000.
※ Tenants have to comply with the building management practices. Convention on the household life, breach of the life of the Convention of this rent the Convention or the residents in the building, will be regarded as breach of contract immediate termination of the lease contract and the confiscation of balance rental and unconditional mandatory move out by the guest.
Interaction with guests
請預先告知您希望我們安排幾點接待您呢??
因我們沒有24小時駐點.管理人員皆不居住客棧,為了避免撲空,請先約好時間讓我們前往招待 (check in時間:下午3點至7點)~請先預約下面任一時段
PM(PHONE NUMBER HIDDEN)
若非接待時間提前或延後抵達者,需取得"Mrt Stay同意"並將另收取超時服務費
Ps:中午12點前要入住將加收100元,後每再提前一個小時再加收100元.ex:中午(PHONE NUMBER HIDDEN)….
Ps:晚間8點後完成入住將加收100元,後每再延後一個小時再加收100元.ex:晚上(PHONE NUMBER HIDDEN)…
如無法依約定時間前來,請提早2小時電話或簡訊通知,否則超時費將依約定時間照收,謝謝您!
~~~~~~~~~~~~~~~~~~~~~~~~~~~~~~~~~~~~~~~~~~~
We don't have 24 hours on-site staff
so you need to make an appointment for check-in (regular check in time: 3pm to 7pm)
What time would you like to check in?
PM(PHONE NUMBER HIDDEN)
If you can't check in during regular hours. you need to pay the surcharge for staff's overtime work.
PS: Check-in (before 1pm/ after 8pm )will also charge extra NT$100 per hour
Other things to note
1,我们要求最低2晚住宿的房间客人预订相同。
2,我们只允许通过预订预约,我们也不能接受在入住前预订不到72小时。
(EMAIL HIDDEN) 100。
4,请注意!在网站的地址是物业办公室没有为住宿的地方。酒店的客房设在几个方面,这将是受供应情况提供不同类型的客房。我们会回复所有的细节安排在24小时内,一旦我们收到客人的邮件。客人需要回复双确认所有的细节都是正确的。然后,他们可以显示该邮件副本,来检查证书。
5,我们整个区域禁止吸烟和节制。客人需要准备毛巾和牙刷本身。在逗留期间的物业工作人员将不能进入客人的房间。请保持室内清洁,会有额外收费,如果客人需要物业工作人员来清理房间。
6,酒店提供机场接送服务(额外费用)下.2.Children。岁免费入住,如果他们通过使用属性的详细联系方式分享床与父母或guardian.Only办理入住手续时登记的客人可以进入room.Guests应通知酒店与到达时间和细节在预订confirmation..Pets在属性不允许(包括导盲犬和类似的服务只动物)。感谢你的理解。
7,对于小区安全的维护,客人必须遵守社会生活Convention.Whoever违反了我们的租赁协议或社区的会议被视为违约,并立即终止合同。我们将没收的余额,并迫使你立即无条件搬出。
请仔细阅读合同,你会被认为是"同意"办理入住手续后,上述协议。
---
Bathrooms: 1 (Private bathroom)
Check In: Anytime after 3PM
---
---
Weekend Price £51 / night
Always communicate through Airbnb
To protect your payment, never transfer money or communicate outside of the Airbnb website or app.
Learn more
---
Check in is anytime after 3PM
1.We require a minimum 2-night stay for the same room guests booking.
2.We only allow booking by reservations and we also do not accept reservations less than 72 hours before check-in.
3.We service hours is from 3pm to 7pm. As the property is only with accommodation which is without reception, please contact with the property (EMAIL HIDDEN) to advise the check-in time after making a reservation. If guests need to check in before 15:00 OR after 20:00, there will be an extra service charge, TWD 100 per hour.
4.Please Note! The address on website is for the property office NOT for the accommodation place. The rooms are located in several areas and it will be subject to the availability to provide different room types. We will reply all the arrangement details within 24 hours once we receive guest's email. Guests need to reply to double confirm all the details are correct. Then, they can show this email copy as the certificate to check in.
5. Our whole region No smoking & temperance . Guests need to prepare towel and toothbrush themselves. The property staff won't enter guest's room during the stay. Please keep the room clean and there will be an extra charge if guests need property staff to clean up the room.
6.The property provides airport transfer service (with additional cost).2.Children under. years old is free to stay if they share the bed with parents or guardian.Only the registered guests upon check-in are allowed to enter the (URL HIDDEN) should advise the property with the arrival time and details by using the contact details of the property on the booking confirmation..Pets are not allowed in the property (including seeing-eye dog and similar service animals). Thanks for your understanding.
7.For the maintenance of residential security, guests must comply the community's living Convention.Whoever violate our rental agreement or the community's Convention are considered as breach of contract and the immediate termination of the contract. We will confiscate the remaining balance and force you to move out unconditionally and immediately.
Please read the contract carefully and you will be deemed "have agreed" the above agreement after check-in.
---
---
---
★畅游台湾 / Mrt Stay★
位于台北市热闹繁华地段,紧邻地铁口.且是邻近台北知名观光夜市的~"稀少绝品"~物件,让你可品尝台湾传统在地美食外,更是逛街采买和观看时尚潮流的好地方,新美学民宿风格,兼具现代与时尚感,纯住宿非旅馆。租期灵活,平价舒适,近地鉄口,让您的租屋生活如回到自家般的亲切温馨,房间雖不大但性價比高是您台北另一个家.因在台北租屋住宿中算是很优,若无提早订房。恐多会向隅

配备:床、液晶电视、冷气空调、全区免费无线wifi网络、免费第四台有线电视频道、热水器、电茶壶、卫生纸、洗发精、沐浴乳、洗面奶、牙膏、吹风机.请支持环保.接触到私人的毛巾/牙刷请自备

出发前须知
1.此純住宿非旅館不设接待前台.客人订房后需主动Line-We Chat ID- mrtstay预约入住的时间. (我們check in時間:下午3點至7點).若提早于下午2点前或晚上8点后入住.每往前/后一个小时需另加台币100超时加班费.

2.请注意!网上地址为办事处地址非当天住宿地址.上附标准房参考照片.住宿位置位於多個地點.入住时视空房情况提供客房和床型.租客入住的房间可能与描述和照片略有差异.我们将于客人来信后24小时内回传接待细节.若無法確認入住時間者請取消訂單.

3.我們全區禁菸+禁酒.毛巾与牙刷请自备.在您連住期間.我們將不會再進入您的房內.請自我保持環境清潔.若需管家房務清潔須另付費預約

PS:因我們只是提供單純住宿.所以三人以上團體房只接受『同性』或『直系親屬』同住一室 .若不符合上述條件訂房者.房東有權拒絕接待並沒收租金.特此告知
~~~~~~~~~~~~~~~~~~~~~~~~~~~~~~
*MRT Stay *
The property is with convenient location, close to MRT station. It is also close to the famous night markets in Teipei which is very rare to find among Taipei properties. Guests can not only taste traditional Taipei cuisine, but do shopping and enjoy fashion in Taipei.

The property is with modern and fashionable design. It is not a hotel but pure accommodation. The stay period is flexible and price is budget. With its convenient location, guests will feel comfortable and sweet as stay home. Although the room is not that spacious, but with good cost performance. As the booking of the property is very hot, please make your reservation earlier.

Faocilities: bed, LCD TV, air-conditioning, Free WiFi, hot shower, electronic kettle, toilet paper, shampoo, shower gel, tooth paste, facial cleanser, hairdryer. Please keep environment protection and prepare your own towel and toothbrush.

The photos are the standard room. The rooms are with different locations. The room and bed types will be provided subject to the availability. Please leave the correct email address and check in time. The property will reply with the onsite staff's contact number, reception address & map, things to note within 24 hours. The guests need to reply the email to confirm and use the property email as check-in certificate.
Languages:
English, 中文
Explore other options in and around Wanhua District
More places to stay in Wanhua District: