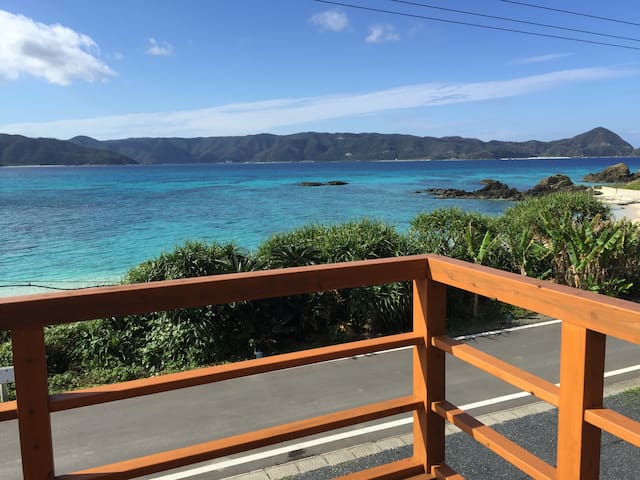 About this listing
**ご予約は3ヶ月前より受け付けております(Airbnbのシステム上、チェックアウト翌日の3ヶ月前にオープンになるようです)
**予約可能な日になっても、私自身の利用等でご予約できない場合もございます。
奄美空港から車で20分、打田原(Uttabaru)の静かな海をのぞむ二階建てです。55平米と小さな家ですが、2015年夏の新築で、機能的で使いやすいです。宿泊料は一棟貸しのお値段です。
ビーチの入り口まで徒歩30秒。水着のままビーチと家を往復できます。内海でとても静かなので、海水浴やサップにぴったりです。サーフィンで有名な手広海岸も車で20分くらいです。空港から車で5分の管理人ご夫妻のご自宅でチェックインの手続きをしていただきます。
定員4名ですが、快適に過ごせるのは大人で2~3名で、大人4人にはちょっと狭いです。4人目の方は一階のソファとテレビの間に寝具を敷く形になります。
フローリングが無垢で汚れやすく、飲み物をこぼすと跡が残ってしまうため、飲食は基本土間のダイニングスペースでお願いいたします。
大切にご利用いただける方のお申し込みをおまちしております。
---
Check In: Anytime after 1PM
Room type: Entire home/flat
---
---
Extra people: £11 / night after 2 guests
---
**ご予約は3ヶ月前より受け付けております(Airbnbのシステム上、チェックアウト翌日の3ヶ月前にオープンになるようです)
**予約可能な日になっても、私自身の利用等でご予約できない場合もございます。
奄美空港から車で20分、打田原(Uttabaru)の静かな海をのぞむ二階建てです。55平米と小さな家ですが、2015年夏の新築で、機能的で使いやすいです。宿泊料は一棟貸しのお値段です。
ビーチの入り口まで徒歩30秒。水着のままビーチと家を往復できます。内海でとても静かなので、海水浴やサップにぴったりです。サーフィンで有名な手広海岸も車で20分くらいです。空港から車で5分の管理人ご夫妻のご自宅でチェックインの手続きをしていただきます。
定員4名ですが、快適に過ごせるのは大人で2~3名で、大人4人にはちょっと狭いです。4人目の方は一階のソファとテレビの間に寝具を敷く形になります。
フローリングが無垢で汚れやすく、飲み物をこぼすと跡が残ってしまうため、飲食は基本土間のダイニングスペースでお願いいたします。
大切にご利用いただける方のお申し込みをおまちしております。
玄関を入ると、キッチン兼ダイニングの土間です。土間はコンクリートなので、海から上がって濡れたままでもOK。30cm上がったスペースが居間、階段を上がると2階の就寝スペース、と個室はありません。
寝具は4セットあり、2階に3人、居間に1人、布団がしけるスペースがあります。写真に間取り図があるので参考にしてください。また、インターネット接続はありませんので、ご注意ください。
タオル、シャンプー、洗剤など、生活に必要な備品は備えていますが、より快適にお過ごしいただくために、以下のご持参をおすすめします。
*日焼け止め(何故か近くのスーパーで売っていないようなので)
*虫刺され用の強い塗り薬
*生理用品/風邪薬など(車でないと買いにいけず、いざないと辛いので)
*入浴剤(奄美には温泉がないので、気分だけでも!)
*映画DVD(ブルーレイは再生できません)
海水浴シーズンのアイテム
*ラッシュガード(私はユニクロのUVパーカを代用してます)
*日よけテント
*シュノーケルセット&曇り止め
*エクストラのタオル(ビーチタオルは用意されてます)
鍵のかかっているクローゼット(オーナーの私物入れ)以外は自由にご使用ください。
私は東京に住んでいるので奄美ではお会いできませんが、管理人のご夫妻や集落は親切な方たちばかりです。お隣の和田ご夫妻は御年83歳で、集落のため塩を作ったり、なりうどんを作ったりと大活躍されています。是非ご挨拶してみてください。
打田原は人口60人くらいの小さな集落です。お店などは何もなく、夜は真っ暗です。バスも通らないのでレンタカーは必須です。一番近いスーパーまでは車で10-15分くらいです。
レンタカーが必要です
1)小さなお子さんがご一緒の方はハウスルールをご確認の上ご相談ください。
2)鍵の受け渡しのため、現地管理人ご夫妻の都合を確認してからのリクエスト承認となります。ご夫妻の予定と合わないと承認できないこともありますのでご了承ください。
3)奄美は自然に恵まれている分、虫が多いです。ただ、虫が苦手な私も奄美だとしょうがないな~と思えます。
4)繰り返しになりますが、大切にご利用いただける方のお申し込みをお待ちしております。
---
Check in is anytime after 1PM
大人仕様の家なので、一部構造が小さいお子様に危ないのと、落書きやお漏らしの場合、コーティングのない床材のため汚れが落ちづらいと思われます。小さいお子様とご一緒の方は、以上の点をご確認の上ご相談ください。
雨が降ると、窓から結構吹き込んできます。少しでも家を空ける際は、必ず窓を閉めて外出してください。
新しい家なので、きれいに使っていただける方のご滞在をお待ちしています。
床材は無垢の良さを残すためにコーディングをしていないので、通常より汚れやすいです。シミもつきやすいので、飲食は土間でお願いします。居間や2階で飲食の場合は、コップを直に置かない、食べ飲みこぼしのないようお願いいたします。通常の清掃で汚れが落ちない場合は、別途クリーニング代をご請求させていただく場合もございますので御了承ください。
チェックイン/チェックアウトの時間は原則13時/12時とさせていただきますが、前後にお客様がいなければ柔軟ですので、ご相談ください。
アメニティについては、タオル、シャンプー類、洗剤など、基本的な物は揃っています。詳しくはサイト内にairbnbのテンプレートで表示されていますので、事前にご確認ください。
---
Moderate
Cancel up to 5 days before your trip and get a full refund, including service fees.
---
---
---
Exact location information is provided after a booking is confirmed.
The Amami Beach House is perfect if you're looking for a beautiful, quiet and private location on Amami-Oshima. The description as provided by the host Masayo is accurate, but even then our expectations were exceeded when we arrived. The check-in and check-out process was smooth thanks to the Akagi family. They are super friendly and provided great advice upon arrival. Renting a car is a must as other reviewers have mentioned. Even with its secluded location, supermarkets and restaurants are just a short drive away so it's still very convenient. The best part about the relatively secluded location is the beach in front of the house. Without doubt it's one of the best beaches on the island and we had it all to ourselves during our stay there. We travelled with our six-month old daughter and it was more than sufficient for our needs. As she isn't very mobile yet we felt it was very safe for her. It was our first holiday as a family of three and I'd recommend it to others with children too. The house is very clean, modern and has everything you need. The view from the balcony was a great sight to see every morning even when it was rainy. With a young child we couldn't snorkel or try canoeing through the mangroves as we've done in other places. We hope to return and try more activities when our daughter is older. If we do return we wouldn't hesitate to stay at the Amami Beach House again. Thanks Masayo for letting us stay and thanks to Akagi-san for all her help.
---
Secluded, quiet, and perfectly arranged, Amami Beach House is a hidden jewel. The Uttabaru beach area is on par with the worlds most treasured beaches, such as Kapalua in Hawaii. You'll want to stay longer to enjoy one of Japan's most beautiful white sand beaches just a few steps out the door and explore the many scenic areas of Amami. Masayo's beach house is immaculately clean with every amenity possible to make stay enjoyable. The on island property manager is very friendly and ensures all is well. Good job Masayo!! We will be back.
---
Masayo's place is amazing. The location is the best in the world with the most beautiful beach just on your doorstep. The house is very well equipped with everything you need and we had a wonderful time. Even in January the island is a wonderful place to be. A bit sad that we had only three days. We will definitely be back...!
---
In one word, gorgeous! Thank you Masayo-san & Akagi family! As many have mentioned already, the house is located right in front of the beautiful and peaceful Uttabara beach, which can be accessed as one would for private beaches. Morning swimming was our routine of course. The lovely house itself was very clean to every corner with well thought-out layout and thorough attention to detail is seen across many of the household equipment which made our stay most pleasurable. Communication before and during the trip was also super helpful and informative. Not to mention Akagi-san's warm and charming character! We were very delighted and satisfied with every offer to say the least and would love to come back to spend even longer at Uttabara next time.
---
We had a truly magical time at Masayo's beach house in Amami. The house itself is exactly as pictured, a brand new modern style loft house with a luxurious bathroom area, wonderfully-smelling wooden floors, and a great and well-appointed kitchen. The view from the balcony is gorgeous, and everything about the house was great. The beach right in front of the house is literally like the pictures, with gorgeous clear blue water and soft white sand. There are only two other homes with local islanders living on the beach, so every day we had the beach all to ourselves. There is great snorkeling right in front of the house if you swim out a little bit, with lots of coral and fish to be found. The island is quite large, so the house is somewhat far away from the supermarket, restaurants, etc. We were aware of this, but other guests may want to keep that in mind. A car is a must. We really don't have anything bad to say about our stay, as we were so surprised about how wonderful Amami Island is and we couldn't believe such a place existed within Japan. I would highly recommend this guest house to anyone looking for a private getaway right along a wonderful beach. Thanks so much to Masayo-san for sharing her house, and to the Akagi family for helping us during our stay. We can't wait to go back!
---
Amami Beach House is a great little place to relax in front of a beautiful beach. It's in a secluded area which is just what we wanted during our stay on Amami Oshima. The house is well-equipped and has a functional kitchen which we really appreciated. Akagi-San, the caretaker, was so friendly and provided us with all kinds of useful information when we asked. We'd love to return!
---
We really enjoyed our time at Amami Beach House. The house is right across from a beautiful beach that we had all to ourselves. The Akagi's (caretakers) were very helpful and even though we only speak a little Japanese were able to communicate well. Masayo speaks excellent English and can help with any questions or concerns. The house is brand new and has a fresh cedar smell and has everything you need to enjoy your time. Quiet, peaceful, and beautiful. We hope we can visit again!
---
初めまして!東京在住のMasayoです。
大好きな奄美大島に小さな家を建てました。

綺麗な海と地元の人々との交流を大切にしてくださる方、過ごしやすい家がまってます!

Response rate:
100%
Response time:
within a day
Explore other options in and around Amami-shi
More places to stay in Amami-shi: