STILTZ Boutique Hottub Rural Retreat in Norfolk
Entire cabin hosted by Chrissy & Paul
2 guests
,
·
1 bedroom
,
·
2 beds
,
·
1.5 bathrooms
Entire home
You'll have the cabin to yourself.
Enhanced Clean
This host has committed to Airbnb's 5-step enhanced cleaning process.
Self check-in
Check yourself in with the lockbox.
Chrissy & Paul is a Superhost
Superhosts are experienced, highly rated hosts who are committed to providing great stays for their guests.
Stiltz is isolated & secluded, our guests never need leave our home, or meet anyone!! Takeaways and cooking in our home. Stiltz is dedicated to love & romance, connect with that special person, get away and focus on each other in the hot tub with uninterrupted views of the valley, walk in 350 acres of woodland. A luxury kingsize four--poster-bed a woodburner, relax in our new large outside covered space, with BBQ, sofa and chairs, fire-pit and patio. If bringing your dog 1 or 2 small or med .



The space


COVID-19 advice for accommodation providers, due Government Guidance and advice for those providing hotel and other accommodation in the UK please read the below carefully. As a Businesses providing holiday accommodation and short term lets we now have implemented the below.

Now we are open to all guests to stay, and can book now for dates available in the calendar, if accepting the following guidance:
We care deeply about your safety, whether you are at home or traveling and will happily do more to help you where we can.

· Guests should try to adhere to the simple social distancing principles of being two metres apart if outside family groups, for example on trips to local shops. A major benefit for us is that we are very rural, and you never need meet anyone during your stay here. Within the vast Woodlands and Heaths that back onto the properties, it is very rare to meet other people, and if people are walking their dogs, it is easy to see people approaching from a distance and to go in other directions.
· A Stand down day. We have now implemented a minimum 28 hours between guests arriving and departing our properties. This is for two main reasons, one, it allows our hot tubs to be drained and cleaned completely, and two, for us to carry out a full deeper clean, bleaching all surfaces in between all guests. Our cleaners have Airbnb guidance on how to thoroughly clean our properties, and have been provided with additional cleaning regime to ensure this is correctly carried out. This will double the time they spend cleaning our properties, however, we are determined to always continue to improve our excellent hygiene standards, also we have had to ask guests to check out by 10am for additional cleaning.

· Our social distancing policy means, we will not meet our guests on arrival or during your stay, other than an emergency. On arrival you will check in and have a code to the key box, this will allow you to access the property.
· For the interim, we have removed all sauces and condiments, tea bags and aromatherapy oils for the hot tubs at both rentals. We will still provide a large portion of coffee beans for the coffee machines in a resealable container (kept in the fridges) which is replaced between guests, so these items you will now need to bring for your own personal use.
· We would also ask that all our guests please also follow government guidelines on hand washing and daily hygiene to ensure we are all working together to avoid this virus.
· the WHO recommends practicing good hygiene to protect yourself against infection — by washing your hands frequently with soap, so we provide hand soap in our properties, advice is soap and water with robust scrubbing is more effective than anything else.
· The advice of maintaining distance between yourself and anyone who is coughing or sneezing, and avoiding touching your eyes, nose and mouth.
key boxes ( we use anti bacterial treatment between guests on all key boxes) allow you to enter the property and leave with out the need to meet us.
· Airbnb now are changing cancelation policy and cancellation charges are being updated so please check regularly the site for details and you have any problems with COVID-19, we would prefer that you do speak to Airbnb first if your circumstances change, and if we have any problems then you will be notified via the app.
· We understand as this situation rapidly evolves, we know there is an atmosphere of uncertainty as travellers wonder if they should change their plans and we will do all we can to help with regular information.
Thanks for your support during this difficult period.

We have had some fantastic reviews, (youtu.be/QI1_ZNoJBFs) and we attract guests hunting for what we offer, therefore we want to be clear on what you can expect so you can then you can have the very best experience and therefore Stiltz can not be suitable for everyone or all tastes, as it is very rural and designed for couples wanting to get away from it all.
Stiltz has been compared to tree house, so for that reason Stiltz is not suitable for all guests, as the Home front access is ONLY by steps and the decking, which can be slippery when wet, and so please DO NOT BOOK, if you want to bring young children, or Older guests with limited mobility or Disabled guests, but our other property the lodge is child and Disability friendly and sleeps up to four or five and you can also book via Airbnb.
Stiltz's is a building surrounded by decking and is on stilts as it is built on the side of a hill. the home has dual aspect decking, allowing you to maximise sun and shade from dawn till dusk, with the best uninterrupted views of the valley and 12 acres of meadows which surrounds our hot tub. This has been perfect for couples wanting a special break away. We have done all we can to make it as comfortable as possible, the luxury inside, alongside the pleasure of watching the sunset with a glass of bubbly at any time of the year from the warmth of the hot tub is something special that a photo cannot capture! The only experience can not be capture on film is that on a clear night, you can lay back in the hot tub under a canopy of stars, which is something our guests have been amazed by and loved! By law we need to check the hot tub daily or twice daily, we always check the hottub is not in use, and aim between 9-10am, if you prefer a different time please message us, but be aware this has to be done to check the hottub is safe and we also have to record the data.
DOGS are welcome, just let us know the type, as for this property small and medium breads work best, please be aware we also need to ensure after you leave, every trace of you pet needs to be removed for the next guests to enjoy their stay!
As the decking on the other side from the Hottub Is also on different levels with steps and for the same reasons, it is also not suitable for anyone who has mobility issues or disabilities, and again best pick the lodge, also with so much decking if it gets wet, care also needs to be taken for all our guests, and again, some more elderly guests would not find it practical to stay at Stiltz either.
It is especially designed for couples looking for a romantic brake from the bustle of everyday life, curling up in front of a roaring fire with that special someone. We are miles away from the nearest village, and access is via an unmade track. Also some mobile providers also have poor coverage in our area too, it is rural with a capital R, so if fast broadband is a must have for your stay, then our location is not for you! The lodge is located with access to 400 acres of heathland and woods close to the leisure area called Top Farm.
From the bedroom you can see the same views through triple glazed windows and, when you wake, relax in the luxury ash grey four poster bed, on a mattress which has over a 1000 individual pocket springs with deep, luxury fillings, this is a hand tufted mattress to give optimum support for a peaceful night's sleep. We provide high quality and fresh bed linen for all guests, with luxury soft pillows and duvet. Many of our guests have said that, when combined with a couple of hours in the hot tub, it has made for the best night's sleep they've had in years! (We also provide, free of charge, lavender, raspberry and other scented oils for use in the hot tub). We built Stiltz for relaxing in, and it is ideal for guests who want to stay somewhere a bit special. Our happiest clients seem to be couples who want to get away from it all, but not to scrimp on comfort!
The french solid oak flooring in the bedroom steps you into the travertine stone floor of the ensuite, with shower, basin and toilet, with soft deep towels provided, or your robes provided for the spa. The en suite is clad in hand cut timber painted with soft eggshell. From the shower room step into the lounge, with a deep four-seater, grey, leather sofa, to curl up on for a cosy night in front of the contemporary wood burner, with the option of watching the Panasonic 40" Smart TV, with Freeview TV, DVD player and selection of DVD's. It is unlikely you will feel either too cold or, too hot, as the building is super insulated, but the 5 kilowatt state of the art Scandinavian wood burner can make the place very hot quite rapidly. (The manual has details on its operation), and with a flick of a switch the warm aromatic air can be pulled through into your bedroom. We provide all wood and kindling free of charge for your stay, as it is a must for our winter guests!
You can exit the lounge stepping onto your personal decked areas on both sides of Stiltz via sets of double patio doors. To the sun deck or covered breakfast area, all areas can be again fully lit in the evenings.
The dining table separates the lounge from the kitchen area, and you will find DAB radio and an Ipod dock for visitors' use. Both the lounge and kitchen have white bespoke New England adjustable shutters for maximum privacy and shade.
The kitchen is well equipped with all your home comforts, seasoning (Tuscan, Italian , French, chilli and others) plus your own top of the range bean to cup coffee machine (Instructions to be found in the manual), also find complimentary fresh coffee beans kept in the fridge for your use also. Dishwasher, toaster, blender and kettle are also provided. Instant coffee and a selection of twelve types of tea bags from herbal to Earl Grey are complementary . Also, all necessities, i.e. dishwasher tablets, washing up liquid and cleaning products. The cooking area has a ceramic hob, extractor fan and a large separate combination microwave/grill/oven (Instructions in the manual), also commentary cooking oils, balsamic vinegar, sauces, herbs and spices. To brighten up our kitchen we have a fun, bright orange, retro fridge-freezer and on top you have your very own ice machine. We even provide a full set of condiments, ketchup, mustard, chilli, tabasco and much more!
At the end of the kitchen you can exit on to a further decked balcony via the third set of patio doors. This time, the deck has a glass roof, and you can step out onto the sun deck with sun loungers ready surrounded by a glass balcony, so as not to spoil your view! From there you can step straight into the spa, which is level with the deck.
With external down lighters outside the north facing glazed wall, these, and all the extensive external lighting, are controlled from the door by the bedroom, which leads you on to the decking. The framed edge of the decked balcony is also lined with stainless steel handrails and cabling.
The hot tub is a Catalina XL21000, with twin loungers so you can lay back. It seats five comfortably, and with three pumps and a heated blower the 64 stainless steel jets should not miss a spot delivering the ultimate relaxation. However, if you wish to chill in this idyllic country setting, we also provide a 50 watt portable speaker, bluetooth your phone or iPod to listen to your own playlist, and in the spa at night you can always turn on the tubs own underwater LED lights.
On the decking next to the hot tub are chairs and table, perfect for breakfasts, and a bistro set with chairs and a table perfect for evening prosecco. Our guests can enjoy their evening with subtle light from blue up lighters on the deck (for safety, champagne flutes, tumblers and wine goblets provided are polycarbonate for use in the hot tub).
The decking area can also accommodate hammocks provided, the area to the south has a corner rattan sofas and large table and the dinner table and seats for four and with the down lighters in the evenings along the soffit overhang of the home, creates a perfect area for relaxation.. Additional shade can also be introduced by raising both the three metre sails.
NEW in 2020 is "The Retreat" this covered alfresco area is created by a "Dutch Barn Style" barrel vaulted roof, over the entire patio and corrugated steel walls give privacy along the property boundary, as this area closes of the south facing decking and provide access to the back of the property. This area is larger than the indoor lounge and kitchen put together, and the "Retreat" has three main purposes, to shelter you when the weather is too hot, wet, cold or snowing, for you to cook, as the area has a three burner gas BBQ (Full set of tools provided for BBQing) and preparation table for those who love all year outside cooking and to relax at night, on the sofa and chairs surround your very own gas fire-pit, the area has ferns and natural stone paving throughout, flanked by solar lighting and wood chipping on the boarders, also we have an area for those wishing to smoke.
If you hanker for straying a bit further in the outdoors, then down the stairs off the decking into miles of woodland walks (map on the wall of the 500 acres in total without crossing a road) or, venture onto the adjacent heathland on bikes, which we can organise hire for your stay if you would like? Even if you clock up the miles on your walk, you will be lucky to come across anyone else, but you will find miles more beautiful scenery without a house in sight. Just as with the views from the decking around Stiltz!
We except guests with well-behaved pets, but we require information on your pet before we accept the booking.
We want your stay to meet our high standards, and so, we like to change the water in the hot tub between every guest, but this takes more than 12-15 hours to empty, refill and get back to the correct temperature, therefore to allow this to happen, we do appreciate a prompt departure to allow us to be able to do this for our next guests. However, if we do not have guests arriving the following afternoon we are happy to be more flexible on departure times, so please just ask. Also, weekends are our most popular time for bookings, so we do discount week nights and longer stays!
With only one bedroom Stiltz normally only caters for 2 adults maximum, some guests have wanted to bring their children, as previously stated, we do not recommend toddlers or the disabled to stay due to the lodge layout and safety around the hot tub, steps and decking, but babies not walking are welcome.
The car parking space is covered by CCTV for security, but the CCTV does not cover the hottub and private Garden and decking areas.
Please browse our pictures, although our guests (and us) don't believe they do Stiltz the justice it deserves!! Why not come see for yourselves!!
We do ask for a minimum stay of two nights, this is because cleaning, inside and out thoroughly can take three to four hours. Also, the emptying, filling and regular maintenance of the hot tub has to be completed and returning it to operating temperature can take many hours. We always clean and flush the hot tub every week, and it is only for your exclusive use only during your stay.
Stiltz is completely separate fromTop Farm and just so you are aware the field to the south-west has caravans and the field to the south-east has camping pitches, also the camping pitches can be used for Weddings in the summer and the area becomes busier in the School Summer Holiday periods, however, there is no access to the field around Stiltz by any other people than yourselves, it is totally private, and all the facilities, including the hot tub, parking are for the exclusive use of you and your guest during your stay and is very nicely tucked away from view. However, it's charm can be felt in the Autumn and Winter months, the area is so quite then and it feels like you are the only people for miles around!
TV with standard cable/satellite
Security cameras on property
Getting inside
Well-lit path to entrance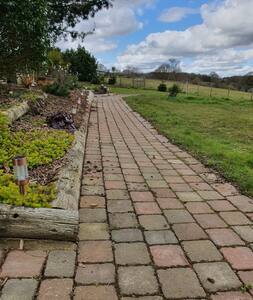 Wide entrance for guests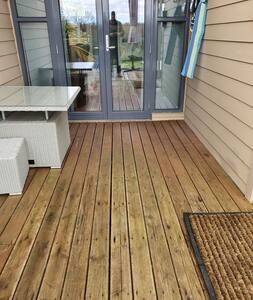 Bedroom
Wide entrance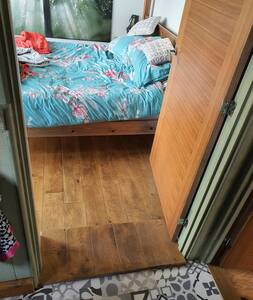 Add your travel dates for exact pricing
4.91 out of 5 stars from 352 reviews
Marsham, Norfolk, United Kingdom
With self-catering breaks in the UK set to break records in 2021, our home has been voted the no1 place to take a hot tub break by women's health magazine. The article was to help readers make the most of their vaycay, so WH picked us as the best post-lockdown hottub destination with their pick of the best Airbnbs with hot tubs around the UK.

Or if you're a dog owner, and you don't want to leave your four-legged friend at home come holiday time. A break at our dog-friendly lodge and ensuring you can have fun on a UK staycation after lockdown. So we were just voted the 5th best Airbnb accommodation in the UK in a 2021 article in Coutry living magazine on the best dog friendly homes.

Also we have had some fantastic reviews, and we attract guests hunting for what we offer, therefore we want to be clear on what you can expect so you can then have the very best experience and therefore Stiltz can not be suitable for everyone or all tastes, it is very rural and designed for couples wanting to get away from it all and some guests are disappointed as we do not have good reliable wifi, so during your stay if you can't live a couple of days without a stable super fast wifi connection then I recommend a city break, respectfully, we are in the "sticks" and would not want you to think otherwise. Also if you can't find the date you want or you want no steps and a flat entrance to the building then you can book "the Lodge" same features, all new and it can be more peaceful as at certain times the field next to Stiltz is hosted by the owners of the farm (not us!) for weddings and other events, and at these times Stiltz is normally booked for the bride and groom. So Stiltz is very quite 90% of the time but at busier periods music can be heard at these times, please ask if this a concern and we can check what's on and also the lodge is tucked around the other side of the farm so is more private and more enclosed if that is a must, please book the place that most suits your needs ! But most of all this is an ideallic and remote spot loved by all! You might want help with Bike hire, we can do that so it is all sorted, hats, lights and locks for your arrival, look at above guest access section it has full details, plus details on Tesco or Sainsbury delivery for when or before they arrive, just ask and we can agree the slot and order all your goodies to maximise your time in the Hottub or exploring the woods!
Guests have commented that the pictures we post do not do Stiltz justice and we love that!
We have gone to extra lengths on the detail, the mattress was one of the most expensive available and framed by a hand made four poster bed, the cost coffee machine would set you back a pretty penny, but it is not about how much we spend on the stuff inside and out. We keep the freshest coffee beans in the fridge for that perfect cup of coffee, Our cleaner spends 3-4 hours after every guest departure making sure it is spotless, we want you stay to be perfect and for us it has to be very clean, and that goes for the Hottub, we spend many hours after every guest, cleaning pipes, changing / cleaning filters, changing water and cleaning the tub and did I say fresh water, it is a major exercise as the hot tub takes an hour to empty, over two to fill, and it can take eight hours or more to reach the ideal temperature, so if we don't have time we can do a partial change, and a deep clean, as we look to to do a full change every week, not the two months as recommended by the manufacturer and as others do, on top and as a matter of course we balance the water condition twice daily, for us this has to be clean as, you would not want to share someone else's bath! We had our first guest propose in the Hottub in December, there are some occasions best remembered under a carpet of stars in a dark sky in water set to 103 degrees with a 4,500 bubbles per second, we set the seen as best we can, we do the detail so you can forget it! But we have had guests whom have spent till 5am in the Hottub and slept till 3pm, we do not do your normal week, if you live in Essex, Devon, London or Hertfordshire, you will have an experience designed to be far away from the routine and some time away from the buzz with someone special!
Our guests can enjoy their stay, relaxing in the hot tub on the outdoor decked area, with commanding views over the peaceful North Norfolk countryside surrounding Stiltz Lodge, or BBQ in our "chill and grill shack with your own gas fire pit, comfy sofas in an area to the rear and relax in the evening with lighting to suit every mood!
We decorate in side and out at Christmas. If you are planning a special break then you we often surprise our guests with a complementary Bottle of prosecco on ice with glasses, that way your holiday can start the second you arrive and if it is chilly you will find a roaring waiting for you to toast your toes!
If you are unsure read the reviews, or stay and be miles away from the daily graft and write your own story! We like our guests to enjoy their stay, some regular Airbnb guests and new to us have said Stiltz is the best place they have ever stayed, find out?
Pretty easy going with a good sense of humour - most of the time!! Have dogs and teenagers and like to travel - but equally love being at home with our families and friends.
During your stay
We like to greet and induct all guest, but on occasions we maybe at work and we will need to do it a little later.
We check the Hottub condition 2-3 times per day, and we give clear instructions on it's safe use.
We ensure visitors have fresh coffee and a selection of teas on arrival.
We also provide fresh towels and bed linen for your stay.
If you need items washed or dried we can organise this.
We are around should you wish to discuss anything during yr stay if needed.
Some guest have asked for bike hire, others have organised for a Tesco's delivery timed for their arrival (other super markets are available ! )
You will find a wall map of the 500 acres of wood and Heathland.
If we have no guests following you in then we can relax departure times, just ask as we have have to be fair to our cleaners and other service providers.
We like to greet and induct all guest, but on occasions we maybe at work and we will need to do it a little later.
We check the Hottub condition 2-3 times per day, and we give…
Chrissy & Paul is a Superhost
Superhosts are experienced, highly rated hosts who are committed to providing great stays for guests.
Response rate: 85%
Response time: within an hour
To protect your payment, never transfer money or communicate outside of the Airbnb website or app.
Explore other options in and around Marsham
More places to stay in Marsham: