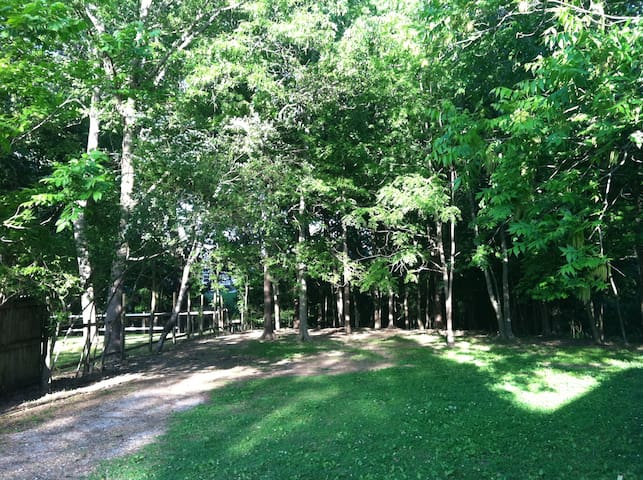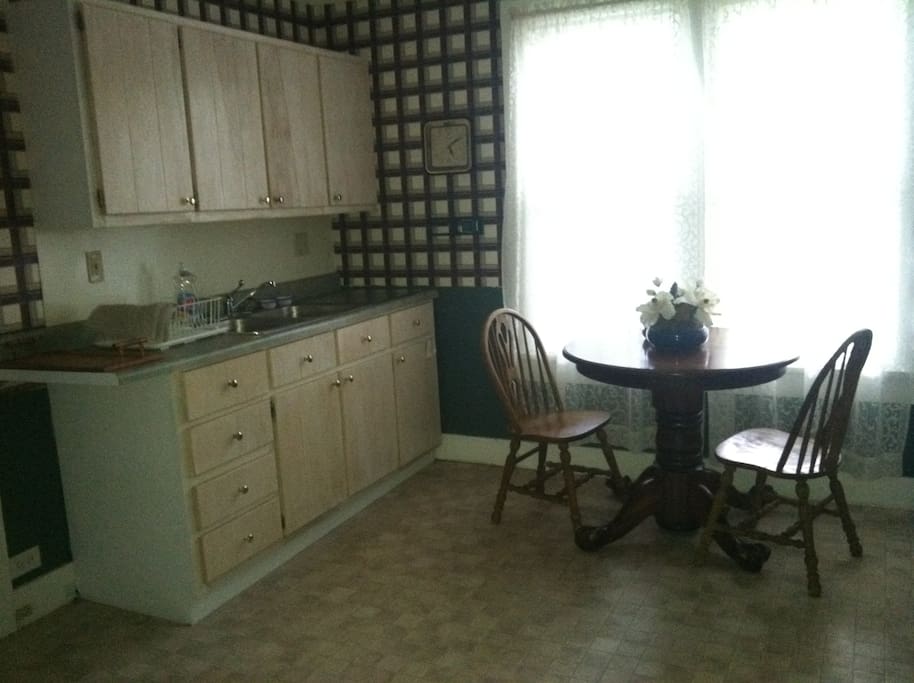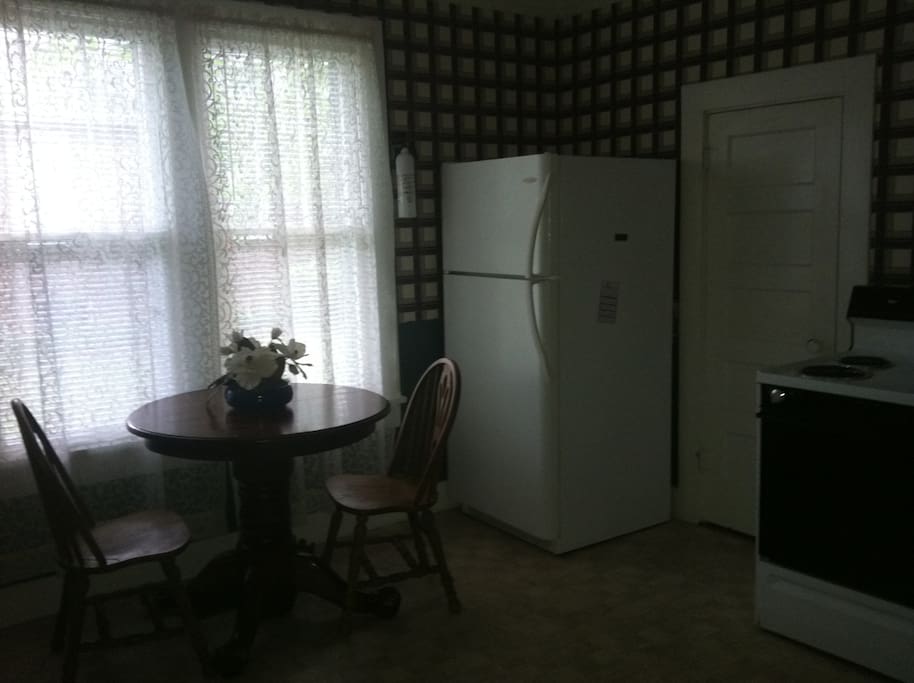 House built in 1930's. FULLY FURNISHED apts., Very Tranquil, cozy setting, created for authors to write in. TV in LR and BR with DVD and VHS only. No internet or cable. Claw foot bathtub, front porch swing, picnic table in large back yard, great parking, computer desk.
The space
'The GetAway' has been created to allow ones who want to be creative or just needs to get away to somewhere just to do these things. It's a beautiful, tranquil, cozy, quiet place for relaxation and peace. Come enjoy ALL the many amenities and comforts of home. Coffee pot, toaster, microwave, full kitchen with all utensils supplied. Just bring your clothes and food and check in.
Guest access
The entire apartment, back yard, picnic table and half of front porch.
---
---
Extra people £8 / night after the first guest
Weekend Price £39 / night
Always communicate through Airbnb
To protect your payment, never transfer money or communicate outside of the Airbnb website or app.
Learn more
---
Not safe or suitable for children (0-12 years)
Check in is anytime after 4PM
NO SMOKING in house. Receptacles for cigarette butts supplied
NO pets
No parties
Quiet time (PHONE NUMBER HIDDEN)AM
Please don't put food in sink.
Hang all wet linen please
Only the people rented to are allowed to stay
---
---
---
So..... First I'll start by saying I've never visited Paris, TN ever. I traveled here to stay from Tues-Saturday from Dallas, TX as a getaway and to visit. When I pulled up Geri was there and she assisted me with my belongings. When I walked in the House/Apt. living room I could already tell it was perfect. I proceeded to the kitchen and there's just enough counter space, Refrigerator, etc. Basically everything you need for a long stay. You then walk into the bedroom and it's comfy and spacious. The bathroom is the perfect size and has enough storage space. I love the claw foot tub! The front porch is nice with a swing and the neighborhood is quiet. This is an older house but kept up very nicely. Geri is a wonderful human being and she was there when I needed her. I couldn't have asked for a better place to stay with an awesome host! Thank you Geri
---
This Air BnB is extremely clean and well kept and exactly as described. Great communication from the host and made to feel welcome by her as well. Was ready to accommodate my needs and check in was a breeze. Absolutely no complaints noted by me. I loved my stay as I felt very comfortable there and would gladly return! Thanks for everything!
---
Communication was great. Geri was very friendly. Good location for restaurants or shopping. 20 minutes from Paris landing-Kentucky lake. No cable TV but plenty of DVD's to choose from.
---
It saddens me to write my first ever negative review. Maybe at one time, this was a good place to stay, and maybe with a lot of attention and hard work, it could be again, but currently it's a rodent house. When I checked in, I did not see the glue traps the host had placed around, nor did I see the huge Servall Pest Control card that was under the night stand. I'm sure if I had, I would have asked questions. After finally getting asleep around midnight on the very old squeaky mattress with scratchy sheets, I awoke around midnight to the sound of chewing and scratching in the kitchen, which had no door to divide it from the bedroom. This continued on for hours, keeping me awake, and making me very nervous. I waited until 7 am to text the host to ask if she had mice or rats, and to tell her I could hear chewing. She replied back "Mice, I'm sure. Just need to get some glue strips." I was surprised at her response as I had already without looking found one in the bathroom beside the tub, and two in the kitchen. I text her back, "I'm not rested and pretty creeped out". Her text back to me was unreal, "I've been up all night worried about all thus over time and keeping this business going. I'm creeped out too. We will tell Helen to get glue strips. You are bugger than it is. Lol. Rembrr you are the adult, the one with thumbs. Lol. You can drive and cook. What do they do. Eat and shit. Eat and shit. Lol. Is ok. Go in There and claim your place in the world. You can do it. Fight, fight, fight. What can he do? Eat ya? No, no, no. Lol." Stunned and certainly feeling ridiculed by someone who I expected to be appalled that I had such an experience, I text her back "Ok. Well thanks for your concern. I will be checking out today." To which she text back " Lol. You ok, Chick." Even though I had paid for two nights, I stayed from 9pm to 7am the first night only. I immediately filed a complaint and a request for money back with Airbnb, sending screen shots of the text messages and the pics of the glue traps. I shudder now to think the hours of chewing was probably the mice trying to free itself. After the host's response, I just could not stay there. The positives were a pretty quilt on the bed, and the clawfoot tub with shower added on, however the towels and washcloths were very worn and needed replacing. I wish I didn't have to write such an review, but it has to be done so no one else has my experience. I wish the host well and hope she gets her rodent problem under control, just maybe she shouldn't rent her place until she does.
I would like to respond to this review. First I waited from 1200 to nearly 10 pm for my guest at the house since she said she was coming from a little town about 13 miles away in the day light and while I was waiting and working at the home it did get dark outside and I didn't think of turning the porch light on of which I was sorry and I did turn it on when I realized. Whats interesting about this scenario is when she said she was on her way for the I -don't know how many times and she didn't show up in a timely manner, I called her of which she was furious and lost and I tried to help her understand which way to go but she just kept screaming at me on the phone. When she finally arrived, she was hugely angry and I couldn't even talk to here so I let her in and left her alone. Also, though, all the lights inside the house were on so it was bright and I didn't even think about the outside but I did apologize. I called her many times to find out when she was coming of which she would say she was on her way, so I waited and waited and waited. She said she was playing corn hole with her kids and just couldn't leave but never thought about calling me to tell me so I could go on with my day. The rodent issue that she is referring to is that, there has NEVER been a rodent in that house. I only have bug strips out because of crickets, an ant or two, some times a beatle bug but NEVER a mouse or a rat as she is referring to. ( I raised my kids in that house and I lived in it for a year after a house fire and I had to move my office over there while my building was being renovated so I had been in that house for 2 months and still had my office there and stayed there most nights and just slept there so i know there are NO RODENTS. The raccoons attempt to get the garbage open ALL NIGHT long unfortunately and I have the tops strapped down tight so they can't get in them but I can't fix that, ( The garbage can is in the neighbors yard every morning and I have to go and pick it up and strap it back down.) Also, the deer sleep right outside the window on that side of the house and I can't do anything about that either. My house is not dirty and if you read ALL other comments, you will find that this fabrication is not so. The towels and rags are worn but they are clean. I do however apologize for the inconsiderate text messaging. I have a friend with the same name and it was early morning when I received the text but had just gone to bed about 0530 and the text came at 0635 I think, so I was sound a sleep and didn't even remember the text until several days later I saw it and had to remember what it was about and I do remember I thought it was my friend playing a prank on me and when I realized it wasn't my friend, I sent a sincere apology to this guest for making her feeling that I didn't care, I am truly sorry. If you read the text, it talks about a lady named Helen and some different things that would tell you I did not know who I was texting. There was a refund that she did receive from me and I gladly gave it back because of the confusing NOT TURE nature of the issues. My house has never been dirty, never had a rodent and the reason is because I do put strips out, but the amazing thing is, the Servall trap that was there was put out 2 years ago which was the last time I had it sprayed which should tell you something since it's still there. I did have a complaint about the heat not working a couple of guest ago but found out it was a lightening storm that got my unit but the guest never told me it wasn't working or I would have fixed it immediately but the first I heard of it was in a review. I asked her to please forgive my text and she did not respond at all. Just to tell how confused I was about her having left of which I didn't know about, I texted her when I saw she didn't come back the next night to check on her and make sure she was ok, of which I got no response form her from me trying to check on her so that should have told her that text was not for her that night. She did leave all the lights on and all the towels and wash rags that she says was dirty were ALL used and wadded up on a ball to mildew in the middle of the shower and that to me was blatantly mean on the lights on and the towels. I keep reading her review and she talks about the mice chewing them selves off but she never says she saw a mouse and since she saw the strips, which I have nothing to hide, you would think she would have seen mouse or a rat as she stated. I am truly sorry for any misunderstanding. I did apologize, I did check on her when she didn't come home, I did wait for her all day and I did give her are fund of which she failed to tell any of these parts. She was mad when she got there and she was mad when she left, but I am sorry for any misunderstandings and fear, since I would never allow that intentionally. Thank you for reading my side, and I really do have a side.
---
(Disclaimer: Please read. This house is in a wooded area even though it's in town so there are a lot of Raccoons, Deer, Cats, etc and you MIGHT see a glue strip every so often through out the house because of it being in the South in a Wooded area so, there WILL be noises like what you would find in the woods and because it's in the city, you will hear a car every now and then.)
Now, for the other COOL business...Hi, my name is Geri (Pronounced GARY),and I am an RN-Paramedic with my own home care business. I've been a nurse for 30 years and my specialties are ICU and ER and Paramedic on an Ambulance. I've was a travel nurse for 10 years in California, Tuscon, North Carolina where I had the privilege of being a flight nurse in Airplanes and Helicopters. My passion is music and I play many different instruments like Keyboard, Saxophone, Bass Guitar and Regular guitar, but my instrument of choice is my voice. I have a great family and I love to help people which is why I am a Airbnb host. I know I have stayed in a few and have enjoyed my experiences. I created the GetAway to have a haven for writers and authors since I too am writing a book. I hope your stay at the GetAway will be fabulous. Let me know if you need anything and I will do what I can to accommodate.
Languages:
English
Response rate:
90%
Response time:
within an hour
Explore other options in and around Paris
More places to stay in Paris: