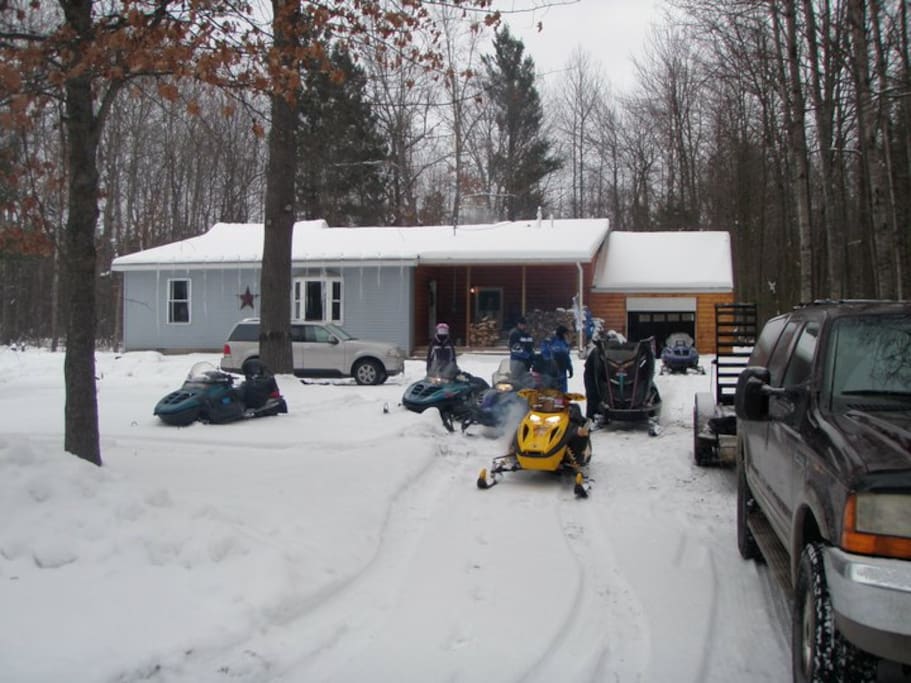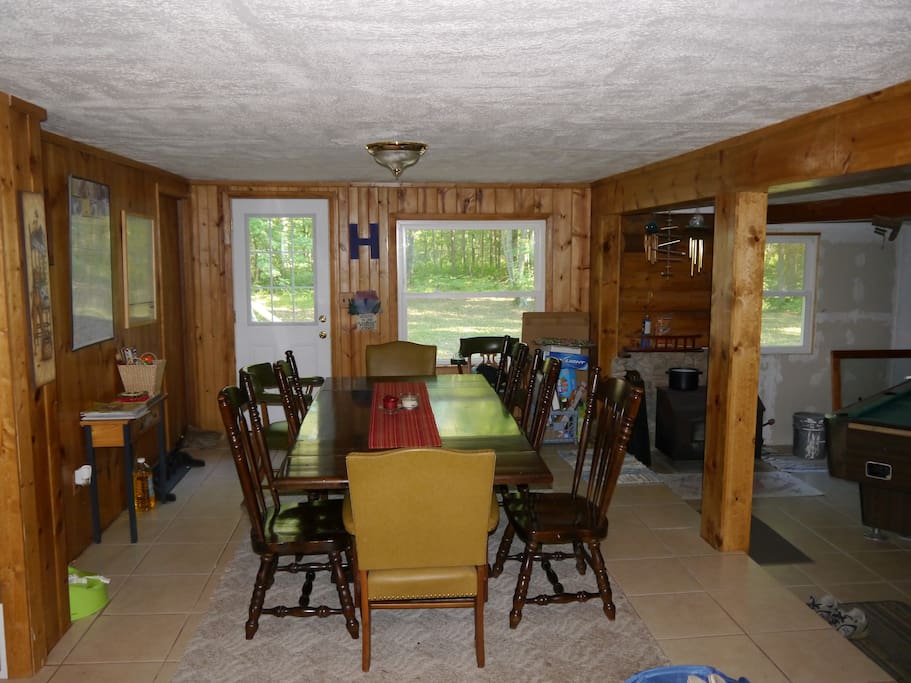 Lake House Retreat in the Woods!!
This has been my families cabin for years, now we invite you to bring your family! Perfect for big families, or a nice weekend with your sweetheart/friends. 2 miles to the lake, .5 miles to the nearest trailhead.
Wood-burning stove
Pool Table
Laundry
The space
Large house, 3 bedrooms, 5/6 beds, crib in one of the rooms, plenty of storage. Living room with 4 couches, plenty of room to sleep even more people!
Large kitchen table.
mudd room with pool table.
Wood burning stove.
This cabin is in a small wooded Cul-de-sac with few neighbors for tons of privacy.
Guest access
You are close to everything, many restaraunts, Houghton Lake, trail-head for atv and snow mobiles.
Big backyard with play set and fire pit.
Front porch with swing.
---
---
Please clean up after yourself.
Bedding/Towels must be cleaned before you leave.
No smoking in doors.
Do not enter garage or attic.
Be courteous to the neighbors.
No parties, neighbors will report to authorities.
Our next door neighbor is my uncle and he knows when guests are coming. A good time is fine, just no out of controls guests of parties.
Turn down hot water heater when leaving.
Make sure fire is extinguished before ever leaving the cabin.
---
Filip's house was a perfect weekend getaway for my friends visiting me from all over the country. We were visiting Mackinac Island and were looking for a quiet place for 8 people at a reasonable price. The house was big and comfortable for all of us. The instructions were clearly provided regarding the check-in, keys and other utilities. The board games and DVDs provided were a pleasant surprise with a lot of nice movies to choose from. Overall a pleasant and comfortable stay.
---
*POSITIVES* We could bring our dog, there is a fire pit, and toilet paper was provided. ***NEGATIVES*** 1) THE HOUSE IS NOT PRIVATE - The listing (as of 7/23/17) says verbatim: "This cabin is in a small wooded Cul-de-sac with few neighbors for tons of privacy." There is no privacy. There are neighbors who can see right into the backyard from multiple directions. A shirtless old man walking his dog was at the edge of the yard more than once - clearly within view, clearly within earshot. Multiple neighbors and large, uncovered windows in the back and front of the the home is not what anyone would normally deem "tons of privacy." 2) UNPLEASANT SMELLS - I understand it's an older house, and some must is to be expected, but it smelled excessively bad. In some parts of the house, sour, like old wet laundry (more on that later). Also, the smell of gasoline from the garage and/or closet full of snowmobile gear is pretty unpleasant. 3) EXCEEDINGLY DIRTY FLOORS - There were multiple pieces old, soggy popcorn (that my dog immediately found), dead bugs, dust, debris, etc. all over the floors. 4) POOR, OR MAYBE NON-EXISTENT, FOLLOW UP ON THE CONDITION OF THE HOME BETWEEN GUESTS - Whoever was there last and/or the "housekeeper" did not empty any of the trash bins. Three different bins had trash in them. Dealing with other people's refuse is pretty infuriating. Also, the fire pit was FILLED with cigarette butts. I'm talking an excessive, almost unbelievable, amount of cigarette butts. I get they would burn up in a fire, but myself and everyone staying there agreed that there was so many we would have to clean them out prior to starting a fire. Additionally, the grass/lawn in the backyard and near the fire-pit was not cut in some time. MORE ABOUT THAT OLD LAUNDRY SMELL! When we went to wash the things we had used before leaving, we found that whoever was there last had left laundry in the washer to mildew. To be clear, someone else's old sour laundry in the washing machine the entire time that we were staying there. 6) SOME BEDDING APPEARED TO HAVE OLD BLOOD STAINS - We found what looked exactly like old spots of blood on some of the sheets and a mattress pad. Completely unacceptable in a house being rented to others. 7) OUTDOOR GRILL IS EXCEEDINGLY DISGUSTING - Blackened and completely unusable by any clean cooking standards, had to cook our food on the fire (after cleaning up the 70+ cigarette butts)
---
Hello, I am a Brooklyn based property manager, managing around 100 apartments. I am married to a beautiful girl named Jamie, she works as a professional home organizer for her company named HORDERLY. We are nice fun, easy going people! very clean, and respectful. Love to watch mo…
Response rate:
70%
Response time:
within a day
Explore other options in and around Houghton Lake
More places to stay in Houghton Lake: