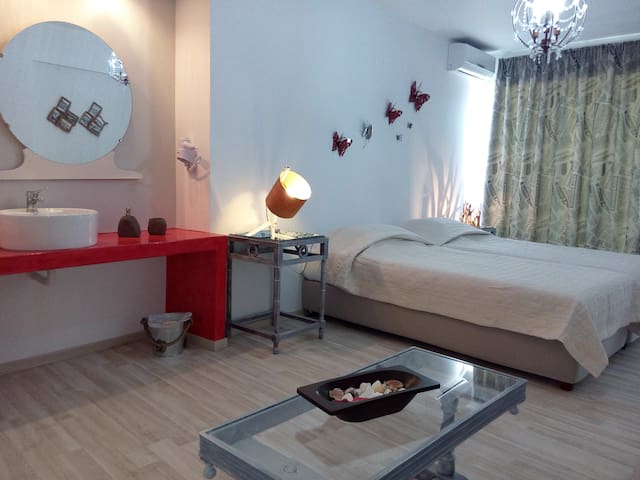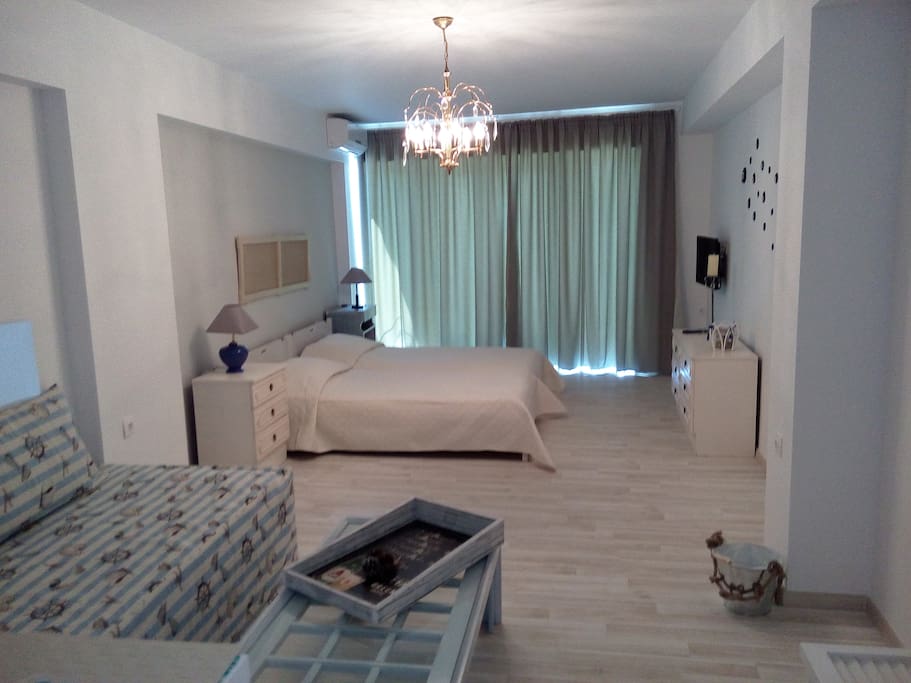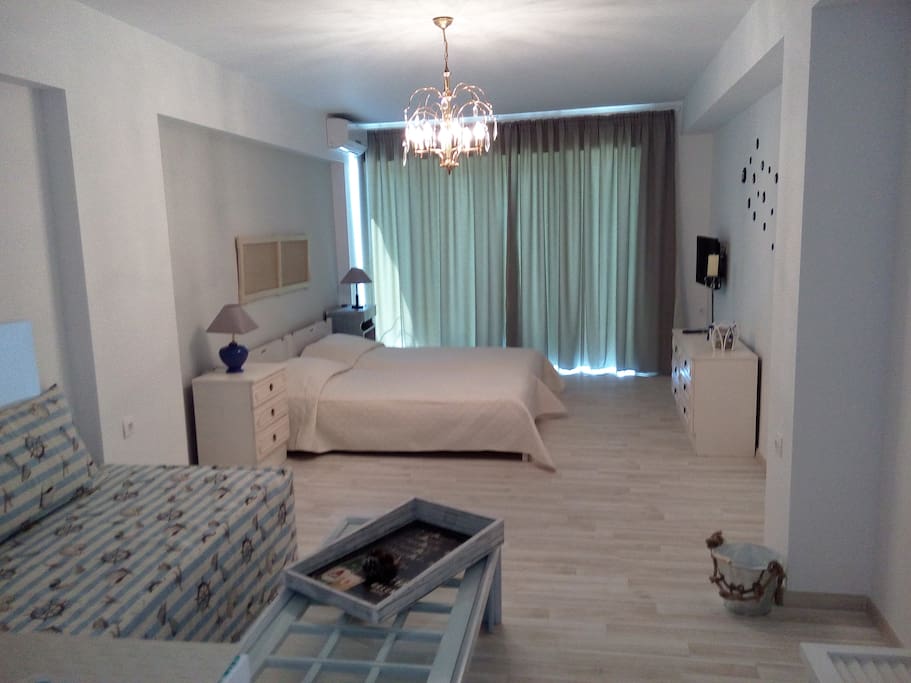 About this listing
---
---
---
---
Flexible
Cancel up to 24 hours before your trip and get a full refund, including service fees.
---
Eleni although was really welcome and friendly but the house she hosted us wasn't the one we were supposed to leave. We booked a really nice house for 4 people and instead of this because we were 5 people she hosted us in a house not that nice as the photos showed. Apart from this in her Airbnb profile she was saying that there weren't extra fees for an extra person. In the beginning she wanted 20€per day but after some negotiations we gave her 10€per day for which we didn't get a receipt . Overall we paid 440€ for 4 days and 40€ extra and the receipt we got was for 427€ for no reason. Furthermore due to to a damage we made to a pillow not on purpose (toothpaste and water were thrown to the pillow) she forced us to pay 50€ each for which we didn't get a receipt ! Last but not least in her Airbnb profile she wrote that the check out hour was flexible. Our ship was departing at 19:00 and she forced us to leave the house at 13:00 which was really rude. Overall I would recommend you to stay there . There are better houses you can find in skiathos at the same price .
1. Η κράτηση ήταν για 4 άτομα. Τηλεφωνικά ζήτησε ο πελάτης να προστεθεί και 5ο άτομο. Τους ενημέρωσα ότι θα τους εξυπηρετήσω με την προυπόθεση σε άλλο διαμέρισμα για να χωράει και το 5ο άτομο. Ετσι και έγινε. Μάλιστα πήραν διαμέρισμα δίχωρο ενώ είχαν κάνει κράτηση σε μονόχωρο για 4 άτομα. Η τιμή του διαμερίσματος για 5 άτομα είναι 140 ευρώ την ημέρα. Τους προτάθηκε έκπτωση στα 130 ευρώ και την 3η μέρα αφού έκαναν τα παζάρια συμφωνήσαμε στα 120 ευρώ την ημέρα για τα 5 άτομα. Δυστυχώς η καθημερινή καθαριότητα που εμείς προσφέρουμε γινόταν με πολύ μεγάλη δυσκολία πέραν του ωραρίου γιατί οι πελάτες δεν την ήθελαν, αλλά σαν ιδιοκτήτρια πρέπει να έχω την περιουσία μου καθαρή. Πήραν απόδειξη για τα 427 ευρώ, αυτά τα οποία έχουν κατατεθεί σε εμένα. Προξένησαν ζημιές στα κλινοσκεπάσματα, στα μαξιλάρια, τα οποία κατά το check out ήταν βαμμένα. Αμέσως τα πήγα στα πλυντήρια και ο ιδιοκτήτης με ενημέρωσε πως δεν μπορούν να έρθουν στην αρχική τους κατάσταση, είναι πλέον άχρηστα. Τα έδειξα στον πελάτη, τον κύριο Fanis Kaloglou και η απάντησή του ήταν πως κατά λάθος χύθηκε η οδοντόβουρτσα. Ολα τα κλινοσκεπάσματα καθώς και τα μαξιλάρια εσωτερικά και εξωτερικά ήταν πλέον κατεστραμμένα από μπογιές. Ασφαλώς και έπρεπε να αποζημιωθώ και με την καλή πρόθεση το έκανα κατά το ελάχιστον. Ολοι γνωρίζουμε πως το check out γίνεται μέχρι τις 12.00 ώρα. Ο πελάτης δυστυχώς αποχώρησε και με πολύ μεγάλη δυσκολία στις 14.30μ.μ. Δυστυχώς δεν θέλω να αναφέρω άλλα προβλήματα. Είμαι πρώτη και μοναδική φορά μέχρι τώρα απογοητευμένη από πελάτες. Οι πελάτες της Airbnb έχουν άλλη συμεριφορά και επίπεδο. Με τιμή και εκτίμηση για την Airbnb. Eλένη
---
Eleni was the perfect host. She unexpectedly greeted us at the port upon disembarking the ferry and couldn't have been more warm or welcoming. She gave us a quick overview of the island and proceeded to walk us to our apartment, which was only about 500 meters away. Our stay itself was so nice. The apartment was exactly as advertised. Nice and modern and clean and with a beautiful view of the water. Eleni checked on us every day and made sure we had whatever we needed. She even recommended a great fish tavern for dinner our first night on the island and personally walked us inside and introduced us to the owner. She really was fantastic and we will absolutely call her the next time we visit Skiathos.
---
Response rate:
100%
Response time:
within an hour
Exact location information is provided after a booking is confirmed.