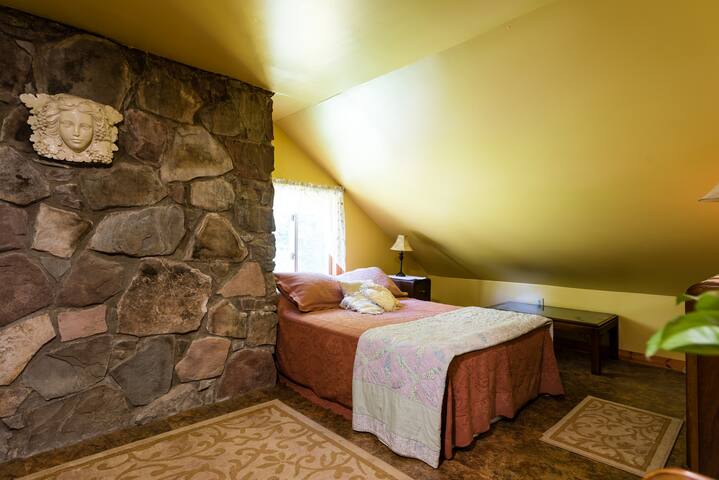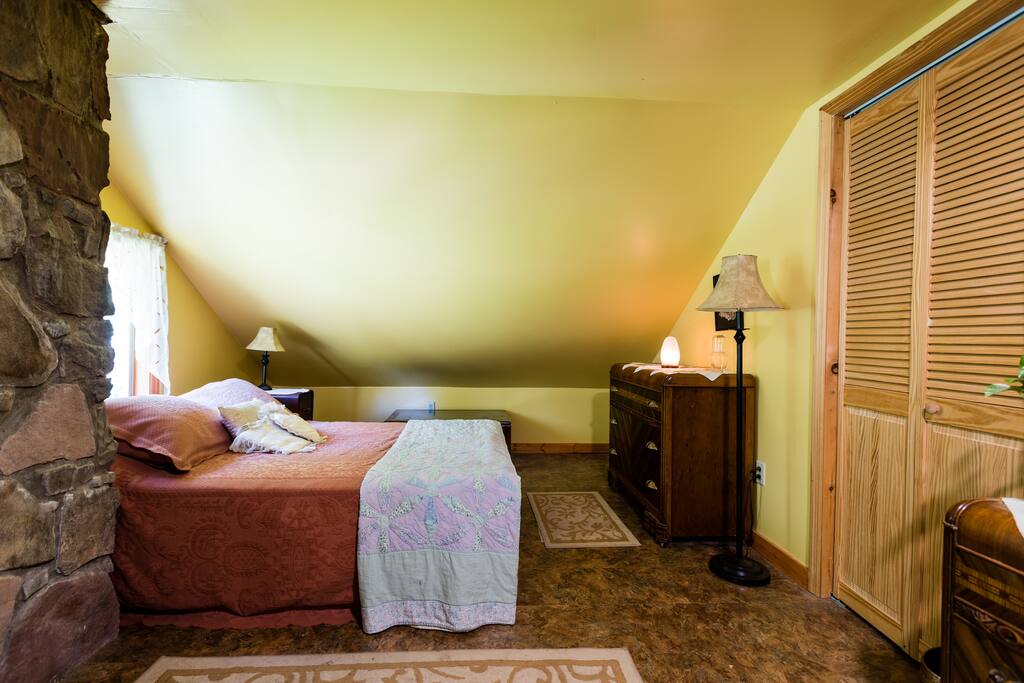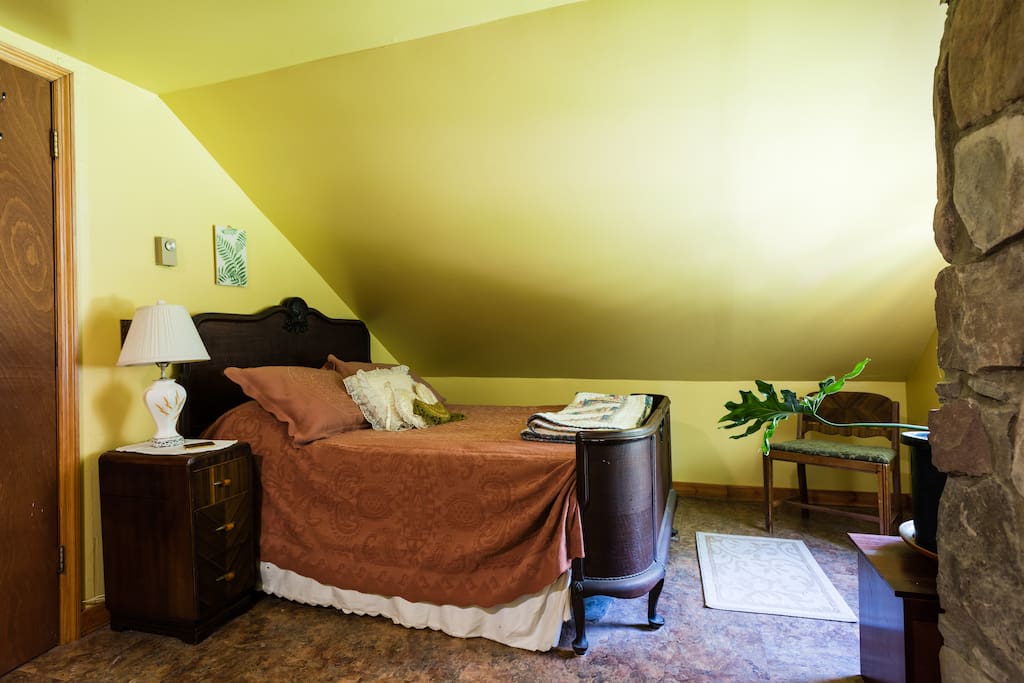 Dormered ceilings, a stone wall and a lovely antique bed overlooking the forest make this a snug room for those wanting respite from the hustle and bustle of the world. A wonderful place to relax, read, write, create... and 90 acres to explore.
The space
This room is spacious and yet cozy, with eastern facing windows (for those that like to sleep in the morning). One wall is all stone, a continuation of the 12 foot hearth in the downstairs "great room". There are 2 Double beds, one a lovely antique with a curved foot board. This room can actually accommodate 4 people, $20 for each additional person.
Our main building is is 4000 sq ft, with a great room (7 couches), views of the lake from almost every room, 2 full baths, FIR sauna and more.
We are a 90 acre Holistic Retreat Center and Organic Farm (Garden of One). The "end" room is available year round, we heat with wood and a rocket stove mass heater so things are always toasty. We are at a 2000 ft elevation which makes for lovely cool sleeping weather, even in the heat of the summer. Lovely swim-able private lake, forest & gardens. Canoeing, fishing and hiking available on our property.
We are working farm, and sometimes have animals that need short term special care. So you may find a baby chicken, turkey, duck, pig or rabbit nestled in a box or tub inside the main building. Most often you will be able to interact with them but please ask first!
Full organic meal plans offered separately (and we are happy to pack a lunch for you if you're going to be out and about) -- can accommodate gluten & dairy free and most specialized diets. Please make arrangements ahead of your stay for any meals you would like us to provide. We also offer picnics (with a real basket and everything!) that you can have on site or take on your travels (again, by prior arrangement). Sauna, Ionizing Foot Bath and private sessions (massage, reiki, health consults) also available, please ask for our fee schedule.
Guest access
Main building bathrooms, great room, indoor and outdoor "bistro" dining areas if taking meal plan. Library, product testers.... Lake, hiking trails, fire pit, gardens....
Interaction with guests
We are very available and happy to help you find what you need.
Other things to note
We do have 2 very friendly dogs that will want to be your best friends. Also farm animals that we are happy to introduce you to, baby goat therapy is the best! There will be farm noises, roosters greeting the morning and various grunts and snorts... far less noise than any modern city.
We are 25 miles SW of Albany and Albany along with the surrounding areas have many events etc going on. There's hiking, biking, nature parks, horse racing, concerts, festivals and events and so much more. Links and information will be provided to guests that stay with us that are looking for entertainment & excursions.
---
---
Extra people £16 / night after 2 guests
Always communicate through Airbnb
To protect your payment, never transfer money or communicate outside of the Airbnb website or app.
Learn more
---
Check in is anytime after 3PM
We look forward to sharing our magical space with you!
We are respectful and courteous with a good sense of humor and would appreciate the same from you! Please do ask questions if you are not sure what to do or what's ok.
If you move it, please put it back.
Please talk with us first before bringing pets.
No candles/open flames in any building, no campfires except in the fire pit at the main building.
No smoking in building or public spaces, no drugs, alcohol in moderation, please!
Enjoy the Quiet and thank you for Being....
You must also acknowledge
Dog(s) and other pet(s) live in the house
---
---
---
Rachel and Brian are amazing hosts! I didn't get to meet Rachel but communicated with her before the stay and she was very helpful. Brian was very welcoming and kind to us, even though we arrived very late and were pretty exhausted the whole time. He made us breakfast both mornings and it was so delicious- frittatas, eggs, grilled vegetables, homemade bread, homemade goat cheese...amazing! The place is quite remote (for a city girl) and if you are driving there at night, you really have to watch for deer and drive slow on the country roads but they gave us very detailed directions and we had no issues. They have three large dogs, who are very loving, but you definitely need to like dogs if you stay in their home. Also, there are two bathrooms, but if the house is full, you may need to wait to use the restroom or take a shower. All in all a wonderful place to stay- the property is beautiful and relaxing, and the hosts are so kind and hospitable, not to mention- just cool. :)
---
I loved staying at Garden of One. Rachel and Brian were excellent hosts. I spent the weekend staying at their place and it was great. They were both very communicative and caring. The place was surrounded with positive energy. The nature is superb. Please do take a walk around the pond sitting next to the place. Also you might consider having food from them. Brian was a great cook and everything he made was delicious. Also their dogs, Nala, Zend and Rudi were extremely friendly. I plan on returning back sometimes soon to witness the Fall.
---
First let me say that Rachel and Brian and genuine and honestly nice people. They are very accommodating and interested in their guests. They make delicious food and are more than willing to accommodate multiple dietary restrictions with food that continues to be not just healthy but flavorful as well. The downside...this house is being used as a workshop of sorts and is not clean and bright as the photos show. There are books and other clutter on most surfaces and a layer of dust on everything. In addition, while humans are asked to remove their shoes, there are three large dogs wandering in and out through an open door throughout the day who are tracking in dirt and odors. Brian also refrained from wearing a shirt one of the days we were there, despite being responsible for preparing breakfast for the guests. The WiFi in the house only works if you are in the dining area which is too small to accommodate many guests and is not a comfortable area for relaxing together. Overall, it was okay. It was a retreat for our hiking excursion and a great place to eat. I just wish that the atmosphere had been more spa like.
---
Garden of One holistic Center, and Rachel and Brian, were just what I needed. The place is abundant; with the love these two have for each other, for health, for their gardenspot and for the earth. I looked forward each afternoon to the drive out to the beautiful, colorful quiet place I was lucky to lodge. Their garden is a farm too, so not just overflowing herbs and medicinals and flowers everywhere but happy goats, rescue horses, two big, friendly, slobbery dogs, ducks and geese and chickens, contented pigs and tons of hummingbirds and dragonflies. If you need an earthy, secluded, healthy retreat, this is your place.
---
Brian was an excellent host! The grounds are beautiful and serene. The atmosphere is like being with friends and family. The smell of good food fills the upstairs. One evening we sat around a fire that another couple had made. And then another few came out, and we all admired the evening together. Just thinking about Xandra and Nala makes me smile. They made sure to welcome us every time we drove up to the property. They even led us on a walk around the grounds. They were our guides! I look forward to staying here again, and bringing friends to join.
---
My family and I enjoyed our stay at Rachel and Brian's home. The location was easily accessible via (SENSITIVE CONTENTS HIDDEN)'s offline map. Rachel and Brian were super helpful, there we many times when we called on them for assistance, they were extremely helpful and gave of their time. Rachel and Brian had several subtle, thoughtful touches throughout their home that added to our overall experience. Rachel's homeopathic knowledge and experience is nothing short of amazing. My mom and I enjoyed the conversations we had with Rachel, Brian, and the other guest. The kids enjoyed playing with their dogs and learning about their farm animals in the surrounding areas. We highly recommend their home and would visit again. Thank you for a welcoming experience, see you soon!
---
I met up with a good friend of mine, Janette, at Rachel's for a weekend of relaxation away from the kids, and good conversation. I had read many of the numerous reviews on AirB&B about Rachel's place, and it looked like a good choice for a reasonable price. Despite the glowing reports from others, our personal experience was somewhat different. Rachel and Brian were very friendly hosts, and were both present to welcome us when we arrived. I don't eat meat, and Rachel accommodated this by making us a fabulous vegetarian dinner and dessert. They also generously handed over the recipe for their bread that we had been raving about. Their house is located in a lovely spot nestled next to a small lake, and they have an adorable smattering of livestock, including a small herd of goats and several friendly ponies. Unfortunately, we feel like the AirB&B posting was a bit of a misrepresentation of reality. The post admitted that dogs were on the property, and allowed inside the house, and both my friend and I were fine with this. I am a dog person, and own two large ones. However, their dogs, sweet as they are, were allowed everywhere, including the bedroom where we stayed. Having free reign of the farm, they were dirty and…fragrant. The result was that the entire house, including our bedding, smelled like wet dog. The largest of the two dogs, a Mastiff I believe, jumped on my friend's car upon arrival, leaving muddy footprints, and then jumped on her, nearly knocking her down. The dogs promptly greeted me as well, almost trying to crawl in my car with me as I tried to get out. Some restraint on the dogs would have been appreciated and appropriate. We had originally planned to stay two nights, but felt compelled to leave after only one. My friend suffers from asthma and a heart condition, and woke up after the first night wheezing. It happened to be a hot, humid week in New York, so the lack of air conditioning was stifling, but I don't hold this against our hosts as it was clearly stated on their site. However, the mix of the heat, cloying dog aroma, lack of mowing outside the house, and the dank mustiness of much of the interior of the house concerned us too much to risk staying an additional night; I did not want my friend to end up with another bout of respiratory issues and potentially stress her heart more. I explained to Rachel that we would be leaving because of my friend's breathing issues, but we didn't ask for a refund for the second night, and paid the balance for our meals. Rachel, I feel, rather inappropriately tried to engage my friend in homeopathic treatments for her asthma. We finally had to put a hard stop to the conversation by telling her that my friend was under the care of a cardiologist and it would remain that way. We are...
Julie & Janette apologized over and over about leaving, saying that it was from lack of air conditioning, but that they loved it at our place and everything was great. They never mentioned any issue with the dogs - in fact they told us how much they liked having dogs around and spent time playing with them, so Julie's review came as a complete surprise to us. Our dogs are not allowed on any of the beds, and we always wash bedding between guests. The week prior to Julie and Janette's arrival, all of the carpets were powdered and vacuumed. Perhaps with Janette's condition, she and Julie were hyper-vigilant to potential triggers. Nala, a bull mastiff and the largest of our two dogs has trouble with her joints, and can't jump more than a few inches off the ground. For her to jump on any one, she would first need to defy the laws of gravity. Julie must have confused Nala with our other dog, Zandra. Zandra is part livestock guardian dog, and has bonded with humans instead of farm animals - she likes to keep track of everybody and make sure they're safe. When she meets new people for the first time, she occasionally likes to jump up to say hi. This is a habit we are trying to train out of her. If this sort of interaction is an issue for a guest, it's important to let some one know either before or at the time it occurs. The doors to our bedrooms work just fine, and if Julie and Janette wanted the dogs to stay out of their room, all they had to do was close the door or ask us to intercede. Most of our property is wild forest with permaculture and medicinal/edible gardens and meadows with lots of wildflowers for the bees that we keep. It is not manicured, nor is it meant to be. There is a small portion of mowed lawn. Regarding the suggested homeopathic remedy: As Airbnb Hosts, we feel our job is to help our guests get what they need, to make them comfortable, and to help them have a fulfilling experience in our home. Julie and Janette presented to me that Janette had an asthmatic condition and that they were concerned about the lack of air conditioning. Based on my 30 years of professional experience in holistic health, I only once suggested a homeopathic remedy. After an explanation of homeopathic medicine, she became rather defensive, said she was under a Dr's care, and didn't want to do anything other than what the Dr said, so I immediately dropped the subject. If you are not honest and don't communicate about what is really going on for you, and you don't fully read the listing, then you will most likely have an experience you weren't expecting.
---
Rensselaerville, New York, United States
Joined in December 2014
I love plants, animals and people -- I love to watch things transform!
Languages:
English
Response rate:
100%
Response time:
within an hour
Explore other options in and around Rensselaerville
More places to stay in Rensselaerville: