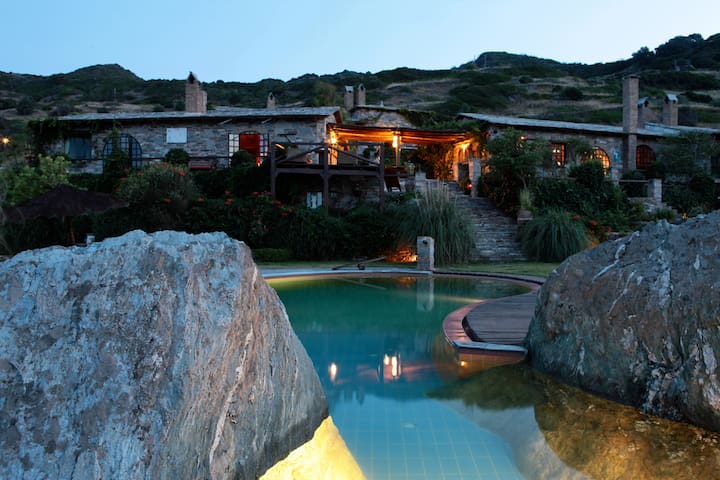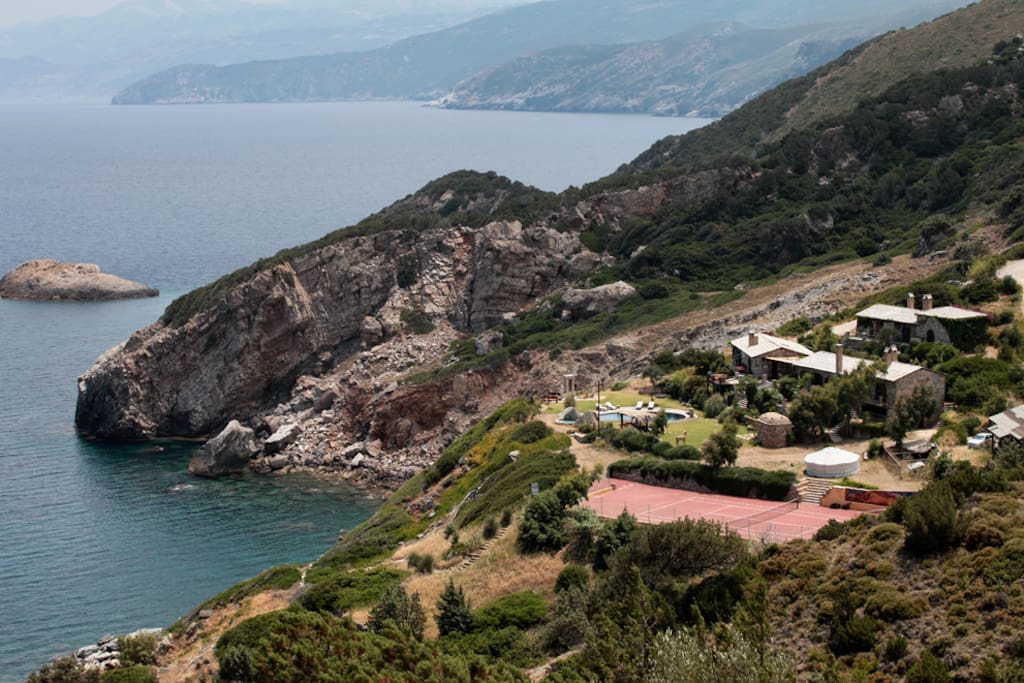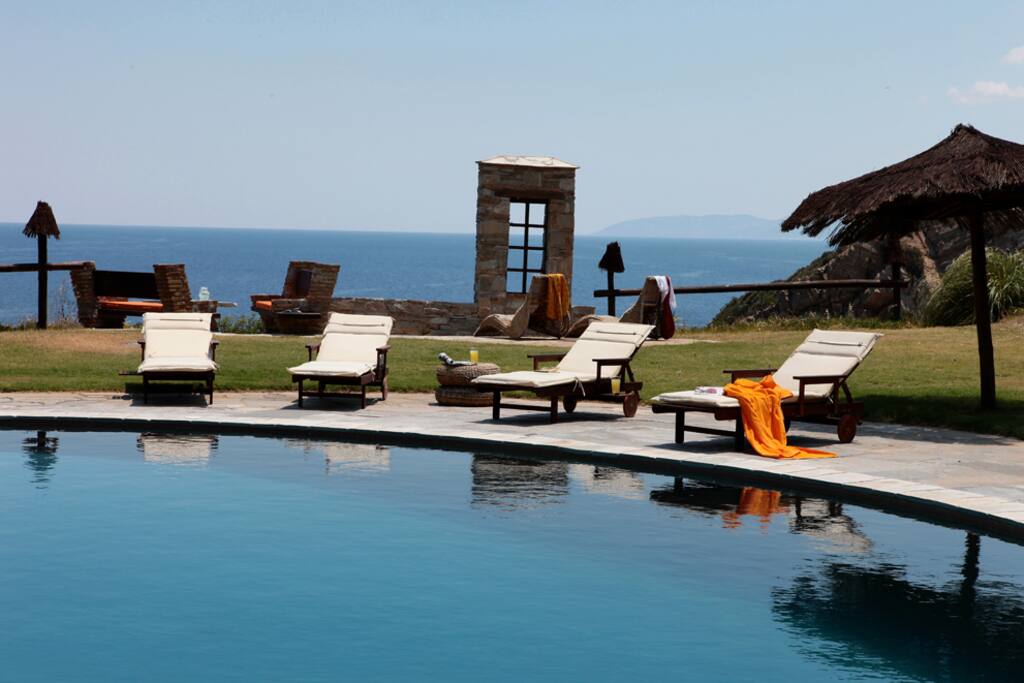 Aegean Island villa, near Athens
AS LISTED ON AIRBNB TOP 40!
https://www.airbnb.com/wishlists/top40?page=2
AS LISTED IN AMERICAN VOGUE, JULY 2015, IN TOP 10 VILLAS IN GREECE
Much more than a holiday home, staying in Delenia is like having your own private village.
The space
Much more than a holiday home, staying in Delenia is like having your own private village. Strategically located on a secluded corner of the Aegean, yet surprisingly close to Athens and its International Airport.
Situated in south Evvia (or Euboea, Greece's second largest island, behind Crete) it is a mere two hours from the International Airport, and yet the estate itself lies on an undiscovered part of the Aegean sea. Delenia offers a unique combination of easy accessibility and complete privacy.
Delenia consists of a total of 6 buildings; there are five bedrooms (all en-suite, with their own cooling systems and own fireplace and under floor heating for the winter months), two kitchens, two living rooms, one study and three dining areas.
We also have a barn conversion that sleeps another 6-8 guests (10 max), and is available for 300 euros per night:
https://www.airbnb.co.uk/rooms/816346
The outdoor areas are the epicenter of life in the summer months, and have been designed accordingly: a large terrace with clear views of the Aegean; two al fresco dining areas, plus a stone barbeque and traditional Greek bread oven; tennis and basketball courts; an outdoor four-poster bed; a Hammam (Turkish steam room) which also has sauna; and, of course, the sea water swimming pool.
The layout encourages togetherness, but also allows for privacy. Guest rooms are spread over three buildings, each one independent from the other, and entirely self-sufficient.
1. The main building comprises of a large living area: a kitchen, a dining room (table for 16), living room and one double bedroom. This is the David McTaggart room, and offers exquisite views of the Aegean sea from the bed. There is one double bed in this room, plus a small loft with a single mattress, that can be brought down, if preferred, as there is enough floor space.
2. The second building houses the master bedroom, and, again, exceptional sea views from the bed and bathtub. There is also a large study/second living room/kitchen area here. This can be used as a sixth bedroom: there is a top-of-the-range sofa bed here, with a double latex mattress. The bedroom and the study have independent entrances (as do all rooms in all buildings) so no need to disturb others in order to get in or out! Absolute privacy guaranteed.
3. The third building consists of three large bedrooms – all with their own individual character and layout. The first one, Chryssa's room is the largest and has ample desk space for studying or working; the second, the Turkish room, has a double bed and a single bed; and the third, 'to paidiko' or the children's room, is a playground for young and old alike, with lofts, Tarzan ropes, and firemen's sliding poles. All bedrooms have got double beds, plus additional sleeping space. The children's room has got a large loft with a single bed on one side and a semi-double on the other (so up to five people in total could sleep in this room); the Turkish room has got a single bed as well as the double bed; and Chryssa's room has got a small loft with a single mattress, which could also be brought down, as there is plenty of floor space.
4. The hammam – or Turkish steam room and sauna, all built in stone and in keeping with the general aesthetic of Delenia. Next to it is an outdoor Jacuzzi.
5. Barn conversion, previously the woodwork workshop – where all the furniture, and wooden structures were made, in locum. This is now converted into living space that sleeps 6-10 (can be hired for a small fee - please ask!)
6. Staff cottage at the edge of the estate, designed for independence; this is occupied by the resident caretakers.
COOKING, CLEANING and AIRPORT PICK-UP AND DROP-OFF:
Daily cooking, cleaning and chauffeur services are provided by staff, who will also assist with use of the facilities, and knowledge of the local area.
Staff will prepare one meal a day, and can do the supermarket shopping, as required. Included in the rental price is the service for cooking the meal (obviously the cost of the food will be covered by guests, according to what they choose to shop - the shopping can be done yourselves, or you can instruct the driver to do it for you, so you can maximise your sun-bathing time!)
The cooks have a wide range of Greek and Continental dishes in their repertoire and can also offer child-minding services (this is not included in the rental price of the villa, and should be arranged directly with them). The driver has the use of a 4X4 Subaru Forrester, and is on-hand for supermarket runs and trips to nearby beaches (cost of petrol to be covered by guests, according to usage). He can also arrange taxis for you if you wish to explore the island.
ACTIVITIES IN THE AREA
I recommend sight-seeing trips to the ancient towns of Karystos or Eretria, or the mysterious Dragon Houses (Drakospita) which are dotted across southern Evvia (also spelt Euboea). Day trips in to Athens can also be arranged.
Activities in the area include trekking, cycling, diving, cruises and canoeing/kayaking, all of which can be arranged from Karystos. Especially recommended is the excursion to the Dimosari Gorge, near Karystos (4 hour-trek) and snorkeling in the Petali Islands (frequented by Winston Churchill, Maria Callas, Aristotle Onassis and Rudolf Nureyev, no less!) and boasting a house belonging to the Picasso family.
Please look up Dive in Evia Dikelas - for snorkeling/fishing/diving trips, but also a good source of information on historical sights and stuff to do on dry land!
The city of Karystos boasts the Montofoli Estate (for lovers of wines), two Venetian castles (Bourtzi and Castello Rosso), and a wide sea-side promenade ideal for gentle cycling or people-watching from one of its tavernas.
In between Nea Styra and Palaia Styra is the ancient city of Styra, a city mentioned in Homer's Iliad (Rhapsody B). Additionally near Styra there are ancient structures standing which are 4,500 years old and are constructed using Megalithic Architecture. They are called Drakospita (i.e. Dragon Houses) and have been built using huge one piece stones (monoliths). The size of each of these stones is 4.0m length x 2.5m width x 1.5m height, similar to those found in the Philippines and at Stonehenge. Ships left from the ancient city state of Styra to aid in the rescue of Helen of Troy.
Included in the price of the villa is one airport pick-up and one drop-off, with one car - ie. up to four passengers. If you plan on hiring cars at the airport (recommended - pls ensure they have plenty of clearance from the ground, as the last 2 kms to the estate is a dirt road with potholes), the driver picking you up can lead the way for the other cars, too, and take you to the port of Agia Marina. From Athens airport, it is about 60 km drive to the port of Agia Marina (near Marathon village), then 45 minutes on the ferry to the port of Nea Styra, on the island of Evvia, then a 15-20 minute drive to the villa. (The nearest village is Eleochori, which you can find on your GPS or online maps with co-ordinates that we will provide you with).
There is an aviary which often means fresh free-range eggs in the mornings. Sometimes, there is a garden plot with organic tomatoes and other seasonal vegetables; organic herbs such as basil are also grown on the estate.
Additional features include an ensemble of stone benches perched on the cliffs, beside the 'Window on the Aegean', and plenty of nooks and crannies to be discovered at your leisure.
Wedding parties welcome.
If you have a large party (wedding or not!) and need additional space, we can sleep 8-10 in the old barn that has been converted into a summer house with four bedrooms two bathrooms, a kitchen and lounge/dinner.
If you have any questions, just ask!
PLEASE NOTE: Because of all these nooks, crannies, steps, slopes, ropes and poles, children get very excited in Delenia, and always have a wonderful time! However, if you are looking for a place that is 100% child-proof, or are worried about your child interacting with the natural environment, then Delenia might not be for you. Please ask if you have any concerns.
PLEASE NOTE: In the high season, bookings should be of a minimum of one week, unless there happens to be a gap in the calendar.
Guest access
Everything - except laundry/garage/basement in main building. If you need to use the washing machine, please ask the housekeeper or one of her helpers.
Interaction with guests
I am available by phone. If I am in Greece, I may come over to check that all is well. If the barn is not rented out, I may stay there for one or two nights a week.
Other things to note
A taxi from the airport to the port of Agia Marina costs 50 euros for 4 passengers, 70 euros for a mini van for 8 passengers, and 150 euros for a bus for 20 passengers one way. If you want to go and come back, it's 260 euros for 20 people and 300 euros for 40 people, both ways (prices may change in 2017). We are happy to organise transfers for you. One airport pick-up and one drop-off is included in the price, for up to four passengers.
SWIMMING POOL: We empty and refill the pool between every set of guests, so the pool might still be filing up when you arrive, and we might need to begin emptying the pool on your last night. This is for the benefit of all guests.
INTERNET - There is free internet but if you have too many devices on at the same time it might jam. Also, please switch off background data and auto-sync: On your smartphone, go to "settings", then "accounts and sync", then "background data" and turn it off; and also "auto-sync" and turn it off. Please ask if you need clarification.
TOILET PAPER - When in Greece, please do not throw toilet paper down the toilet as it causes blockage!
MUSIC - Please bring a standard audio jack cable which plugs into the amplifier's AUX input (we have one but it often disappears, so bring one to be sure!). The other end connects to an iPhone, MP3 or laptop's headphone plug. The stereo system also has a CD player and radio. There are two sets of loudspeakers, one set inside Panayiotis' House/master bedroom (about 30 watts) and another set outside around the dining area (about 70 watts). A switch located next to the amplifier allows you to use each set of speakers independently or simultaneously.
Please note that due to exposure to natural elements, the temperatures attained in the sauna, steam room and Jacuzzi aren't comparable to those in an urban spa, and the equipment does malfunction if it hasn't been used properly - pls ask staff for assistance.
---
This listing has essential business travel amenities.
---
---
Check in is anytime after 2PM
Self check-in with doorman
Please be nice to Pablic the dog, and Carmen and Kizette, the cats. Hen also live on the estate, but they don't all have names.
Staff are on-hand to ensure everything runs smoothly.
Wi-fi" Please don't use too many devices at the same time - pls switch off wi-fi on your phone unless you are using it. Also, please switch of your background data and auto-sync and on your phones: go to "settings" on your phone, then "accounts and sync", then "background data" and turn it off; and also "auto-sync" and turn it off.
Toilet paper: When in Greece, do not throw toilet paper down the toilet as it will cause blockage - please tell all your friends!
---
We had our wedding at Villa Delenia (on October 1st!) and it was a truly magical experience. Unfortunately the weather was not great - but nobody noticed and we had the best day of our lives. It is an incredible place! We hosted 27 people in the Villa and barn for four days. The staff were very helpful and cooked some of the best food we've ever had. Their help is included in the price of the villa and the wonderful cooks only charge for the ingredients of the evening meals - complete bargain (breakfast and lunch is self catering) The road to the villa can be quite scary for the inexperienced driver but if you take it really slowly it is so worth it. The staff can pop out to get food for you if you give them a shopping list so you don't have to worry about the drive once you've made it! If you're planning on hosting a wedding there, please remember that you are hiring the building and not a group of staff and wedding planners - our guests mucked in with everything including washing up, setting up tables and decor etc and this actually made it so much more special. If you're looking for a wedding where everything is done for you and your guests this is not the place for you. A big shout out to Maria - she helped us organise everything in advance and was our translator in the run up to the big day! Thank you so so much to everyone who works at/with Villa Delenia. We couldn't have wished for a more special day x
---
We found Delenia on a list of 'Top 10 Airbnb's for a Wedding' and it was exactly what my son and his fiancee were looking for. We visited Evia from the UK in May to make arrangements and were fortunate to be able to visit Delenia, Chryssa the host was very helpful in this regard. Our first view of this unique gem was a 'catch your breath moment' and as soon as we began to explore we knew it would be perfect. We returned last week for a 6 day stay with the wedding party of 13 and Delenia lived up to and exceeded our expectations. We were two families, one English, one Lithuanian and we came together in this magical place for a simply wonderful wedding. The staff are unfailingly helpful. Maria and Coulla cooked us a delicious meal every evening at a very reasonable cost and also provided our traditional Greek wedding feast. The food was undoubtedly one of the highlights of stay. The local florist and patisserie in Nea Styra (local ferry port) supplied the flowers and wedding cake. The celebrant (who conducted the wedding in English and Russian), photographer and hair/make-up artist came across from Athens. Whilst these details are strictly outside the scope of this review, they were nevertheless things we struggled to find initially and feel that others planning a Delenia wedding might find such information useful. (SENSITIVE CONTENTS HIDDEN) Cherryshots to contact us. We liked the staff and believe they liked us too, the staff speak Greek and Russian, I don't, but my new Lithuanian daughter in law does so that was fine! Jovanni the caretaker and his wife Nadia were, like the chefs, smiley and keen to please and that made for a stay which we will all remember. Chryssa was quick to respond to me, and whilst we haven't met, I feel she is a gifted person who is keen to see her father's legacy survive, and so it should. I will always remember this trip and hope I can return. Have no doubt, visit!
---
We were a group of 21 guests who came to Villa Decennia for our wedding and stayed for 3 days. This is truly a very special place as so much thought was put into the place. Even just finding the right location took many years, but Chryssa's father (the man who built the entire place) put so much detail into the place and decorated it with all different kinds of furniture, artwork and other pieces from all his travel. The team who works there really helps to make every guest have a wonderful time. Eleni, was there on sight to answer any questions we may have and help us with any requests. Maria and her team, made us the wedding rehearsal dinner and a few other meals during our stay which was probably the best Greek food we had the entire trip! Try the loukamades (Greek doughnut) which is the best dessert! We feel we couldn't have picked a better place for our wedding and were so glad that we were able to have our closest family and friends come to this place to celebrate with us. Our only complaint was that our stay was too short and next time we will be sure to book for at least a week!
---
It's hard to express how special Villa Delenia is, and even harder to say something that hasn't already been said about it. You couldn't dream up a place that has so much to offer a group of 15 friends, in a wonderfully isolated escape from the world. We have recommended Delenia to everyone we know, which I now somewhat regret as it is likely to be booked up 5 years in advance and we are wanting to go back for every birthday, wedding and christening until we're 80. We snorkelled for Urchins, kayaked around bays, discovered a cave full of bats, fished (unsuccessfully), danced a Greek dance (semi - successfully), devoured a Greek wedding feast, played chess whilst gazing at the sea, went for a walk with a tortoise, hugged a wind turbine, stargazed from the hot tub, played tennis as the sunset, went swimming as the sun rose and spent hours of uninterrupted time, sharing stories and moments with our wonderful friends. We will take away so many memories. Chryssa was amazing, helping to arrange transfers and replying to all of my questions quickly. The food was outstanding and is a beautiful taste of local, home cooked Greek cuisine. Maria and her team were fantastic and each meal was more extravagant than the last. Eleni and Vasseli were the perfect hosts. Nothing was too much trouble and they made the place feel like home. They are such warm, friendly people and they are essential to making Delenia so special. It would be good to mention that we didn't hire cars and we still had a perfect time. If you like a really good hike you can get to the beach by foot but I wouldn't fancy doing it in July, in the heat. If you want to go and visit anywhere else you will need a car but Vasseli was more than happy to drive a few of us to the port for a couple of food/booze runs. No one in our group of friends was remotely interested in going anywhere else. Thank you, to you all! We will be back!
---
As expected this is a pretty amazing spot to spend a holiday. We had a great few days here and the experience was made even better by a few key things; firstly Chryssa was super helpful and made everything easy for us - we were a group of 15 people arriving at various different times and Chryssa arranged everything from transfers on the mainland to pick ups in Evia which was so helpful! She also arranged for a grocery shop to be done in advance for us which was amazing so that we didn't have to spend precious holiday hours doing this! Second thing that made this a great experience was having dinner made for us each night - the ladies that cooked for us did such a great job. And the final thing was being in the middle of nowhere with so much space to ourselves - having the basketball court, pool and own private beach was such a great break from our London lifestyle and the night sky was unlike anything we had seen in a long time! This house isn't super modern or fancy in terms of the interior but there is a huge amount of space for everyone and so much to do and enjoy on the property that you could easily spend weeks here and not want to leave! Thanks for sharing such an amazing escape with us Chryssa - we all agreed it would be hard to go back to your average Air BnB place after such a special experience!
---
We had a brilliant time at Chyrssa's villa. The location is breath taking and the attention to detail on the building is so lovely. We stayed for a week and really didn't want to leave. Chryssa was on hand to help us out with any questions, the cooks and staff were also so helpful. There is plenty to do just in the grounds so you probably won't need to leave. There was a party of 11 of us and we found plenty of room to relax and break out. The pool is a great size to take a morning swim or play. Some of us also went down to swim in the sea. It was a really fantastic holiday and spending time there was truly relaxing. I would recommend it for friends, family, young and old. Thank you Chyrssa!
---
My family had a fabulous stay at Villa Delenia. The natural beauty of the location is only surpassed by the fabulous accommodation and outstanding hospitality provided by Elizavet and Vassilis, the couple who make dinner and keep the house for Chryssa. The Villa is a remarkable and imaginative environment which can be enjoyed by all generations. Chryssa was extremely approachable in helping us arrange our holiday and we had an unforgettable time.
---
I'm half-Greek, half-Brazilian, born in London. Currently live in Athens, and am trying to keep alive my dad's Aegean island villa, on Evia. I love the 'travel like a human' idea, and am planning a trip to India, on the way to Nepal to visit my family in Kathmandu. I've enjoyed h…
Languages:
English, Español, Français, Português, Türkçe, Ελληνικά, עברית, العربية
Response rate:
100%
Response time:
within a few hours
Explore other options in and around Styra
More places to stay in Styra: