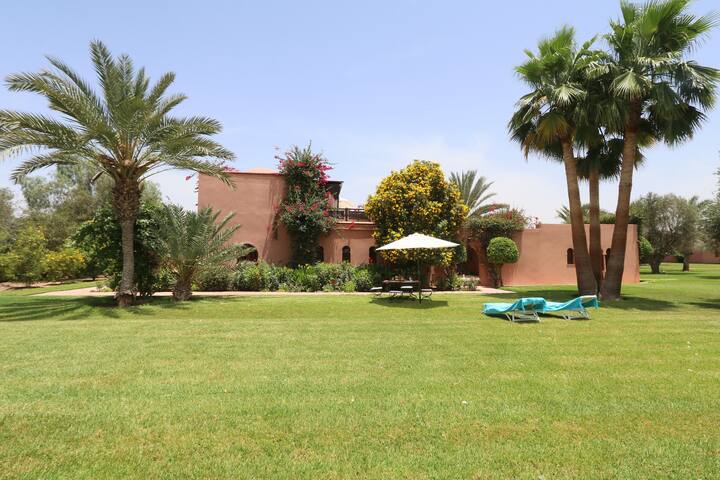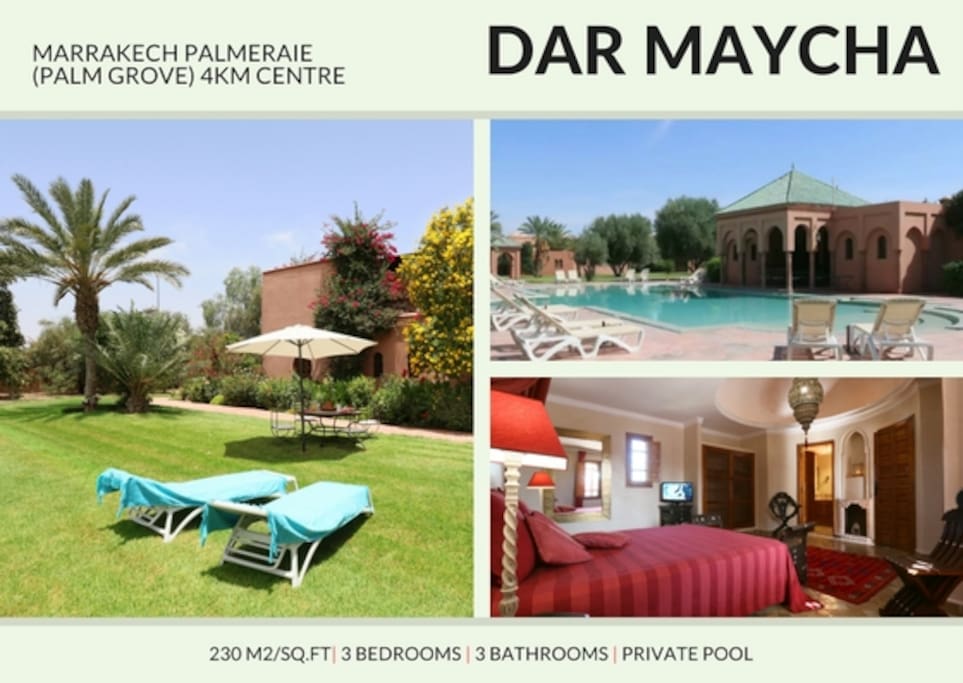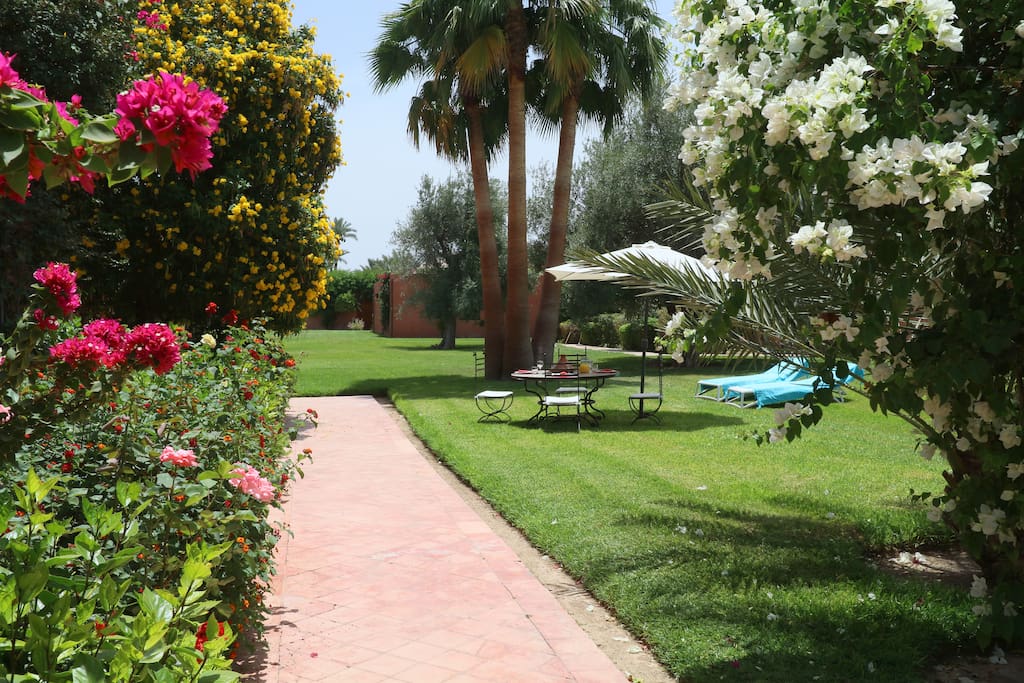 Dar Maycha Private 3 bdrm Villa 2 Pools Sleeps 6
Dar Maycha Private 3 bdrm Villa 2 Pools Sleeps 6
Visit glittering Marrakech with up to 6 people at a palm-dappled villa located just 5 minutes, via vehicle, from the city center. Private and intimist pool, not overlooked at all. Enjoy!
The space
Visit glittering Marrakech with up to 6 people at a palm-dappled villa located just 5 minutes, via vehicle, from the city center. Private and intimist pool, not overlooked at all. Enjoy!
Please contact us to check dates, tell us a bit about yourself and your trip BEFORE you request a booking. The calendar is accurate but we might be in communication with other guests.
Included in your nightly rate at DarMaycha Villa are the services of both a maid and a cook (you purchase the groceries.)
On request, vehicle pick-up service upon your arrival at the Marrakech Menara Airport.
Your large group will get along fabulously at Dar Maycha. Open, bright, and spacious common areas, including courtyard and rooftop deck, provide plenty of space for gathering together in celebration. Meanwhile, 3 bedrooms—each with its own private bathroom—allow you to retreat into calm privacy.
Dramatic arched doors swing out to your tranquil center courtyard for your group only (not visible to any other accommodations). In the courtyard you will find a second, full living area with lounge couches—perfect for naps or conversation—shaded by lush desert landscaping.
Guest access
Sit down to an authentic Moroccan dinner, prepared by your own cook, at an open-air, outdoor dining table in the courtyard. While you dine, you can enjoy the soundtrack of a Moroccan fountain bubbling into your own private wading pool, heavenly for an evening dip to cool off after the heat of the day.
If you'd rather prepare your own meals, a full kitchen awaits for just that purpose. A large indoor dining table with place settings for 8 provides another lovely eating space. Air conditioning keeps the entire villa cool and inviting.
Other things to note
WHAT IS YOUR CANCELLATION POLICY?
As we are individual direct owners rather than a large business, a travel agency or a hotel club, our cancellation policy may appear strict.
Just like you, we enjoy travelling and we understand unexpected events and emergencies do happen.
We want you to book your holiday with confidence and so we recommend subscribe a travel insurance. This insurance is designed for the travel market. This insurance may reimburse costs related to your Marrakech holiday rental by protecting you against numerous risks such as illness, flight delays, car-breakdown, or any other problems which might result in the cancellation of your stay. If you don't know a cheap travel insurance, ask and we'll advise you.

WHERE IS YOUR VILLA?
Our home is located in the city, just from 4 km the center. It is the best location of the palm grove, just close Club Med. You can easily locate our villa on the map, at the bottom of this page.
HOW FAR FROM THE MEDINA ARE YOUR APARTMENTS LOCATED?
It is very easy to get to the medina because it is close by the villa. It will take just 20 minutes to walk there (Bab el Kehmis.) Alternatively, you can take a three minute 'petit-taxi ride for approximately 1.50 Euros. Be careful however, as a 'petit-taxi' can only take three passengers.
WHAT TIME CAN I CHECK INTO THE VILLA?
If we do not have any guests who are leaving that day, we can be flexible about your arrival time. If someone is leaving on the same day as you arrive, you can access the villa from 16.00h. If you have an early flight, our driver will pick you up at the airport and then we will look after your luggage for you, to leave you free to explore. You can take a walk in Marrakech, get a snack or sip mint tea while we finish preparing your apartment.
If you arrive after 20:00h, you may be asked for a fee.
WHAT TIME MUST I VACATE THE VILLA?
On the day of departure, we ask you to leave by 11:00h, so that we can prepare the villa for the next guest. If your flight is not until later in the day, we can store your luggage until your departure. Thus, you can enjoy exploring Marrakech right up until the last moment or instead just top up your tan by the pool.
It may also be possible for you to retain the villa until later in the day. In this situation we would not take a booking for the night of your departure and instead we charge you for the extra night. We ask you to confirm this option at the time of booking or no later than 48 hours prior to arrival.
IS IT POSSIBLE TO ORDER BREAKFAST?
The kitchen is fully equipped with coffee maker, electric toaster, cooking utensils etc., so you can shop and prepare your breakfast easily at the apartment. However, if you wish, our cook can prepare a traditional Moroccan breakfast. This is served from 09.00h. This service is free, you just have to pay the provisions.
---
Check In: 4PM - 2AM (next day)
Room type: Entire home/flat
---
---
Extra people £16 / night after 4 guests
Always communicate through Airbnb
To protect your payment, never transfer money or communicate outside of the Airbnb website or app.
Learn more
---
Check in time is 4PM - 2AM (next day)
Un grand merci pour votre réservation !
Agnès et Philippe sont plus qu'heureux de vous accueillir et de vous aider à vivre le meilleur de Marrakech !
S'il vous plaît ne perdez pas de vue que vous allez séjourner dans notre demeure privée, que nous partageons avec vous lorsque nous ne l'occupons pas.
Nous y avons donc des affaires personnelles, auxquelles nous tenons.
C'est une démarche personnelle basée sur les relations humaines. Cette expérience peut vous paraître nouvelle, car très différente d'un hôtel ou même d'une maison d'hôtes; nous sommes dans une relation de partage et non dans une une relation marchande.
Nous faisons cela avant tout parce que nous aimons les gens et que nous aimons faire partager notre passion pour Marrakech et le Maroc.
Nous attendons donc un comportement identique à celui que vous auriez si l'un de vos amis, parent ou connaissance vous confiait sa propriété.
Abstenez-vous simplement de faire ce que vous ne feriez pas chez vous ou que vous n'aimeriez pas que quelqu'un fasse dans votre maison.
Pour une parfaite compréhension entre-nous voici quelques règles simples à respecter :

Une fois la réservation effectuée, nous vous adressons un récapitulatif ainsi que de nombreuses informations utiles à votre séjour. Nous avons besoin de connaitre l'identité de chacun des occupants, nous pouvons être amenés à vous demander la copie des passeports.
Seules les personnes nominativement déclarées sont autorisées à accéder au domaine. Sauf autorisation écrite - et sous conditions - aucun invité extérieur ne pourra être autorisé à entrer, même pour une courte visite.
Parce que l'assurance Airbnb ne couvre pas le Maroc, nous avons besoin de la copie de votre assurance responsabilité civile. Celle-ci est généralement déjà incluse de votre assurance habitation. Pensez à vérifier qu'elle vous couvre au Maroc. Si vous n'avez pas d'assurance ou si la votre ne couvre pas le Maroc, nous pouvons vous fournir les coordonnées d'une assurance ponctuelle, qui répond à ce type de besoin
En cas de retard sur l'heure d'arrivée prévue, vous vous engagez à nous tenir informés afin que nous convenions de la meilleure solution pour votre accueil. Comme nous n'avons pas un hôtel, nous n'avons pas non plus des réceptionnistes qui se relaient 24H/24 dans la maison pour vous attendre.
Nous souhaitons accueillir des personnes calmes et soigneuses.
Nous aimons les enfants et sommes nous-mêmes parents et grands-parents, toutefois une maison n'est pas un terrain de foot ni un dojo de karaté.
Nous avons de magnifiques jardins, où les enfants peuvent s'ébattre.
La maison est non-fumeur, vous pouvez en revanche fumer dans le jardin, patio et sur les terrasses
Les piscines ne comportent pas de barrière de sécurité et la baignade n'est pas surveillée. Nous recommandons aux parents de faire preuve de vigilance vis à vis de leurs jeunes enfants lors de l'utilisation des piscines.
Vous reconnaissez que vos enfants sont placés sous votre responsabilité exclusive, la nôtre n'étant en aucun cas engagée.
Vous vous engagez à respecter la législation Marocaine et les lois du pays, qui peuvent être différentes de celles du pays dans lequel vous vivez.
Gardez à l'esprit que vous êtes dans un pays musulman.
Toute personne ayant un comportement contraire au respect de la propriété et (ou) des bonnes mœurs, ou encore en contravention avec la législation marocaine pourra être exclue sans indemnité ni remboursement.
EN RÉSERVANT CETTE MAISON, VOUS COMPRENEZ ET ACCEPTEZ LE PRÉSENT RÈGLEMENT. EN CAS DE NON RESPECT, L'ACCÈS AU DOMAINE VOUS SERAIT REFUSE ET VOTRE CAUTION POURRAIT ETRE CONSERVÉE.
---
---
---
---
ENGLISH (French below)

This public profile is for guests.
If you are host, we can help you earn money sharing your extra space.
See: https://www.airbnb.fr/additional_hosts/1682189

Maybe you've heard this advice from the writer Toni Morrison:
"If there's a book that you want to read, but it hasn't been written yet, then you must write it."

Our story of becoming holiday rental owners in Marrakechis something like that.

In 2003, we were frequent visitors to Marrakech. As much as we loved the beauty and liveliness of the Red City, the accommodations were lacking. At that time, Marrakech was becoming a global destination and there weren't enough
places for visitors to sleep. Hotels were always booked during peak season.

We had a place in mind where we would love to stay. It would be authentic, with local design and architecture. It would be in the center of everything. And it would provide a warm welcome with one-on-one travel advice and guidance from someone who knows the city well.

But, for us, that place didn't exist yet in Marrakech.
So we created it.

Over a decade later, we have a collection of properties in our beloved city of Marrakech.

Most rewarding for us is when our guests from around the world write to tell us how much they enjoyed their stay. We love opening letters and emails with photos and stories from their trips.

In fact, we love hosting guests so much we founded the "Community of Marrakech Hosts" for Airbnb hosts in our region. As often as we can, we gather to chat about strategies for improving guest experiences and marketing our properties in Marrakech. At our last meeting, more than 60 people showed
up to network and share ideas!

There are no two places more different than where we live —a picturesque village in the South of France— and energetic Marrakech, where we spend our holidays. Perhaps that's why welove them each so much:
they compliment each other!

Our favorite activity when unwinding in Marrakech (there are many!) is to book a whole spa with a hammam, just for us (my wife Agnés and I). It's the most serene and luxurious experience in the world.

If you have questions about how to enjoy Marrakech down to the last drop of mint tea, we would love to help.

Our goal is your great travel experience. Many of our guests have stayed with us before and returned —a testament to our dedication!

We look forward to hosting you and introducing you to the best of Marrakech. Please contact us for booking and travel information!

*************************************************************
*************************************************************

FRENCH

Ce profil public s'adresse aux voyageurs.
Si vous êtes un hôte, nous pouvons vous aider à gagner plus en partageant
Votre logement. En savoir + : https://www.airbnb.fr/additional_hosts/1682189


Peut-être avez vous déjà entendu ce conseil de l'écrivain
Toni Morrison : "S'il y a un livre que vous voulez lire, mais
qu'il n'a pas encore été écrit, alors vous devez l'écrire.."

Notre histoire en tant que propriétaires de locations de
vacances à Marrakech ressemble un peu à ça.

En 2003, nous étions déjà des voyageurs réguliers à Marrakech
depuis pas mal d'années. Autant nous aimions et apprécions
l'hypnotique beauté et l'animation de la ville rouge, autant les
logements faisaient défaut.

A cette époque, Marrakech était de devenir une destination
mondiale renommée et il n'y avait pas assez de place pour
accueillir les visiteurs, de plus en plus nombreux.

Les hôtels étaient toujours complets durant les pics
saisonniers et souvent, les touristes qui n'avaient pas réservé à
l'avance se voyaient contraints de dormir sur les terrasses.

Nous avions en tête un endroit où nous aimerions séjourner.
Il serait authentique et avec une décoration locale, mais
suffisamment moderne et au centre de tout. Il permettrait de
bénéficier d'un accueil chaleureux, d'avis, de recommandations
et de conseils personnalisés, de la part de quelqu'un qui connaît
bien la ville.

Mais, pour nous, cet endroit n'existait pas encore à Marrakech.
Et donc, nous l'avons créé.

Plus d'une décennie après, nous avons une jolie collection
de propriétés dans notre chère ville de Marrakech.

Le plus gratifiant pour nous, c'est quand nos voyageurs, qui
viennent de partout dans le monde, nous écrivent pour
nous dire à quel point ils ont apprécié leur séjour. Nous adorons
ouvrir des lettres et des e-mails contenant des photos et des
récits de leur voyage.

Nous aimons tellement accueillir des vacanciers que nous avons
fondé la « Communauté des Hôtes de Marrakech » pour les
hôtes Airbnb dans notre région. Aussi souvent que nous le pouvons,
nous nous réunissons pour discuter des moyens visant à améliorer
l'expérience des clients et la commercialisation
de nos locations à Marrakech.
Lors de notre dernière rencontre, plus de 60 personnes
étaient présentes et désireuses de partager des conseils et des idées!

Il n'y a pas deux endroits plus différents que ceux dans lesquels
nous vivons : un village pittoresque dans le sud de la France et
l'énergique et tumultueuse Marrakech, où nous passons nos vacances.

Peut-être que c'est pourquoi nous les aimons tant tous les deux :
ils se complètent mutuellement!

Notre activité favorite pour nous relaxer à Marrakech
(elles sont nombreuses!)
est de réserver un hammam entier, rien que pour
nous (ma femme Agnès et moi). Pour nous, c'est peut-être
l'expérience la plus sereine et luxueuse au monde.

Si vous vous posez des questions sur la façon de profiter de
Marrakech jusqu'à la dernière goutte de thé à la menthe, ou
jusqu'à la dernière miette de corne de gazelle, nous aimerions
vous aider.

Notre objectif est de faire votre expérience avec nous, LE voyage
de votre vie. Beaucoup de nos voyageurs ont d'abord
réservé une première fois chez nous puis sont revenus ou ont
prolongé leur séjour.

Un témoignage et un symbole de notre dévouement!

Nous sommes impatients de vous accueillir et vous faire découvrir
le meilleur de Marrakech. Contactez-nous dès maintenant pour
votre réservation ou pour obtenir des conseils pour votre voyage!

*************************************************************



Languages:
Dansk, Deutsch, English, Français, Nederlands, Norsk, Svenska
Response rate:
100%
Response time:
within an hour
Explore other options in and around Marrakech
More places to stay in Marrakech: