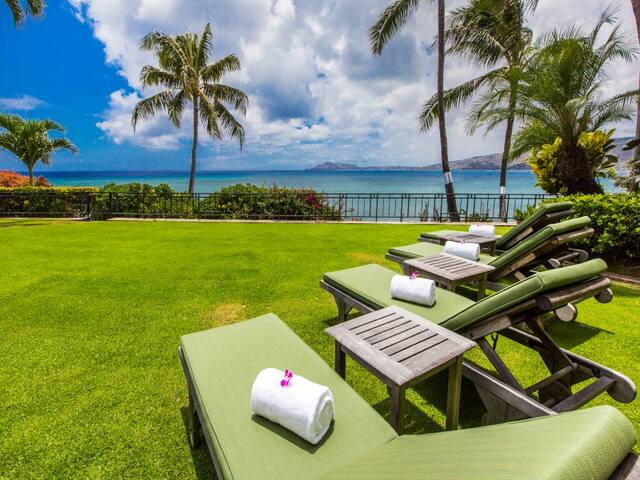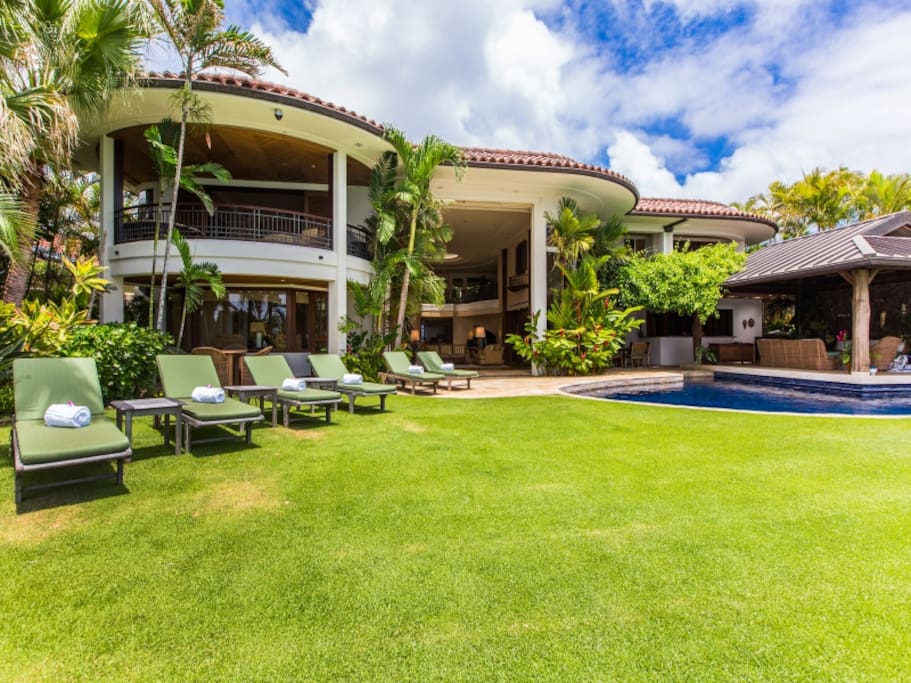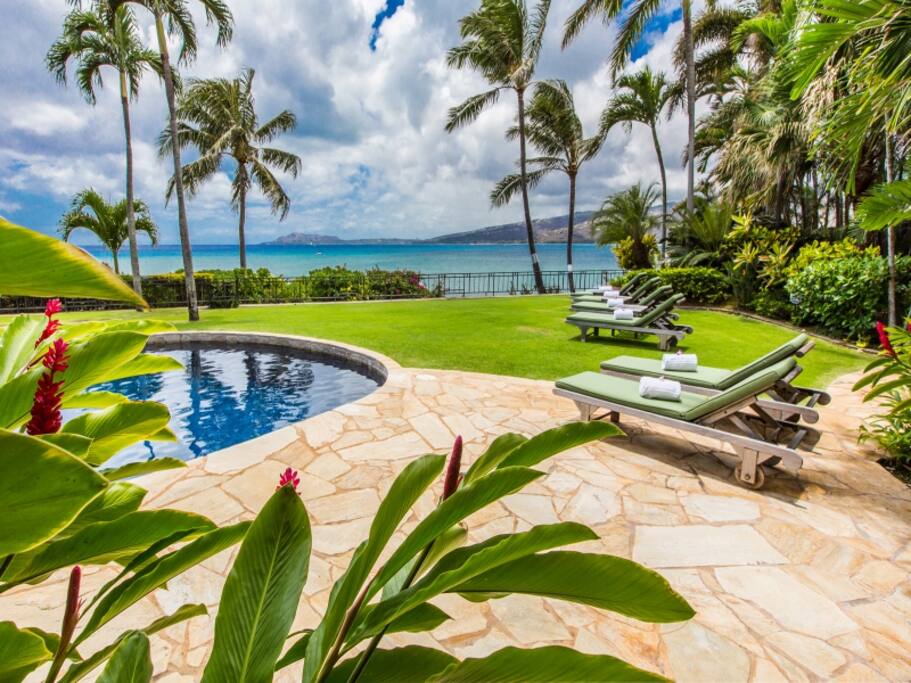 A luxurious oceanfront estate in Portlock. Gated and Spacious with spectacular ocean views and private access to the coastline. Pool, jacuzzi, sprawling lawn and balinese cabana.
HAWAII STATE TAX WILL BE ADDED TO THE DAY RATE and sent to you
Other things to note
Note: Prices quoted do not included taxes or fees. Please inquire for a complete price breakdown.
We will also need to have guests sign a rental agreement after booking. HAWAII TAX ID - OWNER IS AWAITING APPLICATION APPROVAL
---
---
There is construction going on directly next door to the property.
HOUSE RULES
HANAPEPE TIDE
1. Do not move or rearrange any furniture including mattresses, couches, chairs, tables, etc.
2. Food must be confined to kitchen, breakfast table, cabana and formal dining room. No food in any other rooms or bedrooms.
3. No trash shall be left out at any time. All trash and recyclables must be bagged and placed inside of the cans. In a tropical environment, food and trash left out can promote insect infestation of flies, ants, rodents, or roaches. All liquid spills and crumbs from food should be wiped up immediately.
4. Candles are for decoration only. No candle burning anywhere in the house.
5. All windows and doors are to remain closed when air conditioning is in use. When both the A/C is on and doors are open, condensation builds up on ceilings and the air conditioning system fails. For this reason, we ask you choose one or the other; if the A/C is on, all doors and window are to remain shut. However, if you prefer the A/C off, then you may keep the window and doors open.
6. Additional guests may be added for a fee of $300 per night per additional guest. No guests can be added after contract is signed unless authorized by owner in writing.
7. Events and Parties are not allowed unless they are approved by the Home Owner in advance and in writing. An additional Event Fee and deposit may be required.
8. Per the Hawaii City & County Land Use Ordinances, there is to be no loud outside noise after 9:30pm in residential areas. Please move all gatherings, noise and music inside the home after 9:30pm.
9. Please preserve the landscaping. Do not pick or touch any of the agriculture on the property.
10. When using nail polish or any chemical substances, please make sure surface is protected where products will be used and definitely do not use these products over any upholstered or carpeted areas.
11. Be mindful of sunscreen, lotions, creams, and oils on all furniture fabrics and rugs. Please place a towel down on any surfaces before using.
12. Do not drag anything on wood, carpets, or travertine. Be mindful of your suitcases and lounge chairs. These surfaces can be scratched and will require repair.
13. Lock external doors at night. All perimeter doors and gates should be locked when leaving the property and security alarm should be set.
14. Women, please be mindful to hygienically discard feminine products. Do not flush tampons or other feminine products in the toilets.
15. Do not use bleach or cleaning chemicals in carpeted areas. Only use these cleaning materials in laundry area.
16. Maximum utility use to be limited to $75 per day. Any overage cost of utility use will be deducted from security deposit and reconciled with guest no later than 14 days from owner's receipt of utility bills.
17. Daily Housekeeping is to be at guest's expense and is available at $35/hour per cleaner.
18. No animals or pets of any kind are allowed without written approval from the property owner.
19. No smoking is permitted on the property grounds.
20. Check in time shall be 3:00 PM or later unless otherwise agreed to in writing. Check out time to be no later than 11:00am.
POOL AND OCEANFRONT ADDENDUM
1. There is a pool and/or spa and/or ocean and beachfront on the property that poses a risk to any and all guests on the property. I also understand and acknowledge that the use of other equipment and facilities provided by Owner or Elite Pacific Properties, and participation in outdoor activities, involves risks including, but not limited to the following: risk of property damage, bodily injury, including, but not limited to permanent disability, paralysis, and possibly death. These risks may result from a variety of circumstances including, but not limited to, the use or misuse of the equipment or facilities, from the inherent nature of the beach or ocean, from the activity itself, from the acts of myself or others or from the unavailability of emergency medical care.
2. There is no fence around the pool and/or spa.
3. POOL HEAT: Pools that are equipped with heaters are not guaranteed to sustain any constant temperature. Please note that pool temperatures vary due to certain circumstances, including but not limited to: wind, rain, low temperatures, storms, sand, fungus or algae caused by extreme temperatures, excessive use or contamination by Guests. There shall be no compensation for any loss of use. Any damage to the pool and/or spa caused by Guest and any other persons on Property during the agreed upon Rental Period, including but not limited to: broken glass or other items introduced into the pool, contamination of the water, damage to the automatic cleaners or equipment, or excessive loss of water will result in charges to the Guest for correction of the problem.
4. SPA Shut Off (if applicable): When and if the spa is used, Guest will be responsible for turning on and shutting off the spa. Failure to shut off the heater for the Spa may result in an excessive utility bill, which may be charged to the Guest's SIC Deposit.
5. I am also aware that my stay at the Property involves risks that may result in serious bodily injury and/or death. Some of the risks include, but are not limited to, drowning, slips, trips, falls, cuts, adverse weather conditions, the acts or omissions of guests or visitors on the Property during my stay, and the condition of the Property. I understand that the description of the risks in this Release of Liability, Waiver of Claims and Assumption of Risk (the "Document") is not complete and that other risks or events that are known or unknown, anticipated or unanticipated may result in serious bodily injury and or/death.
6. In consideration of being permitted to rent and stay at the Property, I agree on my own behalf and on behalf of my family and guests and on behalf of my children and all minors in my care, custody or control (hereafter also included in "I" or "my") to assume full responsibility for the risks identified herein and those risks not specifically identified. I hereby release from liability and waive any and all claims that I have or may have in the future against Elite Pacific Properties LLC and its members, principals, agents, officers, employees, and representatives (collectively "Releasees") as well as the landlord/owner of the Property.
7. I agree to fully and forever release and discharge, and not to sue Releasees for any injuries or damages, including property damage that may result from arise out of or be related in any way to my rental and stay at the Property. If any portion of this Document shall be declared unenforceable for any reason, the unenforceable portion shall be considered severed from the Document and the remainder of the Document shall not be affected and shall be valid and enforceable to the fullest extent permitted by law.
8. By signing this waiver, I assume all risk, and take full responsibility and waive any claims of personal injury, death or damage to personal property associated with activities and events during or related to the stay in the subject property.
Please review the Terms & Conditions of your Vacation Property carefully before you begin your vacation. Any monies received by Elite Pacific Properties, LLC, the "Agent", for occupancy of Vacation Property, indicates the acceptance of the terms of our Terms & Conditions in full. It is the responsibility of all guests and members of their party to be familiar with all policies pertaining to the rental.
1. RENTER REQUIREMENTS
For legal and accounting purposes, the person placing the reservation must be the same as the credit/debit card holder. This person is considered to be the Guest. All other persons occupying the rental are considered to be the Guest's invitees, and all discussion regarding reservation, cancelation, and damage policies will be discussed with the Guest, not the Guest's invitees. The Guest must be an adult over the age of 21.
2. CREDIT CARD AUTHORIZATION FORM
Elite Pacific Properties LLC requires a credit card on file for every reservation. Guest will be required to complete a credit card authorization form prior to gaining access to the property. The Guest will incur a 3.5% credit card surcharge fee for any amount Elite Pacific Properties LLC will charge to this credit card.
3. DAMAGE POLICY
Every reservation requires either
(1) a Damage Protection Policy ("Vacation Rental Damage Plan")
OR
(2) a $(PHONE NUMBER HIDDEN) refundable security deposit, depending on the property.
The "Vacation Rental Damage Plan" covers unintentional damages to the rental unit interior that occur during your stay, provided they are disclosed to management prior to check out. The policy will pay a maximum benefit depending on the plan purchased:
-$3000 in coverage for Vacation Rental Damage Insurance ($49)
-$5000 in coverage for Vacation Rental Damage Insurance ($89)
A few of our high end rentals require a Damage Protection Policy AND a Refundable Security Deposit. Any damages that exceed the maximum benefit will be charged to the credit card on file. If you damage the real or personal property assigned to your rental accommodation during the trip, the Insurer will reimburse the lesser of the cost of repairs or replacement of the property, up to the maximum benefit. Certain terms and conditions apply. Full details of the Vacation Rental Damage coverage are contained in the Description of Coverage or Insurance Policy (URL HIDDEN) The Vacation Rental Damage can be purchased up to, and including, check in time. By submitting payment for this plan, you authorize and request CSA Travel Protection and Insurance Services to pay directly Elite Pacific Properties any amount payable under the terms and conditions of the Vacation Rental Damage plan. Please contact Elite Pacific Properties directly if you do not wish to participate in this plan or assignment and instead wish to pay the refundable security deposit.
If a security deposit has been collected for the reservation, no portion may be applied to additional rental time or fees or other charges accrued by the Guest/ Invitees. The entire deposit will be refunded if
(1) no damage was done to the property other than reasonable wear and tear
(2) all keys are accounted for
(3) no items were missing
(4) all doors and windows were closed and secured upon departure
(5) all check out procedures were followed
(6) all Terms & Conditions were followed
(7) no miscellaneous charges were incurred, e.g., unpaid rental fees, guests or pets, additional cleaning fees, or other charges.
As a condition to the rental of all Vacation Properties, Elite Pacific Properties reserves the right to charge the Guest's credit card for any and all uncovered Guest/Invitee caused losses and damages sustained to the Vacation Property throughout the duration of their period of occupancy. In the event of any uncovered Guest/Invitee-caused loss or damage to the Vacation Property, including, but not limited to, undue cleaning, eviction, service calls, service charges, fines/assessments, repairs or replacements, plus all applicable taxes, Elite Pacific Properties is hereby granted the right to charge the Guest's credit card. An itemized statement outlining all associated costs will be sent via regular or electronic mail to the address submitted by the Guest at such time as the reservation was booked. By confirming their reservation, the Guest hereby agrees to pay for all such charges, as defined above and on the proceeding pages.
4. POWER/ WEATHER RELATED CANCELATION
Elite Pacific Properties does NOT issue refunds due to acts of nature such as: weather, road conditions, hurricanes, power outages etc, but CSA Travel Protection Insurance does provide some protection against these instances. If the property is uninhabitable due to such circumstances and you did not purchase insurance, reservations can be rescheduled for future dates within one year of the reservation date.
5. CONSTRUCTION
Elite Pacific Properties is not responsible for any construction noise beyond the Property limits.
6. CLEANING
For any reservation of more than 14 days, a mandatory midstay cleaning may be required at a rate of $(INQUIRE). Additional cleaning is available on request at a rate of $30 per maid/hour (rate subject to change.) Please provide 48 hours notice if you would like any additional cleaning during your stay.
7. PROPERTY CONDITION
A Property Condition Form must be completed and returned to Agent within 24 hours of arrival, wherein any existing damages or deficiencies must be reported. At check-out, Guest must leave the property in tidy condition, similar to that at move in. Cleaning crews will handle all major cleaning of linens, towels, kitchens, floors and bathrooms. However, excessive cleaning will be billed at $30/hour and will be charged to the Guest.
8. OCCUPANCY
Occupancy is restricted to the number of people listed at the time of booking. Guest acknowledges that they will personally occupy the Property for the entire length of stay and will not sublet. Tenant shall not use the Property for any illegal or unlawful purpose, nor shall the Property be used in a fashion that disturbs or offends the neighbors. If the number of occupants changes, Guest must immediately notify Agent and additional charges may apply. No special events, including but not limited to weddings, parties, and receptions, will not be allowed without the express written permission of Agent.
9. REPAIR AND SERVICE CALLS
Agent and owner do not guarantee against mechanical or electrical failure of air conditioning, fans, lights, televisions, VCRs, DVDs, or other equipment. Guest agrees to report any inoperative items to Agent promptly, and Agent agrees to make every effort to have maintenance done quickly and efficiently. Should a repair person conclude that equipment is in working order, or that failure was due to the actions of the Guest, then the charge for the service call will be billed to Guest and Guest agrees to pay the charge. No refund or rent deduction will be made due to failure of such equipment.
10. RIGHT TO ENTER
If necessary, Owner or Agent or their designated vendors may enter the property in order to inspect or make necessary or requested repairs. Owner or Agent will give Guest at least 24 hours minimum notice before entering the Property, and will only enter during reasonable hours except in the case of emergency. Regular vendors to the property including, pool, yard, and cleaning services shall be allowed to enter at normally scheduled times.
11. INDEMNITY/DISPUTES/JURISDICTION
Guest agrees to indemnify, defend and hold harmless Owner and Agent from all claims, disputes, litigation, judgments, costs and attorney fees resulting from loss, damage, or injury to Guest and guests or their personal property. Owner and agent are not responsible for lost, stolen, or misplaced items. Guest is also aware of the inherent risks to person and property while occupying residences near the ocean or that have pool/Jacuzzi features. Any and all claims, controversies or disputes arising out of or relating to this contract/agreement, or the breach thereof, which remain unresolved after direct negotiations between the parties, shall first be submitted to confidential Mediation in accordance with the Rules, Procedures, and Protocols for Mediation of Disputes of Dispute Prevention & Resolution, Inc., then in effect. If any issues, claims or disputes remain unresolved after mediation concludes, the parties agree to submit any such issues to binding arbitration before one arbitrator in accordance with the Rules, Procedures, and Protocols for Arbitration of Disputes of Dispute Prevention & Resolution, Inc., then in effect. The parties further agree that the award of the arbitrator is binding upon the parties and that judgment upon the award rendered may be entered in any court of competent jurisdiction. This agreement shall be governed by and construed in accordance with the laws of the State of Hawaii. All disputes or claims pertaining to the Agreement shall be adjudicated in the State of Hawaii, County of Honolulu.
LAND USE ORDINANCE COMPLIANCE
In accordance with City and County of Honolulu Land Use Ordinance section 21-10.1, this property is provided to you, exclusively, for a period of 30 days or greater. You are electing to occupy this property for the exact days outlined in the booking details, above. By law, the property cannot be rented to or occupied by other tenants during any portion of the 30-day term. If you should choose to occupy the property for additional nights within the 30-day rental term, a full payment of any additional charges must be made prior to such occupancy. Elite Pacific Properties will designate and or change the actual dates of the 30-day or longer Rental Period prior to the Start Occupancy Date.
Guest understands and agrees that the Rental Charges are determined based on Guest's planned Arrival and Departure dates; and that Owner and Agent incur significant costs based on the number of days that Guest actually occupies and uses the Property. Guest further understands and agrees that in the event that they occupy the Property for more days than specified, based on the Arrival Date and Departure Date, that Guest will pay an additional Property Usage Charge, plus state and county General Excise and Transient Accommodation Taxes thereon; and Guest authorizes Agent to charge their credit card on file for the full amount of that Property Usage Charge (if any), plus taxes, plus a Credit Card Processing Fee of 3.5%.
ELECTRICITY CHARGES: Guest's rental charges are based on normal electricity usage. We recommend that you turn off air conditioning when gone, and that you ensure all doors and windows are shut if the air conditioning is on. In the event that Guest's usage results in unusually high electricity charges, Guest agrees to pay for the additional charges beyond those deemed normal for the Property. A 3.5% Payment Processing Fee will be added to this charge.
---
Amazing place, fit our large group perfectly. This place had a lot of extras not listed including fully loaded kitchen (appliances, pots, pans, tons of dishes, etc), large outdoor grill, koi pond, and wine fridge. The upstairs rooms are much larger than they appear in the listing and the master has amazing natural light from ceiling. The pool is larger and deeper than it looks in the picture and has plenty of "safe" zones for smaller kids. The outdoor seating and dining areas are the highlight of the property and alone are worth the price :)
---
These place was absolutely spectacular and the views are breathtaking. We had a wonderful time at Hanapepe and would definitely go back. The home was super spacious, great for a group or family, and clean. Communication with the host was consistent and super easy. Waking up to those views and falling asleep to the waves made the house magical! I wish I was still there! We had a lovely time.
---
Elite Pacific Properties is the leading luxury real estate brokerage and vacation rental firm in Hawaii, with over 100 agents statewide offering everything from luxury residential property sales to multi-unit projects/developer sales, to luxury vacation rentals. Elite Pacific Pro…
Languages:
English
Response rate:
100%
Response time:
within a few hours
Explore other options in and around Honolulu
More places to stay in Honolulu: