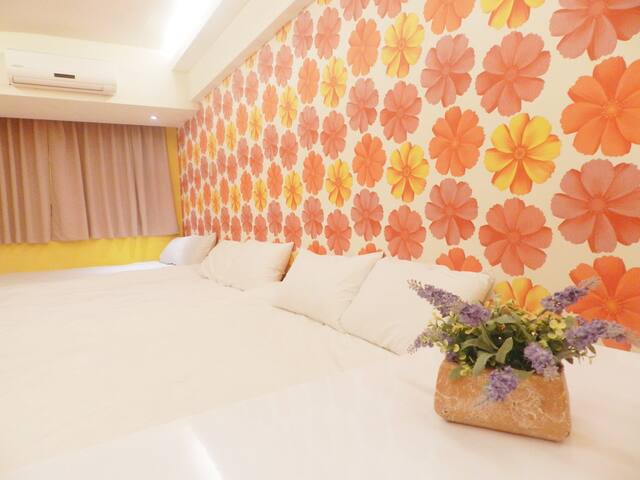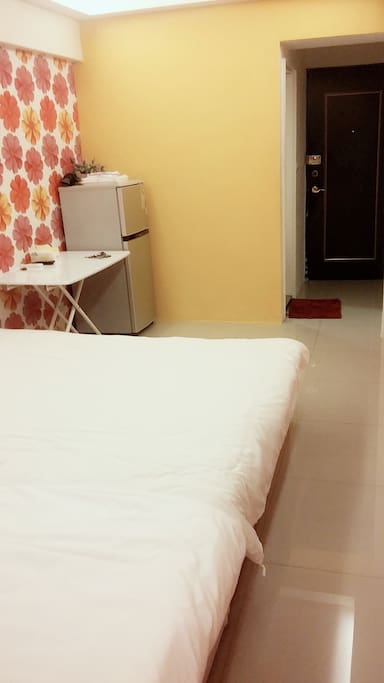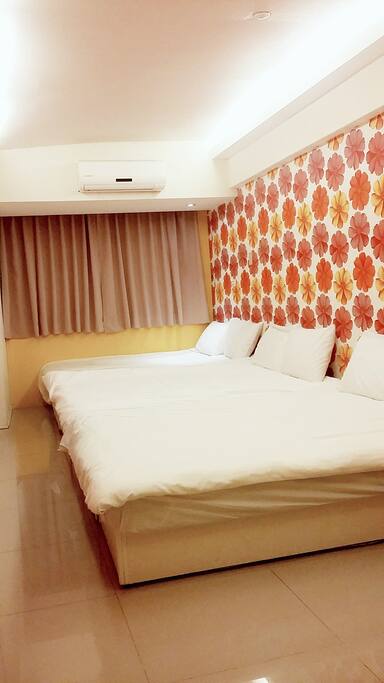 The hostel for the youth hall type, perfectionist do not book. Continuous holiday, cold or summer or three months after the price adjustment, the official website and our offer shall prevail. Please contact the landlord before booking to confirm the availability of the room. Please be sure to provide contact information after booking. Thank you! [Taichung Fenghuo 9527] is committed to providing travelers with comfortable accommodation and services, offering a variety of room types in response to the needs of travelers, and also welcome groups and long stay for business travelers. We have several types of room type, please click into my big picture, pull down my room, very welcome you!
本旅宿為青年會館類型,完美主義者請勿訂房。
連續假日、寒暑或三個月後房價有價格調整時,以官網及我方報價為準。
訂房前請先聯繫房東,確認空房狀況,再做訂房。
完成訂房後請務必提供聯絡資料,謝謝!
【台中逢甲9527】致力於提供旅行者舒適的住宿環境與服務,提供各種房型因應旅客需求,也歡迎團體及長時間住宿的商務旅客。我們還有數間各種類型的房型,請點入我的大頭像,下拉有我的各房源,非常歡迎您!
The space
‧ room equipment: three double beds, air conditioning, LCD TV, fourth, hair dryer, shampoo, shower gel, toothbrush, toothbrush, disposable bath towel, table, refrigerator, electric kettle, heating equipment, baby bath, ,flip flop. ‧ Free Internet Wireless WIFI Our characteristics ‧ downstairs is Fengjia night market, visiting the night market is convenient. There is an independent bathroom in the room, and there is no need to share the bathroom and the toilet. ‧ good location, good traffic, strong performance • Have managers and access monitoring equipment. ‧ There are smoke alarms, fire extinguishers, etc ... fire safety, no doubt. ‧ access to the use of inductive buckle security management, do not worry about access control All rooms are equipped with a new electronic code lock, safety UP.
‧房內設備:三張雙人床、冷氣、液晶電視、第四台、吹風機、洗髮精、沐浴乳、牙刷、牙刷、拋棄型浴巾、桌、冰箱、電熱壺、暖氣設備、嬰兒澡盆、椅、拖鞋。
‧ 免費網路無線WIFI

我們的特色
‧樓下就是逢甲夜市,逛夜市好便利。
‧房內皆有獨立衛浴,不必和人共用浴室、廁所。
‧位置好、交通佳、機能強。
‧擁有管理人員及出入監視設備。
‧備有煙霧警報器、滅火器…等消防設施,安全無疑慮。
‧出入使用感應扣安全管理,不擔心門禁。
‧所有房型配備新型電子密碼鎖,安全度UP。
Guest access
All items in the room, equipment, space and Wifi can be used since, please only cherish the landlord carefully placed and pay attention to safety.
房內所有物品、設備、空間及Wifi皆可自使用,唯請愛惜房東悉心的擺設並注意安全。
Interaction with guests
On the day of arrival, please bring the original valid photo of the photo for registration. (1) no breakfast, downstairs turn right about 100 meters that there are several delicious breakfast shop. (2) each time to change the sheets, quilt, pillowcases and send a professional laundry washing, washing with other clothing will not be, clean and sanitary. (3) Be sure to read the Code of Housing and other precautions carefully.
入住當日請攜帶有照片之有效證件正本以便資料登記。
(1)沒有供應早餐,樓下右轉約100公尺即有數家美味早餐店。
(2)每次更換床單、被套、枕頭套並送專業洗衣店洗滌,不會與其他衣物混洗,乾淨衛生。
(3)請務必仔細閱讀《房屋守則》及《其他注意事項》。
Other things to note
The hostel is the type of youth hall, and the perfectionist does not book. Check in time: 16: 00 ~ 22: 00 Check out time: Up to 11:30 After making your reservation, be sure to provide contact information and inform the approximate arrival time to avoid waiting. • If you need to send your luggage early, take the key or delay into the room, please inform and wait in advance. (Please send your luggage early and take the latest one at the latest one on the day before your arrival. More than 23:00 check in need to pay overtime. More than 00:00 Check-in is free of charge. • Lack of contact is deemed to have waived the right to housing and can not be refunded. To extend check-out time 500 / hour, please inform in advance. Nighttime 23:00 Please reduce the volume and respect the peace of others. • In order to maintain the quality of the accommodation environment, the room is completely non-smoking. ‧Please be sure to inform you in advance if you are told that you will not receive your payment. • In order to take into account customer privacy, will not clean during the stay. ‧ Extra stay for each additional 500 yuan / room, including changing sheets, quilt cover and pillowcase, must be booked at least one day in advance The room will be placed out of the induction button, check out the induction when the buckle placed in the table. When you check in, you will be able to reduce the number of days of stay and the number of people staying at the time of arrival. The increase in the number of costs for the weekdays 360 / person, weekends, special festivals and consecutive holidays 680 / person, do not provide extra bed.
‧ 本旅宿為青年會館類型,完美主義者請勿訂房。
‧ 入住時間(Check in time):16:00~22:00
‧ 退房時間(Check out time):最晚至11:30
‧ 完成訂房後請務必提供聯絡資料並告知大約的抵達時間,以免到時還需等待。
‧ 若需提早寄放行李、拿鑰匙或延後進房,請事先告知並約時間。
(提早寄放行李、拿鑰匙最晚請於入住前一天告知。當日才告知者,請配合入住時間。)
‧ 超過23:00 Check in 需酌收加班費。
‧ 超過00:00 Check in 恕不接待亦不退費。
‧ 聯絡不上者視為放棄住房權利,恕無法退還訂金。
‧ 欲延長退房時間500/時,並請提前告知。
‧ 夜間23:00請降低音量,尊重他人住宿安寧。
‧ 為維護住宿環境品質,室內全面禁菸。
‧ 攜帶寵物務必提前告知,當日才告知恕不接待亦不退費。
‧ 為顧及客戶隱私,續住期間將不打掃。
‧ 連續住宿額外打掃每次500元/間,包含換洗床單、被套與枕套,須提前至少一天預約。
‧ 房內會放置出入感應扣,退房時請將感應扣放置房內桌上。
‧ 入住時即依照預約的住宿天數、人數,入住後自行縮短住宿天數、人數,恕不退費。增加人數費用為平日360/人,周末、特殊節日及連續假日680/人,不提供加床。
---
---
Weekend Price £98 / night
Always communicate through Airbnb
To protect your payment, never transfer money or communicate outside of the Airbnb website or app.
Learn more
---
Check in time is 4PM - 10PM
1.因人手有限,有任何問題請於23:00前向服務人員反應。
2.本館全面禁止吸煙。若要吸菸請至戶外,以免殘留煙味,影響其他房客權益或觸動火警探測器,造成恐慌。 一旦發現房內有煙味須支付二日房價作為空氣淨化工程費用。
3.為維護睡眠品質,請於入夜後23:00降低音量。公共區域保持安靜,以維護其他住戶之權益。
4.離開房間前請隨手關水、關燈﹑電視﹑冷氣,節能減碳做環保。
5.本館嚴禁開火、轟趴﹑吸毒﹑酗酒及其他非法、危害公共安全、違反善良風俗之情事,若經發現立刻驅離、報警處理,恕不退費。
6.請勿破壞本旅宿所有設施及物品,若經發現損壞或遺失,除照價賠償並依法保留法律追訴權,請愛惜房內的物品、設備。
7.請勿未經同意開門讓任何陌生人進入。
8.如需舉辦活動或聚會,我們有合作夥伴歡迎洽詢。
本旅宿擁有保留租屋規章內容修改及最終解釋之權力。
凡申請預定,視同無條件同意此房源之專案內容,若有違反以上之規定,本旅宿可隨時解約,租金恕不退還,並依法處理。
---
---
---
It's conveniently located near Feng Chia Night Market. We checked in around 5.30pm. Had some difficulties to locate the place as it was our first time. The host was communicable and fast to reply. We stayed with 3 double beds for 5 pax. The listing description stated is accurate. The room is not noisy. There is a wide variety of TV channels to watch and select. The downfall is, the towels provided is too thin and small, in my opinion, would suggest to bring your own towel. The room is small and there is less space to walk from the first bed to the most inner bed. Also, the bed doesn't seems to be those hotel grade. There's squeaking sound when you sit on the bed though. Overall, it's great for the location and it's a great experience.
---
we had a good rest in this 3 double bedded room for my family of 6pax (4A2C)... although the location is juz right at famous night market "FengJia night market" but we dot find noisy from room. Disposable towels and tooth brushes are nicely prepared! overall we had a happy and great stayed! thanks!
---
您好,我是9527旅宿管家,本身熱愛旅行夢想環遊世界,也常常國外旅遊住宿各地。我立志於提供愛旅行的同好們一個安全.舒適.有品質的落腳住處,所有配備家俱讓來住宿的人們完全的放鬆,不同的房間風格都充滿了渡假氛圍,讓您有滿滿幸福感且有個難忘之旅。總是堅持最好的品質與服務給客人,為的是得到您的讚美評價。
Languages:
English, 中文, 日本語, 한국어
Response rate:
100%
Response time:
within an hour
Explore other options in and around Xitun District
More places to stay in Xitun District: