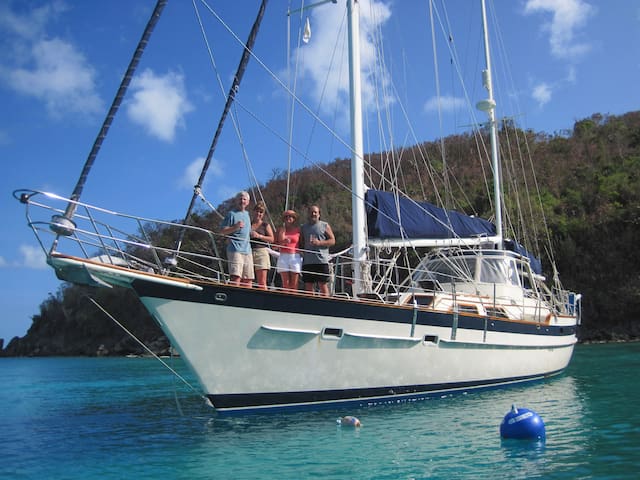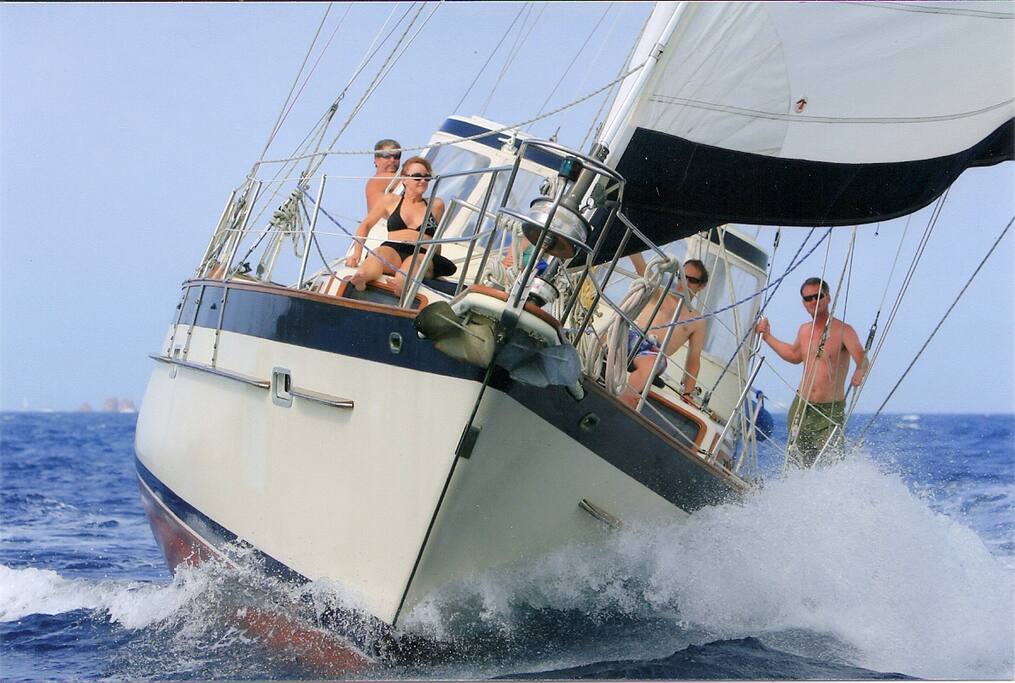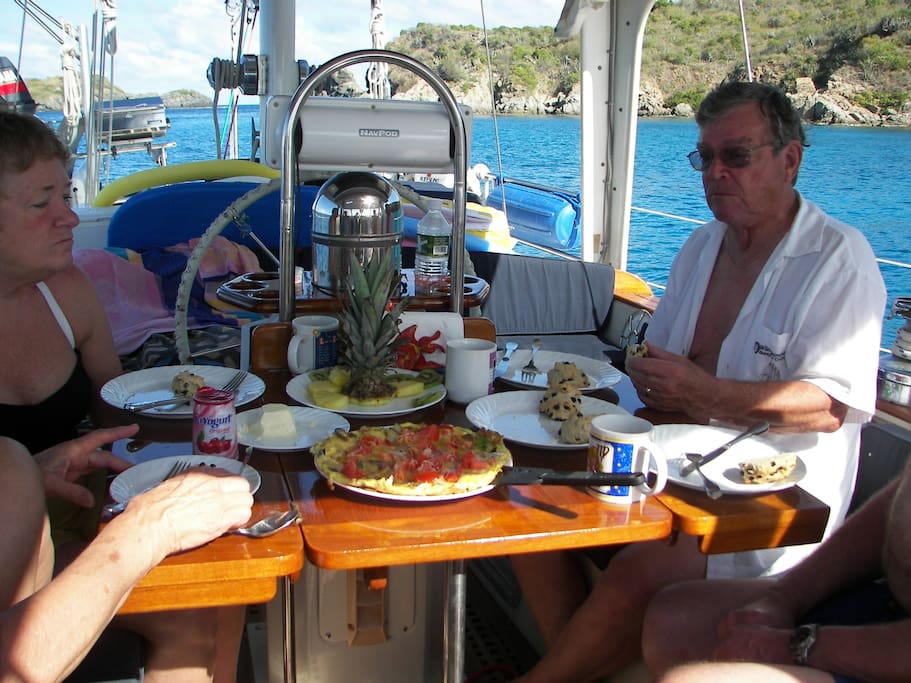 The space
Jalapeno Charters offers personalized sailing vacations in the BVI, USVI, and the Spanish Virgins aboard our 52 foot ketch, Jalapeno. Join us for a few days, a week, or more sailing and exploring these Caribbean islands. Jalapeno provides one or two couples, or families up to 6 with possibly the most exotic, relaxing, and fun vacation experience they have ever had. Why take a cruise ship when you can have your own private sailing yacht take you to destinations the cruise ship passengers never go. Relaxing and reading, swimming, snorkeling, or learning to sail, your crew is ready to meet your vacation needs.
Your crew has been sailing the Virgin Islands and other parts of the Caribbean for over 12-years, and still find the experience magical. Dine on delicious meals with beautiful sunsets. Try some of the fabulous restaurants the Caribbean has to offer. Wonderful thing about sailing the Virgin Islands is that there are many places to go and things to see within a short distance of each other.
Captain Ray plans each trip based on the needs of our guests. This depends on many factors:
Do you want to do a little or lots of sailing?
Balance between dining aboard and meals ashore?
Private anchorages or nighttime entertainment?
Been here before, and want to go to different places while definitely hitting a few of your prior favorites?
The thing is, it is all good, and your crew likes to be flexible.
Never been here before? No problem. We will make sure you see all the "not to be missed" attractions.
Been here a dozen times? We will still take you to new places you have not seen.
We can take you to Anagada where being on the beach at Cow Wreck or Loblolly Bay feels like you are at the end of earth. Day stops at places like the Baths, the Indians, Pirate Caves, Sandy Cay or Sandy Spit may be high on everyone's list. Perhaps you want to add a stop at the Dogs or Monkey Point. Don't forget Jost Van Dyke! This island has great hang-outs like the Soggy Dollar, Foxey's, Ivan's, Sydney's, Abe's and many more. On Virgin Gorda in the North Sound privacy can be had off Mosquito Island or Prickly Pear, while Leverick Bay, Saba Rock, and the Bitter End Yacht Club get you doing things ashore.
Prices as listed includes ~1/2 dinners ashore with all other meals and beverages aboard. See our Getting Ready Guide in the airbnb "House Rules" for more information. The $300 "Cleaning Fee" will actually be re-quoted as $625 + $50pp using the airbnb "Special Offer" feature to cover our base rate for any number of days which pays the cost for the crew to prepare the vessel for your trip, provisioning, and clean-up after your departure. Thus, the total cost for a 3-day charter with 2 guests is typically $3200, while a 5-day charter would be $4850, and a 7-day charter is only $6500. Note this is the base rate plus $825 per day. Each additional guest after the first 2 is $70pp per day. The "Special Offer" feature will also be used for quoting other meal plans, crew configurations, pick-up and drop-off options, marina sleep aboards at the begining or end of your trip, or any other unique details for your trip. Advanced booking is usually required. Last minute booking will be accommodated when possible.
Extra people £54 / night after 2 guests
Always communicate through Airbnb
To protect your payment, never transfer money or communicate outside of the Airbnb website or app.
GETTING READY GUIDE
The following information has been compiled for our charter guests from a variety of sources. We hope you find it useful in getting ready for your charter.
What to Expect:
The Crew:
This is a truly custom made vacation and is designed around the desires and wishes of you and your party. Your crew will do their best to make sure your charter is a fantastic experience that you will remember with fond memories and want to repeat. The crew will act as your chef, bartender, waiter, tour guide, activities director, housekeeping staff, … But, the crew is human, and mistakes may happen.
The Boat:
Jalapeño is a sailing yacht. It is much smaller than a cruise ship, and much larger than a row boat. Most people consider Jalapeño to be a BIG boat. You be the judge. Jalapeño is set-up to provide one or two couples, or a family of 6, plus crew with a safe and enjoyable charter experience. She is very well equipped. As a result, she is also very complicated. The crew is prepared to help you with all aspects of using the boat. On deck, a sailing vessel can be a bit like an obstacle course, with winches, lines, and other hardware to negotiate. A boarding ladder and swim platform are used to get on and off Jalapeño from the dingy or the water. This can make a yacht charter unsuitable for anybody with physical limitations or medical issues.
Accommodations:
Each stateroom or cabin is "boat sized", like being in a camper that has a funny shape, and has what is roughly a double bed. Your bathroom, or "head" as it is called on a boat, is another small space with a sink and marine toilet -- similar to the lavatory aboard an airliner. Except when sleeping, changing, or attending to personal matters, you will likely not be in your stateroom. Rather, you will be relaxing in the main salon, cockpit, on deck, in the water, or doing something ashore. Each stateroom is made-up with bed linens, pillows, bath towels, and beach towels. A change of linens and bath towels is provided mid-week.
The storage for your use in each stateroom consists of 6 drawers below the bed, a 2 foot hanging locker with hangers, and a storage compartment for things like your collapsed luggage. Showering aboard charter sailing yachts is funky. Fresh water is a precious commodity aboard a boat. We can only take a limited amount of fresh water with us that must last the duration of your charter. "Navy" showers are the rule – get wet, soap-up, rinse-off. On most charters, the typical place to shower is on-deck. Aboard Jalapeño, arrangements can also be made to use the shower in the Captain's quarters.
Weather:
The extremely consistent weather conditions in the Virgin Islands are one of the reasons this area is considered to be one of the best cruising grounds in the world. The trade winds are nearly constant ranging from 10-25 knots, allowing for wonderful sailing. These cooling trade winds also keep it pleasant aboard. The water temperature ranges from 76 to 85. Daytime temperatures rarely drop below 75°F in the winter or rise above 90°F in the summer. Even on a really warm day, if you are in the shade, you are comfortable because of the breeze. The night temperatures vary by only 10 degrees.
A typical forecast on any given day will have scattered clouds and a 30% chance of rain. These showers can happen any time, but are most common in the early morning hours prior to sunrise, and last less than 30 minutes each. An occasional frontal disturbance or tropical wave moving through the Virgin Islands may make for rainier conditions for a day or two. Hurricane season runs from June through November, but tend to occur closer to the Virgin Islands from late August to late September.
Activities:
The primary activities for your charter will be based from aboard Jalapeño. These include sailing, swimming, snorkeling, sunning, relaxing, reading, napping, eating, and drinking. Your crew can recommend and arrange for additional activities like diving, parasailing, tours and other excursions depending on the island. The cost of these additional activities is not included in your charter fee.
Itinerary:
The itinerary is based on your preferences of activities. The captain will tailor the charter to fit your requests. The Virgin Islands offer a tremendous variety of bays and anchorages to visit. It is typically not possible to see everything in one visit. You may need to return again in the future for another charter to see more. The itinerary will also be flexible to accommodate your schedule and activities. Weather, safety, and other considerations may also affect the itinerary.
Food and Meals:
A varied menu will be designed around the food selections on your preference sheet and served aboard. Unless you have chartered with the Captain Only option, your crew will prepare and serve your snacks and meals aboard. If you like, you can offer to help. The crew will try to have your requested beverages available, but it cannot be guaranteed due to limited availability of many products on the Islands. The "ship's bar" includes beer and liquor. Wines will be available with dinner. In the Caribbean, Rum is King -- plentiful, good, and a favorite of the crew for making "boat drinks" before sunset, and sipping after dinner.
Dining Ashore:
Although the food aboard is included, and meals will be provided per your preference sheet, you may have requested a certain number of meals ashore, and can dine ashore more often if you would like. You may enjoy the ambiance and menu at some local establishments, which can range from a fancy dinner to a traditional island beach barbeque. When you do dine ashore, you pay the bill. Most guests find a lunch and a dinner ashore provides some additional variety to your charter. You might invite the crew, which is a special treat, but it is not expected. The point is for you to enjoy the islands.
Motion Sickness:
If you are susceptible to motion sickness, then ask your doctor for a prescription, bring a nonprescription treatment, or use acupressure wristbands. Be sure to treat yourself for motion sickness before you are experiencing symptoms.
Power:
Electrical power in the Virgin Islands is the same 115 VAC as the US mainland, and Jalapeno also has 115 VAC with domestic type outlets, and 12 VDC with car type accessory outlets. You will not need to bring any special power adaptors or inverters. You should bring whatever power cords and chargers are required for any electronic devices you are bringing.
Attire:
Aboard:
For much of your charter you will either be sailing, aboard at an anchorage, in the water, or going back and forth from a beach or dinghy dock in the dinghy. Figure that most of the time you will be in a swimsuit or shorts and shirt. The privacy and seclusion that being on a yacht provides may make it acceptable for guests to be semi-exposed at times during the charter.
Ashore:
You will need to cover up properly when ashore. There are some beach bar/ restaurants where swimming attire is tolerated, but most establishments do ask that you wear appropriate clothes like shorts with shirts, or wraps for the women. A few finer restaurants may prefer a collared sports shirt and slacks for the gentlemen. No jackets or ties. "Smart Casual" is the rule of thumb for everyone. Around town, be sure to wear a shirt and shorts, or a cover-up over your bathing suit. Sometimes shoes are optional, but bikini tops are not appropriate.
Footwear:
Jalapeño is a no-shoes zone. While aboard we will all be in bare feet. Your sandals, flip-flops, or shoes will be for doing things ashore. If you must use footwear aboard, a dedicated pair with soft soles and white bottoms that have never previously seen terra firma would be preferred.
Packing:
Most folks tend to over pack for their trip. The more you bring, the more you have to carry around and store in your stateroom. If your bag is uncomfortable for you to carry it then you've packed way too much. Travel delays can happen, so consider having a change of clothing in your carry-on luggage. You may want to get into something cooler and more comfortable upon arrival. You may also want to have critical items with you like medications, travel documents, credit and ATM cards, cash, cameras, and other things of value. DON'T FORGET YOUR PASSPORT.
Many charter guests simply like to "carry-on" their things. To make this easer with today's travel restriction, we provide the following items.
You will not need to bring:
Shampoo
Conditioner
Soap
Sunscreen
Bathing towels
Beach towels
If you do bring your own sunscreen, please do not bring oily lotions that can cause the decks to become slippery and can stain the yacht's upholstery.
Luggage:
Only pack in soft, collapsible luggage, a duffle-bag, or backpack. The storage for your bags is limited to your stateroom, and there is no storage space for rigid suitcases.
Clothing:
You will need casual wear such as shorts, T-shirts, swimwear, beach cover-ups and some footwear for ashore.
Consider this list for a typical 1-week charter:
sunglasses and a hat
4 to 5 pairs of shorts
medications
hairbrush/comb
tooth brush
travel size toothpaste
5 to 6 shirts
underwear
2 pairs of shoes for ashore like flip-flops, sandals and maybe tennis shoes
2 to 3 bathing suits
optional – bathing suit cover-up
for dinner ashore;
ladies – one skirt w/short sleeve shirt or sundress
gentlemen – one golf shirt or short sleeve dress shirt and dress shorts
There is a saying, "Bring half of the clothes and twice the amount of money that you think you'll need."
Snorkel Gear:
You can bring your own mask and snorkel, or use one from the assortment aboard Jalapeño. Fins can be a bit more difficult for travel. Please let us know the shoe sizes for all guests in your party so we can insure in advance that we have the right size fins available, and let us know if someone is bringing their own fins.
Music, Books and Games:
Feel free to bring your favorite tunes on CD, iPod, or MP3 player. Jalapeno has a music & video library, but you may want to bring some of your own to suit your personal tastes. Also, you will find a small selection of books and games aboard to supplement what you bring.
Phone:
You are welcome to bring your cell phone. With today's roaming services most mainland cellular phones will work in the Virgin Islands. Check with your carrier regarding rates and roaming charges when making a connection from the USVI or BVI.
Money:
The US dollar is the currency used throughout the Virgin Islands, both in the USVI and BVI. Many places accept credit cards. Traveler's checks seem to be increasingly hard to find places to cash. Banking conveniences in the islands are not as readily available as they are stateside, so bring ample cash for situations where credit cards are not used.
Internet:
The ability to get on-line to access the Internet and get e-mail is increasing throughout the islands. You may find hot spots and Internet cafes at some of our anchorages.
Island Etiquette:
The Virgin Islands has its own culture and customs that can be different from the mainland. It is proper to greet the locals with a "Good Morning", "Good Afternoon" or "Good Evening." Smile and be polite. Remember that everyone is on "Island Time", so patience is a good thing. Food services and other tasks may take awhile. The beauty of the Virgin Islands is preserved in part by government regulations and the considerate behavior of its visitors. Many of the areas we will be visiting are in marine parks and sanctuaries where the flora and fauna is protected. Do not bring samples of marine life aboard. Leave them in the water or on the beach for others to enjoy. A good philosophy is to "Take only pictures, leave only footprints."
The use, transportation, or possession of illegal drugs or narcotics, including marijuana, or of any other contraband, or the participation in any other unlawful activity is strictly prohibited.
We thoroughly enjoyed our sailing trip on the Jalapeno! Captain Ray and first mate Jen met or exceeded all of our expectations as the crew. They are doing a great job putting all their experience together and running the business. Clear instructions, great service, good food, respectful behavior, professional yet relaxed environment. We really liked being included in the decision-making. Great information was provided about both sailing and the areas we explored. It was a fantastic vacation.
---
Captain Ray Bryan grew up skiing and hiking the Sierra Nevada mountains and has been sailing for 30 years. He holds a 100 ton US Coast Guard Captain's license and is a avid diver and snorkeler. Ray has degrees in Mechanical Engineering, holds a Professional Engineering license, and has a very successful engineering firm specializing in product development for over 20 years.

First mate Jennifer met Ray skiing and shares his love of the outdoors. Jennifer taught school and has been a school administrator for many years, but her love of the sea and sailing has called her to a different life.

Ray and Jennifer have both worked hard to fulfill their dream of sailing their own charter yacht in the Caribbean. Their goal is to insure you relax, enjoy your time on board, and experience the beauty of the Caribbean.

Explore other options in and around Northside
More places to stay in Northside: