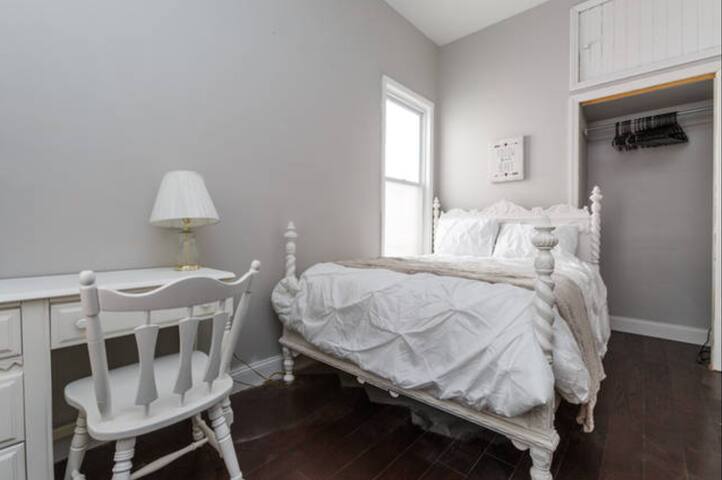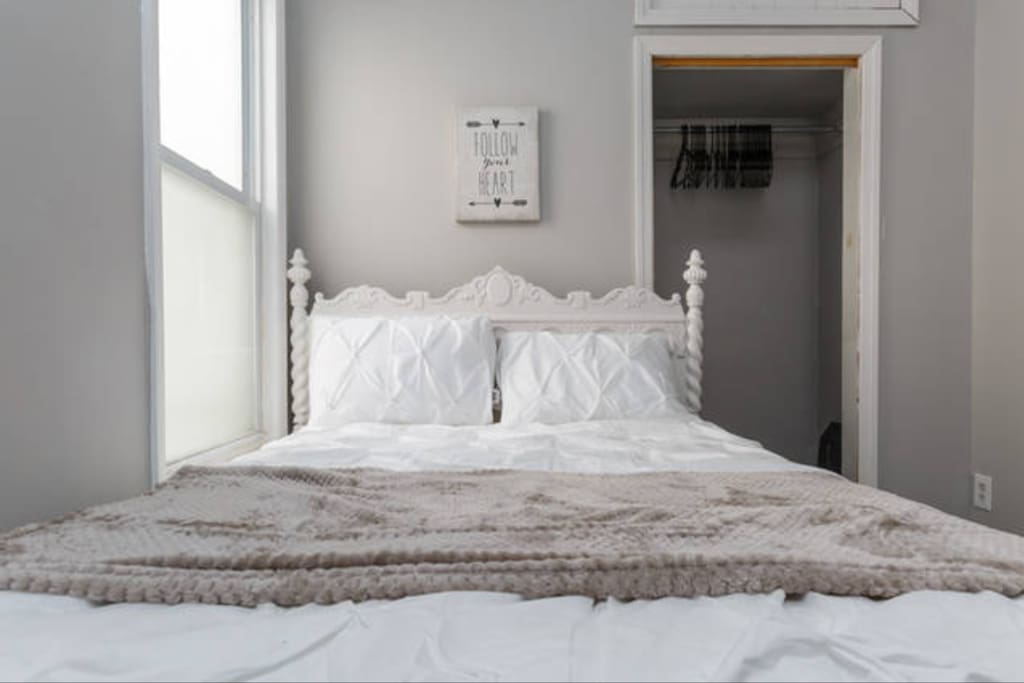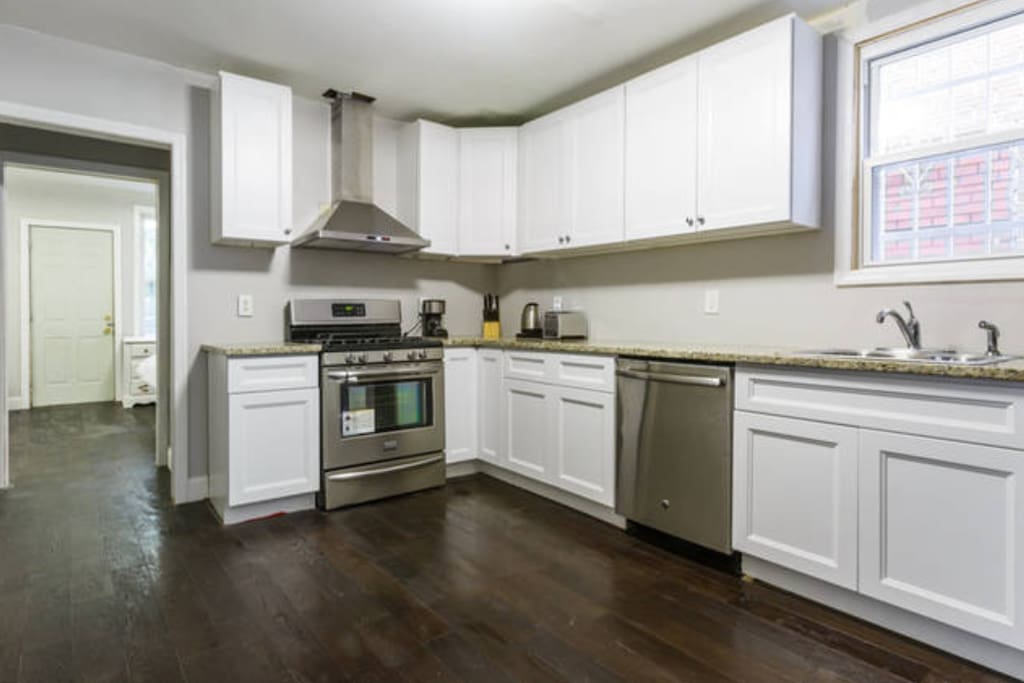 Lovely Room! 10 Min to Time Square!
Please see our 250+ reviews here:
https://www.airbnb.com/users/show/2028149#reviews
Click "+More" in below description BEFORE contacting me & send me the answers to the questions I ask there.
ALL STAYS MUST BE 30+ DAYS TO COMPLY WITH LOCAL LAW
The space
Please click "+More" below to see ALL of the info I provide about Union City, our house, and our expectations before messaging me. In this detailed description you will find the answers most of your questions. I also have a few questions for you too, which I'd like you to answer in your first message to me. I know it can be hard to choose a good room near NYC! So here I have included all the information that, if I were you, I would like to know prior to booking this room. Honesty is the best policy, so I try to tell you the positives and negatives of each room in an easy to read format as the last picture of every listing.
First, please copy and paste THIS link to see all of the 250+ reviews we have on Shannon's account, here:
https://www.airbnb.com/users/show/2028149#reviews

If you are interested in seeing our other available rooms, please copy and paste THIS link to see the other listings that we have:
https://www.airbnb.com/s?host_id=2028149

On that page, you can enter your dates and number of guests to see which rooms we have available.

ABOUT UNION CITY
Union City is a hidden gem just across the Hudson River from Manhattan, in New Jersey. It is CLOSER to midtown Manhattan (a very quick bus ride, during good traffic) and major tourist attractions (like Times Square, Rockefeller Center, Central Park, the Broadway/Theater District, Grand Central, the Garment District, tons of museums) than anywhere in Brooklyn, Queens, and even much of Manhattan. In addition, Union City is vastly quieter, more affordable, and, in our opinion, friendlier than New York City.

WHY STAY WITH US:
* Secure housing with extremely involved, Ivy-league educated hosts who take care of your every need.
* Real home that your hosts own and care for.
* Great for interns, students, or young professionals.
* Buses to New York City (Times Square) 3 blocks away.
* Buses come frequently (every 2 minutes during rush hour), run throughout the day and night, and are $2.50-$3.50 per trip. Most buses are operated by a private company and therefore don't appear on "G" maps or other online mapping services.
* Supermarket, restaurants, pharmacy, post office, gym, movie theater, and beautiful skyline views all within easy walking distance.
* Private room with electronic key code access that works only for you.
* Special deals for longer term guests (discount is automatically applied for stays over 1 month).
* We sometimes do events with our guests (lunches, dinners, karaoke), because we love getting to know people!
* Unparalleled value for the amenities and location.

ABOUT THIS ROOM:
Room Includes:
* Full Bed
* Large Dresser
* Small Desk
* Closet
* Central Air and Heat for comfort in summer and winter
Positives:
* Brand New Renovated Space
* Excellent location near NYC, supermarket one block away, many cool restaurants nearby
* Classic design
* High ceiling
* Large windows let in lots of natural light
* Okay for guests/visitors.
Negatives:
*Shares a bathroom and kitchen with 2 other rooms
* Room is at the front of the house facing street so you may occasionally hear traffic or see car lights.
We want you to feel as comfortable as possible while you're here, so we'll do anything and everything we can to ensure your enjoyment.

ABOUT US:
We have hosted well over 300 guests, and have loved every minute of it. Shannon and I met during college, and we are both lawyers. Shannon works as an attorney practicing corporate law at a big law firm in Manhattan. I left law to run my own technology startup full time. We love movies, wine, travel, and having a good time. We own two dogs (Ted and George) and one cat (Hugo). We love Disney, karaoke, and getting our hands dirty on house projects! Education is very expensive in the U.S., so we use the extra income that Airbnb provides us to help pay student loans from school.

ABOUT YOU/OUR EXPECTATIONS:
We like friendly, easy-going, independent guests. If you're booking with us, we expect you to be friendly and courteous to everyone else who is staying at our house (us and our other guests).
You should be comfortable living in a group situation. Since several people live in the house, you should expect the bathroom and common areas to have a communal, "lived-in" feeling. If you've had bad experiences living with others before in this type of situation, you should consider "entire apartment/home" listings on Airbnb or a hotel.
Please also have reasonable expectations about what you're getting for the money that you're paying. Recognize that things in the New York City area are more expensive than almost everywhere else in the United States and many parts of the world, and the value you get in your hometown is different than what you may get here.
We provide affordable/budget accommodations to (mostly younger) travelers. If you look at our listing and compare it to other rooms in the area, you'll notice that our prices are lower than most. This is because we provide a clean, comfortable private room at a reasonable price, but you'll share a bathroom and kitchen with other guests in a home. That means that, try as we might, sometimes someone may leave a dirty dish in the sink, or there will be hair in the shower drain. We provide a weekly, professional cleaning of the common spaces, and additional cleaning if issues arise, but you should not expect a truly immaculate home at all times, simply because this is not possible in a group living situation.
Most importantly, we expect you to be a good communicator. We are more than happy to fix or address any problems that come up during your stay. Our #1 goal is to make you happy. Just let us know early and often how you are doing or if there is anything we can do better, because we cannot fix what we do not know about.
OUR QUESTIONS FOR YOU:
We like to get to know our guests, so in your first message to us, please tell us the following info about yourself:
- Your age
- Where you're from
- What you study/do for a living
- What brings you to NY, and what you'll do during the days?
- Have you ever lived with other people? If so, please describe the experience.
- Have you owned cats and dogs? If not, do you like them?

PRICE OF ROOM AND PAYMENT:
Sometimes, Airbnb will advertise our rooms at one price but when you enter your specific dates you may see a different price. This is because the price per night or per month for each of our rooms varies depending on many factors such as seasonal tourism trends (rooms tend to be cheaper in the off season) or our own availability across rooms, among other factors. The only way to see the exact price you will pay is to enter your exact dates and number of guests--this shows you the all-in price that you will pay. The cleaning fee is a one time fee which covers cleaning your room and washing your sheets prior to arrival. We do not charge extra for the extra amenities we provide such as laundry, internet, weekly common area cleanings, or your use of utilities - the price you see when you enter your dates exactly is the price you will pay.
Payment for all of our transactions is handled through Airbnb. Airbnb collects payment, which includes the amount that we get as a host, Airbnb's fee (6 to 12% of the total cost), and any applicable taxes (Airbnb may charge a VAT for guests from Europe). For longer-term guests: Airbnb will verify you have the ability to pay the first month of the reservation when you book. You'll be charged for your first month a few days prior to your arrival. When you check in, Airbnb releases the money to us. Every subsequent month, you'll be charged for the upcoming month through Airbnb. Unfortunately, we don't have any control over the billing process or over Airbnb's fee or taxes so, if you're experiencing any issues with billing, only Airbnb can help.

FREQUENTLY ASKED QUESTIONS:
Do you allow long-term guests?
Yes, most of our guests are long-term guests. We usually host students, interns, and people moving temporarily to NYC for several months to a year. We discount the price of rooms for long term guests and the discount is applied AUTOMATICALLY if you enter dates of more than a month. We are VERY selective with long term guests to make sure that people are a good personality fit for our houses, we would rather a room be empty than take someone Shannon and I are not completely comfortable with. Having hosted over 300 people on this philosophy, we have gotten really good at choosing great people to fill our houses and have only had great experiences with our guests! We love getting to know our guests personally and we try to host at least one event per month, where we invite people from the different houses to get to know each other. In the last year we have done several karaoke nights, gone to the beach, gone to sports games, picnics, international potluck dinners, game nights, pizza nights, biergarten trip, etc.. We have a group for our guests on the infamous social network that starts with an F, and people can post about events in the city, museums they would like to go to, etc, and find other people who are interested in going with them. Our goal is to create a really warm, positive and friendly community of interesting people in our houses, the type of people that we'd like to be friends with. It can be hard to come to a new city and not know anyone, so we try to choose awesome people that we think would make wonderful friends, then provide people the opportunity to get to know each other through group events.
Is Union City safe?
Union City is an extremely safe, quiet, largely residential area mostly comprised of families of Latin American descent who work in New York or nearby. I frequently work extremely late hours in New York (often arriving home after 11 PM) and always walk home alone from the bus stop. Many of our previous and current guests are the same. We've never had any issues and, if we ever did, there is a police station about 2 blocks from our home. John works at home and is always nearby.

Is Union City an urban area?
Yes. Like all of New York City and its surroundings, Union City is a densely populated area. This means that homes are built next to each other or very close to each other, most houses are duplexes (2 families) or triplexes (3 families) (or more) with a full basement. Parking can be difficult, and you'll encounter lots of people walking on the sidewalks during the day. Public transit is heavily used and, although is safe and efficient, isn't always kept in pristine condition. Although our home has been renovated, most homes in the area are over 100 years old, and some are substantially older. Guests from other areas of the United States or more suburban areas of the world may experience something of a culture shock in the New York City area because of this—but don't worry, Shannon and I understand (we both grew up outside the northeast in the suburbs) and, if you don't already, you'll come to love it!

Is it really 20 minutes to New York City?
The stated listing time is in good traffic, and if you leave at the same time everyone else leaves (rush hour is between around 7:45am-10am, 5pm-8pm), you'll probably face a bit of a delay. That said, it's EXTREMELY easy to get to NY! I make the commute everyday and all of our 300+ guests have come to visit NYC! The best time to catch good traffic going to New York is around 7am and after 10am. The buses run 24/7. Most locals take a private bus called the "jitney" which is $2.50 per trip if you buy tickets in advance, or $3.25 on the bus. There is no monthly bus pass for the jitney, but it is the best option to get to New York. There is also a more expensive public bus, run by New Jersey Transit, which is $3.50 a trip or for which you can buy a monthly unlimited pass, and a multitude of other options (including a ferry and the PATH train—both of which are longer than the bus into the city, but can be used if you'd like). Union City is situated around the Lincoln Tunnel, which crosses the Hudson River into Manhattan, letting you off at Times Square. Rarely, there may be traffic accidents or delays on the tunnel that can make traveling longer (however, this is also the case on virtually any transportation option, including the subway in New York). We'll give you all the information on how to get to and from New York, and to other parts of New Jersey (such as Hoboken and Jersey Gardens (a great outlet mall) when you arrive).

Are there grocery stores and restaurants nearby?
Yes, there are several grocery stores within walking distance, and tons of restaurants two blocks away.

Can I use the kitchen?
Yes, of course: feel free to store food in the refrigerator, and to cook to your heart's content!

Can I park my car?
There is free street parking in front of and all around our house. I don't advise driving to and from New York City during your stay, but you can park your car for the duration of your visit. You'll need to move your car on street cleaning days (once a week), and, if you want to park late at night (after 8 PM) it will take you a long time to find a spot. Most guests find it is easier to not bring a car if it isn't needed for your trip.
Do you live in the house?
No, we don't live in this house. We live in another house nearby, but stop by frequently usually in the evenings. John works from home and, if any issues arise, we can be here within a few minutes. We are extremely responsive through Airbnb, phone, text messages, or any other form of communication you'd like to use.

How far is it from Newark airport, JFK, or LaGuardia?
Newark airport is a 15-30 minute taxi ride (public transit is possible, but will take longer). Both JFK and LaGuardia are a substantial distance from our house, and also from Manhattan in general (over an hour). You can use a variety of public transit to get from JFK or LaGuardia to us (the subway, a public bus, a private bus, a taxi, or any combination of these options). We'll give you detailed instructions when you book. Almost all of our international guests fly into JFK airport, and it is not a problem to get to there from our house – just expect the trip to take about 2 hours to be sure. (Unfortunately, JFK is far from everything cool in Manhattan!)
Guest access
Guests will have access to their private bedroom, which has a private lock. Guests will also have access to a shared bathroom and a shared kitchen.
Interaction with guests
We host on Airbnb because we love getting to know other people from other cultures, and sharing our American culture with others. However, both of us are busy young professionals and we work really long hours, and are not always home. Frequently we don't get a chance to meet short term guests, particularly if you are at another house, but we will make time to meet you if you let us know it is important to you. We may not be home when you arrive, depending on when you get in, but we will prepare the room for you and give you a secure access code so that you can check in at any time. We genuinely love interacting with our guests, and if you have questions or need anything we can either speak while we're at home, or you can call, text, or email and we'll respond right away.
---
Bathrooms: 1 (Shared bathroom)
Check In: Anytime after 3PM
---
---
Extra people £8 / night after the first guest
Always communicate through Airbnb
To protect your payment, never transfer money or communicate outside of the Airbnb website or app.
Learn more
---
Check in is anytime after 3PM
There is no smoking anywhere on the property. If you are a smoker, please do not book the room because even if you smoke outside, we would rather not have the scent from your clothing on our sheets and beds.
No additional overnight guests than those specified when you make the reservation, unless you have our prior permission (we charge a fee for extra guests—it is already computed when you enter more than one guest in the reservation on Airbnb).
---
---
---
---
This was a good apartment for a short trip to New York, close to the public transportations and a quiet neighborhood. It was easy to communicate with the host. The apartment was easy to find, but there were a few issues. It was a bit dirty, you could see stains in the bed sheets and towels.
---
The room and house are exactly as pictured. John and Shannon are quite literally the perfect hosts. When you walk into the house and your room, you can tell that they thought of everything! They actually make you feel comfortable, like you're staying at your favorite cousins place. If you have any questions and concerns, most of them are easily answered in a binder left on your bed. In the binder, you'll get information on how to get around, good places to go and great picks on where to eat and what to order. The location of the house for me was great. A very easy commute to NYC, Hoboken or even Jersey City. When you leave the house and walk about five minutes towards Manhattan, you will see the most beautiful view of the New York City skyline.... trust me, it's amazing! If this room is booked when you're looking, don't worry. Just contact John and Shannon and let them know you're interested. They have more rooms that are just equally amazing.
---
John and Shannon were great hosts and although I never met them in person (was at a different house), they were great communicators and always timely getting back to me if I had a question. The room and house are nice little spaces for a short visit to the city or a longer trip. As long as the buses are on schedule, it's fairly simple getting into the city and there are several bus stops nearby. The area around the house is nice as well, with some restaurants and a coffee shop within easy walking distance. While it's important to be careful and aware anywhere you go, I felt very safe in the neighborhood, even coming back late at night. A nice bonus: just a short walk (or run!) from the house takes you to the river front where the city has a nice walkway and great views of the city. I recommend going early in the morning if you can manage to catch the sunrise. Thanks for a great stay!
---
I'm from Tampa, Florida, went to school at Yale in Connecticut and law school at Cornell upstate New York. I play the bagpipes and do web programming in my free time. I love to travel and have spent a summer in India, southern France, did the last 100 km of the Camino de Santiago in Europe, and have been all over western Europe in various trips.
Response rate:
100%
Response time:
within a few hours
Explore other options in and around Union City
More places to stay in Union City: