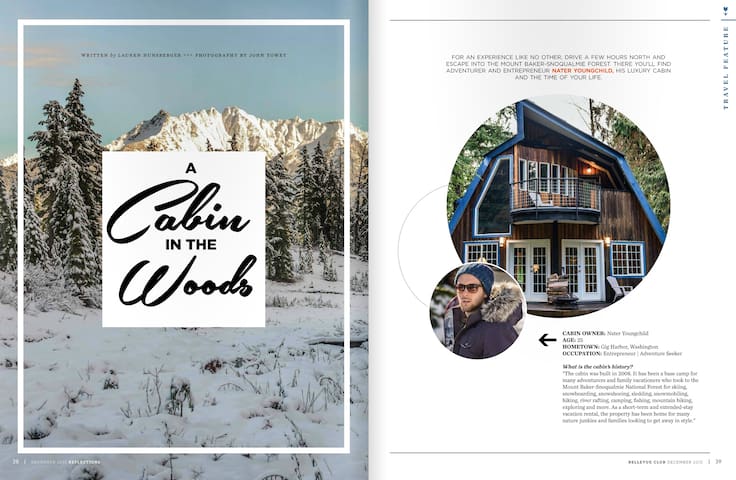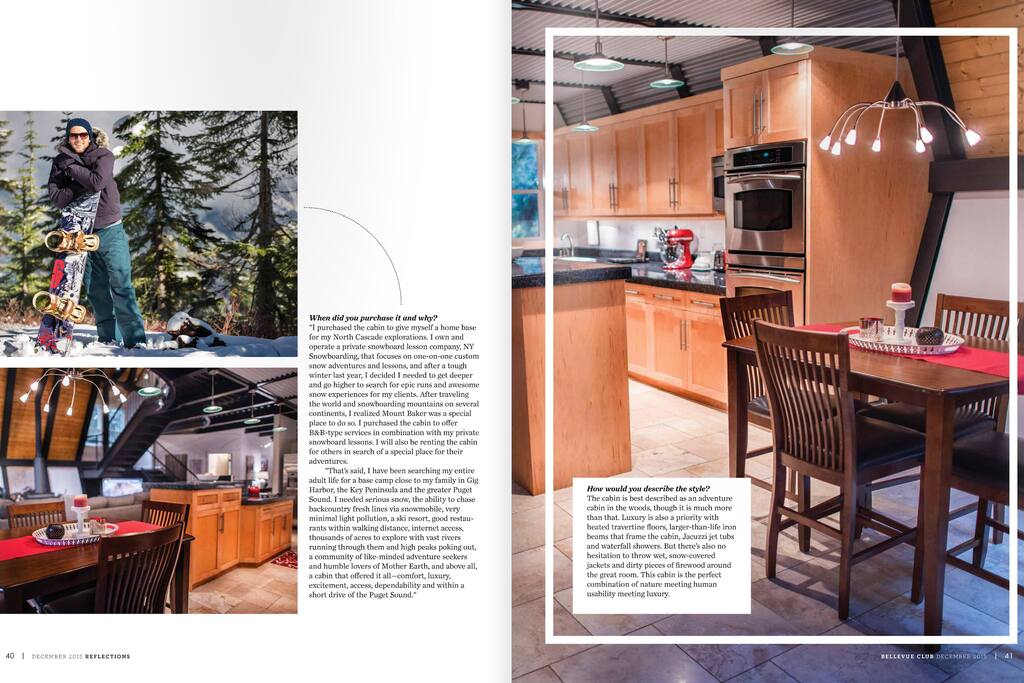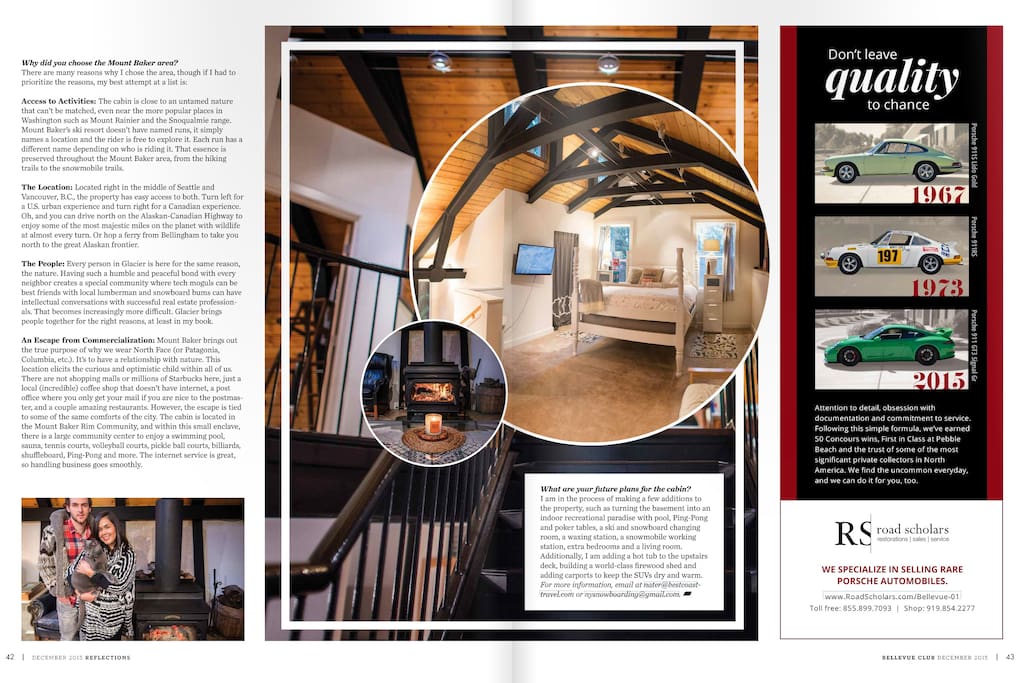 Luxurious Cabin Near Mount Baker
This luxurious Cabin is located right next to the famous Mount Baker, within a mile of the entrance to the United States' North Cascades National Park. It is the perfect basecamp for family/friend nature vacationers and the most extreme adventurers.
The space
This uniquely luxurious cabin is a basecamp for adventurers, family vacationers and groups looking to explore Mount Baker and the United States' North Cascades National Park for skiing, snowboarding, snowshoeing, sledding, snowmobiling, hiking, river rafting, camping, fishing, mountain biking, exploring, and so much more. As a short-term and extended-stay vacation rental, this property has been home to many famous nature junkies and special groups looking to get away in style.
The cabin is surely to be described as an adventure cabin in the woods. Though it is so much more then that. Luxury fills your senses as you walk on heated travertine floors and your eyes gaze upon larger-than-life iron beams that frame the structure, and curved windows that immediately find natures wonderful colors and textures within just inches on the other side of the glass. The natural wood on the walls and ceilings are a touching reminder that the beauty of the cabin is just an extension of the beauty that surrounds it. The granite and natural stone surfaces are the perfect juxtaposition against the floating glass bowl sinks, jacuzzi jet tubs and water-fall showers. The usability of the space almost feels surreal given the contemporary modern luxuries, though against the backdrop of modern track lighting and glass-block ceilings, there is no hesitation to throwing wet snow-covered jackets and dirty pieces of firewood around the great room. Everything from the padded upper deck that allows guests to gauge the climate of the day in comfort, to the delicately dimmed lighting that allows each wall to appear like an art piece, to the lit closets that make every nook and cranny useful, this cabin is an explosion of nature meeting human usability, meeting luxury.
The space is filled with a plethora of my awesome features. One has to start with the incredibly efficient and beyond beautiful heated travertine floors. They are luxury to the eyes and comfort to the feet. Next, the massive steel beams that wrap the home and shoot across the open spaces are truly jaw dropping – not something you see in private cabins, let alone multi-million dollar resorts. The accent track lighting throughout the cabin offers depth and enunciation to the beautiful and unique shape that results in triangle mirrors, curved walls, and deep counter-tops. The angled fireplace that shoots out of the great room is a centerpiece, both in artistic appeal and in comfort. The granite and natural stone throughout the property offers such a pleasant mixture of luxury and nature. Regarding interior design, the owners have felt blessed to put their own stamp on such a beautiful work of art. They have attempted to add usability and comfort with their interior design choices. Their favorite piece of furniture in the cabin is the standing lamp that is made of driftwood from the Pacific Ocean and a slab of stone from Washington's Northern Cascades.
Given that the cabin is so unique in comparison to other cabin rentals in the area there is a wait list for people interested in staying for a range of stays from 2 nights to 4 months. For now, arrangements can be made to be put on the wait list by contacting the owner through AirBnB and then booking for desired and available dates on AirBnB after confirmation.
From the owner:
"In my search for the perfect luxurious adventure cabin in the Evergreen State I looked at everything from fully off the grid self-sufficient cabins near the Easton-area, to ski-in/ski-out lodges at Snoqualmie and Crystal mountains, to community-rich pockets of Packwood near White Pass, to snowmobile-only access cabins near Stevens Pass/Leavenworth. Everything I saw got me excited as it would any adventure-seeker, though none of the options offered all that I was looking for. I needed serious snow, the ability to chase backcountry fresh lines via snowmobile, very minimal light pollution, a ski resort, good restaurants within walking distance, internet access, thousands of acres to explore with vast rivers running through them and high peaks poking out for summer hiking and fishing trips, a community of like-minded adventure seekers and humble lovers of mother nature, and above all, a cabin that offered it all, comfort, luxury, excitement, access, dependability, and be within a short drive of the wonderful Puget Sound. I knew I would probably end up in Alaska eventually but I didn't want to leave the beautiful state of Washington just yet. After searching for over a year and not finding the perfect place I I began to put the search on the back burner and turn toward other things in life. That was during fall when I started to get that snowboarders itch to watch snowboard movies. Sure enough, Mount Baker was mentioned in just about every single one of them, as the mecca of snowboarding. I combed the real estate listings in Glacier (the closest livable place to Mount Baker) online, found only one listing that caught my attention (oh and it caught more then that – it caught my energy), called two real estate agents the next day and told them that whoever could get me a viewing quicker had my business. Tony got me in, and the rest is history.
Outside of seeking to explore the mecca of snowboarding, I ended up choosing the Mount Baker area because 1) The People: Every person in Glacier is here for the same reason, nature. Having such a humble and peaceful bond with every neighbor creates a special community where millionaire tech-moguls can be best friends with the local lumberman, and snowboard bums can have intellectual conversations with successful real estate tycoons. That type of community is becoming increasingly more difficult to find in our world. Glacier brings people together for the right reasons, at least in my book. 2) The Escape from Commercialization: Mount Baker brings out the true purpose of why we wear North Face (or Patagonia or Columbia etc.): to have a relationship with nature. This location elicits the curious and optimistic child that lives within all of us, and it suppresses the cynical and commercialized adult that all of us become from time to time. There are no shopping malls or millions of Starbucks' here, just a local (incredible) coffee shop that doesn't have internet so people actually talk to each other, a post office where you only get your mail if you are nice to the postmaster, and a couple amazing restaurants that put together masterpieces on a plate with whatever ingredients are in stock for the week until the next shipment. 3) Being able to escape while still enjoying some of the same comforts of the City: the cabin is located in the Baker Rim Community and within this small enclave there is a large community center to enjoy activities when the snow isn't falling such as the swimming pool, sauna, tennis courts, volleyball courts, pickleball courts, billiards, shuffleboard, ping pong, etc. There are plenty of takeout food options as well, and none of them are anything but incredible (you'd go out of business up here if your offerings weren't spot on). The Internet service is great, which makes handling business up here go pretty smoothly. 4) The Relative Location: Right in the middle of Bellevue/Seattle and Vancouver, B.C. with easy access to either urban oasis. Turn left for a United States urban experience (one of the best and most diverse I might add), and turn right for a Canadian urban experience (again, one of the best). Oh and you can drive north on the Alaskan-Canadian highway to enjoy some of the most majestic miles on planet earth with wildlife at almost every turn. Or hop a ferry from the port of Bellingham to take you north to the great Alaskan frontier. 5) The Specific Location/Access to Activities: Close to an untamed nature that can't be attained in some of the more popular places in Washington such as Mount Rainer and the Snoqualmie range. Mount Baker's ski resort doesn't have named runs, it simply names a location and the rider is free to explore it. Each run has a different name depending on who is riding it. That essence is reserved throughout the entire Northern Cascades, including also the hiking trails and snowmobile trails."
The owner operates a private snowboard lesson company that focuses on one-on-one custom snow adventures and lessons. The cabin is one of the basecamps for the private snowboard lesson company, allowing for the experience to be coupled with B&B-type services to create the ultimate all-inclusive snowboarding experience. To learn more about the private snowboard lesson options, visit the company (website hidden) page: (website hidden).
Guest access
Guests have access to the entire cabin and property. Additionally, guests have access to the community center that offers a relaxing sauna, outdoor swimming pool, tennis courts, a volleyball and pickle ball court, billiards, ping pong, darts and large fireplace with seating for 25+ people to enjoy.
---
---
Extra people £8 / night after 4 guests
Always communicate through Airbnb
To protect your payment, never transfer money or communicate outside of the Airbnb website or app.
Learn more
---
Treat the cabin and its surrounding world with respect.
---
---
---
This home doesn't have any reviews. If you stay here, your review will appear here.
Professional, personal and adventure traveler.
Explore other options in and around Deming
More places to stay in Deming: