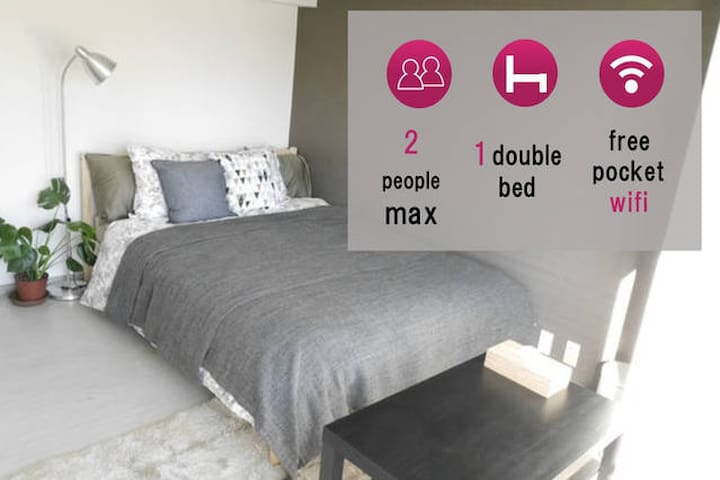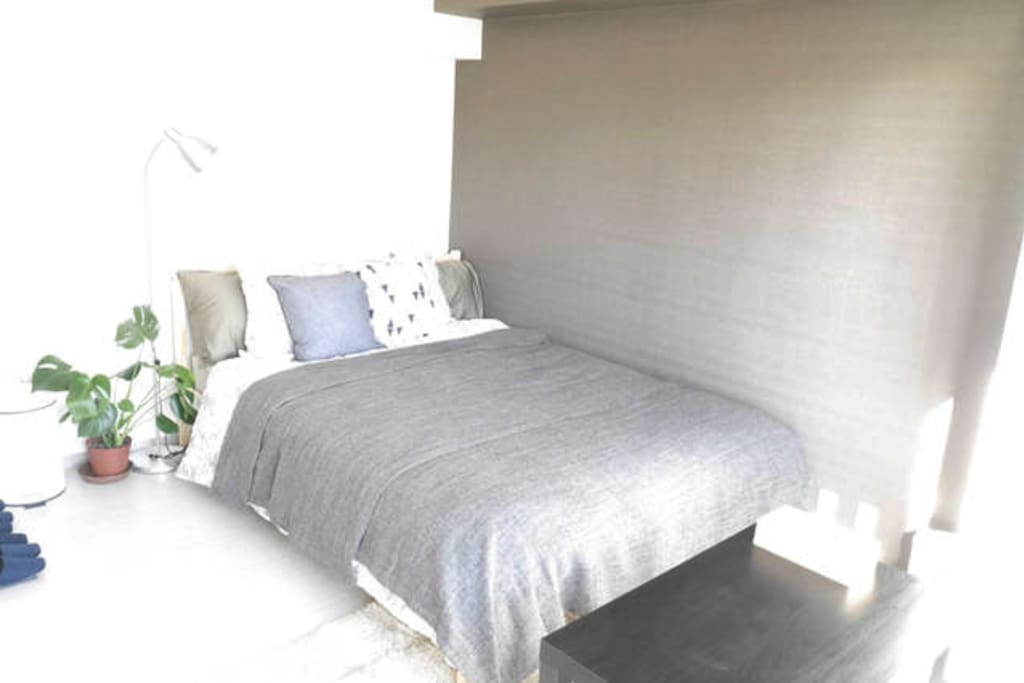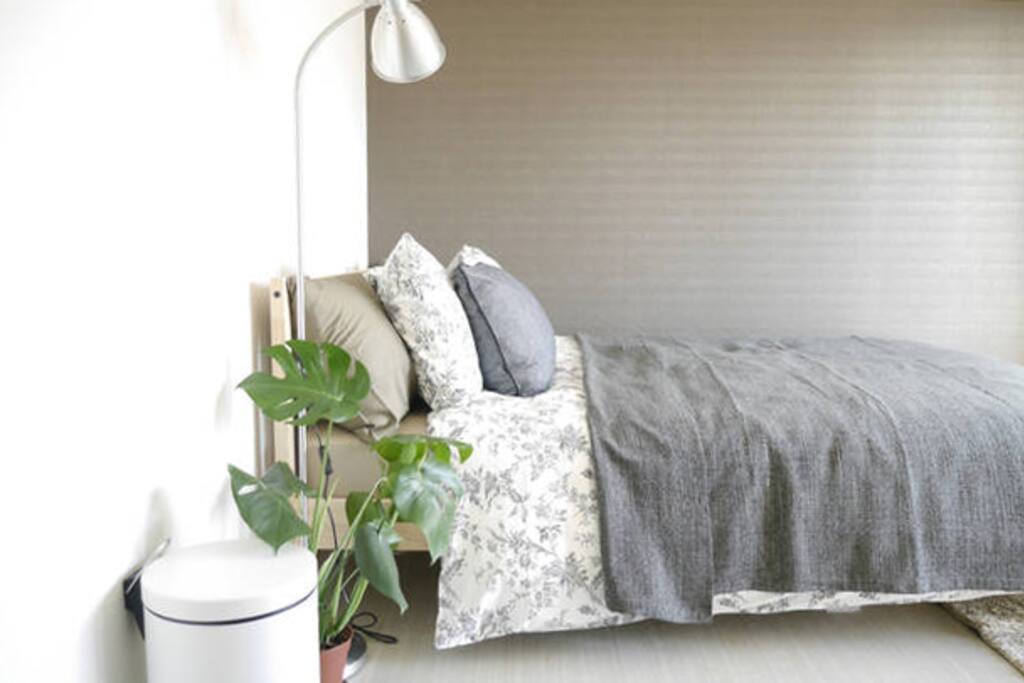 Next to JR Osaka/No transfer to USJ/location/0501
Thanks for intereted in this room.
☆What I recommend is that you enjoy Osaka with comfortable APT!★
★You can get trendy area which is called Orange street is in 5minutes on foot.
★One of the biggest downtown in Japan (Namba, Shinsaibashi)
---
Room type: Entire home/flat
---
---
Always communicate through Airbnb
To protect your payment, never transfer money or communicate outside of the Airbnb website or app.
Learn more
---
Please check-in untill pm23:00!

【English House rules】
1.Smoking is strictly prohibited within the rooms and balcony. Japanese insurance do not cover for the fire accent for your stay so please make sure that you do not smoke.
2.No pet
3.Please take your shoes off as you enter the room. Slippers are available at the entrance.
4.Please be aware of the neighbors. Please do not make noise.
※ In some cases, the police will come.
5.When you go out , please turn off your electricity and air conditioning.
6.Please clean the tableware and cookware when they are used.
7.Please do not take the facilities..
8.Please check out before AM10: 00.
If you are willing to extend your stay, please let us know before your arrival.
※In case you delayed check-out without notifying me in advance, I will claim additional fee 2000 YEN PER 30 MINUTES for the delay .
In addition, if the delayed check-out make the scheduled room cleaning service delayed or canceled, I will charge a cancellation fee and additional cleaning service fee to you. So please make sure to inform me beforehand if you need to delay check-out time.
9.Please be sure to read the message I sent through Airbnb.
To make sure you get my place, the message contains the guidance to my room.
Please check, print out and carry it surely.
※!!Caution!!※
For the trouble caused by not reading my message and not communicating with me, I don't take any responsibilities.
If you cancel the reservation one-sidely by reason of those kind of trouble, the paid reservation will not be refunded at all. Please make sure this doesn't happen.
I may cancel the reservation for the safety of all in case you don't get in touch with me at all. Please excuse me regarding this matter.
With the agreement of the above house rules, Please enjoy the stay in Osaka!
Osaka can offer you variety of places including Dotonbori, Osaka castle, Tsutenkaku etc

【中文房屋使用规则】
房屋使用规则
1.屋内全面禁烟(包括阳台在内)。
※屋内多处设有火灾警报器,所以请勿在室内吸烟!
2.宠物禁止携带
3.请不要穿鞋进入室内,有专门的室内用拖鞋供客人使用。
4.此出租屋为一般居民住宅。在室内大声喧哗,以及公放音乐等影响到附近居民的行为是禁止的。
※晚上21点以后有非常严重的吵闹行为的话有肯能向警察通报。
5.在您离开房间的时候请关闭电器以及空调。
6.在使用完厨房之后,请收拾好厨具。
7.室内的物品请勿带出房间。
8.请在早晨10:00退房。
如需延长退房时间请务必事先或者入住前告知。
※如果私自延迟退房时间的话,每30分钟需要追加2000日元。
此外,如果私自延迟退房时间造成清扫人员的日期更改或取消的话,需要收取解约费和追加的清扫费。
所以如果需要延迟退房时间的话请一定要提前跟房主商量。
9.请一定要确认发到Airbnb的信息。
为了确保您能够到达房间,会发送关于房间的资料。
请一定要确认并在出发之前打印出来。
※!!注意!!※
因为没有确认回复信息或没有确认房间资料而造成的麻烦,不予以处理,请理解。
由于以上原因而造成的解约,不予退款,请理解。
此外,为了保证交易的顺利进行,如果没有回复的情况下,有可能会解除预约,请给予理解。
以上为房屋使用规则,祝您在大阪游玩愉快!
在大阪,有大阪城,通天阁,道顿堀等很多观光场所,特地为您准备了柔软舒适的大床,帮您去除一天的疲劳☆
欢迎您的咨询。

[한국어 하우스룰]
1.방은 베란다 포함 전면 금연입니다.
※화제방지기가 다수 있으니 절대로 담배를 피우시면 안됩니다!
2.애완동물 반입 금지
3.방에 들어 오실 때는 꼭 신발을 벗고 들어와주십시오. 게스트용 슬리퍼를 준비해두고 있습니다.
4.이 아파트는 일반 거주자도 있습니다. 큰 소리를 내고나 대음량으로 음악을 틀으시면 인근 주민들에게 민폐가 되는 행위는 금지입니다. ※아파트에 인근에 파출소가 있습니다. 최악의 경우 경찰이 출동 할 수도 있습니다.
5.외출 시에는 전기와 에어컨의 전원을 꺼주십시오.
6.키친을 사용하시면 설거지, 정리등을 부탁드립니다.
7.방에 물품들을 가지고 나가시지 않도록 해주십시오.
8.AM10:00까지는 체크아웃해주십시오.。
체크아웃 시간의 연장을 희망하시면 숙박전에 반드시 상담해주십시오.
※사전 상담 없이 체크아웃이 늦어진 경우, 30분 마다 2000엔의 추가 요금을 청구합니다.
또, 늦어진 체크아웃으로 인해 청소업자가 되돌아 가거나 청소예약이 캔슬되는 경우, 캔슬 요금 및 추가 청소요금을 청구하게 되오니 체크아웃이 늦어지는 경우 반드시 사전에 상담해주세요.
9.반드시 Airbnb로 전해드린 메세지를 읽어주세요.
확실하게 제 방에 도착하실 수 있도록 안내자료 등을 보내드립니다.
반드시 확인하시고 프린트하여 휴대하여 주세요.
※!!주의해주세요!!※
메세지에 전혀 답장을 하지 않고, 자료 등을 읽어두지 않으셔서 발생한 트러블에 대해서는 제가 책임지지 않으니 양해바랍니다.
그렇게 발생한 트러블을 이유로 일방적으로 캔슬하시는 경우, 이용금액은 환불되지 않으므로 주의해주십시오.
또, 안전한 숙박을 위해, 연락을 해주지 않으시는 경우 제 쪽에서 캔슬하는 경우도 있으므로 양해바랍니다.
하우스룰을 승낙하시고 즐거운 오사카에서의 시간을 보내세요!
오사카에는 오사카성, 츠텐카쿠, 도톤보리 등 다양한 관광 명소가 있습니다☆
문의 기다리겠습니다!!

【ハウスルール】
1.お部屋やベランダも含めて全面禁煙になります。
※火災報知器が多数あるので、間違っても室内やベランダでタバコ吸わないで下さい!
2.ペット禁止
3.お部屋の中は土足で上がらないで下さい、ゲスト用の綺麗なスリッパをご用意しております。
4.このマンションは一般住民の方も生活されています。 大きな声で話す、大音量で音楽を聴く等の迷惑になる行為は 禁止とさせて頂きます。
※警察官立寄り場所です。場合によっては、警察が来ます。
5.お出かけの際は電気とエアコンをお切り下さい。
6.キッチンを使用された際は食器、調理器具の片付けをお願い致します。
7.お部屋の物品は持ち出さないよう、お願い致します。
8.AM10:00までにチェックアウトをして下さい。
チェックアウトの時間延長の希望がありましたら必ず宿泊前にご相談下さい。
※相談がなく無断でチェックアウトが遅れた場合、30分毎に2000円追加でお支払い頂きます。
また、清掃の振り替えやキャンセルが発生した場合はキャンセル料金・追加の清掃料金をご請求させて頂きますので必ず事前に相談下さい。
9.必ずAirbnbでお送りしたメッセージを見てください。
確実にお部屋にご到着頂けるようにお部屋の案内資料などをお送り致します。
必ず確認しプリントアウトしてください。
※!!要注意!!※
メッセージに全く返信がなく、資料などを見ていないために発生したトラブルに関してはこちらで対応いたしかねますのでご了承下さい。
それらの理由で一方的にキャンセルをされた場合は全額お支払い頂きますのでご了承下さい。
また、安全にホスティングをさせて頂くためにご連絡がない場合はこちらからキャンセルさせて頂く場合も御座いますご了承下さい。】

ハウスルールをご承諾頂いた上、大阪で楽しいステイを満喫して下さい!
大阪には、大阪城、通天閣、道頓堀、といった様々な観光スポットがあるので、一日の疲れを癒せるようにふかふかのベッドを用意しています☆
お問い合わせお待ちしております !!
---
Strict
Cancel up to 7 days before your trip and get a 50% refund. Cancel within 7 days of your trip and the reservation is non-refundable.
---
---
---
We stayed for 2 nights in this apartment. It was very easy to find, and very conveniently located, extremely close to Fukushima metro. The room had a comfy bed, with a thick mattress, and decent curtains which really blacked out the light. Two things that seem to be a luxury in Japanese Airbnb accommodation. The bathroom was a little small, and the flat isn't luxurious. But for the price, with such a good location, this flat was great value. Would definitely recommend
---
Very clean place and Morioka was very friendly and respond timely and fast to any queries that we have. Kudos! She even provided a clear guide on how to reach the accommodation. The place is just nice for 2 people although it was quite crampy at times, and the toilet is really small. We would really be glad if there were hangers to hang our towel and clothes. It is a very convenient and strategic location, with the jr line shin-fukushima at the footstep and fukushima station (1stop away from osaka station) which is a walkable distance. Convenience store is at the ground floor of the building and there are many restaurants and other convenience stores around the area. Our wifi was really slow and then stopped working on the second and last day.
---
Place was very nice, very good location- so close and easy to find from the train station and only 1 stop from Osaka station so easy to get around. Pretty much everything was perfect except the wifi stopped working halfway through and wasn't fixed whilst I was staying there. Other than that everything was fine :)
---
Had a lovely time at Morioka's place. Apartment is perfect for two and is very clean. Very close to JR lines and easy to comute. The best part of it all - Morioka is very kind and replies to any query instantly. She is very helpful and a great host. Overall, a lovely place and would definitely recommend staying here. If I travel to Osaka again, I will surely choose this place.
---
Languages:
English, 中文, 日本語, 한국어
Response rate:
100%
Response time:
within an hour
Explore other options in and around Ōsaka-shi
More places to stay in Ōsaka-shi: