Welcome to the place I call home. In the beautiful Jæren area in Rogaland is Ålgård, in the proximity of Stavanger, mountains and beach! No need to look any further, this is the perfect place if you want to visit Preikestolen and Kjerag bolten! Norwegian Outlet is within walking distance. Stavanger and Sandnes are a short drive away. The room has a double bed an extra mattress is available if needed. Shared livingroom and bathroom.
The room is at the top floor (1 flight of stairs) of the building. The building originates from 1892 and is from the time of the old DFU factory in Ålgaård.
Within walking distance there are multiple stores, library, big lake and some more nice sights to explore. From April/May this will be in walking distance of Norwegian Outlet Stavanger (with over 30 stores). Within 30 minutes drive you are at the beach, Stavanger or some really nice hiking places.
Dave has been a very kind and available host, ready to help us with planning and useful tips. He considerately provided breakfast for us. The room is spacious enough and so are the modern bathroom and roomy brand new kitchen that we have been able to use to save on dinners. Easy and free onstreet parking. Shops close at hand. Thanks for your time, Dave!
Marielle
2015-08-14T00:00:00Z
We arrived to Dave's place an hour early by car (free parking available!) and Dave wasn't there. As we were not there at the agreed time this was OK for us. We did try and contact Dave but couldn't get through, we also decided to knock - the house has a strange layout and in fact Dave does not live on the bottom floor but the top! So we made the mistake of disturbing Dave's neighbours - if you stay here you shouldn't make that mistake! When Dave arrived (about 15 minutes after us) he let us in no problem and helped us unpack our things (which was fantastic as we had a lot!). He showed us around his place and for us it was perfect, I guess the room could be a bit bright for those people who like the absolute darkness of a cave but for us it was no problem. Dave helped us use his kitchen and showed us all of the facilities (which are super-modern), we made ourselves a meal in the kitchen and cleaned up which was made easy by Dave who was just there telling us where all of his things were! Dave was also knowledgeable about the local area and told us about some of the local 'must see' sights. I would recommend this place to anyone, Dave was friendly and helpful - a great host.
James
2015-08-31T00:00:00Z
the neighborhood is a residential area (quite & clean) and near to Preikestolen & very near to Stavanger Central; Dave is very friendly and welcoming (I arrived later than the agreed upon time & didn't call him before i arrive as agreed yet he didn't keep me waiting and came to give me the keys during his working hours) Thanks for that Dave :)
Shady
2016-07-05T00:00:00Z
Dave is a great host, the room was realy cool, enough space and very friendly. We slept very well, is realy quiet in the night.
Tobias
2016-06-13T00:00:00Z
Dave accepted our booking at the very last minute and welcome us in his great house with tea and chocolate. We leave to soon on the morning but the few minutes we shared were really nice. Dave is a really good host and will be the happiest guests if you choose his home! Thank you Dave !
Thomas
2015-08-08T00:00:00Z
It was short but really nice stay. Due to the flight we came over quite late, but Dave was waiting for us, gave us warm welcome and recommended places and the best routes to go. Daves home is lovely and tidy, it was a real pleasure :) Thank you, Dave!
Malwina
2015-07-04T00:00:00Z
Dave was the PERFECT host!! His house is in a great location, there is a great room, the kitchen is top-notch (and he gave us chocolate!!!!) I really can't say enough good things about staying with Dave! Great communication, nice, fun, upbeat... I read another review that called his place cozy. In European terms, his place is a mansion!!
Dawn
2015-06-23T00:00:00Z
We had a very good stay - flat clean and as described. Bed is very comfortable. It was great to have a full access to the kitchen as well. Well located if you want to do the Preikestolen hike (1h drive to go there). Even if we saw very little Dave, he was very welcoming and friendly.
Clémence
2016-08-03T00:00:00Z
Room Type
Private room
---
Property Type
Apartment
---
Accommodates
2
---
Bedrooms
Ålgård, Rogaland, Norway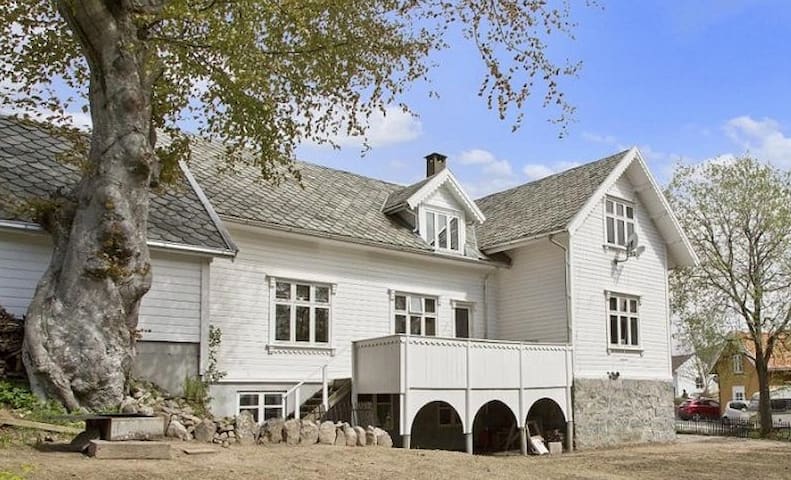 Great apt., central, bus routes to Stavanger outside the front door. Shopping center, sport outlet, tivoli park (Kongeparken) a couple minutes walking distance. Great nature, beautiful lake for family fun. Short drive to ski resort, and more!
Gjesdal is a small, yet growing district. Hosting one of the nation's tivoli parks, Kongeparken, it's popular with kids and families, and it's only a 10 minute walk from the apartment. Beautiful nature for those that love to explore the outdoors. Bus connection to ski resort. Figgjo River runs through town known for salmon fishing, family fun at the lake behind the apartment. Ålgård also has a brand new shopping center, sport outlet (Spring, 2016), and restaurants. The apartment is smack downtown within walking distance of all this, grocery stores, and more. Want to take a jaunt to Sandnes, Stavanger, or South to Egersund? The bus runs almost hourly right outside the front door to Stavanger, including late evening routes back in after a night on the town in Stavanger. Close to tourist attractions like Prekestolen, and Kjerag. Approximately 20 minutes from Sola Airport. Welcome to Ålgård!
great place to stay. nice and luxurious. Tami even took care for some breakfast because we would arrive late in the afternoon.
Guido
2016-08-14T00:00:00Z
What a warm welcome Tami arranged in this comfortable and cosy apartment! Great beds, a lot of extra's available tot use in case you forgot something. Tami even arranged some breakfast as we arrived late in the evening. We would recommend this apartment of course tot anyone!
Daan
2016-08-03T00:00:00Z
The host canceled this reservation 23 days before arrival. This is an automated posting.
Mustafa
2016-01-26T00:00:00Z
The host canceled this reservation 350 days before arrival. This is an automated posting.
Alfred
2016-05-20T00:00:00Z
Super stay, warm welcome and nice stay! When we arrived, Tami provided us with fresh bread, chocolates and a full fridge. Everything of wath you can think off was there, it was the most complete appartement, we ever had. Very cosy and relaxing stay.
Hilde
2016-08-08T00:00:00Z
We had a great stay in Gjesdal, Tami was incredibly welcoming and went the extra mile to ensure we arrived to a perfect home - even filling the fridge with some basics and leaving us housewarming chocolates. So incredibly generous of her. The apartment was wonderfully spacious and clean and the beds were so comfy. A great base for Pulpit Rock, Stavanger and the Jaelen coastline. Highly recommend
Lucy
2016-07-19T00:00:00Z
This apartment and host were amazing!! Tami bought us food and made us feel like we were home, which was so helpful after two long days of hiking! The home was spotless and luxurious. We highly recommend this rental!!!
Ginny
2016-07-03T00:00:00Z
Vi hadde et helt fantastisk opphold i mai, med strålende vær og en lekker leilighet. Utrolig fint område med snille naboer og et koselig sentrum. Her følte vi oss veldig velkomne! Gleder oss til å ta turen tilbake:)
Nikoline
2016-05-09T00:00:00Z
Room Type
Entire home/flat
---
Property Type
Apartment
---
Accommodates
4
---
Bedrooms
Gjesdal, Rogaland, Norway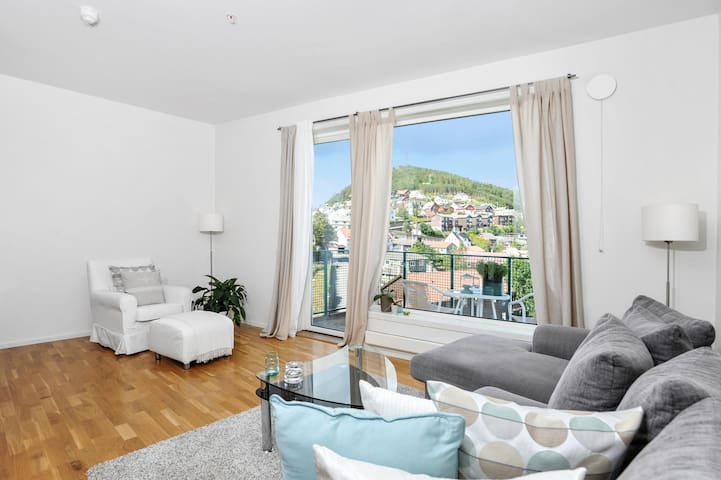 No kitchen, or possibility to cook. Own entrance, hallway with a fridge and kettle, bathroom with heated floor and bedroom with king size bed and feather duvet. Private outside area, nice and quiet, and great view! Leave your shoes in the hallway, so the bedroom carpet can stay nice and clean! Thanks!
Ålgård is close to "everything" :) 15 minutes from Sandnes 30 minutes from Stavanger 1 Hour to Preikestolen parking 2 Hours to Kjerag parking Ålgård is a nice town with lots of shopping possibility and places to eat. The surrounding nature is really nice, and you can find many places to hike or go for a walk.
At Ålgård you can find Kongeparken (amusement park) and Norwegian Outlet (shopping). Both at walking distance from the house (10-15 minute walk)
Booked this with very short notice. Lillian was great and quick to reply. We were met on arrival and made feel very welcome. Room was great with a fantastic bed. Bedroom and bathroom were very clean and the brew facilities were greatly appreciated. Highly recommended.
Ben
2015-08-11T00:00:00Z
I came spontaneously to Lilian for one night. she was very friendly and accommodating. the room was very clean and the bed very comfortable. when I'm back in the area I would go back to Lilian
Holger
2015-09-04T00:00:00Z
This was the place that we booked for our first night in Norway! We never been to Norway before and Lillian made it as smooth as possible. We didn't get to meet Lillian because she was out of town but we were greeted by her husband, John. Both Lillian and John were very accommodating and kind. The room is as pictured and described in the listing. Breakfast was provided (yogurt/pudding, fruits, and coffee/tea). John gave us some really amazing tips for the hike to Kjeragbolten including a "secret" parking spot that is free of charge and saved us about 30 minutes of strenuous incline hiking. He also gave us some insights on Pulpit Rock and Trolltunga. The checkout process was easy and John was kind enough to even reverse our manual transmission rental car out because we're rusty on driving manual on hills (haha!). Both hosts made us feel welcome and really set the tone for our Norway adventure. If we ever come back to this area, this is the first spot we will look into!
Anna
2016-09-24T00:00:00Z
Lillian was an excellent host, very quick to respond to messages so it was simple and easy to arrange arrival and others our trips. The apartment offers everything you need. Comfortable big bed, clean and well equipment bathroom. Algard is very nice and more quiet than Stavanger. Nice to be the one of the first visitor in your place. I can totally recommend this place and such kind host. Thanks and hope we meet again :) Pawel & Iwona
Paweł
2015-09-12T00:00:00Z
This place is in a great location, especially for those like us going to Kjeragbolten (2h drive) or Preikestolen (1h drive). The room has independent access from the main house, a great king size bed, bathroom with heated floor, fridge, kettle and even some breakfast (cookies, yogurts, tea...). Lillian and John gave us some useful info about hikes and other stuff that made our trip better. Really comfortable place and really nice hosts!
javier
2016-07-12T00:00:00Z
I had such an awesome stay! Lillian is so nice and welcoming, even after I arrived at 3am. More than happy to help if I had any questions and knew a lot about the best hiking spots. The room was everything that's shown in the photos and more, the bed is comfy, lots of space, and the private entrance meant that I didn't disturb everyone when I left for the airport in the early hours at the end of my stay. As a host, Lillian is so genuine and makes you feel so welcome and comfortable during your stay. Can't recommend this place enough! Close to the airport, but very quiet too. Shops nearby, perfect location overlooking the town! Loved everything about my stay, thank you! :)
Ross
2015-09-21T00:00:00Z
Our room was very clean and cosy. We found all necessities and there was even more than we expected. Lovely views from the room. The place is a bit far away from Stavanger but we loved the peaceful and quiet village.
Janice
2015-09-08T00:00:00Z
Lilian was great! Our ferry had a delay of 4 hours so we arrived in the middle of the night. She hid the key for us so we could come in but also offered to wake her up if anything is needed and told us to stay as long as we want to (to get some sleep. What a warm welcome in Norway! :) Also the flat is very cozy and a great place to stay. We'd love to come back!
Antonia
2017-04-09T00:00:00Z
Room Type
Entire home/flat
---
Property Type
Apartment
---
Accommodates
3
---
Bedrooms
Ålgård, Rogaland, Norway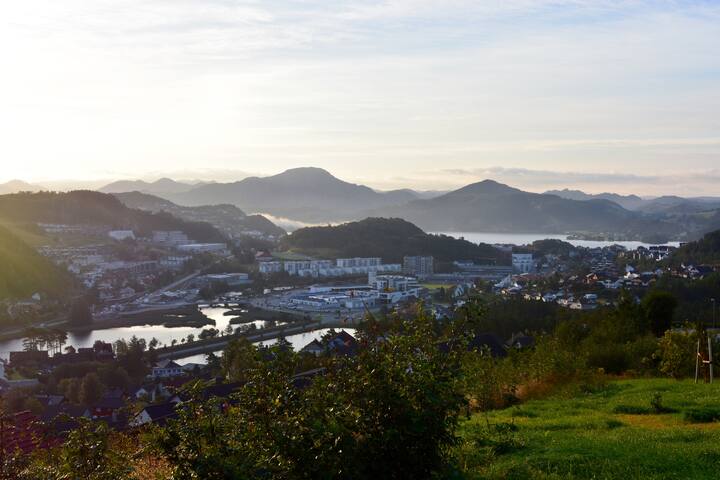 Apartment with 3 double bedrooms (1 of them is a family room) available on a farm in Ålgård, 30 minutes drive from Stavanger Airport and city centre, 15 minutes from Sandnes, Norway. Possibility for extra beds. Private entrance, kitchen and bathroom.
Apartment with 2 double bedrooms and 1 family room available on a farm in Ålgård, 30 minutes drive from Stavanger Airport and city centre, 15 minutes from Sandnes, Norway. The bedrooms have 1 shared bathroom with washing machine, dryer and shower. There is also a well equiped kitchen, and breakfast can be ordered for an additional fee. The family room has space for 2 adults and up to 3 small children or 3-4 adults, but it is standard furnished with 2 beds. Possibility for extra beds in all rooms. TV in family room. Wireless internet included in the price. The apartment has its own entrance and a nice terrace. Close to tourist attractions like Prekestolen, Kjerag, Kongeparken and city life in Stavanger. Beautiful area for hiking, but still close to shops. To only book one of the rooms, please book through one of my other listings. Room 1: https://www.airbnb.no/rooms/1326121 Room 2: https://www.airbnb.no/rooms/2488477 Room 3: https://www.airbnb.no/rooms/2488436 This booking is only for the whole apartment.
The apartment is in our home on our farm. As a guest you will have your own entrance, but your host lives on the ground floor. We are surrounded by beautiful nature, but still within short driving distance from all shops and many famous sightseeing spots.
Signe was exceptional! A wonderful host, with wonderful ideas on how to see Norway. We had our itinerary set already, but she provided us with maps and really good feedback on our trip that we didn't even research. Saved hours on the trip and helped us make some key decisions so the trip was flawless. A fantastic person with a beautiful house in a super location. Nothing but the best.
Nicklaus
2014-07-08T00:00:00Z
Signe is a wonderfull host, really helpfull, and friendly. She cooked tasty cynnamon rolls. Her neighbour is surranding by farms and isolated. But it is really quite and peacefull. Signe's home is lovely.
pablo
2016-08-28T00:00:00Z
Everything was just awesome. Great and friendly host. The house was really comfortable and clean. We highly recommend this lovely house for everybody!
Taewook
2014-09-08T00:00:00Z
Signe is a very warm and caring host! She gave us useful tips about our itinerary and surrounding areas. The place is newly renovated, neat and located in the nice nature! We were very happy and our group of 5 have unanimously agreed that if we travel to Norway again we would stay at the same place!
Kristina
2015-04-05T00:00:00Z
Signe was helpful before we came, as we were coming for genealogical reasons. She was very welcoming, and the apartment was nice.
Kristin
2016-06-28T00:00:00Z
We really enjoyed our stay in this place. Signe is a great hosts! She warmly greeted us on our arrival and gave us some helpful information. Excellent place to stay and would highly recommend.
Qingsu
2015-05-28T00:00:00Z
Signe is a very nice host, and lives in a very beautiful place. Everything was working nicely and no problems, althoug we arrived a little late the first night. A place worth to return to.
Michael
2014-09-18T00:00:00Z
Signe was very welcoming and stayed up late just to greet us all and did give us many good tips on what to do as the weather was not the best for hiking on the second day we were there. We were a large group and everything went exceptionally well. Thanks Signe :)
Darren
2016-07-18T00:00:00Z
Room Type
Entire home/flat
---
Property Type
Apartment
---
Accommodates
10
---
Bedrooms
Ålgård, Rogaland, Norway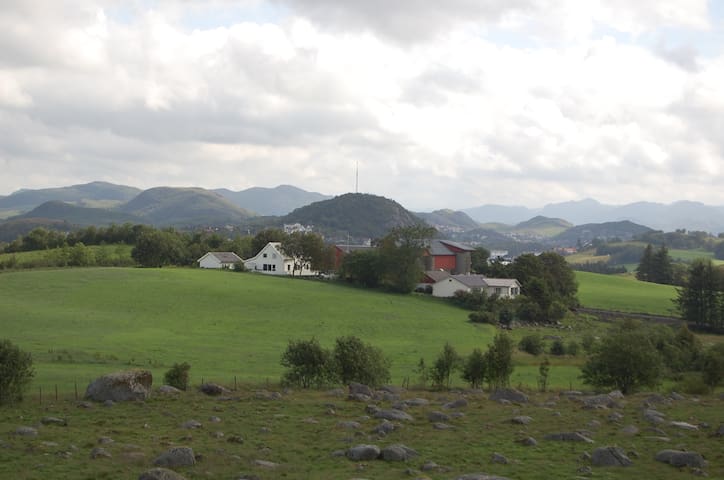 Welcome to my cozy apartment at Ålgård. Approximately 70 m2, bright and nice with two separate bedrooms, living room, bathroom, kitchen and a small ground floor terrace. Centrally located. Near Norwegian Outlett, Kongeparken, Pulpit Rock, Stavanger.
Welcome to my cozy apartment at Ålgård. My apartment is approximately 70 m2, bright and nice with two separate bedrooms, living room, bathroom, kitchen and a small ground floor terrace. Bedroom 1 has a 1 double bed. Bedroom 2 has a 120 cm bed and a double sofa bed. When you move in, I move to my friends' place so that you and your friends/family, can use the whole apartment. You will have your own entrance and parking spot. The apartment is equipped with everything that guests normally require for their stays, including wireless wi-fi. Welcome to "Solkjen" and Ålgård.
The apartment is centrally located at Ålgård with walking distance to shopping areas, including Norwegian Outlet, restaurants, the amusement park Kongeparken, as well as the lake Edlandsvatnet with a lovely beach for family fun. There is a playground and a mini-pitch behind the apartment. There are also great hiking opportunities nearby. It is only a five minute walk to the nearest bus stop. In 30 minutes the bus will bring you to Stavanger city centre or to Sandnes in 20 minutes. Weekends there are late evening routes back from Stavanger. The urban area of Stavanger has good cultural offers as well. Further, the apartment is located 1 hour from the start up to the Pulpit Rock and 2 hours from the start up to Kjerag, both famous part of this gorgeous Western Norway Fjord landscapes. In approximately 30 minutes you also can get to the magnificent Jæren beaches. Gloppedalsura and Månafossen are also famous attractions in this municipality.
We had a very nice stay here. The communication with Siv was very good and she was there to show us the house. The house was very nice and clean an very well located for trips to Stavanger, Preikestolen and kongeparken-amusementspark. Recommended!
Jeroen
2016-08-11T00:00:00Z
Fantastic place to stay in when visiting Stavanger and the surrounding area. The apartment has everything needed for a family. Hege gave us a nice welcome and explained everything to us. The apartment has all you need, is very nicely decorated, very clean and tidy and the area is very quiet . There are shops nearby and it's worth using.
Carlos
2016-08-01T00:00:00Z
We have had very pleasant stay at the aalgard apartment. The house was beautiful,spacious and well equipped with a very nice surrounding view from both the backyard terrace and the front of the house. The house is approximately 20 minutes to go to kongeparken and few minutes to Norwegian Outlet and Amfi. Nice and welcoming people who were very kind and helpful. Really recommend it for families with small children.
Ibtisam
2016-07-02T00:00:00Z
We had great time staying in this apartment. The rooms are very clean, and nicely and tastefully decorated. If in future we will come to this area again, we will definitely like to stay at this place.
Yan
2016-09-02T00:00:00Z
We had a great evening at Hege and Elisabet's house. The place was just perfect for us: beautiful and quiet. It was a great starting point for our trip through Norway. We'd love to come back!
Fran J.
2016-08-03T00:00:00Z
Veldig koselig leilighet. Rent og pent med alt vi trengte. Vi hadde med små barn og det var lekeplass og badeplass rett ved. perfekt:) Hyggelig vertskap. Anbefales
Ingunn
2016-07-21T00:00:00Z
Fin leilighet. Sentralt i Ålgård. Vi var seks stykk. Roligt nabolag. Fin terrasse å leike på for barna. Lekeplass og ballbinge like ved. Kort vei til badestrand om ein ønsker å bade. Rent og fint når vi kom til leiligheten.
Leif Jarle
2016-07-24T00:00:00Z
Fantastisk beliggenhet, og veldig fin leilighet. Disse to damene sørger for at du har alt du trenger, og om du lurer på noe er de lett tilgjengelige! Veldig hyggelige, og serviceinnstilte. Vi var selv tre russ, og i forhold til Kongeparken ligger det veldig fint til, kun 20 minutter unna. Her får du veldig mye for pengene, og vennligheten til Siv og Hege kommer som en pluss ved siden av :-) vi var super fornøyde, og anbefaler virkelig dette stedet! Takk for oss!
Ida
2016-05-09T00:00:00Z
Room Type
Entire home/flat
---
Property Type
Apartment
---
Accommodates
4
---
Bedrooms
Ålgård, Rogaland, Norway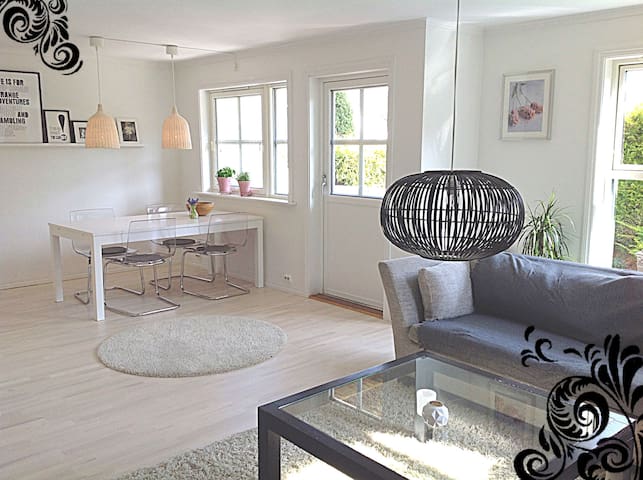 Room no. 3 in a separate 3 bedroom apartment on a farm, surrounded by beautiful nature.
A double bedroom in a separate 3 bedroom apartment (1st floor, owner lives on the ground floor), shared bathroom, well equiped kitchen and a terrace (for tourist use only, owner doesn't use this floor). Please contact your host if more than 1 room is needed. To book all 3 rooms, please check https://www.airbnb.no/rooms/2488125
Quiet and beautiful nature surrounding our farm.
We spent two nights in the farm. It was a really nice stay. The countryside around is beautiful, Signe is helpful and very kind! We enjoyed our stay and this is well located to go to the Preikestolen. Totally recommended! La ferme se Signe est très agréable au milieu des champs. On prend un vrai bol d air frais. Elle nous a donné de bon conseils pour notre séjour!
Manon
2014-06-02T00:00:00Z
Signe's and her family's beautiful farm was located in a really astonishing place in the Norwegian country side. Thank you Signe for your hospitailty and the great tips on what to see and do in the South-West area of Norway!
Janne
2014-07-22T00:00:00Z
We liked the stay at home Signe, was very sympathetic, ajudó us at all times and the house was beautiful.
Verónica
2014-08-01T00:00:00Z
Cozy and clean room with shared kitchen and bathroom on a beautiful located farm. Signe gave us a very warm welcome and we had very pleasant stay. Highly recommended!
Bastian
2016-08-16T00:00:00Z
We had a wonderful stay in Ålgård, where Signe welcomed us and made us feel at home. The room was comfortable and cosy and the kitchen provided everything we needed. Signe is a great host and she gave us a lot of travelling advice. From the farm, we made a trip to the Preikestolen, which was about one and a half hour to the start of the hike, including time on the ferry.
Eefje
2015-06-10T00:00:00Z
Signe was outside waiting for us as we drove up. The farm was beautiful and the room was lovely. The bathroom and kitchen space were very nice and we were able to wash some clothes and store things in the refrigerator. The beds were very comfortable. Signe was an amazing host and talked with us about the area. We would definitely return.
Kristin
2015-05-21T00:00:00Z
Staying at Signe's place has been really good. She is welcoming and helpful and her place is in a wonderful location. Thunbs up!
Andrea
2014-06-25T00:00:00Z
This location is perfect for hiking. It was a wonderful thought when out walking to know we were coming back to such a comfortable and clean place! The kitchen facilities were excellent. The farm itself is in a gorgeous area. You can't go wrong staying here.
Melissa
2014-09-15T00:00:00Z
Room Type
Private room
---
Property Type
Apartment
---
Accommodates
3
---
Bedrooms
Ålgård, Rogaland, Norway