Rekreační chata na horách s velkou zahradou, přímo u golfového hřiště.
Room Type
Entire home/flat
---
Property Type
Cabin
---
Accommodates
6
---
Bedrooms
Dubí, Czech Republic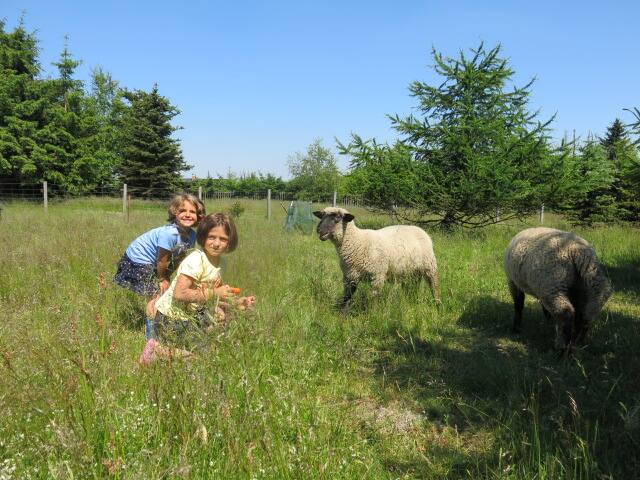 Minimum stay: 1 night Unique for its location (in a hilly, wooded region) and its very good atmosphere in the garden as well as in the house. The garden is beautifully landscaped. Opportunities for walking, horseriding, golf, visit glassblowers .
a quiet, agreeable private atmosphere in the garden as well as in the house. The garden is beautifully landscaped with possibilities for three private nice places to be and rest or read From the central hall upstaira the guests have access to their private bathroom (shower cabin and lavabo). Next to this showerroom there is a toilet to be shared by maximally two other guests. Breakfast may be enjoyed in the kitchen or in the diningroom. Privacy for the guests is paramount. We do not exaggerate, of course but we shall be at your service
The lovely hilly, wooded green country making it very suitable for walking and making little tours by car. many small restaurants. we can give names of restaurants with very good price/quality numbers. Nearby (4 km) there is a goflcourse 18 holes
We were on a very nice weekend bike trip with friends and our kids and booked all 3 rooms. The stay at the Kinsky house was actually the highlight of our wonderful trip. We had a very warm welcome by Juliska and Andreas with ice tea in front of the house. The house and the garden around have so much atmosphere. It is just a pleasure being there. The rooms were very spacious, which was much admired by the kids. In the morning we got a very delicious breakfast (no comparison to what sometimes gets served in Czech pensions). Just imagine sitting outside in the sun on perfect green lawn, coffee, tea, nice food ... . After a long conversation with Juliska and Andreas we had unfortunately already to leave. They are really great hosts and I hope that we can enjoy their hospitality again.
Ralf
2016-08-07T00:00:00Z
we had absolutely amazing time in the former kinsky house. Juliska and her husband were lovely, very welcoming and generous people who treated us well and we also had a great chat. We enjoyed talking to them and getting to know their life story. Adorable people. We enjoyed staying at their hospitable house very much. The place is beautiful, full of good energy which you can feel everywhere around you and the house is very nice decorated. We had amazing breakfast, full of great food in the garden terrace while listening to a good music wafting from the house. lovely experience and very romantic I can only recommend this place to stay and also would like to thank Juliska and her husband once again. It was amazing weeekend we had!
Barbora
2015-08-09T00:00:00Z
Room Type
Private room
---
Property Type
Cabin
---
Accommodates
2
---
Bedrooms
Sloup v Čechách, Liberec Region, Czech Republic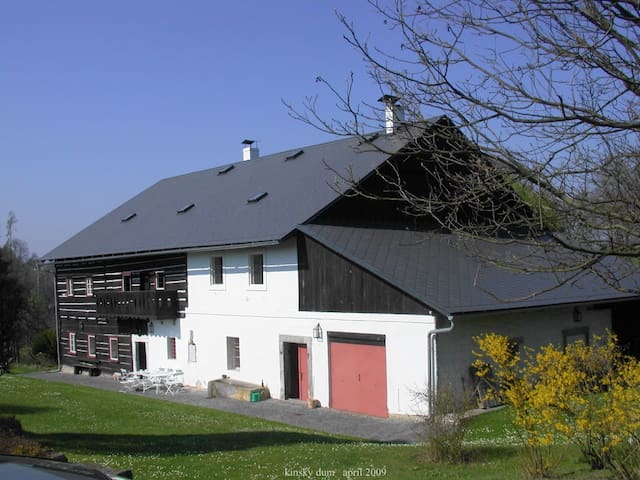 Four-bed cabin with bathroom and kitchen in the cottage in a recreation area near Macha Lake. An ideal place for summer vacation, great place for walking and cycling. In the vicinity of the castle Bezdez, Houska Castle.
Room Type
Entire home/flat
---
Property Type
Cabin
---
Accommodates
4
---
Bedrooms
Doksy, Czech Republic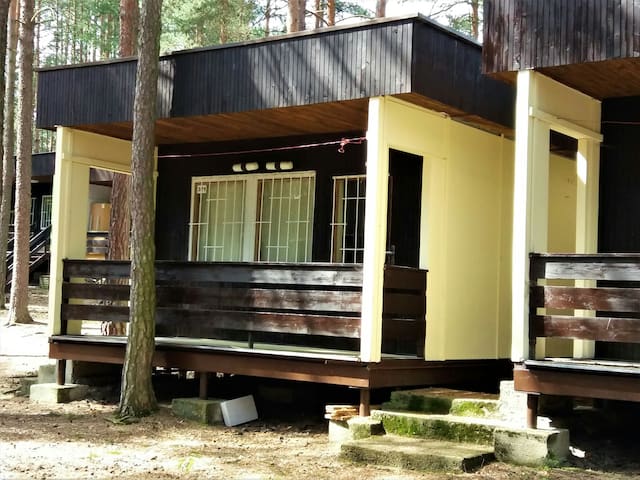 Nacházíme se v krásné přírodě Chráněné krajinné oblasti Lužické hory v těsné blízkosti Národního parku Česko-Saské Švýcarsko. Ubytování je skvělé pro rodiny i velké skupiny. Spaní se nachází v podkrovní částí objektu v prostoru nad restaurací (snížené stropy). Hosté mají samostatný vstup včetně sprchového koutu a wc. Dále mají hosté k dispozici, společenskou místnost se vstupem z opačné strany budovy. Spaní pouze s vlastním spacákem a karimatkou, kapacita 12 osob.
Ubytování v Adrenalin parku Jedlová, v budově restaurace přímo u spodní stanice lyžařského vleku, která je hostům po dohodě k dispozici i mimo otevírací dobu. Hosté mohou využívat všechny aktivity Adrenalin parku - lanový park, půjčovna koloběžek, obří houpačka, sjezdové káry, zimní lyžování. Na vybrané aktivity nabízíme našim hostům slevy.
Krásná příroda a čerstvý vzduch, lesy jsou všude kolem nás.
Great place, very nice people, perfect for beginners on ski or snowboard!
Mathilda
2017-02-12T00:00:00Z
Vše odpovídalo popisu, super zázemí a služby. Fanda s Bárou se o nás perfektně postarali. Bezproblémová domluva, dohodnutý raut byl více než bohatý! I přes uvedené info se nás vešlo 15 dospělých, to už ale považuji za hraniční počet. V areálu a jeho blízkosti je spousta možností pro vyžití jak pro dospělé, tak děti. Doporučuji a doufám, že se sem s kamarády ještě někdy vrátíme.
Petr
2017-01-01T00:00:00Z
Room Type
Entire home/flat
---
Property Type
Cabin
---
Accommodates
12
---
Bedrooms
Jiřetín pod Jedlovou, Czech Republic
We are renting a lovely cabin which can accommodate up to 4 people. Located in the heart of National Park Czech Switzerland it allows countless possibilities for beautiful day trips. The cabin is also right next to a natural swimming pool.
This cabin is set in a beautiful surrounding of the National Park and is also a part of a quiet campground. It offers simple, but comfortable accommodation for everyone who loves nature. There are 4 beds, 2 armchairs and a table with chairs. Basic tableware and linen are provided.
The location offers many possibilities for hiking, biking and even rock-climbing. All around you will find picturesque landscape and unforgettable natural sceneries with breathtaking views. Right in the Jetrichovice village there are many look-outs like Rudolfuv Kamen, Vileminina Stena & Mariina Vyhlidka. Not too far away you will find the famous rock bridge Pravcicka Brana and many other tourist attractions.
We had a really pleasant stay in the cabin and can definitely recommend it for everybody who loves to stay in a nature surrounding. The host was very friendly and helpful at any time.
Lars & Lana
2016-05-09T00:00:00Z
Klara was on her way to Singapore when we arrived in Jetrichovice but she sent good instructions for how to get to this wonderful cabin, as well as a recommendation for where to eat that night. The cabin was better than I had imagined - a cosy place to sleep on a quiet campsite, right next door to places to walk. Oh, and there was running water in the cabin, which we hadn't anticipated.
Thandi
2016-09-30T00:00:00Z
It was a very nice stay in the cabin, beatiful nature and nice people. Thank you!
Mette
2015-07-21T00:00:00Z
What a fantastic place. Perfect location, and a great arrangement. Almost in the National Park, the Camping area is very close to many of the hiking trails and sights to see around. The city of Hřensko is only about 15 KMs. This is the start of beautiful hikes to "Pravčická Brána" and "River Kemenice". Though, did not get to meet Klara in person, but her Mother Dagmar was very welcoming and helpful. She provided us with everything that we asked for, which was not really included. The place itself has lot to offer for camping. There is a nice natural swimming pool, a small cafeteria, volley ball court and table-tennis. The place was very relaxing, esp. after a drive of 700 KM and more than 5 hours hike. We couldn't have asked for anything better in the price offered. The cabin had very comfortable beds, a fridge, a small kitchen and a very nice area in the front to spend the night in fresh air if you want. Though, I would say there is not much facility for shower. Also, there not so many restaurants or eatery in the place. There are 2-3 restaurants about 2 KMs away, but these are more than sufficient. I would highly recommend the place, if you want to relax and stay in the middle of nature.
Rupesh
2015-06-09T00:00:00Z
We had a great stay at this beautiful cabin! It's a lovely place by a natural swimming pool right next to the national park. We didn't have a lot of time, but would definitely come back again. We also went for a quick swim despite the rainy weather :)
Alexander
2016-09-18T00:00:00Z
This little cabin was a really good stop in the amazing Czech Switzerland. It's an amazing location near the park and surrounded with beautiful trees and next to a pond. It's quite basic though, which is worth remembering if you're going in the off season or the weather is bad - it's a bit of a walk to the toilet and shower. The little kitchen is useful though. Overall a very good experience.
Hannah
2016-09-05T00:00:00Z
This little lodge is super comfortable and super cute! Although it sits on a campground, you have lots of privacy at night as it is a good distance from the campers, but close enough if you want to mingle. We only stayed one night, but plenty of cooking supplies are provided and a campfire pit is right outside the door. The most impressive part about this stay is the host! Dagmar, I'm guessing the lady that runs the campfire (also the listed host's mother) was incredibly accommodating. She helped us with transportation and gave us suggestions and directions for hiking trails. Even though only two of our group spoke very poor German (the owner's second language), she was still extremely friendly and patient. I would definitely recommend this quaint lodge for anyone looking for a hiking trip in this gorgeous national park! I might even find myself back for a longer stay some time down the road.
Shaena
2015-06-28T00:00:00Z
We had a great stay at this cabin and I would highly recommend it. It's just a nice place. The nature around is beautiful and you'll have a fireplace. Klara's mother welcomed us. She's a really nice host and even helped us, starting the fire.
Sebastian
2016-03-31T00:00:00Z
Room Type
Entire home/flat
---
Property Type
Cabin
---
Accommodates
4
---
Bedrooms
Jetřichovice, Ústí nad Labem Region, Czech Republic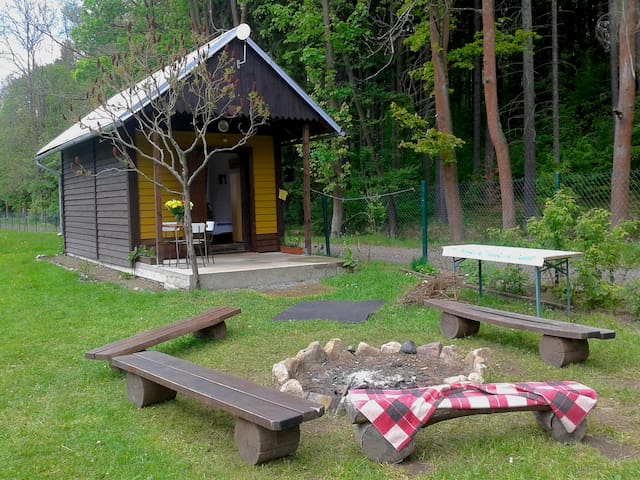 1

–

5

of

5 Cottage Rentals
Enter dates to see full pricing. Additional fees apply. Taxes may be added.