Enter your check in date in the format dd-mm-yyyy
Enter your check out date in the format dd-mm-yyyy
Listings you can book without waiting for host approval.
6 Bed & Breakfasts
· Altötting
6 Bed & Breakfasts
· Altötting
Enter dates to see full pricing. Additional fees apply. Taxes may be added.
This July and August, you can try one of these 100 highly-rated homes, at all price points, and experience a local's view of Sonoma. 24-hour check-in, Instant Book, and local wine and snacks let you just sit back and enjoy your trip.
Arrived late but made welcome and shown to room/facilities. Great nights sleep, bed comfortable. Facilities clean and had a great breakfast (continental) Views of the lake. Would stay again if in the area.
chris
August 2016
I arrive by car, and they have free parking. Don't know how comfortable it is to get there without a car. Astrid was very friendly, and the ambience of the place is fantastic. The room was of high quality, inincluding the bed, and you can't ask for a more clean place :) Internet was a little weak in the room.
Ronny
September 2016
I had a fantastic stay with Astrid and her partner Georg. They and their family are warm and welcoming and made me feel like I was a part of their home. Their two girls are adorable and love a chat. The room was very clean and had all the facilities needed, and the breakfasts were excellent. Georg and Astrid went out of their way to make my stay comfortable and had great advice on what to do and where to go in the area. I highly recommend staying here, I would no doubt return if I am in the area again, hopefully for longer!
Jack
October 2015
The host canceled this reservation 35 days before arrival. This is an automated posting.
Jenny
It's a very good place including a quite good breakfast and Astrid is very nice and friendly. But it takes time to get there ,so having a car will be more convenient.
Shih-Peng
October 2016
Astrid hat sich sehr herzlich um uns gekümmert. Wir hatten einen sehr familiären Umgang, was auch unsere beiden Jungs begeistert hat - wg. den Kindern der Familie und dem Trampolin hinterm Haus. Alles fein, sehr gern wieder.
Hannes
August 2016
Einfach nur Super die Wohnung, schönes Zimmer, Schöner Ausblick und einfach gemütliche Atmosphäre. Während des gesammten Aufenthalts hat es mir an nichts gefehlt und die Gastgeber waren immer da wenn man Fragen hatte oder irgendwas gebraucht hat. Gerne Wieder danke euch und noch eine Schöne Zeit
Damian
July 2016
Astrid war sehr Gastfreundlich und hat sich liebevoll um das Wohl von mir gekümmert. Das Schlaff- und Badezimmer waren sauber. Die Aussicht vom Balkon ist erste Sahne. Ich bekam sogar noch ein vielfältiges Frühstück. Klasse Airbnbadresse. Nur zum empfehlen. Danke für alles.
Tobias
August 2016
Room type
Private room
---
Property type
---
Accommodates
1
---
Bedrooms
1
Rimsting
Our house is right next to a nature reserve with a small lake , forest and meadows . In the morning you are woken by the s u n and you can enjoy your breakfast on the terrace . Absolutely quiet and gorgeous , modern atmosphere . Niedertaufkirchen is low in the south - east region of U p p e r B a v a r i a in the tertiary hill country between the lowlands of Rott and Isen about 5 k m south of Neumarkt - Sankt Veit , and 1 2 k m north of the county town of Mühldor f. By linking the rural municipality run in a north - south direction of the highway 2 9 9 and the line - L a n d s h u t M ü h l d o r f - S a l z b u r g .
The reservation was canceled 7 days before arrival. This is an automated posting.
Mühle&Co
Ortrun´s home was nice and clean ,quite area . She offers breakfast but for 10 euro is a little too much money. She was nice to talk with .
Tracy
July 2016
Angekommen und sofort wie zu Hause gefühlt! Tatsächlich würde man solch einen schönen Platz mit großem Gartenteich zum Schwimmen nicht erwarten in einem Neubaugebiet eines Dorfes in Deutschland. Auf Niveau eines Meisters: Wenn Ortrud kocht! Sie macht leckere Vorschläge. Vielen Dank für alles!
Stefan
May 2014
Nach einer tollen Begrüssung konnten wir das Paradis, dem Wettergott sei Dank, in vollen Zügen geniessen. Nach dem erfrischenden Bad, gab es dann auch schon das voraus besprochene z'Nacht - wobei auch hier gesagt werden muss, die Erwartungen wurden mehr als nur erfüllt. Ortrun ist eine fantastische Köchin und Gastgeberin! Das Haus sehr originell, geräumig und gemütlich, gerne würde man da länger bleiben, doch leider sahen unsere Pläne etwas anderes vor. Nach einer erholsamen Nacht und einem erfrischenden Bad gab es dann noch ein feines Morgenessen bevor wir leider unsere "Zelte" im Paradies wieder abbrechen mussten. Rundherum empfehlenswert für alle die paradisische Zustände suchen und gerne gut bewirtet werden! Vielen Dank Ortrun - hoffentlich verschlägt es uns wieder mal in deine Gegend!!
Andi
July 2014
Room type
Private room
---
Property type
---
Accommodates
5
---
Bedrooms
1
Niedertaufkirchen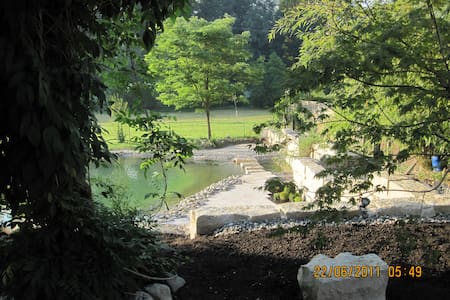 We stayed at Christine's place, and it was a quiet, very nice, relaxing stay in the country, but close enough to get to Salzburg by train for the day.
Sam
July 2016
It was a nice stay at Christines cottage! Mesbah, her tenant welcomes me and he offer me to eat supper with him. The location in the genuine countryside is wonderful! Christine is very friendly and nice!
Anders
June 2016
Everything was very good! Me and my girlfriend stayed here for a night on our way to Munchen. We didn't stay in the room with balcony, we had hosts room, but it was very nice, spacious, with a lot of light and very big comfortable bed. In spite of Christine wasn't there due to her work, everything was prepared for our arriving, and young boy who also lives there welcomed us and showed us everything. We used Christine's kitchen, which is good - equiped. House is located in beautifull and quite village, not far from Laufen (which is by the way very lovely too). This house were built in Bayern style but there are a lot of eastern motives in decoration. Very good atmosphere, we felt very good and peacefull there.
Pavel
June 2016
Christine is warm and welcoming; the location is perfect, and the rooms comfortable. Be advised that the room can get a little hot if the windows are closed, and that if you open them, a few mosquitos may join you. The surrounding farmland and homey feel more than make up for this minor inconvenience, though; the countryside is simply stunning.
Jonathan
July 2016
Christine is a pure joy. She's the professional actress, amazingly positive and interesting person. She and her friend Thomas converted our short staying in rural Germany to the real fest. As for the house, it will surprise you with its author design and domestic warm. Though the surroundings are a bit monotonous, the place itself is very calm, picturesque and comfy My strong recommendation for those who looks for countryside tranquility and don't have an allergy on cats
Ilya
May 2016
War super, hat alles problemlos geklappt. Zimmer und Haus waren sehr schön. Nach Salzburg sind es 30 min, nach Berchtesgaden ca 1 h. Klare Weiterempfehlung
Jochen
August 2016
Das Wochenende bei Christine hat meiner Frau und mir sehr gefallen. Christine ist eine liebenswerte Gastgeberin, sehr freundlich und zuvorkommend. Wir haben uns sofort sehr wohl gefühlt. Die Unterkunft entspricht der Beschreibung und unsere Erwartungen wurden erfüllt. Die Gespräche mit Christine und Thomas sind spannend und interessant gewesen, leider ist das Wochenende einfach zu kurz gewesen.
Miguel
February 2016
Wunderbarer Ort zum entspannen, herrliche Seen zum Baden und tolle Bergtouren, es hat uns alles sehr begeistert. Sehr schön und liebevoll eingerichtet und sehr netter Empfang mit guten Tipps für die Umgebung. Vielen Dank wir kommen bestimmt wieder. Liebe Grüsse Monika und Barbara
Monika
August 2016
Room type
Private room
---
Property type
---
Accommodates
2
---
Bedrooms
1
Fridolfing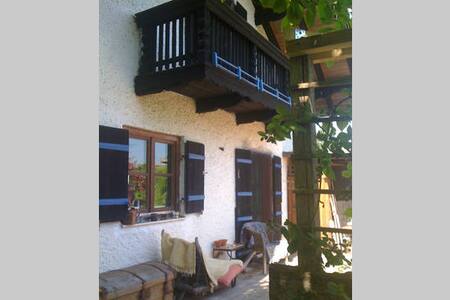 Our stay was super! Lisa and Reinhold are awesome hosts, they made us feeling really welcomed. The house is beautiful, warm and cozy and it's well located in between of Munich and Salzburg. Breakfast was really good!! We loved staying here. Thanks! :-)
Adriana
December 2016
Very cosy country house with nice garden warm welcome, perfect breakfast. Thank you very much.
Jan
July 2016
The place was very clean! Excellant. The room is big and lovely as is the garden. It would add if there is a corner where you can make your own coffee or tea and maybe a small fridge where you can keep a drink.
John
August 2016
We had a great time in this old posthouse. It was great and very nice and clean. Breakfast was very good. Elisabeth is a wonderfull and lovely host. Highly recommended.
Maria
July 2016
The host canceled this reservation 25 days before arrival. This is an automated posting.
Bernhard
Wir haben uns sehr willkommen gefühlt und ein wunderbares Wochenende dort verbracht. Es war ein sehr geschmackvoll renoviertes altes Haus mit einem schönen Garten. Auch das Frühstück war lecker. Immer wieder gerne.
Sofia
July 2016
Vriendelijke mensen! Zeer gastvrij en erg gezellig. Zeer ideaal voor met kinderen
Els
July 2016
Super nette Leute. An unseren Anreisetag, durch die Stau und schlechte Wetterverhältnisse kamen wir sehr späht an. Zu dem hat die Familie an dem tag noch ein Nachwuchs bekommen. Trotz der Riesen Stress, das die Familie gehabt hat, haben wir uns sehr gut aufgenommen gefüllt. Danke dafür. Wir kommen gerne wieder...
Max
August 2016
Room type
Private room
---
Property type
---
Accommodates
2
---
Bedrooms
1
Anger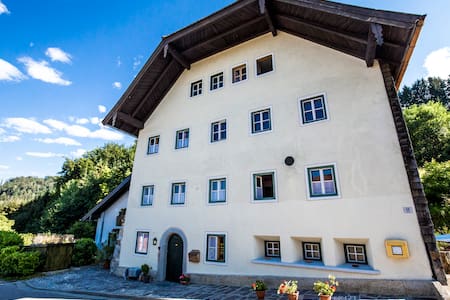 The host canceled this reservation 40 days before arrival. This is an automated posting.
Luc
Staying with Anton and Gudrun was one memorable experience. The house is 300 years old, in a charming Bavarian countryside, and has so much style and atmosphere it is hard to put into words. Anton greeted us despite us arriving at almost 11 pm. Next morning the breakfast was to die for - we were served fresh farm eggs and bacon made at a local monastery from meat grown at the hosts' farm. We absolutely wish we could stay longer and would recommend our hosts to anyone who ever travels in the area. Many, many thanks !!!
Olga
July 2015
What an absolutely fantastic stay. Anton and Gudrun were very accommodating, provided a delicious breakfast and have an amazing house. Despite a thick layer of snow outside, the traditional farmhouse was warm throughout and in the morning we took the dog on a walk in the nearby woods and then met their various farm animals. Our night in Bavaria was only supposed to be a stop off on our drive back to the UK, but turned into one of the highlights of the holiday.
Tom
January 2015
Superschön gemacht und ausgesprochen freundliche und zuvorkommende Gastgeber! Hätte kaum besser sein können.
Alex
July 2016
Ankommen und wohlfühlen! Wir wurden sehr herzlich empfangen, und haben uns auf Anhieb in dem wunderschön restaurierten Vier- Seit- Biohof willkommen gefühlt. Ein tolles Frühstück mit Eiern vom Hof, und exzellentem Schinken von den eigenen Tieren , mit anschliesender Besichtigung des Hofes, und den artgerecht gehaltenen Tieren, hat unseren kurzen Aufenthalt wunderbar abgerundet. Gerne kommen wir wieder! Ein angenehmes, inspirierendes Domizil- DANKE!
Kristin
November 2014
Nous avons passé un séjour agréable à la ferme bio. Nous avons fait connaissance avec les hôtes mais aussi les cochons, les vaches, les chiens et la basse cour. Anton et Gudrun nous ont préparé, à notre demande, un repas le soir de notre arrivée bien que cela n'était pas prévu, merci! Gudrun est une vraie artiste qui propose des cours de piano et a décoré la maison avec goût (elle peint également). Tout est propice à déconnecter de la vie en ville.
Ln
August 2014
Wir haben einen viertägigen Kurzurlaub auf dem Hausberghof verbracht. Die Unterkunft ist sehr schön und rustikal gestaltet. Besonders hervorheben möchten wir die große offene Dusche. Gudrun und Anton sind sehr aufmerksame Gastgeber und haben uns bei einer Hof-Führung Wissenwertes zu den einzelnen, teilweise seltenen Nutztier-Rassen mitgeteilt. Das Frühstück war immer sehr reichhaltig. Besonders gut haben uns die hauseigenen Produkte (z.B. Leberwurst, Speck vom Turopolje-Schwein) geschmeckt. Die Gespräche mit Gudrun und Anton über den Bio-Hof, Kunst und Musik waren sehr interessant und inspirierend. Wir empfehlen diese Unterkunft uneingeschränkt weiter.
Tino
October 2015
Wir wurden auf das Herzlichste empfangen - "unser" Zimmer, das ganze Haus, insbesondere der Raum auch, in dem wir frühstückten (liebevoll und reich an verschiedenen Köstlichkeien!) erfüllten alle erhofften Wünsche. Ein gemeinsamer Spaziergang zu den gehaltenen Tieren war, da sie nicht konventionell im Stall gehalten werden, sehr interessant. Der faire Umgang mit ihnen erklärt dann auch den guten Geschmack der Produkte. Wir waren nicht nur von der schönen Umgebung, sondern von diesem Konzept begeistert. Eine tolle Adresse zum Erholen und zum Nachdenken anregend, welche alternativen Wege man beim Fleischeinkauf gehen kann.
Petra
August 2014
Room type
Private room
---
Property type
---
Accommodates
2
---
Bedrooms
1
Egglham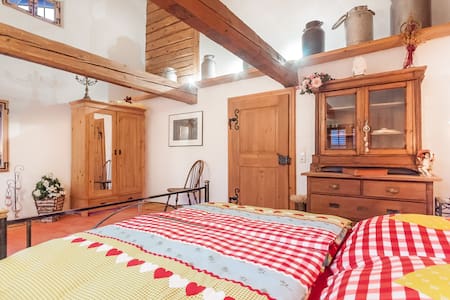 Auf unserem ehemaligen Bauernhof heißen wir in familiärer Atmosphäre seit 80 Jahren "Sommer- wie auch Winterfrischler" herzlich willkommen. Es gibt Frühstück in der Stube des Hauses und der Chiemsee mit Badesteg und Uferweg liegen direkt vorm Haus.
Der ehemalige Bauernhof liegt an der Straße zwischen Breitbrunn und Rimsting und genießt die Aussicht auf den Chiemsee (Schafwaschener Bucht) und die Chiemgauer Alpen (Kampenwand). Zum Chiemsee mit Badesteg und zum Uferweg sind es lediglich 400 m zu Fuß. Das Doppelzimmer befindet sich im 1. Obergeschoss des Bauernhauses und besitzt einen Balkon. Die Dusche und die Toilette sind auf der gleichen Etage und werden von einem weiteren Einzelzimmer bei Belegung mitbenutzt. Gegenüber befindet sich das Seecafé Toni, wo donnerstags bis sonntags eingekehrt werden kann. Das Frühstück richten wir in der Stube des Hauses im Erdgeschoss - oder auch auf Wunsch auf dem Zimmer - her. Des Weiteren gibt es ausreichend Unterstellmöglichkeiten für Fahrräder usw. Auf dem Bauernhof leben die Oma und unsere zwei Töchter im Alter von 4 und 2 Jahren. Letztere werden sicherlich nach eurem Namen fragen...
Das kleine Dorf Hochstätt liegt nördlich vom Chiemsee und südlich von der Hemhofer/Eggstätter Seenplatte. Beide laden zum Wandern, zum Radl fahren und natürlich zum Baden ein. Die Buslinie 9520 (Prien-Traunstein) sowie der Rad- und Wanderbus 9586 ("Chiemseeringlinie") halten in Hochstätt. Die näheren Bahnhöfe in Prien und Bad Endorf sind mit dem Auto in ca. 15 Minuten zu erreichen, wo es Anschlüsse nach München, Salzburg und weiteren Zielen gibt.
We had a great stay at 'Nigglhof'! :) It is a sweet former bavarian farm house close to Prien and Gstadt with parking space. The balcony next to the room has a beautiful view on Chiemsee! :) Everything was clean and traditionally equipped. Our friendly host Astrid made our stay homely. She prepared delicious breakfast and was very helpful with tips about the area. A little wooden pier at Chiemsee is only a 5 minutes walk away. :) We would definitely come back!
Fee
August 2016
Our stay was very comfortable and Astrid was a kind and attentive host. The room and facilities were spotlessly clean and located in a beautiful setting. Breakfast was very good and included traditional German fair. The B&B is also conveniently located across the street from an excellent restaurant where we had dinner.
Andrew
May 2016
Astrid was a wonderful host. The room was pristine and spacious. The bathroom was very clean and well kept, and the breakfast was fantastic. Real traditional Bavarian food served with fantastic coffee and a smile. Astrid also directed us to a fantastic restaurant actoss the road for dinner, which actually provided us with the best food of our whole trip. vielen dank!
Adam
July 2016
Danke für die 2 schönen Tage ! Tolles Zimmer, Super Ausblick, geniales Frühstück und am Abend gegenüber ein sehr gutes Resaurant ! Es hat alles gepasst. Kommen gerne wieder !
Mac
September 2016
Super Sauber, schöner Blick, tolles Frühstück und sehr freundlich und hilfsbereit. Sehr zu empfehlen!
Sabine
August 2016
Sehr nette Gastgeber. Gepflegtes Haus. Angenehme Atmosphäre
Marina
August 2016
Astrid war eine tolle Gastgeberin, hat uns herzlich empfangen, uns nach unseren Wünschen gefragt und passendes Infomaterial für unseren Aufenthalt bereitgelegt. Die Unterkunft war sauber und ordentlich, das Frühstück lecker. Vom Verkehr an der vorbeifahrenden Straße haben wir innen nichts gehört. Wir waren sehr zufrieden und empfehlen diese Unterkunft gerne weiter.
Janine
December 2016
Trotz mäßigem Wetter hatten wir einen sehr schönen Aufenthalt und wir können Astrids Angebot nur weiterempfehlen. Es war alles wie versprochen, sehr sauber, die Nähe zum See, sehr leckeres und mit viel Liebe gemachtes Frühstück, das auf Wunsch sogar aufs Zimmer gebracht wird. Die ganze Familie ist sehr herzlich, man fühlt sich gleich wohl und alles war einfach unkompliziert und angenehm. Bei Fragen zur Umgebung gibt es auch noch gute Tipps, sodass man auch bei regnerischem Wetter einiges unternehmen kann. Also kurz und bündig, es war super und hat an nichts gefehlt.
Esther
October 2016
Room type
Private room
---
Property type
---
Accommodates
2
---
Bedrooms
1
Rimsting
1

–

6

of

6 Bed & Breakfasts