Enter your check in date in the format dd-mm-yyyy
Enter your check out date in the format dd-mm-yyyy
Listings you can book without waiting for host approval.
3 Boat Rentals
· Alvechurch
3 Boat Rentals
· Alvechurch
Enter dates to see full pricing. Additional fees apply. Taxes may be added.
This July and August, you can try one of these 100 highly-rated homes, at all price points, and experience a local's view of Sonoma. 24-hour check-in, Instant Book, and local wine and snacks let you just sit back and enjoy your trip.
Moored in Warwickshire in a pretty marina near Stratford upon Avon, this charming static houseboat offers a unique tranquil experience. Situated in the heart of Shakespeare's county, nestling on the edge of the Cotswolds. Perfect to discover some of England's most idyllic countryside, offering fabulous walks amongst honey-coloured ancient cottages and traditional old world pubs. A great country pub is within walking distance. A great base for visiting Stratford upon Avon and surrounding areas.
The JH Bonham is a Dutch Barge, the hull being built in Holland in 1914. She was converted to a houseboat around 1937. We have fully refurbished her to a high standard whilst maintaining her unique character with a light airy feel. She offers all mod cons and is well insulated, dry and warm. The open plan main cabin also contains the galley, which features a fitted kitchen along with a four ring gas cooker, grill and oven, work surface, dishwasher and sink. The main cabin also has two adjacent sofas (with squashy cushions), TV and heater. The bathroom contains a flush toilet, sink, power shower and heated towel rail. The main entrance is via the wheelhouse which separates the main double bedroom containing a fitted fully sprung mattress, small wardrobe and storage space. This marina has a slipway for canoeing, and fishing licenses are also available. If you're lucky the resident Swans will knock on the window to pay a visit as will the Kingfisher. Boat living is a truly unique experience. The boat is yours for the duration of your stay, but sadly only as a static houseboat. We will go over any safety aspects with you at the time of your arrival. As much as we would like to accommodate anyone and everyone, sometimes this is beyond our control. The marina does not have floating pontoons that rise and fall with the river so please be aware that if the river is very low people who have a disability or who aren't agile may find it difficult to enter or exit the boat. There are many places to visit and too many to mention great places to eat. I can help you if you need advice. There are local shops in the next village, supermarket, butchers etc, a short..ish walk across the fields, or a couple of minutes in the car. If you wish me to provide you with a small hamper or general supplies for your first night I can do so if you let me know a few days in advance and what your requirements are. There will be a charge for this service.
Book a pre-theatre dinner in one of the many fabulous restaurants in Stratford upon avon before you take in a Shakespearian production at the world famous Royal Shakespeare Theatre. There are 18 hole golf courses in Bidford on Avon and Welford on Avon. Also a racecourse and large leisure centre with swimming pool and saunas etc in Stratford upon Avon. There are several spas offering super spa days. The marina is set in a beautiful part of Warwickshire, with access to The Heart of England Forest across the road. There are two great pubs in Welford on Avon, The Bell Inn is a fabulous award winning gastro pub serving delicious meals in great surroundings, and The Shakespeare Inn, a good pub to get down with the locals, and their fish and chips are a must! Both have log fires when its cold, approx 5 minutes in a car. The local pub is within walking distance and also does great food and offers a genuine warm welcome. Snowshill, Broadway, Bourton on the Water to name but a few of the stunning Cotwold villages, are all within easy reach and well worth a visit. And of course Stratford on Avon offers shopping, racecourse, bars and restaurants. The theatre offers a viewing tower to see the whole of Stratford whilst sipping a cocktail or two in their roof-top restaurant. Check out any famous actors in the White Swan, known locally as The Dirty Duck. There is hardstanding car parking in the marina, approx 50 metres from the boat. Cars are allowed to park directly outside the boat in the summer months. Being a rural community public transport is infrequent, however, there are buses. Honeybourne mainline train station is about 10 minutes away, with links to Paddington Station in London. A taxi from there would be the best option. Cyclists can secure their bikes at the mooring. There are two fitted sofas in the main cabin that can be used as further beds if need be. Please be aware that if renting in winter months things vary, we do have a washing machine, however there is extremely limited space for drying clothes indoors when the weather is poor. We supply high quality marine friendly bathroom and kitchen products, please only use these. Bring indoor shoes or slippers, particularly in the winter months.
Really lovely house boat! We stayed here over the New Year weekend and had a really relaxing weekend. The boat is finished to a very high standard and has everything you need. The location is lovely and rural with plenty of walks and quaint towns nearby. It was a little bit cold in the morning given the time of year, so slippers (and maybe a onesie!) is recommended if staying in Winter but Lucinda and Nick had put an extra heater in, which was brilliant. They are lovely hosts and super helpful, a wonderful place to stay!
Megan
January 2017
Room type
Entire home/flat
---
Property type
---
Accommodates
2
---
Bedrooms
1
Welford-on-Avon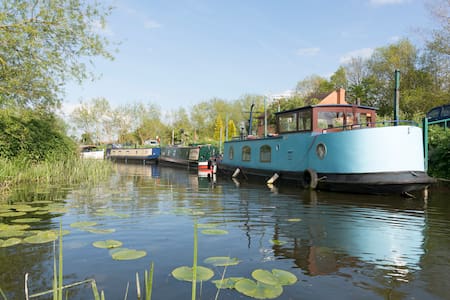 TEMPORARILY CLOSED FOR REFURBISHMENT : RE-OPENING EARLY 2017 Need to relax? This is the perfect retreat. Watch the sunlight dancing on the water or curl up in front of the woodburner with a good book. Moored in stunning countryside, it's easy to re-connect with nature and with yourself.
Needing a break from the hustle and bustle of 21st Century living? Here you can just sit back and relax. Narrowboat Sanctuary is free from 21st Century distractions such as TV and internet. You're welcome to use the boat purely as accommodation, from which to explore local attractions. I have listed some in the 'guidebook' on this site. Or you can board narrowboat Sanctuary for a spiritual retreat. As a Reiki Teacher I can offer healing and holistic counselling, as well as training in Reiki, meditation and creative visualization. Being a Taurean, I love good food. I rarely shop in supermarkets. Most food is sourced through local farms or foraged. I make everything from scratch. You won't find any packet mixes in this galley! Living without mod-cons (such as fridge/freezer or microwave) has forced me to be an imaginative cook, so I'm confident catering for special diets, such as vegan or gluten free. The price listed on this site includes bed & breakfast only. I'm happy to provide lunch and dinner too, for a small extra charge. Reiki training and treatments are offered at an additional charge. The accommodation comprises a private cabin with double bed with storage space underneath, limited clothes hanging space and small sink. You will be sharing the rest of the boat with me. This comprises a bathroom with bath, shower and toilets. Beyond the bathroom, you enter an open plan galley (kitchen) and living room. There is a small dining table in the living room that comfortably seats three. The address listed on this site is my home mooring on the Coventry canal. The canals provide a variety of places to stay, so let me know what you would like. If you want nightlife and shopping, we can stay in a town. If you want to escape the world, we can stay in peaceful countryside. If you are interested in receiving Reiki training, you will need to book a minimum of 3 days. This really is quite a unique experience..very different to a house. Please read 'house rules' and feel free to contact me if you have questions you would like answered before confirming a booking. I'll be on board throughout your stay.
From the home mooring: Tamworth-Nuneaton Bus service 15min walk Atherstone Train station 30min walk or £7.50 taxi
It was a very unique experience- just what we were looking for! The interior setting is cosy and homely. This is our favourite part of the stay. Jenni collected raspberries she plants and made delicious dessert as part of our breakfast. Wonderful taste! Being kind and friendly, Jenni made us feel very welcomed, shared her experiences on what the boatlife is like and how to lead a simple yet creative life (we asked her a lot of questions on boatlife in general and her boating experience). She and her way of living is environment-friendly. As cat-lovers, we enjoy Jenni's cat's company! We would definitely recommend Jenni's boat to people who are happy to skip shower/flush toilet when camping for a day or two, like us.
Yi-Shan
August 2013
I had a lovely stay with Jen, felt very welcome and we got on well and talked for hours! (My choice - there's plenty of space to be quiet and relax, too.) The boat was near a classic little canal bridge, on a private mooring with friendly neighbours and open countryside all round. Jen cooked a delicious meal including some of her home-grown vegetables. What a lovely space to live in! The bed is really comfortable, too. A real treat. Thank you, Jen x
Susan
June 2015
the boat is a great place to stay for a relaxed time, and the food and company was wonderful.
andy
January 2015
Jenni was a great host. The canal boat is in a very peaceful area, the food is good, the bed is comfortable (I didn't want to get up!) and the conversation was interesting. Many Thanks
Duncan
October 2015
Jenni is a great host and very hospitable. Staying in the boat is an unusual experience but thoroughly fun and has much to recommend it for. Jenni made me very you welcome and helped me settle in to the boat experience.
Arash
October 2013
I had the pleasure of spending four fantastic nights with Jenni on her narrow boat – Sanctuary. I work fairly close by and I was looking for somewhere to rest and relax in the evening away from the worries of modern life. I was not disappointed! Jenni is wonderful company and a fantastic host. The boat is situated at the end of a private part of the towpath. There is parking close by and its a 25 min walk into Atherstone town. There are a few other boats on the towpath and were all very welcoming. It's worth remembering that this is a narrowboat - which is a unique experience, but not a hotel with an ensuite. You wont get all the same mod-cons (or privacy) as you would if you were shut away in your own room…but really that's why I booked it. For me, after a long day at work, I still felt I had my own space and place to rest. By my last day, I really felt as if I had made a friend. Pack a book and your sense of adventure and enjoy the experience. As the name of the boat suggests, it really is a sanctuary of peace and calm.
Dan
July 2014
I really loved my stay with JenniRay on her narrowboat. It was the perfect antidote to city life, and like traveling back in time. The boat really is extremely cosy, and set in lovely countryside. Just what I needed after some long walks recovering from a back operation, with the added bonus Reiki treatment to help the healing along. JenniRay is a lovely host, and we spent long hours in fascinating conversation about life, the canals and everything in between. I left feeling mentally and physically recharged and I'm really looking forward to returning.
Pete
October 2014
JenniRay was a warm and generous host. She cooked me lovely meals and supplied me with a comfy bed all to myself on her charming canal boat which is moored in a beautiful and relaxing area of Atherstone (UK). I took way too much luggage with me, and so lugging it all up a stoney/gravelly path for half hour was very hard! (Don't take too much luggage, lol!) I was disappointed not to get to have a little cruise on the canal in Jen's boat (as she was unwell that particular day). But still, sleeping on a canal boat and having the other boats pass by is a lovely experience too :) People should be aware that electricity is limited, so don't take electronics that require lots of power...cos you just won't get it! Take only essentials-for me it was a phone (which unfortunately needed charging ALL the time, grrr) and a camera. Unless the boat is 'running' you have to rely on solar hot water in a limited amount, which is heated on the roof. If you like to bathe continuously, I suggest this is not for you!! There is a bath and shower for washing in, and a sink near the bed, but you'll really need to keep it short and sharp and boil your own water. There is also 'eco' toileting which may not suit a lot of people-I had no problem with it, except you did get the odd waft of smell come through and linger in the cabin at times, which could upset sensitive types! There is also no fridge, so if you bring food with you (even though Jen has HEAPS so she tells me!!!) you will be limited to keeping certain things very cold, so talk to Jen first. Jen also had me for an extra night at the last minute, which was a god-send, as I'd messed up my schedule slightly!! A worthy and must-do experience-it won't be my last time on a canal boat!!!! :)
Belinda
September 2013
Room type
Private room
---
Property type
---
Accommodates
2
---
Bedrooms
1
Grendon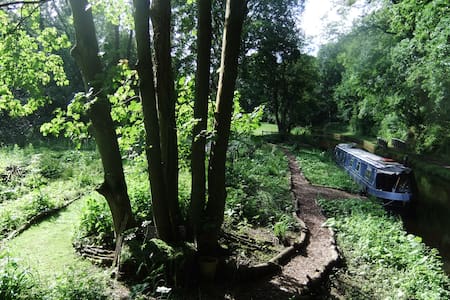 "Narrowboat Maddison" is an 8 berth, 62 ft narrowboat. She is a floating home from home, equipped with everything you need to stay comfortable whilst exploring the canal network. Moored at Otherton Boat Haven, in the market town of Penkridge, Staffordshire, on the Staffs and Worcester canal, you have access to some wonderful canal routes in beautiful countryside. It's perfect for a canal adventure.
NARROWBOAT MADDISON is an 8 berth, 62ft cruiser stern narrowboat. She has a light and airy feel with two single beds at the rear with a handy private toilet compartment. Going forward there's a fixed double bed with pull out "jumbo" storage drawers beneath. Beyond this is the bathroom with a second toilet, full size thermostatically controlled shower (I have to say it's very good) plus a vanity unit with giant mirror and plenty of storage areas for towels and you personal items. Then we have a dinette that converts into a double bed, again with plenty of under seat storage. After this is the galley (kitchen) with a full size cooker, ample surface area and under counter domestic fridge / freezer. The seating in the lounge area converts to two single beds. What's On The Boat Bedding & Bathing - Duvets, pillows & covers are provided, also bath and hand towels for each person on board. Tableware - She is equipped with cutlery and tableware including cereal bowls, mugs and a selection of glasses sufficient for 8 people. Galley (it's just a kitchen on a boat...) - Tea, Coffee & Sugar as a starter. Full sized gas cooker with 4 burners, double oven & grill. Stainless Steel sink / drainer and large work surface with under unit cupboards & drawers. Kettle, range of pans, casserole dish, oven glove, colander, mixing bowl and jug, cooking utensils, teapot, cafetiere, chopping board. Kitchen Roll, Tea towels, washing up liquid & sponges. Bin liners, dustpan and brush. Bathroom - Full size shower cubicle with bi-fold glass door (no nasty shower curtain here) and thermostatic temperature controlled shower. Full size electrically operated maceration toilet. Vanity basin with under cupboard storage and large mirror above. Ample storage for towels and toiletries. By the way, loads of toilet rolls are provided at the start of the hire period. So that's one thing less to carry back from the shop. Shower & Toilet cleaning products. Additional Toilet - There's a second toilet located at the rear of the boat in a small cloakroom with a vanity unit and mirror. (No waiting to use the loo when the skippers in the shower!) Lounge - LCD TV with Freeview reception and DVD player. TV accepts USB or Hard Drives. Loads of under-seat storage in jumbo pull out drawers. Wardrobe hanging space and half height cupboard. Removable table to accommodate four people dining or just sitting with drinks. Dinette area - Four seater table area for dinning or for the kids to entertain themselves at a table. Converts to a double bed with bedding and jumbo drawer storage beneath. Other equipment - We also provide a deck mop, boat poles, water hose, windlasses, mooring spikes, piling hooks and a hammer. Heating - This is provided by thermostatically controlled gas fired warm air system throughout the entire boat. This ensures that all the boat benefits from a comfortable temperature, when evenings begin to cool down. Electrics - All the lighting on the boat is 12 volt LED and runs from a bank of batteries that charge up during you daytime cruising. There are also 12 volt cigarette lighter sockets should you need to use an in-car power supply for phone charging or something similar. The boat also benefits from a 240 volt AC inverter and standard domestic socket outlets so you can use laptops, charge your tablet, or even bring along a games console (for the kids on rainy days, or grown ups) That's why we had the second TV at the rear.... On-Board Electrical Appliances - Hair dryer is provided on the boat. We can't allow the use of your own as it may damage the 240 volt inverter. 2 x LCD TV/DVD's. One is located in the forward lounge area and the other is located above the rear single beds. Portable DAB Radio. Domestic size fridge with medium size freezer compartment. 2 Way Radios - Allows the Skipper to keep in touch with the crew. About Your Cruise - What to expect. On the day of your departure, we'll meet you and give you a walk-through of the boat, its equipment and facilities on board. We'll explain how everything on the boat works so you have a full understanding of operating the equipment on board. On board the boat is a manual explaining how everything works. Safety briefing - Obviously no one anticipates anything going wrong, but it's best to be prepared. So we will discuss pre cruise checks, emergency equipment and procedures so you know what to do in the event of an emergency. Hands on practice - We'll accompany you for at least an hour, making sure you are comfortable and capable in controlling the boat, giving you the opportunity to take control and operate it safely under our guidance. We'll demonstrate how to navigate the canal, mooring up, setting off, using the locks and the general "rules of the road" as well as canal etiquette. When we're happy you can handle the boat, we'll leave you to enjoy the rest of your holiday.
Getting the best from your cruise - We want you to enjoy your canal experience as much as we do. With this in mind, we strongly recommend you watch the Boaters Handbook video made by the Canal & River Trust. It gives excellent advice and guidance on operating a canal boat safely and with regard to other canal users. Relax - Take it steady. There really is no rush. One of the much used canal sayings that stuck with us when we first began to take an interest in the canals was "It's the fastest way of slowing down" It really is about the journey, not the destination. If you find yourselves queuing at a lock, put the kettle on and take the opportunity to chat with fellow boaters. Be courteous - The canal community is made up of many different people. First time hire boaters, regular & competent hire boaters, boat share scheme members, live-aboard boaters, working boats, anglers, cyclists & walkers. All these people have very different expectations of other canal users.
We have just returned from a fabulous stay aboard the Maddison. Brevic and Michelle are so helpful and friendly. Even as complete novices, we were able to pick up Brevic and Michelle's tips on how to survive on the water! Communications before and during our week were great. The boat is beautifully kitted out. Everything you could possibly need for a comfy trip on the canals. We were blessed with beautiful sunshine too. I would recommend Brevic and Michelle's canal boat for anyone wanting a break on the canals!
Sarah
August 2016
Brevic and Michelle made us feel very welcome on board Maddison and were expert in putting us at ease and providing us very quickly with the skills required to handle the boat and negotiate the locks with confidence. The accomodation on board was just excellent extremely well equipped with lovely comfortable beds easily accomodating the five of us and cocker spaniel. We used the boat as a base for competing at the 70.3 Ironman competition at Shugborough and it worked really well meaning we could be close to the action in luxury accomodation. We have to sincerely apologise to Brevic for grossly underestimating our return distances and ability to return the boat on time and were an hour out from our revised ETA :( The beautiful thing about being on a canal barge is that there is no rush everything is at boat pace enforcing a relaxed approach to life. A wonderful introduction to the delights of the canal. The only thing we missed was the sunshine :)
Cheryl
June 2016
Excellent experience from start to finish. Even before the booking Brevic was proactively helping us. First day tuition covered everything you need to know and the boat is very well equipt (down to ice bags!). Everyone on the canals are so friendly and helpful that you're never far from an expert to willingly help you out. Highly recommended!!
Tony
July 2016
Room type
Entire home/flat
---
Property type
---
Accommodates
8
---
Bedrooms
4
Penkridge