Enter your check in date in the format dd-mm-yyyy
Enter your check out date in the format dd-mm-yyyy
Listings you can book without waiting for host approval.
13 Bed & Breakfasts
· Amasra
13 Bed & Breakfasts
· Amasra
Enter dates to see full pricing. Additional fees apply. Taxes may be added.
This July and August, you can try one of these 100 highly-rated homes, at all price points, and experience a local's view of Sonoma. 24-hour check-in, Instant Book, and local wine and snacks let you just sit back and enjoy your trip.
The host canceled this reservation the day before arrival. This is an automated posting.
Pierre
Room type
Private room
---
Property type
---
Accommodates
3
---
Bedrooms
1
amasra
For couple/family,WiFi,Private bedroom/bathroom/living room/dining room/parking lot/kitchen with Fridge/washing machine/garden/TV,Asian(Sushi/Ramen)/Turkish/English meals,Vending machine,Dinner/Lunch Available,organic veggies,whole flat
It is located in the middle of three major tourism objects: Old city, Bulak Cave, Incekaya Kanyon in Safranbolu. 30 min walk from Safranbolu main bus station (Otogar). 15 min walk to the city centre. 5 min drive to old town, 5 min drive to Bulak Magarasi (cave), 5 min drive to Krystal Terrace. You are responsible for your own private rented flat. I can teach you how to cook traditional Turkish meals originated from Safranbolu in foreigner's way. We can take you on tour in and about Safranbolu, also Amasra.
In Summer time, birds never stop chirping and singing days and night. Since it is located in green area, you will see squirrels joining your barbecue party if you are lucky enough. Fresh and Organic vegetables are seasonally growth. If you come by public transport to Safranbolu bus station, you can inform us the time of your arrival. Likely, if you arrive in the early morning/evening, we can pick you up with no additional fee. Free breakfast is served according to your preference: full Asian, Turkish, or English. Barbecue party in the garden with Raki (Turkish traditional wine) are available upon requests. Full homemade dinner is also available. There is no limit time to come and leave your rented flat because you have your own private flat with private key without sharing with anyone. Flush toilets and 24 hours hot shower/bath. You only need to bring your toothbrush with you because everything has been provided for you: towels for body and face, natural soap, shampoo, hairdryer, toilet papers, hot shower/bath, etc. If you want to wash your laundry, you can use the washing machine available in your bathroom with no additional fee. You only need to buy the detergent from the nearest market, 3 min walk from the house.
Aree and guys thanks for the great hospitality of our dear Sari .You are a great host who is one of the most family to welcome guest.Sari is fully -serviced mind host that I have met up to the present time of my travel . Sari always take care every minute of our staying ..every questions , need, always is answered m Moreover Sari show us around World Heritage city...Safranbolu and make us feel like superstars while we were sightseeing by Sari guided. We had got overwhelm friendliness and greeting from people there....." Your B&B makes us like home away from home and feel kind service like family treat. We love you Ottoman House and love nice and cool green surroundings. Thanks to make booking for coach ticket from Istanbul to Safranbolu, Safranbolu-Ankara and Ankara to Bursa end with Bursa ferry to Istanbul you are very generous host who paid these bookins in advanced....... Wow your are the greatest host that I have ever met. Sari -- Aree and friends don't know how to find any words to thanks or to show our grateful to you You did not only care us when I was staying with you but also pay you care to me and friends until I back to Istanbul and fly back home Sari-- Thanks so much and forever......... Always best recommend to any travel who loves to find yourself home away from home with Sari
aree
April 2016
It is not a simple guesthouse, it is a home. Sari and her husband showed a great hospitality to us. The private flat contains everything. Also she always asked what we want. We wanted Turkish breakfast and it was wonderful: Two varieties of cheese, green and black olives, honey, fruit spreads, special pitas with ground beef, tea, simit, butter, cucumber, tomatoes... The garden is big and you can enjoy it while hens are wandering around you.
Oğuz
July 2015
We thoroughly enjoyed our weekend at Sari's place! Her hospitality was so warm and friendly; we felt like family after 5 minutes. We arrived quite late on New Year's Eve and even at that late hour, Sari cooked us a delicious Asian dinner! The apartment was very clean with cute decor, ample storage space and an efficient kitchen. The neighborhood is safe and conveniently located between the major tourists sights. We had such a wonderful time that we are hoping to go back in the spring to enjoy the garden and some more of Sari's delicious meals. I highly recommend staying here!
Sandra
January 2016
We were hosted for 2 days in Sari's B&B. First day she served us a wonderfull asian breakfast and on the second she prepared for us a great turkish breakfast ! We spent together some good time with her and her husband Akif, and we found them amusing and interesting people. They were just too nice with us showing an amazing sense of hospitality. They picked us up at the bus station and took us back as well...and helped us with everithing we needed. The house has a beautifull garden and trees and 3 funny ducks! It s an ottoman house , old and beautifull! We recommand it of course.
Marco
August 2015
We just spend one day in safranbolu and we lived in Sari's house for one night. sari and her husband picked up U.S. And sent us to leave in the otorgar. We feel very comfortable in her house. Everything goes well. I have to say that Sari is a good cook. She might probably meet each Asian people's taste :) She helped us in sightseeing. Staying in her house is the best experience I had in Safranbolu. Unfortunately we don't have much time to stay in her house otherwise I would like to stay there as long as I can :D
思琪
August 2015
she has garden,chicken,dog,grape,loved family,dream,talent…she made good cooking for Chinese people!She prepared a birth cake and gift for my friend!Her and her family were best we met in Safranbolu!I must recommend the place to everyone can see this!
毅
October 2015
If you go to Safranbolu , it is definitely a good place to stay . Sari and her husband is very nice and kind . Her cook is very good , and they have a big yard with many home plant fruit . They picked me up from the city and drive me back to otogar and see me off in the early morning . Miss you ...
Qiao
September 2015
Sari was more than welcoming. We had great pleasure to meet her.The floor was designed like a home. nothing was missing. Thank you so much! We are very happy to have a new friend in Safranbolu.
kenan
August 2015
Room type
Entire home/flat
---
Property type
---
Accommodates
7
---
Bedrooms
1
Safranbolu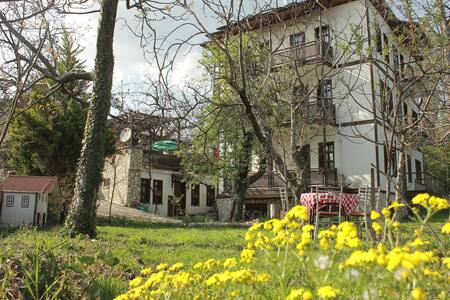 1800'lü yıllarda inşa edilen Çeşmeli Konak restorasyon çalışmaları sonucunda 2001 de konaklama hizmetine açılmıştır. Tarihi çarşının tam merkezinde olan otelimizin 8 odası bulunmaktadır. Eşsiz bahçesi ve manzarasına hayran kalacaksınız.
The location of here is perfect,central of the town,next to the big (URL HIDDEN) breakfast is also great. The house is traditional style,build with stone ,and the stuff are very kind and helpful. You will have great nights here,highly recommended.
Qianqian
August 2016
The hotel is awesome. If you go to Safranbolu, you're looking for a place like this. Staff is super helpful and kind. Location is perfect. There's only one caveat: at the time if writing, the listing advertises that breakfast is included, but on checking out they wanted us to pay for it. However, once we explained that it was listed they honored their word and let us go. I think that's a great attitude in the face of conflict :).
Martín
April 2016
如果你要來番紅花城,那你一定要選擇這裡。 你可以體驗當地的民房,老闆及在這裡工作的人們會非常樂意提供你任何資訊,給你意見以及幫助你。位置就在市集街道旁邊,你可以隨時到村裡散步,在這裡你將會有最悠閒的時光。
Jack
July 2016
Room type
Private room
---
Property type
---
Accommodates
3
---
Bedrooms
1
Safranbolu
A room with a real bed in a traditional Safranbolu house. You can use the shared bathroom.
Ahmet was great host. His and her wife's house was so clean and cozy. It's very near to all facilities.
Ayşegül
July 2015
Room type
Private room
---
Property type
---
Accommodates
2
---
Bedrooms
1
Safranbolu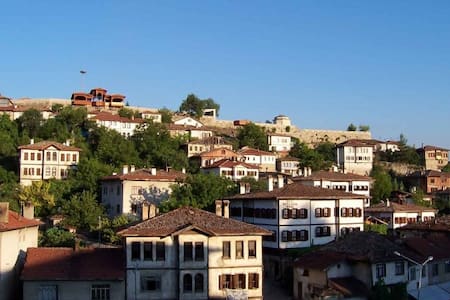 Mekanım şuraya yakın: Dünya Miras Kenti Safranbolu tarihi turistik bir yer.
Tarihi Safranbolu'da bulunan konağımız şehir meydanına ve eski çarşıya yürüme mesafesindeyiz. Misafirlerimize doğal, sakin ve huzurlu bir ortam sunmaktayız. Odalarını, kahvaltı salonunu, lobiyi ve konağımızın bahçesini kullanabilirler.
Tarihi Safranbolu'da doğal, sakin ve gürültü kirliliği olmayan sorunsuz bir semtte bulunmaktayız. Yerimiz toplu taşıma araçlarına yakın, ayrıca konağımıza ait özel otopark yeri mevcuttur.
Room type
Private room
---
Property type
---
Accommodates
16
---
Bedrooms
1
Safranbolu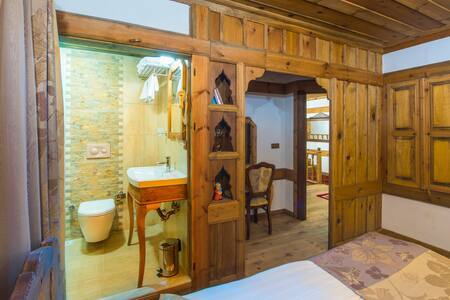 Mekanım şuraya yakın: muhteşem manzaralar ve restoran ve lokanta. Benim mekanımı şu yüzden seveceksiniz: rahat yatak, dış mekan ve ortam. Yerim çiftler, yalnız maceralar, kurumsal seyahate çıkanlar ve aileler (çocuklu) için uygundur.
SAFRANBOLU ESKİ ÇARŞI MERKEZİNDE GEZİLECEK YERLER YÜRÜME MESAFESİNDE ORTAK KAHVALTI SALONU VE TV SALONU BİR ARADA VERANDA SAFRANBOLU MANZARALI ORTAK MUTFAK OTOBÜS BİLET HİZMETİMİZ VARDIR ARAÇLA GEZİLECEK YERLERE ÜCRET KARŞILIĞI YARDIMCI OLUNUR
TAPLU TAŞIMA KAPIMIZIN ÖNÜNDEN GEÇER UMUME AÇIK OTOPARK MEVCUTTUR
Room type
Entire home/flat
---
Property type
---
Accommodates
16
---
Bedrooms
6
Karabük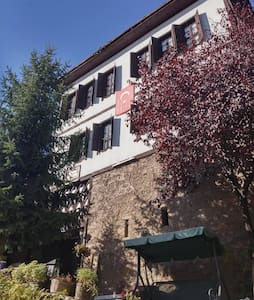 Safranbolu'daki en güzide evlerden biri olan aile yadigarı konağımızda sizleri misafir etmekten mutluluk duyacağız.
Room type
Private room
---
Property type
---
Accommodates
2
---
Bedrooms
1
Safranbolu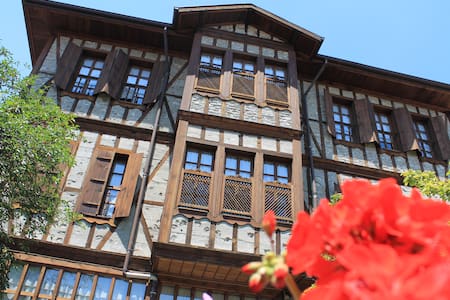 250 yıllık tarihi Osmanlı evinde hem tarihe tanıklık edin , hem de muhteşem bir tatil geçirin. Müşteri değil Misafir olarak kabul edilmenin keyfini çıkarın... Konakta toplam 6 oda bulunmakta olup odaların tamamında Tuvalet ve Banyo bulunmaktadır.
Tarihi Eski Çarşı mesafesinde ve gezilecek alanlar yürüme mesafesinde...
Dünya Miras kenti SAFRANBOLU... Toplu ulaşım araçlarına 10 mt. 24 saat ulaşım imkanı... Gezilecek alanlar yürüme mesafesinde...
The host is very nice. Pick me up at the otobus station, help me to buy the otobus ticket and send me to the otobus station. Room is very nice. I love it, tks so much.
Olivia
March 2016
Totally a very nice host! Hotel is in the old city and near the hill view point. The room is unbelievable beautiful and tidy, especially the bed!! I think I have never met a bed as comfortable as this one in any hotel I lived before. And I can see the entire garden as long as stand by the window. The host is very kind, warm-heart man. Even don't speak much English, but still try him beat to help you and communicate with you, even pick me up and drop me to the bus station! Many drinks can chose in the breakfast and eggs tastes good, I even have chance to try the local Turkish egg in the pot (I don't know it's name). I totally recommend this hotel!
Chen
July 2016
Helpful and nice owner. Excellent breakfast. The room is full of ottoman house style. It is very clean, warm and comfortable. The owner can speak little English. It is very nice that the owner give me ride to the bus station
Tongwai
December 2015
The Güneş Konak is a lovely old Ottoman mansion that's been sensitively restored, and staying in such an atmospheric house was a great experience. Murat, too, is a genuinely wonderful man who is devoted to helping his guests, sometimes startlingly so. He'll book bus tickets for you, drive you to and from the bus station, make you breakfast, and take you on tours of the city, all without you having to ask. There was a language barrier between us, which sometimes ended in misunderstandings-- like when Murat signed me up for a tour without my realizing and then waited for me for an hour, which I feel bad about. The room was wonderful, but I found it hard to sleep; the house is close to the Çarşı district's main road, which carries a surprising amount of bus traffic at all hours of the night, and the back of the house is lit up with floodlights at night, so I needed to close the shutters and put in earplugs to sleep. Even this was well worth the atmosphere and the hospitality, though!
Chris
March 2016
한국인의 후기가 없어서 남깁니다 사프란볼루에서 묵었던숙소중에선 (그래봤자 여기 한곳이지만요...ㅋㅋ) 아주 뛰어난 곳입니다 일단 가격이 상당히 저렴함 편이구요 호수트 아저씨가 무지무지 친절하십니다 정말 엄청 친절합니다! 다만 영어를 그닥 잘 못하시니 그점 참고하시구요 단점이라면 조금 작은 욕실 침대가 작은 편이고 아무래도 전통가옥이다 보니 층간 소음이 점 있네요(한국에서 겪은 아파트의 악몽을 여기서도 겪게 되네요^^) 위의 단점을 제외하곤 우선 호스트의 친절도가 최강이라는거 하나만으로 추천드릴 만한 곳입니다 아침메뉴 괜찮은 편이구요^^
Tae Chan
October 2016
Room type
Entire home/flat
---
Property type
---
Accommodates
15
---
Bedrooms
6
Karabük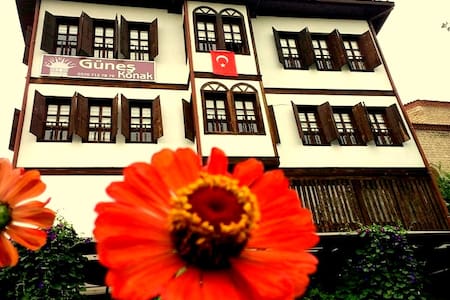 1

–

13

of

13 Bed & Breakfasts