Enter your check in date in the format dd-mm-yyyy
Enter your check out date in the format dd-mm-yyyy
Listings you can book without waiting for host approval.
6 Villa Rentals
· Ashland
6 Villa Rentals
· Ashland
Enter dates to see full pricing. Additional fees apply. Taxes may be added.
This July and August, you can try one of these 100 highly-rated homes, at all price points, and experience a local's view of Sonoma. 24-hour check-in, Instant Book, and local wine and snacks let you just sit back and enjoy your trip.
Unwind in this gorgeous setting just minutes from downtown Ashland. Enjoy our lovely gardens, panoramic views, in ground lagoon pool and gazebo. This unique villa features a living room, full bathroom with steam shower and bedroom. We are close to the Shakespeare theater, great restaurants, hiking trails and more!
This is truly one of the most gorgeous properties here in southern Oregon. The grounds are beautifully landscaped with flowering gardens, large trees and a gazebo and your welcome to swim in our lagoon pool with mini waterfall. We are surrounded by pastures and cows and our small flock of happy chickens roam about. On 17 country acres you will find peace and quiet as well as breathtaking views. Guests are welcome to walk the gardens, swim, enjoy the out door fireplace and enjoy meals on the decks. Our main home is on the same property with shared grounds so we are next door if you need something. Guests will have access to all the amenities listed. There is a simple kitchenette in the villa that includes a mini fridge, tea kettle, coffee pot, toaster oven and hot plate. We respect your desire for privacy and the villa will be all yours while staying with us. We are a friendly family and enjoy meeting new people and we may run into each other in the shared grounds as our family house is next door. You are welcome to knock on the main house front door between 8am and 10pm if you need something to make your stay more enjoyable or text.
We live in an idyllic setting. Surrounded by pastures and small farms, you will hear cows and coyotes instead of cars. It is easy and cheap enough to take cabs in and out of town, sometimes we may be able to give you a ride but we recommend renting a car if you need lots of transportation. The kitchenette is simple. For extended stays we are open to the possibility of guests using our main house kitchen on a very limited basis. Please inquire. Also wifi only reaches to the decks not inside the villa. There is full cell phone service so you can create a hotspot with smartphone or use your data service. There is a TV with Xbox to play dvds if desired. We have a few movies and documentaries here for your enjoyment.
Renee and Lori were out of town, but had someone there to meet us and make us feel welcome. The space and location exceeded our expectations and was the perfect location to step away from a busy weekend in Ashland. It is a very peaceful and restful location and only 5 minutes from town. We enjoyed our breakfast and dinner on the deck overlooking the valley each day. We would love to stay there again next time we are in the area.
Bob
September 2016
Renee was just a wonderful host. I loved our conversations and the place itself---Heaven on Earth. Such a` great place and being out in the middle of farm land was lovely. Enjoyed the swimming pool too.
Cynthia
August 2016
This home is exactly as cozy and beautiful as it appears in the pictures! We had a wonderful time in Ashland and loved this property. Renee was extremely helpful in every way giving us recommendations for restaurants as well as running routes. We will definitely be back!
Melanie
October 2016
My stay was beyond awesome. Their place is beautiful and peaceful. Would stay here again and again in a heartbeat.
Patti
September 2016
The little bungalow that we stayed in was perfect. The area was simple with everything we needed, and the steam shower was a great plus. The best part of the stay was the view. My husband and I sat out on the deck and watched every sunset. The mountains were breathtaking. It was also very nice to have a friendly neighborhood cat that followed us around and cows in the field next door. It was a great stay.
Heather
September 2016
I could not say enough great things about Renee/Lori and their wonderful guest house. Ashland is a gem of a town but staying here made the experience that much more precious. We took all of Renee's recommendations including restaurant choices and visiting Jackson Wellspring just a 9 minute drive away...and we were so so very happy. I think Ashland will be on our list of "return trips" and we hope to book here once again.
Molly
October 2016
Our stay was lovely in every way. Our hosts, our little villa, our surroundings. We loved it all! Thank you Renee & Lori.
Roslyn
October 2016
What a special place. Thanks for having us.
David
October 2016
Room type
Entire home/flat
---
Property type
---
Accommodates
2
---
Bedrooms
1
Ashland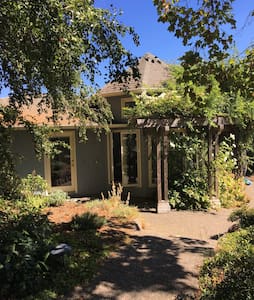 The Villa consists of an equipped kitchen, 2 living rooms with a queen sofa bed, single rollaway bed & 2 bedrooms with streaming TV: Metal suite has a king bed & spa bath. Fire room has a queen & twin bed with a private bathroom. Each main door is operated by a digital lock for your safety & security. Please note: The property consists of the main house & carriage house, which is usually occupied by other guests during tourist season. Only the villa as indicated on this listing is available.
The villa consist of 2 bedrooms, 2 living rooms, kitchen and 2.5 baths. Sleeps 8 comfortably. The front door and kitchen door is set up with a digital lock as well as an emergency key box next to the kitchen door. Both will have the guest's last 4 digits of their phone number to access the villa. If you require welcoming assistance, please advise your arrival time to be at the property.
It's a fairly quiet neighborhood, walking distance to everything. We are located in Downtown Ashland, a block from the COOP and a 2-minute walk from the Ashland boutique shops on Main street. Ashland has many exciting things to offer and many ways to treat yourself. Take a stroll down Lithia Park, visit our local wineries, sample a culinary experience, get introduced to our local art galleries, take a yoga class or book a healing session from our recommended list. The property consists of the main house and carriage house, which is usually occupied by other guests during tourist season. Only the villa as indicated on this listing is available.
It was easy to get in to the home, which was even nicer than expected. The neighborhood is great, with everything nearby and within walking distance
Catherine
October 2016
The host was clear about the process to enter the house. My companion and I required separate bedrooms, and we wanted a good kitchen; we didn't eat out often. The house will easily sleep 7 or 8 individuals if couples are sharing it. It has a large living room and a sitting room almost as large; we didn`t use them very much.
Francis
October 2016
Great place to stay! My daughter and I felt right at home.
Jennifer
October 2016
The house is an amazing building in a perfect location (a little busy street but not too bad) The current owners purchased it about 6 months ago and I think they are trying to accommodate their guests. However, you should know this is more of a rooming or boarding house rather than a sweet B&B where all the details have been thought of. Also it was my impression we were renting the entire house, as it says on the site, but the rooms are all separated by locked electronic combo locks (that you cannot leave unlocked). We thought the four of us would be sharing this wonderful home, but it was really two separate areas, and because of this we never actually hung out in the living room or kitchen. It felt like we had to be in our separate spaces. Also, there are other rooms being rented on the property so you are sharing the property with other guests. It can use some TLC, and a good cleaning. (cobwebs, dirty windows, dirty outside cushions on the outside chairs, pots with dirt and no plants, etc.) The big issue we had was when we arrived in the middle of a heat wave, and no one had thought to check to see if the A/C was operable. Arrived on a 94 degree day at 3:30 and discovered the A/C wasn't working. The next day was over 100 degrees. There was plenty of warning that the heat wave was coming, so arriving in a house that was almost 90 degrees inside and then dealing with that was not the way we wanted to enjoy our vacation. To be fair, when I complained about this the owner Lynn came over and called the repair co. They came a few hours later, but it took until after midnight that night for the house to get comfortable. Another guest in one of the out buildings told us he'd been coming for many years when it was owned by the last owners but this would be his last time. It's just not a well maintained sweet place as it could be. The owner told me they have plans to add another building, but I would suggest getting the existing place in tip top shape first. Again, the location is great, and I think Lynn did want to accommodate her guests, just not the kind of place we're used to staying. Felt more like a rooming house or sorority house.
Rick
June 2016
I hesitate to describe how great this place is for fear it won't be available next time. The perfect place to stay for a festival visit.
Tim
August 2016
Great neighborhood
Allison
April 2016
The host canceled this reservation 121 days before arrival. This is an automated posting.
Amanda
Room type
Entire home/flat
---
Property type
---
Accommodates
8
---
Bedrooms
2
Ashland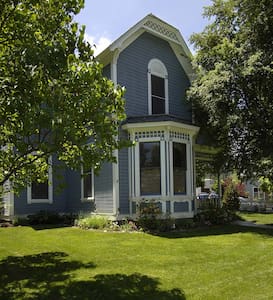 Elegant French country villa two minutes to shopping centers, restaurants and movies, yet peaceful serenity on almost 3 acres overlooking Ashland. Some of Ashland's best walking trails start right outside the front door. Deer sightings daily. Excellent wineries are close by. you'l love the outdoors space, the neighborhood, the kitchen, the comfy beds, the casual french country style, the quiet, peaceful feeling. great for couples, families (with kids), reunion with friends or extended family.
The home you'll be staying in is about 2,000 sq. ft. on one level. It includes a large living room, dining area and gourmet kitchen in addition to three bedrooms, two bathrooms and a den. An additional bedroom and bath may be available for an extra charge. Please check with host. All this is for your exclusive use. Also included for your enjoyment is a front patio and a covered entertaining area in the back yard. The caretaker/owner lives in a separate area above the garage. The entire property is available for your use except the garage building and one separate area of the home on the west side next to the parking. That area is optionally available for an additional fee if more sleeping and bath are needed for a larger group. Check with host. We live on the property when we are not traveling, and will be available to answer questions and make recommendations. Meeting good people and making lasting friendships is really a wonderful bonus for us.
My home offers the convenience of proximity to everything in Ashland, while having the feeling and privacy of country living. It is situated on 2.8 acres, yet adjacent to the city boundary, so neighboring properties are typically 5 to 10 acres in size, yet it's only a two minute drive to restaurants, shopping and theaters. In addition to the privacy and space, my property has some of the grandest views in the valley. There is plenty of parking on the property. There is also a city bus just down the street that runs through Ashland all the way to Medford. An additional bedroom and bath may be available for a fee, if needed for larger groups. This property is available for purchase.
Great place to stay with s large group. Our group of 9 was very comfortable. Our host, Bill, takes pride in his place as things were neat and clean. There was a well equipped kitchen plenty of sitting space not to mention an awesome view of the valley. We hope to return.
John
December 2016
We came to Ashland for skiing this time. It's only 30 minutes to the Mt Ashland ski area from Bill's house. The most amazing thing is to enjoy the mountain view in this house. By watching the view these days, my mother in law enjoyed cooking in kitchen, my oldder son played Bill's guitar. I think this is the best place in the Ashland if you want to stay there for several days!
Wei
December 2016
Has to be the best place to stay in Ashland. Spectacular views of the valley and hillside vineyards, hiking trails nearby connecting to the Pacific Crest Trail, excellent updated accommodations, three areas in and outside to eat and entertain, friendly helpful hosts -- can't ask for more.
Robert
September 2016
A wonderful scenic home that was very comfortable. Many hiking trails literally out the door - easy walking along a canal and steep hiking on the TID.
Dan
November 2016
Room type
Entire home/flat
---
Property type
---
Accommodates
10
---
Bedrooms
3
Ashland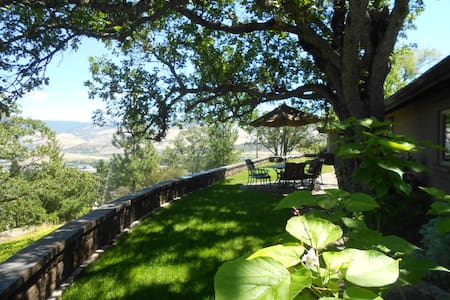 My place is close to great hiking trails starting right next to the property, restaurants and shopping are only a 2 minute drive. The outdoors space is level and offers 180 degree views of the valley, the neighborhood is great for walking or hiking, the kitchen has granite countertops and modern appliances including a cappucino machine. You'll love the comfy beds (one king and one queen), the privacy (almost three acre property) and the cleanliness. My place is good for families (with kids).
This is a beautiful place, high above Ashland. It also has great access to trails. It is quite large, and the kitchen is well-appointed. Bill was very accommodating; getting in the first night was. I problem.
Denny
October 2016
The house was clean, very well equipped (kitchen implements, TV, nice towels and linens, great view. A wonderful place to stay in Ashland.
Patrick
October 2016
Room type
Entire home/flat
---
Property type
---
Accommodates
4
---
Bedrooms
2
Ashland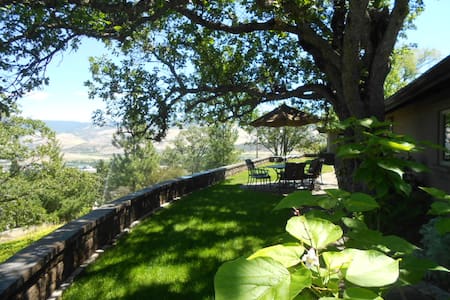 Enjoy vineyards and forests beautiful views with nature breathing. Walking trails to enjoy the beautiful natural scenery 4.2 miles to Lithia park and Shakespeare tourist city of Ashland. All kind restaurants, bars, coffee house, Theaters, libraries & massage service 73 miles to Crate Lake National Park.
Located in the scenic hillside, covering nearly 7 acres and 270 degrees top view of the natural landscape, paradise cozy and about 4000 sqft Luxury villas。You can enjoy premium service: breakfast at covered porch and enjoy the sunrise, under the grapes porch to enjoy the sunset. Full kitchen. Make yourself comfortable as staying your own home When you smile, make me happy :) Happiness comes from you and me :) Here you will leave good memories :)
From your bedroom 1.5 miles to tourism City of Talent. nice coffee houses, bars, playing theater, library, restaurants etc. Also you can have very beautiful walking/bicycle trails to Ashland/South or North Medford Conveniently Appreciate Treasure
Incredibly nice lady and beautiful home!
Kelsey
June 2016
Room type
Private room
---
Property type
---
Accommodates
2
---
Bedrooms
1
Talent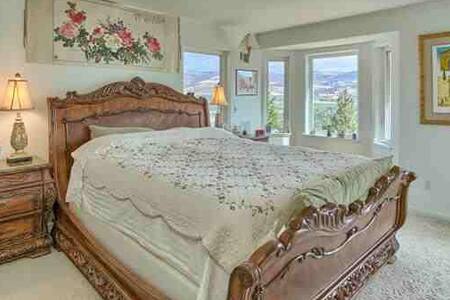 You'll feel like you are vacationing in Italy. This villa is conveniently located 5 minutes from Jacksonville, 12 miles from Ashland 10 minutes from Medford. Massive decks, views, secluded, elegant. There's so much to do in Southern Oregon you will want to extend your stay: Crater Lake, Britt Music Festival, Oregon Caves, Ashland Shakespeare theaters, Historic Jacksonville with trollies, wine tours, inns, world famous restaurants, rafting, http://www.vacationrentaljacksonville.com
You'll feel like you are vacationing in Italy…..This amazing villa is conveniently located 5 minutes from historic Jacksonville, 25 minutes from quaint Ashland, 3 minutes from Dancin Winery (a delightful Italian villa with gardens, fountains, delicious wines and eatery.) More wineries are a few miles away in famous Applegate Valley. White water rafting on the Rogue River, sightseeing along the 60+ mile ride to Crater Lake with waterfall hikes on the way. The home is two and a half hours from the rugged Oregon Coast, and two hours from the magnificent Giant Redwood Forest, not to mention the spectacular winter sports at Ashland Ski Resort. This Italian villa is nestled in the security of a gated community and has three levels, four bedrooms, one of which is a large loft bedroom overlooking the living room, two baths, all with professional decorating emphasizing bright, cheerful décor. Breathtaking views of the Rogue Valley can be enjoyed from every room of the second level from the wrap-around windows, and the balconies. Downstairs features a large family room with a 60" TV, a wet bar, hardwood floors, two bedrooms and an onyx-lined bathroom. Three fireplaces (one in the master bedroom, one in the family room and one in the upstairs great room, add to the ambiance. The second level is graced with vaulted ceilings, massive skylights, Italian Cherry kitchen cabinets with granite from Spain. Terra cotta tiles grace the dining room and the newly built sunroom. Bright morning sun streams into the breakfast room, a cozy area to have your morning coffee or tea. The master bedroom has a fireplace with a wall screen tv, and wrap around Windows for spectacular views. A loft bedroom on the third level overlooks the great room, and views to the mountains. The outside provides an additional living space for barbeques in the private backyard. A fountain and pond provides soothing background sounds of gentle running water and the fire pit table is a delightful place to gather and roast marshmallows and sip on the award winning wine you just purchased at the local tasting room. The additional entertainment area in the large deck on the south side overlooks the valley view. Patio tables and chairs seat 12. Indoor diningroom seating is 8 plus 3 bar stools at the island. Table expands to seat ten, with more chairs in garage can be brought in for more. There is so much to do here you will want additional days to experience it all. We have a 2 night minimum. Our Villa sleeps 8-10 guests. Our prices are for 6 guests. There is a $35 fee for additional guests (per person, per night). Discounts do not apply to school holidays. Please call before booking. Price reduction is done manually. Guests have full access of the entire house and acreage surrounding the house I am available throughout the time you are staying. My home is next door.
Gated community in the heart of Southern Oregon. A car is needed to travel to tourist sites, and shopping You must explore beautiful Jacksonville, four miles away, and on the way visit the most beautiful winery in our area, DanCin Winery just two miles away. And Google the zip line, Oregon Caves, Ashland plays and amazing Lithia Park. Don't forget amazing hiking trails by Prospect, with spectacular waterfalls, Avenue of the Boulders, and Lost Creek. This is an area of fantastic plays and music festivals. Consider a night under the stars viewing a professional production at the Elizabethian Theater, a true replica of the Shakespearean playhouse of merry ol' England. The Caberet theater offers year round productions, ever changing and it is just ten minutes away. River rafting, Rapids, fishing, and the most memorable water experience is Jerrys Jet boat excursions on the beautiful Rogue River. The trip is a thirty mile jet ride to a huge riverfront lodge serving home cooked meal. Their Marion berry cobbler is to die for. You may need a week to see all that we have to offer here in Southern Oregon.
If you are looking for a beautiful setting in the hills, above the vineyards...this is the place. This house has a beautiful deck and multiple levels with a large kitchen. Perfect for comfortably hosting a number of people.
robert
May 2016
We had 4 families rented this place over Labor day weekend. House was gorgeous and on the hillside with great views. To be honest , photos on airbnb didnt do the justice to the house as once we entered in , it was gorgeous. We shared the same feedback with the owner when she visited us the next day to meet and spent time talking with us. We really had an awesome time and 2 toddlers in our party had great fun too. Its secluded location but overall closer to the town as well so that its easy to get groceries and other items. There are plenty of places to sit,sleep & enjoy spending time for 8-10 guests and house has air conditioner/heater too. Overall really satisfied with the experience and will recommend anyone picking this house and Christine as owner to spend time at this beautiful place.
Ruchik
September 2015
Pictures don't do this house justice. The property and landscaping is beautiful and the house decor has a warm welcoming feeling. We held our family reunion here and the layout was perfect for entertaining and also allowed the kids to have their own space downstairs. I plan on renting this house again in November for my 40th wedding anniversary. Thank you!
Richard
July 2016
The Italian Villa was just that--even though I've never been to Italy. This is a gorgeous home with modern décor and features. We were welcomed by our host with a couple bottles of wine and some yummy treats set out as well as a deer enjoying the grounds. There were several indoor and outdoor spaces for gathering. We opted for the sun-filled upstairs room, near the kitchen.
Amy
August 2016
There was nothing welcoming to us; no notes, no towels laid out, no welcoming refreshment. The neighborhood was lovely but the house itself was in significant disrepair. The televisions did not work, the heat did not work, the kitchen sink faucet was broken, the kitchen sink was dirty with food particles, and the refrigerator was unclean. We doubted that the sheets had been changed.
joseph
June 2016
This was a most enjoyable place to stay. Our family of five had more than enough room to spread out and be comfortable. Christine is a wonderful host . Communications with her were always prompt and helpful. Due to flight cancellations and delays we were a day late arriving and she offered an extra day on the end to make up for the day we lost. We were greeted with wine and homemade goodies upon arrival. Everything was just as it was described in the listing. The location was convenient and very safe and private. We had beautiful views, and daily visits from deer, hummingbirds, chipmunks etc. We would definitely stay here again if we return to the area.
Shirley
July 2016
This house is beyond amazing. Gorgeous property with breathtaking views and wild animal sightings everyday. Christine is the sweetest and always reachable to answer any questions. She was so welcoming. The house had plenty of room for all of us to hang out and the kitchen was great for large family dinners. I would definitely recommend this house to anyone staying in the area. We especially loved that it was only minutes from DanCin Vineyards, our favorite nightly hangout.
Brianna
May 2016
Christine's home is absolutely gorgeous and she is a wonderfully responsive host! I was welcomed with all of the lights on (it was after midnight), a bottle of wine, and a plate of cookies. The house is situated on a hill, making the views incredible. Every amenity possible. Close enough to DanCin, my favorite local winery! We slept with all the windows open and loved listening to the crickets chirping. Very safe.
Dana
August 2016
Room type
Entire home/flat
---
Property type
---
Accommodates
10
---
Bedrooms
4
Medford