Très belle maison isolée avec une vue superbe et dégagée sur le bourg et les vignes environnantes. 280 m2 avec piscine vous attendent pour un moment privilégié au calme.
Quartier très calme sans vis à vis. Au cœur des vignes Arboisienne
Natalie's house is magnificent! Perched on a hill overlooking magical Arbois The house is well equipped and the swimming pool is lovely. We enjoyed many evenings out on the terrace enjoying the view. It's a steep walk up the hill from town but this just meant we were burning off the wine we drank on the terrace the night before! Natalie is a very gracious host. Thanks for having us.
Alex
2016-09-12T00:00:00Z
Belle maison sur les hauteurs d'Arbois, agréable à vivre avec une belle vue. Les deux douches à l'étage et les deux toilettes sont une commodité appréciée pour un groupe de 6 personnes. La terrasse comporte un accessoire utile : un barbecue parfaitement opérationnel. La piscine est un plus... quand le temps s'y prête. Je n'ai pas rencontré Nathalie, mais la préparation du séjour a été à la fois efficace et sympathique. Nous avons beaucoup apprécié les attentions de notre hôtesse pour faciliter notre arrivée et notre séjour. Je recommande sans réserve pour un petit groupe ou une famille souhaitant se poser calmement dans le Jura et profiter de la nature et de la gastronomie, en toute confiance
Frédéric
2016-05-09T00:00:00Z
Nathalie a eu la gentillesse de nous attendre, presque 1h de retard!!! Visite vite et efficace de la maison avant leur départ. Pas de mauvaises surprises car conforme aux photos. Cette entrevue respirait la confiance mutuelle et notre séjour s'est très bien déroulé. Maison agréable et fonctionnelle, bien située, repos assuré.
MARTINE
2016-05-17T00:00:00Z
Notre séjour chez Nathalie s'est très bien passé, la maison est magnifique et les photos sur le site ne lui rendent pas complètement hommage, la piscine est super également et surtout la vue sur Arbois est exceptionnel. Nathalie a toujours été très réactive au cours de nos échanges, dommage que nous ne nous soyons pas rencontrées!
Cécile
2016-08-13T00:00:00Z
La maison correspondait complètement à nos attentes . La maison est superbe! Nathalie a été une parfaite hôte , très disponible. Nous recommandons ce logement.
oceane
2016-12-11T00:00:00Z
Merci Nathalie pour ton agréable accueil, nous avons passé quelques jours très agréables, la vue est superbe, le voisinage tranquille. La maison est particulièrement bien équipée.
Johannes
2016-11-01T00:00:00Z
Room Type
Entire home/flat
---
Property Type
Villa
---
Accommodates
6
---
Bedrooms
Arbois, Franche-Comté, France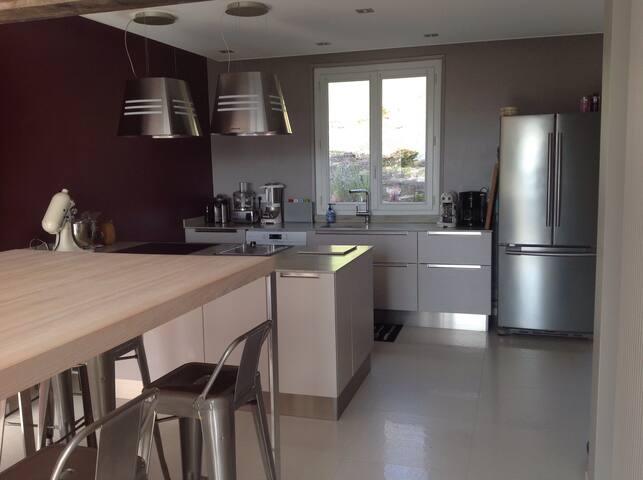 En plein coeur de la Bressse Jurassienne, Une ferme longère bressanne bicentenaire rénovée avec goût, tout confort, en centre village, avec vue dégagée sur la campagne sans vis a vis. Idéal pour les week end entre amis, et les vacances en famille.
La Bressière est notre "Camp de base", nous aimons y séjourner quelques jours pour recharger les batteries et repartir travailler à Paris. Mais elle reste inoccupée une bonne partie de l'année. C'est pourquoi nous souhaitons maintenant vous en faire profiter. Nous y avons mis beaucoup de nous, et espérons que vous vous sentirez quand même un peu chez vous.
La Chassagne is situated in the Jura, Franche-Comte region (now part of the Burgundy-Franche-Comté region), in the east of France at 22 km from Lons-le-Saunier, the department capital. (General information: La Chassagne is 320 km from Paris). Popular places to visit nearby include Chateau-Chalon at 18 km and Lons-le-Saunier at 22 km. Château-Chalon is an Appellation d'Origine Contrôlée for wines made in the Jura wine region of France, around the village of Château-Chalon. Only white wines from the Savagnin grape made in the vin jaune ("yellow wine") style can be made using this appellation. However, the Château-Chalon wines are not explicitly labeled as vin jaune. It is bottled in the traditional bottle called clavelin that is of a peculiar shape and with a capacity of 62 cl, which is, according to local legend, the amount left of a litre of wine after aging in cask for six years and three months - the legal minimum for Chateau Chalon. Once bottled, the wine is of great longevity, and can age for several decades.
Room Type
Entire home/flat
---
Property Type
Villa
---
Accommodates
7
---
Bedrooms
La Chassagne, France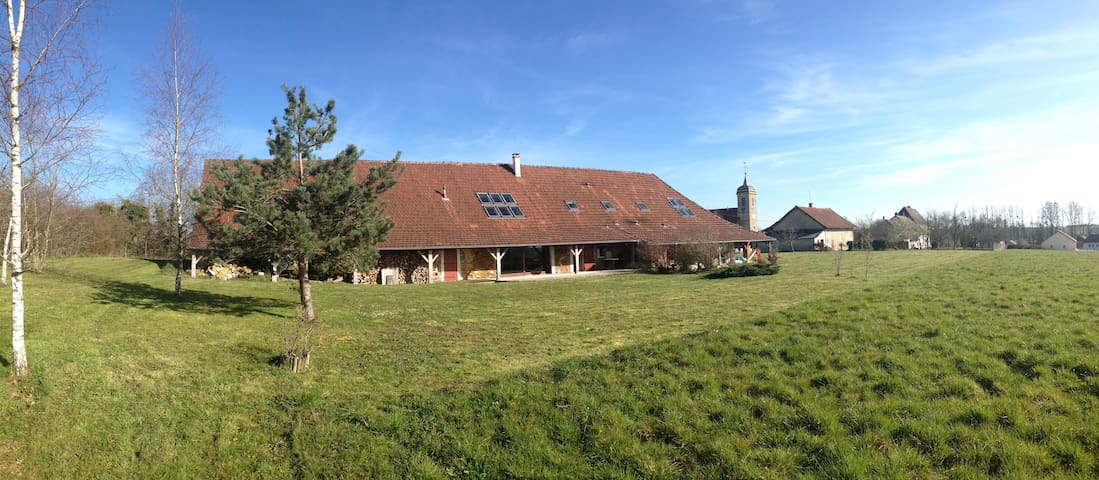 Ons huis van 300 m2 met uitzicht op de uitzonderlijke Lake Vouglans. U bevindt zich in de buurt van het strand en watersporten in de zomer, evenals de aard van de activiteiten (vissen, wandelen, fietsen en skiën in de winter). U zult genieten van het comfort, de faciliteiten (zwembad alleen in de zomer, terras en barbecue, master suite) ... Ons huis is ideaal voor koppels en gezinnen (met kinderen).
Deze traditionele cottage is uitgerust met een moderne uitbreiding in 2008 en een zwembad in 2015. Met een oppervlakte van 300m2, het is leuk, warm en zeer duidelijk.
In een rustige omgeving weg van het dorp en midden in de natuur, u geen verkeerslawaai te horen, de straat is een doodlopende weg. Vanaf het terras kunt u het meer zien en te genieten van het Jura landschap. De kleine haven van Mercantine en het strand ligt op 12 minuten lopen.
Great host, great space. Beautiful location close to a lake.
Emmanuel
2016-12-31T00:00:00Z
Un accueil très sympathique par les propriétaires ! la maison est très belle et sa situation a deux pas du lac de vouglans est ideale. Séjour agréable, rien à redire, je le conseille vraiment!
Elodie
2016-08-16T00:00:00Z
Situé à proximité du Lac de Vouglans, la maison d'Anne-Cécile est un véritable hâvre de paix qui conviendra aux familles nombreuses et groupes d'amis en quête de détente ou désireux d'explorer la région! Outre sa cuisine High-Tech et son four micro-ondes dernière génération, cette maison reste avant tout conviviale et Anne-Cécile a été très arrangeante en ce qui concerne l'arrivée et le départ. En bref, nous avons passé un excellent week-end qui je n'en doute pas n'est que partie remise... ;)
Bettina
2016-08-29T00:00:00Z
Room Type
Entire home/flat
---
Property Type
Villa
---
Accommodates
9
---
Bedrooms
Charchilla, Bourgogne Franche-Comté, France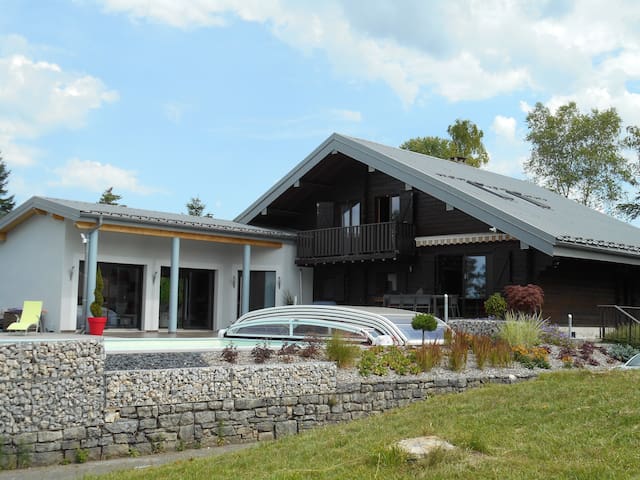 Ancien ERMITAGE : L'Ermitage St Roch datant de 1579. Calme, nature, et découverte: Évadez- vous dans un cadre privilégie.Salins les bains :petite ville thermale ,classée avec des salines classées au patrimoine mondial de L UNESCO.
The host canceled this reservation 20 days before arrival. This is an automated posting.
Sarah
2016-07-17T00:00:00Z
Agréable séjour dans un bel appartement. Un hôte très accueillant et disponible pour nous.location à conseiller.
florian
2015-10-14T00:00:00Z
Un très bon accueil et un logement rénové dans une bâtisse historique au calme jurassien.
Laurence
2016-12-27T00:00:00Z
Un séjour de très courte durée mais un accueil très sympathique. Pascal est très disponible et accueillant.
Catherine
2015-09-01T00:00:00Z
Très bien accueilli par Pascal, dans son gîte chargée d'Histoire ! Nous nous sommes senti à l'aise tout de suite... Gîte bien agréable avec une très belle vue au réveil, ce qui nous a permis de passer un bon séjour. Pascal nous a bien renseigné sur les activités et sorties à faire, sans oublier l'aide utile et judicieuse de sa petite charrette pour les bagages. Ptit hic (mais il va voir pour une solution.. ) : manque 1 lit en cas de 2 enfants.. Une 1ère expérience avec AirBnB réussi.. A renouveler !
David
2016-01-01T00:00:00Z
Room Type
Entire home/flat
---
Property Type
Villa
---
Accommodates
4
---
Bedrooms
Salins-les-Bains, Franche-Comté, France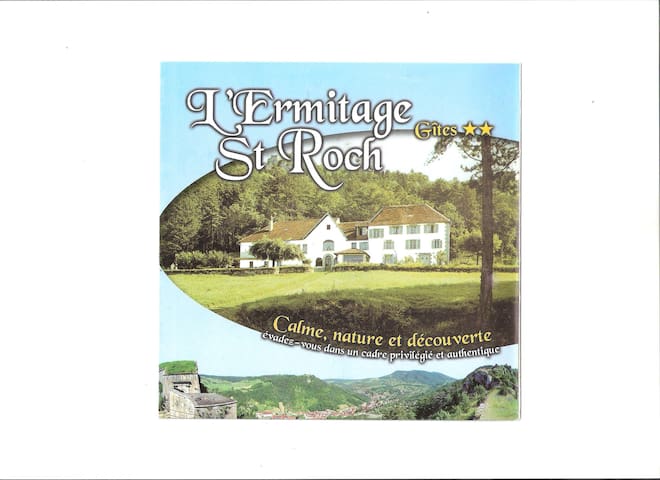 Maison récente avec 5 chambres en Bourgogne du Sud Louez une grande maison contemporaine dans une des plus belles régions Tout confort Toutes commodités au calme a proximité du port et tous commerces Très chaleureusement Laurent
EN BOURGOGNE DU SUD ! Louez une grande maison avec vos amis, votre famille. La propriété est idéalement située pour découvrir les richesses touristiques d'une des plus belles régions de France. La situation de la maison permet de bénéficier de nombreux équipements de confort et de loisirs comme le port de plaisance, le citystade, et des jeux d'enfants, des jeux de boules et une voie verte au pied de la propriété Nous ne louons pas de chambres individuelles, la maison est louée dans son intégralité, à la nuitée à partir de 2 nuits La décoration est un mélange de tradition et modernité et le mobilier est choisi avec le plus grand soin... Une des chambres est adaptée aux personnes à mobilité réduite avec sa salle d'eau privative La maison est équipée d'un écran de télévision full HD, d'une cheminée,d'un sauna et tout est compris dans le prix (Internet, bois pour la cheminée, jeux de société, draps, serviettes.....) Vous trouverez sur place un très grand nombre de suggestions de visites et d'activités pour rendre votre séjour encore plus inoubliable. Nous vous souhaitons une bonne découverte de la Bourgogne et restons à votre disposition pour toute demande. Très chaleureusement Laurent Vallas
RESSOURCEZ VOUS EN BOURGOGNE DU SUD La maison est située dans une zone résidentielle très calme au centre d'un village avec tous commerces. La maison est un havre de paix, tout confort, spacieuse et entourée d'un grand terrain. Elle accueille facilement les groupes de 4 à 8 personnes et vous permettra de vous dépayser entre amis, pour un séjour que je vous souhaite le plus agréable possible. Le village Branges est limitrophe de Louhans, la cité aux 157arcades. Non loin de Lons le saunier, de Tournus et de Chalon sur Saône, vous trouverez forcément l'activité qui conviendra aux jeunes et aux moins jeunes:promenades, randonnées,VTT, animations, découverte du patrimoine bressan et gastronomie
La maison de Laurent est très grande et confortable. Elle conserve toutefois des espaces chaleureux comme le salon à côté du poêle ou le petit salon de jardin installé vers la porte d'entrée. On peut également s'isoler dans la mezzanine pour lire ou faire du sport (vélo d'appartement). La cuisine est parfaitement équipée. A l'extérieur, bancs et chaises devant la maison ne demandent qu'à nous accueillir au soleil. En contrebas un petit espace municipal propose des jeux pour enfants et un départ de promenade piétonne de plusieurs kilomètres. A 50m on trouve boulangerie, boucherie et petit supermarché. En résumé, maison idéale pour un séjour en famille.
Corinne
2017-02-12T00:00:00Z
Logement très spacieux avec accessibilité handicapés. Quartier très calme, avec commerces à proximité. Bonne communication avec Laurent qui a répondu rapidement à toutes nos questions. Fabienne, présente sur place, nous a accueillis chaleureusement.
Annick
2016-12-29T00:00:00Z
Maison très grande, parfaite pour un séjour de 4 couples avec des enfants. Terrain de jeux et de pétanque à proximité. Grand parking.
Vanessa
2017-01-01T00:00:00Z
Super ! Merci
Maxime
2017-02-19T00:00:00Z
Nous étions deux couples et nous avons passé un agréable séjour dans la villa. Nous recommandons.
Cindy
2016-10-30T00:00:00Z
Room Type
Entire home/flat
---
Property Type
Villa
---
Accommodates
8
---
Bedrooms
Branges, France, France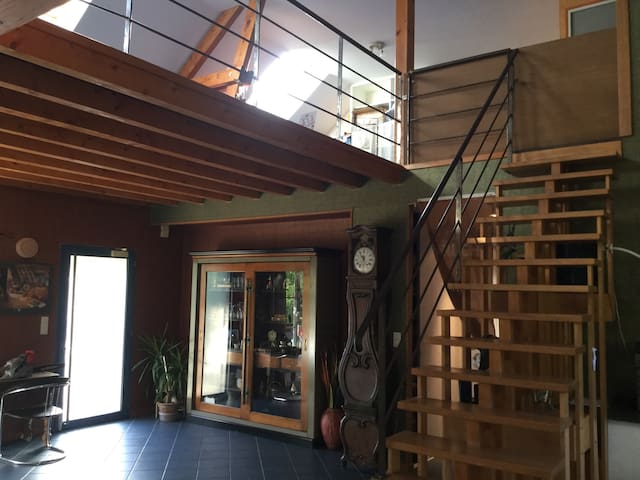 Maison design, sans vis à vis. Grande pièce à vivre avec cuisine ouverte sur le salon, cheminée, vidéoprojecteur, piscine intérieure. A l'étage 4 chambres, dont 2 suites avec baignoire balnéo, et 2 séparées par une salle de bain commune.
Room Type
Entire home/flat
---
Property Type
Villa
---
Accommodates
8
---
Bedrooms
Mournans-Charbonny, Franche-Comté, France
Bright and spacious house 30 years with 3 floors and stained glass, mosaics, fireplace, antique oak floors. The house has large windows for very bright rooms. There is a shower room, two bathrooms, spa bath, two terraces and a heated indoor pool if air> 10C. (Rarely used from November to February) secure property. Close to shops and town center. car parking in the property. Railway station near
a family home where children and adults will feel comfortable and 5 mins walk to all the shops. large volumes, small corner of countryside in the countryside. Art deco house with every comfort. Sheets and towels for the whole stay at the request and with supplement
A remarkable historical heart near the house, a townhouse with campaign services (swimming pool, greenery, three-minute film, organic market just down the street ...)
What a fantastic house in a lovely city. And what a lovely host Patrick was. Our biggest recommendations!
Henrik
2016-07-19T00:00:00Z
We really enjoyed our stay. We were 2 families with 4 young children under 5. The house is large and full of charm and the pool was a great success. The downstairs bathroom is a fabulous wet room but the water does tend to try and escape the room altogether when having a shower!And we did have a few problems making the oven and the DVD player for the children work but maybe that was just us. Patrick was available all the time for us and came around to check we were OK every day. He was very kind and helpful. It's worth knowing that if you don't bring your own sheets and towels there is a charge of 8 euros per bed. Dole is an attractive, pleasant town where it is easy to spend a few days. I'd recommend the property as one of the best we have stayed in with Airbnb.
Ben & Katya
2016-04-02T00:00:00Z
We were welcomed by Patrick who was looking after the place while Marie was away. He was very welcoming (got some leaflets for us from tourist information) and it was fun trying out some rusty french on him. The house was clean and bigger then the pictures suggest - as is the pool. It is decorated to a high standard with obious art-deco influences. We were very happy with our stay. The house is situated in Dole, which is a very pretty town, on the edge of the Jura region and Burgandy - so a good location to explore both areas.
Aamir
2015-08-29T00:00:00Z
Me and my family really recommend this accommodation: it's spacious, tastefully furnished and provides all the necessary facilities. The swimming pool is like the cherry on top of the cake. Due to a retractable roof, the pool can be used in all sorts of weather conditions. Dole is a charming and picturesque little town. Everything it has to offer is within walking distance of the house. The family friend Patrick is around to give some tips or help if a problem occurs. In short, this house is the perfect vantage point for a great vacation.
Veronica
2015-07-29T00:00:00Z
Lovely place, lovely people. Best trip ever
Hasan
2017-04-10T00:00:00Z
Stunning Art Deco style house in the Dole only a few minutes walk from the centre. The house had everything you could possibly want and felt very welcoming. Patrick was extremely welcoming and helpful. This was the nicest house we have ever rented the pool is incredible as is the house and the beautiful garden.
Rebecca
2016-08-27T00:00:00Z
Marie's friend Patrick was there to greet us and was very pleasant and helpful throughout our stay. Marie was easily contactable before and during our stay (though there was no need during). The accommodation is a beautiful house tastefully decorated. It was a good size to afford all 6 of us privacy with many interesting rooms, including a study, attic TV room and wet room. We loved the various terraced areas and the pool was superb - great temperature though it was only sunny enough to open the roof once, sadly. The location is excellent - near the lovely town for a stroll and good cafes, shops and restaurants and also very close to the station - we visited Dijon and Besancon from there. The canal area is lovely and there is a market three times a week near the imposing cathedral. All in all a wonderful place and we would happily come again.
Ruth
2016-06-12T00:00:00Z
Nous avons été extrêmement bien accueillis par Patrick malgré notre arrivée tardive. La maison est très agréable ainsi que la piscine. Les enfants ont beaucoup appréciés leurs chambres et chacun avait son intimité. La seule chose que nous avons regreté est de ne pas avoir de lave-linge. Sinon nous avions tout à notre disposition dans la cuisine, ustensiles, produits lave-vaisselle... En résumé nous avons passé une très bonne semaine.
Raphaële
2015-08-15T00:00:00Z
Room Type
Entire home/flat
---
Property Type
Villa
---
Accommodates
8
---
Bedrooms
Dole, Franche-Comté, France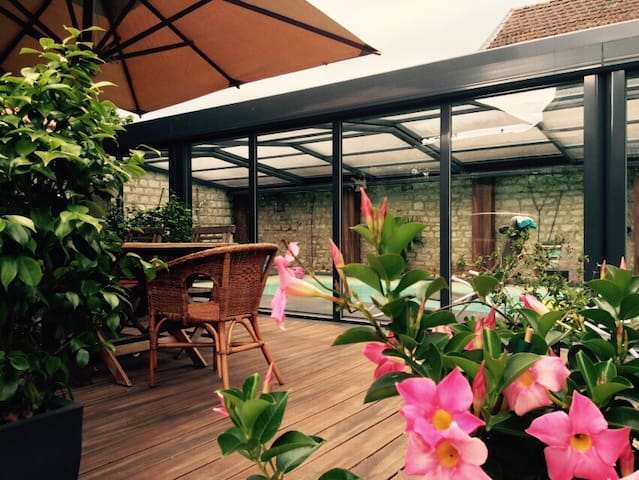 Fully furnished house, ideal for family gathering as well as expat family working in Nyon (15-20 min drive) or in Geneva International Airport (30 min drive) or Geneva/Lausanne area (30-40 min drive both side); 5 min drive from village of St Cergue and train station; 10 min drive from french border and about 15 min drive from the Carrefour Market Les Rousses (France). All mountain activities including trekking, ski.
The Alpine Retreat is a top class 5-bedroom modern design house distributed in 3 floors, which can accommodate 9 adult guests: * Main floor offers an open concept kitchen with living room with an open view on the St Cergue alpine scenery throughout large window bays, fully furnished in a modern design fashion with adjustable fireplace. The fully equipped kitchen and dining area also benefit of the large window bays of the house. Thanks to its 8 large window bays the house benefits of high level of sunlight anytime all along the year even during cloudy time. In the prolongation of the living room, an overlooking 40 square meter terrace facing the amazing view of the St Cergue alpine. The main floor also accommodate with a WC for visitor and various storages. The hall of entrance gives access to the basement apartment and to the upper floor private area through a contemporary stairs. * The upper floor accommodates 3 large bedrooms with 3 individual en-suite bathrooms with dressings + 3 individual WCs. * The basement appartment offers an additional bedroom + a secondary living room which can be converted into a fifth bedroom with a sofa bed + 1 common bathroom + WC with access to a 20 square meter terrace with view on the St Cergue alpine & direct access the garden. Alpine Retreat offer 2 garage indoor car park slots and an outdoor parking space with private access through a residential road.
Alpine Retreat is located in a preserved area. Neighborhood appreciates the calm of St Cergue and we invite our guests to do so. We invite our guests to visit St Cergue tourism website as well as trip advisor for any recommendation of the restaurants, outdoors activities.
Dorota's place is beautiful and peaceful. Everything we needed was in the apartment. The welcome was very warm and kind. I would thoroughly recommend staying here. It is a perfect retreat.
Mark
2016-11-22T00:00:00Z
Room Type
Entire home/flat
---
Property Type
Villa
---
Accommodates
9
---
Bedrooms
Saint-Cergue, Vaud, Switzerland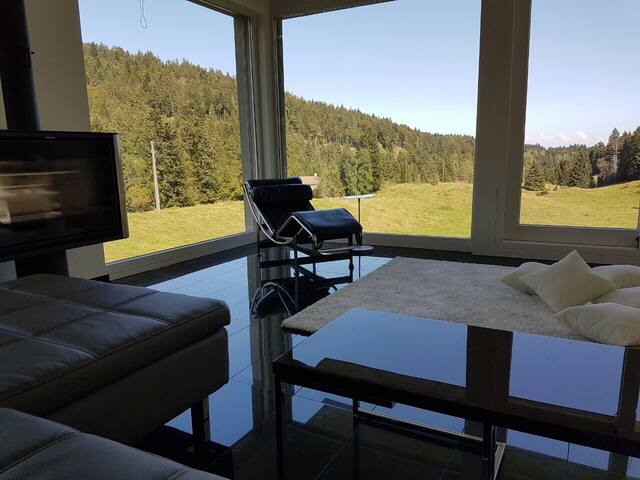 2 bedrooms to rent in villa in Gex. Shared bathroom, kitchen and living room. Beautiful quiet country side, with view Mont Blanc, 15 min drive to hiking/ski slopes/cross country skiing in Jura, 1hr from Alpine slopes. Flexible check in! 25 mins from Geneva. Each bedroom can accommodate 2 persons.
A cosy mountain house at 700 m altitude, with great view of the Mont Blanc. 3 levels, large enclosed yard, balcony. Shared kitchen. One bathroom available with bathtub, separate wc. Rooms available are on the second level- futon matresses
Its very quiet as we are really on the outskirts of town, with a beautiful view over the Mont Blanc. We often have snow when its raining in Geneva and as well as above the cloudline when the fog is thick lower down. The house is in a housing development, so very little traffic passing in front of the house. Gex is a cute town, with restaurants, very good bakeries and butchers, banks, postoffice, movie theatre, beer bars and nice bar- Le Colonial, and a friendly tourist info office.
Bon accueil, Christine était disponible pour répondre aux diverses questions. La maison est située dans une résidence calme, vue imprenable sur le Mont Blanc. Maison chaleureuse qui aspire au calme et à la détente. Nous avons pu nous ressourcer pleinement en famille le temps d'une semaine. La ville de Gex est idéalement située pour visiter la région et la Suisse.
Benoît
2017-01-02T00:00:00Z
Super séjour dans cette superbe maison. La proprétaire Christine et son fils Sébastien sont très accueillants et très sympa. Je recommande fortement pour un séjour en famille, avec une vu magnifique sur le Mont Blanc.
yann
2017-02-26T00:00:00Z
Accueil très agréable
jean louis
2017-02-12T00:00:00Z
Le séjour était court mais dépaysant et agréable. La maison a une vue splendide, propice à la déconnexion.
Charlotte
2017-03-01T00:00:00Z
Room Type
Private room
---
Property Type
Villa
---
Accommodates
4
---
Bedrooms
Gex, Rhone-Alpes, France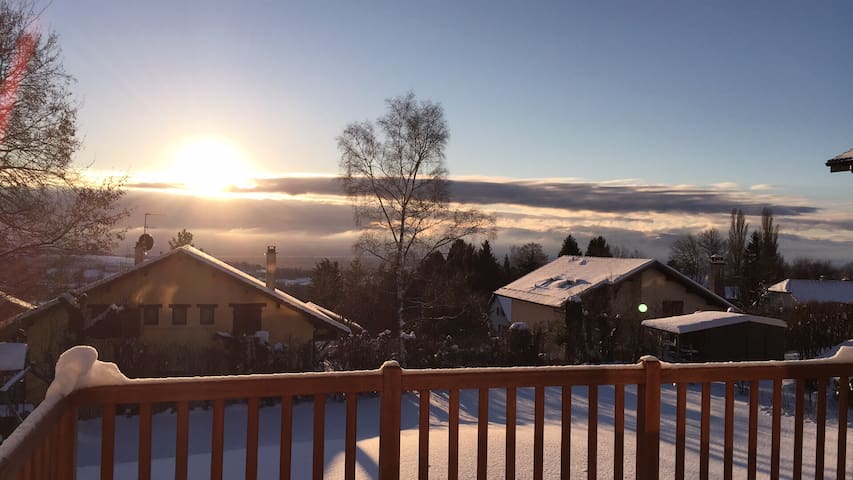 Large house (250m²) near Beaune, with stunning views of Saône and Jura. 7 themed bedrooms, 6 bathrooms, kitchen, large living & dining room, 2 fireplaces, 1500m² garden with heated swimming pool, children's playground, BBQ, table tennis, boules, rental: 14 bikes ...
Large house to relax and take time to enjoy all the amenities: solar heated pool, sunbeds, boules, gantry for children, table football, darts, ping-pong. Large table covered terrace, BBQ, wood oven, summer living ... Game Room, 7 televisions with DVD player, 2 stereo channels, DVD, CD, bicycle rentals. themed rooms with beds 160 Linen and towels provided. 2 baby beds. 2 washing machines. Fully equipped kitchen, gas piano, dishwasher, oven, microwave, coffee machine (filter and Senseo), 2 fridges (equipped with freezers). 2 fireplaces. EVERYTHING IS EXPECTED TO PASS A PLEASANT STAY QUIET 20 MINUTES BEAUNE ONLY.
The villa is located on the heights of a small farming village of 300 inhabitants, with stunning views over the plain of the Saone, the Jura Mountains and in good weather you can even see Mont Blanc.
The host canceled this reservation 22 days before arrival. This is an automated posting.
nicolas
2016-11-17T00:00:00Z
Eric made us feel more than welcome in this amazing home originally built in 1759. Our experience was much more in every way than we thought it would be. We were a family gathering of 12 people with children. The rooms each with a bathroom were perfect for each of our family units. The little touches of welcome (water in each room, fresh flowers) were such nice surprises. And Eric's recommendations on where to dine and shop were sincerely appreciated as well as his suggestions of things to see and do. The house is fully equipped right down to travel guides. We could not have asked for more and we all want to return, but, the next time it will be for a longer sojourn.
Mark
2015-04-19T00:00:00Z
Eric greeted us on our arrival and immediately showed us round the house. Its description was not only accurate but in many cases the information was understated. The house is in a small, very quiet village, where the sole source of noise was us in "our" swimming pool! We had booked the villa to celebrate my wife's 70th birthday: the party consisted of 6 adults and 6 children aged from 7 years down to twins of 9 months. It was ideal for us. The facilities for children were outstanding - and for adults too - but we spent most of the time in and around the delightful pool. We mainly cooked on the BBQ in the "outside" kitchen, with provisions bought in the neighbouring town, 5 kms away. All in all, it is an excellent house and one we would certainly wish to rent again. Best wishes David
Vivien
2015-08-08T00:00:00Z
We had a very nice time. Eric was helpful with us. The garden is very nice and perfect for the kids.
Sébastien
2016-03-29T00:00:00Z
M. Gulot nous a bien reçu, la maison était très accueillante et rien ne manquait. Nous avions un bébé de 15 jours avec nous et nous avons tout trouvé sur place (table à langer, baignoire pour bébé...). Même les 5 enfants ont trouvé un coin jeu pour eux, ce qui était le bien venu.
anne
2015-03-22T00:00:00Z
Merci à Eric pour son accueil et sa disponibilité. Nous avons passé un superbe week-end dans sa villa et nous n'hésiterons pas à revenir une autre fois. Très bonne experience que nous conseillons aux autres groupes d'amis ou familles en quête d'un lieu pour des retrouvailles.
Guillaume
2016-10-09T00:00:00Z
Excellent séjour, gîte très bien aménagé, propre et chaleureux.
erik
2015-01-03T00:00:00Z
Séjour agréable dans une très jolie maison particilulièrement bien équipée - vous ne manquerez de rien. A noter que l'hôte loge également sur place, dans un logement annexe qui jouxte la maison. Ça n'est pas particulièrement génant dans la mesure où Eric est aidant et veille à ce que le séjour se passe pour le mieux - mais à savoir néanmoins pour les voyageurs qui souhaiteraient être totalement seuls.
Matthieu
2017-03-26T00:00:00Z
Room Type
Entire home/flat
---
Property Type
Villa
---
Accommodates
16
---
Bedrooms
Chivres, Burgandy, France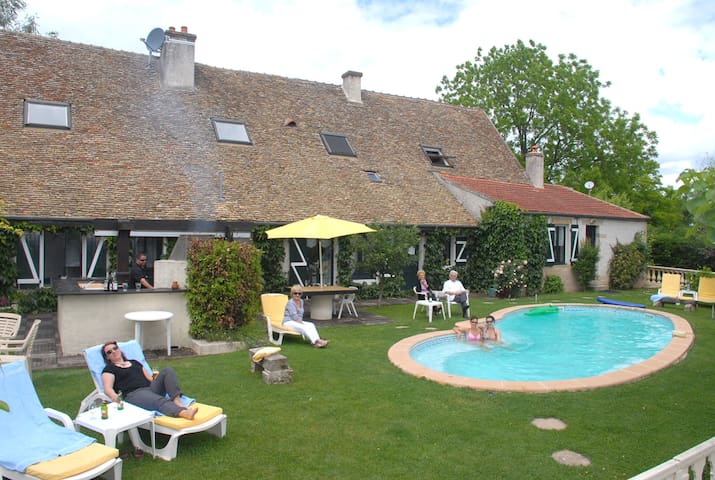 Pour la durée du salon de l'auto de Genève UNIQUEMENT Dans villa à 15mn de Palexpo (voiture conseillée). Chambre spacieuse de 15m2 avec grande armoire, lit double Pas de TV mais WIFI SDB indépendante Non fumeur Petit déjeuner compris
Room Type
Private room
---
Property Type
Villa
---
Accommodates
2
---
Bedrooms
Cessy, Rhône-Alpes, France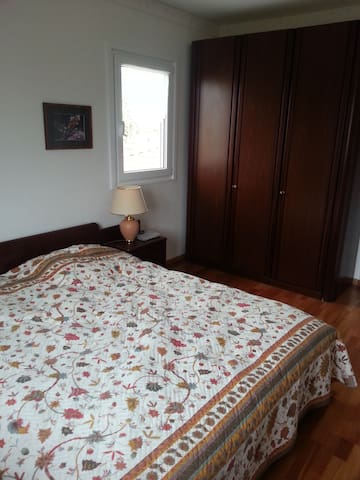 The house is bright and functional. The rooms are livable.
The area is behind the village. It overlooks the lake (2min) and is very quiet.
Room Type
Entire home/flat
---
Property Type
Villa
---
Accommodates
4
---
Bedrooms
Le Pont, Vaud, Switzerland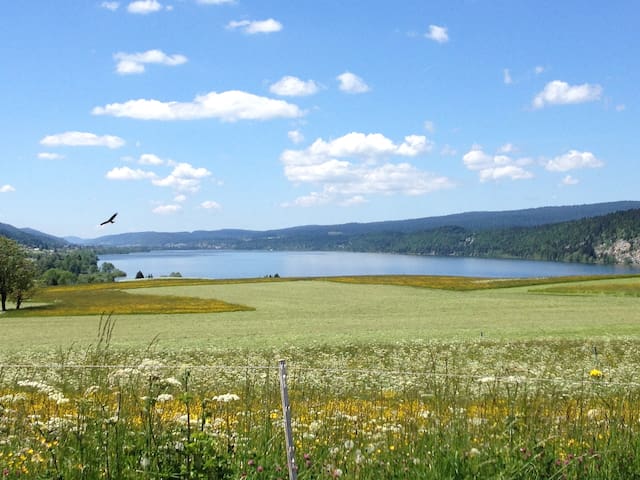 15 minutes from Geneva Airport Palexpo. bright and comfortable contemporary suite tastefully decorated with floor: Bathroom with large shower, double vanity and bathroom cabinet and toilet with window. Private terrace overlooking Lake Leman and Mont-Blanc Jura, fitted with a small table, chairs and 1 sunbed 1. Bucolic environment. (English and Italian German Speaking) Included towels, sheets. Availability of the kitchen. Coffee maker. No Internet TV goal
In contemporary house in the hills 5 minutes from Divonne-les Bains: exceptional environment for the Alps and Jura. Near Geneva and Nyon (15 minutes). Many activities nearby.
Quiet and bucolic. Cow mountain. ride. amazing views.
Nathalie and her husband did a really good job with this bedroom. The view is fantastic, there is even a small view on the lake from Dyvonne! Nathalie and her husband did really everything so that these 4 days remain unforgettable for me. Thanks again for that! Out of all the Airbnb I did, I would rank this one aa my number one !
Thomas
2016-07-11T00:00:00Z
This room was the best I found so far. The view is absolutly stunning. It is impeccably clean, modern, confortable and functional. Nathalie was always a very kind and helpfull person. This is the best Airbnb you could find in the area. I truely recommend it!
Jules
2017-01-20T00:00:00Z
The host canceled this reservation 3 days before arrival. This is an automated posting.
Eric
2016-07-20T00:00:00Z
Nathalie et toute sa famille, ont été de merveilleux hôtes pendant ce séjour trop court. J'aurai aimé avoir plus de temps à partager avec eux. La chambre et ses dépendances privatives sont vastes et confortables, décorées avec goût et simplicité, la vue est magnifique, le confort et la propreté sont parfaits. Bref rien à redire bien au contraire, je me dois de les conseiller pour toutes ces qualités.
Marc
2017-03-16T00:00:00Z
Room Type
Private room
---
Property Type
Villa
---
Accommodates
1
---
Bedrooms
Grilly, Auvergne Rhône-Alpes, France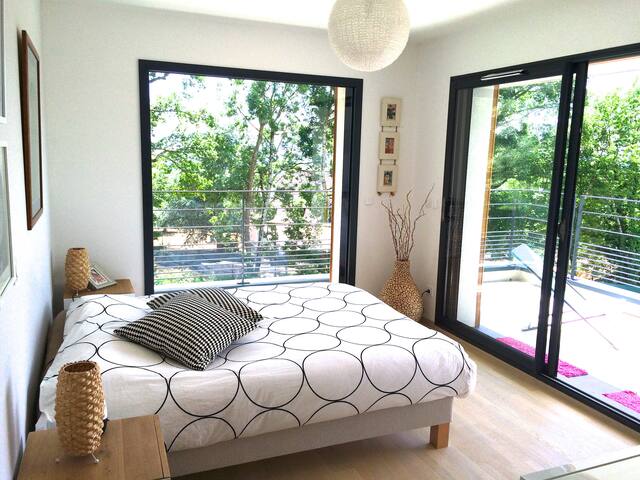 Room Type
Private room
---
Property Type
Villa
---
Accommodates
2
---
Bedrooms
Lacrost, Bourgogne-Franche-Comté, France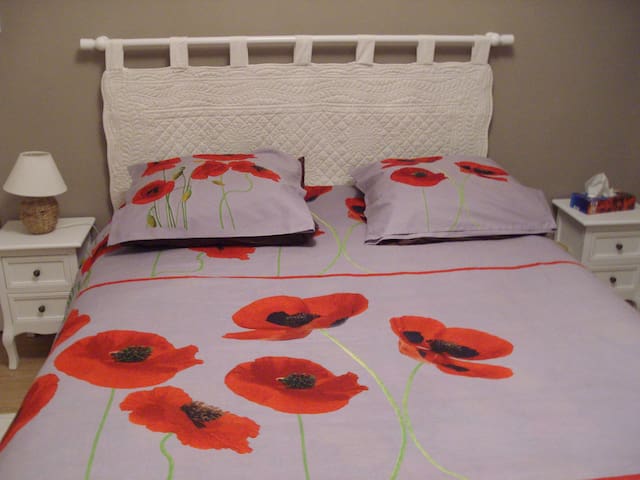 À 10 min en voiture du site clunisien de Romainmôtier et à 15min du lac de Joux avec ses randonnées pédestres attractives ainsi que parcours de vtt.
Idéal plutôt pour une personne ou couple
Quartier vraiment tres calme
Room Type
Private room
---
Property Type
Villa
---
Accommodates
2
---
Bedrooms
Vaulion, Vaud, Switzerland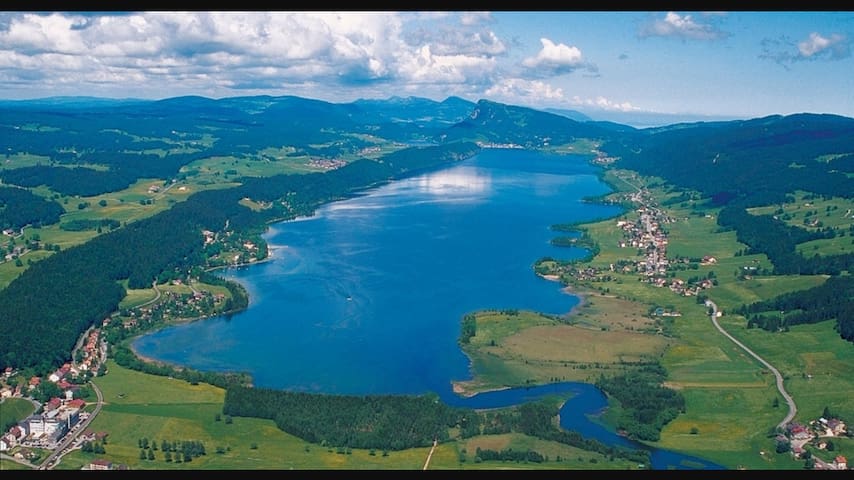 Recent villa in the Bresse countryside, 2 steps of the family farm which can be visited. Aurélie and Hervé welcome you warmly with their 3 children. House of 130 m² with open kitchen, terrace Ability to accommodate a baby and a child.
Nature lovers, this modern villa is the perfect place to mingle tranquility, greenery, farm animals ... who will gladly meet you. Thus, you will leave rejuvenated We expect you to exchange and share exceptional moments. WIRELESS
We only stayed for one night, but we enjoyed our stay with this lovely family a lot. They were very relaxed about us being in their home and very helpful. we saw the farm and our kids played with their lovely son. Well recommended!
Priscilla
2015-07-30T00:00:00Z
The whole family has greetrd us.
BARBARA
2015-07-26T00:00:00Z
Der Gastgeber hat uns sehr herzlich, freundlich und umsorgend aufgenommen. Wir haben sogar eine Führung durch den Bauernhof erhalten. Die Beschreibung hat genau zugetroffen, die Nachbarschaft bestand aus Kühen und Natur, was uns sehr gut gefallen hat. Notre hôte nous a recu cordialement, tout s´est passé dans une atmosphère amiable. La famille nous a guidé autour de la ferme. On a été dans la nature dans le calme entre les vaches ce qui nous a plu beaucoup.
Tobias
2014-08-31T00:00:00Z
Malgré notre retard nous avons reçu un acceuil chaleureux chez Aurélie. Un peu retirée , la maison est recente et offre calme et confort. Ravi de notre première expérience avec Airbnb. Nous avons rencontré une famille charmante et je n ai que le regret de ne pas être arrivé plus tot pour faire plus ample connaissance.
Martine
2015-02-21T00:00:00Z
Très bon accueil de la part d'Aurélie, Hervé et leurs enfants. Le logement était très fonctionnel. Très bonne ambiance
Anouk
2017-02-10T00:00:00Z
Bei Aurelie und Ihrer Familie hat es uns sehr gut gefallen. Wir hatten eine schöne Woche mit viel Sonnenschein und sind sehr viel mit dem Fahrrad unterwegs gewesen. Auch haben wir immer gute Tips bekommen, wo wir schöne Fahrradtouren machen konnten. Dabei ist das gute französische Essen nicht zu kurz gekommen. Besonders zu empfehlen sind dabei die überall angebotenen Mittagsmenüs mit ihren vielfältigen Auswahlmöglichenkeiten, die Nebenbei auch noch Preiswert waren. Abschließend möchten wir noch auf die Führung auf dem Bauernhof hinweisen, bei der wir viel über die natürliche "ökologische" Landwirtschaft, insbesondere Viehzucht, erfahren haben.
Walter
2013-09-09T00:00:00Z
Très bien accueilli par aurélie et sa famille. Les lieux sont calmes. Merci pour tout!
Axi
2014-09-07T00:00:00Z
J'ai été très bien accueillie par la famille d'Aurélie, tout de suite dans le bain avec une visite de la ferme. Aurélie s'est montrée disponible, et même avant que je la rencontre lorsque j'ai eu besoin d'informations par le biais du téléphone. La maison est agréable, entourée par les champs et les vaches. Le meilleur moment: admirer le coucher de soleil dans le jardin, allongée dans le transat. Du repos assuré avant que je reprenne la route! Et en prime, de quoi occuper les enfants (Pleins de jeux à disposition). Merci Aurélie et bonne continuation sur Airbnb!
Hélène
2015-08-30T00:00:00Z
Room Type
Private room
---
Property Type
Villa
---
Accommodates
3
---
Bedrooms
Servignat, Rhone-Alpes, France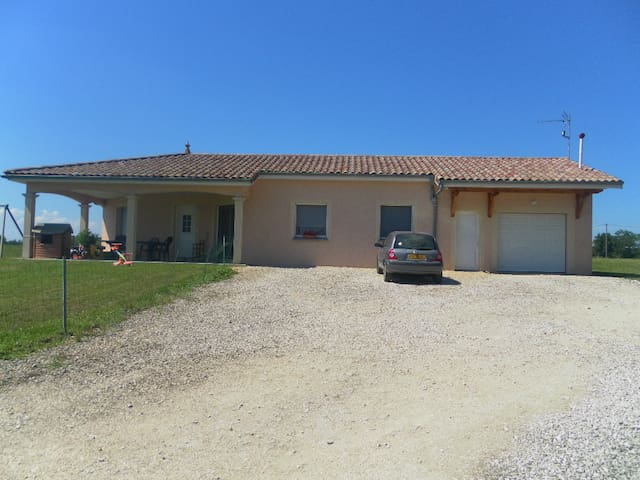 Studio 60 m2 in a bucolic calm with kitchen living / bedroom Bathroom Apartment in very good condition In the calm park with secure parking 11x5 sup hammam pool Motorway 3 kms Bourg en Bresse 10 mn Geneva 1 pm Lyon 45 mn
In condominium with pool hammam (surcharge) Football billiards TV
Near the castle Salvert
Super
Cindy
2017-03-15T00:00:00Z
J'ai passé un super moment, logement tout à fait conforme à la description et photos. Les propriétaires du lieu sont très gentils et tres accueillant! Une petite maison charmante, tout confort dans un cadre magnifique et au calme!
Stephanie
2016-10-31T00:00:00Z
Logement au calme et très bien équipé.
le tallec
2017-01-13T00:00:00Z
Super accueil, Le logement correspond parfaitement à la description. Petite maison cosy avec tout le confort nécessaire. On recommande fortement!
Franck
2017-02-04T00:00:00Z
Excellent sejour passé pret de Macon. Jean Noel et sa femme ont été de supers hotes. La dependance est tres bien equipée, avec une decoration moderne. A recommander vivement vivement !
Corentin
2017-02-28T00:00:00Z
Séjour agréable dans cette jolie maison calme et confortable. Accueil et présentation des lieux agréable. Merci encore.
Benoit
2016-09-06T00:00:00Z
Hôtes très agréables et disponibles! Quartier calme et charmant!
Coralie
2016-10-02T00:00:00Z
très bon week-end, accueil chaleureux, nous reviendrons.
Aurelien
2016-09-10T00:00:00Z
Room Type
Entire home/flat
---
Property Type
Villa
---
Accommodates
2
---
Bedrooms
Attignat , RA, France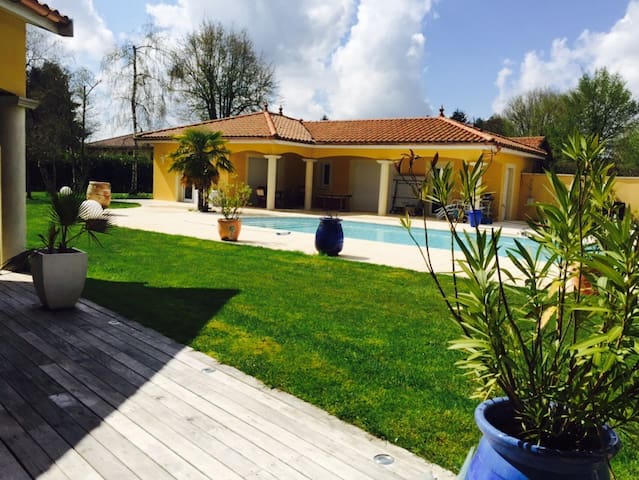 Very quiet suite(s) in exclusive property, with incredible views, overlooking Lake Geneva, the Alps and the Mont Blanc. Modern, spacious suites with bathroom, within 30 minutes from Geneva and Lausane. Close to highway entrance and railway station.
Suite 1: Spacious room with views, King size bed and private bathroom. Suite 2: Spacious room with bathroom. Baby crib available on request.
Situated very close to the Rolle Administrative Center and the Rosey International school.
I booked a suite for my parents who enjoyed it for 6 nights. They were very happy with the room (very big with sofa area), the cleanliness, the help and suggestions they received from Elisabeth and her husband. My parents could not communicate well neither in French or in English but Elisabeth tried her best to help them out with the Italian words she knew. They really appreciated! We can only recommend this beautiful place with a stunning view on the lake and mountains.
Michela
2016-10-22T00:00:00Z
What a pleasure it was to stay with Elisabeth and Marc in Rolle'. They welcomed us into their beautiful home overlooking the vineyards and Lake Geneva. So helpful in navigating the village of Rolle with recommendations :-) The accommodations are lovely and the awaiting basket of fruit and homemade lemon muffins put smiles on weary travelers. If you are looking for a quiet retreat 20 mins north of the bustle of Geneva, this is where you need to stay.
Scott
2016-06-19T00:00:00Z
These hosts, (Elisabeth & Marc), deserve in my opinion immediately the status of Superhosts! Quick response to our reservation, super warm welcome! The room: all new, very spacious, beauty-full view on Lake Geneva, well equipped, spotless clean, quiet and comfortable. All that we needed was provided! The environment around the house is that of a typical Swiss mountain village, clean, quiet, friendly and safe. It is due to people like Elisabeth and Marc that Switzerland is the way it is, the most beauty-full and pleasant country in the world! Thanks for the nice and pleasant stay!
Patrick
2016-07-16T00:00:00Z
Elisabeth and Marc we incredibly welcoming and went out of their way to help and make Martin and Jack. Great place in a beautiful location. Will definitely stay here again should we be back in the area.
Liz
2016-05-06T00:00:00Z
Very welcoming hosts Elisabeth and Marc did everything to make us feel at home.
William
2015-08-09T00:00:00Z
It was really a happy experience to living in Mrs. Elisabeth house. Everything is very clean and very tidy. Super great view from the lake. Also she is a really nice host. I am highly recommend her house to my friends.
Zhishu
2015-09-18T00:00:00Z
La chambre est spacieuse très propre dans une belle maison la vue est magnifique l'accueil chaleureux le seul bémol est que c'est un peu isolé en l'absence de voiture
Dominique
2016-11-30T00:00:00Z
Accueil plus que chaleureux d'Elisabeth et de son mari Marc. Chambre spacieuse, très propre, très confortable. Maison située au coeur des vignes, avec une vue superbe sur le Lac. Foretement recommandée.
David
2015-10-01T00:00:00Z
Room Type
Private room
---
Property Type
Villa
---
Accommodates
4
---
Bedrooms
Rolle, Vaud, Switzerland
1

–

18

of

40 Villa Rentals
Enter dates to see full pricing. Additional fees apply. Taxes may be added.