Enter your check in date in the format dd-mm-yyyy
Enter your check out date in the format dd-mm-yyyy
Listings you can book without waiting for host approval.
5 Cottage Rentals
· Beach Haven
5 Cottage Rentals
· Beach Haven
Enter dates to see full pricing. Additional fees apply. Taxes may be added.
This July and August, you can try one of these 100 highly-rated homes, at all price points, and experience a local's view of Sonoma. 24-hour check-in, Instant Book, and local wine and snacks let you just sit back and enjoy your trip.
With your own private entrance you can come and go as you like. Large room and bathroom with shower in a cottage attached to the garage. Self contained with coffee maker, mini fridge and microwave, but not a full kitchen. Use of charcoal barbecue if desired.
Everything you need to enjoy the beach with the privacy of your own space separate from the main house, yet only steps away. Barbecue and dine on the lawn if you wish. Cable TV in your room. Please note, the bed is a double, not queen size. Private access to your room. Use the lawn for sunbathing and eating or sit on the shady porch of the main house to cool off, read a book or chat. We are here most of the time and will be happy to answer questions, have a chat, etc.
Beach Haven is a lovely family seaside resort without the glitz of places like Atlantic City. It is a laid back town with lots of family entertainment and some very good dining. The ocean beach is safe and the bay offers fishing, clamming, sailing, and other watersports. You can walk to many places from our house; bicycles are usually available for you to borrow from us, or they can be rented, and are a preferred means of transportation around town. Long Beach Island has a free shuttle along the main boulevard. You are welcome to use our beach chairs if we are not using them. We sometimes have Beach Badges that you may use. We will ask for $40 if you lose a badge, which is what it costs us to replace them.
This was our third time staying at Diane and Stoke's wonderful home in LBI. We love their hospitality and they make us feel warmed and welcomed each time. Can't wait to come back again next year. Thank you for everything, as always.
Julie
August 2016
Our hosts, Diane and Stokes were charming people who were very nice and helpful. They made us feel comfortable and allowed us to use their porch which was perfect for relaxing and people watching. Their dog, Dulce, was great also.
peter
June 2016
This apartment was perfect! Great location and well kept. Stokes was an exceptional host. Thanks so much. We will be back.
Paul
October 2014
Excellent stay and would stay again. The mini apartment was perfect for our trip to beach haven. Diane and Stokes ensured we had everything we needed and were generous to let us make use of bikes, beach chairs and beach tags. The mini apartment was clean and well appointed. Thank you for a great stay!
Catherine
August 2015
The mini apartment was exactly how it was described and perfect for our little weekend getaway. Situated in a quiet part of Beach Haven it was about a 2-block walk to the beach and the bay (so perfect!!). Also, the location was about a 10 to 15 minute drive to all of the local eateries you would care to try (excellent breakfast spots, restaurants, ice-cream parlors, coffee shops and mini-golfing). Also, not having to worry about parking or paying for a spot was a bonus too, because you could park on the street next to the apartment. Definitely enjoyed the ideal location and found it perfect for our leisurely time at the beach.
Sarah
June 2015
Nice, brief stay! Had everything I needed and Diane was accommodating for my Great Dane. Adorable, incredibly comfortable neighborhood and within walking distance to lots of places on Beach Haven. A great deal.
Whitney
July 2015
My girlfriend and I had a great time in the apartment and on the island. The mini apartment has everything you need and is only a block and a half from the beach. Everything was clean and at no point did we feel cramped. This was certainly a much better option than renting a hotel room.
John
September 2014
Diane was a great host and the apartment was just what we expected. We were down for the weekend and enjoyed it very much. Diane provided us with towels and made us feel very welcome. The location was great too - less than a mile from Bay Village area. Would definitely stay here next summer!
Hilary
July 2015
Room type
Private room
---
Property type
---
Accommodates
2
---
Bedrooms
1
Beach Haven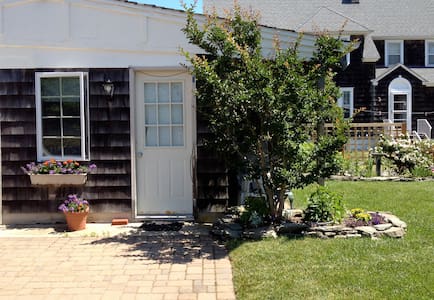 The 'Original' Tiny House.
Situated on a small slice of heaven tucked back off the main streets of the Ocean City Riviera neighborhood is our tiny bay-side cottage. Surrounded by a small white picket fence under the shade of a tall Dutch Elm is the first of ten (100 year old) "Dollhouses". This historic and very unique street is known only to locals due to its secluded location by the bay - Tiny Town. We have restored this little gem over the past 12 years with much love and adoration. Our home is not a multi-million dollar beach house, but worth more in the value of memories and hard work. Me and my 2 sons still come to use the house throughout the year and are proud to offer the special 'tiny house" experience to you. No need for cable and internet when at the shore. Wake up to the sounds of seagulls and wind-down your sun-filled day with a picturesque sunset over the bay. Disconnect from the mainland and relax to fresh salt air and sea breezes on this 7 1/2 mile long barrier island with award winning beaches. No high-rises here, just peace and privacy. French doors open to a cozy true seaside cottage with white-washed shiplap walls and vaulted ceilings. Two people can be comfortably accommodated with one adorable bedroom (double bed), one European style bathroom (walk-in) with floor to ceiling tiles, living room, and galley kitchen. Surprisingly, the home offers bright open space for only being 420 sq/ft. Decorated with unique nautical artifacts reminiscent of the old shore-side lifestyle preserving the charm of yesterday while still offering all the modern amenities. Fall back into time in comfort. Truly a place to relax and get away from it all while only a short walk away from experiencing a true Jersey Summer Holiday - Beach, Boardwalk, Ferris Wheels, Johnson's popcorn, Mac's Pizza, Mini-Golf, and much more! The best of both worlds.
The neighborhood is very quiet and is comprised of mostly homeowners, not many renters. Limited parking is a small lot across from the "Dollhouses". This is shared with the residents of Dollhouse Row. Overflow parking can be found on surrounding streets in case the lot is full. Please be respectful of the space and neighborhood. Quiet must be maintained after 9:00 p.m. Please note that Ocean City is a "dry town" (no alcohol). However, this doesn't mean that you can't enjoy a cold beverage (or 2) as long as you stay within the confines of the white pickets. Our house is a 15 minute walk / 5 minute bike ride from the beach, which also happens to be the start of the boardwalk (15th Street). We're a rock-throw from the bay, and 400 steps from the shores best sticky bun's, basketball court/playground, and Italian restaurant. Pharmacy, library, grocery store, shops, and a variety of restaurants are all a short distance away. All personal property brought onto the premises shall be at the sole risk of the renter. Owner will not be responsible for any damages to any personal property on the premises. We have no wireless internet, and only basic cable. DVD player is provided. DVDs can be picked up at local automated DVD kiosks. Kitchen is stocked with basic condiments, refrigerator, range, toaster-oven, dishes, silverware and glasses. We also provide a small propane grill. Air conditioning is provided with a wall mounted mini-split system for the HOT days. A preset hot outdoor shower is out back. Biking, boating, jet skiing, paddle-boarding, surfing, parasailing, tennis, bird watching, dune hikes, or just the casual beach-combing stroll are a few of the many outdoor activities the island has to offer.
We had a wonderful stay at Ed's Fisherman's Cottage. Ed made the check-in process very easy, he was very helpful and easy to communicate with over the AirBnB messenger. The Johnson's popcorn was a really nice detail to welcome us to the home. Would recommend to friends and family and would love to stay again!
Patricia
July 2016
The house was just as described - small, clean and perfect for our needs. We had a great stay.
Lisa
September 2016
This cottage is like something out of a novel. It's absolute perfection. Ed obviously poured his heart into the remodeling and care of this tiny abode. Antiques fill the walls and give the space a cozy and home-like feel. We enjoyed looking at all of the treasures! The cottage sits on a small street tucked away from the main roads. It was quiet and we enjoyed listening to the seagulls flying overhead in the morning. The neighbors were welcoming and this added to the charm of the stay! Ed left us some treats to enjoy as well as some toiletries and tips on places to visit while in Ocean City. He was also prompt in returning emails and correspondence. We have told our friends about the cottage and hope to visit again soon. This was a very restful and memorable vacation.
Mike
July 2016
Wonderful place to stay. Fun, interesting, and creatively decorated. You will love this house. It's a gem.
Fred
August 2016
Loved the location. This may be the cutest street in OC. Ed did a wonderful job creating a charming retreat with modern amenities. Having a yard was an added benefit.
Elaine
August 2016
Great way to spend the weekend in OC. House was as nice as it seemed in the pictures - even more perhaps in person as you could see the thought and detail which went into the decor and experience. The location was great as well - easy to get to the beach and Boardwalk but on a quiet street. We would definitely go back any time we want to go down the shore
Matt
September 2016
Ed was a wonderful host! He was very communicative and friendly. He even included travel-sized toiletries and Johnson's popcorn! It was great that beach tags, an umbrella, and chairs were included. The cottage was exactly as described/ pictured and was very clean, comfortable, and updated. It's close to the bay and a 15 minute walk to the 15th Street Boardwalk/ beach. Thanks, Ed!
Bridget
July 2016
The Little Fisherman's Cottage was the perfect spot for a jersey shore get away. conveniently located close to everything but not too close, comfortable, cozy and charming. I will try and stay here overtime we come to Ocean City!
hilary
August 2016
Room type
Entire home/flat
---
Property type
---
Accommodates
2
---
Bedrooms
1
Ocean City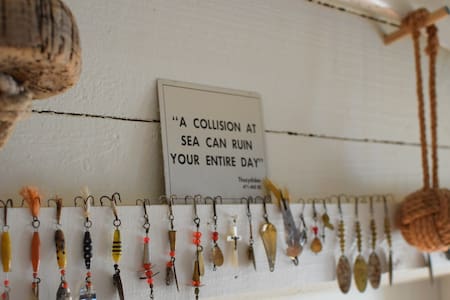 At Surf & Stream guests can enjoy our Luxury Park Model Cottages. Suitable for a family of four, campers can take in the beautiful landscape and scenery while also enjoying on-site amenities and our convenient beach location.
Each Cottage features a Private Deck for outdoor dining and lounging. Upon entering the Sunroom from the Deck you will find a space which can accommodate a Desk/Work Area, Dining Area and also a Seating Area for relaxing conversation and TV viewing. This area can have the option of having a sleep sofa for overnight guests. A pair of swing set patio doors separate the Sunroom from the fully equipped Kitchen which includes a washer and dryer and Bathroom. The Park Model Cottage is available with either a One Bedroom, Two Bedroom, or One Bedroom with a Loft. This portion of The Cottage features cathedral sloped ceiling, heating, air conditioning, ceiling fans, recessed halogen lighting, wall sconces, stereo AM/FM/CD and pleated window shades. On site amenities include: shuffle board, bocce, volleyball, playground, swimming pool, and access to our general store. Other attractions in the area include: Seaside Heights Beach & Boardwalk, Point Pleasant Beach & Boardwalk, Six Flags Great Adventure, Sesame Place, Jersey Shore Premium Outlets, Laurita Winery, Bey Lea Golf Course, Lakewood Blue Claws Minor League Baseball Stadium and more! Our main goal is to keep our guests happy. We love interacting with them and always make sure that their is fun things to do on site to keep everyone having fun. If you ever need assistance, myself or someone from our staff will be there to help.
All our guests at our campground are like family. We love seeing our recurring guests keep coming back each year and we welcome fresh faces with open arms. There are always fun events hosted in Toms River not to mention our close proximity to all the best shopping, beaches and nightlife at the Jersey Shore. You can't beat a vacation at the Jersey Shore! There are many cab services in the area for guests to get around. Contact the front desk for more information. Park Model Cottages are available for sale or for rent. Call the campground for additional information or visit our website for more pictures and details. Guests can also reserve a tent site and RV site.
Wonderful stay here! Came with a few friends and had a perfect stay in the cabin. Very clean and beautiful inside.
Caitlyn
September 2016
Very clean, Private and Quiet. Thanks Ray!!! Loved it!
KB
November 2016
Amazing place! Impeccable! Our stay at Raymon's cottage was the perfect weekend scape. Thank you Raymond for your hospitality.
Lilliana
September 2016
My family stayed here in October to visit my grandmother in Toms River. There were some maintenance problems the first evening. We didn't have heat or hot water. The heat was resolved immediately but my husband took a cold shower in the morning. I lacked the resolve to try! Ray was super nice and fixed everything pretty quickly.
Darcy
October 2016
We had a good time here. Staff are very friendly and helpful; Ray met us personally for check in and showed us around. The cottage is comfy for 4 and the kitchen is large and nicely furnished compared to an extended stay hotel. Washer and dryer unit in the cottage, which is a big plus. A few minor maintenance problems were addressed quickly. The campground has stuff to do like a 9 hole mini-golf course, swimming pool, basketball hoop, etc. The campground general store sells a number of supplies, and there's a shopping center nearby with groceries and a Home Depot. Drive to Seaside beach is easy and takes about 25-30 minutes. Unlike many campgrounds, they have free WiFi and DirectTV, handy for staying in touch or relaxing. A few things to be aware of. First is the window A/C unit keeps the living room and dining room comfortable, but doesn't cool the whole cottage. We found the best option was sleeping 2 in the living room on the daybed/trundle and 2 in the main bedroom (using the provided tower fan for cooling), leaving the 2 beds in the loft unoccupied. Second is the three cottages are amidst 100+ quasi-permanent RV sites; some sites have built fences, decks, porches, sheds, etc., so it feels more like a small village. Weekdays were quiet, but a lot more people show up on the weekends, so it can get kind of busy and boisterous. If you are looking for a "Fortress of Solitude" campground experience, this probably isn't for you. But an active family with kids along should have a fun experience at this home away from home.
Kenneth
July 2015
Staying at Raymond's cottage was great! The staff members of the campground were nice and welcoming. The cottage was neat, and it had all the necessary items for our stay. The communications with Raymond were clear and he was super helpful with everything upon our arrival. We will definitely come back!
Nico&Diana
July 2016
The host canceled this reservation 22 days before arrival. This is an automated posting.
Crystal
Room type
Entire home/flat
---
Property type
---
Accommodates
6
---
Bedrooms
2
Toms River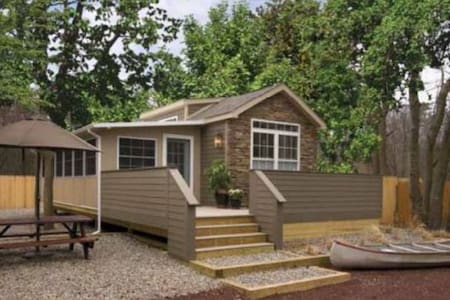 My place is close to Long Beach Island , the beach, restaurants and dining, great views, state forests, shopping, and the boardwalk . You'll love my place because of the location, the family friendly atmosphere, the people, and cleanliness . Any questions please feel free to call (609)-296-7400. Or visit our website and Facebook, we have many more cabin options available for rent. https://sea-pirate.com/
Room type
Entire home/flat
---
Property type
---
Accommodates
6
---
Bedrooms
2
Eagleswood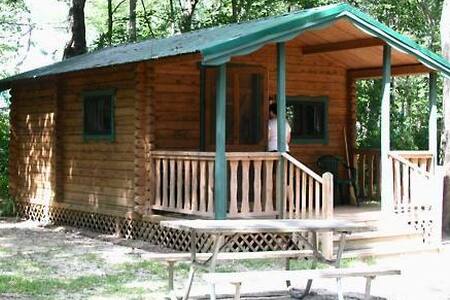 RARE FIND at the south shore. This unique cabin is tranquil and very private, with an estuary/marsh right in back yard. Distant water-view of Barnaget Bay. Close to all the shore excitement but far enough away to relax and listen to the birds. We have French doors that open to the back deck which is the best part of the cabin.
This is a very RARE FIND log cabin located in south shore area. The cabin is very tranquil and relaxing, and has an estuary/marsh right in the back yard. There is plenty of bird watching, an osprey nest, ducks and an occasional turtle. You can see and hear the boats pass from the distant water view of Barnaget Bay Mantoloking Beach passes Initially once or twice prior to rental- I am a very relaxed/low maintenance individual. Maybe once during if anything is needed Access to everything, very quiet and private You can ride your bike to beach but it's over the bridge and can be far if you don't ride often. You should have a car because there is really no other transportation. There is a train but you would have to drive there. There are taxis as well No loud music and parties, no smoking, pets are allow and I do need to know ahead of time. Mantoloking Beach passes Initially once or twice prior to rental- I am a very relaxed/low maintenance individual. Maybe once during if anything is needed Access to everything, very quiet and private You can ride your bike to beach -it's over the bridge and can be far if you don't ride often. You should have a car because there is really no other transportation. There is a train but you would have to drive there. There are taxis as well No loud music and parties, no smoking, pets are allow and I do need to know ahead of time, 8 mins to Point Pleasant Amusement park, Aquarium and Tiki Bar 20 mins to Seaside Heights A state of the art park is located right up the rd by the Mantoloking Bridge. There is also great fishing and crabbing as well. I do not have the supplies for this. 4 Mantoloking Beach passes Initially once or twice prior to rental- We are a very relaxed/low maintenance family and trust that you will take care of the Cabin like it was your own.
Helena's Cabin has access to everything, very quiet and private. We are close to Point Pleasant Boardwalk and so much more. You do need a car to get around because there are really no other transportation, however, you can take car service everywhere and its pretty reasonable. You can ride your bike to beach but it is over the bridge and can be far if you don't ride often. You can walk to the state of the art playground. There is a crabbing/fishing by the Mantoloking Bridge. There is a train in point pleasant but you would have to drive or take a taxi there. That train takes you more south NJ and to North NYC but it can be a long ride. I do believe there is a deal with uber cars and Jenkinsens boardwalk (code -Jenkinsens) for $10. off but you would have to call them to confirm No loud music and parties, no smoking, pets are allow as long as I know ahead of time. We are very animal friendy. The cabin does shakes a little when the washer machine runs or high winds but do not be alarmed, this is totally normal. We have all utensils,dishes, pots and towels, however, I do suggest you bring your own beach towels.
Very nice place to stay. - fantastic location, very quiet - the view is absolutely fabulous over the marsh in front of the cabin. If you take some binoculars you can observe birds nesting and other different animals. - the rooms are big and the deco is very pleasant. - the beach is very close and the supplied beach badges are more than welcome. Generally the plumbing needs some servicing.
Valerie
July 2016
Helena was great about communicating both before and during the stay. The house is rustic and cozy, with an amazing back porch that looks over the bay. The beach is short drive away. The views are great and it feels very private and peaceful. It doesn't actually have a hot tub, but rather a large bathtub. There were a few small things that we wished the house had (a working DVD player, a few cooking utensils we needed) but as long as you're flexible and plan ahead to bring what you need it's a great place to stay.
Rosina
July 2016
Room type
Entire home/flat
---
Property type
---
Accommodates
5
---
Bedrooms
3
Brick
1

–

5

of

5 Cottage Rentals