Notre maison individuelle de plain-pied est située à 10 mn à pied de la gare, 5 mn du centre ville et 10 mn du centre de formation SNCF. Une maison simple, familiale avec un accueil convivial.
Notre maison individuelle de plain-pied située à 10 mn à pied de la gare (possibilité de prise en charge ou de dépose à la gare, si nous sommes disponibles) et à 10mn à pieds du centre de formation SNCF. Nous sommes situés dans une rue calme à 5mn des commerces. Nous vous accueillerons dans le jardin l'été et au coin de la cheminée l'hiver. La chambre de 12 m² est à l'intérieur de notre domicile. Elle dispose d'une télévision. Notre cuisine est à votre disposition. La salle de bain est celle de la famille. Son occupation sera donc partagée. Vos horaires seront prioritaires sur les nôtres. La salle de bain est la seule pièce que nous n'avons pas encore rénovée. Elle est fonctionnelle mais en attente de travaux. Chambly (10 000 habitants), petite ville à la campagne à 35 mn de Paris en train. Son église de 1248, ses 3 places et ses 2 cours d'eau et notre chez nous au bord d'un de ces ruisseaux.
A pieds : A moins de 5 mn de la maison : Pizzeria, brasserie et restaurant japonais A 5 mn : Superette. A moins de 10 mn : le centre de formation SNCF A 10 mn : la gare SNCF de Chambly
très bon séjour dans une famille très accueillante , et dans un quartier très calme, proche du centre ville . je recommande ++++
Greg
2015-04-25T00:00:00Z
2 ème semaine toujours aussi agréable. Parfait.
Frédéric
2016-09-23T00:00:00Z
Acceuil et séjour chaleureux. Maison agréable, propre et conforme à l'annonce. Quartier très calme, à proximité des commerces et de la piscine. Très bon séjour à Chambly.
Raphael
2014-12-05T00:00:00Z
Super accueil et super maison dans un quartier calme ,la famille est très sympathique merci pour ce séjour je le conseil sans probleme.
sebastien
2015-11-07T00:00:00Z
Hôtes très sympathiques et très accueillants.
Stéphane
2015-08-29T00:00:00Z
Caroline et toute sa famille sont des hôtes particulièrement accueillants, tout à fait dans l'esprit chambre d'hôtes. En formation sur Chambly, j'ai beaucoup apprécié le logement proposé (complètement conforme à l'annonce) avec télé et wifi, le jardin au bord de l'Esches, la proximité de la gare et des commerces. La chambre et toute la maison sont hyper clean. Les hôtes font tout pour qu'on se sente bien. Vraiment parfait.
Christina
2014-09-20T00:00:00Z
Très bonne accueil, j'ai passé un bon séjour si j'ai l'occasion je reviendrai
zelk
2015-03-14T00:00:00Z
C'est une première expérience concluante. Caroline et sa famille sont hyper accessibles et font le maximum pour que votre séjour se passe bien. Même le chat est agréable :-) Beaucoup de convivialité et d'échanges durant cette semaine ont fait que cette dernière était fort agréable. Et la proximité du centre de formation est un plus. À recommander !!!
Frédéric
2016-09-09T00:00:00Z
Room Type
Private room
---
Property Type
Bed & Breakfast
---
Accommodates
2
---
Bedrooms
Chambly, Picardy, France
Au sud de l'Oise, nous vous accueillons avec grand plaisir dans nos chambres d'hôtes.
Room Type
Private room
---
Property Type
Bed & Breakfast
---
Accommodates
2
---
Bedrooms
Neuilly-en-Thelle, Picardie, France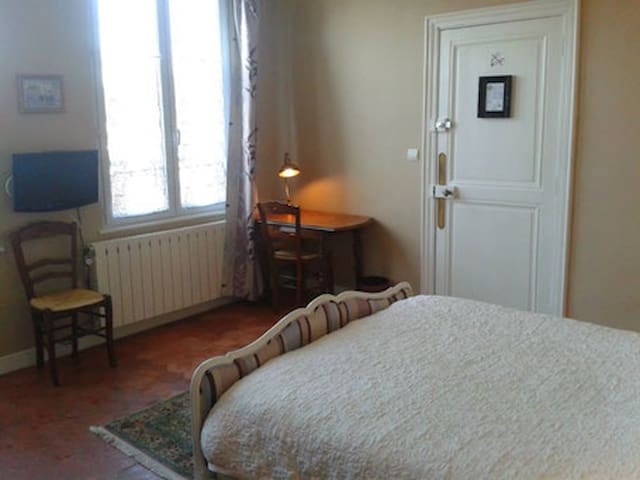 Mon logement est proche du centre ville et des restaurants. Vous apprécierez mon logement pour l'emplacement et les gens. Mon logement est parfait pour les couples, les voyageurs en solo et les voyageurs d'affaires.
Seconde réservation chez Patricia qui s'est encore très bien passée. Je recommande vivement.
David
2016-12-07T00:00:00Z
Accueil sympathique, chambre agréable. Seul petit bémol, manque un chauffage dans la sdb.
Loïc
2017-01-27T00:00:00Z
J'étais de passage pour un mariage donc la nuit a été courte, dancefloor oblige. C'était le lieu parfait pour cette occasion. Proche de la réception, Facile d'accès en voiture. Maison agréable et très bon accueil de Patricia, de sa famille et de son chien
Camille
2016-09-04T00:00:00Z
Nous (mon mari et moi) avons été très bien accueillis par Patricia, nous ne sommes restés qu'une nuit, nous étions de passage dans la région pour le week-end. La chambre est un peu rustique mais très propre et confortable, avec une salle de douche privative, au dernier étage de la maison. Merci à Patricia et son mari pour l'accueil chaleureux.
Oriane
2016-10-16T00:00:00Z
Hôtes très sympathiques et disponibles. Chambre calme dans très jolie demeure familiale. Possibilité de parking. Je recommande sans hésitation...
France
2016-07-06T00:00:00Z
Mon séjour chez Patricia s'est très bien passé. La chambre est confortable et spacieuse. Je recommande
David
2016-12-02T00:00:00Z
Patricia mi ha accolto calorosamente fornendomi ogni spiegazione. Bellissima Casa altrettanto Bella famiglia , il posto è centrale con comodo parcheggio tutto come descritto , 25 minuti dallaeroporto Di beauvai.
miki
2016-07-31T00:00:00Z
Room Type
Private room
---
Property Type
Bed & Breakfast
---
Accommodates
2
---
Bedrooms
Méru, Nord-Pas-de-Calais Picardie, France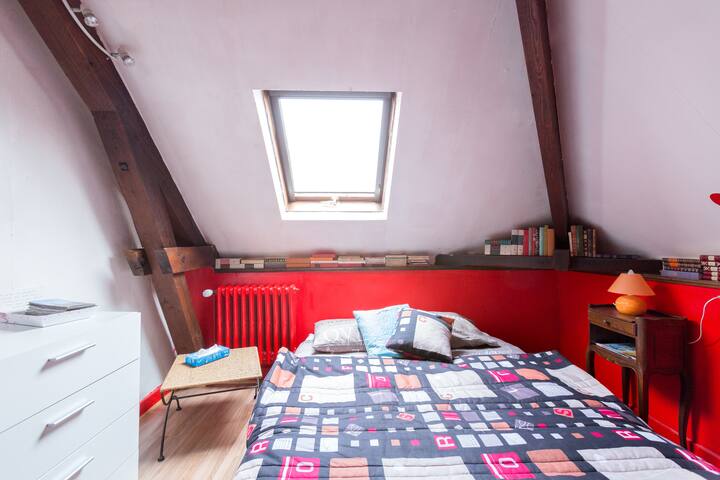 We offer a room in our large family home, with dinner in the Family. Our house is located in Meru, a small provincial town. The house is located 350 meters from the city center, 120 meters from the station, near the exit A16, 26 km from Beauvais Airport, 50km south of Paris (50 mins by train), 45 minutes from Parc Asterix . If you are 3 or 4, we have a second chamber (see the site)
The room is in a large white house. On summer days, you have access to the garden to take a nap, spend a quiet moment.
The house is 200 meters from the city center, and 50 meters from the station. Meru is a small provincial town where you can visit the Pearl Museum, you go to its completely renovated movie, read a book at the library, go for a walk or run to wood, from visiting the Ile de France and the Picardie.
Logement très convivial et famille très accueillante, sdb privée dans la chambre avec parking pour la voiture
Jean-Charles
2017-03-01T00:00:00Z
Mieux vaut tard que jamais pour laisser un commentaire ! La famille de Patricia est très accueillante et aux petits soins, les repas étaient délicieux, la propreté irréprochable et une chambre confortable avec sdb privée. Je recommande !!
Mohamed-Amine
2017-03-03T00:00:00Z
Un super accueil dans cette famille adorable, une chambre très confortable dans une belle maison, je recommande ! A bientôt !
Alexis
2016-10-13T00:00:00Z
Très bon accueil ambiance familiale très sympathique avec partage d un bon repas je reviendrai avec plaisir
Gilles
2016-04-20T00:00:00Z
Tout simplement parfait! Famille accueillante et souriante. Agréables moments passés avec Patricia et sa famille lors du dîner et dans le jardin. La chambre est confortable et spacieuse. Si l'occasion se présente je reviendrais avec plaisir. Merci encore de votre accueil!
Pierre-Henri
2016-06-18T00:00:00Z
Chambre très agréable, propre et calme avec sa salle d'eau . Patricia est très sympathique et accueillante. Elle sera au petit soin avec vous et vous pourrez passer de bons moments lors des dîners en famille ! Je n'ai rien d'autre à redire sur mon séjour que recommander cette hôte. Merci
Audrey
2016-02-12T00:00:00Z
J'ai été très bien accueillie chez Patricia et sa famille. Vraiement à proximité de la gare, Patricia s'est assurée que je trouve mon chemin. Bon rapport qualité/prix.
Miguel
2016-09-27T00:00:00Z
Nous avons été très bien accueilli par Patricia et sa petite famille !
Fanny
2016-04-21T00:00:00Z
Room Type
Private room
---
Property Type
Bed & Breakfast
---
Accommodates
2
---
Bedrooms
Méru, Picardie, France
A haven of tranquility so close but so far away from Paris, in a village surrounded by fields overlooking the ancient forests of Chantilly, Senlis, an ancient Picard house that reflects a passion for art and design.
On a typically Picard style, our home offers a relaxed and bucolic atmosphere where you will feel at home upon arrival. The decor reflects our admiration for artists and artisans, designers of the past and present. Outside, the garden reveals all its magic through the seasons. Early in the season, we go our Mongolian yurt for long summer evenings In the living room stands a large open fireplace that we light from the first shivers to warm sweet friendly evenings. Parking is private and there. Originating in Britain and Chile and resident in the area and Paris for many years a multicultural family, we will be happy to help you discover our beautiful region, its natural and cultural beauty and numerous sporting activities all meadows.
We are only 47 kms from Paris for a weekend in the green and 15m minutes from Chantilly with its forests and castles stables museums, equestrian activities and numerous golf courses. At 15 minutes from Isle Adam and markets and beautiful banks of the Oise, Auvers sur Oise and to follow the footsteps of the Impressionists.
Room Type
Private room
---
Property Type
Bed & Breakfast
---
Accommodates
2
---
Bedrooms
Crouy-en-Thelle, Picardie, France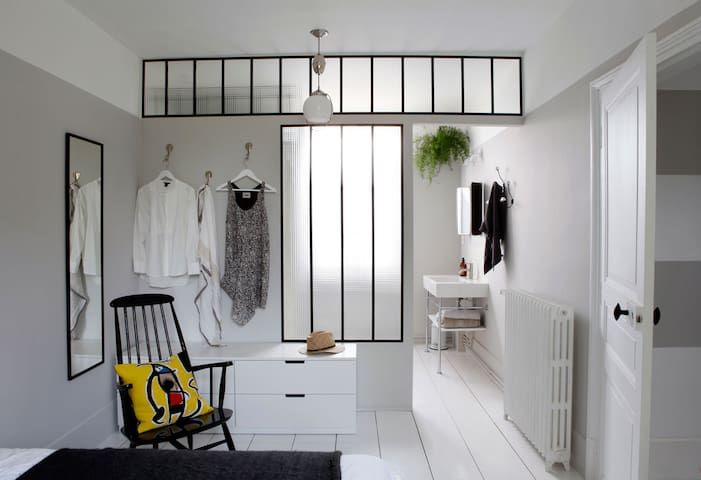 Dans un village au milieu des champs qui surplombent les anciens forêts de Chantilly dans ancien maison Picard, venez flâner dans le jardin de herbes folles et de fleurs sauvage, vous réchauffer au feu de cheminée et gouter au petit dej Anglo Franco
Cette grand maison Picard en briques et de pierres témoigne d'un passé préservé depuis deux siècles et d'une admiration pour les artistes et artisans, à laquelle s'ajoute notre passion pour l'art et le design des pays du nord. Une grande cuisine ouverte située au coeur de la maison, ou nous vous propose le petit déjeuner Anglo Francais que vous pourrez emporter dans le jardin selon vos envies. Café fraîchement moulu et thés en libre-service dans la cuisine Vous pourrez profitez du salon ,pour jouer, réfléchir auprés du feu, ou travailler,lors des soirées d'hiver. Vous apercevrez sûrement l'un de nos deux chats chasser les taupes aux milieu des herbes folles et fleurs sauvages du jardin. La buanderie est à votre disposition pour repasser vos tenues de cérémonies et réunions. Notre maison d'hôtes dispose d'un parking privé dans la propriété.
Room Type
Private room
---
Property Type
Bed & Breakfast
---
Accommodates
2
---
Bedrooms
Crouy-en-Thelle, Picardie, France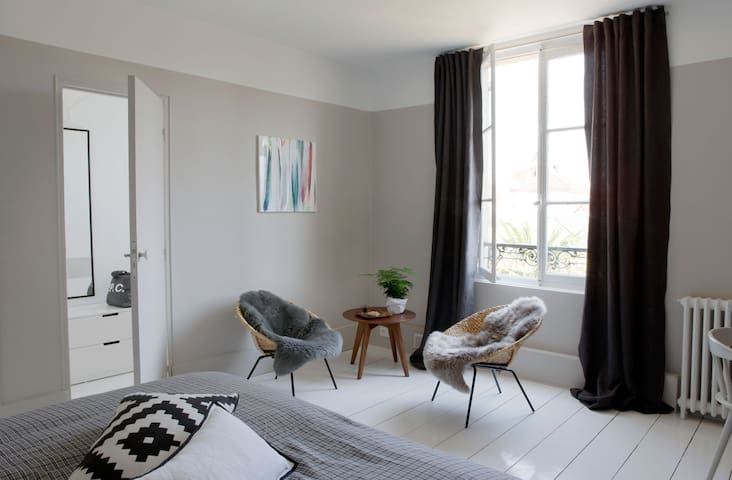 Impressionist valley, charming village of Vexin, 45 minutes from Paris by direct or road train. In a property, quiet house, independent including the ground floor a large bedroom and a bathroom, mini kitchen open into the room, 2nd bedroom upstairs.
"Little House" is perfectly calm. While in the village center, in front of a cafe and gourmet restaurant very friendly, we are far from the noise because in the middle of a beautiful garden. The house has 2 bedrooms and a nice little bathroom. The kitchenette in the room. It is perfect for warm up or prepare a good breakfast or a picnic. There is no oven (plates and microwave). In the village there is a well-stocked grocery and 3 restaurants .. The house has 2 bedrooms: On the ground floor: 1 double bed Upstairs: 4 beds Sheets and towels are provided.
In the village center opposite a lovely restaurant. A Valmondois, there are also two museums open on weekends. We are 5 minutes from Auvers sur Oise, the country of Van Gogh and 5 minutes from l'Isle Adam.
We had a wonderful time at Anne's place in Valmondois. The house was lovely with a very nice big garden, the environment beautiful and Anne very welcoming. We could even hitch a ride to the nearby village of L'Isle-Adam! She spoiled us with homemade soup, fresh tomatoes and delicious croissants. There's a nice little grocery shop at about 100 metres and a lovely restaurant at 200. The train station is a leisurely 20 minute walk and brings you to Paris in 45 min, two times per hour. We really recommend this place to everyone who wants to be near Paris, but stay in a nice and quiet village.
Angelique
2015-08-08T00:00:00Z
The host canceled this reservation 34 days before arrival. This is an automated posting.
O in Paris
2016-04-03T00:00:00Z
This house is simple and clean in a beautiful area. The price is really wonderful for the spaca and feeling of freedom you get. Furthermore is Anne a very gentle and warm person.
Leo
2015-08-16T00:00:00Z
We arrived from Holland by car ... and with the traffic it's hard to tell our arrival. Anne made sure that we would found all the info to get into the BnB. Anne is a relax and a open landlady. She speaks very well english.
ishele
2016-04-15T00:00:00Z
Had a great stay with Anne for a few days whilst we visited Paris and Disneyland with the family. Would love to come back another day! Was perfect for us - a lovely independent house and use of the garden, and Anne is a great hostess. Thank you!
simon
2016-07-31T00:00:00Z
We had a fantastic time at Annes petit maison. We really enjoyed the garden which is very beautiful and peaceful. Perfect for relaxing. Anne was away during our stay, so we only met her on our day of departure. She is lovely, and a great person to chat to.
Nicole
2015-05-10T00:00:00Z
My wife and I and small children wanted to disappear into the French countryside for a few days and this was perfect! I also had to do some work in Paris and I was able to take the train in very comfortably. We could not have been happier with this cottage and with Anne's support on our travels. She welcomed us with apples from the apple tree and a delicious bottle of wine. (I actually bought the same bottle to bring home with us) it was comfortable and cozy and inviting with a beautiful garden for the kids to romp in. Just terrific – I could not recommend this place enough; close to Paris and nestled in a beautiful area. thanks, Anne!
Tre
2015-10-06T00:00:00Z
Lovely! Anne was a wonderful host and went above and beyond, including welcoming us into her personal home on two occasions - once for an emergency phone call and once to allow us to use her laundry facilities! The guest house is adorable, exactly as pictured and equipped with towels, toiletries, coffee, tea, and cooking necessities. Wifi is available in some areas of the cottage and strong in the courtyard shared with Anne's house. We loved Valmondois and would happily return!
Amy
2015-10-24T00:00:00Z
Room Type
Entire home/flat
---
Property Type
Bed & Breakfast
---
Accommodates
6
---
Bedrooms
Valmondois, Île-de-France, France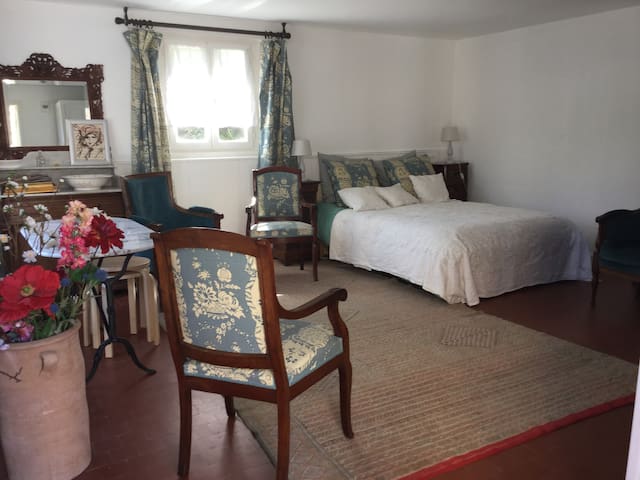 Ancienne grange du 19ème siècle transformée en maisonnette au charme campagnard (cheminée, coin cuisine, chambre en mezzanine etc.), située dans un jardin arboré et clos, la "Grange" est le point de départ idéal pour la découverte des nombreux sites des Pays de Thelle et de Braye. Parfaite aussi pour un séjour romantique au calme. Petit déjeuner complet possible avec supplément de 5 euros par personne.Pour tout séjour d'une seule nuit, le linge de lit n'est pas fourni, à vous de prévoir.
Garden furniture, barbecue, children's playground, swimming pool are available to my guests and our friends the dogs are accepted.
In a village with all amenities (supermarket, doctor, pharmacy ....)
Our stay in La Grange was short (1 night) but pleasant. Lionelle and her little dog welcomed us warmly and showed us the place. She was very helpful and accommodating. La Grange is perfect for a couple: it is not very big inside, but met our requirements. You have access to a huge garden which has a pool and several tables and chairs where you can enjoy the sun. The kitchen has everything you need (a refrigerator, a two-hob cooker, a microwave, a kettle, a coffee maker, cutlery and dishes etc). The bed is on a mezzanine upstairs, above the living room/kitchen area. Overall we had a nice stay and we recommend Lionelle's place to anyone.
Aurélie
2016-09-05T00:00:00Z
très bon accueil et très bonne communication avec Lionelle. maison de caractère et fonctionnelle. merci beaucoup et à bientôt.
Marc
2016-10-16T00:00:00Z
Merci pour cette petite pause détente :-)
fabrice
2016-10-28T00:00:00Z
Lionelle est une hôte très sympathique et arrangeante. La communication avec elle a était agréable et rapide. Nous avons merveilleusement bien étaient accueillie et en prime des confitures maison pour le petit dejeuner nous attendaient. "La grange" est un endroit charmant et bien équipé, avec un magnifique jardin où nous avons eu plaisir à nous détendre et mon chien y était comme au paradis, c'est très grand et totalement clos. Je recommande et j'y retournerai surement lorsqu'il fera beau pour profiter de la piscine.
Karima
2016-10-09T00:00:00Z
Merci pour ceux court séjour
Johan
2016-12-06T00:00:00Z
Petite grange tres tres bien confortable je le recommande et y retournerai si besoin
Cathy
2017-02-12T00:00:00Z
Super logement
Jeremy
2017-03-04T00:00:00Z
maison accueillante dans un endroit calme . très bon séjour
celine
2017-02-05T00:00:00Z
Room Type
Entire home/flat
---
Property Type
Bed & Breakfast
---
Accommodates
4
---
Bedrooms
Sainte-Genevieve, Picardie, France
Belle-Église - Airbnb
:
Average

4.61

out of

5

stars from

88

guest reviews
1

–

8

of

8 Bed & Breakfasts
Enter dates to see full pricing. Additional fees apply. Taxes may be added.