Recently renovated holiday house with a kitchen, bathroom, living room and bedroom. In the center of Bergambacht in the middle of Holland with restaurants, supermarket, bike rental. Close to city Gouda and bus connections to Rotterdam and the coast.
Our guesthouse is located in the center of our village Bergambacht, next to the church and the main street with a lot of little shops. The supermarket is 200m from the guesthouse (2 min walk). The nearest bus stop is at 200mtrs. There a kitchen available with a diner and a separate living room. Upstairs is a bedroom with a double bed and an extra bed (one person). The couches in the living room can be converted to 2 extra beds (for in total 2 persons). A cot for the little ones is available if needed. There is a fence around the garden.
In our village we have a couple of great restaurants, a few minutes walking from the guesthouse. It is an authentic village in the farmlands (the green heart of the Netherlands, situated in the center sorrounded bij all the great cities such as rotterdam, amsterdam, utrecht and Leiden) with many nice shops, bike rental, 2 supermarkets and a (flour) mill. There are a lot of Walking- and bicycle routes in the area.
Bea's place is nicely located in a small authentic town. It is comfortable and quiet and handy to the local lovely countryside.
Chris
2016-12-23T00:00:00Z
We had a fabulous time staying at Bea's vacation home. It served as an excellent base to explore local communities and cycle beautiful bike routes (e.g., Vlist river, polder trails, Lek dike). The home is close to shopping, and the bus station is only a short walk from the house. The excellent public transportation system will quickly take you to major attractions in southern Holland. My wife and I greatly appreciated the layout of the home, especially the separation of the bedroom from the living area. The home is clean, secure and private. Also, we enjoyed the authentic village life in Bergambacht. We fueled our daily trips with tasty baking purchased at the many bakeries in the area. Bea is a wonderful host; she made us feel welcome and went out of her way to answer our questions. We would definitely stay at Bea's vacation home again! We recommend it for both exploring the larger community and for having an authentic Dutch experience.
Hank and Faye
2016-04-25T00:00:00Z
Yes indeed, a very convenient situated location for visiting Amsterdam, Utrecht, Rotterdam, Hague and of course Gouda. The host, Bea, is so eager to help if needed. She helped us to get a better internet connection. The location is very well outfitted, 4 people can easily accommodate there. I fully recommend this location. If I only have the possibility, I'll come back there. Ja inderdaad, een zeer gunstige locatie gelegen voor een bezoek aan Amsterdam, Utrecht, Rotterdam, Den Haag en natuurlijk Gouda. De gastheer, Bea, is zo enthousiast om te helpen als dat nodig is. Ze hielp ons om een betere internet verbinding te krijgen. De locatie is zeer goed uitgerust, 4 personen kunnen er gemakkelijk geschikt. Ik volledig aanbevelen deze locatie. Als ik alleen de mogelijkheid, ik zal er terug komen.
Cosmin Alexandru
2015-10-30T00:00:00Z
We loved this place. We stayed the first 2 days of our trip and the last 2 days. It is a beautiful place to stay and we love the village. Bea was always there to answer any questions.
Kelley
2016-10-22T00:00:00Z
Herzlich willkommen.
Shuxin
2017-01-02T00:00:00Z
Sehr schönes Haus und sehr schöner Garten. Die Haus Besitzerin War sehr nett und hilfsbereit. Bergambacht ist ein sehr schöner ruhiger Ort es gibt viel Grün und auch sehr viele Läden es befindet sich von rotterdam 20 min mit dem Auto. Ich empfehle es weiter.
Rocco
2016-01-05T00:00:00Z
Pobyt u Bea splnil naše očekávání. Prostorný, útulný a čistý domek se samostatným vchodem v příjemném a klidném prostředí s krásnou zahradou. Hostitelka byla velmi milá, vstřícná, diskrétní a ochotná nám v případě potřeby pomoci. Ve vesnici bylo spoustu obchodů , restaurací a cyklostezek. Místo má výhodnou polohu pro návštěvu dalších míst jako město Gouda , Rotterdam , Haag , větrnných mlýnů Kinderdijk. Pobyt se nám velmi líbil a všem toto místo pro rodinnou dovolenou vřele doporučuji.
Ludmila
2016-08-28T00:00:00Z
Le logement: spacieux et très bien équipé, correspondait parfaitement à nos attentes, rien n'y manquait ... Le bourg de Bergambacht: idéalement situé pour visiter les environs. Pour Rotterdam: 22Km de voiture (ou de Bus) pour rejoindre le P+R de la Capelle, puis 10 minutes de métro avec le ticket RET-One Day à 7.50 €/Pers qui donne également la gratuité du Parking à la sortie. Attention au GPS pour aller voir les moulins de Kinderjik, il fait prendre un passeur-ferry, on a galéré pour finalement tout faire en voiture (1H15') A Bergambacht: 2 super-marché: 1 en haut du village, l'autre (Lidl) à 3 minutes à pieds. 2 restaurants testés et approuvés : Eetcafé 't centrum ( 5 minutes à pieds) et Hof 21 (3 minutes à pieds) Notre hôte, Béa: sympatique, discrète (une qualité) et pleine d'attentions (chocolats et bouteille de vin de bienvenue). Un séjour qui nous a pleinement satisfait.
DESBIOLLES
2016-08-16T00:00:00Z
Room Type
Entire home/apt
---
Property Type
House
---
Accommodates
4
---
Bedrooms
Bergambacht, Zuid-Holland, Netherlands
Mijn huis is vlakbij een bushalte (ong. 100m). Lekkerkerk ligt vlakbij het stadscentrum van Rotterdam (20 min), Gouda (30 min), Utrecht (45 min), zowel met de auto als openbaar vervoer. Het centrum van Lekkerkerk is op 2 km afstand. Hier zijn ook alle voorzieningen aanwezig. Mijn huis staat in een rustige buurt. Je zit in een landelijke omgeving en je kijkt uit over rivier de Lek.
Het huis staat in een prachtige rustige en landelijke omgeving. Je hebt uitzicht op de rivier de lek.
Het heeft een prachtig uitzicht over rivier de lek. Daarnaast is er een wandel/fietspad tussen de weilanden door op 300 m afstand. Verder ben je met de auto zo in een paar grote steden (zoals Rotterdam, Utrecht, Gouda. In het dorp zelf (lekkerkerk) zijn alle voorzieningen aanwezig (2 supermarkten, drogisterijen, kledingwinkels, schoenwinkel, restaurants etc). Mocht je het daar niet kunnen vinden, dan kun je altijd naar Bergambacht of krimpen aan den IJssel rijden. Waar ook alle voorzieningen zijn.
Great place to stay, clean and tidy, all very nice. Francien was very quick in communicating and helpful in our late arrival. Only way to improve would be to add wifi. Would stay here again and happily recommend it.
Kate
2017-01-25T00:00:00Z
Amazing host , Amazing house , top location. This is all you need !
Roy
2017-02-09T00:00:00Z
A charming and quiet. I really enjoyed.
Uriel
2017-02-11T00:00:00Z
Francien's place is the perfect Dutch house. With quirky levels, well furnished and clean and comfortable, it is a great value stay. The area is scenic with a river out front and easy walk to shops. Francien was helpful with directions and greeted us warmly.
Karinda
2017-01-03T00:00:00Z
The host canceled this reservation 21 days before arrival. This is an automated posting.
René
2017-02-05T00:00:00Z
The place is very beautiful.
Eduardo Angel
2017-02-06T00:00:00Z
I had a great time in francien house. She was flexible for check in/out. House was clean and got everything I need. High recommandation ;)
Théophile
2016-12-16T00:00:00Z
It was a really nice and comfortable house. It is really quite there and the view when you step out the door at the morning is adorable. The only minus point is that there is no Wlan but we are here to see the country and not the Internet ;)
Boris
2016-12-27T00:00:00Z
Room Type
Entire home/apt
---
Property Type
House
---
Accommodates
2
---
Bedrooms
Lekkerkerk, Zuid-Holland, Netherlands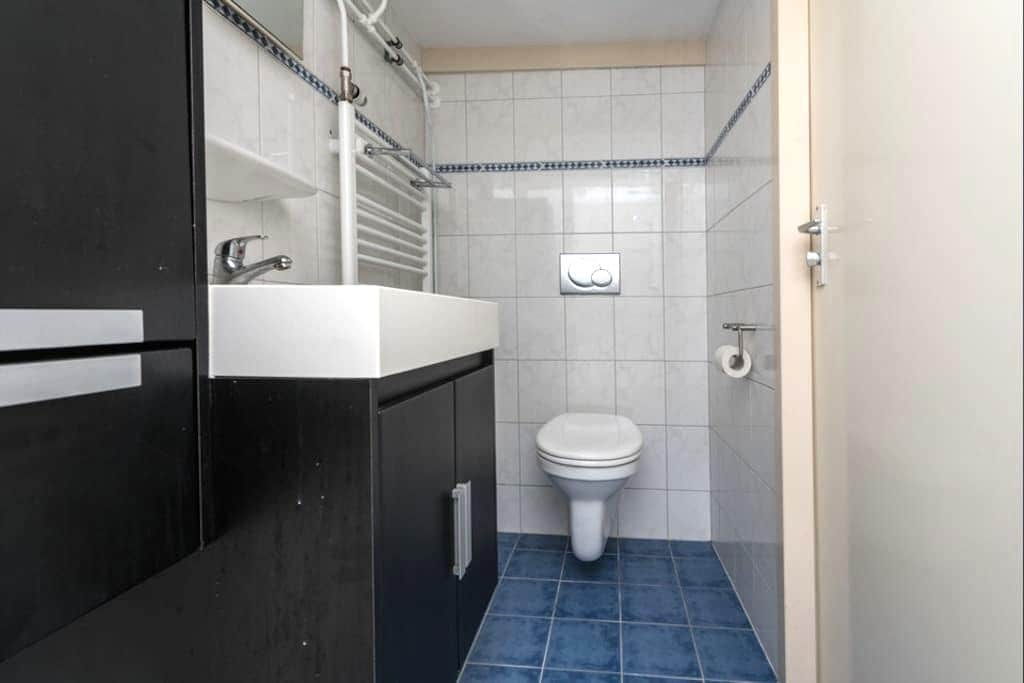 Our house is located in Stolwijk, about 5 minutes from Gouda centre by car. It is a detached house with a lot of privacy and a garden. There is room voor max. 5 persons. It is situated in between meadows which means a fantastic free view. It has a kitchen, bathroom and free WIFI. In the garden there is a BBQ, a double swingingseat, a hammock and two big trampoline's next to eachother. There is a free parkingspot for two cars. At the first floor there are two - small- bedrooms.
Our house is located in Stolwijk, just in between Gouda en Stolwijk, about 5 minutes from Gouda centre by car. It is a detached house with privacy and the use of a garden. There is room voor max. 5 persons. (There is a possibility of the use of the retro caravan in the backyard, with a beautiful free view over the meadows, for 10 euro's per night p.p. extra. see my other advertisement on airbnb) This is just for sleeping for two persons. The house is situated in between meadows which means a nice free view. In the garden there is a BBQ available, a double swingingseat, a hammock and two big trampolines next to eachother. There is a free parkingspot available for 2 cars. The house has free WIFI, a shower/toilet, kitchen with cookingpossibility and a fridge. At the first floor there are two bedrooms, both with a doublebed, the second bedroom can be reached by entering the first bedroom. The stairs are a bit steep and small, so not for people who have problems with their legs. There is a wooden fence for safety. At the ground floor there is a also a sofabed - 120 cm- available for 2 persons. Attention: this means that this sofabed in the livingroom needs to be folded up to be used as a normal sofa! There is a possibility to rent (normal or electric) bikes. The house is situated at a bicycle path, only allowed for local traffic so very quiet. It is a popular bikepath which is part of a few bicycletours. The centre of Gouda is about 15 minutes by bike. In the garden there is a big open treehouse which has a fantastic view over the meadows with a couch, a lot of pillows and a binocular. Usually it is rented to people who are having a literally "High" tea with a view. In our garden we have cats, chickens who live free and two pet pigs. Distances by car from our house: Reeuwijk Lake Area: beautiful walking trails, swimming, sailing etc.: approx. 10 minutes, easily to be reached by bike Amsterdam approx. 1 hour (Airport 45 minutes) Den Haag approx. 40 minutes Rotterdam approx. 25 minutes Utrecht approx. 30 minutes Ons huis bevindt zich in Stolwijk, precies tussen Gouda en Stolwijk in, ca. 5 minuten met de auto vanaf het centrum van Gouda. Het is een vrijstaand huis op ons eigen erf met genoeg privacy en gebruik van een grote tuin. Er is plaats voor max. 5 personen. Er is een mogelijkheid om gebruik te maken van de retrocaravan achter in de tuin, gelegen aan het weiland met vrij uitzicht, for 10 euro extra per nacht voor 2 personen. Dit is puur en alleen om te slapen (zie mijn andere advertentie op airbnb.) Het huis ligt midden tussen de weilanden waardoor het een fantastisch vrij uitzicht heeft. In de tuin is een bbq aanwezig. In de tuin hangen een groot schommel-ligbed en een hangmat en zijn er twee grote trampolines naast elkaar. Er is gratis privé-parkeermogelijkheid op het eigen erf voor 2 auto's. Het huis heeft een douche/toilet, keuken met kookgelegenheid/koelkast inclusief toebehoren. Op de eerste verdieping zijn twee slaapkamers, de ene kamer is te bereiken door door de andere slaapkamer te lopen. De trap naar boven is vrij klein en vrij steil dus niet geschikt voor mensen die niet goed ter been zijn. Er is een houten traphek. Beide slaapkamers hebben een tweepersoonsbed. Op de begane grond bevindt zich ook een slaapbank van 120 cm breed. Let op: dit betekent dat de bedbank iedere dag opgeklapt moet worden om hem te gebruiken als zitbank! De mogelijkheid tot fietsenhuur is aanwezig, de omgeving is prachtig om te verkennen met de fiets. Het ligt aan een fietsweg waar alleen bestemmingsverkeer is toegestaan, de weg is onderdeel van vele fietstochten. Op de fiets naar het centrum van Gouda is ca 15 minuten. In de tuin is een grote open boomhut aanwezig waar gratis gebruik kan worden gemaakt door de gasten van het huisje, met uitzicht over het open veld. Hierin staat een bank met veel kussens en een verrekijker. Normaliter wordt dit verhuurd voor het geven van een letterlijke hightea met een prachtig uitzicht. We hebben katten, loslopende kippen en twee hobbyvarkens. Met de auto is de afstand vanaf ons huis: Reeuwijkse plassengebied met mooie wandelpaden, mogelijkheden op watersportgebied etc.: ca. 10 minuten, ook makkelijk te bereiken met de fiets. Amsterdam: ca. 1 uur (vliegveld 45 minuten) Den Haag: ca. 40 minuten Rotterdam: ca. 25 minuten Utrecht: ca. 30 minuten
Conchita and Alex made us feel very welcome with their warm hospitality. It is a beautiful setting calm and peaceful ideally situated to explore the surrounding area and major attractions or just relaxing. Highly recommended.
Tony
2016-09-17T00:00:00Z
Thank you for the warm welcome. Conchita's always there when you need her. The house is in a green and artistic (URL HIDDEN) very nice.
Nadège
2016-07-10T00:00:00Z
We absolutely loved out stay with Alex and Conchita! The property was amazing and my young children loved it. There was adequate space in the house with a lovely outside patio. Inside was very homey with a great kitchen, plenty of seating in the living space.
Kelsey
2016-09-03T00:00:00Z
Conchita is the sweetest caring host you can imagine. Even though we booked super spontaneously Conchita welcomed us warmly and showed us everything. The house is very nice, clean and well furnished with everything you need. The highlight is the garden with art, a treehouse, some pigs& cats and an amazing breakfast view. We definitely will be staying at Conchita's again!
Anita
2017-04-01T00:00:00Z
The host canceled this reservation 2 days before arrival. This is an automated posting.
Alexandre
2016-06-02T00:00:00Z
Lovely place to stay! And Conchita is a great host, very helpful :)
Banhi Shikha
2016-09-06T00:00:00Z
Conchita and her husband Alex were extremely warm and welcoming...almost like family members! They offered to answer any question and suggest places to go and visit. They personally showed us around their yard and offered for us to use any part of their own private yard area.
Dirk
2016-08-26T00:00:00Z
Concita was a great host (thanks for the little presents again!). The place itself was very nice and clean (thus it was a little moist inside). During the weekend it was very quite. All together we enjoyed our stay very much. Julian and Sophie
Julian
2016-09-20T00:00:00Z
Room Type
Entire home/apt
---
Property Type
House
---
Accommodates
4
---
Bedrooms
Stolwijk, Zuid-Holland, Netherlands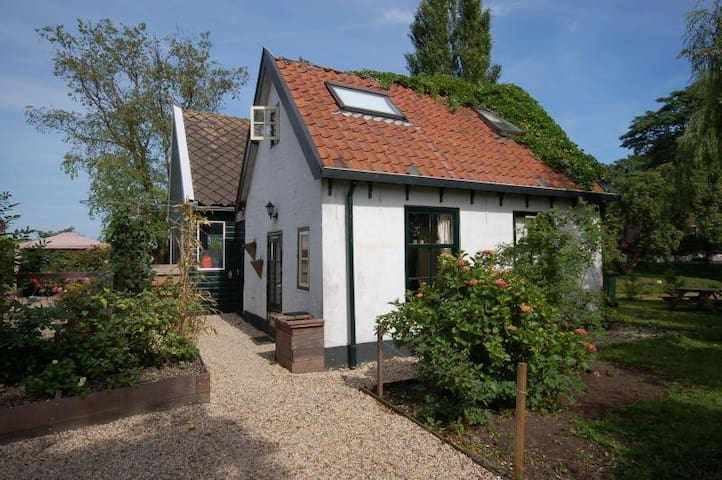 The original coach house offers complete privacy with a private terrace on the water. The area offers opportunities for hiking, biking, horseback riding and fishing. The garden and the polders offers plenty of opportunities for nature and sports love
The house offers space for 4 people. There are 2 separate bedroom and aprte play / study area. There may highchairs and baby cots are upon. There is a small kitchen with dishwasher, refrigerator and microwave. There are two large and one small pony ponies available for horseback riding. Bicycles are available for rent.
Polders, bike trails and the forest is in the immediate vicinity.
Elegant paradise. Kids love the garden and the house. We have very good experience just like being at home. Kids love to chasing horses and chickens Thanks Wilma and Piet for every details.
Chia-chang
2015-07-26T00:00:00Z
Very nice stay at the place, really calm and cumfortable
Max
2017-02-26T00:00:00Z
We had a great stay, we would recommend this place to anyone. And we would love to come back. The landscape is great and the house large and beautiful.
Serena
2016-07-03T00:00:00Z
Wilma and Piet made us feel very welcome, they were helpful and responded to everything we wanted. The neighborhood is wonderful, family friendly, there is a lot of green, and a lot to do for people who enjoy to be in contact with nature (horse ridding, cycling, nice walks in the forest). I undoubtedly recommend it!
Emmanouil
2015-10-19T00:00:00Z
We have spent two nice days in this lovely house , finding two delicious people like Wilma and Pet that gave us the maximum of attention . My daughter was delighted of the pony tour and "calesse" experience. I would suggest this location for all people that love to be in contaci with nature and animals ! Above all family !
maria
2015-08-16T00:00:00Z
This the first time that I rent a house from airbnb, but... what a nice experience! It was the first time vacation in the Netherlands of my friends, all of them had a good image. Piet and Wilma are so friendly! Everything in the house is clean. My dochter also did her first time pony riding, and canoe sailing. We ordered for three people, but we were also welcome with extra people for two days stay. I had to drive half hour each day to pick up my friends, but I did really enjoy the way. Just like I was in my holiday each time. Piet also told us about the village, we bought a lot of biological food (URL HIDDEN) is a small heaven besides the world!
Jenny
2016-05-06T00:00:00Z
We were made very welcome on arrival and Wilma showed us round and kindly left a few essentials to eat and drink. The area is very nice but you definitely need a car to get around. Rotterdam isn't far away and is easy by waterbus, we tried to go in by metro but the car park was full both times we tried. The house is very large and has a lovely waterside setting. We had use of the bikes, rowing boat and canoe and Wilma was on hand all week to help if we needed her.
Debra
2016-07-17T00:00:00Z
We had a wonderful stay in a spacious and clean house. Our children enjoyed and loved the place and animals. Wilma and Piet were very friendly and helpful. She was so kind to help our children to ride the pony and play in the house surrounding area. I highly recommend this place for families with children.
Ibrahim
2016-09-13T00:00:00Z
Room Type
Entire home/apt
---
Property Type
House
---
Accommodates
6
---
Bedrooms
Berkenwoude, South Holland, Netherlands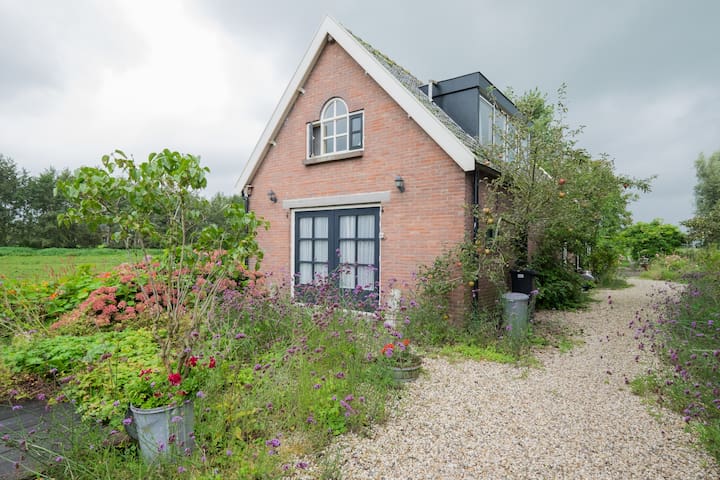 Our house is a 5-minute walk from the cosy centre, in a brand new district of Schoonhoven, centrally situated between Utrecht, Rotterdam and Gouda. De upper floor is available for our guests. The spacious room is provided with a dormer, a double bed, a wardrobe and our guests can make their own coffee and tea in the guestroom. In the bathroom on the first floor, which is shared with us, is a bath and a seperate shower. Breakfast is served in the livingroom or in the guestroom, as you wish.
De lichte gastenkamer is op de tweede verdieping gelegen en biedt zowel uitzicht op het noorden als het zonnige zuiden. Met een ruim vloeroppervlakte en een nok van vier meter hoog laat de kamer ruimtelijk gezien niets te wensen over.
Schoonhoven is een historisch stadje gelegen aan de Lek, op slechts 30 minuten rijden van zowel Utrecht, Rotterdam als Gouda. Onze woning is gelegen op 15 minuten loopafstand van het centrum. Gratis parkeerruimte is er zowel rond onze woning als in het centrum voldoende.
Room Type
Habitación privada
---
Property Type
House
---
Accommodates
1
---
Bedrooms
Schoonhoven, Zuid-Holland, Netherlands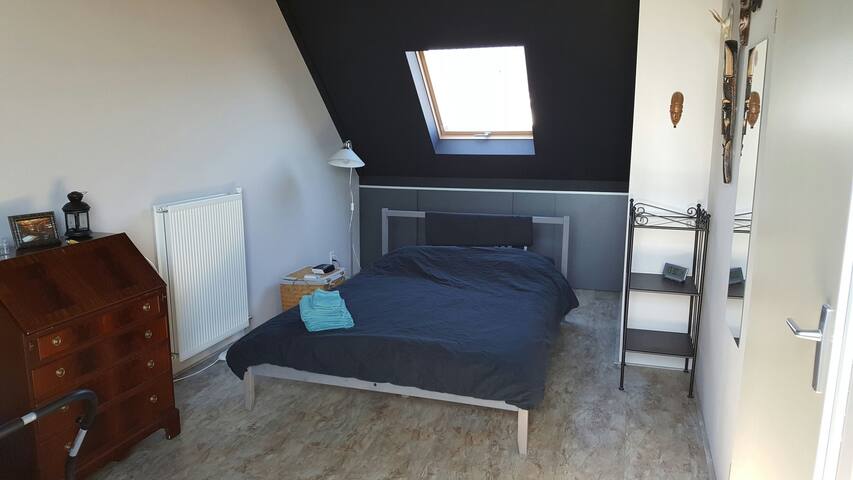 Mijn ruimte is makelijke te bereiken met openbaar vervoer.Het is rustige omgeving met privé parkeer plaats. We zijn in bezit van het comfortabele bed en mooie keuken.Mijn ruimte is geschikt voor stellen, solo-avonturiers, zakenreizigers, gezinnen (met kinderen) en harige vrienden (huisdieren).
Kinderdijk ,natuurgebied de Nes ,Gouda,Rotterdam
Despite arriving late after a concert and a closed off highway, Ewa welcomed us heartily late at night. The place is amazing, full of charm and the surroundings are wonderful. Our little girl had great fun exploring the grounds, seeing the goats, cows, chickens and cat. She also became great friends with Ewa's dog Panda :-) Ewa herself is a wonderful person, friendly, helpful and with a big heart. in short: if you're looking for a great, family-friendly place to stay in this part of the Netherlands go stay in Lekkerkerk with Ewa!
Geert
2016-10-02T00:00:00Z
Ewa's house is absolutely beautiful the pictures doesn't do it justice. We stayed in a private room with a big bed and two twin beds. The room had a tv and free wifi. There is a private bathroom and a sink area with a mini fridge. We absolutely loved our stay here and do plan on coming back. Every morning Ewa would make us breakfast with coffee and orange juice and she's filled with interesting stories. But don't be fooled, she will give you your privacy if you want.
Buddy
2017-01-01T00:00:00Z
Hartelijk verwelkomd door Ewa, schitterend gelegen mooie verbouwde zorgboerderij aan het water. Lekker ontbijt met eitjes van eigen kippen. Heel ruime 4 persoons slaapkamer met goede bedden en met smaak ingericht. Een aanrader, wij gaan beslist nog een keer terug.
Rosie
2016-06-13T00:00:00Z
Room Type
Private room
---
Property Type
House
---
Accommodates
4
---
Bedrooms
Lekkerkerk, Zuid-Holland, Netherlands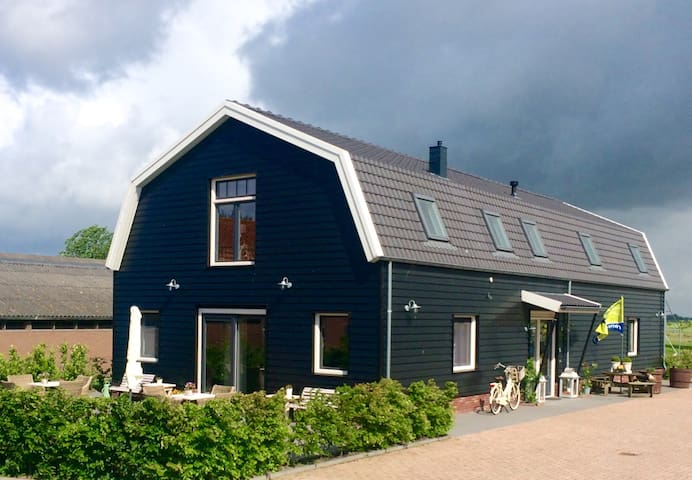 Spacious, modern house in the center of a small village in the beautiful Krimpenerwaard. Quiet area, living room overlooking a park. All the stores around you. Pre-eminently a place to undertake hiking and cycling but also a city trip is possible
The ground floor has a spacious hall with stairs to the 1st floor. In the hall a toilet and access to the utility room and garage. Large living room with TV, radio and DVD player. Dining area and kitchen with all amenities. On the first floor three bedrooms, sleeping five total. Bathroom with bath, shower, two sinks and toilet.
Stolwijk is located in the Krimpenerwaard, a beautiful old polder with great cycling and walking. In the house there are all kinds of maps, tips and routes. Also nice to stabbing a number of times the river Lek and make a trip on either side. The windmills of Kinderdijk, Gouda cheese, witches in Oudewater ... It all just around the corner. While here find the peace and space are the city not far from us. To visit The Hague, Rotterdam and Utrecht, you need 35 minutes. Amsterdam an hour. The coast and the bulb can be reached in 45 minutes. You can find all the necessities of life in our village. There include two supermarkets, a bakery and a pharmacy. Also, you will find a Chinese restaurant and a pizzeria (both takeaway). This is all within walking distance.
We just loved staying at Marthy's house! It's stylish, cozy, really clean and Marthy as a host and the friend who welcomed us there were super friendly! We stayed for one week with our family and for us the house was literally perfect. The location provides privacy and there is anything you need in the interior. Totally recommendable, anytime again, so no worries!
Mattis
2016-07-20T00:00:00Z
Room Type
Entire home/apt
---
Property Type
House
---
Accommodates
5
---
Bedrooms
Stolwijk, Zuid-Holland, Netherlands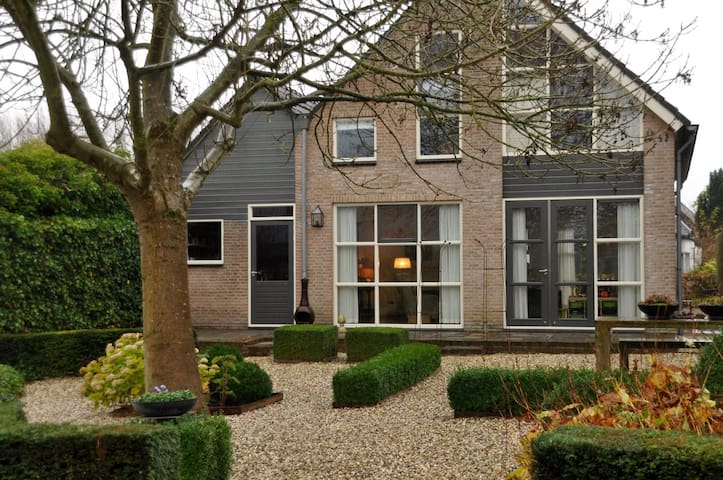 Volledig gerenoveerd vrijstaand huis binnen de vesting van het kleinste vestingstadje van Nederland. Vrij uitzicht over de wallen, prachtige woonkeuken, knusse woonkamer met open haard, luxe badkamer, 3 eigen parkeerplaatsen, tuin aan het water.
Grote woonkeuken, studeerruimte met bureau, knusse woonkamee met open haard, fraaie badkamer en apart toilet. Bijkeuken met wasgelegenheid. Twee slaapkamers. Carport + parkeerplaats voor 2 autos. Ruime tuin aan het water. Overdekte patio.
Rustige weg met alleen bestemmingsverkeer. Rivier de Lek is op 2 minuten afstand met kleine strandjes. Zilverstad Schoonhoven ligt aan de overkant en het Werelderfgoed Kinderdijk is vlakbij.
Room Type
Entire home/apt
---
Property Type
House
---
Accommodates
4
---
Bedrooms
Nieuwpoort, Zuid-Holland, Netherlands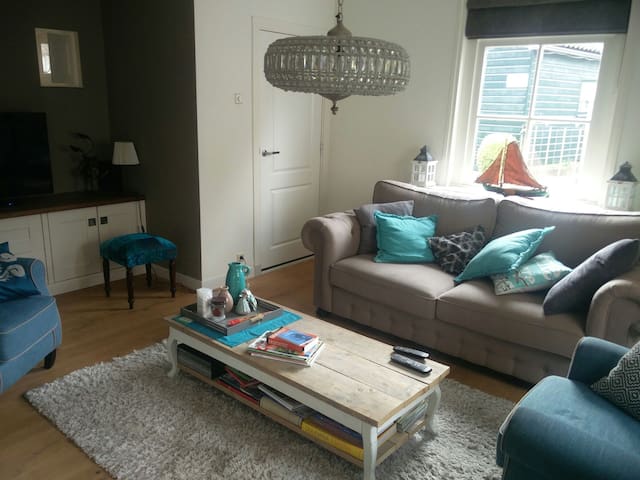 This cute and cosy house is located right the historical center of Schoonhoven, a nice river side town close to mayor cities such as Gouda, Utrecht and Rotterdam. The house is very comfortable and has all necessary amenities.
My house is my base when I am not traveling. I really enjoy my time there and I like to bring the in the atmosphere from my travels. The house is situated in a quiet street in the historical centre of Schoonhoven. The house is rented out on a self catering basis, but there is a very well-equipped kitchen and the price is including use of basic products to cook your meal such as olive oil, vinegar, rice, pasta, broth, spices, etc. On the ground floor, you will find a cosy living room, a brand new kitchen and a luxurious bathroom. Please feel free to read my books, most are in Dutch but you will find some in English and I have some in Portuguese as well. The kitchen is very well-equipped. There is an oven and dishwasher, but also all other kitchen tools such as a blender, a juicer, a tajine and a pasta maker. Basics such as oil, vinegar and spices are included, so all is provided if you love to cook during your stay. On the first floor you will find the master bedroom, the second bathroom and the home-office. On the second floor you will find a bright and spacious attic. This is the second bedroom but can also be used to relax, read or meditate. On the 1st floor you will find the entrance to the roof terrace. In Summer this is very Sunny, but even in winter I like to sit there for a coffee break. And in the evenings you can enjoy a glass of wine and look at the stars. And on the ground floor I have a backyard, painted in bright Mexican colors, another nice area to enjoy a cup of coffee. The river and the ferry are just a few hundred meters from my house, very enjoyable to go there on a hot day.
It is a quiet street in the historical centre of Schoonhoven, also know as the Silver Town because of the many gold and silversmiths and jewelry stores in town. Shops, restaurants and bars are close by. Schoonhoven is in the middle of the "green heart" and is relatively close to nice sites and cities worth visiting. The famous windmills of Kinderdijk are about 20 kilometers away, and Gouda (famous for the cheese) is only 15 kilometers away. The area is lovely for cycling. I provide a guidebook with information on the bars, restaurants and things to see and do in the area.
My second stay at the place and again an amazing experience. :-)
kim
2013-07-16T00:00:00Z
Nice,quiet place to stay. Ideal location, landscape for cycling drives. Utrecht, Rotterdam, seaside, Den Haag are close. A small house with facilities (bathroom, kitchen, living room and outdoor terraces (ground floor, roof). You enter a 'living' house. Angelique was on holidays but she gives helpfull instructions (internet,email). Supermarket nearby. Family Van Iseghem-Vlaeminck, Belgium
Geert
2013-07-10T00:00:00Z
Angelique's house was more than i could ask for. It was nice and cozy and perfect.. exactly what i asked for and more.. The towns people were friendly and helpful. I give her props for having a really good home!
Irish Joy
2014-01-11T00:00:00Z
Fluffy towls and a giant bath (I'm 1,64m). Angela's cute little house is decorated with care. The village Schoonhoven is no sleepy town. In fact, it's full of bar & restaurants so quite busy. Therefore, I would recommend this place rather for couples or friends looking for a good getaway with fun than families with (small) kids. As the streets are narrow, the traffic is busy and the town is crowded.
Sara
2015-01-03T00:00:00Z
I did not met Angelique as she was away, her lovely neighbor provided me the key. The house is beautiful, fully equipped, clean and well maintained. I mostly enjoyed the balcony on the 2nd floor, the bathtub and the kitchen. The bed in the living room is one of the best I've ever slept in. The town of Schoonhoven is a great place to enjoy a relaxed vacation. the river and the town center are a few minutes of walk from the house. Highly recommended - thanks Angelique.
Moshe
2015-06-29T00:00:00Z
I didn't meet Angelique myself but I received a very warm welcome from a friend of hers and both stayed in touch during my stay which was very nice and gave me tips on where to go etc.. I didn't want to talk about the house too much because I wanted to keep this osasis to myself but I changed my mind :-) Her house is amazing, cute, stylish, clean.. it's everything you see on the pictures and more...I can honestly say I slept better in her house than in my own.. As I work from home a lot I needed a good working internet connection, and her wifi is very good ..( once you get the password righ(URL HIDDEN)
kim
2013-06-23T00:00:00Z
We've had a lovely stay in Angelique's house. The area is really nice and provides easy access to other cities, such as Amsterdam, Utrecht, Rotterdam, Gouda. The house is clean, nicely decorated and all details have been taken care of! Many thanks, Angelique, for your quick replies and your flexibility for our last minute planning! The only minor issue was that wifi didn't seem to work during our stay. Apart from this everything was great!
Irina
2015-05-19T00:00:00Z
It's exactly like Angelique said: a nice and cosy house with a sunlit roof terrace! It's a ideal place to come to rest or connect to any mayor city in the neighbourhood. I definitely recommend staying there if your passing by. Angelique is a very friendly and helpful host. She recommended us a lot of things in her neighbourhood.
Klaus
2013-07-22T00:00:00Z
Room Type
Entire home/apt
---
Property Type
House
---
Accommodates
4
---
Bedrooms
Schoonhoven, South Holland, Netherlands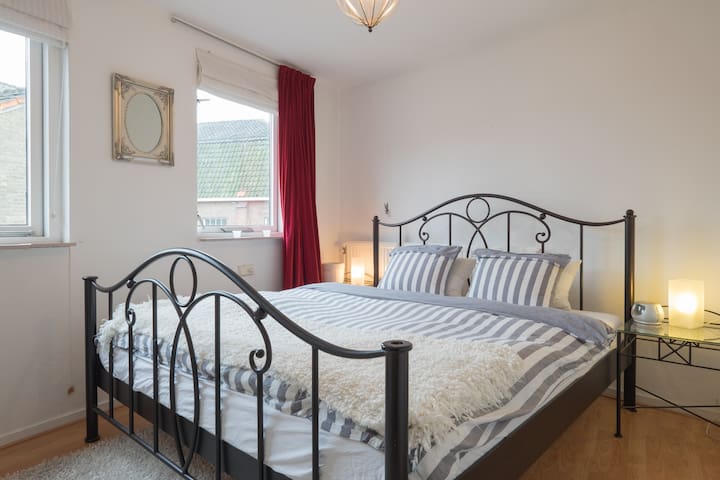 We live in an old fashioned house in original Dutch style with a large garden. Within a 10- minutes walk you are in the centre of the beautiful city. Your room is on the second floor and you share the bathroom.
Your room is on the second floor. You`ll find two single beds there. Next to your room you`ll find the bathroom, which you share with us. On the first floor there is a kitchen with a refrigerator, oven and microwave, which you can use. Breakfast is not included!. You can make your own or we can provide you a Dutch breakfast (with our own eggs) for 5 euro per person. You are also welcome to take your family or friends. We can provide you an extra room with 2 single beds.
We are living in a quiet neighbourhood, 10 minutes from the city-centre.
Our stay with Jet, here in Gouda was fantastic. We felt right at home here. We had our own little kitchen with a little stove and microwave, as well as a refrigerator. There is a grocery store about a five minute walk from the house. So except for coffee and pastries while out and about, we were able to eat here and prepare sandwiches for during the day. We were only about a ten or fifteen minute walk from the old part of town. We had no problem parking on their street. Also, Delft was only a 30 minute drive away. Kinderdijk is within cycling distance. We would love to return and do some cycling there. This time the weather and our short stay did not allow it. We slept very well. The beds were very comfortable. This is an ideal location for seeing the southern part of Holland.
Arthur
2016-06-16T00:00:00Z
The house is typical and very well located in a quiet neighborhood. Unfortunately, we have not met Jet and his wife, but their son was welcoming and nice. The room was exactly as described, the only flaw was the beds. The breakfast was perfect, with the famous gouda ! I recommend this accommodation.
Baptiste
2015-08-29T00:00:00Z
Excellent! Clean, polite and beautiful room. Highly recommended!
Giovanni
2016-03-25T00:00:00Z
The three days at Jet and Wouters home were great. Your home is very cozy, the breakfast was sooo good. Jet and Wouter are lovely hosts. We felt very welcome.
Svenja
2015-09-26T00:00:00Z
We had a lovely stay with Jet and her family - we've been very lucky they were able accommodate us on such short notice! They made us feel very welcome and at home. We really appreciated the coffee and tea making facilities in the room, as well as the stroopwafels (caramel waffles - a Gouda specialty) and some local tourist information. At night our bikes were kept safe in the shed in the garden. Gouda is a very pretty town and the surrounding countryside is beautiful - great for cycling and visiting cheese farms! In all, highly recommended!
nanna
2015-05-30T00:00:00Z
Jet is a lovely host who is committed to make her guests feel comfortable. The breakfast was just delicious! However, we would have appreciated to know in advance that the breakfast is not included. All in all, we can totally recommend this accommodation!
Anne
2015-08-07T00:00:00Z
Jet and family made us feel very welcome. They made sure there was space for our bikes and provided us with everything we needed while staying. Very friendly and would definately recommend staying with them. Gouda is a lovely place to visit. Thank you for making us so welcome.
David
2016-09-02T00:00:00Z
Host was exceptional accommodating. She offered to pick us up from the train station, offered us tea in the room, and space was cozy. The place was very clean. Wish we could have stayed longer. We had a wonderful time.
Kelcey
2016-06-22T00:00:00Z
Room Type
Private room
---
Property Type
House
---
Accommodates
2
---
Bedrooms
Gouda, Zuid-Holland, Netherlands
Wonderful location in the heart of historic Gouda, the house stands on one of the most beautiful canals of the city. Beautiful location in the heart of historic Gouda, the house sits on one of Gouda's prettiest canals.
Historical character, painted ceiling (Golden Age), modern home. The house has a historic character (Golden Age painted ceiling) and is furnished in a modern way.
We live on a beautiful canal with beautiful historic homes in the city center, three minutes walk from the Market. Two mills, a few minutes walk from the house. The house sits on a beautiful canal with great historic houses in the heart of town, three minutes on foot from the Market Square. Two windmills can be seen from the house, it takes you a couple of minutes on foot to get there.
This is a gorgeous house with a very friendly and welcoming hostess. Jannie even offered to pick us up from the train station when we arrived. The location is only a few minutes from the attractions in lovely Gouda, so it's very easy to stroll anywhere right from the front door. The beds were very comfortable and there were also breakfast items offered free of charge. You would have to pay the same or more for a hotel room - but at this address you get 3 beautiful floors and a canal view.
Shelly
2016-04-17T00:00:00Z
The listing and the large number of positive reviews are not wrong. It is a wonderful and spacious house, great location and close to the beautiful centre of Gouda. The host was very helpful and friendly. Absolutely a highly recommendable place.
Lars K.
2016-07-23T00:00:00Z
Highly recommended for peaceful, quiet days in Gouda! A little terrace for the sunny moments, good books and music for the rainy ones...Beautiful house and lovely hosts that make you feel at home! Do try the outstanding Kamphuisen stroopwafels and Puur chocolates...we'd love to come back! Wat een parel!
Nila
2015-05-19T00:00:00Z
Awesome house and great host. A monumental building with lots of character, nicely decorated and equipped with everything you need for a short or long stay. Jannie provided all the instructions we could wish for and all kinds of small amenities and treats. Right around the corner of the lovely market square too, so very convenient if you want to see the city. In short, excellent value for money and highly recommended.
Mark
2016-07-24T00:00:00Z
Jannie and her husband were very kind - we arrived later than planned and they cooked us up some sausages and a salad for a late dinner. The house is lovely - we loved it and the location is excellent, being 2 mins walk to the market square. Would love to visit Gouda again and would recommend highly Jannie as a host.
Martin
2015-07-06T00:00:00Z
Jannie made us feel so welcome. She was waiting for us to arrive after agreeing to a late arrival so that we could see Rotterdam. She recommended where to go to eat in Rotterdam and we did and it was wonderful. Jannies house is amazing. So relaxing and she had thought of everything to make our stay perfect. We loved Gouda and will be going back and will definitely stay with Jannie again.
Susan
2015-08-23T00:00:00Z
We had a great stay at Jannie's home. The house is beautiful and so historic! Great location too. We enjoyed some wine and cheese on the rooftop deck in addition to the comfortable lodging. Jannie was nice enough to pick us up from the train station so that we didn't have to drag our luggage across town. A great stay, and just as advertised!
Sara
2016-05-28T00:00:00Z
We had a wonderful stay in this lovely historic canal house. Everything was exactly as shown on the pictures, even more beautiful. Jannie is a perfect host – from the beginning we felt welcome: she explained everything in the house, provided maps and knowledge of the local area, recommended some really nice restaurants, showed us where to leave our car - even the fridge was filled and flowers were put on the table! The house is centrally located, the street is a quiet and nice place. Gouda is more than one trip worth and a perfect starting point to discover the whole region (Den Haag, Rotterdam, Delft, Dordrecht and much more). So we will come back and we already know where to stay: in Jannies house – it is absolutely recommendable!
Wolfgang
2015-09-28T00:00:00Z
Room Type
Entire home/apt
---
Property Type
House
---
Accommodates
3
---
Bedrooms
Gouda, South Holland, Netherlands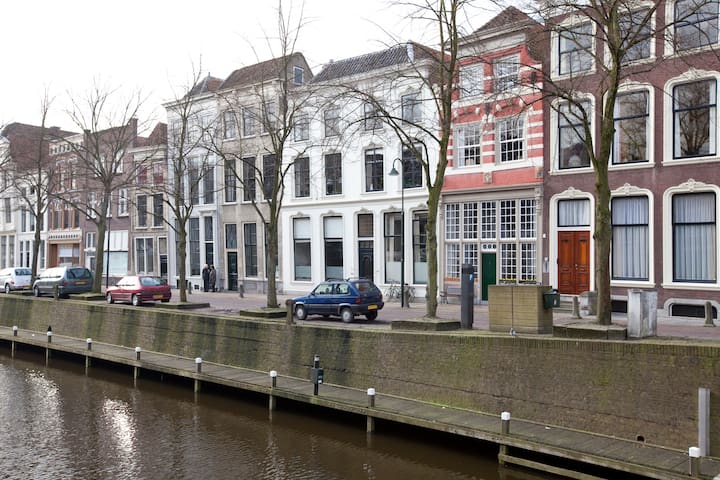 It is a nice cozy old house in the center of Gouda. 50m of the restaurants and cafes from the Gouda market. In the house, large corner sofa, TV downstairs and in the master bedroom, DVD player, large kitchen, two toilets, bathroom with bath.
Large living room, large kitchen, toilet downstairs, upstairs bedroom with two beds, bathroom with bath, terrace with a large lounge sofa, little place behind TV upstairs and downstairs, large collection of DVDs for a nice movie night;)
Because I live in the center you can find everything so close. Restaurants and cafes where possibly can be stepped on weekends around the corner and every Saturday there is a market on the main market. Many attractions within walking distance.
Sven has an amazing place and you'll be hard pressed to get a better location. Sixty seconds from the Kaasmarkt and all the shopping of main street. Ten minutes to the train station, which can whisk you away to any part of the Netherlands in an hour. I spent many evenings just walking around beautiful Gouda taking in all the sights, and I barely scratched the surface.
Ed
2016-09-21T00:00:00Z
Sven is an excellent and very flexible host. When he welcomed us he had great ideas for sights and dining. Sven was so kind to buy us some breakfast ingredients. The house is in the very heart of the old city of Gouda and has all the facilities that you can wish for. The monumental house is spacious for a couple. We had four excellent days in Sven's house and were very happy with the large and well equipped kiychen, the lounge sofa and the dvd collection. If we would return to Gouda, we would defintely stay at Sven's house again.
Sjoerd
2016-02-27T00:00:00Z
Perfect! Great little house, great location, in the heat of the city. With everything you need in a house. A big TV with lots lots of movies and games! Amazing terrace! Loved it
Bianca
2016-08-13T00:00:00Z
We had a fabulous stay. Very centrally located in Gouda. Easy walk to everywhere. Accommodation had everything. Absolutely no complaints and would recommend and certainly return. Thanks Sven.
susan
2016-08-24T00:00:00Z
Great house within a stroll from the town square. Location was perfect and the house was well equipped, warm and welcoming. The sun deck was a great place to relax. Our host Sven was very communicative and very helpful. He was most accommodating to meet us when we arrived earlier than originally planned.
Fiona
2016-10-31T00:00:00Z
This cosy house is perfect for a couple. Big and full - equipped kitchen, nice living room with a very comfortable sofa and a huge bed in the room upstairs. Besides, it's located in the city center, close to train station and historical streets. Sven is a great host: he explained us the way to get the house with lot of details and he was flexible at checkout. Very recommend.
Fran
2016-01-02T00:00:00Z
Great place!
Katarina
2016-11-27T00:00:00Z
We had a great stay in Sevens house in Gouda. Close to the centre of town, and the railway station. Plenty of space, excellent kitchen, and the roof terrace was ideal place to have a few beers in the sun. Only negative was the stairs!!! Wouldn't want to be climbing those after a skin full. Other than that, I would highly recommend Svens place for a stay in Gouda. Svens and his father very easy to communicate with.
Tony
2016-05-24T00:00:00Z
Room Type
Entire home/apt
---
Property Type
House
---
Accommodates
2
---
Bedrooms
Gouda, Zuid-Holland, Netherlands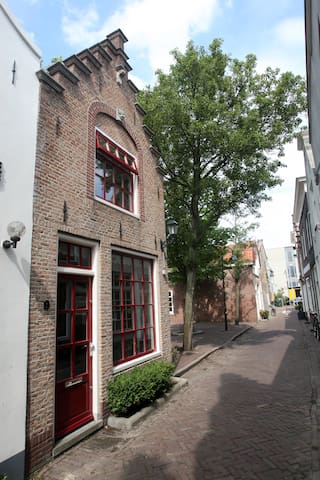 In the evening still want to enjoy a long time on the water? Cycling through the lowest polders of the Netherlands or by ferry to an empty hinterland? Or maybe just within 20 minutes by bike cup on the Grote Markt in Gouda? Moordrecht = central!
The guest's own house was built in the former riding stables of a doctor. You enter through a private entrance into a hall where also the toilet. Through a separate door leads you into a pleasant bedroom with a large Swiss Sense bed and a mosquito net against mosquitoes. There is an open bathroom shower room. From the bedroom there is a staircase. Here is a spacious lounge / living room and kitchen. It contains a combination microwave oven, Nespresso coffee machine, fruit juice and toaster. From the living room you have a view over the IJssel. Of course there is free Wi-Fi, Smart TV and you have free Netflix. If the weather permits you walk also so extensive garden from the house so you can eat or relax outside.
Moordrecht is centrally located and well positioned on the IJssel. By car you are in 8 minutes in Gouda, 20 in Rotterdam and 25 in The Hague or Utrecht. Small villages like Oudewater and Schoonhoven are easy to reach. By bike you experience Dutch landscapes. Rottemeren nature reserve is close by, and still only working mill-course in the Netherlands. We live in the center of Moordrecht on a very quiet spot and there are many restaurants and activities nearby.
Me and my boyfriend spent a weekend at jackos home and we had a great time. It is a perfect cozy and lovely place for a couple. We felt very comfortable there. We would definetly go there a second time.
Linda
2017-02-27T00:00:00Z
I Travel for my work and stay in a lot of hotels and appts. This one bye far is one of the best ones I have stayed at. Everything was perfect. Fantastic bed, extremely big rain shower, nespresso coffee and or cappuccino. Fully equipped kitchen and all is new and fresh. Very big garden which you are allowed to use with a view of the river. And the house is so cute! The hosts are fantastic and very welcoming. I would for sure go back to this place and it's a most fantastic village and all shops are in walking distance.
Danique
2017-04-03T00:00:00Z
The place was wonderful!!! We were delighted!!! We liced in a very nice and comfortable house with a big garden. The hosts were fantastic, we felt like special guests all the time. They were very friendly and always helpful. Moordrecht is an excellent springboard into the most attractive Dutch cities (Hague, Amsterdam, Rotterdam). We recommend this apartment very much!!!
Joanna
2015-08-11T00:00:00Z
We had a wonderful stay here.. Jacco and his wife made us feel very welcome, and gave us a good understanding of places to go and visit, local shops etc. The apartment is clean, warm and fresh.. The bed is huge!! and very comfortable - you will sleep very well after a good day of being a tourist! Nothing was a problem, and you are made to feel relaxed and ready to enjoy your stay. We couldn't of asked for anything more! (Except maybe more Waffles.. they are so nice!)
Peter
2016-04-25T00:00:00Z
beautiful family. very kind and helpful. beautiful home in a great location and with everything. great location with a garden directly on the canal
Alessandro
2016-04-27T00:00:00Z
Joke, Jacco and their lovely kids gave us a warm receiving when we arrived. They have been helpful since first moment and very kind with us. They even provided us with a cot for our little daughter! The apartment looks very nice in the pictures but it is even much nice when you arrive! All the furniture is actual and very comfortable. Soon you realise that Joke and Jacco have prepared all with a lot of attention to little details so you can feel like at home. This area in the Netherlands is fantastic to relax. Amsterdam and Rotterdam are 1 hour by car. We also visited Gouda, Delft and other beautiful little villages in the nearby. We strongly recommend Joke and Jacco's home, we spend there a lovely weekend.
Enrique
2016-08-07T00:00:00Z
Thank you Jacco & Joke, the place is very clean and perfect for us, we had a great time there. Highly recommended!
Wei
2017-03-26T00:00:00Z
We have been two people staying in the apartment. It has been recently redone and looks very modern. The kitchen is very well equipped, too. The living area has comfortable couches and a flat TV. Everything is decorated with a lot of taste and passion. The garden is very long which makes it look huge. It has a direct access to the Ijssel (fenced to protect children). There is some cozy garden furniture and a hammock, awesome! I can totally recommend the apartment and will return whenever I have the option.
Bastian
2015-08-30T00:00:00Z
Room Type
Entire home/apt
---
Property Type
House
---
Accommodates
3
---
Bedrooms
Moordrecht, Zuid-Holland, Netherlands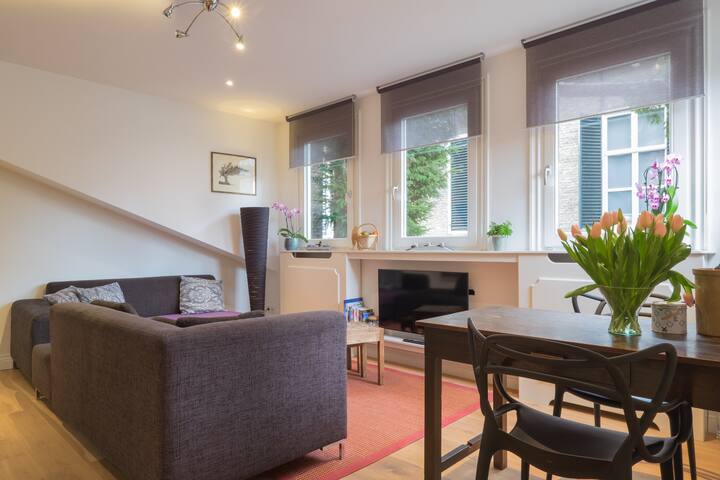 Cozy historical house (anno 1750) in the middle of Haastrecht 'het groene hart' close to Gouda and Oudewater. A train station (free parking) is 5min by car with direct connections to Rotterdam, Amsterdam, Den Haag and Utrecht.
Cozy small monumental house.
Nice Area in the middle of the four biggest cities of Holland.
The host canceled this reservation the day before arrival. This is an automated posting.
Info
2016-09-10T00:00:00Z
Room Type
Entire home/apt
---
Property Type
House
---
Accommodates
4
---
Bedrooms
Haastrecht, Zuid-Holland, Netherlands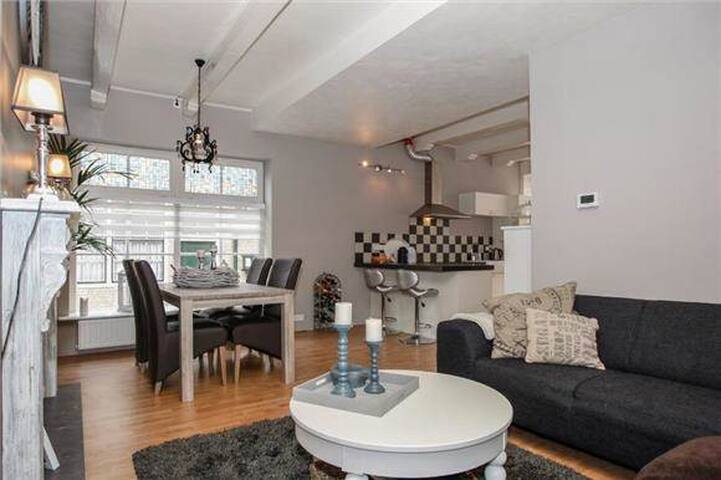 Overnachten op de boerderij. Vakantiehuis in Willige Langerak, gemeente Lopik. Gelegen in een prachtige omgeving aan de Lek met veel fiets en wandelroutes. Het is hier genieten van rust en ruimte. Kijk ook op (URL HIDDEN)
Het is een ruim huis voor 4 personen of gezin tot max 5 personen
Er zijn folders aanwezig om te bezichtigen in de buurt.
The Farm was awesome - the setting was very beautiful, Ida welcomed us and showed us around.. The house was very clean and we loved the access to farm animals. Ida's husband was very kind and met us every evening. We were welcomed to see the cheese making process and enjoyed it. I will fully recommend this listing.
Hemanth
2015-08-07T00:00:00Z
It's my very first experience staying in farm stay . Ida it's helpful and friendly , definitely recommend all to stay here ...
eu zan
2016-05-30T00:00:00Z
What a fantastic holiday house with a great host and location. As a family with young children(8,6,2) we were able to enjoy the river Lek and the local bicycling while spending time learning about all the animals and the work that is done on the farm. We were invited to meet the animals, feed them and adore them. Our children were allowed to touch and try to milk the animals. I never thought I would see my kids so happy cleaning a barn. Ida was absolutely fantastic and open to them. Our 2 year old's new song is "Ida is our friend". The house was well supplied, clean and comfortable. When we arrived the refrigerator had fresh eggs, bread and cheese supplied by our hostess. There was also a dry place for our bikes and cart. When we came home from a long day the kitchen was well supplied so we could have a comfortable family dinner. The location was well situated and we were able to visit Schoonhoven and the surroundings by bike. In addition we were able to make a day trip to Castle De Haar by Utrecht and a daytrip to Rotterdam. We also took advantage of her cheese making to learn the process. My family not only made great memories but also came home ready to learn more about nature and farms. They never asked to turn on the TV the entire visit! An absolute win in my opinion. The only downside is explaining to our 2 year old that we can't go to Ida's house today to feed the baby lambs!
Maureen
2016-04-02T00:00:00Z
When we arrived a bit later than intended, Ida showed us around the house. It was an idyllic place with horses, cows, baby lambs and sheep, chickens and a nice, clean house. Ida provided a wonderful arrangement of breakfast food, some of which came straight from the farm. We truly wish we could have stayed longer. Thank you for a wonderful experience!
Christine
2016-04-05T00:00:00Z
It was a beautifull place, and Ida was very kindly, even we were much too late. We bought nice cheese and everything was ok.
anne grethe
2016-06-26T00:00:00Z
Ida was a great host. We arrived late at night (after 9 pm) and she waited for us and gave us all the help we needed and was very patient. She prepared a wonderful breakfast every day for all of us (we have 4 children..) and prepared everything we needed before we came including coffee (capsules for the espresso machine), Tea, cheese she is making by herself in the farm, sausages, sweets etc. Although the house is not to big, it was perfect for us for a 3 days stay with 4 children. We really likes the area and enjoyed swimming in the Lek river on a sunny Saturday just 5 minutes walk from the house. Ida also provided us with 4 bicycles in perfect condition which we enjoyed riding around. The house is also in perfect location, it is in a very quiet village that is very close to many attractions, less than an hour drive from Efteling and 30-40 minutes from Utrecht. The house is located in a fully active farm which is a great bonus for little children who can enjoy watching the farm life and animals. Ida and her husband helped us a lot with some good advise regarding our way back to the airport in Germany and they were both very generous and kind. We recommend the house and the host wholeheartedly
Shay
2015-08-23T00:00:00Z
We had a wonderful time at 'Lekker Buiten". Great hospitality, lovely setting and the children enjoyed the access to the farm animals. Home made cheese and butter and a great breakfast spread. Tom & family.
Tom
2015-06-14T00:00:00Z
We spend a long weekend in the house and we had a very good time. The house was very clean and offered all we needed. Ida was great. We had a good time. Very beautiful area.
Samyack
2015-05-17T00:00:00Z
Room Type
Entire home/flat
---
Property Type
House
---
Accommodates
5
---
Bedrooms
Lopik, Utrecht, Netherlands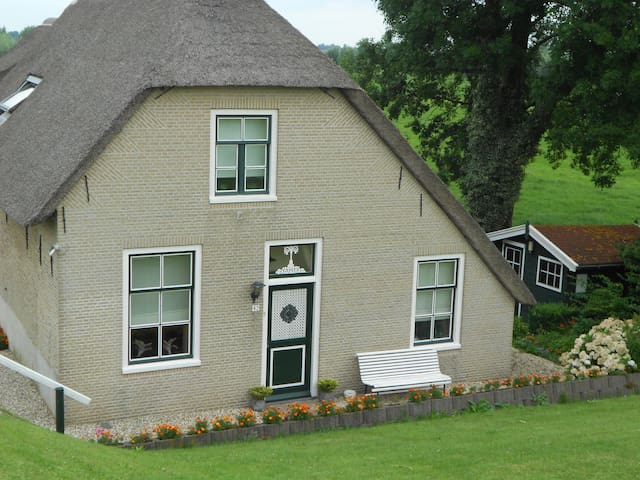 A bright, quiet typical terraced dutch house with a garden. The house overlooks a meadow (a dutch polder), and opens onto a canal at the back. The sunsets and the views are very uplifting.
Room Type
Entire home/apt
---
Property Type
House
---
Accommodates
5
---
Bedrooms
Molenaarsgraaf, Zuid-Holland, Netherlands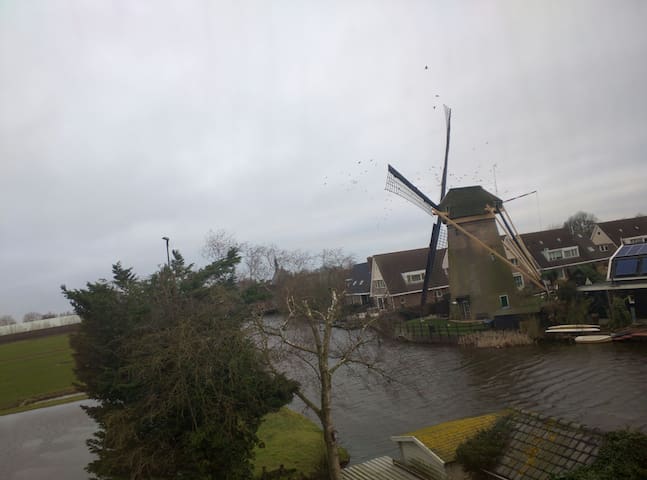 We live in an old-fashioned, traditional Dutch house with steep stairs. Your room is on the 2nd floor( 2 steep stairs!) You share the bathroom. Our beautiful citycenter is within 15 min. walk. So is the trainstation. Busstop is within 50 mtr. Parking in our street is free. Around the corner there is a supermarket(Lidl)
We live in a quiet neighbourhood. There is not much traffic. You can sit in our lovely garden.
We really enjoyed staying at Jet's. Our room was clean and comfortable and everything we could need was at hand. It was great having access to a kitchen, fridge, tea and coffee facilities just outside our room, and washing machine/ironing board etc. They were really lovely hosts - so welcoming and helpful. The house was a short walk (15 mins) from the train station, with easy transport links to Rotterdam, Schiphol and Amsterdam. There were also two large supermarkets five minutes' walk away. If we return to Rotterdam we will definitely stay there again.
Louise
2017-01-01T00:00:00Z
Our stay with Jet was great. She was lovely and the room was amazing. We were able to easily walk to the city center, so the location is also very good.
Tomas
2016-12-16T00:00:00Z
Jet was a very nice host. Her house is so cosy and confortable. The town center is very close. We really enjoyed our stay .
laura
2016-11-01T00:00:00Z
A ten minute walk to the town center, this cozy upstairs room is just far enough away from all the hot spots. Expect a first hand education on what is like to live in a Dutch city apartment with a small foot print, but lots of love.
Nicolas
2016-10-17T00:00:00Z
The host canceled this reservation 5 days before arrival. This is an automated posting.
Alexandru
2016-09-18T00:00:00Z
Gouda was great! The farms and such were great for biking and relaxing. The home was stunning and charming. Jet was a great host!
Emily
2017-04-05T00:00:00Z
The room and the bed is very comfortable and the hostess very pleasant. A quiet neighbourhoud and close to the centre.
Antonio
2016-09-29T00:00:00Z
Jet's house is very beautiful, cozy and spacious. She can help you in every way like a friend and you feel like at home and everywhere you touch the family atmosphere. The house is near the city centre, so very convenient.
Lucia
2017-03-09T00:00:00Z
Room Type
Private room
---
Property Type
House
---
Accommodates
2
---
Bedrooms
Gouda, Zuid-Holland, Netherlands
Cozy Characteristic tiny guesthouse located in the "smallest" street in the City Center of Gouda. The house is completely renovated according to the latest standards to provide you the comfort for an unforgettable stay. Gouda has been awarded a prize as of one the most beautiful inner cities of the Netherlands in 2015, and it still is! It's famous for its Town Hall, Cheese and Syrup Wafers.
On the 17th of July 2016, we opened our Airbnb on an unique location in the city center of Gouda. The accommodation is a tiny little house with 2 rooms and a renovated bathroom and kitchen according to the most modern and comfortable standards. Gouda is like a time machine you can step out in the century of your preference!
Since the listing is in the middle of the city center there are lots of nice stores and place to have a drink or something to eat. The level of Gastronomique in Gouda is high very good food against reasonable prices. Also there is lots to see in Gouda and every Thursday and Saturday there is a nice market on the market square.
My wife, grown daughter and I spent 6 delightful nights at Tannery Lane. We found our way in from nearby modern public parking lot, entering a postcard-perfect street along a canal and disappeared down a narrow lane to find the even-narrower "Looierspoort" (Tannery Lane). It's a magical setting from another era. Karine welcomed us at #3 and we were delighted to discover a brightly-lit, entirely renovated little house that was perfect for the three of us. The downstairs living and kitchen area was comfortable, clean and well-equipped and opened onto a small back courtyard area. The upstairs featured a very comfortable bedroom with a queen bed, as well as stylishly modern bathroom and WC. The fold-out couch was comfortable and our daughter slept well there. The nights were very quiet. Karine was warm and welcoming and very helpful getting us oriented to the town, nearby restaurants and other amenities, as well as looking after our needs during our stay. The central "markt", home of the Gouda cheese market (every Thursday morning) is just a couple of blocks away along a commercial street where you can find delicious local specialty 'stroopwafels', as well as all the Gouda cheese and other food supplies you may need. Walking around historic Gouda you'll discover a surprise at every corner. If you have the chance and are so inclined, rent a bike and take a ride around the "Reeuwijkse Plassen", a beautiful series of lakes formed by centuries of peat harvesting. Top marks to both Karine as hostess and to Tannery Lane and Gouda as a getaway destination.
John
2016-08-27T00:00:00Z
Karine was the best host you could ask for. She helped us manage the train schedules getting to Gouda, and was available to help along the way up until the moment we got there. She and her partner Mathon, met us at the train station platform with a very warm and friendly welcome and then walked us to our place. She showed us around the house and helped us with any sort of things we wanted information for which in our case were bike rentals. The house is exquisite. Remodeled, beautifully and practically furnished, Karine spared nothing with thoughts toward her guests. Black out curtains for all of the windows makes sleeping in perfect and the kitchen is very well stocked with both complimentary snacks and drinks as well as additional things that you could purchase including a selection of reasonably priced wines. She even welcomed us with a can of stroopwaffels as a free gift. Karine provides breakfast which she agreed to deliver whenever we liked and always included some selection of local favorites, like cheese, meats, freshly boiled eggs, freshly squeezed orange juice and croissants. We brought our two kids ages 9 and 11 and it worked well for us. The sofa bed was very easy to fold out and was no problem switching between sleeping and living room. I could imagine this place being a perfect romantic getaway for a couple as well.
Anna
2016-09-13T00:00:00Z
Karine was an outstanding host with every single item was taken care of. When we arrived she warmly welcomed us to Gouda and showed us around the spotless, modern apartment. There were complementary Dutch snacks and drinks waiting for us and a comprehensive guide to Gouda about the best local sights and restaurants. Karine, however, went one step further. In the morning, she arrived with croissants, bread and cheese with fresh orange juice. In the 20+ Airbnb's I've stayed in, I've never experienced service to this level before. In a nutshell - I'd give her six stars if it were possible.
Carol
2016-09-04T00:00:00Z
Karine was an amazing host. She even brought us breakfast in the morning. The apartment was inviting and well decorated. Extremely comfortable. Felt like a home away from home
Matt&Liz
2016-09-24T00:00:00Z
We could not have hoped for a better stay-over and Karine's house is a special gem. The house is very compact but finished to a very high standard so even for us 4 it worked fine. Karine even brought us breakfast as a special birthday treat for our daughter. Parking nearby was easy, access to the centre immediate and it's a lovely little town for a day of exploring. Thanks for making this a special experience.
Tobias
2016-12-29T00:00:00Z
A estadia foi ótima, Karine é muito gentil, sua casa tem todo o conforto que precisamos e muito mais. Ela oferece até o café da manhã com pães frescos. A localização é perfeita para conhecer a cidade e não é longe da estação. Muito bom!
Domingos Savio
2017-02-10T00:00:00Z
Appartement très moderne et très bien placé. C'est le meilleur Airbnb que j'ai fait. Karine est une personne vraiment très sympathique! Surtout réservez sans hésiter ce logement!
Emilie
2016-08-21T00:00:00Z
Wat een leuk lief huisje is dit zeg! Een goed ontvangst. Alles was meer dan compleet. Goeie communicatie! We hebben er maar 1 nachtje geslapen, maar wat is dit een goeie reden om nog eens naar Gouda te gaan. Midden in het centrum. Een echte aanrader voor wie dan ook. We hadden een ontbijt erbij afgesproken, die kwam Karine zelf brengen op de fiets. Voor maar zes euro een overheerlijk ontbijt.
Joeri
2016-12-18T00:00:00Z
Room Type
Entire home/apt
---
Property Type
House
---
Accommodates
4
---
Bedrooms
Gouda, Zuid-Holland, Netherlands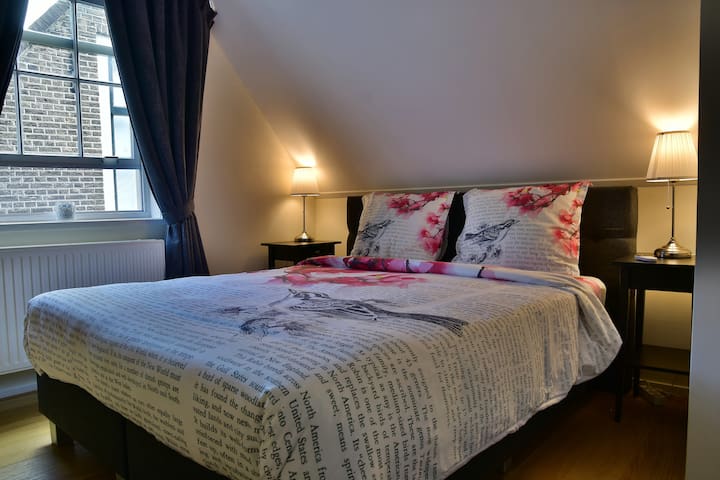 Bergambacht - Airbnb
:
Average

4.89

out of

5

stars from

399

guest reviews
1

–

18

of

166 Home Rentals
Enter dates to see full pricing. Additional fees apply. Taxes may be added.