If you like a house in an old style, we call it art deco, you are right here. The sunny flat has two rooms with a kitchen in one, living room and sleeping in the other (URL HIDDEN) have a small toilette and an extra bathroom with shower.
The spacious and lightful apartment lays in a green area of mansions in Berlin. However the connection of S-Bahn (3min walk), U-Bahn and Buses offers a fast and reliable connection to the inner city. The flat is a recently renovated old dwelling with high ceilings, heated floor and lovely details.
A variety of shops for food, a stationery, bakeries, a pharmacy and little cafes are close-by. The Grunewald with plenty of lakes, further restaurants and great possibilities for sports is less than 10 minutes walking distance away.
Amazing, friendly and very considerate hostess and husband. They did everythig possible to make us feel at home in Germany during a difficult time for my family.
Yusuf
2015-03-10T00:00:00Z
Antjes flat is just great and I enjoyed a lot. I was attending an exhibition and was looking for something quiet nearbye. The flat is in a very nice house and in a very nice area full of beautyful old but renovated houses. There is some trainstation nearby and all shops you need. It took me 10 min by car to the exhibition and 15 min to the main street of Berlin (Kurfürstendamm) The flat itself is quite huge and equiped with very tasty furniture. It feels very cosy and all you need is in there. Despite the fact it was pretty cold outside (-7) it was nicely warm in the flat (floor heating)... Antje was very nice and easy going and very reactive on my request (one day before arriving) Next time I need to be on an exhibition or want to visit Berlin I will definetly ask Antje for accomendation.
Stefan
2017-02-10T00:00:00Z
The reservation was canceled 41 days before arrival. This is an automated posting.
Christoph
2015-03-20T00:00:00Z
The exterior of the '19th century' house is beautiful surrounded by a nice garden. The b&b is located on the ground floor of the house and very private with its own entrance. It is very spacious, clean and tastefully decorated. It is less than a 5 minute walk from the Bahnhof: mexikoplatz. The S1 will take you to the centre of Berlin in only 20 minutes. There are a few grocery shops and restaurants on walking distance from the house. Also you are 10 minutes away, by car or S-Bahn, from a huge recreation area with lakes and lots of nature. We think we we were very lucky to stay at this b&b and we would very much recommend it.
Robert
2015-08-10T00:00:00Z
This is one of the best Airbnb stays I have had and I have been traveling with Airbnb for almost seven years now. Antje is a truly nice and generous person. And the place is even better than the pictures; it's not only elegant and tasteful but has a personal and even funky touch to it that makes it feel incredibly comfortable to inhabit; to create a space that can do all this is not easy. My girlfriend and I really enjoyed it. You are a 10 minute walk from Schlachtensee (or one stop away on the S-bahn if that's how you would want to do it). And you are easily 20 minutes from the center with the S-bahn. You can feel like the Prussian elite, enjoying the bustle of the city but then able to retreat to your own space near Wansee. It's Berlin at its best...
David
2016-03-24T00:00:00Z
We are very satisfied with our stay in the apartment. Antje Limper-Huber was flexible about our time of arrival, a fact which let us drive to Berlin in our pace. The apartment was elegant, beautifully designed and carefully cleaned. The description given on the website is faithful and corresponds to reality. The house stands in beautiful green surroundings with impressive large houses. Antje gave us a friendly welcome, she is a obliging hostess, kind and service-minded. We recommend this choice to everyone. Eva and Bengt from Sweden
Bengt
2015-09-15T00:00:00Z
Beautiful and spacious apartment very close to S Bahn / train station and nearby restaurants and shops . Hosts were very very welcoming
Virginia
2017-01-05T00:00:00Z
It was a lovely place, with a lot of harmony everywhere ... We fully enjoyed our stay, and would like to be back there again. The connection to the city center is perfect due to S Bahn :)
Hamed
2014-05-05T00:00:00Z
Room Type
Entire home/flat
---
Property Type
Villa
---
Accommodates
2
---
Bedrooms
Berlin, Berlin, Germany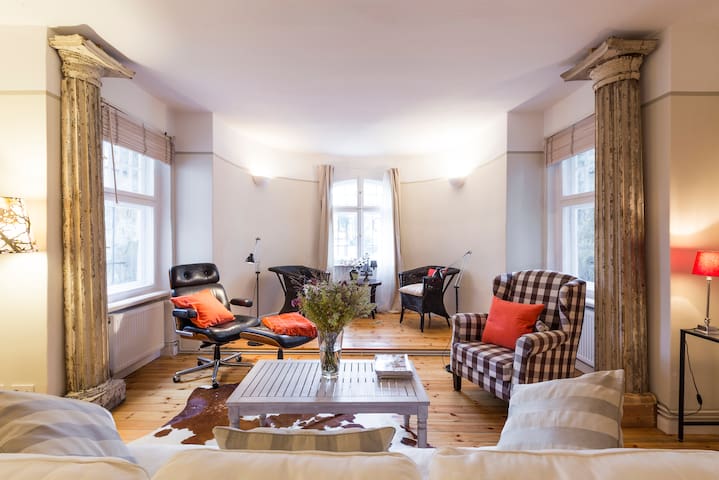 My accommodation is in Kreuzberg, in the immediate vicinity of Lausitzer Platz and opposite the Market Hall Nine. It is in a villa in a backyard in a quiet location with a friendly neighborhood. The apartment is child-friendly, spread over two floors and has a very well equipped kitchen. My accommodation is suitable for 2 couples or a family (1-2 children).
We (3) had an all-around wonderful stay here. The property is beautiful, spacious and clean. We were provided with all amenities one can wish for. The house was very easy to find, and it is located in a very vivid and colourful neighborhood. Restaurants, bars, the markthall are just around the corner, but the house it self is quiet and relaxed. The neighbors are very polite and friendly, same as the person who helped us with the keys when we checked in (owner was on holidays). There are bus stops, U/S stations within 10min from the house so you can go anywhere in Berlin. I cant think of a single negative thing to say...I would reccomend this property to anyone who's looking for a decent-priced, perfectly-located place in Berlin. We enjoyed our stay to the max!
Danai
2016-07-28T00:00:00Z
wir vier haben uns wahnsinnig wohl gefühlt in antonias zuhause! das haus ist wunderbar gemütlich, hell und geschmackvoll eingerichtet. leider konnten wir antonia nicht persönlich kennen lernen, aber ihre freundin aida war sehr nett und hilfsbereit, vor allem bei der pflege der hauskatze mietze. wir sind nicht erfahren mit Katzen, doch mit antonias leitfaden hat alles super geklappt, vor allem da mietze eine sehr selbstständige katze ist. die gegend, in der das haus liegt, ist wahrscheinlich eine der gemütlichsten berlins. man ist nahe am schuss in kreuzberg, jedoch in einer sehr ruhigen straße mit süßen cafes und bars, also auch passend für gäste mit kindern. am begeistertsten waren wir tatsächlich von dem schönen haus mit dem hellen innenhof, außerdem von der markthalle in der selben straße und der nähe von hotspots wie der oranienstraße, dem görlitzer park und kreuzkölln. wir würden jeder zeit wieder kommen! :)
Lisa
2016-09-14T00:00:00Z
Wir hatten eine wunderbare Zeit in Antonias Haus in Kreuzberg. Eine fantastisch ausgestattete Küche, bequeme Betten, viel Platz und eine sehr nette Gastgeberin mit der die Kommunikation bestens geklappt hat. Die Lage in Kreuzberg ist ideal für jegliche Art von Berlin-Besuch. Wir haben es sehr genossen hier und empfehlen Antonias Kreuzberg-Villa weiter. Vielen Dank und viele Grüße!
Celestine
2016-09-22T00:00:00Z
Room Type
Private room
---
Property Type
Villa
---
Accommodates
5
---
Bedrooms
Berlin, Berlin, Germany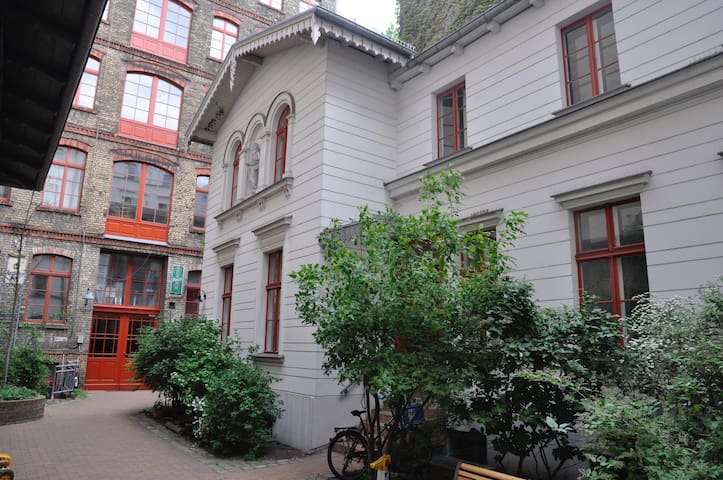 Kleine, ruhige Wohnung in Berlin-Zehlendorf -trotzdem citynah: 25min bis zum Potsdamer Platz Eigener Zugang, Küche, Bad.
Der Empfang super freundlich und sehr flexibel, obwohl ich nicht zur der von mir geplanten Ankunftszeit ankam. Eine Flasche Wasser stand im Kühlschrank bereit.
Peter
2016-09-23T00:00:00Z
Room Type
Private room
---
Property Type
Villa
---
Accommodates
2
---
Bedrooms
Berlin, Berlin, Germany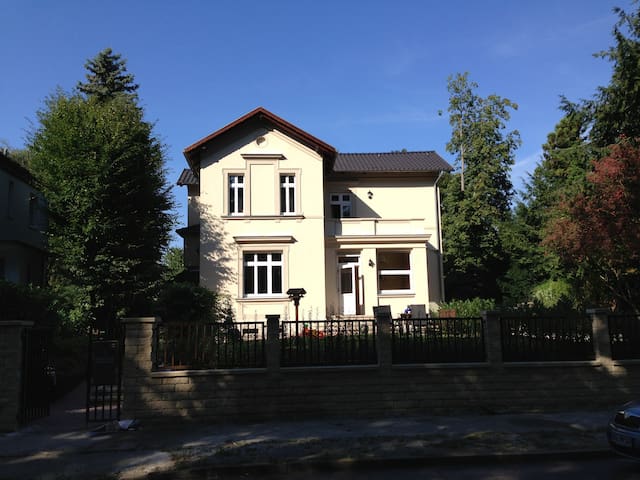 My property is located directly on Habermannsee in Berlin-Mahlsdorf. Good traffic on B1 /. 5 You'll love my accommodation for the view, directly on the Habermannsee, location and cuisine. Free parking on site. My accommodation is good for couples, business travelers and families (with children). Upon request, a breakfast can be prepared alternatively in own contribution. Shopping 500m.
War alles zur vollsten Zufriedenheit und immer schön warm!
Wolfgang
2016-12-01T00:00:00Z
Room Type
Entire home/flat
---
Property Type
Villa
---
Accommodates
8
---
Bedrooms
Berlin, Berlin, Germany
beautiful architect-villa with sunny terrace and garden. with car or public transport 25 min to city center. perfect for city trips and to the countryside
Bauhaus Design in 1930 style
nature, lakes, silence
Fantastic host and beautiful home. Probably most comfortable for one couple rather than two, as there is only one bedroom that offers full privacy. Overall a great stay and we were almost sad to spend so much time in the city and so little in the house!
Danielle
2016-08-09T00:00:00Z
Prima Lage (S-Bahn 5 Gehminuten entfernt - in 25 Minuten ist man ohne Umstieg am Alex) - Supermarkt ebenfalls nur 5 Gehminuten entfernt. Haus neu und man merkt das es das Haus eines Architekten ist: Durchdacht - individuell - wirklich toll Aufenthalt hat uns Spaß gemacht - gerne mal wieder
Dirk
2017-01-01T00:00:00Z
Room Type
Entire home/flat
---
Property Type
Villa
---
Accommodates
6
---
Bedrooms
Berlin, Berlin, Germany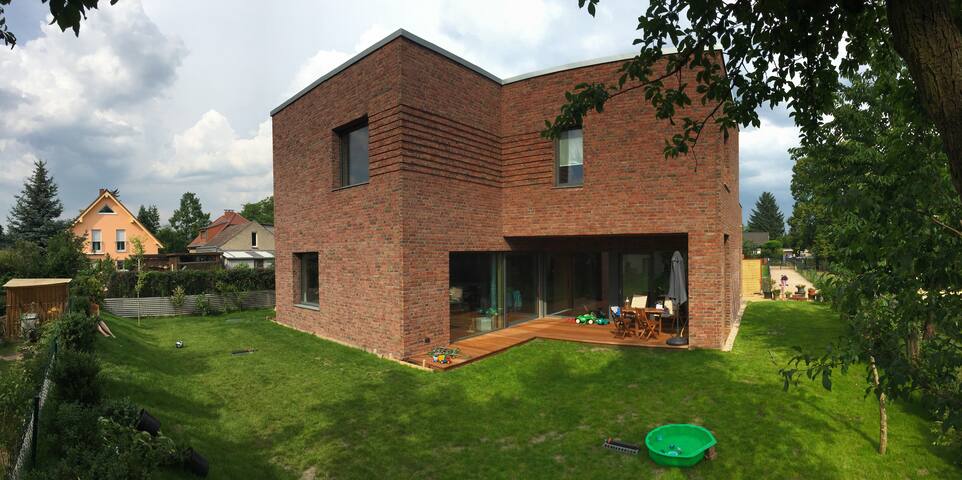 We are a small family having the joy to live in an amazing villa (*1925). Just renovated, its unique character has been carefully restored. It is close enough to enjoy the best of Berlin (Prenzlauer Berg), but also far enough to relax (Weisser See).
The apartment is situated in a Villa (built in 1925). It is part of an ensemble that was just renovated recently. It is a family friendly place. You have several playgrounds in the area, two lakes with public beach bars or restaurants/bars. The whole apartment has either herringbone parquet or anthracite floor tiles. All windows have elegant electric wooden blinds. You have your own toilet – only the shower has to be shared. The whole apartment has roughly 100m². You will live at our sunny side:). This is a separate area for up to three people and if needed for up to two babies/infants (enjoy the pictures). If you come with your children and there are still small (2-6 years), our daughters toys are available for them, too.
We love Weisser See (White lake). Whether in winter or summer, it is a nature resort in the heart of the city. If you want to enjoy the lively Prenzlauer Berg, you will be there by tram in 10 minutes. If you want to relax and watch a movie, you will have a multiplex cinema just seven minutes away or three minutes to an art-house movie theater. The tram runs 24hours. In walking distance (10 minutes) you are in so called "Komponistenviertel". It is a well-known living area with a so called organic touch and has several independent bars and restaurants.
Nice and spacious room, it's actually a sofa bed. We are totally free here, and there is a nice balcony. Easy to get to the city center by tram.
Pan
2016-06-28T00:00:00Z
Jens was so helpful and efficient! It is a beautiful little apartment that four of us stayed in. It was great to have our own toilet and the 'shared' bathroom (we had the apartment to ourselves for the duration of our stay). The terrace is lovely and we spent hours playing cards on it. We are close friends so there were no issues but it is definitely more suited to 2-3 guests! It was a wonderful week in a wonderful city in a wonderful apartment.
Mimi
2016-09-14T00:00:00Z
Great experience. No problems. Kasie let us in when we arrived late and then took us to the Bahn. We a big room and 2 baths to ourselves for the rest of the stay. Super easy. Weissensee is a bit further out than expected, but then we were traveling all over Berlin looking at appts. For Friedrichshain, P-Berg and Mitte it is just fine.
Karl
2016-11-01T00:00:00Z
Very nice place, the stay has been really pleasant and Jens is a very kind person. The apartment has all the comforts you look for It is proper and cosy. We will sure choose again this apartment if we come back in Berlin
luca
2016-08-16T00:00:00Z
We (father and 2 sons, 15 and 18) had a very good time in this indeed an extraordinary room in Villa (it is more a very nice appartment than just a room). It is a little bit off the center, but with good and quick connections by tram. And as Jens told us: the more interesting parts of Berlin are not in the centre, but in the parts around it (and he is right!) The nearby lake Weiszer See is (on a sunny day) a good place to drink a beer after visiting the city (with life music "on the beach" in the weekend). So, a good place to stay in Berlin, with a very friendly host! Ap Fraterman
Ap
2016-05-05T00:00:00Z
Jens' villa is very nice, a welcome get-away in the middle of the somewhat lesse authentic :-) buildings in the neighbourhood. Nice wooden floors, balcony and a shutters to keep the sunlight out in the morning if you want to sleep late. Bakery around the corner as well as a nice lake for swimming, rowing, dining etc., great after a day in the city. Jens is very helpful and relaxt, everything is basicly okay. Me and my three children (12, 14 and 17) had a nice stay!
Martine
2016-08-22T00:00:00Z
Jens made my friend and I feel extremely welcome in his home and was very flexible. He was understanding and helpful.
Sara
2016-07-15T00:00:00Z
The place is great, Jens is a great host. He gave us good advise.
Damien
2016-08-10T00:00:00Z
Room Type
Private room
---
Property Type
Villa
---
Accommodates
5
---
Bedrooms
Berlin, Berlin, Germany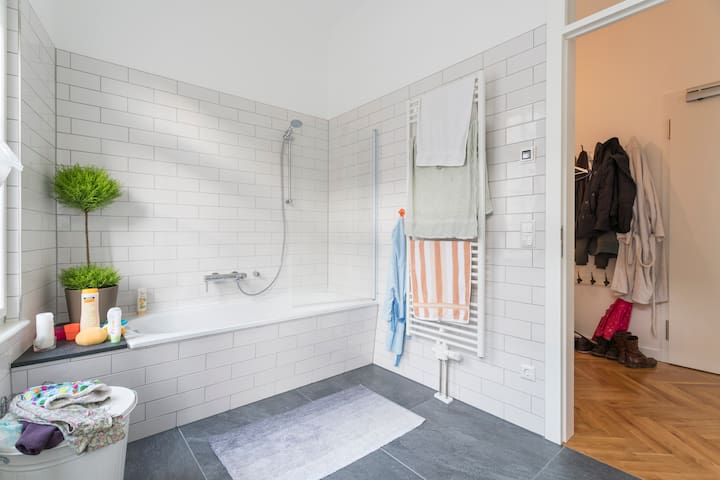 Unsere Unterkunft ist in der Nähe von Neu Venedig direkt Wasser, 35 min City 40 min Tropical Island zwischen Müggelsee und Dämmeritzsee. Du wirst meine Unterkunft lieben wegen riesigem loftartigem Wohnbereich, großer Sonnenterrasse direkt gegenüber Neu Venedigs Kanälen mit Grill und Pool im Garten.
Für einen einmalig schönen Urlaub bieten wir Ihnen unser Ferienobjekt.   In dem ca. 56 m² großen Loft gleich am Wasser finden bis zu 4 Personen Platz. Die Wohnung besteht aus einem riesigen loftartigem Bereich mit Blick auf die Kanäle von Neu Venedig in einmalig idyllischer Grünlage in Berlin Köpenick und einem Schlafzimmer plus 2. Bad mit Dusche. Der Wohnbereich ist mit einer Küchenzeile, einem Kühlschrank, einem Essbereich für 6 Personen und einer TV Ecke Relaxbett (oder doppel Bett) Kamin Stereo großer Sonnenterrasse gegenüber den Kanälen von Neu Venedig ausgestattet .  In Galerie Form befinden sich 2 weitere Schlafmöglichkeit für 2 Personen mit bequemem Doppelbett sowie Blick auf das Wasser. Das Bad mit Duobadewanne geht direkt vom Wohnbereich ab.       
Forest in all directions, the largest water sports area in Europe starts 15m from the terrace
The host canceled this reservation 70 days before arrival. This is an automated posting.
Jens
2017-03-16T00:00:00Z
Die Wohnung war schön und gemütlich, ideal für Sommer und wärme Zeit. Der Gastgeber war freundlich für uns. Vielen dank :)
Adam&Diana
2017-03-10T00:00:00Z
Alles war wunderschön. Torsten is einen sehr nette Gastgeber und das Haus ist wunderwar.
Mauricio
2017-03-29T00:00:00Z
Sehr großzügige und geschmackvolle Wohnung in charmanter Lage.
Gabriele
2017-03-27T00:00:00Z
Die Ferienwohnung ist wirklich toll. Geschmackvoll eingerichtet, bot sie uns, vier Erwachsenen und einem Baby, ausreichend Platz! Die Gastgeber standen bei Fragen zur Verfügung und waren sehr hilfsbereit. Auch die Formalitäten (Check-In/Check-Out) verliefen unkompliziert. Leider kann ich nicht viel zu der Umgebung sagen, da es uns, aufgrund des trüben Winterwetters, etwas zu kalt zum Rumlaufen war. Die Ferienwohnung liegt fast direkt am Wasser und im Frühling und Sommer muss es dort traumhaft sein. Ich kann die Wohnung sehr empfehlen und würde sie auch immer wieder gerne selbst mieten!
Sarah
2017-02-19T00:00:00Z
Mit meinen drei Enkeln verbrachte ich ein schönes Wochenende, wir hatten direkten Gartenzugang, der Garten grenzt an den Kanal. Die Gegend ist sehr schön mit den vielen Wasserstraßen. Die Einrichtung ist originell, die Kinder liebten besonders die Hochbetttage. Wir hatten zu viert reichlich Platz.
Ralph
2017-02-12T00:00:00Z
Room Type
Entire home/flat
---
Property Type
Villa
---
Accommodates
4
---
Bedrooms
Berlin, Berlin, Germany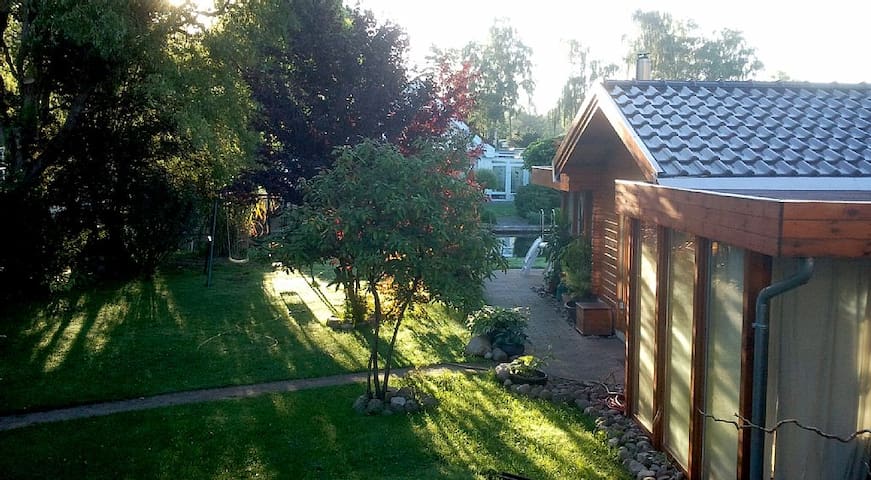 Meine Unterkunft ist in der Nähe von familienfreundliche Aktivitäten, Nachtleben, öffentlicher Verkehr, Flughafen und Stadtzentrum. Du wirst meine Unterkunft lieben wegen der einzigartigen Location mit wahnsinnigen Ausblick zum Pool, komfortables Bett, der Ausblick. Meine Unterkunft ist gut für paare, alleinreisende abenteurer und geschäftsreisende.
Um das Grundstück herum gibt es keine Nachbarschaft. Lediglich eine kleine süße Gartenkolonie, gibt es in unmittelbarer nähe. Lärm ist also Nullvorhanden.
Room Type
Entire home/flat
---
Property Type
Villa
---
Accommodates
2
---
Bedrooms
Berlin, Berlin, Germany
My property is a town house, about 8 kilometers from the city center. Until the S - Bahn (lines S2 and S8), it is 10 minutes to the bus stop (bus 150 and 158) is 3 minutes walk. Travel time to the center, about 15 minutes. I rent a large room with a king size bed, and a separate bathroom. The villa is in the countryside and you can, after you have enjoyed the hectic city life, relax in my garden and on the terrace.
Еin hohes Maß an Komfort und Unterstützung
Oleksandr
2017-02-01T00:00:00Z
Mooie comfortabele bungalow in een groene straat, op korte afstand van een bushalte, en een kwartier stappen van de S-Bahn. Aangename, ruime kamer met aparte badkamer en toilet, moderne keuken, alle gerief, alles zeer degelijk en schoon. Vriendelijke en gastvrije verhuurder, die moeite doet om het je naar je zin te maken. Een aanrader voor wie niet opziet tegen de kleine verplaatsing.
Freddy
2017-02-13T00:00:00Z
Vi kände oss välkomna! Blev visade runt för våra behov, vilket var väl förberett. Trivsamt hus och praktiskt för oss med tomt som vår hund fick vistas i. Lugnt o trevligt område och bra plats för bilen. Vi kommer säkert att återvända !
UllaBeth
2016-10-08T00:00:00Z
Super Unterkunft, der Gastgeber war wirklich nett und hilfsbereit. Die Unterkunft liegt in einem sehr ruhigen Teil der Stadt, aber ist gar nicht weit vom Stadtzentrum (ca 30 mins). Zum Zimmer gehört ein eigenes Badezimmer was sehr bequem ist. Das ganze Haus war ordentlich und sauber. Kann ich nur empfehlen!
Szabolcs
2016-10-03T00:00:00Z
Fui muito bem recebida. O espaço é excelente, tudo limpo e o anfitrião é super simpático. Recomendo!
Natalia
2017-01-01T00:00:00Z
Room Type
Private room
---
Property Type
Villa
---
Accommodates
2
---
Bedrooms
Berlin, Berlin, Germany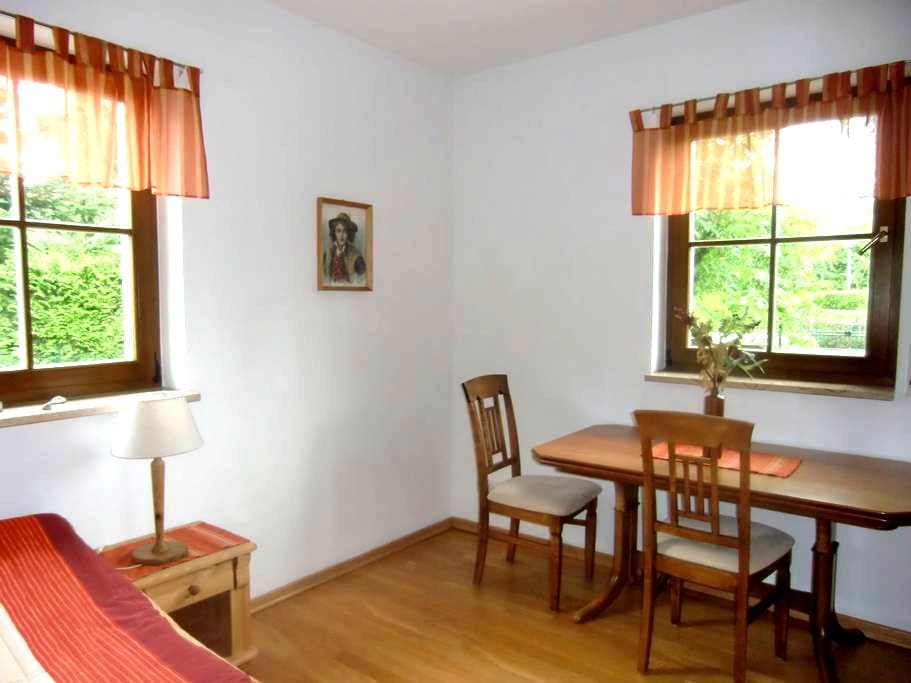 Friendly room, 30m2 in 3-R-flat (1st floor) in a castle-like house overlooking the garden, large kitchen incl sofa u TV, WiFi Near Castle Park, Bathtub, dishwasher, washing machine, good transport links, from priv (designer) for rent at Non smoking - Quiet, green, Living in town houses Pankow   about 20 minutes from Alexanderplatz, suitable for couples - High quality refurbished and equipped 3min walk to the park Pankow ... 20min by bike Want to discover special highlight for the pe
- ruhiges, grünes, zentru(SENSITIVE CONTENTS HIDDEN)ahes Wohnen im Stadtvillenbezirk Pankow, ca. 15min vom Alexanderplatz, geeignet für Alleinreisende oder Pärchen - hochwertig saniert und ausgestattet
zentru(SENSITIVE CONTENTS HIDDEN)ah, 3min Fussweg zum Schlosspark Pankow, Nahe Bürgerpark. Besonderes Highlight für Leute die Berlin auch mit dem Rad entdecken wollen: Es gibt einen direkten Fahrradanschluss über den schönen, grünen Wanderradweg am Pankefluss nach Berlin Mitte. Ideal für Biker!!!
Sybille is a lovely and caring host. She was always ready to answer my questions. The room is clean and beautiful and in a very convenient and safe place. I would recommend it to any one.
Alex
2016-07-10T00:00:00Z
Sybille's apartment was immaculately clean, very bright and beautifully decorated. It was one of the best AirBnB apartments I've ever stayed in, and was very fairly priced. I would thoroughly recommend it to anyone. Sybille was not around when I arrived but a neighbor was there to give me the keys, and she was very quick and helpful in answering any questions I had about the apartment.
Robert
2015-10-24T00:00:00Z
Sybille was a very kind host, available and uncomplicated. The appartement is very nice and the room confortable. Close to Penzlauerberg and to the airport.
Olivier
2015-07-17T00:00:00Z
I liked the place very much. The house is silent, the few is nice, the room is bright. The whole apartment is in a very friendly and cool design, with very much attention for detail. Also the whole house is beautiful. The connection to the city is super. Sybille is a very nice person. The communication was perfect. I felt like home and will come back whenever I will stay in Berlin.
Maike
2016-07-18T00:00:00Z
My host greeted me upon my arrival, showed me my beautiful room, and the basic amenities. The pictures online do not do it justice! Though I I received a private room, I was alone in the apartment for half my stay and felt peaceful. It was an amazing neighborhood, very safe, and the apartment was very clean, well maintained, and I felt very safe and comfortable. I didn't get to spend much time with my hostess as I immediately went out with friends but she did treat me to wonderful breakfast a few mornings later and we took a few minutes to get to know one another. I truly enjoyed my stay and recommend the experience to anyone traveling through Berlin/Panko.
Heena
2015-10-05T00:00:00Z
This is a beautiful room in a lovely 2 bedroom apartment. It was so wonderful to have access to a kitchen! I stayed for two weeks and felt right at home. I particularly like the neighborhood - it feels very safe and there is easy access to the transit system. I recommend Sybille's apartment for anyone!!
Carrie
2016-06-12T00:00:00Z
Highly recommend staying at the inspiring b&b of friendly Antonja. Every corner is filled with some new delight of interesting design, texture or material. Gorgeous!
Yvonne
2016-10-16T00:00:00Z
Our stay at Antonja's apartment was absolutely marvellous. The place was in a charming and calm part of Berlin named Pamkow and it was very well-connected with a public transport to the city center. The flat and the room were spacious and cozy. Antonja and her friend were really kind and attentive, very nice guys to have a chat with.
Igor
2016-12-31T00:00:00Z
Room Type
Private room
---
Property Type
Villa
---
Accommodates
2
---
Bedrooms
Berlin, Berlin, Germany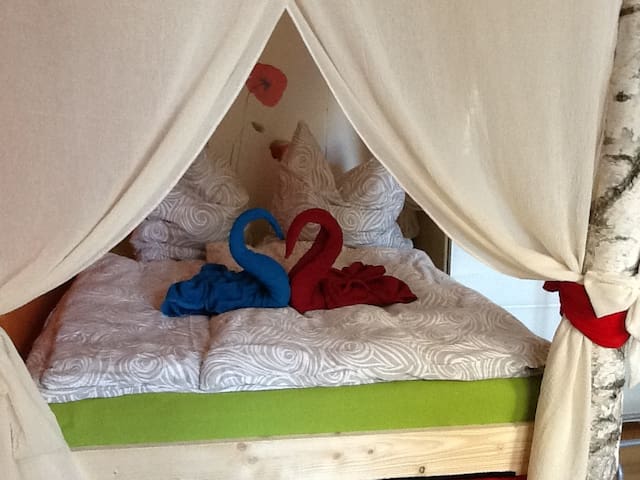 Friendly suite in villa with view to garden, large breakfast kitchen with lounge andTV;not far from the beautiful'Schloßpark Hohenschönhausen'park;dishwasher;bath;shower;good transport links;interior design by professional;non-smoking onlyplease
- Quiet, lots of green space, located in Berlin north - residential district Pankow (DDR), about 20 mins travel to Alexanderplatz in central Berlin, 2mins travel to motorway to a lots of lakes about 100km and the Baltiksea - Suitable for couples - High-quality furnishings and well equipped
Only 3 minutes by foot to near park - Castlepark Pankow. Great for discovering Berlin by bike: There is a cycle path nearby which leads directly to the heart of Berlin. Cyclists very welcome.
In the Berlin, I and my family can't relax what if We can't rent her house. Even though I and Antonja didn't met when check out. Everything was good and easy to stay. Location is not best for city tour but can relax, comfortably access for living. When we stay her house, it was small castle only for us. Cozy and clean house. Thx Anonja!!
Keyoungduck
2014-08-16T00:00:00Z
Very good
federico
2016-09-23T00:00:00Z
Very nice apartment. Clean, spacious and very quiet.
marion
2015-06-08T00:00:00Z
Antonja was very funny, open and hospitable. When we had a problem with transfer - she helped us very easy and quickly. Accommodation was VERY VERY comfortable. In that apartment you can get everything you want and even more. Very cosy flat in old center of Berlin Pankow - but neat the Tram (1 min from house) - 3 stations to U-Bahn but we walked - it is really close! To AlexPlatz - 15 min maximum. You can walk to train station S2. It is not far. It is silent and green location - a lot of trees around home, We really enjoyed Antonja and her apartment!
Dmitrii
2015-05-19T00:00:00Z
We booked this space for some family members that came to stay. It is a lovely two room/ kitchen accommodation, part of a larger private flat with a couple of rooms closed off. The space was clean, welcoming and homely, also probably ideal for a romantic getaway. The flat itself is located in an old style renovated building (with some work being finished off), close to parks (5 mins walk), supermarkets (5 mins walk) and transport (15 min walk from Pankow hub, or a 3 min tram ride away from outside the door). The owner - Antonja - was very friendly, prompt in response and a fluent English speaker for those to whom it may be of interest. Overall, it was a pleasant stay, and we would definitely book again, should there be a need.
PZ
2014-08-30T00:00:00Z
I stayed in Sybille's apartment four weeks and I had a really good time there. The apartment is cosy and peaceful. Sybille is friendly and helpful. Highly Recommended.
Martino
2015-05-15T00:00:00Z
Space was clean nice unit great location close to parks easy access to transport tram/train
caitlin
2014-10-16T00:00:00Z
Eine schöne individuell eingerichtete Unterkunft in ruhiger Lage. Sybille war jeder Zeit erreichbar und hatte trotz einiger Defizite zwischen unserer Mieterin und der Wohnung immer eine angenehme und sehr zuvorkommende Art. Wir bedanken uns für den reibungslosen Ablauf und den stets prompten Kontakt und würden jederzeit die Wohnung weiterempfehlen!
Jessica
2016-08-13T00:00:00Z
Room Type
Entire home/flat
---
Property Type
Villa
---
Accommodates
2
---
Bedrooms
Berlin, Berlin, Germany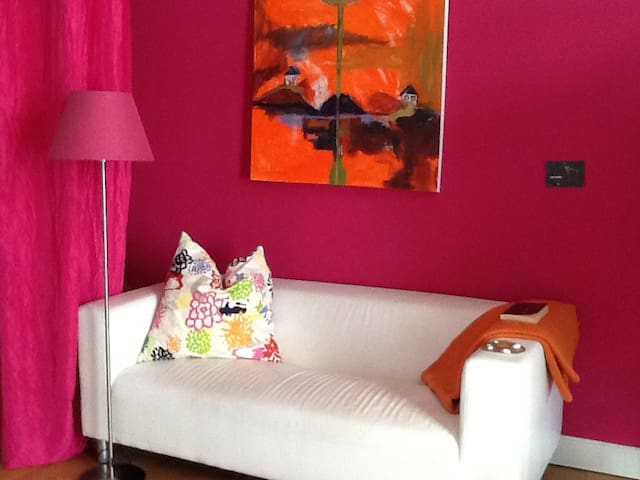 Historical.Villa, romant. Home, garden with barbecue, children welcome, four persons In our half-timbered villa in Pankow-Niederschönhausen, we offer in historic ambiance a tasteful and stylish apartment for your stay in Berlin. On two floors you can live, sleep and cook. The apartment has its own garden entrance, the garden is available for our guests. (Barbecue and seating available). Families with children are welcome, there is a playground in the garden) Holiday home's equipment is unique and high quality: The interior is in color and style of furniture lovingly adapted to the building. Underfloor heating and W-Lan make your stay more comfortable.
We stayed for four nights in August, the apartment was lovely and Axel, Birgit & family were very friendly. The weather was very hot during our stay so it was brilliant to have such a lovely big garden to relax in, our two year old son loved the play ground in the garden. I would recommend the apartment for a lovely quiet stay in Berlin, the location was great for us near family but also near tram stops and supermarkets.
Olive
2014-08-05T00:00:00Z
Room Type
Entire home/flat
---
Property Type
Villa
---
Accommodates
4
---
Bedrooms
Berlin, Berlin, Germany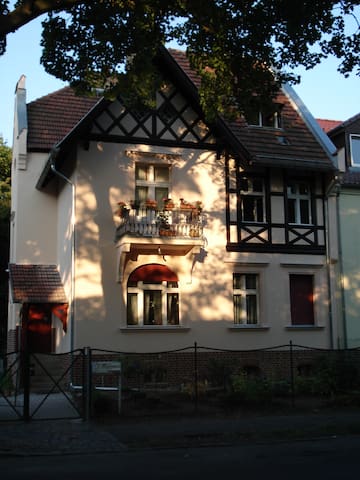 Das Stadtzentrum Berlin erreichen Sie von diesem Traumhaus auf direktem Weg mit öffentlichen Verkehrsmitteln oder mit dem Auto in 25 min. Dort steht Ihnen alle Möglichkeiten der Großstadt offen. Ideal für Familien mit 4 Schlafzimmern und 3 Bädern
Family meets Berlin In diesem Traumhaus ist beides möglich. Das Stadtzentrum Berlin erreichen Sie auf direktem Weg mit öffentlichen Verkehrsmitteln oder mit dem Auto in 25 min. Dort steht Ihnen alle Möglichkeiten der Großstadt offen. Oder verbringen Sie einen Tag am Strand des Rangsdorfer Sees oder machen Sie lange Spaziergänge und lassen den Abend gemütlich auf der Terasse ausklingen. In jedem Fall sind alle Vorraussetzungen für einen Traumurlaub gegeben.
The host canceled this reservation 133 days before arrival. This is an automated posting.
Ivo
2017-03-11T00:00:00Z
The host canceled this reservation 23 days before arrival. This is an automated posting.
Susana
2017-03-20T00:00:00Z
Great place! Luxurious and spacious in quiet town.
Simone
2016-10-28T00:00:00Z
Wonderful stay in Andreas house and his wife , they have arranged the check in as I want exactly, the house is very big , clean , well decorated, has everything you might need, big garden with dining table outside in addition to the one inside , there were 3 kinds of fruit in the garden, the area is 5 minutes walk to the lake , quite, near to Berlin, noterdam, I really feel happy with my family to stay and definitely I recommend for everyone to try the house
Muhammad
2016-09-14T00:00:00Z
Sehr große moderne exklusive Wohnung über zwei Etagen. Für mich als Einzelperson vielleicht schon etwas zu groß. Während der heißesten und längsten Tage des Jahres trotzdem kühl und wirklich jedes Fenster abdunkelbar. Trotz Flughafennähe keinerlei Lärmbelästigung. Jederzeit gerne wieder.
Andreas
2016-06-25T00:00:00Z
Room Type
Entire home/flat
---
Property Type
Villa
---
Accommodates
8
---
Bedrooms
Rangsdorf, Brandenburg, Germany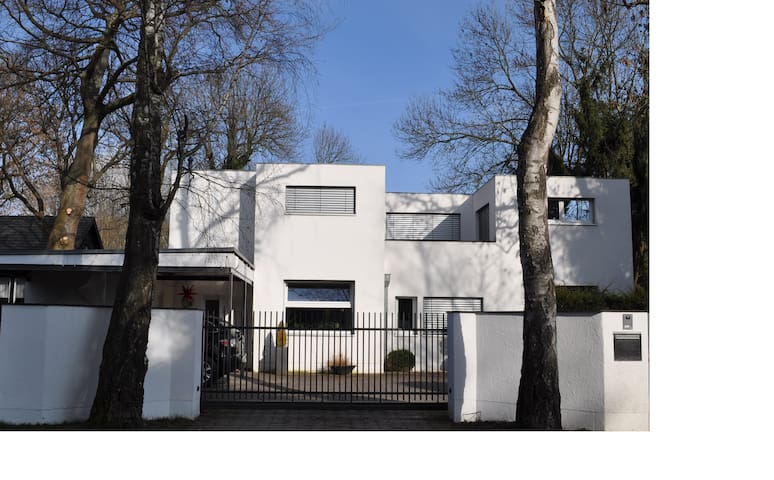 Friendly room (1st floor) in schlossähnl. House with a garden view, good transport links, large kitchen incl. Sofa and TV, near Castle Park Hohenschönhausen, WiFi, dishwasher, bathtub, washing machine, by priv. (Designer) to NR
Antonia ist sehr nett und freundlich. Die Wohnung ist bequem und gemötlich. Dazu spielt Antonja sehr gut Akkordion. Also bis nähste mal. Bogdan
Bogdan
2017-01-01T00:00:00Z
Room Type
Private room
---
Property Type
Villa
---
Accommodates
2
---
Bedrooms
Berlin, Berlin, Germany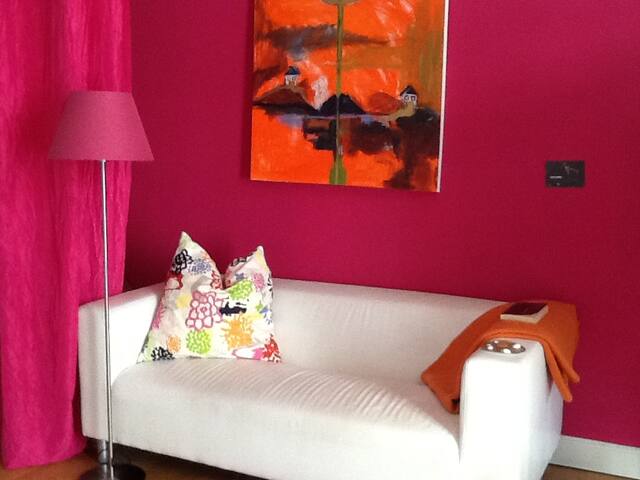 My place is close to restaurants and dining. You'll love my place because of the outdoors space, the light, the comfy bed, and the kitchen. My place is good for couples, solo adventurers, business travelers, and families (with kids).
The house is located in a quiet neighborhood, and the beautiful room is very spacious, super clean and with comfortable bed. Karin is a wonderful, warm and caring hostess. There were cookies, chocolats and fruits in my room, she gave me nice warm house shoes to use and drove me to the Ubahn station when I left. Very much enjoyed my short stay.
Trea
2016-11-16T00:00:00Z
Ruhige Lage und sehr zuvorkommende Gastgeber. Zu emfpehlen!
Saskia
2016-10-12T00:00:00Z
Room Type
Private room
---
Property Type
Villa
---
Accommodates
3
---
Bedrooms
Kleinmachnow, Brandenburg, Germany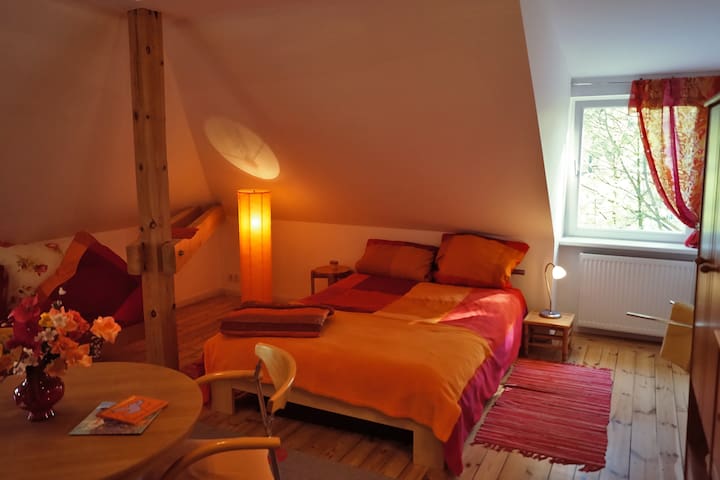 6 bedrooms, living room with kitchen, family room with fireplace, approx. 300 sqm (3,000 sqft); mansion district, garden (10,000 sqft), green, quiet, nature, 400 m to the lake-side; 30 minutes (20km, highway) each to city-west (fair ground, KuDamm) and to city-east (Alexanderplatz), or 15 minutes (12 km) to SXF (each approx. by car)
highlights are: - living room, 800 sqft, ceiling up to 18 ft. high, with open kitchen - cozy familiy room with fireplace - large patio with a view to the garden - marble bathroom with tropical rain shower
mansion district, green, calm, next to the lake-side (400 m): don´t forget your swimsuit!
Thank you we are very glad that we stayed in your house
Sorokin
2016-09-24T00:00:00Z
The listing is accurate and the neighbourhood is clean, charming, and best of all quiet. The house is spacious, with plenty of room to comfortably accommodate a lot of people. The house is about a 15-20 min. walk to the S-Bahn station, but it's a pleasant walk and even enjoyable at night. Nikolaus was very attentive, stopping by to replace towels and drop off water bottles, coffee, and even a bottle of wine (which was a welcome touch). While our stay was strictly for business, Nikolaus seemed eager to help with any tourist/vacation activities.
David
2016-07-17T00:00:00Z
Nikolaus made us very welcome in his home and was extremely helpful during our stay. The house was spacious and clean with a plentiful supply of towels, bottled water, nice crockery etc. The neighbourhood is quiet and full of nature - we saw a red squirrel on the tree outside our bedroom window! The nearby lake is just a 5 minute walk from the house with a nice beach, kids' playpark and swimming in the lake. The train station is a 20 minute walk to take you to Berlin city. Thanks Nikolaus, we enjoyed our stay!
Barbara
2016-08-02T00:00:00Z
Nikolaus was very welcoming and made sure we had a pleasant stay. Towels were changed as well during our stay. Only things missing was a nice sitting area and curtains in bedrooms and shower. Price was high but that was because of the IFA that was in Berlin.
Henry
2016-09-08T00:00:00Z
-Tolles Haus - Toller Gastgeber Was will man mehr???
Boris
2016-05-25T00:00:00Z
Nikolaus씨는 초기 예약부터 숙소 체크인 시점 까지 친절하게 맞이하여 주셨습니다. 숙박 시설은 아주 깨끗하였고, 편안하게 머무릴 수 있었습니다. 같이 방문하셨던 분들도 너무 좋은 곳을 예약하였다고 좋아하셨습니다. 다음에도 기회가 된다면 다시 방문하고 싶습니다.
Daehyun
2016-10-09T00:00:00Z
Die Unterkunft ist perfekt für größere Gruppen (wir waren zu acht), es gibt mehr als genug Platz, es ist bequem, es gibt schöne Aufenthaltsräume, zwei gut ausgestattete Badezimmer. Der Gastgeber Nikolaus tut alles, um sicher zu stellen dass es keine Probleme gibt und alle zufrieden sind. Dabei ist ihm keine Mühe zu schade, er hat uns sowohl bei An- als auch bei Abreise sehr geholfen. Bisher habe ich hier die besten Erfahrungen gemacht von allen AirBnB Unterkünften. Auf jeden Fall zu empfehlen!!
Ilyas
2017-01-02T00:00:00Z
Room Type
Entire home/flat
---
Property Type
Villa
---
Accommodates
8
---
Bedrooms
Eichwalde, Brandenburg, Germany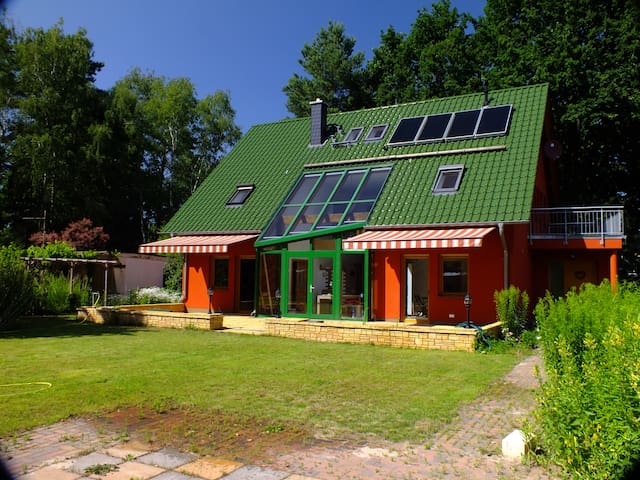 - für Alleinreisende oder besonders für Paare. Wie jedes der von mir eingerichteten Zimmer ist dieses mit besonderem Charme gestaltet, klein, fein und kuschelig, mit einem kleinen Bad. Die Balken der Dachschräge sind als kleine Bar umfunktioniert mit entsprechender Beleuchtung. - Bett für 1-2 mit 1,40 m Breite- - Duschbad auf der Etage, sowie eine offene Küche mit Fernseher zur Mitbenutzung und auch zum Kommunizieren mit anderen Gästen.
Deine Unterkunft befindet sich in der 1. Etage unserer modernisierten Villa auf einem großzügigen Waldgrundstück. Wir selbst wohnen und praktizieren unsere ganzheitliche Heilarbeit darunter im Hochparterre.
The host canceled this reservation the day before arrival. This is an automated posting.
Maria
2016-09-21T00:00:00Z
Karin is super wellcome and friendly. Her place is cosy and clean and she took great care. We even had a breakfast surprise. Thanks Karin any time again.
Kai
2017-01-01T00:00:00Z
A pleasant house to stay, the owners are very friendly and welcoming.
Lulezim
2017-03-13T00:00:00Z
Room Type
Private room
---
Property Type
Villa
---
Accommodates
2
---
Bedrooms
Kleinmachnow, Brandenburg, Germany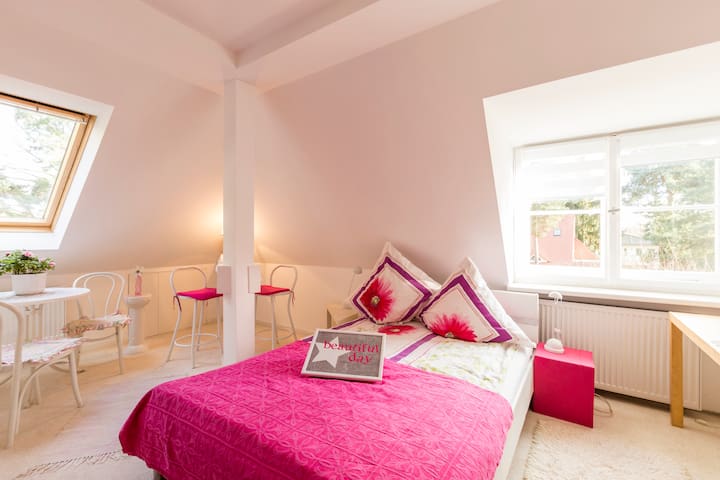 Dieses Zimmer mit Parkettfußboden, einem bequemen höheren Doppelbett verfügt über einen schönen Blick ins Grüne, Südseite, und eignet sich für Paare, allein Reisende, Abenteurer und Berufstätige, ganz besonders auch für Allergiker, und ist mit einem modernen Waschplatz ausgestattet. Gegenüber befindet sich ein modernes Duschbad mit Toilette, sowie 3 weitere liebevoll gestaltete Zimmer, eine komplett ausgestattete moderne Küche zur Mitbenutzung und der Aufenthaltsbereich mit Fernseher .
Sie wohnen in einer wunderschönen total modernisierten Villa - Bj 1936-in der zweiten Etage auf einem ca.3000m² großem Waldgrundstück....ruhig und erholsam. Lage Das Grundstück befindet sich 5 min vom Berliner Stadtteil Berlin-Zehlendorf entfernt. Somit perfekt für jeden, der dem Alltagsstress in der Stadt entfliehen will, dennoch aber gut angebunden sein möchte. In umliegender Nähe befinden sich diverse Einkaufsmöglichkeiten, ein herrliches Freibad, eine Sauna -gegenüber-,ein Sportcenter, Tennisplätze, der ÖPNV, der Teltowkanal und diverse schöne Orte im Grünen. Kostenloses Parken auf dem Grundstück Sonstiges Das Rauchen im Haus und in den Zimmern ist nicht gestattet ! Individuelle Wünsche werden soweit möglich gerne berücksichtigt.
Sehr zu empfehlende Unterkunft
Thomas
2016-11-17T00:00:00Z
Ruhig gelegen mit guter Anbindung an Nahverkehr und Geschäfte, sogar eine Sauna ist um die Ecke. Sehr nette Gastgeber die sich um den Gast bemühen. Ich habe mich sehr wohl gefühlt.
Michael
2017-02-28T00:00:00Z
Room Type
Private room
---
Property Type
Villa
---
Accommodates
2
---
Bedrooms
Kleinmachnow, Brandenburg, Germany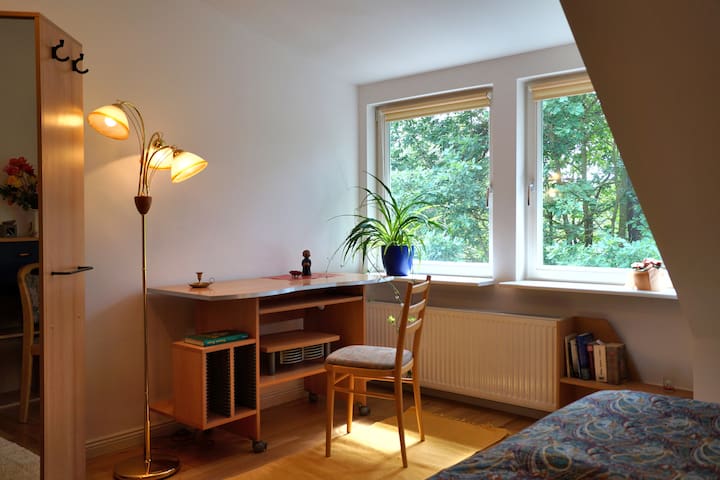 1

–

18

of

28 Villa Rentals
Enter dates to see full pricing. Additional fees apply. Taxes may be added.