We welcome you to our waterfront cottage "The Blue Heron" on the shores of beautiful Lac Long in Bolton Est Quebec. It is truly the ultimate getaway for those looking to escape the hustle and bustle of the big city. Kayak our pristine lake or go for a ride in the peddle boat. Both expert and amateur fisherman will be tested as our lake is renown for it's great fishing. Hiking trails are minutes away, as is the town of Eastman where you'll find all your necessities should you require.
What a fantastic place! We came to hike in Orford National Park for the weekend and were not disappointed. The place was easy to get to, spacious, and welcoming. Darren was a great host and accommodated our late arrival. The kitchen is well-equipped and the beds are very comfortable. I want to come back in the summer!
Emma
2017-02-12T00:00:00Z
Darren greeted us in a very welcoming manner. We felt very relaxed the moment we entered the cottage. The place was clean and had everything. A couple of fun activitites: kayaking, making an fire outside, hanging out on the dock or on the terrace. If you are looking for a little getaway, this is the place to go! Thanks again Darren!
Beatrice
2016-09-06T00:00:00Z
We were 6 adults and two little dogs, we found what we were looking for, a calm weekend away from a busy city life, we were comfortable, there was enough space, we cooked all our meals in the kitchen, it really felt nice!! I was surprised by the low ceilings on the second floor and by the acoustics in the house, like hearing people walking on the stairs, but I got used to it very fast
Eliya
2017-02-05T00:00:00Z
Isolated get away right on the lake, great for relaxation or even kayaking or barbecueing by good weather. We traveled with a baby in November so we mostly stayed in and didn't have an awesome night because our baby woke up often. We had plenty of space though with 3 bedrooms and decided to sleep on the ground floor because of the big windows and lake view. Darren greeted us warmly and made himself available. I would have liked to find some olive oil in the kitchen for some basic cooking but other than that kitchen was well stocked. Overall good stay.
Diana
2016-11-06T00:00:00Z
Darren was at the property at our scheduled time and gave us a thorough orientation. Blue Heron is located in a truly lovely lakeside setting on a beautiful non-motorboat lake, a big plus for us as were the two real kayaks that allowed us to explore the mid sized lake. The house itself is equipped with just about everything you would ever need for a vacation stay--up to date kitchen with all kinds of items and outdoor BBQ (which we didn't get to use). There's an excellent fireplace/stove, which we used on the cool autumn nights when we were there. Eastman is just a short drive away for supplies and meals, we particularly liked the Beignes Dora for takeout--recommend the Cannelloni (think it was spinach) but all looked good including breads and pastries. And for a restaurant Auberge La Casseta was wonderful, very reasonable Table d'Hote of top rate French bistro food (not huge portions but between all courses was plenty). One note for people who are taller than about 6 ' 1" feet the ceiling upstairs is a bit low. And additionally the luxurious bathroom with a great tub is downstairs, neither the height or the single bathroom is a real problem as this is the kind of vacation house where the bedrooms are just for sleeping and the rest of the house is extremely comfortable.
Stan
2016-10-01T00:00:00Z
Fantastique séjour! Darren nous à très bien accueilli. Il était présent lorsque nous sommes arrivés et nous a fait visiter son chalet en indiquant tout ce qu'il fallait savoir. Le chalet est très bien équipé, très confortable et le lieu est magique! Très calme avec beaucoup de charme.
claire
2016-10-12T00:00:00Z
Un chalet avec beaucoup de charme, et surtout une vue & proximité incroyable sur le lac!! Le lac est très grand, et les 2 kayaks fournis sont très bien. L'endroit est très calme et reposant. Nous avons adoré notre fin de semaine ! Les 2 chambres à l'étape ont de très grands lits, par contre le divan-lit au rez-de-chaussée est plutôt pour des enfants. La terraese est immense et parfaite pour manger et se reposer. Nous recommandons!
Olivia
2016-08-28T00:00:00Z
Room Type
Entire home/flat
---
Property Type
Cabin
---
Accommodates
8
---
Bedrooms
Bolton-Est, Québec, Canada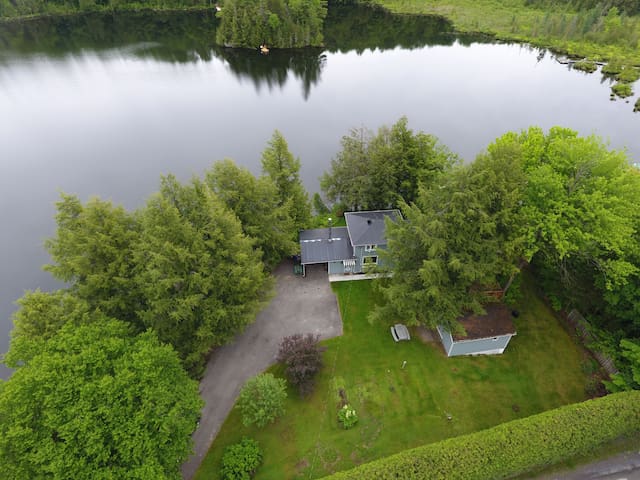 Our bright fully equipped comfortable home is a 15 minute walk to village centre . Close to all outdoor activities year round. Short drive to Sutton, Bromont for additional wine and dining. 2+ bedrooms that can sleep six.
So close to everything and yet quiet and wooded. You will appreciate the calm and peacefulness of the area we live in.
We live in a great little village with a strong sense of community. Local resources such as CSLC, bilingual library, restaurants in the village and the adjacent towns only a twenty minute drive through country roads. Outdoor activities for all and any season.
Room Type
Entire home/flat
---
Property Type
Cabin
---
Accommodates
6
---
Bedrooms
Knowlton , QC, Canada
My place is close to art and culture, ski aria Mount Orford , parks, the city centre, golf Mount Orford. You'll love my place because of the high ceilings, the views, the location, and the ambiance. My place is good for couples, solo adventurers, business travellers, families (with kids), big groups, and furry friends (pets).
Lovely house and really enjoyed the hot tub! The fact that there is only one bathroom is slightly inconvenient for larger groups, but we made do. A few things such as salt, pepper, olive oil, extra toilet paper would add to the ease of staying at the house, but overall it was great.
Julia
2017-03-09T00:00:00Z
Très beau chalet. Plus grand qu'on peut l'imaginer par les photos. Le fait que deux grandes chambres soient à l'écart des pièces communes permet de ne pas déranger et de ne pas l'être également. Bien pensé.
Jean-François
2017-03-01T00:00:00Z
Room Type
Entire home/flat
---
Property Type
Cabin
---
Accommodates
12
---
Bedrooms
Magog, Québec, Canada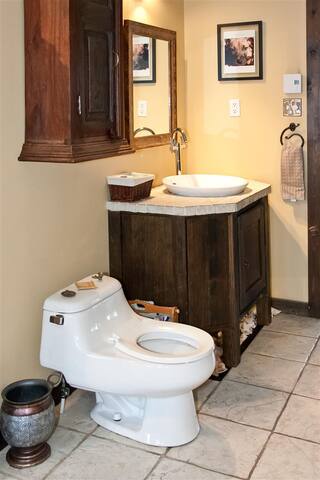 Cozy pine-walled cottage close to skiing. Wood stove with lots of firewood. All bed linen, dishes, etc. provided. Private road and driveway plowed. HD satellite TV..
The cottage is very cozy and very well equipped, and it's very close to Owl's Head. Peter is so nice and reply to me very fast very time. Our kids love the large deck and the little valley at the back, especially with a lot snow. And the trail in the woods at the end of the road is also very good if you like to walk your dog or just take a walk. We had a perfect family getaway and will recommend it to everyone.
nan
2017-03-18T00:00:00Z
The host canceled this reservation 54 days before arrival. This is an automated posting.
Michaela
2016-10-30T00:00:00Z
The cottage is located on a quiet street 10 minutes from great skiing and hiking at Owlshead and 30 minutes from Orford and Sutton. There is a couple of quaint stores about 10 minutes away to get bread, meat and cheese etc. The town of Magog is less than 30 minutes away for everything else needed. The area is beautiful and we were able to walk to the lake from the cottage. The cottage was very cozy and well equipped for a family vacation. All the rooms have nice views. The living room looks out to a forest, ravine and creek. We were pleasantly surprised to see quality frying pans as most cottages only have old scratched ones. Peter was always available to answer any questions and made sure we'd have everything we needed, including firewood! Looking forward to staying there again!
Dave
2017-01-03T00:00:00Z
Chaleureux petit chalet très bien situé pour les amateurs de skis alpin (entre les monts Orford et Howl's head et à 20 minutes de l'incomparable station de montagnes du Diable Vert. Le Chemin des Hirondelles est un petit lotissement très calme en flanc de colline et l'accès au lac Memphrémagog est accessible à 3 minutes de voiture ou 10 minutes à pieds. Services et magasins sont disponibles à Mansonville et à Vale Perkins. Les lits sont confortables et la grande pièce de vie (salon, salle à manger-cuisine) est coquette et chaleureuse. Aussi, une très grande terrasse donnant sur la forêt nous laisse entrevoir quelques reflets du lac caché par l'abondante végétation de la colline.
Suzanne
2017-02-27T00:00:00Z
Room Type
Entire home/flat
---
Property Type
Cabin
---
Accommodates
6
---
Bedrooms
Austin, Québec, Canada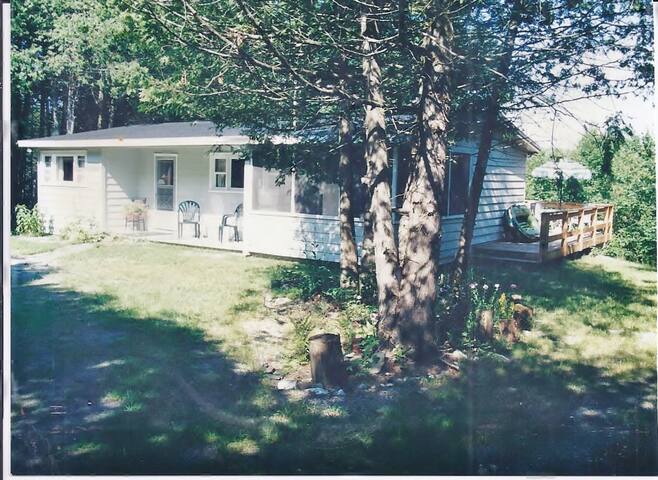 Cozy cottage for nature lovers. You want to escape the hectic pace of everyday life? My little cottage is the perfect place, as birds, deer, and smells of the forest. Feel the rhythm of nature, no electricity, no running water, old. Four propane, wood stove, happiness ...
Located in the forest, you will live to the rhythm of the sun. Several paths through the land with woods, hiking, skiing and snowshoeing in winter. This is definitely a homecoming. Take coffee, rocking chair on the porch, watching deer, pileated woodpeckers, red cardinal, wild turkeys or simply the story of a squirrel ...
Beautiful area in the Eastern Townships, highly sought, a little over 20 minutes of the show Foresta Lumina Coaticook, 30 minutes from Mont Orford, 5 minutes from Lake Massawippi and 10 in North Hatley, 20 minutes from Lake Memphremagog, 20 minutes from US Customs 15 minutes Comptonales, etc. It is perfectly located !!!!
We really loved our stay! It was on a beautiful horse farm with lots of wilderness to explore. The retreat was a really good chance to get away and relax. The cabin is warm and cozy with really great big windows! Making and eating dinner by candlelight is romantic. The lack of electricity and seclusion from society is really refreshing and a good break. The bed on the first floor hurt my back a little bit but that's just me! Thank you so much Jacob for having us, we had a great first time in Canada!
Lydia
2017-03-22T00:00:00Z
Great place to get away from the city. Like camping but with a roof over your head and a bed to sleep in. Best of both worlds :) Jacob is super nice and communicates great
Eric
2017-01-05T00:00:00Z
Place was great, exactly what we were expecting. Was well equipped with candles, and kitchen supplies. We arrived on a very cold winter night and the fire heated up the cabin quickly. We saw lots of deer, as advertised. Jacob was great when it came to communicating with us to ensure we found the place. Great time, would stay here again!
Michele
2016-12-11T00:00:00Z
We had a really lovely time staying in Jacob's cabin. Communication with Jacob was really easy - he provided lots of information and always felt reachable. Questions were answered very quickly. La cabane est jolie et l'emplacement est super beau. Nous avons visiter pendant l'hiver et la poêle à bois nous à garder bien au chaud et nous étions même assez chanceux de manger un petit déjeuner dans le soleil sur la terrasse.
Gillian & Liz
2017-02-24T00:00:00Z
great little place for a painting retreat. right in the middle of the woods and the place is well taken care of. i would definetely rent again! thanks jacob!
Lara
2017-02-27T00:00:00Z
Great little place in the middle of the woods! And a very efficient wood burner to keep warm during cold winter nights :)
Veronique
2017-03-08T00:00:00Z
Lovely hide out in the woods. Peaceful beyond belief.
Faye
2017-02-05T00:00:00Z
This beautiful, off-grid cabin in the woods was just the romantic country getaway we were hoping for. Private and secluded, and very well-equipped - cooking utensils, propane stove, and plenty of candles for after dark. We were there on a cold winter weekend, but the wood stove kept us toasty warm, and you can watch the flames from the bed at night. Jacob was extremely helpful and responsive. There are forested trails and open fields to explore, and many deer. The cabin looks even better in person, and was generously equipped with firewood. Highly recommend! Merci, Jacob!
Rebecca
2017-03-12T00:00:00Z
Room Type
Entire home/flat
---
Property Type
Cabin
---
Accommodates
3
---
Bedrooms
Hatley, QC, Canada
My place is good for couples, families (with kids), and furry friends (pets).
The property was built in the late 1940's but has grown over the years. The current owner is only the third owner and has had the privilege of this beautiful location since 1978. This is truly a place to make memories. The tranquil setting of the lake, with the water at your doorstep is sure to relax and rejuvenate the soul. Lake Mempremagog is still a pristine, clean lake and our location has a clean gravel lake bottom. We have no seaweed. Extending 32 miles from Magog Quebec to Newport, Vermont, this is a freshwater, glacial lake. Ideal for the enjoyment of water sports, the property is equipped with many water and boating accessories. The character and ambiance of the house has been preserved with the original wide pine wall paneling in the kitchen and small living room. The house has the feel of a summer cottage with modern amenities. The kitchen has beautiful granite counters and brand new stainless steel appliances. The recently renovated Master suite includes a new bathroom with deep soaker tub, custom glass shower enclosure and a flat screen television. The Master bedroom also has a wood stove. The house also has a collection of National Geographic magazines and books about nature. You never know when you might find a flower being pressed between the pages of an old book; waiting for a child to come and re-discover her preserved treasure. There is a rock collection sitting in an old ice cream container that is now into its second generation of "life". Our granddaughter has begun to add her discoveries to the collection started by her mother. Swimming, snorkeling, fishing, paddle boating, sailing, canoeing, tubing, and water skiing are all activities possible at this property, but perhaps the most pleasant is watching the sunset while sitting on the dock. The winter seasons gives us a chance to enjoy three of the best ski hills in the east. Just 15 minutes away from Owl's Head Ski Resort, a wonderful family focused ski hill. With great downhill elevations, but also extensive slopes for children, Owl's Head is where three generations of our family have learned to ski. On the edge of Lake Memphremagog, Owl's Head offers spectacular views. In the opposite direction, 15 minutes away is Orford Ski Resort. Part of a Quebec provincial park this resort offers great downhill as well as cross country and snow showing. A beautiful tranquil setting, Orford has a great chalet so you can extend your ski day into the evening. If you are inclined to travel just a bit farther; 40 minutes you can cross the border into Vermont and enjoy the incessant snow of Jay Peak. With the biggest vertical drop in the Northeast and the luxury of its location in some bizarre 'it is always snowing' at Jay this ski hill is sure to have challenges for the most expert skiers. This ski hill has the most natural snow in the entire Northeast which allows for one of the longest ski seasons available.
We are located on Sergeants Bay on Lake Memphremagog. We have a southern exposure so we have sun all day long. Our view is down the bay with Owl's Head. Even though our location is tranquil and secluded we have a very good convenience store just up the road at the town of Austin. This is very useful if you just need some milk or beer ;)
Room Type
Entire home/flat
---
Property Type
Cabin
---
Accommodates
6
---
Bedrooms
Austin, QC, Canada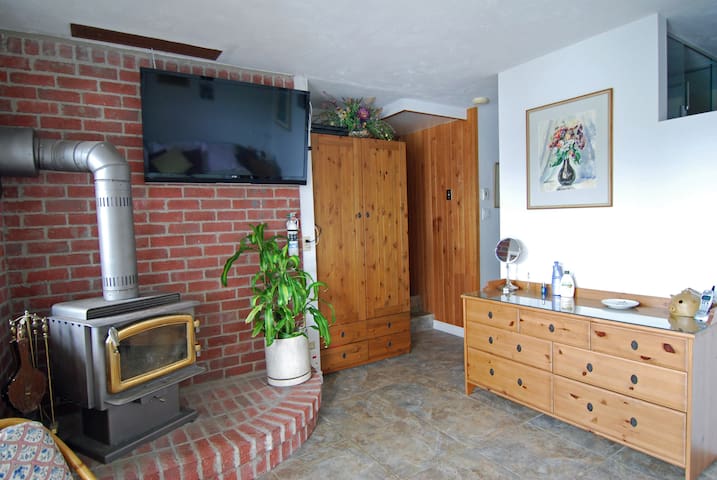 Cozy A-frame cabin in a private setting. Stunning views of Jay Peak which is only 4 miles away. Just off the VAST snowmobile trails in the heart of the Northeast Kingdom. Perfect base camp for skiing, hiking, mountain biking, fishing and snowmobiling.
Custom woodwork details, sunny skylights, queen bed, outdoor decks. Fully equipped kitchen.
Close to Jay Peak ski area and waterpark. Close to Jay village country store, restaurants.
The host canceled this reservation 3 days before arrival. This is an automated posting.
Joe
2017-04-05T00:00:00Z
Room Type
Entire home/flat
---
Property Type
Cabin
---
Accommodates
2
---
Bedrooms
Jay, VT, United States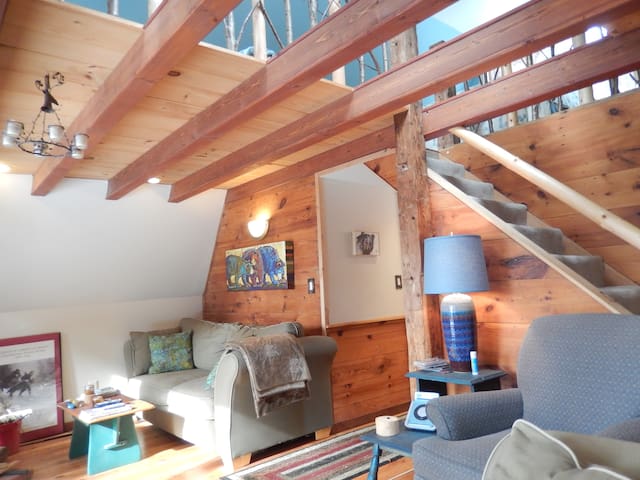 The secluded, lakeside cabin, built almost 100 years ago, exudes rustic charm. It offers country simplicity at its best. It's located in a beautiful wooded surrounding with access to a private beach. Rents by the week.
The cabin is located on a 7 acre piece of forested land which includes several other historic buildings, the oldest of which dates to the 1890s. The property is known collectively as Birch Bay and it was started by a New York Times reporter who, in the end of the 19th century, was inspired by Thoreau and Emerson to go back to the land. That was its original operating ethos, and that hasn't changed much in the ensuing 120 or so years. It is a very unique place. It is a place to disconnect from the stresses of modern life and fill your days with swimming, listening to the lapping waves on the shore, cooking nice meals, looking at birds and wildflowers and so on. I will stress once again that this is a rustic experience. It's about getting away from it all in country simplicity. It is a very beautiful, relaxing and comfortable environment, but the amenities are more country than they are luxury hotel. Many people are looking for this, and if you are one of them, this is the perfect place for you.
Birch Bay is on a beautiful, secluded, wooded cove on the banks of Lake Memphremagog. This area was one of the first parts of the lake to experience the building of holiday homes, in the latter part of the 19th century (it was previously primarily a farming community), and it still retains a lot of its old time charm. The property is a less than five minute drive from historic Georgeville, a fifteen minute drive from Magog and a thirty minute drive from the Vermont border. It is also directly across the lake from the St Benoit du Lac Abbey and you can hear the bells ringing throughout the day. Last, but certainly not least, because it is on the eastern side of the lake, visitors are treated to spectacular sunsets.
Although it rained a lot during our stay, the cabin was cozy and welcoming. It was a rustic quiet getaway just as Elizabeth advertised. We loved the cabin, the lake, and the history. Elizabeth generously showed us her cabin and explained its origins. They were so friendly and welcoming. Thanks so much for the wonderful vacation. It was just what our family needed.
Amy
2016-08-21T00:00:00Z
Absolutely fantastic! The cabin was great, the natural surroundings beautiful (and tranquil) and Elizabeth was a wonderful hostess. I highly recommend it.
Daniel
2016-08-14T00:00:00Z
This is one of the most beautiful place I have ever been to. The sunset view on the Abbey across the lake is stunning, and the historical log cabins feel like travelling back in time. It's perfect for getting away from the city life and regenerating energies.
Cécile
2016-05-17T00:00:00Z
It was magical to stay at Elizabeth's loghouse at Birch Bay. Each night we were treated to the most exquisite sunsets over the lake. The view to the Saint Benoit Monastery was a very interesting twist in Canadian nature and made you think about medieval times. The house was rustic but very comfortable with a well-stocked kitchen and a good shower with superb water pressure. Elizabeth and Gerard were wonderful hosts. They were very responsive and open and willing to meet all our wishes. It was a particular treat to go for a walk with them over the property and be informed about the interesting history of Birch Bay and its former inhabitants. The cabin is well located for tourism in the Eastern Townships and there are lots of options for bicycling and hiking in the area. We miss falling a sleep with the sound of the waves of the lake and are already dreaming about coming back!
Halla
2016-08-07T00:00:00Z
Nous avons passé une semaine extrêmement agréable dans ce chalet rustique et charmant, idéalement situé face au Lac Memphrémagog. Chalet avec beaucoup de cachet, bien équipé. Hôtes attentionnés et très sympathiques. Une expérience que nous renouvellerons certainement! Merci merci !
Marc
2016-08-29T00:00:00Z
Ce chalet sur le lac est fantastique. Le lieu est incroyable et nous sommes assez loin de la route. L'accueil est chaleureux. Les deux jours que nous y avons passé furent très agréable. Nous avons très hâte d'y retourner. Les villages avoisinants sont aussi très charmants. Pour une retraite hors de la ville réussie, c'est l'endroit où aller! Y'a même une petite plage pour se reposer et profiter du soleil.
Hervé
2016-05-30T00:00:00Z
Room Type
Entire home/flat
---
Property Type
Cabin
---
Accommodates
4
---
Bedrooms
Stanstead, Québec, Canada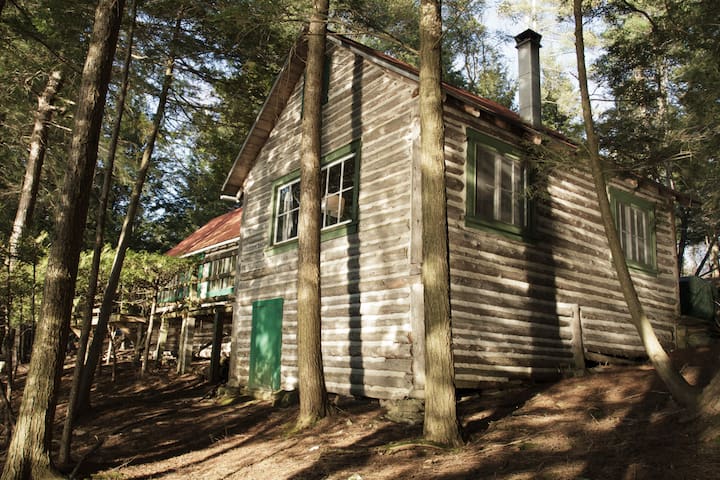 A large newly built cottage located in the forest at the foot of Mount Orford in the Eastern Townships. During winter, it's great for skiing and winter sports. In summer, it's a 5 minute ride to the fabulous Memphremagog lake: beach, water sports, etc. Mount Orford provides several restaurants and dining options, as well as family-friendly activities.. You'll love the location, the ambiance, and the outdoors space. The place is good for couples and families (with kids).
The host canceled this reservation the day before arrival. This is an automated posting.
N
2017-01-05T00:00:00Z
Room Type
Entire home/flat
---
Property Type
Cabin
---
Accommodates
4
---
Bedrooms
Orford, Québec, Canada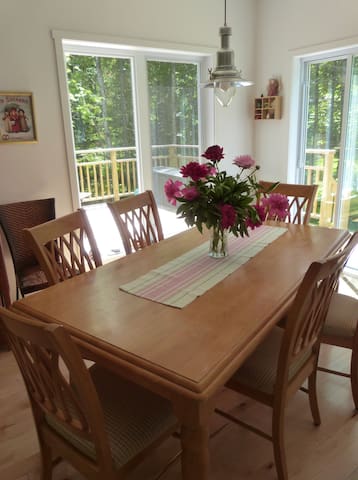 Our cottage is situated just outside of Ayer's Cliff, Qc. Lake Massawippi is just 100m away, with lake access. Walking and cycling trails are 50m away. All summer and winter activities are within 20 Kms. The cottage has an open concept which is great for dining, relaxing and good times. Good for couples, solo adventurers, business travellers, families (with kids), and furry friends (pets).
Great place! Clean, confortable, awesome house to stay!
Enya
2017-01-01T00:00:00Z
Great house for a little group of friends. Near a lot of place to hike or simply hanging out for a weekend. We had a lot of fun staying there.
Hoang-Son
2016-08-29T00:00:00Z
Nice place in a nice location ! The beds are very confy, the living room is cosy with its stove and the kitchen well equiped. Cooking basics (oil, spices, ...), dishwasher detergent, sponges and paper napkins would have been welcome. We were able to do a camp fire oyrside wich was very nice. Barcecue was really appreciated ! I recommend this place.
Emilie
2016-09-18T00:00:00Z
Très belle maison pour passer du temps de qualité avec des amis
Francois
2016-12-23T00:00:00Z
Beau petit chalet dans un quartier tranquille à deux pas du lac massawippi. Très confortable. Nous y avons séjourné pour une fin de semaine en famille.
Marie-Eve
2016-09-25T00:00:00Z
Nous avons eu plusieurs échanges avec Denyse, toujours courtois et coopérative. La maison est grande et propre. Les lits sont très confortable. Tout était près à notre arrivée. Le bbq ainsi que le foyer extérieur, complète bien cette maison dans un endroit très tranquille. Le four ainsi que le petit four réchaud manque un peu d'amour et un bon nettoyage par contre. Je recommande cette maison pour la tranquillité des lieux ainsi que la proximité de plusieurs attraits de la région.
Yves
2016-10-10T00:00:00Z
Séjour et environnement agréable.
Pierre
2017-01-06T00:00:00Z
Beau séjour. Bien situé pour visiter Coaticook. Espaces adaptés à une famille avec jeunes enfants. Simple. L'automne le paysage est magnifique. Le feu de bois c'est chouette. Il manquait un économiseur, un bon couteau, des verres de plastique. Rien pour nuire à notre week-end.
catherine
2016-10-23T00:00:00Z
Room Type
Entire home/flat
---
Property Type
Cabin
---
Accommodates
6
---
Bedrooms
Hatley, Québec, Canada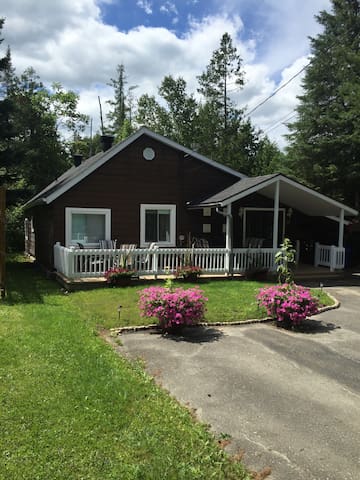 Toad Cottage is on the West side of the lake which offers magnificent sunrises. The lake also offers a constant breeze coming which help stay cool during the hot summer days. The house is also surrounded by trees and there is a lawn to the East for children to play as well as a fire pit for evening events.
There is sufficient parking for 3 cars, just leave your car on the shoulder. The gravel path leading to the cottage is rather steep (approx. 125 feet) and may require several trips for food and luggage.
Toad Cottage is on a private road which makes things nice and quiet. Vessels on the lake include both motorized and sail boats as well as canoes. Jewett's General store has those last minutes items you may have forgotten, including a meat counter, wine & beer.
Room Type
Entire home/flat
---
Property Type
Cabin
---
Accommodates
6
---
Bedrooms
Mansonville, Québec, Canada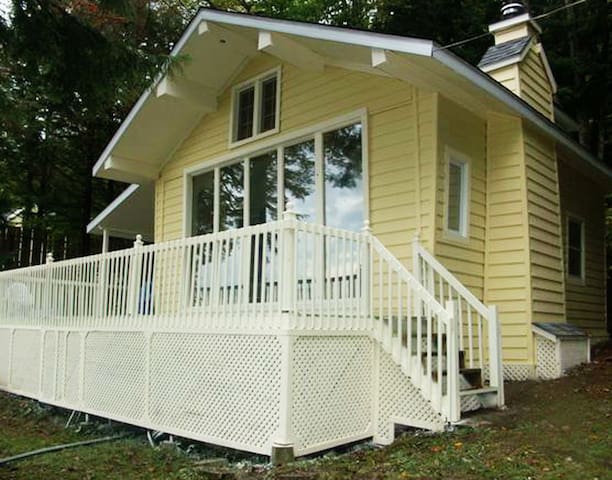 Enjoy beautiful sunsets and sunrises in our cozy waterfront cottage on Lac Mephremagog in Newport, Vermont. Waterfront access is 30 ft from the front door. Kayaks and bicycles are provided for your enjoyment. The waterfront is shallow (starts at 1 foot of depth and has a very long shallow area) so great for young children. All in all a great spot to put up your feet and enjoy the summer!
Cozy summer cottage with 2 bedrooms. First bedroom has 1 single bed and a bunk bed - great for the kids. Second bedroom has a double bed. Bedding and all kitchen supplies provided. Main dining area seats five. Outdoor terrace with dining seating seats six. Wireless internet provided. The cottage is located directly in front of the lake so you have a full view of the lake. Make time to relax and enjoy the amazing sunsets! Cottage next door is also available to rent if you are a large group. Second rental cottage can sleep 4. Great location for a family vacation.
We are located on the "Bluffs" in Newport Vermont. The cottage is located on a bluff overlooking Lac Mephremagog. There is a set of stairs to go down to access the waterfront. A large dock is provided for all guests. There is a road circling the cottages - nice little walk for kids. Access into the town of Newport is ten minutes by bike or 5 minutes by car. The local hospital is also 5 minutes away by car. We really live in a very quiet neighbourhood but the town is very easily accessible. Bicycles are available for guests use. There is also a beautiful bike path along the lake up to the Canadian border. Great day ride. In town you will find a health food store (with restaurant), post office, great little ice cream shop, italian, thai, chinese, etc. restos, toy store, UPS drop off shop, etc. Newport is a really quaint little town!
Room Type
Entire home/flat
---
Property Type
Cabin
---
Accommodates
5
---
Bedrooms
Newport, VT, United States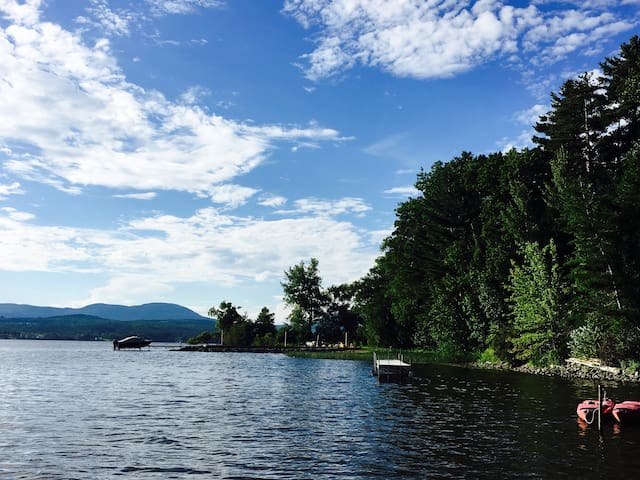 Rustic cabins where rainbows happen. Charming cottages overlooking scenic Lake Memphramagog, spacious, quiet, in a private setting, amazing mountain & lake views, large yard, fire pit, lake access for launching boats, kayaks, canoes, or fishing, etc.
Two cottages~Strawberry & Blueberry~These cottages make the perfect getaway. Spend the day on the water, basking in the sun, or under the big, shady trees, find artifacts along the shore, or launch your kayak/canoe floating to the serenity of loon calls. In the evening, sit around the fire pit, roasting marshmallows, making smores, under the big, starry, wide open sky. Bring your friends & family for a vacation they won't soon forget! Book your families summer to remember! Only Eco-friendly, bio-degradable, green cleaning & laundry products are used in cabins. No synthetic cleaners. Prices go up on July 1 'til Oct. 31. Prices of $153 per night, that's including tax & service charge.
The cottages are set away from it all, but in 10 minutes, you are close to a variety of fine & casual dining restaurants, farmers markets, a Natural Food Store & Cafe, golf course, smoke shop, hiking, biking trails, waterpark, waterfalls, etc. In the evening, nightlife is minutes away, enjoy a french cafe in Sherbrook, Quebec or any variety of delicious restaurants located in Newport, VT.
The listing was completely accurate, and Michelle provided all the basic comforts of home. I look forward to returning for many more lake-filled weekends.
Brad
2015-10-05T00:00:00Z
My stay at Strawberry Acres was absolutely perfect. Michelle could not have been nicer or more accommodating. The cottage is absolutely charming, and Newport has everything you could need during your stay. The location on the lake is nothing short of idyllic! If you are looking for a peaceful getaway, this is the place!
Jillian
2016-10-31T00:00:00Z
Great place to disappear for a couple days. Remote, well-maintained, and quiet. Perfect cabin with all of the amenities you need and none that you just think you want.
Jason
2015-09-08T00:00:00Z
Room Type
Entire home/flat
---
Property Type
Cabin
---
Accommodates
5
---
Bedrooms
Newport Center, VT, United States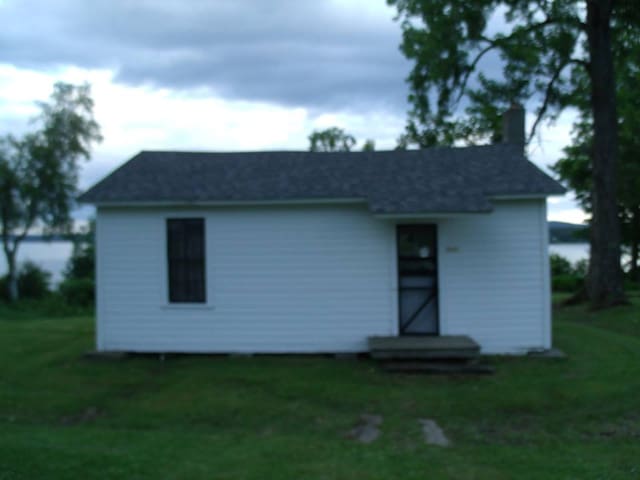 Summer:lake/swim Fall:colours/read Winter:ski/fireplace Spring:hike/kayak Fantastic all season cottage, pictures say it all!! Golf, Ski, Horseback and So much more nearby. We will gladly answer all you queries.
The cottage is modern and luxurious, with a fully equipped kitchen facing the lake, 2 nice bathrooms and 2 wide-screen TV's, so there won't be any conflict for either bathroom or entertainment. A large terrace with a gaz BBQ and sitting area. The perfect sound proofing between the 2 floors makes sharing the house a dream. It's an oasis of peace and quiet, with the surrounding trees providing shade and intimacy. It's a little piece of heaven that will provide you with solace and serendipity, or simply enjoy an evening by the fireplace. All bed linen and towels (bring your beach towels) are included in the rental price. Internet access, cable service and basic phone line are also included, additional charges could be added for long distance calls.
Mont Orford is the highest summit in the Eastern Townships, it is enjoyable in winter and summer. The lake is clean, motor boats are not allowed. Charming Magog is 7 minutes away, with a wide choice of trendy and local restaurants; shopping in the exclusive boutiques is a discovery of hidden treasures.
Nous avons passé un agréable séjour en famille dans cet adorable chalet bien équipé et confortable. De belles promenades enneigées en raquettes ou à pieds, vue superbe du lac. Belle nature calme. Ski et patinage proches.
PHILIPPE
2017-01-08T00:00:00Z
Room Type
Entire home/flat
---
Property Type
Cabin
---
Accommodates
6
---
Bedrooms
Orford, Québec, Canada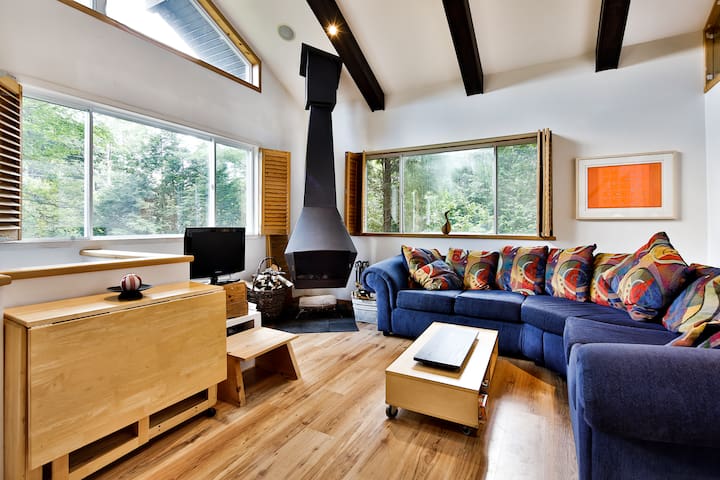 Quaint Cottage of yesteryear nestled near Lake Memphremagog, just a 2 minute walk to the privately shared beach and fantastic bike path. A perfect get-away 2 bdr. cottage.
It was such a nice get away from the city and all the noise! Super cozy and absolutely stunning! Definitely recommend.
Feitong
2015-10-12T00:00:00Z
Troy and Marilyn made us feel very welcome! We had a great stay - we especially appreciated how inviting the cabin is. It was very clean and comfortably set up with lots of nice little touches. Troy and Marilyn have thought of their guests needs - from a well appointed kitchen to life jackets, kayaks and board games for the evening. The beach is beautiful, and just a minutes walk away. We also enjoyed the bike path just outside the door, and we loved riding our bikes from the cottage. Thanks, Troy and Marilyn!
Ajilla
2016-07-24T00:00:00Z
n/a
Graciela
2016-08-23T00:00:00Z
The host canceled this reservation 8 days before arrival. This is an automated posting.
Rena
2015-10-02T00:00:00Z
We stayed at Marilyn and Troy's cabin for a few nights (Saturday-Tuesday) and it was so great we did not want to leave! The cabin is so cute, clean, and has everything you could need! The walk to the beach is literally 2 minutes and the views are so spectacular that all of the pictures I took look like postcards. We highly recommend going down to the beach and watching the (URL HIDDEN) gorgeous! The bike path by the house is great too! We walked our dog for miles and miles and he enjoyed every minute of it. The cabin is on a cute little road with a bunch of other cabins and it has a little lawn with plenty of area to sit outside. Our dog loved it and never wanted to come inside...except to bask in the sun on the screened in porch. Troy and Marilyn texted us when the cabin was ready and met us at the cabin when we arrived. They left a map and directions for us and Troy gave us directions to another little beach area where we could bring our dog! We didn't have to contact Troy or Marilyn during out stay but they did reach out to us via text message on Tuesday morning with directions on what we should do when we leave the cabin and they also wished us a safe trip home. Overall I would definitely recommend staying at Troy and Marilyn's!
Megan
2016-08-10T00:00:00Z
The host canceled this reservation 8 days before arrival. This is an automated posting.
Hope
2016-08-23T00:00:00Z
We had a wonderful stay! Hosts are kind and accommodating without hovering. Cottage is in a small association with intimate proximity to others but very quiet and friendly. Fully equipt kitchen, gas grille and wifi. Sandy beach w shallow wade-in frontage is just around the bend and beautiful. Our 2 kids and dog LOVED it! Great bike path for running and biking runs btw cottage and beach. Perfect for a simple, low-key, beach focused stay. Had use of beach chairs and sit on top kayaks (with life jackets). Great fun!
Amanda
2015-07-06T00:00:00Z
We loved the cottage and the location. The cottage was cozy and fully equipped. We would definitely stay here again. It was so quiet and restful. It felt like we owned the beach.
Donna
2016-10-01T00:00:00Z
Room Type
Entire home/flat
---
Property Type
Cabin
---
Accommodates
6
---
Bedrooms
Newport, VT, United States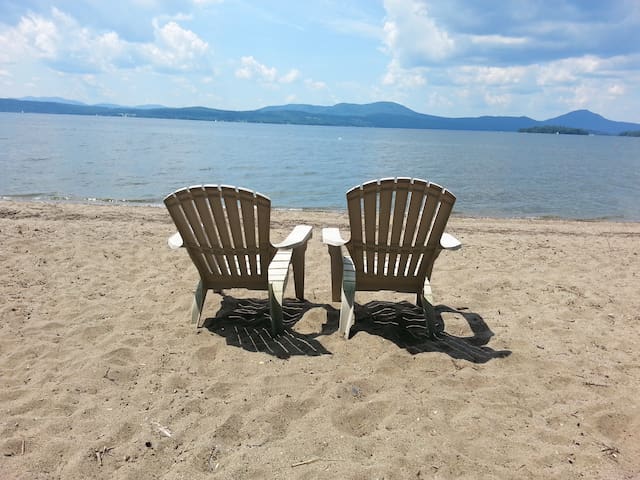 Very unique chalet for rent summer or winter. Equipped with 3 bedrooms, 2 complete kitchens, 2 full bathrooms, 2 sets of washers and dryers, 2 living areas and a massive property. This a great house for a medium - large group or 2 families.
Equipped with 3 bedrooms, 2 complete kitchens, 2 full bathrooms, 2 sets of washers and dryers, 2 living areas and a massive property. Dogs welcome, invisible fence installed on 40,000 sq ft of land.
Located next the bike path for XC skiing and snowmobiling. Minutes from Bromont and Granby. Excellent location.
Amazing location, very close to ski bromont. Beautiful home, many rooms for a large group and fully furnished for relaxing after a long day on the mountain. Would recommend coming to this house next year!
Anthony
2016-03-09T00:00:00Z
Very nice place. The common areas are great for groups and location is very close to shops and restaurants. Host was easy to get a hold of. Thanks!
Marie
2016-08-22T00:00:00Z
Jeff was pretty chill and easy to work with. I'll probably be going back and renting this place again.
Kevin
2014-08-11T00:00:00Z
We really enjoyed the kitchen, dining and living rooms. Lovely country setting. Great place to hang out with friends and family. The only challenging aspect was we were 8 people, and the add says it sleeps 9, but there are only beds, pillows and blankets for 7 people, and 4 bath towels for all of us.
Lianne
2016-08-02T00:00:00Z
The place was super accommodating! More than enough room for everyone to sleep, clean and with a huge yard as well! Far enough out of town to get away but so close to the stores in case you forget anything. I would definitely stay there again
Keith
2016-05-09T00:00:00Z
Great open living space with 3 bedrooms. We loved the big kitchen/dining room/ living room. The place was so big we didn't end up using the downstairs living room much. The water smells, but we were warned of it and it did not really impact our experience. All in all, a great place to get together-- perfect for a ski weekend with friends.
Madeleine
2017-02-12T00:00:00Z
Very cozy chalet, clean, loved the open concept of the kitchen and living room. Great for a group :) Well located just 10min to Ski Bromont and 5min to the town. Jeff was very helpful with everything. Looking foward to rent this place for our next weekend getaway with friends.
Ayano
2017-02-26T00:00:00Z
Great space, great location, great host. What more could one ask for? Thanks again, Jeff!
Andrew
2016-10-10T00:00:00Z
Room Type
Entire home/flat
---
Property Type
Cabin
---
Accommodates
9
---
Bedrooms
Shefford, QC, Canada
I am renting the spare room in our beautiful cottage. Our place is close to a lake, great views, parks, the beach. Always wanted to stay near a lake? There is it!. This is a great spot for couples and solo adventurers.
Everybody around are super respectful of each other, we do hope that our guests will do the same to keep the peace around our beautiful little paradise
Bel accueil chaleureux, discret et sympathique! Bel environnement propre et relaxant Merci :)
Marie-Pier
2016-07-27T00:00:00Z
Room Type
Private room
---
Property Type
Cabin
---
Accommodates
2
---
Bedrooms
Saint-Denis-de-Brompton, Québec, Canada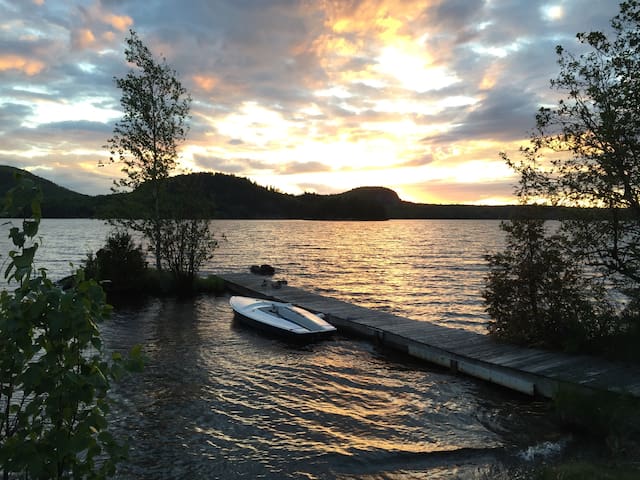 64 Smith Drive is on Lake Memphremagog and easy access to its family-friendly activities, close to Jay Peak resort for outdoor adventure any time of the year, and very near the Canadian Border, should you want to explore Quebec/Montreal! You'll love the cottage because of the outdoor space, the peacefulness and relaxation of the Northeast Kingdom, and the charming town of Newport Center. A wonderful respite for couples, solo adventurers, families (with kids), and groups of friends.
Custom built in 1994 for a lovely British family, 64 Smith Drive has the charm of the English and has been their serene oasis in the northernmost part of Vermont.
I stayed at this charming cottage with my daughter for 11 days. This is a nice place to rest in a very calm area. The cottage is as described. The land is surrounding with beautiful pines. The Cottage has front access to the gorgeous Memphremagog lake. The view to the lake from the balcony is beautiful.
Alain
2016-08-12T00:00:00Z
The cabin is on the edge of some Smith family property, of which I'm a member, and I took my fiancee and parents up for a visit for four nights to the old properties. The cabin is well-kept, with a beautiful rustic wood interior, and all the facilities you'd want in a cabin (that is, everything except internet and phone). Lake Memphremagog is a gorgeous, uncrowded lake, and the town is small but with some great food (go to Newport Natural Foods, seriously), a beautiful boardwalk, and an increasing number of festivals and open-air movies and such.
Brooks
2016-07-15T00:00:00Z
This is a beautiful place right on Lake Memphremagog (VT). It was in my mind the picture perfect cottage. Very cozy inside, fully equipped, quiet and private in the trees, but also close to shopping and essentials. Beer lovers check out Kingdom Brewing on a nearby hilltop! Lots of room for everyone (we were 5) inside and out. Grassy hill going down to the lake perfect for lounging on the grass under the trees. Communication was great, all questions answered. Checking in and out was a breeze. Don't pass this place up!
James
2016-06-27T00:00:00Z
The cabin was exactly as described. The lake was very quiet even for a holiday weekend. The nearby town of Newport had some great local food, cider and an organic market. It is a beautiful spot in VT to visit!
Emily
2016-07-05T00:00:00Z
Room Type
Entire home/flat
---
Property Type
Cabin
---
Accommodates
6
---
Bedrooms
Newport, VT, United States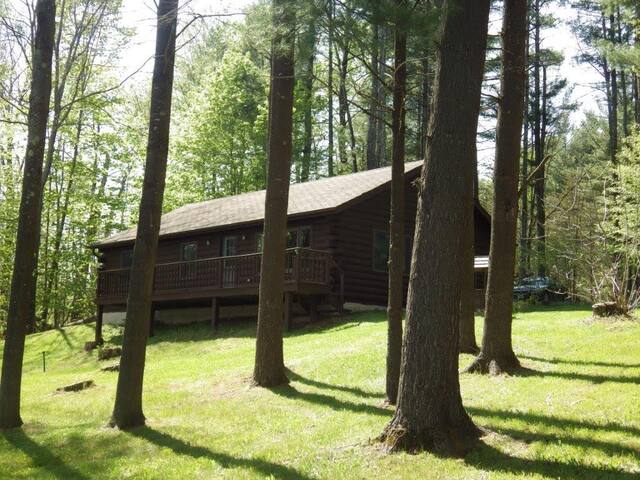 Bolton-Est - Airbnb
:
Average

4.41

out of

5

stars from

106

guest reviews
1

–

18

of

25 Cottage Rentals
Enter dates to see full pricing. Additional fees apply. Taxes may be added.