Our bright and comfortable waterfront cabin with lots of windows has a true country feeling. It is miles away from city life but centrally located to enjoy Jamestown, Yorktown and the Middle Peninsula which is known for its oysters.
Come discover why river life in Shacklefords is a perfect getaway whether you are an artist, writer, or a group of friends that want a carefree stay. Our private driveway through the woods is a mile long. Once the land opens up to the York river it is like a secluded compound. There are plenty of adventures outside your cabin doorstep: fishing, crabbing, kayaking, running, cycling, bird watching, and star gazing. Located behind the cabin is an artist studio/garage. We do not use this space when we have guest at the cabin. The cabin kitchen is fully equipped so you can prepare your meals. Charcoal grill is stored in the garage with plenty of charcoal. Our waterfront property is only 10 minutes from a variety of local farm-stands; 30 minutes from the wineries in New Kent; 40 minutes from Historical Yorktown and Williamsburg; and 50 minutes from the city of Richmond. Neighbors are few and far between. Come, enjoy a week or two in the country. The sunsets over the water are spectacular. On your way in, it is a good idea to stop and get groceries at the local Food Lion either in West Point or Saluda.
Our private driveway is a mile long. We share it with my aunt and uncle. Please drive slowly and introduce yourself (if needed) as a guest of Nancy's.
The listing was spot-on and in many ways better than we had hoped! It's a large piece of very quiet, private and secluded land on a beautiful river. Our hosts were very gracious staying up until we had arrived later than anticipated, but shared with us all the details we would need to have a great weekend. Close to historic Yorktown and Williamsburg, perfect view of the water and just a fantastic place. Lovely people, Nancy and her husband, and we look forward to recommending this to others and returning one day!
Michael
2015-05-26T00:00:00Z
Nancy was waiting for us upon arrival and the cabin was ready and perfect. As advertised! The property is beautiful and tranquil and we spent most of our time lazing around. Just what the doctor ordered. PS: the sunsets are spectacular! Thank you!
Jérôme
2016-07-18T00:00:00Z
Beautiful, peaceful... I wished I lived here! As a first time AirBnBer, Nancy was responsive and answered all my questions prior to our arrival. She greeted us outside with the key and a quick intro to the cabin. CABIN: We The first thing we saw was the outdoor shower (it has hot water!). Inside is quite open and feels large. The windows are amazing. We loved the views, even at night when the river lights are all about. The bed was super comfortable - something I did not really expect in a rental cabin. The kitchen is well stocked with towels, plates, glasses and small appliances. RIVER: The private dock was such a peaceful retreat. Coffee out there in the morning in a must. We spent a great deal of time either fishing or just sitting with our feet in the water. If you like crab, take a trap. We "caught" plenty of crab with our fishing poles. We also caught croakers and one eel (but released everything). It was just a fun way to spend the day. We didn't attempt to swim in the river sense I heard the current can be quite strong. HOST: It's the little things that make Nancy an awesome host. There were makeup removal wipes in the bathroom for ladies. There were several bottles of water already in the fridge for us. The bathroom had wonderful full-sized shampoo/conditioner/bodywash. Nancy encourages recycling and composting. :) I hope she'll have us back, because we loved it!
Amy
2015-08-10T00:00:00Z
Wonderful, peaceful, relaxing weekend on the York River. Have stayed here two times and look forward to a return trip next spring. The perfect getaway!
Amy
2016-09-19T00:00:00Z
The reservation was canceled 15 days before arrival. This is an automated posting.
Tyler
2014-10-30T00:00:00Z
We were looking for a nice quiet, peaceful place to relax and this place was perfect. Nancy was just so sweet and accommodating, I couldn't have asked for a better host. Everything essential was already in the cabin which was wonderful. This is definitely a place that I would love to come back to. Oh yea, the views are amazing! We literally sat for hours just watching the water. Absolutely Loved it here.
Ashley
2014-12-30T00:00:00Z
My husband and I just returned from a wonderful weekend at Nancy's cabin. Nancy was very responsive to any questions leading up to our reservation. She was waiting for us at the cabin for check in and was so welcoming and friendly! She was also very responsive when we locked ourselves out early one morning. The cabin was exactly what we needed, away from the hustle and bustle of everyday life. We spent our time out on the dock, fishing, crabbing, and relaxing. We sat out there at night and star gazed (we saw tons of shooting stars!). The kitchen had everything we needed to prepare all our meals. We brought a travel hammock and took leisurely naps, listening to the water and enjoying the breeze. A Bald Eagle hung out in a tree at the back of the cabin and we enjoyed watching it swoop in to catch fish. We had plans to go to a local winery or two one day and just couldn't bring ourselves to leave. 2 nights was not long enough. We can't recommend this cabin enough, it was cozy, peaceful, relaxing, everything you'd imagine and with such a wonderful host to boot.
Shana
2016-08-08T00:00:00Z
We loved our stay at the cabin. My husband and I used this as our home base for Historic Garden Week, and we found the location to be convenient to the Middle Peninsula, the Northern Neck, Yorktown/Williamsburg, and even to Richmond. However it is completely private and serene. The cabin is charming and quite comfortable, and Nancy is a very gracious host. We would love to come back again sometime!
Katherine
2016-05-01T00:00:00Z
Room Type
Entire home/flat
---
Property Type
Cabin
---
Accommodates
3
---
Bedrooms
Shacklefords, VA, United States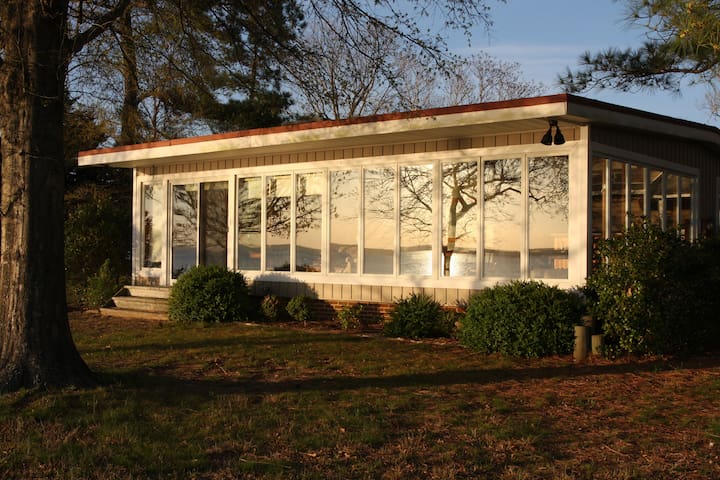 This delightful 3-bedroom, 2.5 bathroom cabin can comfortably accommodate up to 25 guests. You'll have easy access to wineries, horse farms, restaurants, shopping, breweries, theatres, and Charlottesville attractions. You can't beat this location!
There's plenty of room for the entire family and all your friends! The screened-in porch, basement, and other parts of the house have beds beyond the 3 main bedrooms for added flexibility. On the cabin's top floor, you'll find the comfortable master bedroom with king-sized bed. The balcony just outside the master bedroom has 3 twin-sized beds. Even though the basement is unfinished, it offers 2 double futons that each convert into a bed for 2, as well as a queen-sized bed. In addition to the beds throughout the cabin's 2 main floors and basement, this property also includes extra sleeping arrangements in the "lodge," which is separate from the house and connected by a wraparound deck. The "lodge" offers screened rooms on top of one another - these rustic rooms don't have heat or air conditioning, but tend to stay cool regardless of the season. Because the upper lodge wraparound windows only have screens with no actual glass, you can hear the peaceful sounds of the crickets and frogs as you drift off to sleep! Everyone in your traveling party will love spending time out by the property's private outdoor salt water swimming pool available in the summer months, featuring a built-in bar with ice chest, shelving for various beverages or mixers, and electricity for lighting - everything you need for an unforgettable night time pool party is here! A commercial ice machine is provided in the basement for large groups, as well as a chest freezer and another side-by-side refrigerator with freezer, in addition to the fridge in the cabin's main fully equipped kitchen. After the sun goes down, roast s'mores or tell spooky stories with your companions around the fire pit. During rainy days, maintain that rustic, outdoorsy atmosphere and take the party indoors by entertaining your guests in the screened-in lodge. If you're in the mood for some peace and serenity, unwind in the property's gazebo with tranquil water overlook and admire the stunning scenery.
Even though you may want to spend the entirety of your vacation enjoying the many amenities available at the property, you'll find that this log cabin is conveniently situated within easy reach of numerous exciting attractions. Several horse farms and wineries can be found within 5-30 minutes, plus a great local brewery. A YMCA and weekend farmer's market are only 10 minutes away. While there are limited nightlife options nearby, you'll find a myriad of restaurants and eateries just 10-30 minutes from the cabin, as well as a vintage drive-in theatre and shopping malls within a 20-minute drive. The city of Charlottesville can be reached in less than an hour, and 40 miles is all that stands between this cabin and the nearest airport. Whether you're traveling to Virginia for a special event, family retreat, or fun getaway with friends, you'll be glad you choose this terrific Sandy Hook vacation rental cabin as your rustic home-away-from-home!
The setting was beautiful, the perfect place for our multi generational family reunion.
Joe
2016-11-28T00:00:00Z
Our group of 10 people had a fantastic stay. Unfortunately we just missed pool season but we did take advantage of the pool cabana, fire pit, gazebo, horseshoe pit, charcoal grills/smokers, and ping pong table so we were well entertained. The stereo system was another nice bonus, with XM radio and speakers in the house, on the porch, and near the pool. We also managed to squeeze in a trip to Lickinghole Craft Brewery (5.5 miles away). We'll definitely be coming back!
steve
2016-10-03T00:00:00Z
We brought 24 people, all members of the UR Women's Soccer Team, for a 2 day retreat. The accommodations were wonderful. We had privacy, nature, spacious living quarters, lots of areas for breakaway groups.On my morning walks I saw hawks, geese, ducks, and even a Great Blue Heron. We really enjoyed the campfire area (I recommend bringing some firewood, as we did) We would love to come back during warmer months when the pool is open. It was wonderful, and a great value!
Peter
2017-02-19T00:00:00Z
Great host! Very attentive. Fast response! The house is very well stocked and welcoming. Lots of extra blankets, towels, etc. Kitchen has everything one could need.
Nabeel
2017-01-29T00:00:00Z
Room Type
Entire home/flat
---
Property Type
Cabin
---
Accommodates
16
---
Bedrooms
Sandy Hook, VA, United States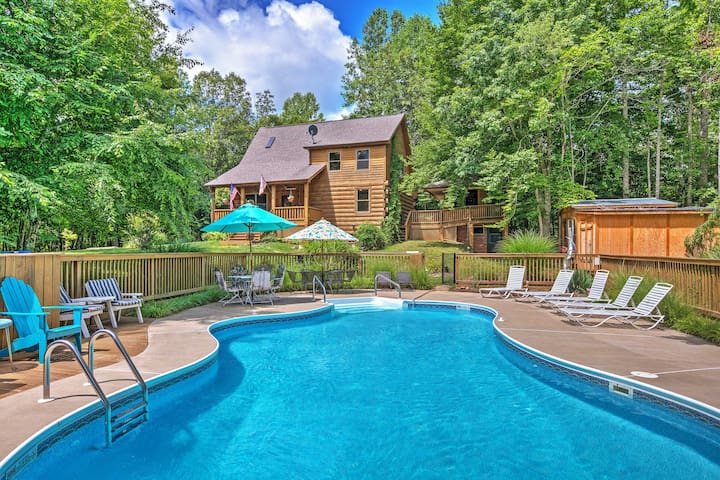 Escape to your own vacation cabin in the great outdoors. Just pack your sleeping bag or bed linens, pillows, cooking equipment and personal gear. All cabins are air-conditioned and heated. All of our cabins have 1 double bed, 2 single beds (bunk)
Escape to your own vacation cabin in the great outdoors. Just pack your sleeping bag or bed linens, pillows, cooking equipment and personal gear. All cabins are air-conditioned and heated. All of our cabins have 1 double bed, 2 single beds (bunk) and a porch with a swing. They also come with a picnic table, fire ring and a grill top for the fire ring.
The Virginia State Fair showcases the best of Virginia! Come see Virginia's finest animals and agriculture, exhibits and shows, toe-tappin' music, fine arts and crafts, blue ribbon competitions and more! Plan now to be a part of one of Virginia's greatest annual traditions since 1854. Paramount's Kings Dominion is a 400-acre theme park that's home to more than 200 rides, shows and attractions. The park features one of the largest coaster collections on the East Coast, including the world's first air-launched coaster, HyperSonic XLC, two children's areas and WaterWorks, a 19-acre water park playground that's included with park admission. Less than 20 minutes away. The Richmond Raceway Complex is a sprawling, 800- acre, multi-purpose facility that is home to Richmond International Raceway and one of the most versatile special events sites in the country. It has six permanent buildings with more than 300,000 square feet of exhibition and meeting space. The Virginia Sports Complex has 8 professional grade baseball fields and a 40,000 square foot facility featuring 14 batting cages and pitching mounds. The mission of the VSC is to establish a learning institution for amateur and professional athletes where they will have the opportunity to learn and develop both the physical and mental aspects of the game. At Mattaponi Springs Golf Club, beauty lies in its simplicity. There are no homes, no roads to cross and no gimmicks. You will not find imitations of other golf courses, but original and distinctive holes that complement the unique terrain. The only distractions are sounds of wildlife and the distant whistle of a passing train. Designed to capture the imagination of the pure golf enthusiast, Mattaponi Springs marries nature and masterful design and is playable for golfers of all levels. 10 minutes away. The Virginia Bazaar has quickly become one of the state's top destinations for interested bargain hunters, flea market travelers and folks who just love fun shopping. The 67,000 square foot building is located on 100 acres bordering Interstate 95, at Exit 110, in Ladysmith, Virginia. Open Weekends 9AM-5PM.
The host canceled this reservation 3 days before arrival. This is an automated posting.
Hannah
2016-04-19T00:00:00Z
The cabin was cute and the campground was very nice too. Unfortunately, we arrived late in the evening and left early in the morning to a race in Lake Anna Park, hence we didn't get a chance to enjoy everything to the fullest extent. People staying at the cabin next to us were very pleasant, they helped us out to get the fire strated and shared a table lamp with us. Our cabin was right next to the pond and the sound of water and surrounding woods were very soothing. The name "Hidden Acres" describes this campground well.
Mykyta
2016-09-25T00:00:00Z
Room Type
Entire home/flat
---
Property Type
Cabin
---
Accommodates
4
---
Bedrooms
Milford, VA, United States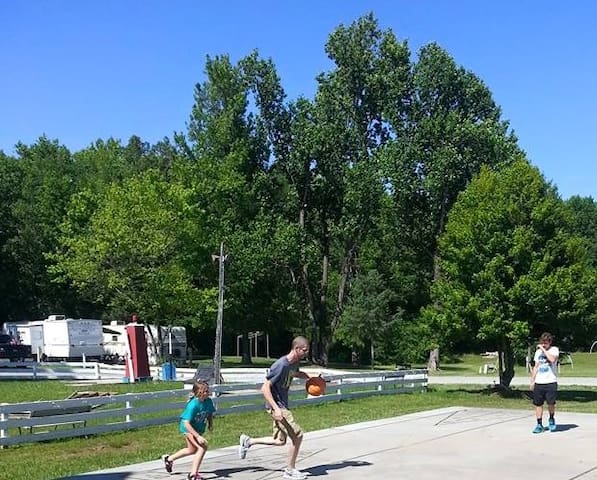 1

–

3

of

3 Cottage Rentals
Enter dates to see full pricing. Additional fees apply. Taxes may be added.