Leave your stress behind as you retreat to this tranquil oasis and stroll the scenic 5 acres of enchanted forest and flowing river. Relax and wander the property taking in the views from hammocks, chairs, logs or...just retire to the cozy cottage!
Your cottage features kitchen, dining area, sitting area with walkout to patio, 3-piece bathroom with claw foot tub, a warm and inviting wood burning pellet fireplace and two cozy upstairs bedrooms that sleeps five! Be inspired as you explore the many lovely nooks and crannies: mindfulness conversation areas, tranquil gardens, healing and cleansing forest…many delightful spaces to explore! Try your hand at making homemade pizza in the wood-burning outdoor oven as you unwind around the fire pit.
We are 75 minutes east of downtown Toronto, backing onto the Ganaraska Forest, steps away from Brimacombe/Oshawa Sky Club and minutes from the Garanaraka Treetop Trekking and Forest Trails. We are also in close proximity to the spectacular Cobourg beach, the heritage community of Port Hope with it's waterfront trails and just north of us is the Peterborough & the Kawartas where you will find a great mix of city and country living.
We stayed at this beautiful cottage for 1 night and enjoyed absolutely every minute of it. Audrey was a wonderful host and made us feel very welcomed. We were greeted by their friendly dog, received a wonderful welcome package and were shown around the property to assure that we felt comfortable right away. The cottage is filled with inspiring art created by the hosts and a few copies of their book, all of which we would highly recommend for visitors to explore.
Adi
2015-12-28T00:00:00Z
What a peace-filled spot! Audrey was so accommodating and pleasant. The cabin was clean and met all of our needs. We had a lovely little surprise waiting for us when we arrived and found our stay to be just perfect. Thank you folks!
Cathy
2015-12-31T00:00:00Z
Tranquil, quiet, complete and an absolutely wonderful spot to stay. The experience we found was rejuvenating and peaceful as we walked in the woods and watched the creek flow by (yes, creek was flowing in December with the warm weather we experienced!). The dogs were having fun as ours, and the host 's dog Ziggy romped around. It was a pleasure to see them playing as our puppy was only 5 months old and learning the ropes from her senior playmate! Contact setting up arrangements was flawless and easy. A touching goodie basket awaited us and helped us through the holiday weekend when we forgot to bring our own crackers. The bed was super comfy and the cottage was spotless and fully equipped. We enjoyed the pellet stove which required zero attention yet provided a heathy warm stove and flame to watch. Exploring the nearby communities was fun and we stumbled upon a bakery in a church with peach pie and whole wheat buns that were excellent. The hosts were friendly and offered any help or comforts that they could. The cottage is a very self-sufficient facility. We will be back!! As experienced travellers, and frequent renters of cottages, this experience was a five star rating!
Lorie
2015-12-26T00:00:00Z
The cabin retreat was exactly that. Perfect for unwinding and reconnecting with nature. The space has a wonderful fireplace, views to the surrounding forest and a lovely pair of upstairs bedrooms. Audrey helped us settle in as we had some issues with the stove, but we got it sorted and the rest of our stay was serene. :)
Matthew
2016-01-11T00:00:00Z
Check in and check out were super easy and smooth! The hosts were always willing to help to settling into the place. Definitely recommend to others
Kevin
2016-03-28T00:00:00Z
My mother and I rented this Audrey`s cozy cottage for a long weekend and could not have been happier with our experience. We arrived to a lovely welcome package and friendly greeting from their lovely dog Ziggy. The cottage and land was as described, Tranquil, Serene, cozy and very clean. The beds were very comfortable and the raging wood stove kept us super warm the whole November weekend. The woods on the property were fun to explore and Audry was always available if needed. I will be recommending this cottage to all my friends and family who are looking for a getaway retreat to relax, recharge and get away from it all.
Heather
2015-12-02T00:00:00Z
Dashta Retreat was AMAZING. There was 4 of us who stayed and none of us could believe how clean the whole place was. Audrey had provided everything you could ask for (tiny example: I had forgotten my cellphone charger and was blown away when there were multiple types of phone chargers provided for use!). The gift on arrival was so very sweet and a really clever idea (thank you so much Audrey!). Everything you could possibly need is there. Literally EVERYTHING! The fire place outside was even stocked with wood. There was even a basket with kindling, fire starting stuff and lighter! This place is totally worth your money, you will not be disappointed. The grounds are beautiful, it's very quiet and peaceful there. You're given total privacy. Cannot wait to go back! Big thanks to Audrey and her beau for sharing this beautiful gem. All the best!
Alex
2016-10-09T00:00:00Z
Audrey was very pleasant and accommodating. Our stay was for 7 weeks with one weekend we needed to move out, Audrey allowed us to store most of our luggage in her home during this time and even offered her home to us. We need to give Ziggy some credit for being extremely patient with our two dogs! Faro & Audrey were great hosts and we would definitely stay again and would highly recommend the cabin to others.
Michael
2016-07-01T00:00:00Z
Room Type
Entire home/flat
---
Property Type
Cabin
---
Accommodates
6
---
Bedrooms
Kendal, ON, Canada
Quiet cottage suitable for families & sm. groups. Private lakefront & fenced yard. Approx. 1 hr. from Toronto near quaint Port Perry. Perfect for a relaxing getaway, fun in the sun, fall leaves and hikes, x-country skiing, snowmobiling and fishing!
This cozy, yet spacious cottage offers a spectacular view of Lake Scugog and sunsets from the deck, living room and kitchen. The gas fireplace situated in the living room warms your body and soul after a swim or when there is a chill in the air. You never feel alone when cooking in the kitchen with a large window opening to the living room and a view of Lake Scugog through two double sliding glass doors. The large gas BBQ, and patio table and chairs, makes dinner on the deck fun and easy. The bathroom is spacious, clean and cheery. The two bedrooms are situated just off the living room. The master bedroom has a library of books to enjoy and the bunk bedroom has a large selection of games. The Bunkie, just steps away, is spacious and accommodating with basic kitchen amenities, a set of bunk beds (2 singles) and a futon couch/bed.
We are located in a quiet and friendly neighbourhood, on Scugog Point. With being located on a point of land, only local traffic passes by. There are many amenities to enjoy within a 15 minute car ride and a general store and LCBO within 5 minutes. The cottage roads are interesting for walks and there is a forest for hiking just across the street from the cottage.
Sherri made the home very welcoming. My family and I thoroughly enjoyed our stay.
Brittany
2016-10-09T00:00:00Z
Life at the cottage does not get better than this. We had an incredible stay. We loved cooking on the BBQ and even though it rained the entire weekend, the covered area was key. This cottage has everything you want and more - from a kayak and canoe to movies and even a foam roller, there is literally everything you need.
Elaine
2016-08-15T00:00:00Z
This is my second time staying at Sherri's beautiful cottage. We were last here in the winter so it was great to experience it in the summer! We love the sunset over lake scugog. We enjoyed using the SUP, canoe and kayak. We also enjoyed fishing on the dock. The area is so quiet and such a nice respite from city life. Our 2 dogs definitely love it here! Sherri is a great communicator and was very flexible and accommodating with our check in and out requests. We will definitely be back. Thanks so much again Sherri!
Yeemi
2016-09-14T00:00:00Z
We were coming in for a wedding and unfortunately did not have the time to make the most of the cottage. Would love to come back to take advantage of the full list of amenities. Sherri was a great host and was extremely accommodating with our late Friday night arrival, including responding right away to text messages. Great view of the lake and great space - better than the pictures!
Andrea
2016-09-12T00:00:00Z
We stayed in Sherri's cottage while we were in town for a wedding and the experience couldn't have been better. My parents arrived first and Sherri was there to meet them and give them a tour. They said they felt very welcome. Overall, the cottage was easy to find, cozy, and beautifully maintained. Sherri went above and beyond by accommodating a slightly earlier check-in time and a slightly later check-out. The whole experience was enjoyable and stress-free.
John
2016-10-16T00:00:00Z
We had a wonderful long weekend at Turning Point! The pictures on the listing are very (URL HIDDEN) cute and cozy and so private which was a nice surprise. Sherri provided a detailed email beforehand which was extremely helpful and included everything we needed. We spent the days enjoying good food, canoeing, horseshoes and swimming and nights relaxing with wine by the cozy fire. Sherri was a great host, so prompt with a response to any question via email or text she made my first experience with AirBnB a wonderful one. We would love to go back to Turning Point and will definitely keep this listing as first choice! Thank you so much!
Carrie
2015-09-22T00:00:00Z
Sherri was a fantastic host. Super easy to contact and very thorough. Turning Point is well appointed and Sherri has worked hard to ensure it has everything you need. The location is close to all amenities, yet extremely private, especially on the lake side. The dock is great for swimming too. No weeds and a sandy bottom. We also loved that it was located on a quiet road, with a fully fenced yard - very family and pet friendly. There is plenty of space at Turning Point, and having access to the bunkie was a nice bonus. My parents joined us for a weekend and we felt like we had two private cottages to ourselves. We had great weather, but on the one night it rained and we found a good supply of board games and puzzles to keep us busy. The kitchen is fully stocked, which is important as I like to limit our meals out. There are lots of nice farmer's markets nearby, which was a huge bonus. Our vacation was a blend of work/relaxation. My husband was working at the Pan Am Games and commuted each day into Oshawa. The location of Turning Point makes it perfect for day trips into the city. Meanwhile, evenings at the lake are something to look forward to after a long day. Sherri even accommodated my husband's atypical schedule during the games and was flexible with our timing. Our only regret is that we didn't bring the Seadoo. Lake Scugog seems like it is a lovely lake to explore and the dock makes it convenient for boaters. Maybe next time.
Jennifer
2015-07-16T00:00:00Z
Our family enjoyed a great week at Turning Point. Sherri is a kind and caring host who was prompt to answer any of our questions. The cottage and bunky were exceptionally clean when we arrived and everything looked exactly as in the profile pictures. The kitchen is well stocked with equipment (although you may want to bring your own chef knife) and the gas bbq on the back deck is in great shape and has the added bonus of a side burner. The fenced front yard was great for keeping our kids and dogs contained, and also a great place to soak up the sun. The back deck is very private, with lots of afternoon sun and excellent views of the lake. My parents stayed in the bunky and noted that the futon mattress was hard so you may want to consider bringing along a sleeping pad to put on top of it. Sherri has a large collection of music, movies, games, books, and toys which we put to good use. I would highly recommend Turning Point to anyone looking to get away from the city life but still have all amenities close by.
Joel
2015-08-09T00:00:00Z
Room Type
Entire home/flat
---
Property Type
Cabin
---
Accommodates
6
---
Bedrooms
Nestleton Station, ON, Canada
My place is very spacious (over 2200sf) close to Port Perry, great views, family-friendly activities Incl. Beach , Golf and Casino. My place is good for couples, business travellers, families (with kids), and big groups. 18 or more people can sleep.Janetville is Situated Between Lindsay (10 Min) And Port Perry (15 Min).and 20 Min To Peterborough.
Very Spacious , Clean and You are Like In AHotel . Totally Renovated , Up To 80K Spent ,Over 2200 Sf living space, Closer To Oshawa (20 Min) , Port Perry And Lindsay. 20 Min From Peterborough.
Family and child-friendly neighborhood.
Great and a very supportive host. Willing to recommend to our friends.
Maria
2016-10-10T00:00:00Z
Great cottage and a great host! Thanks
Meysam
2017-02-20T00:00:00Z
My friends and I booked this property for a weekend away in winter to spend lounging in a hot tub. Before booking I messaged the host and was told that the hot tub was in working condition and fit 15-18 people. However we were very disappointed when we arrived to find that the hot tub water was green and unclean, it was an 8 person hot tub, rather than able to fit 15-18 as was described, and it was half empty, with jets half exposed. Although after contacting the host, he was able to have someone come by to fill it, the water was still green and we were never able to get it hot enough to get full use out of it while we were there, which was the primary reason that we booked the property in the first place. On top of that, we arrived to find curtain rods half-fallen down, cords half pulled out of walls, minimal water pressure, a Jacuzzi with jets that were not hooked up, a pool table with only broken pool cues, and a washing machine that didn't seem to be connected to water. The renovations on the property were nice, the beds were comfortable and the host was responsive, but I would not book this place again without insurance that all these issues were fixed, as we could have had the same weekend at home and not made the trip or paid the money.
Ashley
2017-02-26T00:00:00Z
- A spacious house right beside the lake. - Our host was polite and professional. - Appliances and mattresses need to be replaced. All in all we had a lovely stay.
Lisa
2017-01-02T00:00:00Z
Room Type
Entire home/flat
---
Property Type
Cabin
---
Accommodates
15
---
Bedrooms
Kawartha Lakes, ON, Canada
A relaxing haven to enjoy some rest. Beachi lane is right on the Gull River. Most of our time is spent swimming, sitting on the dock, canoeing, or exploring Elliot's Falls. If that sounds like a vacation- Beachli lane is for you.
Sleeps 4 adults comfortably and 2-4 kids. We have 4 small bedrooms two of which are only for kids and one bathroom.
We have an info. binder on the table to help you get familiar with the surrounding area.
We had a wonderful time at this cottage and the overall AirBnB experience with Hildie, the host, was a great one. She was responsive and always replied within 24 hours. The cottage is exactly as shown and true to pictures. I'd have to say that it's better than we expected. It is conveniently located within short distances from small towns with grocery stores, ice cream shops, and more. It's also not too far from Toronto, which is nice because we spent less time on the road and more time on the dock. Swimming in the river is great and we had full access to water toys provided by the host. I'd highly recommend renting this cottage.
Cecilia
2015-07-19T00:00:00Z
We had an awesome time at Hildies cottage! Highly recommend for families! We will definitely be booking again in the future.
Bryan
2016-09-05T00:00:00Z
We are just returning from our cottage vacation- and missing it already! As soon as we arrived, we were pleasantly surprised with how clean, tidy and beautiful the cottage was! The rooms are very cozy and we were thankful for many of the amenities the cottage came with. Lots of outdoor activities to endulge in such as beach volleyball, canoeing, swimming (which was great!), a great firepit for night, fishing, and of course relaxing on the dock. The dock has 4 Muskoka chairs that are very relaxing and perfect for couples to relax & enjoy conversation. Hiking nearby was also enjoyable as we found a small waterfall/dam that was beautiful and lovely to swim in. Hildie was a pleasure to deal with and any questions were answered right away. Overall beautiful cottage with peaceful surroundings and friendly neighbours. We would definitely book again and highly recommend!
LeeAnna
2015-07-26T00:00:00Z
The scenery around this cottage is absolutely stunning. The river is extremely clean and was a pleasure to swim in. There is a massive tree - the largest and tallest I have ever seen in my life - right in your front yard. It is also nice to see the few neighbors across the river, though in general this is a very quiet and serene setting. The house itself is lovely. You can tell that the owners love it and have infused a lot of time and effort into all of its charming details. It is a very clean and comfortable home. The outdoors portion - the multiple decks, comfy chairs, volleyball court, fire pit, etc - just make you always want to be outside. But coming back inside is also a pleasure. The one "negative" would be that there aren't a ton of parks/interesting towns around the cottage. If you are looking to do some serious hiking/siteseeing during your trip, there won't be any close by. However, if you just want to relax, recharge, and savour the gorgeous nature around you, you will be very pleased with this property.
Tali
2015-09-07T00:00:00Z
We stayed 3 nights and it was wonderful. Very clean, very homey! Lots of space for guests inside the cottage, outside it has a lovely dock where you can spend your entire day! Plus there's a horseshoe pit, beach volleyball court and a fire pit. Heidi was great and very accommodating and sweet. We will be back for sure.
David
2016-08-29T00:00:00Z
Room Type
Entire home/flat
---
Property Type
Cabin
---
Accommodates
6
---
Bedrooms
Kawartha Lakes, ON, Canada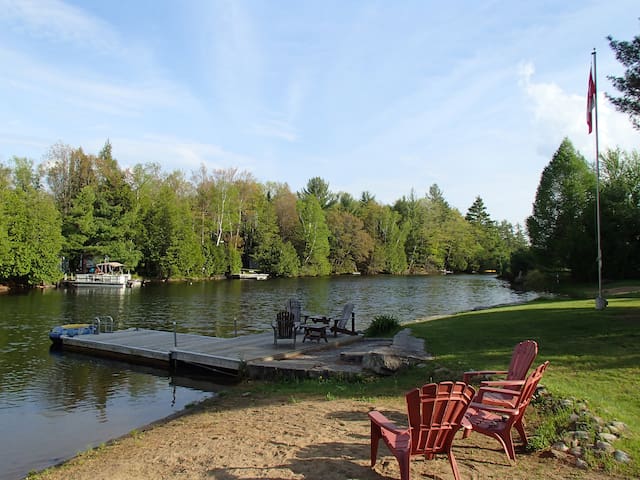 1

–

4

of

4 Cottage Rentals
Enter dates to see full pricing. Additional fees apply. Taxes may be added.