We offer our efficiency apartment in a quiet picturesque neighborhood close to town and Defiance College. With one full size bed downstairs and a full size futon in the sleeping loft, we can accommodate four adults comfortably.
The living quarters are separate from our home and are used for our extended family at holidays. Pets are part of our family, so we will accommodate well behaved family pets.
We are located at the edge of the Thoreau Wildlife Sanctuary. You might see wild turkey, deer, and a variety of birds or take a short walk and visit the conservation area. Defiance College, shopping and restaurants are all close by. Visit the historic Carnegie library on the confluence of the Maumee and Auglaize Rivers.
Nestled in a small community off the beaten path, Walden House was a sweet getaway. The bird feeder traffic outside the dinette window kept me entertained at every meal. Cozy, quiet, clean, with easy access to town, it was a wonderful oasis.
Diana
2015-10-10T00:00:00Z
What a welcoming place this is! Our kind hosts at Walden Cottage were able to be flexible with our changing arrival time and when it was clear we'd be trying to locate them after dark, placed a very helpful sign out at the road. That, along with their very clear directions, made it very easy to locate this delightful spot. The cottage was very clean and comfortable, with 2 separate sleeping areas, and we appreciated the snacks left out for us and the cold drinks in the fridge. Our only regret was that our schedule didn't leave time to get to know our hosts better!
Jan
2014-09-21T00:00:00Z
My husband and I much enjoyed our second stay in Walden Cottage. It is very conveniently arranged and decorated with lovely woodwork and furnishings. We especially liked the view from the picture window and watching bluejays and redbirds visit the bird feeder -- what a nice touch to locate this feeder there for guests. I was sorry not to see the owners this time but they had everything arranged for our convenience. Wishing them a happy new year!
Judith
2015-12-28T00:00:00Z
It is really a great experience staying here. It is really quiet and the view here is gorgeous.
Yuheng
2016-08-28T00:00:00Z
Wonderful cottage!! It was spacious and charming and a wonderful extra touch of snacks and juices. Communication was great and everything in the post is accurate. The grounds are beautiful. We even saw a bunny in the back yard!!!
Heather
2016-08-07T00:00:00Z
The cottage was wonderful and Dorothy made us feel at home. She went out of her way to make the place feel comfortable. It had all the amenities and comforts you could ask for. The description is accurate and I would highly recommend it.
Laura
2015-04-23T00:00:00Z
My daughter (age 9) and I stayed at Dorothy's cottage over Memorial Day weekend. Everything was perfect! The place is clean, cozy and comfortable, and looks exactly like you'd expect from the pictures. My daughter loved sleeping upstairs in the loft and relaxing in the little floor rocking chair up there. She is really into birds and had a great time identifying the various birds that came to the feeder just outside the window. We did a bunch of fun things in central Ohio (went fishing, saw sprint car racing Saturday night, and went canoeing down the Auglaize river). We had a great weekend and would highly recommend staying at Walden Cottage.
Jim
2016-05-31T00:00:00Z
Walden Cottage was perfect for our stay while visiting Friends of Felines for Catstock. Everything was as described. Hosts very pleasant.
Nancy
2016-09-11T00:00:00Z
Room Type
Entire home/flat
---
Property Type
House
---
Accommodates
4
---
Bedrooms
Defiance, OH, United States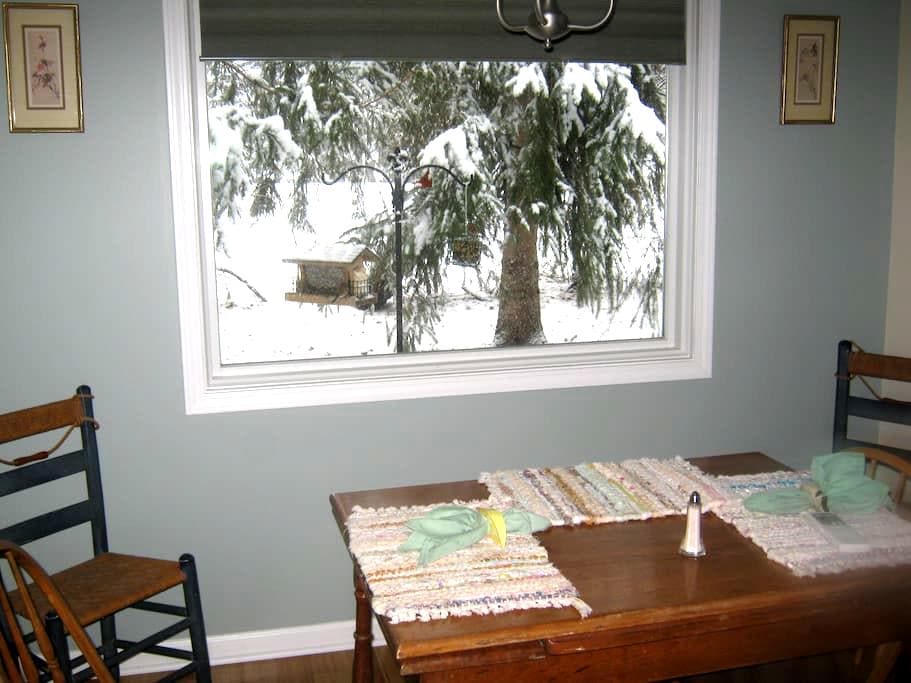 My place is good for couples, solo adventurers, families (with kids), and big groups.
Newly Renovated Lake House, almost 3300 Sq.Ft. on a Lake Diane in Camden, MI. Bring your ski boat, jet-skis, kayaks, and boogie boards and Party hats to this dream getaway! This is the perfect place for a Multi-family Gathering, Hunting trip, Golf Weekend (lots of courses withing 30 minutes) or Special Occasion. This Beautiful Home Sleeps up to 18 Comfortably. There are 2 Fully Remodeled Kitchens Loaded with Utensils! Each Kitchen has a dining table that seats 6+ with extra seats on an island on the main floor. A Large Laundry Room with washer, dryer, is also on Main Level. There are 6 sleeping areas in total with 4 Full Baths! It sleeps up to 18 comfortably. Each Level of this 3 level house, has 2 sleeping areas and at least one full bath! In total there are 2 king beds, 4 Full beds 4 singles and a set of bunk beds. The main floor living room and basement rec room or full of new luxurious couches and chairs. Each area includes a 60 in. flat-screen TV and the basement rec area has a full Foosball table! The main floor back deck overlooks Beautiful Lake Diane (Hillsdale Co., MI). It's a great place to spend your morning while eating Breakfast, Relaxing, Reading a Book, or Just Chilling. For you water lovers, we have a walkout basement that is just yards from a sand beach. The beach front has a nice sandy bottom that goes out 20+ ft! No mucky bottom! We have a full assortment of tubes, rafts, water and sand toys to use, FREE OF CHARGE. There is also a nice platform raft, off the shoreline, that you can spend hours basking in the sun. Don't Want To Swim? There Are Several Outdoor Sitting Areas; the Concrete Patio Under the outside Deck, Sitting area on the front porch and backyard swing. There Are So Many Places to Relax and Bask in the Surrounding and Quiet Beauty of Lake Diane. There is a large fire-pit so you can sit around the Bonfire in the evenings when the Events of the Day Are Done. (bring your own firewood or purchase locally). Your Boat Or Watercraft Is Welcome at the 30' Docks. Like to Fish? Many large species have been caught off the dock and to the left of the property line! Lake Diane is fully stocked with many species of popular game fish. If You Like Swimming, Fishing, Skiing, Wake-boarding, Boating, Jet Skiing, Kayaking, or Just Floating--you Have Chosen the Right Place, as Lake Diane's 400 Acre all Sports Lake, with Public Access , Allows You all of That plus More. You are only 15 - 30 Min Drive to Various larger Towns Such as Hillsdale, Angola, Coldwater and Fremont, Which Provide Opportunity for Shopping, Movie Theaters, Bowling, Restaurants and More. but If you forgot or just ran out of something, jump in your boat to the lakeside convenience store/restaurant and Dock there while you shop Or have a meal at the restaurant. Golf Getaway? There are several quality courses within 15-30 minutes of the lake. Try a different one everyday! What About You Nascar Fans? This Is a Wonderful Place to Choose When Attending the Famous Nascar Races at the MI Int'l Speedway in Brooklyn, MI. it's Just About a Short Hour Away. Stay Here and Enjoy Both Worlds in One Stop! Do You Like Being Outdoors in the Fall & Winter? This Is the Ideal Place for Hunters, Ice Fishermen, Snowmobilers & Other Activities as Well. Hillsdale Co. Is Known to Have Some of the Best Deer Hunting in MI, and Is Also Known for Its Excellent Fishing. Being Conveniently Situated in Michigan but Bordering the States of Ohio & Indiana. it Is a Common Occurrence to See the Amish Horse and Buggies Going down the Road and stopping in the driveway, Selling Fresh Baked Goods, many Fresh cheese varieties, farm-fresh organic brown eggs and Vegetables. This house is a frequent stop for them! The Cell Phone Coverage is spotty but this Home Offers Wireless Internet. This Home Is Totally 'Non-Smoking.' and No pets allowed. Please note: For those with pet allergies, the owners do have pets there a few weekends per year.
Patrick was a great host! The house accommodated for all 16 of us and we had no complaints. We especially loved the location on the lake and the fire pit in the back! Considering we spent most of our time outside, the back porch and deck were a great addition to the house.
Molly
2017-03-26T00:00:00Z
If you're looking for a spacious and family-oriented living environment to getaway, Patrick's lake house is the ideal place to book! This property was bigger than I expected. Three floors! Each room had nice furniture and two kitchens to cook in! The lake view from the back yard was incredibly beautiful. Patrick was a great host. He answered all my questions and checked up on us from time to time. He was very flexible and chill.
Juliann
2017-03-12T00:00:00Z
We stayed at the Lake Diane house with family who came in from various places. It comfortably slept our 15 people and the view of the lake was great. Everything seemed to work fine. Foosball in the basement was popular. We were there in January so I can't comment on lake recreation.
Brynn
2017-01-08T00:00:00Z
Patrick was a great host! He answered every question we had. The house was clean and updated with all sorts of equipment. it was even stocked with towels, utensils, and some assortment condiments. The house sits right on the lake, so every morning you wake up to a fantastic view. All in all, I would definitely recommend!
Kaval
2016-10-09T00:00:00Z
Great place for our three families from the East and Midwest to merge together for a fun weekend. Very convenient having two kitchens. Great to sit around the campfire. Nice walks around the lake.
Kevin
2016-11-27T00:00:00Z
We had a great time at Patrick's lake house. The house itself was well appointed and very modern. It also had more than enough room to accommodate our large group. Patrick himself was quite responsive and made sure that things went smoothly for us as well. The only negative aspect was that the water had a slightly off putting odour, but given that it's a lake house, that could be considered par for the course. All in all though, this was a great place. Would definitely recommend.
Nasser
2016-10-02T00:00:00Z
Room Type
Entire home/flat
---
Property Type
House
---
Accommodates
16
---
Bedrooms
Camden, MI, United States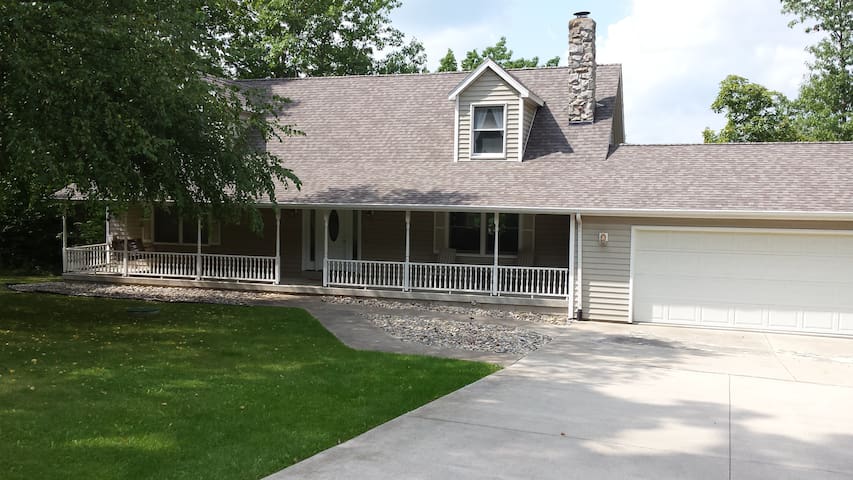 Three bedroom house in Hamilton IN. Next to restaurants, gas station and pubs. Less than a block from the lake. Fire and police station directly across the street. Three bedrooms with master bedroom on main level. Two bedrooms upstairs. One has a mattress minus the frame and the other is a blow up. Downstairs couch also pulls out to a full size bed. One bathroom with shower and tub. Full kitchen and dining room. Plenty of parking.
Beautiful lake, Reataurants, lake and gas station within walking distance. 40 minutes from Fort Wayne, 20 from Auburn, In and maybe 15 tops to Angola, IN.
Room Type
Entire home/flat
---
Property Type
House
---
Accommodates
6
---
Bedrooms
Hamilton, IN, United States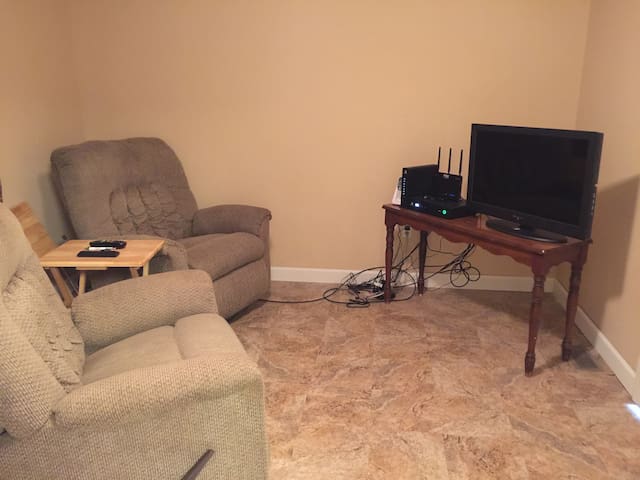 Rural home with a welcoming host. Near many world class automotive related museums. Hot tub to ease your travel sore muscles. Not far off I-69 . Please acknowledge that you understand naturist.
Rural private home setting. Friendly host who loves to open his home to folks who love to travel. Nearby is one the finest collections of vintage and collector cars and world class WWII museum. Lake area with boating and fishing around. Hot tub fired up for weary travelers private upstairs guest bedroom and private bath.
Rural country setting on a gravel road. So your car will be a bit dirty depending on weather conditions.
Wake up and explain pretty much who you are.
Robert
2017-03-27T00:00:00Z
Kevin is very nice,he prepaired the dinner and waited for me to have dinner together. He is very kind and welcoming, just like a long last friend.
Thomas
2016-11-07T00:00:00Z
If you love country living, you will LOVE staying here. Kevin is as nice and accommodating as they come. As advertised, his home is filled with history and artifacts and books and photo albums from all over the world! It's hard not to take interest in them. I found myself frequently staying up longer than I wanted to at night losing track of time while perusing the historic collectibles he's got in every room of his home. And Kevin is full of interesting tales of his trials and travels. Kevin says to "make yourself at home." And he means just that. Don't be surprised when Kevin asks what time you will be in for the night. He's probably cooking you dinner! Kevin makes his guest needs a priority over his own. I do advise that you make sure you know what a naturist is prior to booking. Having said that, you can rest assured Kevin is very respectful of his guest's preferences, property, privacy, schedule, parking space, you name it.
Keith
2016-11-04T00:00:00Z
Staying at Kevin's was as interesting as staying at a museum, but he was a MUCH more gracious, interesting, welcoming, accommodating, wonderful host than a museum tour guide! Kevin is easily the most interesting, well traveled human being many will ever meet in their entire lives. He's been literally all over the world, he's hosted hundreds of people, from probably every country on the planet; he has a wealth of hilarious (URL HIDDEN) tips and absolutely fascinating displays of everything, from everywhere he's been. You could show up with nothing to do and within seconds, be completely immersed and engrossed in Kevin's artifacts and adventures. Kevin is an incredible cook, a talented handyman- his home improvements are fascinating, practical, innovative- worthy of their own museum. He cares about his guests long after they've departed, checking in with them whenever a horrific, headline grabbing disaster strikes their area. But above everything that Kevin excels at, his supreme ability to put people at ease and make them feel completely comfortable no matter what they're like or what they're into is what I appreciated the most.
Arline
2016-10-20T00:00:00Z
Room Type
Private room
---
Property Type
House
---
Accommodates
2
---
Bedrooms
Butler, IN, United States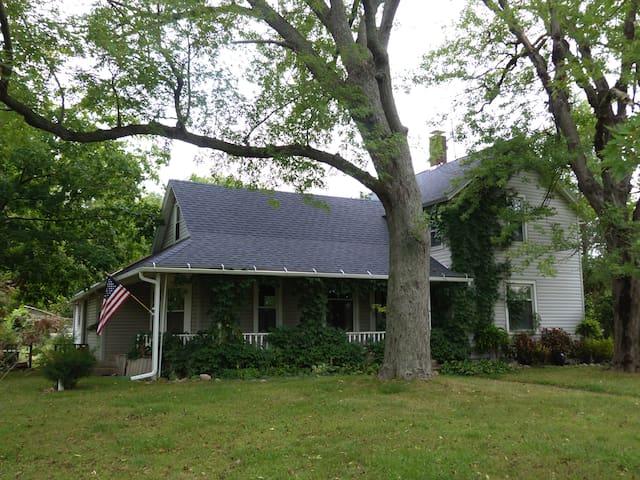 Angola, Indiana is a picturesque town in northern Indiana. My house is over 100 years old with character and charm. The backyard is lovely as well as the neighborhood. It is great for biking with coffee shops, antique shops and the library close by. The location of the house is just a few miles away from interstate 69 and the 80/90 toll road. It is also off the picturesque routes of 20 and 120. There are extra bikes in the garage for perusing the town if time allows!
I have two rooms from which to chose from: I have a room with a double bed and I also have a room with twin beds. Perhaps one is better than the other for your trip?
My neighborhood is tucked inside a small (URL HIDDEN) town. I am just a few blocks away from the center of town which is a lovely walk or stroll or even a bike ride in the evening. We are a neighborhood of older houses and we are an eclectic group!
Lou was a very sweet and friendly host and I would highly recommend her welcoming home for everyone! I only needed a place to stay for one night on my way out east and this was the perfect halfway point. Her home and yard (where I had a fire with another guest upon my very late arrival) were very comfortable and pretty. I had breakfast nearby with the other guest in the quaint little town. The price was also amazing, especially for the clean, homey environment.
Kathleen
2015-09-20T00:00:00Z
Lou was out of town during our stay, but she communicated everything we needed. Her home is very welcoming and beautifully decorated. It was below zero outside, but Lou's home was toasty warm. We loved staying in her home, and are planning to return in February.
Joel
2017-01-09T00:00:00Z
Lou is very helpful and throughout our trip she helped us alot she's very good host .
Shivanand
2017-01-15T00:00:00Z
After our third stay it feels like our home away from home!
lisa
2017-04-09T00:00:00Z
Very warm and welcoming. An older home with lots of character, charm and history. I was her during winter time so was not able to enjoy relaxing in the gardens but could see where they will be beautiful in bloom. Would recommend to anyone looking for that welcome home feeling when traveling and seeing the sights.
Renee
2017-03-31T00:00:00Z
My daughter had to start at her new job but had 2 weeks before she could move into her apartment. Lou was wonderful at being accommodating and in keeping in touch!
Maureen
2016-09-02T00:00:00Z
Arriving at Lou's you realize it is a home of a creative spirit, a woman of action and many talents. The home was clean, neat and the bed was comfortable. The town of Angola is charming. We would like to visit again during the summer-time. Thank Lou for the lovely respite!
Cathy
2015-11-27T00:00:00Z
Lou is a great hostess. She did everything possible to make my stay comfortable and enjoyable. The house and yard is very welcoming and invites you to relax and enjoy. I will use The House at White Picket Garden again. See you in two years. Tom
Tom
2016-07-22T00:00:00Z
Room Type
Private room
---
Property Type
House
---
Accommodates
2
---
Bedrooms
Angola, IN, United States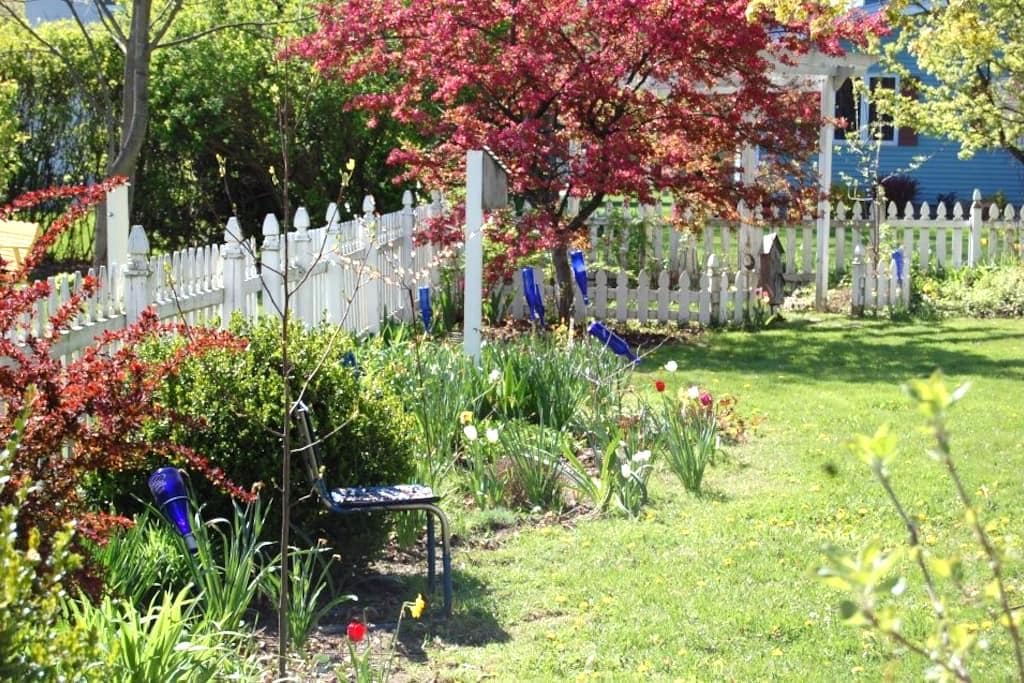 4 Bedroom house. Country Setting. Close to Wauseon, Napoleon, Toledo and Ft Wayne. Easy access to 24 and 80/90. Pool On the property and amenities for young children available.
Room Type
Entire home/flat
---
Property Type
House
---
Accommodates
8
---
Bedrooms
Wauseon, OH, United States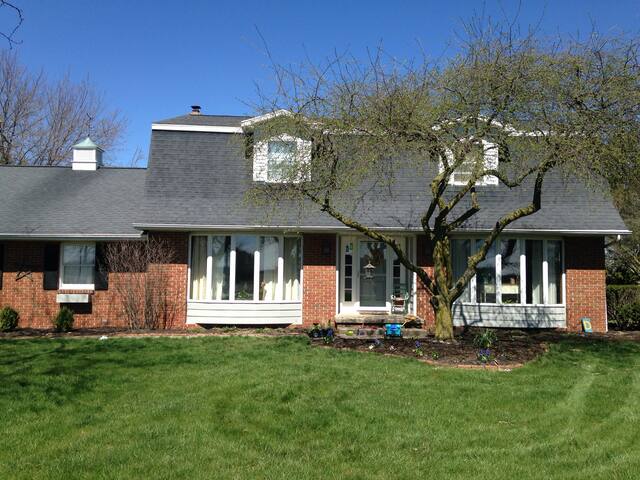 Lake-frnt, yr-rnd home w/ easy access to US 80/90 and I-69. Big yard & deck for games & hanging out. Quiet & friendly neighborhood. Great fishing & watersports. Pontoon rental at nearby marina. Nearby golf, wineries, shopping, quality restaurants.
2 BR, 1 BA. Bright, spacious. One level.
Spacious house and yard. Friendly neighbors. Well-kept properties. Easy access to main roads and highways, shopping, restaurants, golf, wineries.
Room Type
Entire home/flat
---
Property Type
House
---
Accommodates
7
---
Bedrooms
Fremont, IN, United States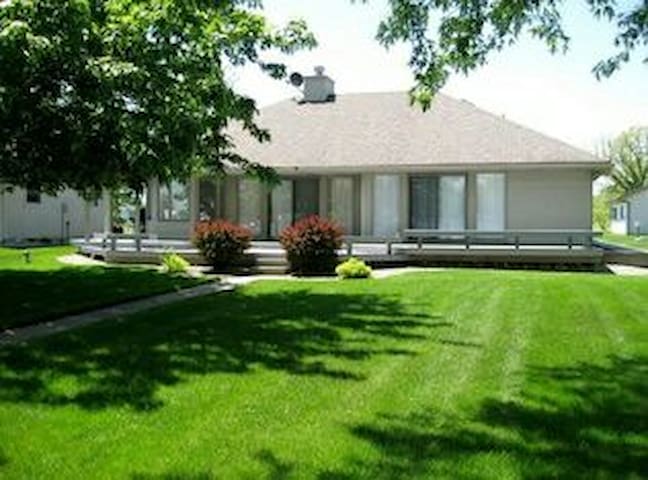 My place is close to the waterfront. The house sits on a lake with its own beach access and great view. You'll love my place because of quiet location, the view, waterfront access, use of the kayak/canoe, the cozy cabin environment complete with all modern day amenities including modern appliances, washer and dryer, microwave, satellite TV, and all the fun you can have at beautiful lake front home. My place is good for couples, solo adventurers, families (with kids), and big groups.
Room Type
Entire home/flat
---
Property Type
House
---
Accommodates
12
---
Bedrooms
Camden, MI, United States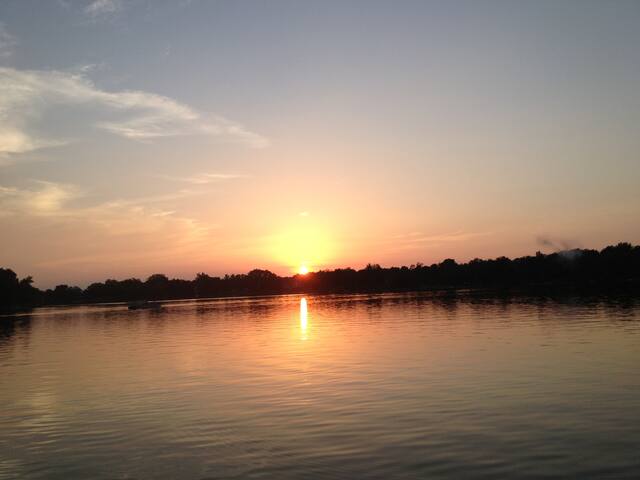 Our home sits on a small 12 acre private lake just 2 miles from the center of town. Just off I-69 and Indiana Toll Road. Enjoy the 600' of lake frontage, walk in the woods, light a fire in the fire pit, or just lounge in the hot tub or on the patio. We're close to restaurants and family-friendly activities. You get the lower level of our home with bedroom, living room, bath, and private patio. Free to use the BBQ on upper deck, our screened sunroom and washer/dryer. Cable and Wi/Fi included,
The lower level of our home, which is your private space, consists of a bedroom with queen bed, a fully accessible bathroom, a living room with plenty of space for the queen air bed if there are more than two in your party, and your own covered patio with hot tub and extra seating. You are free to use the fire ring down by the water as well as the BBQ grill on the upper deck. Please take advantage of our fully screened sun room on summer evenings as Indiana mosquitos can get hungry. If it's been a tough day there is an inviting hammock in the shade of two black walnut trees that is hard to beat. Use of the laundry room with washer and dryer, ironing board and iron is included. Your bedroom has a ceiling fan with remote and a wall mounted flat screen TV. Living room also has a large flat screen with DVD player and a PS4. A microwave and toaster are provided along with a full size refrigerator for your use. For the musically inclined there is also a piano in the living room that you are welcome to play. Our home is very pet friendly. Dogs love to chase the many squirrels, raccoons, and chipmunks that call this home. If you have a water dog, there are plenty of sticks to toss into the water.
Our home is tucked away in a beautiful spot just two miles from the town square. It is pretty much a rural setting where, if the corn is up, you won't see any neighbors' homes. We have woods on three sides of us and a 30 acre corn/soybean field on the other. Lots of wildlife. Depending on the season we see deer, fox, raccoon, muskrat, squirrel, turkey, geese, sandhill cranes, groundhog, heron, and many many backyard birds. Very dog friendly space. Lots of room to run and explore without concern for getting into trouble. We have a small terrier mix who loves visitors and we frequently mind our neighbor's black lab who just loves to retrieve sticks from the water.
I had a wonderful night's stay here. Dick was very welcoming and helped me with my bags and settling my cat in. The space was pleasant, clean and welcoming, and the lake was just a lovely addition. Comfortable bed and easy amenities and a quick drive into town to pick up necessities. Best part, however, was morning coffee, shared with Dick and his wife Barb on the porch overlooking the lake. Overall, I had a lovely stay and I would definitely come back if driving this way again.
Rebecca
2016-07-20T00:00:00Z
Dick was incredibly helpful. He responded to all messages quickly and was very welcoming. The space was just as pictured and felt very comfortable and homey.
Alena
2016-10-30T00:00:00Z
Dick was absolutely wonderful! He (and his adorable dog) were so welcoming. My boyfriend and I stopped here on our drive to Michigan from DC. Various complications meant we ended up getting there close to 11:30 at night, instead of 8 like we originally hoped for. Dick was incredibly communicative, and friendly - even when we arrived so late! The apartment is really fantastic - high ceilings, personal and homey, and beautifully decorated. When we woke up and saw the gorgeous view out the windows, we were even more pleasantly surprised! Dick was helpful about places to eat too - and gave us some local recommendations. We loved our stay, and if we ever need a weekend away, we will definitely be back!
Kristen
2017-03-05T00:00:00Z
Very friendly hosts. Beautiful home and surrounding area.
Daniel
2017-03-17T00:00:00Z
Communication was excellent, and we felt very welcomed by him. It was wonderful to have a yard where our dog could run around safely, after so long in the car. As other reviewers have mentioned, Dick is very welcoming to dogs as well as to humans! The guest area is private and well described. It did carry the smell of smokers on our visit. We left the patio door and the windows open at first to do some air exchange, After awhile, we did not notice it as much. We thank Dick for being so helpful with my allergies, allowing us to bring our own sheets.
Lucy
2016-07-27T00:00:00Z
Wonderful host! I got in very late and he waited up for me to arrive. Beautiful space with an extremely comfortable bed. Bedroom has windows with a lake view. Tons of room for my dog to run around. Dick made sure my puppy and I had everything we needed.
Shari
2016-07-14T00:00:00Z
Great place on a very nice lake. Dick and his wife are very nice as well.
John
2016-08-07T00:00:00Z
Again, a real pleasure to stay here. My puppy got so excited when we arrived! Dick is a most gracious host and the place is truly lovely. I can only hope to stay for a longer time sometime in the future.
Shari
2016-07-24T00:00:00Z
Room Type
Private room
---
Property Type
House
---
Accommodates
4
---
Bedrooms
Angola, IN, United States
5,600 sq ft Estate w/ 64 acres & 4 ponds: South Central Michigan Destination Wedding & Reception Venue. Your caterer uses the house kitchen, you and your bridal party sleeps in the house, your guests camp pond-side overnight in their tents and/ or RVs. Use our rustic pavilion for your wedding/ reception or rent your own event tent. Your wedding guests have access to two full baths on the grounds, and a kitchenette with a microwave, mini-fridge, Keurig, and sink. Message us for more details.
Our 5,600 square-foot, Greek Revival estate graces 64 acres of rolling glacial till in rural south central Michigan. Hermitage Hills Estate was built in 1995 as a replica of President Andrew Jackson's Hermitage in Nashville with four spacious bedrooms, three full baths and two half baths, four fireplaces, and four ponds. Weddings & Receptions: Hermitage Hills welcomes outdoor weddings and receptions. We have several summertime weddings and receptions already booked for 2017. The charge is $10 per daytime guest and is added to the booking for any two or more night stay. For example, 100 wedding guests would add $1000 to the cost of renting the house. Included in this per-person fee is access to: Hermitage Hills Estate's rustic pavilion, chairs, tables, two pole barn bathrooms with shower stalls, and a kitchenette room in the pole barn. We have a covered pavilion (see pictures) with banquet tables and 120+ chairs. It is about 150 yards from the house and has lights, water, and electricity. The pavilion could be used in lieu of renting an event tent, but you are certainly welcome to rent one or more if you choose. We encourage guests to put your signature touch on your event. Hermitage Hills Estate includes a variety of spaces for your south central Michigan wedding. There are several other ceremony and reception options in addition to the pavilion. Take your celebration elsewhere on our 64 acres and get married by one of the four ponds, set up a tent on the lawn, have your ceremony in the woods, or get married under the stars. The sky's the limit when it comes to making your day special. We promise your day will be one to remember. Renting our estate means that you have the flexibility to create your own special day or event with few restrictions. We have no limit as to how many people could stay overnight on the grounds (extra fees apply.) We have several camping plugins as well as outbuildings that have both electricity and water. There are over 20 acres of grass mown weekly, and several thousand feet of pond frontage that could accommodate hundreds of tents and travel trailers. Campus-wide, high-speed cable internet is included. Several groups have had over 50 devices connected simultaneously to our WiFi network. We also have access to a Phantom III Standard drone helicopter with video camera if that is something that you are interested in. We are in an unzoned township with no close neighbors. There is no curfew and no noise ordinance. Site tours may be scheduled to view the property and to clarify the costs and personalization options. Please message us to schedule your tour. A non-refundable $1,000.00 event deposit is required at the time of booking. This event deposit will be refunded if a cancellation occurs 30 days prior only if a comparable event is re-booked for the same date. The balance is due 30 days prior to the event. Children & Pets: Children ages 24 months and younger stay free! Children older than 24 months count as guests. We are pet friendly for friendly pets (with prior approval only). We require you tell us about your pets before a reservation is confirmed. We also require that the pet(s) you bring to Hermitage Hills be counted as part of the total guest count as you book your reservation. Lastly, pets CANNOT be left alone inside the house, especially locked inside a room. We have had several beautiful six-panel stained oak doors get scratched by dogs who were locked inside a room by themselves. Please bring a cage for your pet or chain him outside. Outdoors: This 5,600 square foot home is a paradise for adults and children alike. Front and back porches grace the first floor and front and back balconies span the second floor. This is a beautiful play space for kiddos and a relaxing spot to take in the outdoors from the treetop level! Hermitage Hills has 10+ acres of water with four large private fishing, swimming, and kayaking ponds. No Michigan fishing license is needed since we own the ponds. There is also a large outdoor playset for children of all ages. Swim, fish, and kayak our private ponds, enjoy a large reading selection, and cozy up by the bonfire pit to roast marshmallows while enjoying stellar stargazing in the backyard. A Holland grill on the back porch is available for your use. Our guests are welcome to use two adult-sized orange kayaks along with our old, leaky rowboat. Two plastic tubs in the garage have 10 adult-sized life jackets, five youth life jackets (50-90 lbs.) and three infant life jackets (0-30 lbs.) for your use. There are horse shoes, croquet, and badminton and a playset with a tire swing, slides, and more! Enjoy a stroll through rolling glacial till known as "hills and dales" in Hillsdale County, Michigan, including our black walnut grove of nearly 300 mature trees. The House: Hermitage Hills is a luxurious, red brick, 22-year-old estate with four spacious bedrooms, five bathrooms, four fireplaces, jetted tub and double shower in the master suite, acres of wooded trails and sandy paths, bonfire pit, and four private ponds. There is radiant in-floor heat throughout the house on all three levels and central air-conditioning. It looks like Andrew Jackson's Hermitage in Nashville, but with modern amenities like indoor plumbing and an in-house kitchen. Amenities: Enjoy hotel amenities in your own private home. Hermitage Hills has fresh bed linens, pillows, and towels for our guests. A washer and dryer is available for your use. We provide HE laundry soap. If you use your own laundry soap, please make sure it's high efficiency (HE) before use. Entertainment: Campus high-speed WiFi is always available. There is one 43" LG LED flat-screen TV with Charter Cablevision and integrated Bluetooth surround sound system in the family room and another 43" smart TV in the finished basement. Kitchen, Breakfast Nook, and Dining Room: The kitchen is fully equipped with Le Creuset cookware and bakeware, blender, Cuisinart food processor, Kitchenaid stand mixer, electric griddle, and much more. There are matching table settings for 30+ people, cooking utensils, a Krups drip coffee pot, (we provide filters and coffee) toaster, microwave, and a double oven. A fridge in the garage (just off the kitchen) provides extra space for big groups. The formal dining room seats 14 and the breakfast nook has seating for eight. If you need anything we don't have, we'll do our very best to accommodate. We provide many basic pantry staples so guests don't have to over-buy for short stays (creamer, sugar, honey, coffee, spices, condiments, cooking oil, bug repellent, etc.). Goodies: As a courtesy to our guests, we provide a basket of baked goods. Fruits, juice, coffee, and tea are also complimentary. There is plenty of chopped wood. Enjoy farm-fresh eggs during your stay from local free-range chickens. Bedrooms: Bedroom 1: main floor--king bed en-suite Bedroom 2: upstairs--queen bed en-suite Bedroom 3: upstairs--two queen beds Bedroom 4: upstairs--two queen beds Bedrooms 3 and 4 share the upstairs full bath and dressing room. Finished basement sleepover space: Six queen-sized luxury airbeds in our finished basement are here for large groups. (We add more as the need arises.) They are 20" off the floor. One is is a private room. A pack and play is also available upon request. The finished basement also includes a large sectional sofa, billiard table, and a 43" smart TV. Renewable Energy: Although we are not off-grid, our solar panels produce as much as or more energy than is used at Hermitage Hills. An outdoor wood boiler is maintained by us and provides radiant heat and hot water. It complements the solar panels in our efforts to use renewable resources. Be a Hermit if You Choose: Located on 64 acres with four private ponds, Hermitage Hills is private and serene. Come with your groceries and supplies, fishing poles, cross country skis, kayaks, and mountain bikes to our destination and just stay, enjoy and explore the outdoors, and rest. While we do have neighbors, they are not close and there is a tremendous feeling of quiet, privacy and serenity here. Come From All Directions: Hermitage Hills is centrally located in south central Michigan about two hours from Detroit, about three hours from Chicago, and three hours from Cleveland. Only about 10 miles or fewer north of the I-80-90 toll road in Indiana and Ohio and a short 25-minute drive to Hillsdale College. Only 45 minutes from Michigan International Speedway in Brooklyn, Mich. Well-behaved dogs and children are welcome, though they must be closely supervised in and around our water features. Swimming, fishing, and kayaking is done at your own risk as there is no lifeguard on duty. Life jackets are available for your use in the garage. We encourage all to wear a life jacket when swimming and kayaking. Local Attractions: 1. Hillsdale, Michigan is 17 miles away and has Johnny T's restaurant, and many more restaurants. 2. Bill's Steak House on US-12 in Bronson, Mich. is Nick's favorite! 3. Angola, Indiana is about 15 miles away and has many locally owned and chain restaurants. 4. Allen, Michigan is about 8 miles away and is known as the Antique Capitol of the World. 5. Fremont, Indiana is about 15 miles away and has an outlet mall. There's also Satek Winery (with tours) in Fremont and Wildwinds Buffalo Preserve in Fremont that gives tours that may put you in the middle of a herd of bison! (Our own children loved the tour!) 6. We recommend The Pizza Barn in Reading, Mich. for some good pizza pie. They even deliver to Hermitage Hills! 7. The nearest full-line grocery stores are in Coldwater (Meijer, Wal-Mart) and Hillsdale, Michigan (Kroger, Wal-Mart, IGA) are about 17 miles from Hermitage Hills. Fremont Village Foods (Fremont, Indiana IGA) is 11 miles doorstep to doorstep. Reading, Michigan is about 5 miles away and has a newly-built Dollar General, north on M-49. Hermitage Hills is a destination itself. Escape the city with your family and enjoy the peaceful beauty of quiet here. Child-Friendly Attractions within an hour's drive of Hermitage Hills: 1. Kids 'n' Stuff Children's Museum in Albion, Mich. This is well worth the admission for many hours of play. For little kids and big kids too! 2. Wild Winds Buffalo Preserve in Fremont, Ind. Also, well worth the tour price. You will be in a pick up truck wagon and in the middle of a herd of buffalo. Lots of Native American history as well. Our own kids loved it! 3. Air Zoo in Kalamazoo, Mich. Lots of airplanes, space simulators, indoor ferris wheel, and indoor hot air balloon rides. Our kids have been several times and are still game to go again! There are special rooms with rides for little ones as well. 4. The Little River Railroad in Coldwater, Mich. An absolute favorite of our own children! From the website: A trip through the countryside on an historic train powered by real steam locomotives! Round trip train rides depart from Coldwater, MI and go to Quincy, MI. Train rides last approximately 1 Hr and 45 minutes. There is a half hour layover in Quincy for you to get off the train and see the locomotive switched around to the other end of the train for our return trip. Tickets can be purchased any time from the website or at the ticket office. Handicap accessible. 5. Capri Drive-In in Coldwater, Mich. You will love this experience! View a movie or two from your vehicle. This is the real deal, folks! 6. Adventure Zone (next to the Capri Drive-In) Paintball, Go-Carts, Miniature Golf, Arcade, Laser Tag, Bounce House We live nearby, so quick and easy access is always available and only a text message away. Text us immediately if a problem arises. We are Airbnb SuperHosts and hope you'll read through our five-star reviews to be confident in your booking. South central Michigan is our home and we love to share the undiscovered pleasures of the area. There is a chain of seven lakes across the road and a branch of the St. Joseph River running through the southern part of our property. Your Hosts, Marisa and Nick
It was absolutely fantastic. Beautiful property with lots to do. Kayaking, swimming, fishing, a big kitchen. Our bachelorette party was a total success because of this home. We can't wait to come back. Thank you!!!
Alexandra
2016-09-05T00:00:00Z
We were greeted upon our arrival by Nick and given a brief tour of the house. We felt very welcomed by the array of local goodies waiting for us in the kitchen. This home is in a very pleasant setting and extremely comfortable. Nick & Marisa went above expectation to make sure we had everything we needed for our family Thanksgiving/Christmas get-together. We would definitely stay here again. Nick & Marisa are excellent hosts.
Pamela
2015-11-27T00:00:00Z
Marisa was very very kind host, they even took my group to Sunday lunch to make them feel welcome at all times. She is very responsive, I would highly recommend to book her place.
Mateja
2016-03-01T00:00:00Z
We had a great time! Our entire family was able to enjoy this lovely home, playground, ponds, swimming, kayaking, Bon fire, croquet, exploring, capture the flag, etc! There were 15 of us (8 children) and 2 dogs. We celebrated a special birthday and it was PERFECT! Thank you for sharing such a special place!!!
Barbara
2016-08-09T00:00:00Z
This house is everything it says it is and more. My friends and family had such a good time celebrating the 4th of July here. When we arrived they had left us cookies and brownies on the counter, a bottle of wine, orange juice, tea, and several bags of ice. Everyone had a nice bed to sleep in. If you're thinking about booking this place, just go ahead and do it. Thanks Marisa and Nick. You guys were great hosts. We already are talking about our next trip for next time I fly back home. :)
Mary
2016-07-06T00:00:00Z
Highly recommend. Great communication. Nick and Marisa very nice and friendly. Large eat-in kitchen (well-stocked and well-equipped including Le Creuset with welcoming donuts and cider) is a great gathering spot for family and friends. No surprises. Plenty of room to spread out if you like indoors and outdoors. Remember to bring your food and refreshments as it is rural setting and grocery stores are a bit of a drive. Antiques in Allen (20 minutes) were fun. AT&T cell reception was good, Verizon wasn't (magicjack phone provided and accepts incoming calls). Excellent WiFi. We're hoping to return again...
David
2016-10-24T00:00:00Z
Our family had a wonderful stay at Marisa and Nick's home. They responded within minutes of making the reservation request and prepped the enormous house with breakfast goodies like farm-fresh eggs, and night time goodies like wine and beer. Our only regret was that we couldn't stay longer to enjoy the vast property. We would gladly return.
Eric
2015-12-06T00:00:00Z
We had a wonderful three day retreat at Nick and Marisa's unique and charming place. The house is huge and comfortable and even though it was just the two of us, it was the perfect place to get away from it all. We enjoyed fishing in the three private ponds and walking around the beautiful grounds meeting the ducks, frogs and other inhabitants. Nick and Marisa made us feel very welcome and left us a fantastic array of treats for breakfast: the fresh eggs and Krispy Kremes were hugely appreciated! Thank you Nick and Marisa for a perfect stay. We would definitely come back!
Vanda
2016-05-27T00:00:00Z
Room Type
Entire home/flat
---
Property Type
House
---
Accommodates
16
---
Bedrooms
Montgomery, MI, United States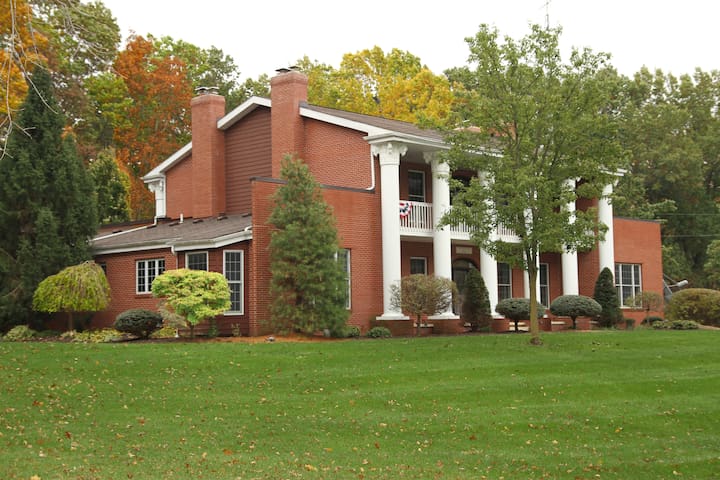 If you love Trine, Thunder Hill is the place for you. Located on a hill overlooking campus, it's perfect for visiting your son/daughter, nice/nephew, grandson/granddaughter. Reunite with old friends and alumni and attend your favorite Thunder sporting event or golf outing.
It doesn't get any better than this, spacious open floor plan, custom oak cabinetry, polished porcelain floors in the kitchen. Solid oak doors and trim throughout. Three bedroom, three full baths, family room and game room, enclosed porch and a wrap around deck, and an attached two car garage. The house is a duplex and the other side is permanently leased. Very nice views of Trine Campus and Zollner Golf Course. Please note you are able to book on the same days that other reservations are either check out or checking in.
The property sits on a hill overlooking part of Trine campus and Zollner Golf Course.
John's place is more that expected. Very nice, clean and spacious home. We enjoyed the house and had a relaxing New Years weekend. Thank you so much for the use of your home. It really made 3 overworked couples enjoy some down time together and not have to worry about driving home on New Years Eve! I love the porcelain floors in the bathroom and kitchen--beautiful!
Lesa
2017-01-02T00:00:00Z
Room Type
Entire home/flat
---
Property Type
House
---
Accommodates
10
---
Bedrooms
Angola, IN, United States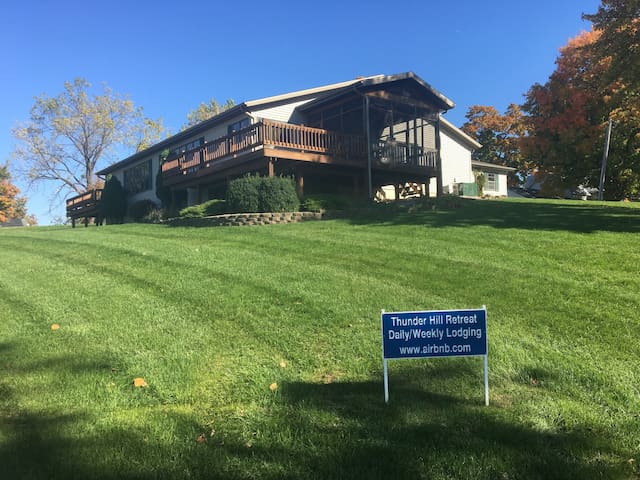 My home offers the quiet neighborhood feel with access to Fort Wayne or the lakes to the north. Private bedroom, bathroom, and full access to kitchen, and washer dryer. House backs up to wooded area. Paved path around Bear Creek Estates.
Room Type
Private room
---
Property Type
House
---
Accommodates
2
---
Bedrooms
Auburn, IN, United States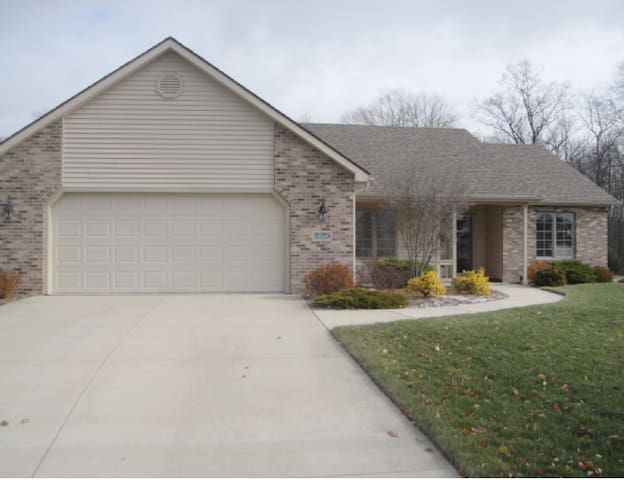 1

–

12

of

12 Home Rentals
Enter dates to see full pricing. Additional fees apply. Taxes may be added.