Our home is situated at the end of river Vestfossen, at the beginning of Lake Fiskumvannet. The view from our pier is absolutely ravishing! Relax, make a trip with our canoe or take a refreshing swim. There are a lot of tourist attractions in the area, and we are close to Kongsberg and Drammen. Direct train to Oslo, Oslo Airport and Kongsberg.
Our guests live in a cozy loft (36m2) next to our own home. The double bed has twin mattresses, individual duvets and pillows. The small kitchen provides everything you need to prepare breakfast or a light meal. There is also a coffee machine (free coffee and tea). From mid-April to mid-October you can use the practical outdoor kitchen (under a big roof, so you don't get wet if it should rain). We also have a fire pan to do barbecues. Preparing food outdoors is very popular in Norway; so do your cooking the local way! There is no running water in the loft, but a tap just outside the house. We put fresh water into your fridge, and wash your glasses, plates etc. in our own dishwasher. For the bathroom (12 m2) you have to come into our house. It's only a few steps and you have your own, direct entrance from outside. Of course you have the bath for yourself! Bed linen, towels and WIFI / internet are free. There is no TV, but a DVD-player with a small screen and some films you can enjoy.
Vestfossen is a former industrial village with traditions dating back to the 16th century. The industrial era however is past. Today Vestfossen calls itself "the capital of culture". Fosseholm Manor House, Kunstlaboratoriet (contemporary art gallery) and the "sense garden" are just a few of the local sights. Old industrial buildings and rustic roads meet modern wood houses and very nice surroundings with forests and lakes. You don't find the Disney version of Norway here, but an authentic Norwegian village, perfect for the kind of traveler that likes to "live like a local". There are two grocery stores, a bank, a garage, restaurants and a few other shops in Vestfossen.
This was a very pleasant stay! The place is absolutely awesome if you like a little calm and a nice view. Add to that the extremely nice and caring host family and beatiful surroundings, we can do nothing but to recommend this with warm hearts. :)
Amos
2015-10-17T00:00:00Z
This was possibly our best experience yet! Susanne was a great host, she's a very warm person and did a great job explaining everything. I would have loved talking to her a bit more, but sadly we only stayed for one short night. The apartment has everything you could need, we did not miss the running water. Going down to the bathroom isn't a hassle at all, and everything else is definitely worth this small inconvenience. I would definitely recommend this amazing apartment - do try using the canoe, paddling out onto the lake in the morning was one of my favourite things about my holidays.
Kathrin
2014-09-30T00:00:00Z
The host is the best person I've ever seen! She prepared all of the things for us about living. She is very nice to support us. The apartment also good like pictures. There are good view around building.
毅
2015-05-31T00:00:00Z
Susanne and her family were very friendly and helpful. The location is wonderful and very peaceful, with the river and lakes nearby it's ideal to do some canoeing and admire the beautiful surroundings. My friends and I had a great stay, and Susanne did everything she could to make it as pleasant as possible.
Lila
2013-08-15T00:00:00Z
We had a wonderful stay in Vestfossen! The communication with Susanne was excellent. The Accommodation was spacious and very clean. We loved the outdoor kitchen! Thanks to Jürg for the awesome boat trip! We definitely would recommend this accommodation! We felt very welcome!
Jeroen & Jane
2016-09-05T00:00:00Z
We were very happy with the stay at Susanne's. Own place for parking, adequate equipment, and we had a very beautiful view from the cottage over the lake and surrounding area. Also in Vestfossen and the nearby towns you will find enough shops etc. We also had a canoe included! Gives a great chance to be active together and explore. On down-time one can always pick a book from their shelf and read in a fun way about Norwegian culture and lifestyle. Enjoyed it. Thanks!
Marco
2016-08-16T00:00:00Z
Suzanne and Jurg are very nice host. Location of the loft is in really beautiful place with immediate access to the lake. Loft is very clear, comfortable and very well equipped. Bathroom is close to the loft and it is large and clear. The home team can help while learning to use water equipment. It was really nice stay for us!!!
Marcin
2014-05-05T00:00:00Z
We had a very nice stay here Suzanne , Jurg and their son were very friendly By sunny day we had a marvelous trip with the little boat on the lake and use BBQ We drive the boat we even after Suzanne's husband teaches us about how to drive We recommand this place without problems Nature is beautifull and quiet So as the owners are! It´s really a very good choice to book this offer The stay was very relax Try it
Thierry
2013-08-19T00:00:00Z
Room Type
Entire home/flat
---
Property Type
Loft
---
Accommodates
2
---
Bedrooms
Vestfossen, Buskerud, Norway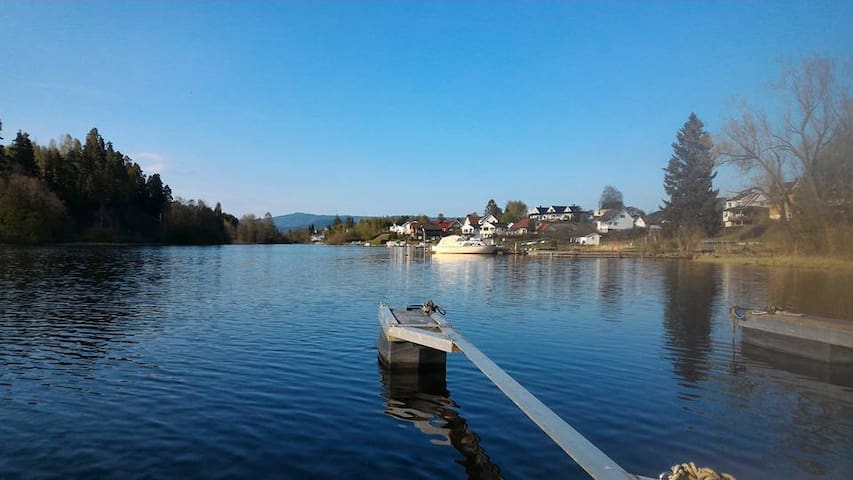 The loft is situated next to our house in Ormåsen. Ormåsen is a little housing estate which is situated 200m a.s.l. and midt in the heart of nature but close to the citys Drammen, Kongsberg and Oslo. Like us on Fa-b. : "Ormåsen Loft"
The newly constructed loft (32m2) which can be used throughout the whole year contains a livingrom and a bathrom. The livingrom has a doble bed and a sofa which can be radily converts into a doble bed. The small kitchen has all you need to prepare a simple meal and is equipped with a electric twin hob, a single bowl sink and a fridge with a small freezer. The bathroom contains a shower, a incineration toilett (Cinderella Classic incineration toilett) and a sink. You can see a short video about the toilett on our fa-b. side. The hole loft kan be heated by electric panel heaters. Bed linen and towels are free. The guests have free WIFI. We are speaking norwegian, english and german. We don´t take any imposed cleaning fee because you can take the final cleaning yourselv. If you dont want to make the final cleaning, no problem just let us know that. You can pay locally for this. The fee for the final cleaning is 50 Nkr per night but max. 200 Nkr.
Ormåsen is a small housing estate which is situated midt in the norwegian forrest. It is only a few steps to explore the wonderfull nature. You can make tours to the Holtefjell (montains) which is up to 707 m high or take a refreshing bath in the lakes Jungeren or Hoensvannet. To stay in the winter is very special. We have normaly much of snow from december to mars and the prepared and lighted ski trail starts a few meters from the loft. It is not far to Hokksund or Vestfossen which have a lot shops, banks, petrol stations, restaurants and much more.
Very cozy and clean loft. Welcoming host.
Tadas
2016-06-02T00:00:00Z
Stefan was a wonderful host! We arrived quite late but communication with him was perfect and we found the place easily. The loft is really amazing! Nice and warm, comfy and cosy. Very spacious too! We will definitely recommend and would love to come back! :)
Nico
2017-02-10T00:00:00Z
Me and my friends stayed here for two nights and had a wonderfull time. Cosy loft, super host and nice neighbourhood.
Michelle
2017-01-04T00:00:00Z
Perfect place for short stay. We had everything we need there
Arturs
2017-01-31T00:00:00Z
Stefan's place was just perfect! The loft has everything you could wish for. We had an awesome stay and we highly recommend it! Stefan himself was very welcoming, friendly and helpful - just awesome!
Leonie
2016-07-06T00:00:00Z
We stayed here for one night before starting our road trip through Norway. We were very charmed by the place and by the friendlines of Stefan. The loft is very modern and clean. The terrace was really nice to have breakfast in the sun. We would certainly recommend this place to anyone.
Michiel
2016-06-05T00:00:00Z
It seems that Stefan is just professional. The cottage was all furnished and all things are very convenient to use. We were delighted mostly because it was super clean. It is located in a peaceful village. We could enjoy relaxing and get recharged there.
Jaewoo
2016-09-15T00:00:00Z
Stefan was a fantastic host and was always willing to assist with information and tips. The location is absolutely amazing with lots of nature right on your door step. There are many local walking trails close by. The loft is fully stocked with everything you will need and we will know as we travelled with our 8month old baby. It also has one of the most comfortable beds we have slept in. It is a perfect place to unwind.
nicole
2016-01-02T00:00:00Z
Room Type
Entire home/flat
---
Property Type
Loft
---
Accommodates
4
---
Bedrooms
Vestfossen / Ormåsen, Buskerud, Norway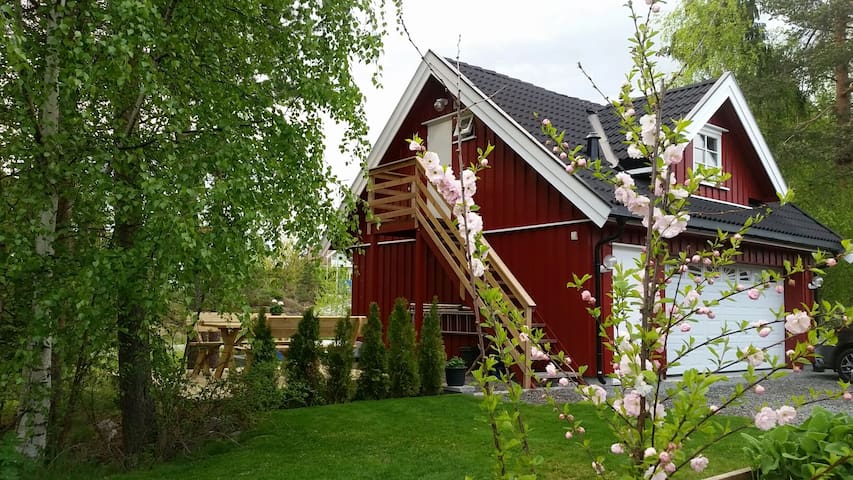 Notodden - Telemark, latest addition to UNESCO's World Heritage List! Proximity to great scenery, mountains, city, water and clearn. Possibility of renting the entire house or a room on the 2nd floor of the garage. Located in quiet street in Høgås district 3 km from Notodden town center.
Notodden and Rjukan on The UNESCO list in 2015. History, nature and proximity to the mountains, city and water.
Nice and quiet street outside Notodden senter ( 3 km )
Our family stayed in both the private room and house over the Easter holidays while Hilde was away. Both the private room and house were cosy and comfortable, and everyone enjoyed the stunning views! Luckily there were some sunny days to enjoy lunch on the beautiful terrace. I met Hilde before she left and found her easy to chat to, warm, friendly and accommodating. She had thought of everything to make sure her guests were comfortable. The house is located a few kilometres from the town centre, but in a quiet peaceful neighbourhood close to 2play areas and lovely forest walks. Everyone had a lovely time here.
Rachel
2016-04-01T00:00:00Z
We stayed at Hilde's garage during 6 days and I that I could say is thst we had a really great time. The garage is even bigger than in the photos and Hilde has a really lovely house, we had the chance to stay in a typical Norwegian house! Hilde was very kind and provided us all we need and she was always available for us. Just notice that the garage has no bathroom so you are going to need to go to the house every time you want to go to the bathroom. Definitely we had a great time during the stay and I would 100% recommend it!
Joel
2016-08-21T00:00:00Z
The host canceled this reservation 3 days before arrival. This is an automated posting.
Magnus
2016-08-01T00:00:00Z
Hilde Was really Nice and the appartement Was really cute and beautifull ! Thanks for all norway is cool
Manon
2016-05-08T00:00:00Z
Alles bestens:-))
Kathrin
2016-08-15T00:00:00Z
Room Type
Private room
---
Property Type
Loft
---
Accommodates
4
---
Bedrooms
Notodden, Telemark, Norway
We welcome everyone that desire a peaceful, quiet and relaxing farmstay experience to enjoy all that that our space has to offer. Our beautiful newly finished countryside villa has a private, spacious & comfy attic-apartment to offer our guests. Make yourself at home in our fully furnished Swiss chalet style house with an amazing landscape.
We welcome everyone that desire a peaceful, quiet and relaxing farm stay experience to enjoy all that that our space has to offer. Our beautiful newly finished countryside villa has a private, spacious & comfy attic-apartment to offer our guests. Make yourself at home in our fully furnished Swiss chalet style house with an amazing landscape. The attic consists of one main room with dining area, 2 separate bedrooms with 2 single beds and 1 bathroom with washing machine and dryer available. The main room has 1 double bed. The dining area includes a small kitchen space for breakfast/ lunch purposes. Access to the attic is through the main door in the villa, the bathroom is in the 2nd. floor and the attic is in the 3 floor. Enjoy full access to our kitchen and dining room downstairs including the balconies and our spacious yard and porch. Guests have also access to Wi-Fi. There's plenty of space to enjoy the nature, and some peace and quiet. We own pigs and cats. There are also other animals in our area like horses and dogs. When we are caring for the farm animals, you are welcome to join us, or just sit on the back deck and take in the views. We also have vegetable garden that our guests can visit and take the use of. Our farm is child-friendly; there are lots of activities for them in the garden so they can have a great time here! The surrounding area holds plenty of opportunity for adventure. There is a pond nearby where you can take a swim or just enjoy the countryside. We live close by downtown Holmestrand, so you can explore our beautiful city in short amount of time. Holmestrand is known for its pier life and has many hiking and swimming spots. You can also find many cafeterias, bars and restaurants where you can relax and enjoy your time.
We live close to the old industrial place Eidsfoss, idyllic place with a super farm restaurant to be recomanded.
Room Type
Private room
---
Property Type
Loft
---
Accommodates
6
---
Bedrooms
Holmestrand, Vestfold, Norway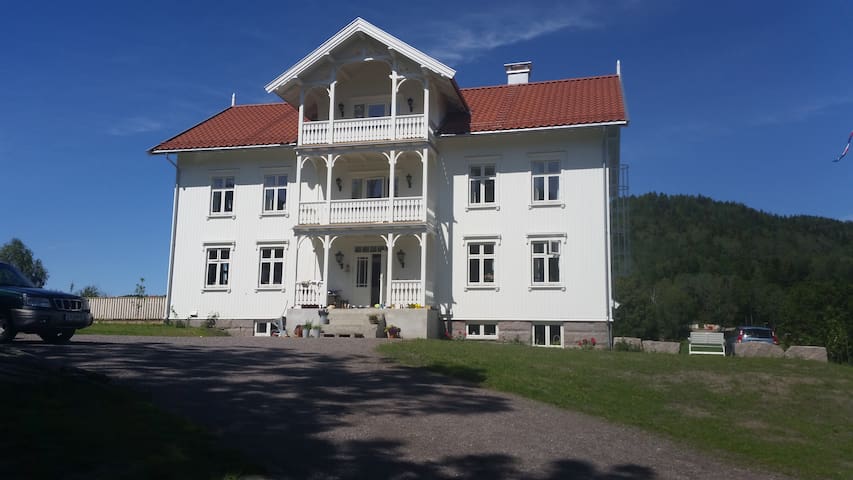 90 m2 apartment with nice terrace .Great green space
Short distance to public transport
Nice, quiet
Room Type
Entire home/flat
---
Property Type
Loft
---
Accommodates
3
---
Bedrooms
Øvre Eiker, Buskerud, Norway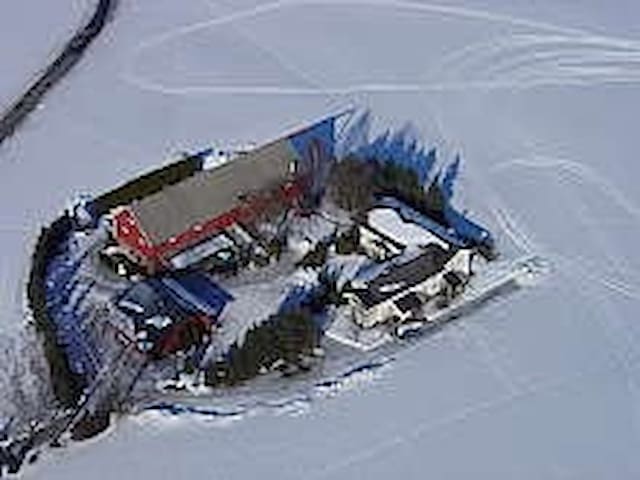 Spacious loft apartment with balkon, two bedrooms and bathroom, small stove, refrigerator. Private entrance and parking.
Svelvik sneaks along Drammensfjorden located in central eastern Norway, 50 min. by car from Oslo. With its many white villas along the waterfront called Svelvik often for Norway's northernmost southern idyll. Svelvikstrømmen is the main artery for boat traffic in Drammensfjorden and is central to SVELVIK history, sustenance and development. Currently home to approximately 6,500 people in Stornoway. The coastline along the entire municipality offers Svelvik countless opportunities for activities and experiences related to water and sea. Batteriøya is a gem for those who want to move on historic ground in close proximity to nature and sea. Grunnane Nature Reserve is an important wetland area to protect a rich and interesting birdlife, vegetation and other wildlife. The coastal path runs from Berger, through the nature reserve and to Stornoway, where there is a ferry across to Hurumlandet. The great location makes Svelvik attractive for holiday homes, both cabins and camping. Those who live here, says: "We live right on vacation, we." In winter spends diligent in all municipal corners, thanks to prepared trails, lighted trails, plenty of snow, beautiful scenery and proximity to dwellings. Several ice rinks, toboggan runs and pilkemuligheter do a good and active winter in Stornoway. Stornoway has a large production environment within fruits and berries, which contributes to a beautiful landscape. Stornoway is rich in cultural activities and houses several renowned professional artists. In Foss Brukssenter Berger has built up a culture based commercial area with glassblåser-, pottery and sculpture workshop, shops, museum and cafe. The municipality has a close cooperation with the Association of Norwegian Sculptors, and every summer appear sculptures of the leading and most important sculptors in Svelvik center. Svelvik center is a nice little village with narrow streets and small shops and eateries. Text: D(URL HIDDEN)
Quiet and peaceful neighborhood. Close to Ebbestad water and sea.
It was our first experience with airbnb. And I can say, that I will use it again. Everything was perfect! All family was very friendly. We feel like at home. p.s. The living room and the terrace has the view as in photos - amazing!!!
Signe
2016-03-12T00:00:00Z
We had a great stay at Marc and Elin's place. Communication before arrival went easy. Apartment was spacious, bright and comfortable. View awesome! The apartment has a seperate private income. Also an own parking space Quiet neighborhood, not walking distance to restaurants or bars. Hosts do everything to make it as comfortable as possible and are there to help you with any questions. The staircase does actually run into the house of the owner but we didn't have any problems with that. Bed was comfortable and evrything was clean and fresh. There were nice flowers on the table at arrival. Thanks Marc & Elin for a wonderfull stay and your hospitality!!!
Henk
2016-06-20T00:00:00Z
The loft was very cosy as described. A lovely warm haven from the snow outside. The big windows have a stunning view, perfect place for reflection. Marc and his family are very friendly and welcoming and were always on hand to help with anything I needed. Svelvik is a small town but I had hired a car so could easily access the busier city of Oslo. The lake is a nice walk from the house and looked stunning covered in snow. Thoroughly recommend this property and will probably visit myself again soon!
Scottie
2016-01-25T00:00:00Z
It was our first visit to Norway! Couldn't be any better choice than Svelvik location and Marc's place! Loft is ideal place if you are travelling as us with family because was plenty space to run kids around! Me and hubby had our room and kids had their room plus living room with kitchen what was very useful! Amazing views around! Very easy and short distance from airport. Within an hour we saw mountains, rivers, lakes, ferry and that all on a way to Svelvik! Great location, beautiful views. Got to know Marc and his family who invited us for a coffee and also offered to look after our kids that me and my husband could have some time together, very nice of them! Couldn't be any better choice of location and family, strongly recommend!!!,
Jelena
2016-02-20T00:00:00Z
Leider mussten wir die Reise, wegen Krankheit unseres Sohnes, vorzeitig abbrechen.Aber wir konnten uns noch umsehen und können daher sagen das es eine schöne Wohnung ist.Das Haus hat eine tolle Lage und super Aussicht auf den Fjord.Svelvik ist wirklich eine geheime Perle an Norwegens Küste.Marc ist ein sehr netter Gastgeber, der uns sehr entgegen gekommen ist wegen unserer Umstände.Dafür auch noch mal ein dickes Dankeschön.
Felicitas
2016-02-25T00:00:00Z
Room Type
Entire home/flat
---
Property Type
Loft
---
Accommodates
6
---
Bedrooms
Svelvik, Vestfold, Norway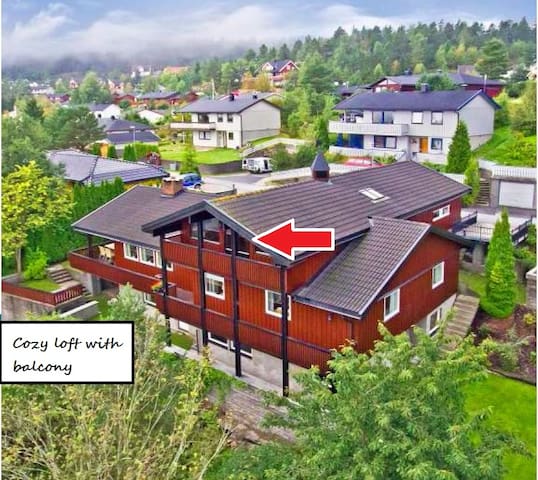 Buskerud - Airbnb
:
Average

4.98

out of

5

stars from

140

guest reviews