Enter your check in date in the format dd-mm-yyyy
Enter your check out date in the format dd-mm-yyyy
Listings you can book without waiting for host approval.
3 Boat Rentals
· Cairndow
3 Boat Rentals
· Cairndow
Enter dates to see full pricing. Additional fees apply. Taxes may be added.
This July and August, you can try one of these 100 highly-rated homes, at all price points, and experience a local's view of Sonoma. 24-hour check-in, Instant Book, and local wine and snacks let you just sit back and enjoy your trip.
Raider of Rhu is berthed at the marina in the conservation village of Rhu. Staying at the marina you will enjoy peace and tranquillity, with nature and stunning views literally on your doorstep (or pontoon!). As you are just next to Helensburgh and Loch Lomond you have easy access to many fantastic restaurants and lively pubs as well as Loch Lomond's many activities. Glasgow City Centre is only 40 minutes away too for those seeking more arts and culture.
Raider of Rhu has 2 cosy twin cabins and the saloon has addition sleeping for 2 others comfortably. The saloon also has the dining table and kitchen facilities. There is additional seating in the fully enclosed wheelhouse and don't forget you also have the whole deck! There is plenty of parking at the marina and we will provide you with the security code to access the pontoon. For those of you not familiar with boats, you will have to carry your luggage from the car but will be able to put your luggage onto a trolley and push it along the pontoon to the boat. Sometimes the gangplank down can be quite steep, depending on whether the tide is in or out. The boat IS afloat, but tethered safely to the pontoon. The step from the pontoon onto the boat is about 2 ft so children or anyone unfamiliar with boats will have to take extra care. You can make use of all the marina facilities, showers, bathrooms and a great cafe with delicious home baking! The nearest train station can be found 1.5 miles away at Helensburgh Central. I live just around the corner from the marina and I'm happy to pop by to answer any query's you have. You will also have my phone number to call me with any questions. Other than that you can enjoy your own space!
Rhu itself is a beautiful conservation village and we have 2 National Trust attractions within a 3-mile radius. Loch Lomond is only a 10-minute drive and allows you access to more adventure, nature and fun that you will be able to handle! Please see www.lovelochlomond.com for a full insight into what's available for you! Not all of you are seafaring folk so just to let you know that the boat is floating on the water and it will be gently moving and rocking at all times! Although the marina is sheltered and the boat securely tied, if the weather becomes dangerously windy your booking will be cancelled at short notice, we don't take any risks. Don't worry, we will help you find somewhere else in the area! The marina rules mean that you cannot use the toilet on board the boat, you must use the facilities onshore...sorry! But it does add to the uniqueness of the stay. Children should be supervised at all times and wear a life jacket.
Erica was the perfect host, showing us a warm welcome and making us feel at home for our short stay on her yacht. A unique and memorable experience!
Emily
September 2016
This was an amazing experience for those who have never been on a yacht before. The place itself is nice and cozy, it had absolutely anything I needed and I wish I could've stayed there longer. Erica was very welcoming and she even offered her own oven for cooking some pizzas for us. She was there in less than 5 minutes after calling her and replied to all my messages within 10 minutes. She also seem truly interested in my adventures the day after. If it's possible to drive, I wouldn't even consider staying in the Loch Lomond with the extortionate prices, this place is perfect for the money and only 20-25 minutes away from Luss.
Miguel
September 2016
Erica is a great host, very fast responding to messages and quick to offer local advice and ideas for things to do. She was just three minutes away once we arrived to help us settle in and ensured the boat was secured and the electrics working before she left. The boat is clean and cosy and has everything we needed. The high winds on the first night weren't an issue (the boat did rock a bit but not in a scary way). Once the rain cleared there were lovely views of the marina the next morning. Helensburgh was walkable, with lots of places to eat and drink (great seafood to be had). Loch Lomond is easy to get to by car - my favourite bits were Balmaha and Rowardennan (beautiful locations and great for woodland walks and kayaking). Highly recommended if you want somewhere fun, relaxing and interesting to to stay that's not in the midst of all the touristy stuff.
Sam
October 2016
We had a great stay on the Mighty Raider. Perfect for a weekend in the locale and very friendly ship mates to welcome us!!
Dane
September 2016
Erica and Campbell will do their best to make you spent a good night aboard of their boat. There is a lot of room inside. Convenient, original and cosy, such a good experience!
Raphaël
September 2016
Really, really enjoyed staying in Erica's yacht and would love have stayed for another night. Like the other review mentioned, it's amazing value for money and Erica was really, really helpful. The boat had loads of supplies which was great. Dishes, food, cutlery, loads of things. Even some excellent whisky which we didn't end up getting round to sampling. The weather was really calm on the night we stayed and you wouldn't even have known you were sleeping on a boat. It's easy to find and Erica was there within a couple of minutes on arrival and departure. Would highly recommend staying here.
Zak
September 2016
Room type
Entire home/flat
---
Property type
---
Accommodates
4
---
Bedrooms
2
Helensburgh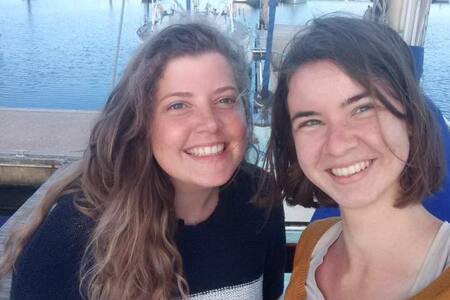 The Alexandra offers a unique opportunity to stay in an 110 year old life boat on the shores of Cuan Sound. Situated on Argyll's rugged coastline, this is the ideal location for kayakers, walkers and those wishing to enjoy the peaceful surroundings!
Alexandra has 6 berths set around a central table, each with a reading light, charger point, pillow and pillow slip, we can provide a sleeping bag with liner for a small additional charge. The galley has a two ring hob, microwave, toaster, kettle and fridge and a small sink with cold running water. Crockery, pans and cutlery are all provided. The covered cockpit entrance to the lifeboat provides an outdoor sitting and drying area.The toilet, shower, scullery and drying facilities are situated in our uniquely designed timber cove approximately 25 metres from the lifeboat. The Alexandra is situated on the edge of Cuan Sound, as part of the facilities provided here at the Argyll Kayaker Cove. The Cove offers access to the rugged Argyllshire coastline with stunning views and opportunities for exploration. As a designated marine area of scientific interest, there is an abundance of wildlife and nature to be enjoyed, from seals and dolphins to otters and sea eagles! We are situated close by and always happy to offer a hand, whether it be to provide information on the local area and the best places to explore, or to sort any other queries you might have.
Cuan Sound is a tidal stretch between the Islands of Luing and Seil, that connects two very unique Island communities. Both of which are incredibly vibrant and welcoming, and offer a range of different activities. The Island of Luing- the home of the famous Luing cattle and quarries "that roofed the world" -is only a short ferry ride away and hosts the recently opened Atlantic Islands Centre, a cafe and museum full of stories and history of the surrounding islands! This is a perfect base to take a boat trip, cycle ride, or walk around the shoreline if you are not a kayaker yourself! There are also a variety of lovely pubs and cafes in the area if you fancy a more relaxed excursion. The nearest local town is Oban which is a 25 minute car journey from Cuan Ferry, or alternatively there is a regularly scheduled bus service throughout the day. Cuan is part on the Isle of Seil, which is connected to the mainland via Clachan bridge or "the bridge over the Atlantic." Oban is well connected by train and bus links from Glasgow, and is also the major ferry terminal for access to the inner and outer Hebrides. The minimum charge for a night in Alexandra is £50 for one or two people. However if you have a larger party the charge is £18 per person, per night. 10% discount applied for stays of over 2 nights.
Great, novel place to stay in a beautiful area. Lots to see and do in the immediate area. Boat has been lovingly restored. Kitchen is well eqipt to produce a good meal. Shower (not even a minutes walk) is warm and powerful. We really enjoyed our visit and would return. It would be a fantastic and exciting experience for a family with younger children.
Sandra
August 2016
We really enjoyed our stay aboard the Alexandra, she has been beautifully restored and is a very cosy and unusual place to stay. The setting is gorgeous and we would recommend our stay to anyone. Thank you!
Anna
July 2016
I very much recommend Alexandria! It was a fantastic location and had everything we needed. There were other campers nearby that were very friendly and the view was beautiful!
Krista
August 2016
Airbnb comes up trumps again! Something quirky and unique which would have been impossible to find prior to Airbnb. My 2 young girls loved it as they were able to run about in freedom. My 4 year old took me for a walk and I couldn't believe how far she strolled as I unpacked our bags. We were fortunate to be blessed with fantastic weather plus there were no other visitors for the camping spaces nor campervan space. The boat itself is immaculate and has everything you need for a basic camping trip. The boat accommodates 4 people with a kitchen at the entrance end. I would certainly recommend this boat or campsite to anyone. I will be back but it may be a few years or so as the World is such a big place to discover.
Mark
June 2016
Had a fantastic stay on the Alexandra. The boat is fantastic and I highly recommend it. Michael has created a great site. I will definitely be back.
Colin
May 2016
We had a great time (2 nigths) at Alexandra Lifeboat. It is a unique place to stay. Everyting was very clean and well equiped. Cuan is a quiet and peacefull place. Michael and Caroline are friendly hoasts. Our six years old son found lots of Pirate gold (great adventure). We loved the lifeboat and its intersting history. It was perfect.
Mea
August 2016
We did not meet Michael, but his communication was great, so we knew where to find everything. Our stay on Alexandra was great and a fantastic novelty! It was so cosy inside when it was raining( which it did a lot)
Debbie
July 2016
Michael, Caroline & family are great hosts, the boat is a unique find and we were not disappointed! I stayed here for one night with my other half. It is beautifully designed, deceptively spacious, spotlessly clean and on a beautiful point looking out to the bay and onto luing island. We were lucky to have a sunny stay and made use of the BBQ. This would be fantastic for children! We would highly recommend it!
Joanne
August 2016
Room type
Entire home/flat
---
Property type
---
Accommodates
6
---
Bedrooms
1
Cuan Ferry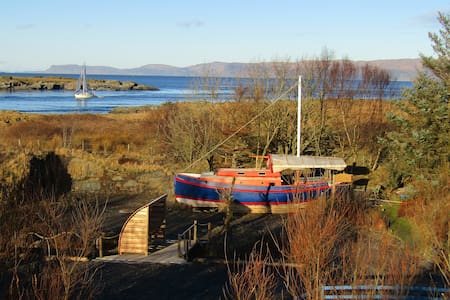 .
We have two double cabins available on Orlik, the rate is £120 per cabin per night, each cabin has its own private shower room and a queen size double bed, each cabin can sleep up to two people. Converted deep sea fishing trawler, two double cabins each with private shower room. Orlik is an 17 meter wooden trawler yacht that spent her early years fishing in the North Atlantic. After retiring from fishing in 1992 Orlik was used as a dive vessel in the English Channel working on diving charters. In 2006 she came to Scotland and had a serious renovation costing over £300,000 and now offers two luxury double cabins each with its own private shower room/toilet, on board Orlik has offers cozy two person sauna for guests who want to chill out and relax. Guests should expect to see various sea birds and wild life depending where we are at the time of their stay. On our cruising destinations we encounter a large number of sea based creatures. Our neighbourhood is great and changes every day, on board Orlik you will experience life at sea and away from the hustle and bustle of life on shore. Skippers Lorna & Mike have many years of experience on the seas around Scotland and the Caledonian Canal so we have the facility to offer short cruising destination if required. We provide a full Scottlsh breakfast incorporation fresh local products where at all possible Your stay on Orlik will be totally unique, out boat is done to a high standard and is part of the great history our fishing fleet once enjoyed. More information can be found on scottishmariesafari.
Staying with Lorna and Michael was an absolutely fantastic experience and quite easily the most memorable part of our trip to Scotland. Their kindness and warmth as hosts is unforgettable. Orlik is a beautiful ship and the rooms and accommodations were wonderful. We really enjoyed having long conversations with Lorna and Michael and welcomed the company of their two dogs Belle and Fergus (who we already miss dearly). Additionally Michael was kind enough to pick us up from the train station in Fort William and offer us multiple lifts to and from town. Staying with these hosts is like visiting an old friend and is an experience that I would recommend to anyone!
Danielle
September 2016
My partner and I, spent 2 lovely nights with Michael and Lorna, who are both great host and lovely company. The boat is beautiful and they have two wonderful dogs. Would recommend.
David
October 2016
we have an impressive experience in fort william,really appreciate that Mike and Lorna gives us a hand ,help us to solve many problems,they are really friendly and nice!their dogs also lovely!if we have chance to go fort william again, we prefer to live with them!
Dannie
September 2016
Great place to stay if you want an extra ordinary experience and super friendly hosts
Jan-Willem
December 2016
We had a really great time on Orlik. Mike and Lorna were great hosts. So far, that was the best part of our trip. Wasn't just long enough. I would have take few more days. Will be for the next time on Scotland. Jacques and Catherine
Catherine
May 2014
Lorena and Michael are wonderful host. They are very kind always trying to do the best for their guests. Our short cruise on Orlik was perfect and our two boys of 12 and 16 loved the journey and to fish from the boat. The breakfast was delicious and the bedrooms were really confortable.
Chiara
August 2013
Staying onboard the Orlik was a magical, one-in-a-lifetime and truly amazing experience. Michael and Lorna are a wonderful couple and perfect hosts with dozens of good stories to tell. Communication before we arrived was excellent and Michael and Lorna was very attentive to our needs and wishes. The Orlik is a magnificent and beautiful ship with all the comfort you still like to have even though you're spending your vacation at sea. Rooms were cosy, beds were good, bathrooms were actually spacious. The whole ship was very clean and then they have the most wonderful ship dog, Belle - which is great when you have dogs of your own and miss them when you're away. I really wish we had stayed longer than three days and I want to book a new trip ... NOW! Everyone going to Scotland should treat themselves to a cruise with Orlik. It's the perfect way to see Scotland and with the most wonderful company to show you the sights. I can only give Michael, Lorna and the Orlik my highest recommendation.
Cirkeline
July 2013
We had a great time with Mike and Lorna and the dogs. We spent two nights on the boat with our boys who have not stopped raving about how the now want to move permanently onto a boat! The weather was not the best during our stay but despite this Mike took the boat out up the canal and through the locks into the Loch, letting the boys take the wheel at various points. We also got to fish for trout. Both Mike and Lorna's hospitality was second to none as was the accommodation. Overall it was a fantastic experience and we cannot recommend highly enough. Thanks again from the Dufftown brigade..
Andrew
November 2016
Room type
Entire home/flat
---
Property type
---
Accommodates
4
---
Bedrooms
2
Fort William