juniorsuites in a bed and breakfast with an floor area of approximately 34 m2, full private bathroom, central heating, Mediterranean-style rustic furniture, TV with satellite system, DVD player and safe. All rooms face south with breathtaking views of both mountains and sea. includes a large luxury breakfast and barista - coffee as much as you want (for breakfast) breathtaking views to the sea in 6 mls air distance (20 min by car to the beaches of altea) dinners are offered at the finca at 5 nights per week usually (prices var.) The whole place is made to relax and chill . No neighbours, only orange and olive trees. Car required.
The perfect home. La maison est sublime, superbe terrasse avec une vue magnifique, piscine et coin plage très bien entretenus et surtout très bien agencés. La chambre était parfaite, le petit coin cuisine et sa petite terrasse privative un petit plus. Les menus proposés sont recherchés, raffinés et goûteux. Thorsten et Sonia sont accueuillants et bienveillants.
Aurore
2016-08-21T00:00:00Z
Room Type
Private room
---
Property Type
Bed & Breakfast
---
Accommodates
2
---
Bedrooms
Bolulla, Valencian Community, Spain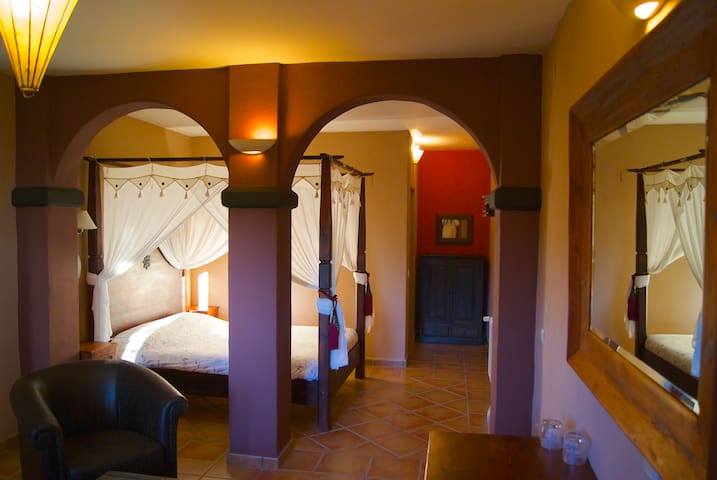 La Casa Estrella Polar is situated at the highest point of Serra Gerada Natural Park in L'Albir and boasts the most superior views over Albir and Altea beaches and harbour. The house is surrounded by relaxing gardens with palm trees, fruit trees, cactus and beautiful flower beds and is only 10 mins walk to the main town. There is a gym and swimming pool area where a continental breakfast is served on request for 5€ p/p. The kitchen and lounge area are communal areas for all guests to enjoy.
Room Type
Private room
---
Property Type
Bed & Breakfast
---
Accommodates
3
---
Bedrooms
l'Alfàs del Pi, Comunidad Valenciana, Spain
Bungalow situado en las afueras de Polop al pie del Monte Ponoig. Habitacion con baño ensuite y balcon privado. Urbanizacion cerrada con plaza de aparcamiento, piscinas y parques infantiles. A pocos minutos en coche de todos los servicios.
Adrian and Eva they were very kind and friendly, they showed us a walking paths in the mountains and took us to the starting point, which was very nice of them :) The house stands next to the mountains, so the view is wonderful. The room was comfortable and tidy, we had rich breakfast. Overall great experience, would recommend to everyone and thanks again :)
Monika
2017-02-27T00:00:00Z
Very nice family who were very friendly and helpful :) they made us a great breakfast in the morning and we felt very welcome!
Ilus
2016-12-09T00:00:00Z
Very nice family who were very attentive to make everything comfortable for us even if they are busy themselves. Awesome breakfast every morning and very caring. Thank you.
Pairin
2017-01-03T00:00:00Z
Great family, great nature (mountains); great, quiet and safe district and great breakfast! :) Adrian with wife and son helped us to get to bus station, buy tickets and took us to nearby mountain by car in a free time before our bus to Valencia. Hello from Valencia and thank you!;)
Roman
2016-12-23T00:00:00Z
a very good place to stay, wonderful and rich breakfast, terrific location with a beautiful view of the city and mountains. I absolutely recommend this place to others.
Kristine
2017-02-21T00:00:00Z
La familia de Adrián es muy agradable y te harán pasar una buena estadía sin dudas.
Marcelo
2017-01-27T00:00:00Z
Adrián y su familia han sido de lo más agradables durante nuestra estancia en la casa, la verdad que nos hemos sentido sumamente cómodos, con personas que no sólo te ofrecen un lugar dónde dormir, sino amabilidad en todos los aspectos y muy generosos en todo lo que te ofrecen, más que mucho! diría yo para lo económico que es el alojamiento- Nosotros acudimos por un trail y siendo necesario antes un buen descanso, ha cumplido nuestras espectativas con creces, la habitación super cómoda y calentita, con ropa de cama adecuada a las temperaturas- Estamos muy agradecidos de su recibimiento y compartir unos ratitos "como en casa"- Un lugar para recomendar y repetir
Maria Laura
2017-02-05T00:00:00Z
Freundliche Gastgeber. Alles war genauso wie beschrieben und es auf den Bildern dargestellt. Danke für eine gute Unterkunft.
Nils
2017-04-02T00:00:00Z
Room Type
Private room
---
Property Type
Bed & Breakfast
---
Accommodates
2
---
Bedrooms
Polop, Comunidad Valenciana, ES, Alicante, Spain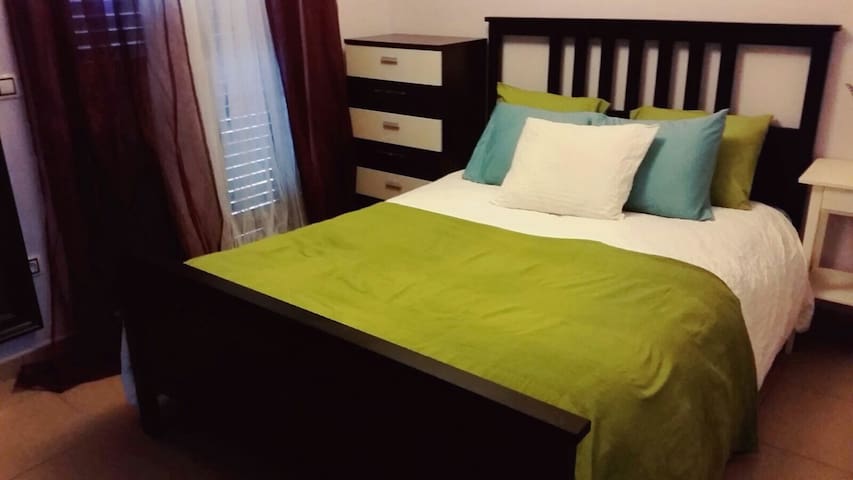 Stonehouse which is part of a running bed and breakfast retreat place in the costa blanca mountains overlooking the whole valey down to the mediteranian sea in 9 mls distance. large breakfast in our in the hotel on the same area included. The house is located in plain nature and has breathtaking views. it has a small kitchen for the preperation of cold food only , refridrerator and so on, in the hotel on the same area is served dinner about 5 times a week
Room Type
Private room
---
Property Type
Bed & Breakfast
---
Accommodates
2
---
Bedrooms
Bolulla, Valencian Community, Spain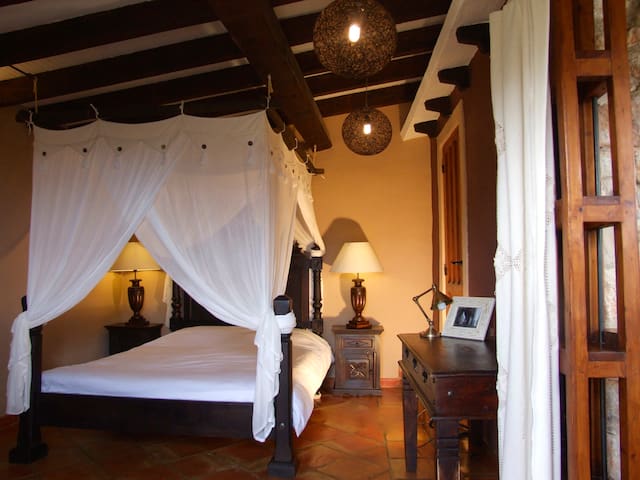 In the pretty village of Altea near the old town and 10 minutes taking a walk, it is Anita's B & B. The room is surrounded by a peaceful and relaxing garden where the pool and jacuzzi open to enjoy it is.
Single room with bathroom and terrace beside the pool, has a double bed, wardrobe and bathroom in the same room. Find a television with satellite channels Astra and Hotbird. Inside the room there is also the minibar. You can also relax on the terrace.
Altea is located on the Costa Blanca, Spain offers a charming old town (10 min. Walk from your room), which all summer can visit a select artisan market. Besides being able to enjoy the beach, which is approx. 2km of your accommodation, you can visit the many possibilities of amusement in Benidorm (Terra Mitica, Terra Natura, Agualandia, Mundomar ecc.), Nightclubs and nightlife. In addition and for those who love nature there are many possibilities for hiking or do some horseback cavallo in the icy highlands and elsewhere. For those who like to do something a little more ... also they can scale Guadalest area.
From the outset Anita made me feel welcome into her home. The location, just a short walk into town, was ideal for me and gave me the privacy and relaxation I was looking for from a holiday in Altea. The gardens are stunning and the accommodation 5*. Anita has thought of everything, toiletries, toothbrush and paste - just bring your clothes and suntan cream. Breakfast is wonderful - a choice of cereals, yoghurt, cold meats, breads, fruit (lots of local produce). If you stay anywhere in Altea stay here, I cannot recommend it enough. I will certainly be back.
Sue
2016-06-13T00:00:00Z
Just simply Amazing in every way !! I can not reccommend Anita's B&B enough. from the onset Anita made us feel very welcome with cake & nibbles (delishious) The house is stunning with everything you need to make your stay special. The pool is fabulous to cool down on a hot day , Breakfast is awesome with everything you can possibley think off with a selection on cold meats & cheeses , cereals fruit juices eggs bacon fresh fruit home made cake etc etc . And the most delishious coffe. (That I will but on my return home ) Thank you Anita for sharing your amazing home. X
Kim
2016-06-30T00:00:00Z
Fantastic host and fabulous home. This was a 5 star experience in every way. Well done Anita . You were a brilliant host and looked after us so well. Your house, garden and pool are wonderful and you live in a lovely location. Thank you for a super holiday.
Iseult
2016-08-01T00:00:00Z
El hogar de Anita llegó a nosotros porque andábamos buscando ese lugar donde poder sentirnos tan a gusto como en casa, y sin duda fue "el lugar". En las fotos se veía un lugar precioso, pero en realidad es todavía mejor. Nada más llegar te envuelve una energía y una luz maravillosa, y solamente se respira armonía, paz y serenidad. Hemos viajado con nuestro bebé de 7 meses y Anita en todo momento se ha mostrado atenta a nuestras necesidades, y disponible en cualquier momento del día o de la noche. El bebé se ha sentido cuidado ( sobretodo por Fiona, la compañera fiel) y feliz, y nosotros también felices. Gracias Anita por tanto: por tu predisposición, por tu amabilidad, por tus sonrisas y por tu cariño. Hemos estado muy muy muy a gusto. Así que volveremos más adelante seguro. Alojamiento más que recomendable! Un 15 sobre 10 !!
Anita / Kamalmeet Kaur
2016-09-05T00:00:00Z
Todo espectacular. Un 12 sobre 10. La casa una maravilla, mejor incluso de lo que se muestra en las fotos pero sin lugar a dudas lo mejor es la hospitalidad de Anita. Gracias por todo. No lo dudeis!
Daniel
2016-08-22T00:00:00Z
Ha sido una experiencia maravillosa , todo de 10 . La casa increíble , con todos los detalles , la localización excelente a 10 minutos andando del centro del pueblo . Pero lo mejor de todo , fue el trato que nos dio Anita que nos hizo sentirnos como en casa . Desde luego que repetiremos .
José Carlos
2016-08-16T00:00:00Z
La estancia en casa de Anita ha sido fantástica . Si las fotos de la casa son espectaculares, la realidad lo supera . El jardín es enorme , la piscina genial y el desayuno cinco estrellas . La casa es perfecta para pasar unos días de relax y al mismo tiempo está muy cerca del centro de Altea y alrededores . Nos hemos sentido como en casa y desde luego si volvemos a visitar la zona repetiremos .
Irene
2016-08-25T00:00:00Z
De 10, esa es nuestra valoración tras disfrutar tres noches del alojamiento. La experiencia ha sido genial, Anita es una anfitriona realmente buena, atenta, detallista y a la vez muy discreta, en todo momento hemos disfrutado de privacidad y libertad dentro de la casa. El jardín es espectacular, en las fotos no se puede captar, y el dormitorio muy confortable, amplio, limpio y con todo lo que se puede pedir: aire acondicionado, nevera, WiFi, televisión y una cama muy amplia y cómoda. Sin duda lo recomendaremos y repetiremos, ha sido un gran descubrimiento.
Alber
2016-08-29T00:00:00Z
Room Type
Private room
---
Property Type
Bed & Breakfast
---
Accommodates
2
---
Bedrooms
Altea, Comunidad Valenciana, Spain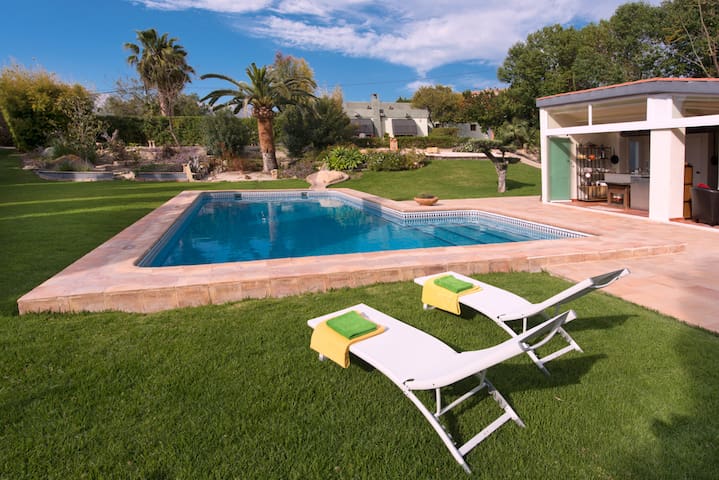 Comfortable double 30+m2 room with walk-in wardrobe, desk & wifi in a renovated country house some 5 kms. inland from Benidorm and Altea. This quiet area in La Nucia is perfect for beachgoers, cyclists, hikers, ect. Own transport is essential.
Quiet rural setting affording complete privacy and tranquility, yet within easy driving distance to the towns of La Nucia, Polop, Altea and Benidorm. There is a beautiful, chlorine-free pool surrounded by terrace with sunloungers and comfortable seating/dining areas. The charming front garden with fish pond is ideal for enjoying breakfast, an aperitif or dining al fresco. The downstairs of the property is open-plan and spacious and the room is a good size with plenty of wardrobe and shelf space.
This is the perfect place for those looking for peace and tranquillity, yet it is within easy driving distance to La Nucia, Altea, Albir and Benidorm, among others, and all the amenities that these towns have to offer. It is also close to the mountain ranges of Sierra Aitana, Puig Campana and Sierra Bernia, making it the perfect base for hikers, climbers, cyclists and beach-goers alike. Make an excursion to the beautiful mountain villages of Guadalest or Tarbena, from where you can continue over the Coll de Rates into the Jalon Valley. There is so much to do here to suit everyone - just ask!!
We had an absolutely lovely stay with Louise, her partner, and their dog. The three were very welcoming and we immediately felt comfortable in their beautiful home. We were offered tasty breakfasts and received a lot of tips on the area. Nice conversations as well! This was one of the most hospitable airbnb stays we ever had. Thanks!
Heiko and Lea
2017-01-08T00:00:00Z
I do not think that there are words to describe what an amazing time I had here, but I will try. I was so welcomed and immediately felt at home with Louise, Grenville and the dogs (who are as gorgeous and soppy as can be). I was traveling alone without transportation but for the six days of relaxation I was there for it did not matter at all. The hospitality, kindness and warmth with which Louise and Grenville welcomed me was like going to see old friends and I know that if I did not have to return for work they would have found it hard to get rid of me. The pool is just heavenly in temperature and refreshing, the hammock perfect for a siesta... My bed delicious after a hard day in the sun and the shower... Just ask (URL HIDDEN) soap needed... As I was alone I opted to accept their kind offer of sharing their meals and OMG... It was like eating in an amazing restaurant EVERY night. I met some other great people who I will keep in touch with who were also guests. We had great chats and I now have a number of books and albums that are on my list... Thank you Louise and Grenville for the most idyllic, relaxing and perfect break I could have asked for! X Ii vuelvo pronto ... sin duda !
Maya
2016-08-15T00:00:00Z
Very pleasant stay. Louise, her partner and also the two lovely dogs were super welcoming and easygoing, making us feel totally like at home. They provided all the local information necessary to find nice beaches around the area. Quiet house, perfect swimmingpool, lots of space and delicious breakfast. Exceeded our expectations ! :D
Marta
2016-08-05T00:00:00Z
The house and hosts are honestly the best I've met. The house is so nice, the room is spacious, the pool is a great cool down with hot Spanish weather. And they have airco and plenty of ventilation, fresh even on hot days. The hosts take one in like family. Even the dog is super friendly and loving. You really feel at home away from home. Besides that they also have great taste. As an artist I really enjoyed a lot the art collection they own. Nothing but praise ! You will not be disappointed to stay with Louise and Grenville .
Marijke
2015-07-09T00:00:00Z
Muchas gracias a los dos por vuestra hospitalidad, muy amables y siempre ofreciéndonos y indicándonos todo lo necesario y más. Lo pasamos genial y hasta la próxima. Muchas gracias
Juan Jose
2016-07-18T00:00:00Z
Un lugar maravilloso y una estancia placentera y relajante. La piscina es increíble y la casa, acogedora, muy limpia y ordenada, un lugar de ensueño. Luisa y Grenville, los anfitriones, son muy afables y tranquilos. Pendientes de cada detalle. Personas a las que da gusto conocer. Kingston, el perro, es muy cariñoso y muy respetuoso. Muy bien educado. Ha sido más de lo que esperábamos. Muchas gracias. Realmente estamos tristes por tener que marcharnos!!! Repetiremos sin lugar a dudas!
MARIA
2016-08-03T00:00:00Z
Nuestra estancia fue corta pero muy agradable, no tuvimos ningún problema para llegar y todas las instalaciones muy cuidadas. Los anfitriones fueron muy amables en todo momento y nos recomendaron actividades y excursiones cercanas a la localidad.
Jose
2015-08-16T00:00:00Z
Pasamos la noche de sábado a domingo, ha sido la primera vez que cogemos una habitación por airbnb y fue genial. Tienen una casa en plena montaña al lado del pueblo. Existe un silencio totalmente diferente al que se vive en la ciudad. Acerca de la casa, es increíble, muy muy bonita, esta perfecta para disfrutarla tanto en verano (por su piscina y hamacas) como en invierno para pasear por allí. Los anfitriones son encantadores. En resumen, volvería! !
Jonathan
2015-10-04T00:00:00Z
Room Type
Private room
---
Property Type
Bed & Breakfast
---
Accommodates
2
---
Bedrooms
La Nucia, Alicante,, Spain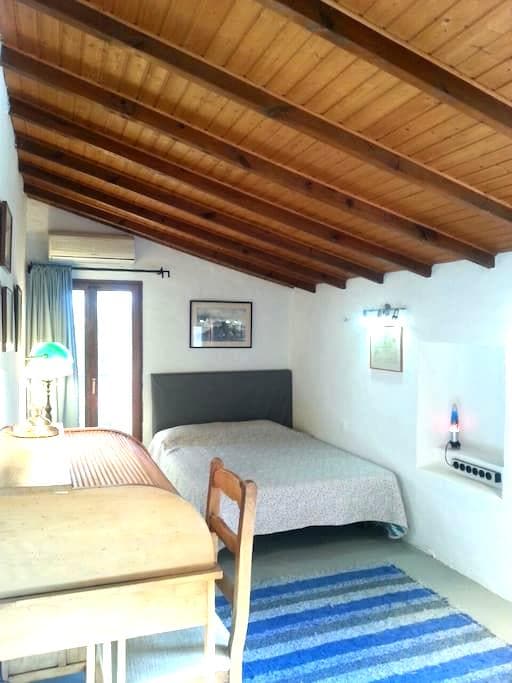 The Villa Guest house is situated on the outskirts of Parcent, the Marina Alta region of Costa Blanca North. It stands at the top of a pine clad hillside on the approach to the Coll de Rates Mountains, famous for Cycling. The Villa is large and spacious and is structurally divided into two parts. One houses the owners accommodation and the other the Guest House. The grounds house 2 pools a courtyard with barbeque, sunbathing areas and sunbeds for the exclusive use of our guests.
The 2 bedrooms are large and can house a single in addition to the Queen sized bed or can be adapted to house 2 or 3 single beds. Each bedroom has en-suite bathroom facilities. There is a kitchen where a, self service, continental breakfast is provided each morning. There are 2 lounges, one with TV (English freeview programmes), one with a good range of books for the use of our guests.
Room Type
Private room
---
Property Type
Bed & Breakfast
---
Accommodates
6
---
Bedrooms
Parcent, Valencian Community, Spain
Casa Domicilia is een rustige B&B gelegen in de wijk Panorama in La Nucia. U heeft de beschikking over een appartement met een eigen kitchenette, badkamer met douche, toilet en wastafel. Ook een eigen terras en schaduwplek onder de bougainville. Casa Domicilia is a quiet B & B located in the District of Panorama in La Nucia. You have at your disposal an apartment with its own kitchenette, bathroom with shower, toilet and sink. Also a private terrace and shade under the bougainville.
In Casa Domicilia kunt u heerlijk onthaasten. Het appartement is geschakeld aan de woning van de eigenaren. In de keuken kan NIET gekookt worden, alleen voor maken van koffie, thee en dranken. Een goed bed, een koele kamer en goede nachtrust is gegarandeerd. Iedere ochtend wordt u door de gastvrouwen een heerlijk ontbijt aangeboden. In de directe omgeving liggen de plaatsen Altea, Benidorm, Albir en Villa Joyosa. Hier vindt u cultuur, kunst, vertier en natuurschoon. It's a appartment besides the house of the owners. In the kitchenette you can make coffee and thee, NO COOKING. A good bed, cool room en a good nightsleep is garanted. Every morning a delicious continental breakfast. In the environment nice places such as Altea, Benidorm, Albir and Villa Joyosa. Also al lot of golfcourses.
Een rustige woonwijk op de flanken van de berg gelegen. Een prachtig uitzicht vandaar de naam Panorama. Door het microklimaat is de omgeving van Casa Domicilia ook zeer geschikt als winterbezoek plaats. De temperatuur in de winter is zeer mild en dagen van 20 graden rond kerst zijn geen uitzondering A quiet residential area on the flanks of the mountain. A beautiful view hence the name Panorama. By the micro- climate around Casa Domicilia is also suitable for a wintervisit. The temperature in the winter is very mild and days of 20 degrees around Christmas are no exception.
Casa Domicilia exceeded our expectations. Very full-equip apartment close to the beach and at the same time very calm place. The hosts have been really friendly, even we felt like at home. The breakfast was awesome (better than most of hotels) and the experience had not any negative think to be commented. Thanks them for the nice place and atmosphere in Casa Domicilia. 100% recommended
carlos
2015-07-13T00:00:00Z
La estancia ha sido excelente. Te hacen sentirte en casa. Lo más seguro que volvamos.
Ana
2016-07-27T00:00:00Z
We hebben echt genoten van ons verblijf in de guesthouse. Alice & Renée: ontzettend lieve en hartelijke mensen. En we kregen superfijne, goede tips om de omgeving te verkennen. Daarnaast was het heerlijk om elke dag een uitgebreid en compleet verzorgd ontbijt te genieten. Ik kan het iedereen aanraden om in Casa Domicilia te verblijven! Het voelde als een warme deken. Heerlijk ook om gebruik van van hun zwembad te kunnen maken. Ontzettend fijn: direct voor de deur van je verblijf, gewoon in de mooie, gezellige tuin van de eigenaars. Prachtige bougainville en andere planten/bomen. Wat een fijn gelegen casa. Ik kan me voorstellen dat het hier heerlijk wonen is. Drie dagen hier was te kort. Om de omgeving goed en rustig te kunnen verkennen en ontdekken, was een verblijf van minimaal 5-7 dagen nog fijner geweest. De guesthouse is leuk, praktisch en modern, alles werkte prima, airco, TV, boeken, magazines. Je kunt hier heerlijk relaxen, zowel binnen als buiten (en heerlijk zonnen en van alles om je heen genieten). Het goede leven! We zouden zeker weer terugkomen, mochten we deze omgeving weer bezoeken. La Nucia is echt een perfecte plek als uitvalsweg naar de vele leuke steden in de omgeving, zoals Denia, Javea, Villajoyosa, Calpe, wandelen over de boulevard van Albir naar Altea vanaf inval van de schemering en eten bij een van de gezellige eettentjes langs de boulevard. We hebben heel fijne, warme herinneringen overgehouden aan ons verblijf hier. Dankzij Alice & Renée, hun Casa Domicilia en alles er omheen. Echt een aanrader!
Nathalie
2016-07-22T00:00:00Z
Nous avons séjourné chez Alice pendant 5 nuits, nous avons reçu un accueil très chaleureux. Le logement est très sympa, calme et bien équipé. Notre hôte est très serviable. Encore merci pour son accueil.
Sybil
2015-08-09T00:00:00Z
nuestra anfitriona fue maravillosa,muy respetuosa,nos hizo sentir como en nuestra casa,totalmente recomendable,todo muy cuidado al detalle,y el barrio muy tranquilo,volveremos seguro.
rebeca
2015-08-14T00:00:00Z
Toodo correcto
Nerea
2016-08-08T00:00:00Z
Alice & Renne son unas auténticas anfitrionas te hacen sentir como en casa a base de amabilidad. La casita es muy limpia y acogedora con todo lo que necesitas para unas vacaciones modo relax. Desayuno muy completo, la estancia ha sido muy agradable, si volvemos por la zona repetiremos!
Neus
2016-08-19T00:00:00Z
Magnifica estancia en casa de Alice. Nos hemos sentidos super a gusto los 5 dias que hemos estado. Recommendable 100%. Esperamos volver algun dia.
Mirian
2015-07-29T00:00:00Z
Room Type
Entire home/flat
---
Property Type
Bed & Breakfast
---
Accommodates
2
---
Bedrooms
La Nucia, Comunidad Valenciana, Spain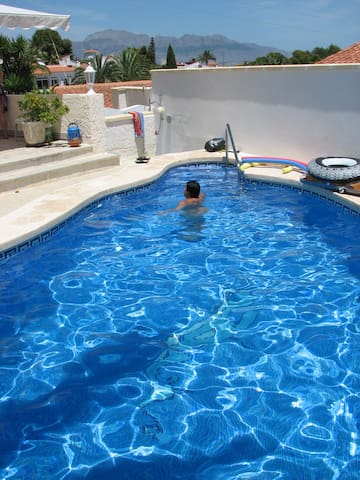 Our cool apartment is located right on the beach, just cross the street and you're on the beach! The living room has a great 5th floor view of the beach, palm trees, and the sea. Nice breezes and warm sunshine. The kitchen is fully equipped in case you want to cook, and we have good WiFi, a washing machine, beach chairs, and you can park right out front!
The best place you can find in Altea...beach front! Light-filled flat on the top floor with great views of the beach and sea. Lots of restaurants, bars, and clubs all up and down the beach.
They were perfect on time to meet me at the apartment. I did not need a lot of information because I was visiting a friend. If you like stay next to the beach and lot's of restaurants it's your perfect stay. Don't forget to visit the old town of Javea. Thank you for your kindness!
piet
2015-08-21T00:00:00Z
The flat location is absolutely perfect, 10 minutes walk from the old town and just opposite the beach (you can fall asleep with the sound of the waves!). Lovely room in a nice flat with a big veranda with seaview. And the best is the host, Irenka, who is incredibly welcoming and helpful.
Constance
2016-07-19T00:00:00Z
The host canceled this reservation the day before arrival. This is an automated posting.
Natividad
2015-08-07T00:00:00Z
Irenka was so helpful and made us feel very welcome. Her flat has all the basics and its location is amazing. Right opposite the beach and near all bars and restaurants. Altea is a nice little town.
Emma
2016-10-07T00:00:00Z
Irenka made me feel at her place like at home. The location of the apartment is perfect and she is a very kind and relaxed person. we get on well with beach other and I immediately forgave her the lack of promised Wifi as was not her fault. Irenka thank you for all.
Anna
2016-06-23T00:00:00Z
N/A
Irina
2016-07-31T00:00:00Z
We had a wonderful time staying at Irenka's flat, the apartment is in a great location right on the beach and surrounded by great restaurants. Irenka was a very nice host and we look forward to visiting again.
Laurent
2016-07-05T00:00:00Z
The flat is located in a nice neighborhood and you can hear the sound of the sea from the room. It was a very relaxing atmosphere and we liked it a lot. Irenka was a perfect host and made sure that we got the keys although we failed to arrive on time!
Inna
2015-10-19T00:00:00Z
Room Type
Private room
---
Property Type
Bed & Breakfast
---
Accommodates
2
---
Bedrooms
Altea, Comunidad Valenciana, Spain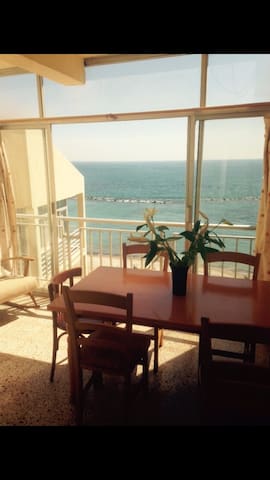 Quality accommodation - Pension. A Spanish townhouse with many original features such as traditional Spanish wall tiles and huge working fireplace. The property has been recently renovated to an exceptionally high standard. Every-room is individually decorated with it's own unique charm. Set beside the Xalo river and among the vines, almond trees, orange groves and imposing mountain ranges. A perfect getaway for families, individuals and those who enjoy cycling, hiking or walking.
All rooms have Air Conditioning - Wireless Internet - TV and en-suite bathroom
It is an area full on contrasts, discover a thousand stories hidden among the vines, the almond trees and the imposing mountain ranges, the winding gorges and valleys bathed in the scent of vines and an abrupt of coastline with welcoming coves and dramatic cliffs, here the rhythm of life is still marked by the sun.
Room Type
Private room
---
Property Type
Bed & Breakfast
---
Accommodates
1
---
Bedrooms
Alcalalí, Comunidad Valenciana, Spain
Number 45 has 3 double ensuite letting rooms with full use of the kitchen, pool and sun terraces. This is the listing for one of the rooms. Set in a small Spanish village in a stunning mountain location, yet just 30 minutes drive from the Mediterranean and beautiful coastal town of Altea.
This village house is set in the mountains above the Med. It has 3 double letting rooms, all ensuite, and is a perfect location for exploring this peaceful, beautiful area. The price includes breakfast and guests are welcome to self cater if they wish through the day, although there are a number of traditional Spanish bars and restaurants within walking distance.
Tàrbena is an unspoilt mountain village. The local restaurants, of which there are a number within walking distance, offer very reasonably priced, freshly cooked regional menus. It is peaceful here (apart from fiesta week during the first week of August!) yet is within 30 minutes drive to the sea and the elegant town of Altea or the beautiful beaches and fun of Benidorm. The mountain trails are on the doorstep and guided walks can be arranged. If you would like to get out there by yourself there are many routes to suit your ability, easy through to challenging. Please be advised that the months of July and August can be too hot in the middle of the day for hiking. For those wishing for more adventure, rock climbing, paragliding and canyonning are some of the activities that can be found locally with any number of sea sports just 30 minutes drive away. The bustling market at Jalón is held weekly.
Room Type
Private room
---
Property Type
Bed & Breakfast
---
Accommodates
2
---
Bedrooms
Tàrbena, Comunidad Valenciana, Spain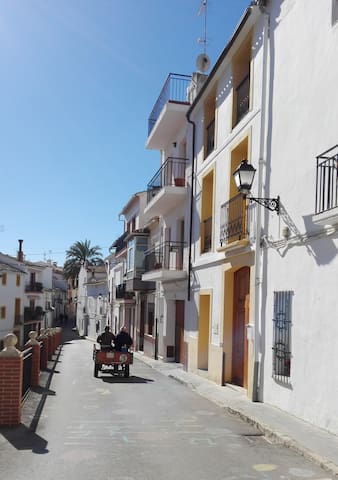 Habitación con baño y desayuno, en casa residencial con jardín y barbacoa exterior. Situada a 4km de la playa de Altea, El Albir y a 5km de La Nucia. Dispone de baño completo. Tiene cama adicional plegable y piscina de la urbanización. Benidorm a 6 km. Montaña a 6 km.
Tranquilo , acogedor, bien situado, mar , montaña, diversión, y sabor de hogar. En la misma casa se ofrece otra habitación de las mismas características, para poder compartir la estancia con amigos
La tranquilidad y el espacio, y la limpieza. Está en una urbanización y con parcela cerrada e independiente, con parking dentro de la parcela
.
Ana Clara
2017-01-03T00:00:00Z
Room Type
Private room
---
Property Type
Bed & Breakfast
---
Accommodates
2
---
Bedrooms
La Nucia , Alicante, Spain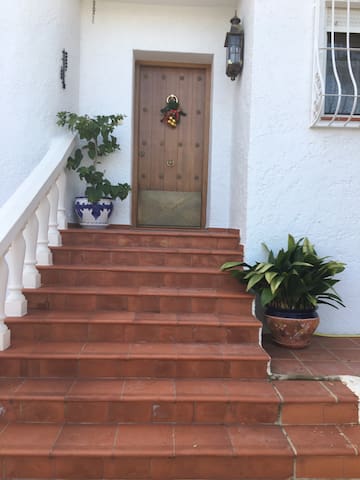 Mi piso está en La Cala de Benidorm, cerca de la playa de Poniente y lo reformé independizando la suite que se anuncia mediante una puerta de forma que el salón, la cocina y la terraza son de uso exclusivo de los huéspedes de la suite.
¡Realmente lo que ofrezco a mis huéspedes es un amplio apartamento de 1 dormitorio con cocina independiente, gran salón y terraza, al que se accede por una puerta situada en el recibidor de un amplio piso que se ha reformado independizando esta zona de la casa mediante una puerta, esto se puede apreciar bien en la 2ªfotografia del anuncio, la puerta que se ve al frente en esa fotografía es la puerta que da acceso a la suite, sólo los huéspedes de la suite entran y salen por esa puerta que da acceso al dormitorio principal del piso, al salón y a la cocina. Siempre les recomiendo que cierren la puerta de acceso a la suite al entrar o salir para ganar intimidad. Creo que es importante que tengan en cuenta que todos los espacios del piso que pueden ver en las fotos de este anuncio son de uso exclusivo de los huéspedes de la suite, excepto el recibidor ¡¡este alojamiento es mucho más que una habitación con desayuno!!. El piso está situado en la zona de La Cala, una zona tranquila, sin problemas de ruidos ni masificación y próximo a la mejor playa de arena de la localidad. Se incluye además en el precio una plaza de garaje cerrada y la conexión a internet. Really what I offer my guests is a spacious 1 bedroom apartment with separate kitchen, large living room and terrace, which is accessed by a door in the lobby of a large apartment that has been renovated freeing this area of the house by a door, this can best be seen in 2ªfotografia the announcement, the door is at the forefront of that picture is the door that leads to the suite, only suite guests enter and exit through that door that leads to the floor master bedroom, the living room and kitchen. I always recommend that you close the access door to the suite when entering or exiting to gain privacy. I think it's important to note that all areas of the floor that can see in the pictures on this page are for the exclusive use of guests of the suite, except the receiber. ¡¡This property is much more than a room with breakfast !!. The apartment is located in the La Cala, a quiet, no noise or overcrowding problems and close to the best sandy beach of the town. It is also included in the price a closed garage and internet.
En el barrio hay abosolutamente de todo, supermercados (Un Mercadona muy cerca de casa), un mercadillo semanal, bancos, oficina de correos, parada de taxi y autobuses que comunican con el centro y con el Centro Comercial "La Marina" que está a unos 20 minutos a pie de la casa y donde está la parada del TRAM y los hipermercados "Carrefour" "Lidel", etc y en las proximidades esta el gran Hotel Bali y el Hotel Delfín entre otros. Es una zona tranquila pero donde encontraran restaurantes como el "Restaurante Mítico" abierto 24 horas, el Restaurante "Pallares", la pizería "Di Mare", cafeterías como "El Masai" o "La Falua", salas de baile como la del Hotel Delfín o el Hotel Bali. Son muy recomendables los paseos por la Playa de Poniente por la orilla del mar o el Paseo de Poniente.
A very nice and clean appartment. Carmen was a really friendly helpful guest and always answered our questions very fast during the stay. Lots of shop are within 5min reach, and the place is really calm. Some may find the double bed a bit too small for a couple but all in all we had a very pleasant stay and would definitely recommend Carmen's place.
Colin
2017-01-05T00:00:00Z
Carmen is a fantastic host. She is very friendly, kind and communication with her is fast and good. When I came in the apartment I saw that Carmen had stocked the fridge full with fruit, vegetables, drinks (water, beer, milk), butter and so on. There was also a large packet of biscuits, tea and coffee. What a very nice, warm and lovely welcome! The apartment is fabulous and fantastic. A very spacious and cozy living room with comfortable couches, enough seats and a large table. In the livingroom is a large TV (+ DVD player) with Spanish channels and has the ability to connect a USB stick, a hard drive or a chromecast, so you can see your own movies and photos and stream everything from your mobile, laptop and so to the TV. There is also a spacious veranda with very big windows at all sides (with view at the see). Also there is enough place to sit included a table for breakfast in the sun :-) The bedroom is nice, the bed is perfect and there is a large TV. The bathroom has a bath and a shower (water is hot), a sink, a bidet and a toilet. The kitchen is fully equipped with a 4 burner gas cooker, a large fridge-freezer, microwave, toaster, tumble dryer and washing machine. There are more than enough pans, dishes, glasses and all. For the winter months there are enough of electric heaters. Wifi is good and fast throughout the apartment. The apartment is on the 3rd floor and there is an elevator. Near the flat there is a pool, a football field and a parking place. Within five minutes walk there is a busstop to a main shopping centre (and the TRAM), a busstop to Benidorm centre, a big supermarket, many bars and restaurants and in 7 minutes walk you are at the beach. It is a lovely beach with bars and restaurants. The apartment is in the more quiet part of Bendidorm, with much more Spanish people. For me it was perfect. I had a very good time in the apartment of Carmen. I think it's the best place to stay in Benidorm. I can recommend it to anyone. Thanks for all Carmen!
Robbert
2016-05-18T00:00:00Z
This is a superb apartment. It's spacious, comfortable, well appointed and warm with lots of electric radiators. It is in the very quiet part of Benidorm, close to the bay of Cala de Finestrat but for me it was perfect. There are many local buses to take you into town or you can walk along the beautiful beach which takes about 45 minutes.
Rosemary
2016-02-19T00:00:00Z
Todo muy bien, la casa muy amplia, elegante y con todo lo necesario. Carmen muy amable. me ha gustado todo.
cuidval
2016-10-08T00:00:00Z
Nos ha gustado mucho la limpieza del apartamento, lo atenta que fue Carmen en todo momento con nosotros La buena orientación del apartamento hizo que la estancia fuera muy agradable. La distancia a la playa es bastante aceptable teniendo en cuenta el precio del apartamento. Hemos estado como en casa. Todo fue según lo esperado con el anuncio. Barrio tranquilo para poder descansar bien, poco ruido y fresquito.
Marta
2016-08-01T00:00:00Z
Genial como siempre.
Magdalena
2016-07-01T00:00:00Z
Ella encantadora, y el piso estupendo. Muy tranquilo, buena zona. Todo muy limpio. 100% recomendable!
Sarai
2016-03-11T00:00:00Z
Mi estancia en casa de Carmen ha sido muy agradable. Ella es muy amable y me ayudo a mi llegada en todo lo que pudo. La casa es estupenda, tal como indica en el anuncio. El sito es muy tranquilo y con todos los servicios cerca. Muchísimas gracias por todo Carmen. Nos volveremos a ver
trini
2016-03-27T00:00:00Z
Room Type
Entire home/flat
---
Property Type
Bed & Breakfast
---
Accommodates
4
---
Bedrooms
Benidorm, Comunidad Valenciana, Spain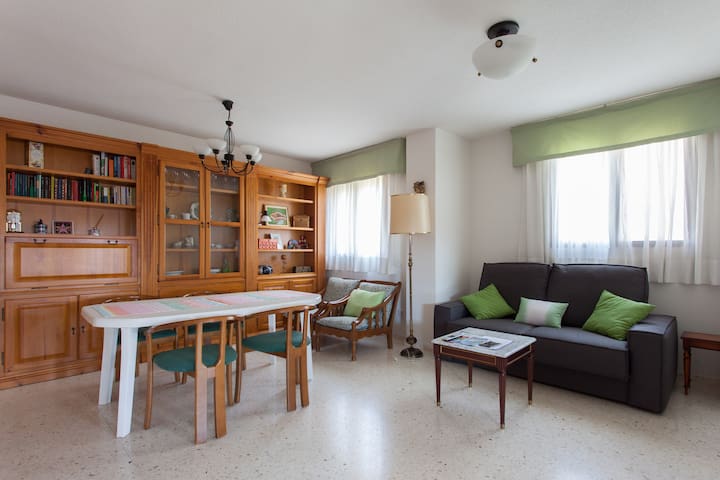 Separate sleeping + separate bathroom, cheerful interior, beautiful garden with plants, heated pool, mosquito nets, fan. Village, oranges valley, mountains, hiking trails, 17km from the coast, bus at 100m. free WIFI. Airport shuttle 300m. Dinner, massage.
Martine y su hijo Florence son los anfitriones perfectos, cariñosos y atentos, te entregan además de su preciosa casa, su corazón y su forma de vida. Hemos pasado un fin de semana increíble, nos hemos sentido mejor que en casa. Está en un entorno perfecto, entre huertas y montaña, dentro del mismo núcleo de la población y está muy cerca de las playas de Jávea, Denia o Moraira y está a unos 7 km de Ondara. Su hogar es tal como se puede ver en las fotos y mejor. Si quieres te preparan la comida o la cena, todos los productos son biológicos y de su huerto y además Martine hace unos mensajes de reflexología podal magníficos. En resumen, madre e hijo te hacen sentir como uno más de la familia.
Monica
2016-08-16T00:00:00Z
Room Type
Private room
---
Property Type
Bed & Breakfast
---
Accommodates
2
---
Bedrooms
Orba, ALICANTE, Spain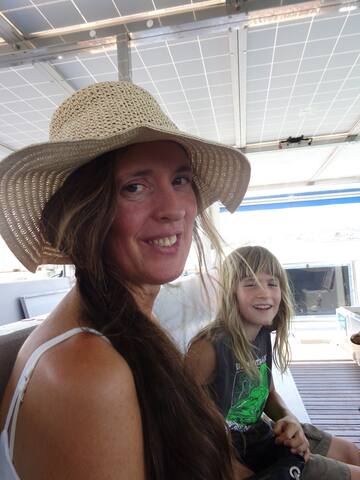 A private bedroom with community swimming pool. Private bathroom with shower, outside de room. We live in a house with 3 rooms and 3 bathrooms. We have a big garden, and normally a good weather. The house is near the beach and the mountains. We can organize sightseeing or give you a lift ( extra charge). Anyway, if you come with us in our way to the work, school, or just when we go out, you don't have to pay nothing. We love animals, babys, sports and we are respectful with the environment.
A private bethroom with community swimming pool. Private bathroom with shower, outside de room. Breakfast available. The room has a surface of 7 squared meters, what is enough to have a big wardrobe a desk and a articulated bed, which is very conmfortable too read by lifting the part of the head or to rest your legs. We live in a house with 3 rooms and 3 bathrooms. We have a big garden, and normally a good weather. The house is near the beach and the mountains. We can organize sightseeing or give you a lift ( extra charge). Anyway, if you come with us in our way to the work, school, or just when we go out, you don't have to pay nothing. We love animals, babys, sports and we are respectful with the environment. We are next to public transport (10 min. walking), all kind of shops and restaurantes, health center and amusement parks. 5 Km from Benidorm. We can do your laundry without charge. We used to be HOST FAMILY, teenagers come to our house to learn spanish. And we want to keep a good atention to the person who is at home. English and french are spoken.
Zona tranquila en las afueras del pueblo. Cerca de Benidorm, La Nucía y Alfaz del Pí.
Raquel is a lovely lady. The house is not what i expected. Pool is not that nice and for whole urbanication. Room is small, dark and nothing nice.
Daphne
2016-08-13T00:00:00Z
I got to stay in a very pleasant house in the Rural area of La Nucia (go down at roundabout six cheap coffee and later on in the day beers at the right or left side depending which way you came). Once you have found this spacious house you feel directly part of the family. They are hard working people who in between find the time to comfort you. Raquel has about six jobs and own businesses, Eric is the four year old son who besides being young also is completely into the Spanish national league who unfortunately lost this cup 2014 . Then we have Domingo who is "the Man of the house" currently fulfilling his role as "house manager". Syba is the polite Golden Retriever in charge of the premise security. She does this with complete dedication and NO cat and I must repeat NO CAT will enter the borders of the house without being barked at. Benidorm is around the corner. Please go and visit this family. Reggie
Irene
2014-06-19T00:00:00Z
Raquel and Pedro are very friendly and helpful. Picked us up at the bus station in Benidorm and gave us all the necessary support and many informations regarding things we should know while in Spain. Also we had to go earlier then forseen, invited by friends, we would have loved to stay longer with them at their nice house in the urbanization with swimmingpool. The room was a quite small for as as tall people. Space in fridge in kitchen and bathroom available for guests. we stay in touch...thank you again for your kindness...
Sesto
2015-06-23T00:00:00Z
The hosts were wonderful and helpful, there was bread and snacks for breakfast each morning and they even offer to pick me up at bus station(though i took a taxi instead). The room well lit when the sun shades are not down and its a quiet and safe area. It is a bit far from everything, you have to wait uphill to get to anything, but with a e-bike (which you can rent at places like Monkey Rental on weekly basis in Albir) you can get both to Benidorm and Albir in about 20 mins(the hills in the area make it almost impossible to use regular bike IMO). Overall for its price its a good place to stay if you got some way to get around, walking would take you forever. The Net was fast and you get your own bathroom, which is nice. They got a very friendly dog as well.
Steve
2016-08-19T00:00:00Z
Very welcome. Very helpful. Lovely family. Friendly neighbours. Pool fantastic. Air conditioning in livingroom in afternoon. Bedroom had balcony, which overlooked the fab pool & garden.
Bridget
2014-08-04T00:00:00Z
Rachel and her lovely Family were very helpful, friendly. They are very good hosts. She met us at Benidorm Bus station on our arrival and kindly dropped us off for our return. The community garden is fantastic, has a magnificent swimming pool. It is right outside the front gate. It is only used by residents of their small enclosed neighbourhood. My daughter (12) and I had many hours swimming there with the whole pool to ourselves. On weekdays from around 5/6 in the evening there is great fun, laughter from the families using their community pool and garden. It's a place where all the neighbours meet with their families. All were friendly and welcome. My daughter was included by the children in their play. She had a great time. Our room had a balcony that looked onto the community garden. I often sat and read there. The room had no air conditioning. We happened to be there when Spain was undergoing a heatwave. Air conditioning was in the living room in afternoon. I would go back again and recommend the place. It suited us. Rachel and her husband were great hosts.
Bridget
2014-08-12T00:00:00Z
Una familia muy amable y encantadora, me han hecho sentir muy a gusto. La habitación está genial y la piscina también. Muy recomendable.
Jonás
2016-07-18T00:00:00Z
Très belle expérience. Raquel et Domingo sont vraiment accueillants, agréables et vous font sentir comme à la maison. La maison, le quartier est parfait. Encore une fois merci!!!!
hilda
2014-06-28T00:00:00Z
Room Type
Private room
---
Property Type
Bed & Breakfast
---
Accommodates
1
---
Bedrooms
La Nucia, Valencian Community, Spain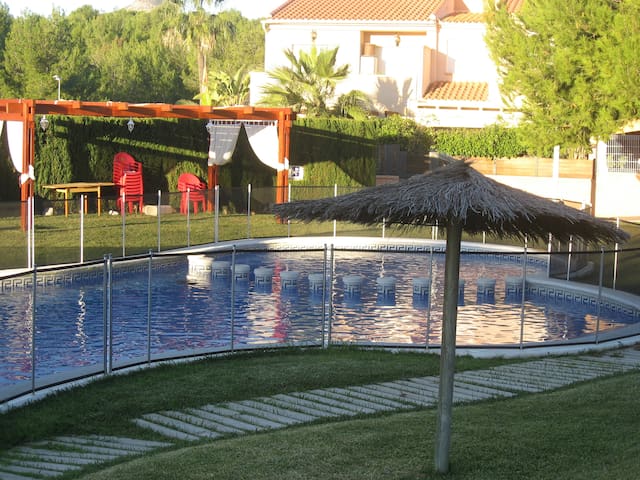 HABITACION OLIVO, DOBLE CON BAÑO Y TERRAZA Casa rural Cavall Verd es una casa de pueblo situada al lado de la Vall de Laguar, que pone a disposición habitaciones dobles e individuales, cocina y baño. Puede alquilarse por habitaciones o completa. Zona de montaña al lado de la costa de Denia.
Room Type
Private room
---
Property Type
Bed & Breakfast
---
Accommodates
2
---
Bedrooms
Murla, Valencian Community, Spain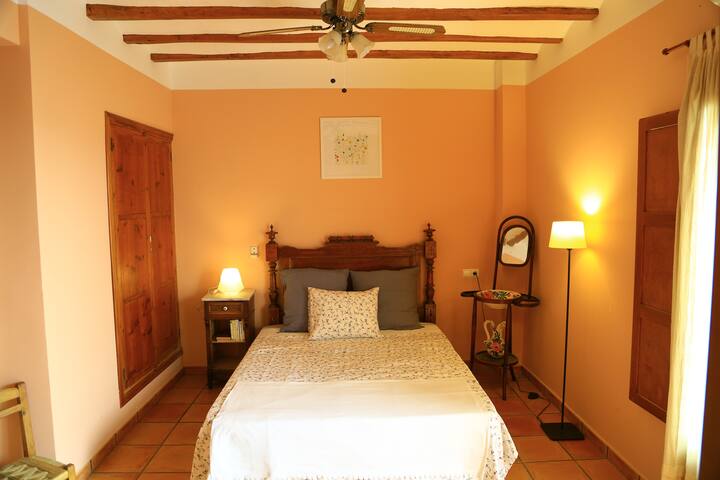 Dans un charmant petit village sur la Costa Blanca en espagne, entouré d'amandiers, d'orangers et de vignes. la nature s'invite.... Eternel dilem, plage ou montagne ? Je vous invite à venir vous poser et découvrir la région. Les plages se situent à 15 mn avec un climat idéal pour pratiquer des sports nautiques à Calpe, Javea, Denia, Moreira, Altea, Benidorm. Le sable fin invite à une détente au soleil. Plus à l'intérieur, au milieu de beaux paysages se trouvent Jalon, Orba, Parcens, Alcalali et bien d'autres petits villages typiques à visiter. Dans le village et aux environs vous disposer de nombreux restaurants et bars avec ses fameuses tapas. Vous pourrez également visiter nos caves et déguster les vins doux "Mistela" dont nous sommes la seule région à la produire..... Je dispose de 2 chambres, 1 avec un grand lit et vue sur les montagnes donnant sur une terrasse et 1 autre avec 2 lits séparés pouvant se rénir. Le prix varie selon le choix et la période. Vous y trouverez tout le confort d'une maison avec un savant mélange de modernité et de traditions. Salle de bain avec douche à l'italienne avec vue. Le linge de toilette est fourni ainsi que les produits de bain. Quoi de plus agréable qu'une vue sur les montagnes au lever du jour pour votre petit déjeuner. Il vous sera servi avec les produits frais de notre région et fait maison. Vous aurez à votre disposition un frigo pour vos boissons ou aliments que vous souhaiterez mettre au frais. A votre arrivée vous aurez toute la documentation nécessaire pour rendre votre séjour le plus agréable possible. je me ferai un plaisir de pouvoir répondre à vos attentes. Au plaisir de vous recevoir....
On s'y sent bien...... Je peux recevoirs 4 personnes. Il y a 2 chambres (soit une avec un grand lit, soit une autre avec 2 lits qui peuvent se réunir pour n'en faire qu'un)
Ce n'est pas un quartier, c'est une petite rue montante et dès que l'on ouvre la porte à droite il y a la nature avec vue sur la montagne. Et à notre gauche c'est le village avec son arcade et la place de l'église avec ses bars à tapas.
The host canceled this reservation the day before arrival. This is an automated posting.
Raul
2016-08-13T00:00:00Z
Room Type
Private room
---
Property Type
Bed & Breakfast
---
Accommodates
4
---
Bedrooms
Alcanalí, Valencian Community, Spain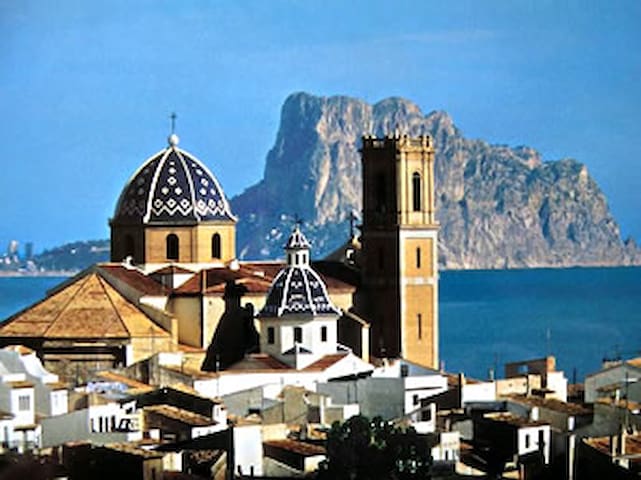 Geheel gerenoveerde casita in de bergen bij Finestrat. In een natuurgebied omringd door de bergen en amandel bomen met uitzicht op zee. Zeer geschikt voor de natuur liefhebber. Wandelaars en fietsers kunnen alle kanten op. Of genieten van de rust. Het strand op 10 km afstand. De luchthaven Alicante is 55 km van Finestrat. U kunt een auto huren op de luchthaven.
De B&B is de gehele beneden woning. Met eigen ingang en parkeergelegenheid.
Uniek natuurgebied met schitterend uitzicht en dat slechts 10 km van de kust.
La verdad que el alfitrion se porto muy bien,estuvo pendiente de nuestra estancia cada día,la verdad que no se puede tener ninguna queja. La zona es muy tranquila al estar en la montaña..pero merece la pena!
Marta
2016-08-14T00:00:00Z
Room Type
Entire home/flat
---
Property Type
Bed & Breakfast
---
Accommodates
2
---
Bedrooms
Finestrat, Valencian Community, Spain
1

–

18

of

56 Bed & Breakfasts
Enter dates to see full pricing. Additional fees apply. Taxes may be added.