Enter dates to see full pricing. Additional fees apply. Taxes may be added.
2 Boat Rentals
· Camarillo
2 Boat Rentals
· Camarillo
Experience the serenity of life afloat. Our schooner is a comfortable and romantic alternative to staying in a hotel. Great beaches and restaurants are just steps from our dock. Comfortably accommodates 4 adults or 4 adults and 2 kids.
Come stay on board our 72' schooner Morning Star in Ventura Harbor. Experience the serenity of life afloat, a comfortable and romantic alternative to staying in a hotel. Enjoy some of Ventura's best beaches and the great shops and restaurants of Ventura Harbor Village all just steps from our dock. Morning Star can comfortably accommodate up to 4 adults, or 4 adults and 2 children. We also run our sailing charter business Adventure Sailing Charters onboard Morning Star. For more information or to book a sailing charter please go through our business Adventure Sailing Charters, you can easily find us online. There are two cabins, two heads (toilets) w a full shower, a full galley and plenty of room for relaxing both on deck and below decks. There are also bathrooms, showers and laundry facilities available on land for guests/residents of the marina. We will greet you upon arrival to introduce you to the particulars of staying on a boat, a process of 15 or 20 minutes. We'll ensure you are comfortably settled and offer information about the area, things to do, places to eat, etc. Then we will leave you in peace ;) But we are only minutes away and will be available to assist you with any questions or concerns that may come up.
Ventura Harbor Village is a lively fun neighborhood with lots of great restaurants, shops and even a comedy club. And the beaches near the harbor are some of the nicest in town. Ventura Harbor is also the best port of departure for visiting the Channel Islands, and is home to the Channel Islands National Park visitor center. The Ventura Harbor Village is only a few minutes from downtown by car, or you can ride into town and back on the free electric shuttle! Look online for Downtown Ventura Harbor Trolley for more information. For more information about our sailing charters or to book a sailing trip, please find us online: Adventure Sailing Charters, Ventura, CA
The boat has a ton of room and the hosts were very friendly. We really enjoyed the harbor there is a bunch to do and very kid friendly. Great beach opposite the harbor with very good surf if you are so inclined. We came on a very hot weekend so the boat airflow left it really warm. I had read this in another review and I wish I had brought a fan. They have one small fan on board but it needed more. This was a very warm weekend or it would not have been an issue. Everything else was great and the hosts were great working with our schedule. I am going to rate four stars only because it was really hard to sleep we were so hot. I see that was already mentioned and I thought it had been addressed by the host in one of the reviews I read. More was needed the nights we stayed.
Michael
September 2015
Spent a fantastic and memorable night aboard the S/Y Morning Star in Ventura Harbor. The boat is very pretty and spacious with snug wooden cabins and lots of space on deck to entertain. Thoroughly enjoyed it.
Adam
April 2015
The Morning Star was the perfect getaway that my girlfriend and I were looking for. The boat was very spacious, well supplied, and in very good condition. Cat and Jon were wonderful hosts, as well. Jon showed us around the boat once we arrived and we had very clear communication with the both of them throughout the weekend. They also gave us some recommendations for food and activities throughout the weekend. I'll definitely be recommending to my friends and social circles.
Eric
September 2016
The Morning Star is quite the experience right there in the middle of everything in Ventura Harbor. Cat was a great hostess, and took time to show us the ropes, I mean lines. The living space was really nice and clean, and she even baked cookies! I'll do it again when the opportunity arises, and maybe get some friends and do a charter sail.
Guy
July 2015
Had so much fun spending a couple of nights on Jon and Cat's beautiful boat to celebrate my brother's 50th birthday. Jon was so gracious about meeting us on the boat at 10:30pm, as we couldn't get there sooner. The Morning Star is spacious and beautifully detailed with lovely wood throughout. The galley is well equipped (not that we did that much cooking) and the hosts graciously left us fresh banana bread! and the berths were plenty big enough for my 6 foot tall boyfriend and me to sleep comfortably. Nothing quite like sitting on the deck licking an ice cream cone and watching the sun set while listening to reggae music playing from the restaurant on the shore! We definitely want to come back and actually go out to sea next time!
Hunter
July 2015
Location:Harbor village was great. Having restaurants, stores, (restrooms) so close was fantastic - especially after long days when we didn't feel like driving or going far. We booked a trip to Santa Cruz Island one day & it was extremely convenient to walk down to Island Packers where the boat/tour departed. The boat: Biggest regret was not chartering. The main bedroom was beautiful, bed was nice and comfy. The galley kitchen was stocked with fresh fruit, water, and everything you could possibly need. We ended up having breakfast every morning on the boat. I like longer hot showers and a bit more room to move so I would take the short walk to Island Packers to shower (they also have washer dryers there). They ask you not to use bathroom on boat during the day - not a problem as the public restrooms were very close and clean. I preferred using these to the ones on the boat. From the tour with Erika when I first stepped on deck, to texts and messages later on to make sure we had everything we needed - I felt very welcomed and taken care of. Fresh towels&toiletries, to chocolate on the pillow, it was an excellent experience and I certainly recommend!!!
Jessica
March 2016
We were very late in finding a place to get away for the Valentine's/Presidents Day weekend but Jon and Cat were very quick to respond to our last-minute request to book. Their caretaker Erika was very sweet, knowledgeable and highly responsive. We loved the location of the boat, down at the Harbor, on the water, pretty much central to anything we wanted to do day or night! We caught a night of comedy at the local Comedy Club, had drinks at one of the Ventura Harbor bars (we don't recommend the food), took the FREE shuttle to/from downtown for a great afternoon of shopping and dining, found a great bicycle shop from which we rented bikes and took a trip to Ojai. The boat itself is gorgeous! The bed was comfortable, the spaces were clean and cheery, and the kitchen was very useful. It was nice to sit out on deck for our morning cup of tea/coffee. We were especially impressed by how quiet it was inside the boat during a very busy weekend! Our only wish was that we had not chartered the boat to go visit the Channel Islands! Another time...
Lara
February 2016
My husband and I had a great stay on the Morning Star. What an amazing boat, great marina and people. We enjoyed every minute of it and slept well. Rick was a welcoming host and even worked with us to get a captain so we could charter his 32' Catalina. Lovely area and an experience we won't forget.
Lisa
August 2015
Room type
Entire home/flat
---
Property Type
Boat
---
Accommodates
6
---
Bedrooms
2
Ventura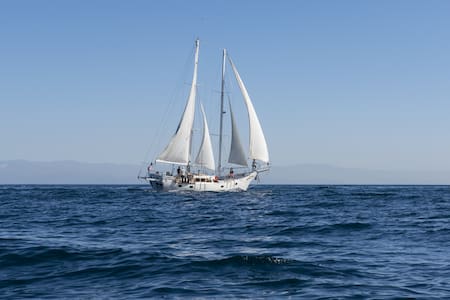 WE ARE A LUXURY CHARTER YACHT --NOT A "BOATEL". You will come aboard in Channel Islands Harbor at the designated commercial landing and will be whisked away across the water to one of our Magical Destinations. CHARTER FEES ARE NOT INCLUDED IN THE AIRBNB OVERNIGHT RATE. Charter Fees are based on your destination and include USCG Licensed Captain, Crew, Fuel and Countless Wonderful Amenities, INCLUDING DELICIOUS MEALS. Charter to Santa Cruz Island: $985 per day PLUS Airbnb Overnight Rates.
WE WERE NAMED COASTAL LIVING MAGAZINE'S "BEST AIRBNB LOCATIONS ON THE WATER! -- June 25, 2015! YAY! WE WERE ALSO JUST AWARDED THE 5-STAR SAFETY EXAMINATION RATING FROM THE US COAST GUARD! YAY!!! WE ALSO OFFER DAY ONLY CHARTERS FOR UP TO 6 PEOPLE @ $295 PER HOUR. ALL OVERNIGHT STAYS MUST BE BOOKED WITH A PRIVATE CHARTER IN ORDER TO BE COMPLIANT WITH HARBOR REGULATIONS. We will customize your adventure to insure an experience you will remember forever. Whales are out and active now! All Overnight Getaways will be spent anchored out or docked at your destination location. The Captain and Crew will remain on board during your trip. The Charter is payable with Cash on the Day of your trip or with Check received One Week prior to trip. Sunrise or Sunset Cruises and Nature Charters are also available upon request @ $295 per hour. This One-of-a-Kind, Custom-Designed 50' Luxury Motor Yacht lives in the Calm Sparkling Waters of Channel Islands Harbor. We will create the perfect custom charter for an experience of a lifetime. Meridian was designed and built in 1986 by a San Diego Indian Casino to entertain High Rollers back in The Day. Now, she is primarily used as the Owner's Retreat and for Spectacular Luxury Channel Islands Charters. Meridian offers a Sophisticated Refuge for the Discerning Adventurer. Meridian is NOT a "Party Boat". She is a Beautiful Jewel floating in a Peaceful, Natural World. Secret Harbor Charters offers an Awe-Inspiring Experience like no other. During your stay, you will have your own Master Suite furnished with a large bed and entertainment center. The Captain / Crew will occupy the other Stateroom. We will give you as much privacy as possible but will always be available to assist you. We will be preparing meals during your stay. We will work with you to customize your menus based on your preferences and dietary needs. You are permitted to bring your own alcohol, though we require responsible imbibing. Vacations should be Well Lived!! We go above and beyond to show you a time you will remember forever. We count our Lucky Stars to Live and Work in this Slice of Heaven and we Feel Blessed to be able to Share it with You. We go to great lengths to pamper you and will do our best to accommodate your special requests.
MERIDIAN, CAPTAIN AND CREW ARE AVAILABLE FOR CUSTOM, PRIVATE CHARTERS of all kinds. We are happy to entertain any and all special requests. WE ALSO PROVIDE WHALE WATCHING, ISLAND DAY TRIPS OR SUNSET CRUISES WITHOUT OVERNIGHT STAYS @ $295 PER HOUR FOR UP TO SIX PEOPLE. We will be disembarking by Dinghy, Kayak or Water Taxi at certain ports of call. Meridian does NOT experience much motion. She was custom designed with "stabilizers" and rests calmly in the water and does not bounce around. At dock, she feels and looks more like a luxury apartment than a boat. She is Spacious, Clean, Beautifully Decorated and Meticulously Appointed with all of the Creature Comforts.
Karen went above and beyond to make my stay very special and memorable. Not only did she accommodate all of my needs, she has a spirit about her that makes you feel warm and welcome. I'm very happy and honored that I was able to experience such a wonderful stay and will definitely book with her again. She has a charter crew that are extremely nice and have very addictive personalities. She takes good care of her guest and would recommend this stay to anyone that wants to "get away" to a romantic quiet place, but stay close to entertainment and fun. Thank you Karen for your hospitality and generosity.
Britney
June 2015
Karen is really great and so is her boat! She is quick to email and her hospitality is superb! We were greeted with beverages and snacks upon arrival. We also charted the Meridian with whisper charters for 1 hour. We then kayaked with Kayak connection and saw otters! We walked around the sand dunes onto the beach. Lastly we sun bathed on the deck chairs. All were really fun and recommended. The boat is like a 2 bedroom apartment, super cozy and clean with all the kitchen appliances. Right Outside are seals and birds. A great experience and memorable! Karen is such a gem! And we will be back next year. Book it already! 5 stars
Mary
September 2014
Karen is an incredibly conscientious and caring hostess. She thinks of everything to make your stay comfortable and fun. We were able to be her first on her new AirBnB location. Her yacht is only about 20 minutes from our home but it seemed like we were in another world in the Elkhorn Slough Sanctuary. It's so relaxing just lying out front and watching the harbor seals, otters, cranes, cormorants, seagulls and kayakers going by. It's definitely a different experience being on a boat - very romantic. It's very cozy and very relaxing with all the comforts of home. Karen also recommended a very good restaurant in the area. She researches the area and knows the best places to recommend to make your stay easy and memorable. We were surprised to find such a spread of healthy snacks and refreshments upon our arrival, plus a nice bottle of wine. Then Sunday morning we indulged in her special yogurt breakfast bar with all the various fun toppings. Thank you so much Karen for making my birthday and our anniversary exciting and different this year. Ron & Donna A.
Donna
June 2014
It was perfect. I surprised my girlfriend (who hates boats) with this for her birthday, and she absolutely loved it. The yacht's amazing -- beautiful, spacious, and so comfortable. Karen's also a great host. She met us there late Friday night when we got in with a bottle of wine and snacks and then proceeded to tell us all about the boat, the harbor, and the area. The next morning I woke up to a text from her asking how everything was going and if we needed anything at all. I highly recommend this experience! It's better than described. It's truly one of a kind.
David
August 2014
I cannot imagine a more unique, luxurious experience than the one that Karen provided aboard the Meridian. The yacht is spotless, every attention to detail was appreciated by my picky self. Plus the ability to take Meridian out for a day trip or evening cruise has to rank this property at the top of the Airbnb list. Incredible adventure and value.
Dag
June 2014
Chartering the Meridian was a fantastic way for us to travel to Monterey! The boat was immaculate, spacious and felt like a modern day apartment rather than an ocean vessel. Karen was extremely accommodating and attentive during our travel from Moss Landing to Monterey and back. We were made to feel like royalty, Karen served us beverages during to ride over to Monterey while Captain Brian proved to be an efficient and safe boating captain. On the way back to Moss Landing we were taken on a whale watching expedition and Captain Brian did not give up until we saw some whales, we also saw hundreds of dolphins! It was all in all an incredible experience, one that we would do again in a heart beat! We loved staying on the Meridian~Thanks Karen and Captain Brian!
Tyler
February 2015
Karen was a great host and made our stay on the Meridian a memorable one. From the minute we arrived, she made us feel comfortable, taking us on a tour of the beautiful interior and showing us all of the yummy breakfast food she provided. We loved enjoying morning coffee and yogurt on the deck watching the seals nearby. We also enjoyed the nature tour by Whisper Charters. It was very special to see wildlife in their natural habitat, especially the sea otters! Brian and Wim were knowledgable and passionate tour guides.
Michelle
July 2014
My best college friend and I shared a mom-cation (vacation sans kids and hubbies) on the Meridian. It was the perfect amount of space for the two of us as we each had our own private berth. The beds are clean & comfortable. Karen is a very attentive host. She initially met us and gave us a thorough tour and texted us the 2nd day to check in & ask if we needed anything. The little details of wine, and sparkling bottles in each berth was appreciated. Also included were two plushy robes. The location is great bc we had easy access to Carmel, Monterey airport and Salinas. She also offered us an hour earlier check in and a 2 hour later check out. Karen wanted us to meet her at 4pm sharp at the landing. We were hanging out in Carmel at a day spa and our GPS had originally given us an arrival time of 3:49 pm but we ran into traffic on highway 1 which made us 10 minutes late. We texted Karen but didn't realize until her response that she had to leave for an appointment by 4:30. It all turned out fine. But it made for a stressful start. So make sure you account for traffic and give yourself more than 10 minutes leeway for your arrival.
eiko
July 2014
Room type
Entire home/flat
---
Property Type
Boat
---
Accommodates
2
---
Bedrooms
1
Oxnard