Small but welcoming B & B, in the green land of Mantua. The hospitality of the campaign to ....... four steps from the historic city !!!
The B & B Ghisiolo 73 is located in Ghisiolo , a small fraction of the countryside of the City of San Giorgio di Mantova, 10 minutes (7 Km) from the historic center of Mantua (Unesco World Heritage and Italian Capital of Culture 2016) 30 km from Lake Garda and Verona. The B & B is about 8 Km from Mantua train station. Availability of ample parking and, on request, free indoor parking. It is 6 km from the A22 highway exit Mantova Nord. The B & B is surrounded by a large garden with flowering plants and fruit trees, comprises entrance hall, kitchen with TV, bathroom and large double bedroom, in case of necessity has two additional beds in an adjoining room. The apartment is served by free WIFI. Guests can choose among our proposals (classical, savoury, light) without any problem or tell us what specifically you would like to eat. You will find ... you are free to feel at home !! Of course, when the apartment is occupied by a single guest, we do not accept other bookings.
I stayed with a friend at Marco´s beautiful apartment on our way to Elba. Marco is an excellent and friendly host. He gives you everything you might wish. Apartment itself is spacious with 2 well furnished bedrooms, clean bathroom and fully equipped kitchen. Breakfast was simply wonderful with a lot of fruit, fresh croisants, freshly brewed coffee and much more. Thanks to warm weather we could also enjoy a pleasant evening in the garden before going to bed. All in all, either for a short or a longer stay, Marco´s apartment is simply great. Thank you Marco for everything! Michal
Jarka
2016-05-22T00:00:00Z
We have stayed in B&B in Rome, Pompeii, Barletta, Gioya, Milan and Venice. So far B&B Ghisiolo 73 is the best B&B we have ever stayed in. Not sure if we will be able to find a better one. The owner Marco and his wife treated us like visiting old friends. There were home made pastry, fruit, juice, water and beer on the day we arrived. B&B Ghisiolo 73 has a garden in front with a couple of geese and chickens. There are plenty of parking space outside the property. The B&B just got a new paint job. There are 3 bed rooms in the B&B which are beautifully decorated. We had the whole B&B by ourselves because Marco only rent the B&B to one party. The rooms are very nicely insulated we did not hear the geese or the chickens in the morning. Fresh fruits from their garden are served in the breakfast. B&B Ghisiolo 73 is not far away from Mentua down town. We enjoyed staying B&B Ghisiolo 73. Marco and his wife stayed at the back of their houseIf that made us feel very house. we return Mantua area, we will definitely stay Marco's B&B.
Daniel
2015-06-18T00:00:00Z
I highly recommend anyone to stay here!! Marco and his wife we so lovely and very welcoming. They were wonderful hosts always making sure we were comfortable and well fed. The rooms we stayed in were very nice and comfortable as well. Their son even made a traditional cake for us. If you are traveling in the area, this is the perfect place to stay!
Jamie
2013-07-22T00:00:00Z
Marco is a very hospitable man. He offered me some perfect italian food and beverages. He has an excellent house and I enjoed to stay there.
Roman
2014-07-11T00:00:00Z
The host canceled this reservation 10 days before arrival. This is an automated posting.
Javier
2016-07-08T00:00:00Z
I didn't actually stay at this Air Bnb. It looks lovely, but did not work for my needs, as I was only in town for one night, am on a budget, and was looking for a place very close to Linate Airport. For some reason, (SENSITIVE CONTENTS HIDDEN) maps returned my initial airport search with a point close to this Air Bnb. I am a relatively new Air Bnb user, so I didn't easily see the link to message the host directly without putting in a reservation request. When I placed the request, I wrote Marco with my need for a place close to Linate, that I would be in Milan for less than one day. When Marco wrote me back, he kindly told me that his place was an hour and a half to Linate, but he also accepted my reservation, which meant that my card was automatically charged. I immediately wrote him to let him know that I couldn't take the room, and he has been very helpful and responsive in trying to get the money back to me, but it has been a big hassle for both of us. Hoping to get some money back for this glitch that doesn't allow for an easy cancellation in instances like this.
Vivian
2016-09-21T00:00:00Z
He was extremely charismatic and friendly. Off the bat he came to the Mantova station to pick me up and on the drive back he gave me a great tour of the town. I was also fortunate to have the entire apartment to myself and this was extremely nice. The listing was accurate and the town Ghisiolo was quaint and relaxing.
Calvin
2015-08-14T00:00:00Z
We arrived to Marco quite late after our long drive and he was waiting for us with a nice dinner which was quite a surprise. The house was super beautiful outside and inside as well, we felt like staying in a 5 star hotel. They helped us in every way giving us all the information we needed. We highly recommend this b&b for everyone!
Peter
2015-07-24T00:00:00Z
Room Type
Entire home/flat
---
Property Type
Apartment
---
Accommodates
4
---
Bedrooms
Ghisiolo, Lombardy, Italy
Fully equiped apartment called 'Castello', part of the farm 'Azienda Agricola Le Colombare'. Located between Verona and Mantua cities, only 4km from the Nogarole Rocca highway exit and around 20km from Verona Airport.
Apartment just renovated in a portion of the rural agricultural court. Made of bedroom, livingroom (with small kitchen and sofa bed) and bathroom. Furnished with, airconditioning, heating, TV, equiped kitchen and linen.
The Apartment is located between verona and Mantua cities, only 4 km from the Nogarole Rocca highway exit and around 20 km from Verona/Villafranca airport.
We spent a couple of days here on the last leg of some weeks in Italy. The apartment is excellent, spacious, clean and very comfortable. Someone has put a lot of work into the decor. The kitchen has all that is needed for a short stay. The setting is on a working rice farm, somewhat industrial, but not noticeable once in the apartment. Location wise, it's a couple of kilometres off the freeway/motorway, close to Mantua (Montova) (we took the direct route) and not far from Verona and Vicenza. Filippo was an excellent host; we are looking forward to making some risotto with his rice.
Rob
2016-06-22T00:00:00Z
Perfect place with amazing pool garden. Appt was very clean and look new. I totally recommend this place for quite vacations and rest.
Fabien
2016-07-13T00:00:00Z
We stayed for one week and it was just fantastic. The appartment was spotlessly clean and very stylish. The garden and pool are just wonderfull. It's the perfect location for visiting Verona, Lake Garda and Mantova. Filippo is a great host, he provided us with coffee and breakfast for the first morning aswell as with excellent risotto rice. We can really recommend to come here and have a great time and a relaxing holiday.
Jorn
2016-08-30T00:00:00Z
We really enjoyed our stay at Filippo's apartment. Le Colombare is an amazing place with a lovely garden & pool. It takes about 30 minutes to lake garda. If you don't use the highway you get to see the very beautiful small villages you normally would miss. We felt like home and we were so happy to have an accommodation where our dog also was welcome. If you want to relax for a few days it's the perfect choice. We absolutely recommend this special place. Thanks Filippo for everything.
Moritz
2015-07-19T00:00:00Z
Wonderful stay from start to finish.Filippo was a great host, the apartment was beautiful and spotlessly clean.Great access to the lake, Verona, and Mantuva.We even got engaged while we were on our vacation, we had such a perfect time!
Alastair
2016-05-31T00:00:00Z
Filippo was the perfect host. The apartment is very tastefully decorated and lovely. The apartment is well acquitted with both a good kitchenette and a lot of the basics travellers would need. Well located on the family's ancestral farm it is a really beautiful place. This is a great spot I would recommend without reservation. A car is however a must, as it is a good 15 min drive from Verona.
Christopher
2015-10-04T00:00:00Z
We received a very warm welcome from our host Filippo and were pleasantly surprised by everything Le Colombare had to offer. Not only the apartment, but also the enormous garden with its many tables and places to sit, as well as the fantastic large pool were an unexpected treat! Everything very peaceful. The large structure was formerly a farm, but except for a very sweet dog there is no livestock to be afraid of or wake you up. The place is a real jewel, so close to the Garda lake, Verona and Mantova. If you have bikes: there's an easy separate bike trail (E6) along the Mincio river that runs all the way from Peschiera to Mantova. Start in Borghetto, you can go either way. Filippo was very kind to offer us all sorts of maps of the surrounding area. And if you like risotto: the farm produces excellent rice which you can buy directly on spot. Delicious recipes are provided! Large and small supermarkets are all close by.
Arie
2015-09-03T00:00:00Z
Ottima accoglienza, descrizione perfetta e posto meraviglioso!
Massimo
2015-08-05T00:00:00Z
Room Type
Entire home/flat
---
Property Type
Apartment
---
Accommodates
2
---
Bedrooms
nogarole rocca, Verona, Italy
Ampio e curato appartamento in corte storica, con cucina , 2 camere e 2 bagni. Uso del parcheggio, del giardino e della piscina.
Room Type
Entire home/flat
---
Property Type
Apartment
---
Accommodates
5
---
Bedrooms
nogarole rocca - verona, Veneto, Italy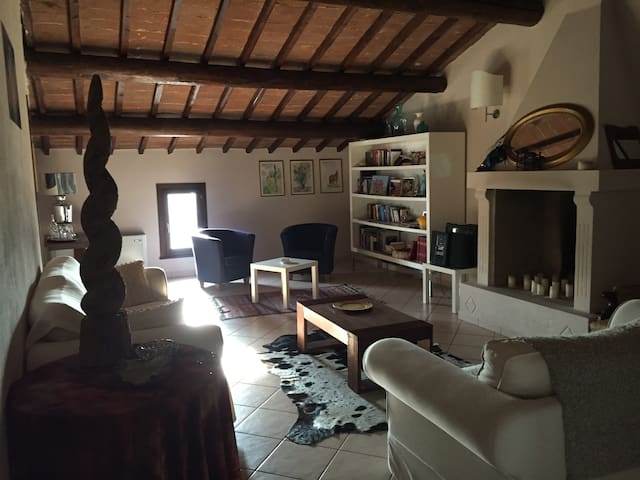 My accommodation is close to the city center. My accommodation is suitable for couples, lone adventurers, business travelers, families (with children) and large groups.
The apartment, furnished in modern style, has all the comforts for a pleasant stay. The accommodation has only one radiator, located in the bathroom, because the whole house is equipped with adjustable underfloor heating depending on the temperature you want! It consists of a bedroom, a nice bathroom and a kitchen with living room. You are the most important appliances: oven, refrigerator, induction hob to cook, dishwasher, washing machine, climatizzatore..ecc .. all to live better and independently the duration of your bed!
quiet neighborhood, outside the busy city .. but five minutes away from the historic center!
Room Type
Entire home/flat
---
Property Type
Apartment
---
Accommodates
2
---
Bedrooms
Mottella, Lombardia, Italy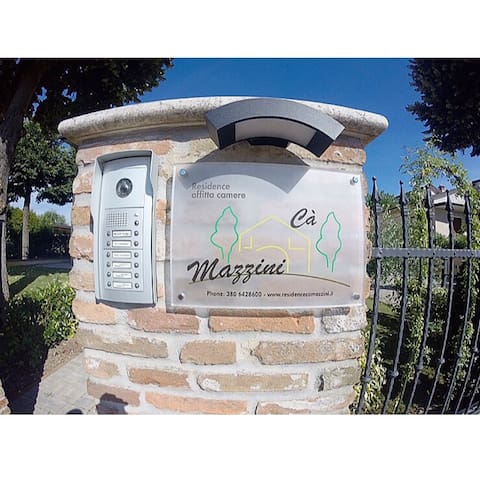 Bilocale elegantemente arredato situato a pochi passi dai monumenti di maggior interesse e dalla stazione dei treni. Zona tranquilla e silenziosa con parcheggio libero a 100 m.
Situato a piano terra, l'appartamento è molto luminoso, si compone di : camera da letto matrimoniale ( + letto singolo a richiesta), cabina armadio, bagno, salotto con tv-sky e divano, cucina moderna.
Situato nel tranquillo quartiere San Leonardo, l'appartamento si trova a 100 metri dai giardini di piazza virgiliana con bar e pub a disposizione
Lorenzo did make us feel welcome, even though it was not his apartment. We recognize that his own apartment became unserviceable for reasons out of his control and it was positive that he found a substitute. Since this was not his own apartment, he could have been more careful about its condition. He did go out of his way to try and put matters right.
louise
2016-07-31T00:00:00Z
Lovely apartment on a quiet street in Mantova. This is a lovely town to visit and is on a great cycle way. Although it's hard to find there is a bike rental shop in town - they just don't have an Internet listing. The apartment is as good as the photos and Lorenzo is a great host.
Garth
2016-06-17T00:00:00Z
We really liked Lorenzo's place and it was very convenient. The flat is well set-up for guests with recommendations of restaurants, a mini bar and kitchen utensils. Clean and very nicely decorated. We felt great and we knew that if there was any problem Lorenzo was available to help. Highly recommended.
Karolina
2015-12-31T00:00:00Z
Very well decorated
Hélio
2016-08-13T00:00:00Z
We loved everything about our stay in Casa Lollo. The communication before our arrival was fast and precise, the rooms gracious and clean. The location is close to all the attractions and yet in a quiet environment.
Maria
2016-04-15T00:00:00Z
Great place in a great location. City is absolutely amazing. Great host easy to deal with and contact.
Kris
2015-10-18T00:00:00Z
This is a very elegant flat, expensively modernised to a high standard but also with a view to practicality. It is in a perfect position for exploring Mantova and situated in a narrow, cobbled street that has very little traffic and is therefore very quiet at night. Lorenzo provides many little extras that make this apartment a pleasant place to stay and gives you the impression that you are being spoilt, like bowls of chocolates and toffees and a well stocked cupboard of basic ingredients for cooking, like oil, vinegar, salt, pepper, sugar etc. The showers is very effective and fun to use and the bed is comfortable and provided with luxurious- feeling bedding. Lorenzo lives above and is therefore easy to contact if necessary. We loved this apartment and would definitely go back to it. Thank you, Lorenzo.
Janet
2016-03-29T00:00:00Z
The host canceled this reservation 304 days before arrival. This is an automated posting.
Gabriella
2015-11-08T00:00:00Z
Room Type
Entire home/flat
---
Property Type
Apartment
---
Accommodates
2
---
Bedrooms
Mantova, Lombardia, Italy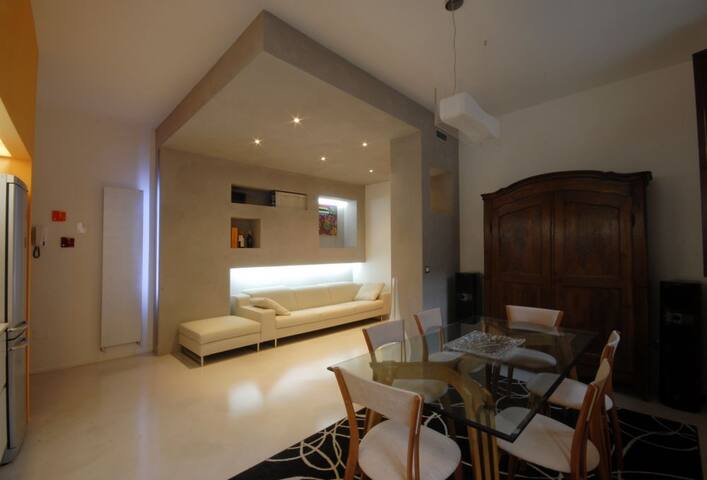 Casa Fischer è una coppia di graziosi bilocali situati a Mantova nel cuore dell'antico quartiere San Leonardo, in contesto tranquillo e al piano terra. È a pochi passi dal centro storico, dai monumenti di maggior interesse e da comodi parcheggi sia gratuiti sia a pagamento. È inoltre vicina ai percorsi ciclopedonali, ai laghi ed alle aree naturalistiche.
Casa Fischer "1" si presenta con un arredamento moderno, pulito ed accogliente. Recentemente ristrutturato in uno stile attuale e luminoso, l'appartamento è composto da una luminosa sala-cucina, camera da letto matrimoniale, corridoio e bagno. Nell'importante e caratteristica finestra ad arco conserva ancora memoria dello storico portone dal quale anticamente si accedeva con i carretti...
Cuore dell'antico quartiere del Corno, così chiamato per la forma che assumeva nell'innestarsi nel Lago di Mezzo, è la chiesa di San Leonardo Abate. È tra le più antiche della città di Mantova, fondata nel XII secolo. Sono rilevabili tracce dello stile romanico e del tardo gotico nel campanile (XIII secolo) e nella Cappella Cavriani. A pochi passi dall'appartamento si trova anche la bella Piazza Virgiliana, una vasta area verde della città di Mantova, voluta nel 1797 allo scopo di onorare il poeta latino Virgilio, e del quale troviamo in posizione centrale il famoso monumento.
Giorgia and Andrea welcomed us in the flat. They showed us around the rooms and gave us information on restaurants and traditional dishes from Mantova as well as sight-seeing. Both were very nice and welcoming. The flat is in great shape, clean, and apparently recently refurbished. It is situated in a quiet neighbourhood, but quite close to the town centre, so a perfect location. It is for sure on my wish list for the next trip to Mantova.
Konstantin
2016-03-06T00:00:00Z
Giorgia and Andrea are Superhosts! They picked us up and took us to the train station for our departure. They provided breakfast foods and their flat is very spacious and clean. It is located close to great restaurants and walks on the three lakes. This is a gem!
Zack
2016-11-05T00:00:00Z
This delightful couple was very welcoming, great comunicators, fantastic help with nearby car parking.
Danny
2016-07-10T00:00:00Z
Our time at Casa Fischer was absolutely enchanting! Giorgia and Andrea provided us with an unforgettable kindness and hospitality that made our stay all the more enjoyable. The home is impeccably clean and Giorgia has thought of every creature comfort to make you feel at home. There is even a small flashlight on the key chain! To help get you oriented, there is a binder filled with information on the best local restaurants, activities, and current events. It was a pleasure being able to meet such a wonderful and thoughtful couple. We are already planning our next trip to Mantova just to stay at Casa Fischer!
Amy
2016-04-12T00:00:00Z
The apartment was modern, spacious, smartly decorated, and equiped with all appliances as described. The bedroom was very dark and quiet. I slept well. We enjoyed a couple of neighborhood cafes recomendwd by our hosts and were able to easily get around this historic town. Parking was a couple of blocks away but that was not a problem. Our host met us promptly to check in and check out and were very nice. The cold water waiting for us in the fridge was welcome after hot days wandering about.
Linda
2016-09-17T00:00:00Z
Completely professional, 100% perfection. Giorgia and Andrea are extraordinary hosts who give attention to every detail, every special touch that would make an ideal stay in Mantova, whether on holiday or business. We were very overjoyed to stay in their holiday flat!!! It instantly feels like home with all the essentials you would desire. The flat has undergone a complete renovation, and everything is new, perfectly clean and meticulously planned. The neighborhood is lovely too. Thank you, Giorgia and Andrea, for the best stay in Mantova! Tutto è assolutamente meraviglioso!!!!!! 100% perfezione, e siamo felicissimi di stare qui! E 'subito come a casa. Hai pensato di ogni dettaglio! Mi piace molto l'energia e l'atmosfera della casa. E questo quartiere è bella!
Elizabeth
2016-10-14T00:00:00Z
Georgia and Andrea were most welcoming and helpful. We enjoyed chatting with them on arrival and departure. The apartment is modest but spotless and well organised. It is located close to most of the main sights and also close to parking. As an example of their attention to detail, our hosts gave us a map marked with local facilities, supermarket, fish shop etc. Very useful.
William
2016-09-21T00:00:00Z
Very beautiful apartment. All required home equipment. Excellent location. There is a beautiful river. Quiet place. Very honest and kind host.
Eldar
2016-02-05T00:00:00Z
Room Type
Entire home/flat
---
Property Type
Apartment
---
Accommodates
2
---
Bedrooms
Mantova, Lombardia, Italy
L'appartamento è vicino a lla campagna,immerso nel verde e nel silenzio,a due passi dalla fermata dell'autobus che porta direttamente in centro città. A cinque minuti d'auto da Mantova e dieci in bicicletta. In un punto strategico per raggiungere Verona e il Lago di Garda,Borghetto e Valeggio sul Mincio. Il mio alloggio è adatto a coppie, avventurieri solitari, chi viaggia per lavoro e famiglie (con bambini).
La casa è un modo per chi arriva,curata nei dettagli, lascia lo spazio per recuperare il proprio tempo e il relax nei giorni di permanenza... Sono a disposizione libri e opuscoli su Mantova,Verona e le città più vicine,con indicazione di alcuni percorsi di visita che si possono seguire...
L'appartamento nasce in un contesto unico comprendente 9 unità abitative. Nasce dalla ristrutturazione di una corte di campagna Mantovana,immersa nel verde della campagna e a due minuti dal centro di Sant'Antonio. Contesto rurale da godere per biciclettate,passeggiate tranquille o gite su uno dei tre Laghi di Mantova.
Abbiamo soggiornato in questo splendido appartamento immerso nel verde! Si trova leggermente fuori il centro, ma è raggiungibile in pochi minuti con la macchina ( vi è anche una fermata del pullman a pochi passi dalla casa, ma per comodità noi ci siamo spostati in autonomia spinti anche dall'avere un posto auto garantito al rientro nell'appartamento! ). Chiara è stata accogliente e disponibilissima: ci ha dato alcuni consigli gastronomici e indicazioni sulla città regalandoci una cartina! L'appartamento era molto pulito, ordinato, accogliente e confortevole! È davvero consigliato a tutti quelli che vogliono vivere un po' di relax e tranquillità: la zona è davvero silenziosa e permette un riposo rigenerante! Se dovessimo tornare a Mantova, soggiorneremmo nuovamente volentieri!
Giada
2017-01-01T00:00:00Z
È la seconda volta che soggiorno nell'appartamento di Chiara. Che dire? È sempre un piacere!
Camilla
2016-12-11T00:00:00Z
Casetta deliziosa, fresca, immersa nel verde. Ogni dettaglio è curatissimo per accogliervi a casa di Chiara! Con noi è stata gentilissima, dandoci un sacco di indicazioni utili, facendoci trovare tutto perfetto e mettendo a nostra disposizione anche le biciclette per raggiungere il centro città (evitandoci lunghe ricerche di parcheggio) come due veri Mantovani!
Silvia
2016-09-11T00:00:00Z
Tutto perfetto! Appartamento molto carino, accogliente e pulitissimo situato a pochi minuti di macchina da Mantova. Chiara è stata gentilissima nell'accoglierci regalandoci una cartina della città e consigliandoci un sacco di ristoranti dove poter gustare la cucina mantovana. Ottima esperienza.
Carlotta
2016-10-31T00:00:00Z
Appartamento davvero carino e confortevole, in una zona tranquilla che si affaccia sui campi a pochi km dal centro di Mantova. Chiara è una persona squisita e sempre disponibile. Consiglio a tutti!
Camilla
2016-11-01T00:00:00Z
Chiara è strata impagabile. Nonostante l'abbia contattata all'ultimo minuto, in un patio d'ore mi ha ricontattata e mi ha confermato la disponibilità dell'appartamento. Puntualissima nelle riposte ai miei dubbi e nell'accoglienza. L'appartamento è un gioiellino immerso nella campagna mantovana. Poco meno di 10 minuti in macchina per arrivare in città, a due minuti una fermata dell'autobus anche se io e il mio ragazzo consigliamo di raggiungere Mantova con la bicicletta. Le due biciclette messe a disposizione da Chiara per spostarci sono state infatti la ciliegina sulla torta di un soggiorno che, anche se breve, è stato impeccabile. Zona comodissima, appartamento stupendo, tutto corrispondente alla descrizione ed anche meglio!! Chiara ci ha fatto sentire ha casa, estremamente gentile, disponibile e affidabile. Noi speriamo di poterci tornare, per tutti gli altri SUPER CONSIGLIATO!!!!
Irene
2016-09-10T00:00:00Z
Room Type
Entire home/flat
---
Property Type
Apartment
---
Accommodates
2
---
Bedrooms
Sant'Antonio, Lombardia, Italy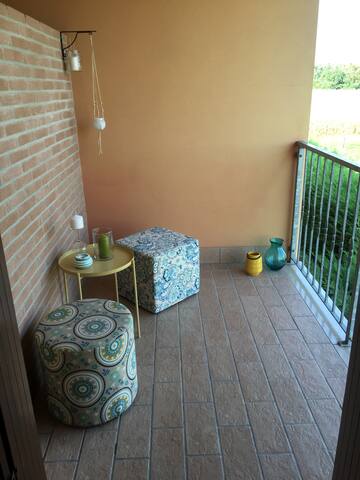 This charming flat is set in a historical building right in the town centre, just a stone away from P.zza Erbe. It is surrounded by art and culture, delightful restaurants and boutique shops. Guests are invited to use the kitchen and the living room with the TV.
The romantic park of P.zza Virgiliana and the stunning lakeside are only 5 mins walk.
The flat is a stone away from the beautiful romanic entrance of St' Andrea. It is right in the heart of Mantova and only residents are allowed access. The nearest car parking is at P.zza Virgiliana. There are few free spaces and many pay and display spaces (all day euro 5). Alternatively you may want to leave your car in the free parking space of Campo Canoa, on the left of Ponte San Giorgio coming from the motorway, and take the free shuttle into town (3 mins.) The link to the official website related to parking spaces is: (URL HIDDEN) The train station is 20 mins away on foot. Taxi service is available outside the train station for approx. Euro 7.00. The service may be contacted on +(PHONE NUMBER HIDDEN)
Great location, comfortable, clean and Patrizia was very accomodating - would stay again.
Nick
2017-02-27T00:00:00Z
The host canceled this reservation 28 days before arrival. This is an automated posting.
Chiara
2017-03-20T00:00:00Z
La camera è proprio come nelle foto,grande e molto ben arredata,il letto comodissimo;anche il bagno mi è piaciuto molto,è dotato di ogni comodità!Inoltre si trova in una posizione fantastica,appena dietro la basilica di Sant' Andrea,in pieno centro storico. Patrizia è così carina e simpatica che ti fa sentire subito a tuo agio.Non esiterei a tornare una prossima volta,mi sono trovata benissimo e lo consiglio vivamente!
Laura
2017-02-25T00:00:00Z
La casa di Patrizia è davvero meravigliosa, oltre essere pulita, curata, tranquilla e centrale. Patrizia e la ragazza del bar ci hanno dato consigli preziosissimi su come fare per parcheggiare, dove mangiare e Cisa visitare. Mantova vale la pena di essere visitata!
Sarah
2017-03-05T00:00:00Z
La camera è fantastica come nelle foto, centralissima. Patrizia è stata molto gentile e disponibile anche via messaggio. Molto consigliato!
arianna
2017-04-05T00:00:00Z
Casa bellissima, proprietaria adorabile.
Roberto
2017-02-28T00:00:00Z
Patrizia e' stata molto disponibile, anche se non presente fisicamente, dandoci indicazioni sui posti da visitare e sui locali dove poter mangiare le specialità locali e/o fare un pasto veloce. L'alloggio è delizioso, centralissimo ma tranquillo. Consigliatissimo!
Paola
2017-03-27T00:00:00Z
Bellissimo appartamento camera e bagno come nelle fotografie e forse ancora più suggestivo. comodissimo per visitare la città. Patrizia è gentilissima e disponibile. da consigliare vivamente
daniela
2017-02-17T00:00:00Z
Room Type
Private room
---
Property Type
Apartment
---
Accommodates
2
---
Bedrooms
Mantova, Lombardia, Italy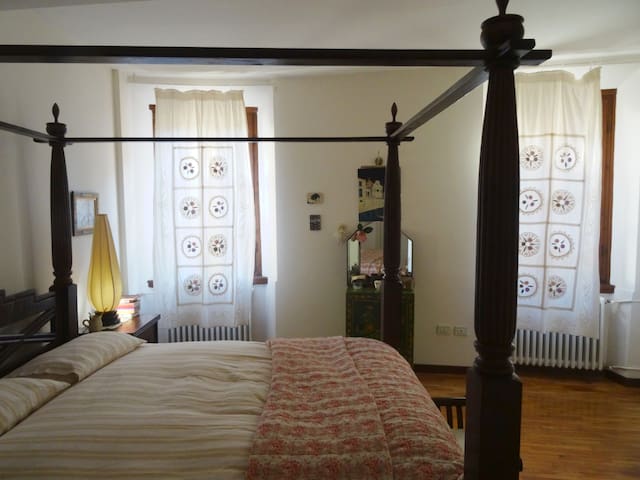 air-conditioned apartment of 70 meters per second and top floor of a historic building with a courtyard where to park the car in a private place. Living room, large bedroom, bathroom with lake view and small kitchen. In the living room you can add two beds with wooden staves comfortable. A stone's throw from the lake and from the center: Piazza Sordello and Piazza Erba, is the ideal place for those seeking tranquility and comfort with full autonomy.
The proximity to the lake allows relaxing walks or bike paths. The proximity to Piazza Sordello, however, is the first quality, but in this area there is also the scientific theater Bibiena addition to the Teresian library with its splendid rooms. Two words: nature and culture!
It was my best experience so far with AirB&B. Milena has been super nice and accommodating giving us excellent hints about places where to go, what to do, eat...etc. the apartment in very easy to reach, the position is very favorable with view over the "lakes", short distance walking from the main historic locations. I'll b back, Mantua has still lot of things that I want to explore
Giovanni
2017-01-22T00:00:00Z
We had a great time in Mantova. The city is beautiful and nice. Even though we just stay for one night we were able to see most of it. The apartment is in a perfect location, close to touristic attractions as well as shop and restaurants. Milena and her husband treated us so good and they were really helpful. They made us feel in such a good environment. The apartment was perfect and very clean. The building has an elevator. The apartment has everything you need. Thank you so much for making our time in Mantova even better!. Mantova is a great place to visit and for sure we are coming back soon.
Sebastian
2017-03-22T00:00:00Z
ubicazione ottima ! Proprietaria gentile e disponibile . Molto pulito . Se gli ospiti sono 4 devono sapere che i due che dormono nel salotto devono passare dalla camera da letto per andare al bagno
STEFANIA
2017-02-18T00:00:00Z
Sicuramente lo posizione è strategica, in pieno centro, con parcheggio riservato . La proprietaria è stata gentile e rapida nella comunicazione .
Francesco
2017-02-12T00:00:00Z
Appartamento completamente accessoriato con posto auto! Comodissimo per visitare il centro storico senza spostare la macchina in particolar modo per chi come me ha una bimba di 2 anni! Milena molto disponibile a venire incontro alle proprie esigenze!
Lorenzo
2017-02-26T00:00:00Z
Soggiorno davvero piacevole, appartamento a due passi dal centro, spazioso e pratico con la comodità del posto auto. Milena veramente disponibile e gentile.
Silvia
2017-03-12T00:00:00Z
Ottima posizione. Appartamento all'ultimo piano di un palazzo su una corte interna (dove si parcheggia l'auto). Dal bagno all'alba vista sul lago mozzafiato. Letto comodo. Appartamento pulito. Milena è disponibile e precisa.
Maurizio
2017-04-08T00:00:00Z
L'appartamento di Milena è esattamente come descritto. Vicino al centro storico e molto tranquillo. Il valore aggiunto è sicuramente il parcheggio nel cortile privato del complesso in cui si trova l'appartamento! Milena è stata davvero gentile e ci ha fatto trovare tutto il necessario anche per la colazione. Dovessimo tornare a Mantova sarebbe la nostra prima scelta!
Elena
2017-03-26T00:00:00Z
Room Type
Entire home/flat
---
Property Type
Apartment
---
Accommodates
4
---
Bedrooms
Mantua, Lombardy, Italy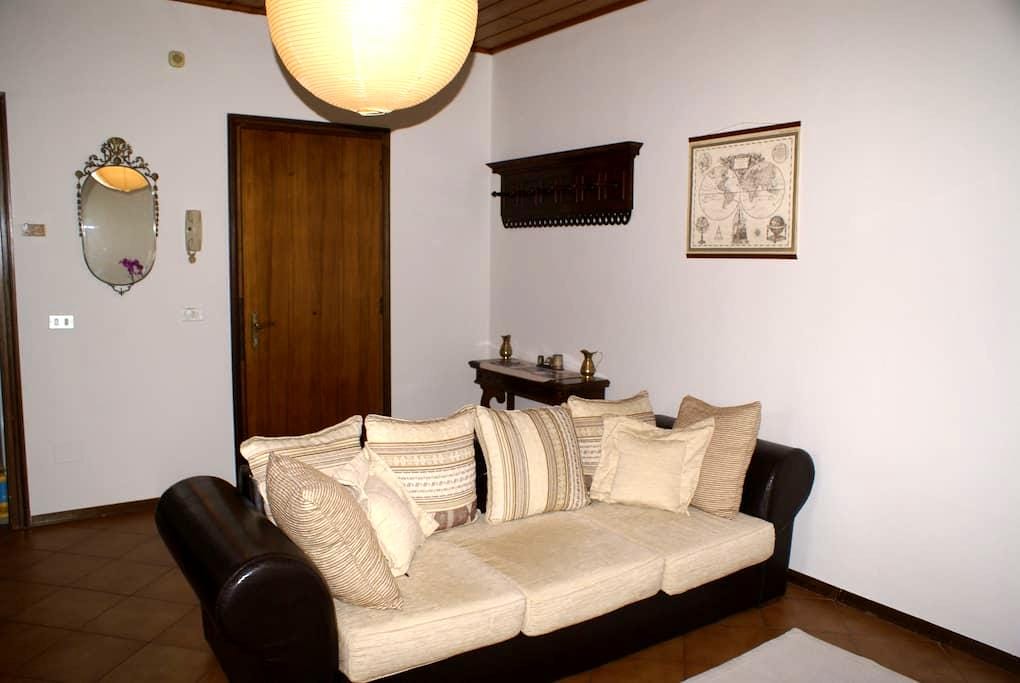 Bellissimo ed accogliente bilocale in zona residenziale alle porte di Mantova, vicinissimo all'autostrada ed a centri commerciali. Beautiful and cozy apartment in a residential area, 5 minutes from the center of Mantova, close to the highway and shopping centers.
L'appartamento è composto da cucina soggiorno, completa di elettrodomestici e TV, camera matrimoniale con ampio guardaroba, bagno con doccia. Garage e posto auto disponibili. I vostri amici a 4 zampe sono sempre benvenuti. Su richiesta e con un piccolo sovrapprezzo potrete trovare tutto l'occorrente per i vostri animali, senza doverlo portare da casa. The apartment has a living room kitchen, complete with appliances and TV, double bedroom with large closet, bathroom with shower. Garage and parking space available. Your 4-legged friends are always welcome. Upon request and for a small charge you can find everything you need for your pets, without moving from home.
La tranquillità e la vicinanza a tutti servizi
Room Type
Entire home/flat
---
Property Type
Apartment
---
Accommodates
2
---
Bedrooms
Mottella, Lombardia, Italy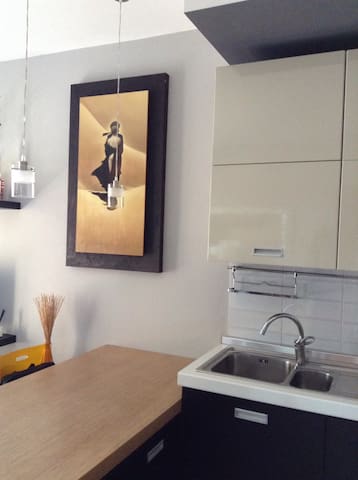 Cozy double room for 2 people in ethnic style Pompeian red. Located in a quiet neighborhood near Mantua Mantua North (A22) with a convenient bus stop right in front of the house to reach the center.
Apartment with two bedrooms in a small quiet condo on the outskirts of the city.
The host was very welcoming and flexible on my check, even he picked up us at the station to his house!! He made me so comfortable in his house
Tai
2016-09-27T00:00:00Z
We had such a beautiful time at Massimos home! It was like staying at a friends house. He picked us up from the train station and drove us to his lovely and sweet home. We had a large and very clean room to ourselves,bathroom was also clean and amazingly artistic because he desinged it by himself. Massimo was more than helpful and offered us to drive us anywhere we want at all time!! Although you can reach the city center by bus within 10 min. We had lunch together and very interesting conversations. Massimo has great knowledge of Mantova and also life in general that he is willing to share. Also his little cat was very cute! Definetly looking forward to go back some day! Thank you again Massimo!
Anna
2014-09-14T00:00:00Z
We had a lovely stay at Massimo's place. We didn't see much of Massimo but he welcomed us and showed us around his beautiful, clean apartment and recommended a restaurant which was fabulous! He's got a cute cat who was very friendly. I highly recommend a stay here.
Rebecca
2015-10-02T00:00:00Z
Massimo is very nice, sympathetic and professional host and also the apartment is beautiful and clean. Massimo provides a map of the city and is eager to tell you the best restaurants or sights to visit. I can highly recommend him :)
Leila
2015-08-27T00:00:00Z
We stayed a night at Massimo's place. He was welcoming, interested and gave good recommendations for the city. His flat was spacious and clean, the room is big and characteristically designed. A nice and recommended experience.
Charlotte
2015-08-04T00:00:00Z
We booked and arrived late, but we were nevertheless welcomed by a cheerful man who showed us the nice and quiet room and well decorated bathroom before we fell asleep fast.
Philippe
2016-04-12T00:00:00Z
Massimo was an awesome host. His place is exactly like the photos, and he was very generous with his time! He took me to the center and showed me around. I had a great tie explore his home city!
Joshua
2016-05-08T00:00:00Z
Massimo is a great host! Friendly and interested in meeting new people and knowing about his guests. He made delicious orange juice for us! The room was very nice, cleans and comfortable. We spend two wonderful nights.
David
2016-05-02T00:00:00Z
Room Type
Private room
---
Property Type
Apartment
---
Accommodates
2
---
Bedrooms
Borgovirgiliana, Lombardy, Italy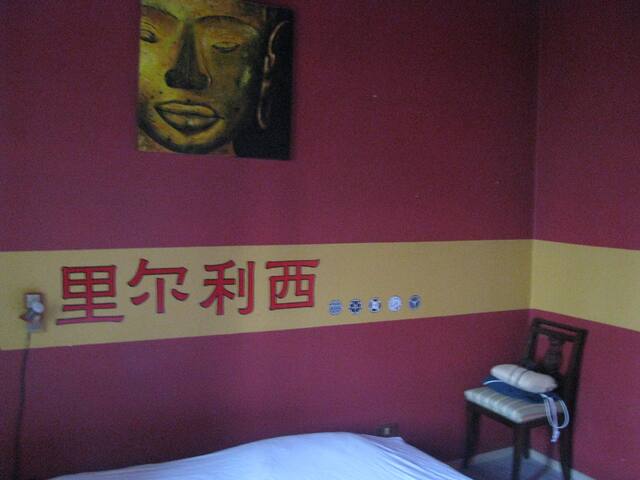 Nice apartment in the Mincio park 2km from the historic center within walking distance via bicycle path that crosses the rock Sparafucile (Rigoletto) and field canoe from where you can admire the magnificent skyline of Mantua. At 10 mt there is the bus stop to the city center, places of art and culture or the parks and gardens of Mantua. The apartment is suitable for couples, small groups, solitary adventurers, business travelers and families. Parking in the adjacent private area motorcycle garage
The apartment has a large room where you can relax watching TV or reading a book that you will find at your disposal. The large balcony adjacent to the kitchen will allow you to dine outside in the warm summer evenings.
Ash is a quiet residential neighborhood consists of small villas and manor houses a few meters from the apartment there is a fort dating back to 1850 in a wooded park where you can jog or take a walk with the kids.
Natascha was very lovely and hospitable! The apartment offered everything we needed and more. We can highly recommend as good place to stay. A bit cold living room at this time of the year but no problems in the rest of the apartment. We had a very enjoyable time thanks Natascha!
giulio
2017-01-21T00:00:00Z
Abbiamo soggiornato da Natasha solo per una notte ma è stato tutto perfetto. L'appartamento è a 5min dal centro città in macchina e altrettanto dal Palabam dove siamo stati per un concerto. Natascha è stata disponibilissima per il check-in e il check-out. Grazie di tutto e alla prossima.
Jherson
2017-03-05T00:00:00Z
L'appartamento è situato in una zona tranquillissima di Mantova e gode di una corte privata ampia. Si trova a 2 minuti di macchina dal centro cittadino e a 3 dalla zona commerciale/PalaBam. Siamo stati ospiti di Natascha, padrona di casa simpatica, cordiale, precisa e sempre disponibile, durante il periodo del Mantova Comics e non potevamo scegliere alloggio migliore. Consigliatissimo anche per un rilassante weekend nella graziosissima città lombarda.
Gabriele
2017-02-26T00:00:00Z
L'appartamento è molto funzionale, è inoltre indipendente e appartato; per gli stessi motivi è silenzioso. Si trova in una posizione comoda per visitare il centro storico. L'host è disponible e i suoi consigli sono stati preziosi.
Cosetta
2017-02-05T00:00:00Z
L''appartamento è gradevole e silenzioso , in buona posizione in zona comoda per raggiungere il centro a piedi o in auto. Dispone di parcheggio. Naty è stata gentile e piena di attenzioni. Un ottimo host.
Patrizia
2017-04-03T00:00:00Z
Natascha ci ha accolti molto calorosamente ed è stata molto gentile e disponibile. La casa si trova in un quartiere residenziale comodo per visitare la città muovendosi volendo anche a piedi. L'appartamento è grande e spazioso, unica pecca, la cucina non è propriamente attrezzata!!
Marta
2016-12-09T00:00:00Z
Posizione ottima per il centro città passeggiata panoramica appartamento molto comodo e carino con parcheggio
Valentina
2017-01-02T00:00:00Z
Room Type
Entire home/flat
---
Property Type
Apartment
---
Accommodates
5
---
Bedrooms
Lunetta-frassino, Lombardia, Italy
Il mio alloggio è in pieno centro, nel corso principale della città, a due passi dalla stazione ferroviaria. Sito al piano terra di una tipica casa quattrocentesca mantovana, con corpo centrale, cortile interno, dove potrai parcheggiare la tua auto, porticato, dove troverai parcheggiate le bici che potrai usare, e hortus conclusus dove potrai parcheggiarti ad oziare. L'arredo è antico, il confort attuale, l'ospitalità alla vecchia maniera.
Maria Luisa is the best host I ever met. She is a lady with taste and enthusiasm. I don't speak Italian, but I could understand her very well. The flat is spacious with an open fire place and beautiful furniture. It is the kind of luxury you will not find anymore in a hotel in our pragmatic world.
Anton
2017-03-22T00:00:00Z
Maria Luisa was a most friendly and helpful hostess who welcomed us with open arms and made us feel so welcomed from the start! She gave us lots of information where to eat and what to see at the Palazzo Ducale, what time to get the tickets to avoid crowds, etc.. Maria Luisa also lent us her bikes which allowed us to explore the beautiful old city.. cobbold streets and all! Great fun... Her place is just fantastic, so comfortable and central, well equipped kitchen and lovely fireplace with comfy sofas... We loved our stay so much that we will certainly return. Many thanks Maria Luisa! You are the best!
Paul
2016-11-21T00:00:00Z
Such an incredible space right in the center of town! Many nice details in this gorgeous apartment- high ceilings, frescoes, a very comfortable bed, and a nice bathroom. Maria Luisa was the consummate host and made me feel very much at home. I'd go back in a heartbeat!
Amy
2016-09-27T00:00:00Z
Maria luisa è una persona gentilissima che fin da subito ti mette a tuo agio. La casa è splendida, con tutti i confort. Sembra di fare un tuffo nel passato, spettacolare.
Beatrice
2016-10-16T00:00:00Z
La signora Maria Luisa ci ha accolto con squisita ospitalità nel suo bell'appartamento nel quale antico e moderno si coniugano con eleganza. E' situato vicino alla stazione in posizione comoda per raggiungere, anche a piedi, i punti di interesse artistico; per chi non se la sente di camminare, la fermata dell'autobus è a pochi metri. Non mancano le comodità: la cucina è ben attrezzata; il riscaldamento è autonomo e regolabile in modo semplice; il bagno è nuovo e funzionale; il letto è comodissimo e caldo. Il camino, per il quale la signora ci ha sollecitamente fornito la legna, è la ciliegina sulla torta: riposarsi al fuoco dopo una giornata di visite culturali fa sentire a casa propria. La signora Maria Luisa ci ha fornito tutte le indicazioni necessarie per la nostra visita: mappe, depliant con orari dei musei, ristoranti e negozi consigliati. Inoltre ci ha permesso di godere fino al pomeriggio l'ultimo giorno di permanenza, anche se il check-out era fissato alle dodici. L'appartamento mantiene quello che promette sul sito AIRBNB, ma sul sito non viene debitamente sottolineata la cordialità, la sollecitudine, la discrezione della signora. Lo riportiamo noi, con piacere. Da consigliare assolutamente.
robertino
2016-11-01T00:00:00Z
Ottima accoglienza e permanenza... Grazie mille
Pietro
2017-03-12T00:00:00Z
E' una casa bella, pulita, riservata, silenziosa, con tutti i comfort e in centro... cosa volere di più! La sig.ra Maria Luisa, pur non avendola incontrata, è stata premurosa e comunque presente. Grazie
gaetana
2017-04-02T00:00:00Z
Il soggiorno in questo appartamento è stato confortevole. Ampio lo spazio a disposizione, particolare l'arredamento. La dotazione di biancheria e utensili da cucina è più che sufficiente e di buona qualità, Utilissima la lavastoviglie, il letto comodissimo e il bagno molto funzionale e nuovo . La padrona di casa è gentilissima e cordiale e ha fatto di tutto per accoglierci bene offrendoci anche dolcetti, frutta e liquori fatti in casa. A nostra disposizione anche la legna per il camino che, data la rigidità del clima, ha contribuito a rendere familiare l'ambiente! Centralissima la posizione con grande supermercato nelle vicinanze, si arriva in pochi minuti nel cuore del centro storico.
teresa
2017-01-02T00:00:00Z
Room Type
Entire home/flat
---
Property Type
Apartment
---
Accommodates
2
---
Bedrooms
Mantova, Lombardia, Italy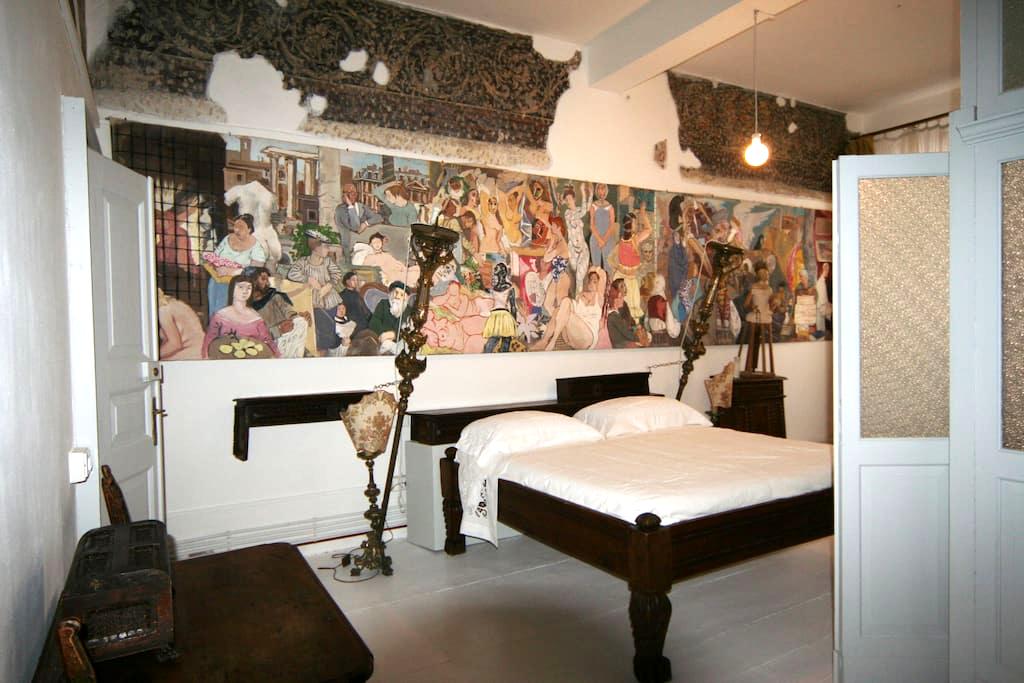 Appartamento 'Giardino' provvisto di ogni confort facente parte dell'Agriturismo dell'Azienda Agricola Le Colombare. Situato tra Verona e Mantova, a soli 4km dal casello autostradale di Nogarole Rocca e a circa 30 minuti dal algo di Garda
Appartamento appena ristrutturato in una porzione della casa padronale con attenzione e rispetto del luogo e della tradizione rurale in cui è immerso. E' composto da camera da letto, zona giorno (con divano letto) e bagno ed è provvisto di condizionatore e televisore, nonché di cucina attrezzata e tutta la biancheria necessaria per il soggiorno.
L'Agriturismo si trova tra Verona e Mantova, a soli 4 km dal casello autostradale di Nogarole Rocca e a circa 20 km dall'aeroporto di Verona/Villafranca.
The accomodation is exactly as described and shown on the pictures. The communication with Filippo was perfect. The apartment is really nice, everything was clean. We really enjoyed our short vacation at Filippos place. The garden with pool is a little paradise. High recommend!
Jennifer
2015-09-06T00:00:00Z
Room Type
Entire home/flat
---
Property Type
Apartment
---
Accommodates
6
---
Bedrooms
Colombare, Veneto, Italy
Casa Fischer è una coppia di graziosi bilocali situati a Mantova nel cuore dell'antico quartiere San Leonardo, in contesto tranquillo e al piano terra. È a pochi passi dal centro storico, dai monumenti di maggior interesse e da comodi parcheggi sia gratuiti sia a pagamento. È inoltre vicina ai percorsi ciclopedonali, ai laghi ed alle aree naturalistiche.
Casa Fischer "2" si presenta con un arredamento classico, fresco e confortevole. Un luogo adatto per un romantico soggiorno di coppia, ma prontamente adattabile per accogliere sino a quattro persone. Da pochissimo ristrutturato in un inedito stile shabby nordico, è composto da una sala-cucina dotata di grande divano letto matrimoniale, camera da letto matrimoniale, antibagno e bagno.
Cuore dell'antico quartiere del Corno, così chiamato per la forma che assumeva nell'innestarsi nel Lago di Mezzo, è la chiesa di San Leonardo Abate. È tra le più antiche della città di Mantova, fondata nel XII secolo. Sono rilevabili tracce dello stile romanico e del tardo gotico nel campanile (XIII secolo) e nella Cappella Cavriani. A pochi passi dall'appartamento si trova anche la bella Piazza Virgiliana, una vasta area verde della città di Mantova, voluta nel 1797 allo scopo di onorare il poeta latino Virgilio, e del quale troviamo in posizione centrale il famoso monumento.
Great location and even better hosts, so helpful and lovely.
Joshua
2017-03-23T00:00:00Z
The house is perfect. Everything was new, it was super clean and the hostess is super kind. I recommend tha place
Aliki
2017-03-07T00:00:00Z
Giorgia and Andrea gave us a warm wellcome and have been very helpfull. The flat is very new, very modern and comfortable, very spacefull and nice located to join the not to be missed places to visit. We would recommend it in any case. Giorgia et Andrea nous ont réservé un accueil très sympathique. Ils se sont rendus très disponibles. L'appartement est en excellent état, quasi neuf, très moderne et confortable, très spacieux et bien situé dans la ville pour accéder facilement aux sites incontournables à visiter. Nous recommanderions cet appartement sans aucun doute.
Philippe
2017-03-10T00:00:00Z
Staying at Giorgia's house has been wonderfull, it is very central but also quiet, just 5min walking to Palazzo Ducale. The house is very clean, it has everything you need for a perfect staying! Giorgia and her usband are the perfect hosts, precise and very welcoming. Absolutely suggested!
Agnese
2017-03-19T00:00:00Z
Giorgia ci ha accolto nel suo appartamento in modo perfetto. Ci ha presentato la città descrivendoci anche locali e destinazioni da visitare. L'appartamento è a 5 minuti dal centro, pulitissimo, nuovissimo. Nessuna nota negativa, solo positive.
Michele
2017-02-12T00:00:00Z
Appartamento in posizione centralissima, tenuto in perfette condizioni da Giorgia e Andrea i quali ci hanno riservato un trattamento davvero eccezionale! Soggiorno curato in tutti i dettagli e con una colazione abbondante e variegata!! Fondamentali i loro suggerimenti sulla città e, non da poco, sui ristoranti in zona!Massima flessibilità ricevuta sugli orari di check-in/check-out che ci ha permesso di usufruire a pieno di un solo week end!!! Ringrazio vivamente gli host di casa fisher :)!!
Giacinto
2017-02-19T00:00:00Z
Soggiorno meraviglioso grazie alla disponibilità ed indicazioni di Giorgia. Appartamento perfetto, curato nei minimi particolari e comodo per visitare la città a piedi. Lo consiglio a tutti.
Andrea
2017-03-26T00:00:00Z
Abbiamo soggiornato in due nel delizioso appartamento di Giorgia. L'appartamento è nuovissimo è pulitissimo, arredato con gusto e accogliente con i suoi colori pastello. Curato nei minimi dettagli,e, i proprietari sono gentilissimi. Ci torneremo molto volentieri.
Francesca
2017-04-08T00:00:00Z
Room Type
Entire home/flat
---
Property Type
Apartment
---
Accommodates
4
---
Bedrooms
Mantova, Lombardia, Italy
Il nostro alloggio è vicino a il centro città, arte e cultura e parchi. Ti piacerà il nostro alloggio per questi motivi: la cucina, l'intimità e la posizione. Pur essendo in posizione centrale gode di estrema tranquillità perché posto all'interno. Il nostro alloggio è adatto a coppie, chi viaggia per lavoro e famiglie (con bambini).
La posizione vicina al centro storico ed anche al parco del Palazzo Te e l'estrema tranquillità, perché posto all'interno con affaccio su giardino retrostante, rendono l'alloggio BellaMantova molto ambito ed indicato a chi voglia rilassarsi dopo una giornata dedicata al turismo, viaggio o lavoro. Un impianto di filodiffusione con radio e CD potrà poi aiutare ulteriormente il meritato relax!
Il quartiere è estremamente ben frequentato e tranquillo, una passeggiata di 600 m attraverso via Giovanni Chiassi porta alla zona pedonale del centro storico, alla stessa distanza si trova il parco del Te con l'omonimo palazzo museo.
Really comfortable apartment , great location, quiet. Everything went great. Good price-quality ratio.
Dmitry
2017-01-24T00:00:00Z
The host canceled this reservation 12 days before arrival. This is an automated posting.
Antonio
2016-12-02T00:00:00Z
Excellent place . We highly recommend it! Wonderful and friendly hosts. Very close to everything.
Talya
2017-02-09T00:00:00Z
非常喜欢他们的房子 房东也很Nico 还养了只可爱的狗狗 这是我来曼村住的第一个家 很开心
JIAYIN
2017-03-25T00:00:00Z
Siamo stati benissimo, Isabella e Giovanni sono stati gentilissimi e super disponibili. La casa è accogliente, la posizione perfetta. Si raggiunge il centro a piedi comodamente. Isabella e Giovanni ci hanno anche consigliato dove mangiare e cosa visitare. A chi andrà dopo di noi posso solo dire "vi troverete Bene". Un saluto da tutti noi
Umberta
2017-01-22T00:00:00Z
Ottima esperienza. Mantova é una fantastica città e l'abitazione bella mantova é l'ideale per visitarla
Fabio
2017-04-01T00:00:00Z
L'appartamento è carino comodo e pulito
Claudia
2017-01-02T00:00:00Z
L'appartamento è molto accogliente, caldo, ben arredato. Il bagno è pulitissimo e il letto molto comodo, la zona è abbastanza centrale, 10 minuti al massimo dal Centro storico. Isabella e Giovanni disponibilissimi e attenti a tutte le esigenze che abbiamo avuto prima e durante il soggiorno. Consigliatissimo.
Andrea
2016-12-30T00:00:00Z
Room Type
Entire home/flat
---
Property Type
Apartment
---
Accommodates
4
---
Bedrooms
Mantova, Lombardia, Italy
Ampio e luminoso appartamento in centro storico a Mantova, situato in una via tranquilla a due passi dalle principali attrazioni turistiche. Bright and wide apartment in the Historical Centre of Mantua, in a quiet street very close to the main tourist sites. Appartement au cœur du centre historique de Mantoue, situé dans une rue calme, proche des principales attractions touristiques.
Arredato, è composto da: 1 cucina abitabile con terrazzino, 1 sala con splendida vista sulla cupola della basilica di Sant'Andrea, 2 camere da letto matrimoniali, 1 stanza adibita a disimpegno, 1 bagno con box doccia. Troverete l'appartamento già fornito di tutto il necessario per un piacevole soggiorno: asciugamani, lenzuola, cuscini e coperte. In cucina vi è tutto l'occorrente per preparare e per consumare i pasti. The flat is fully furnished. There are a kitchen-dining room with a small balcony, a living room with a Sant'Andrea Cathedral's dome wonderful view, two double rooms, a spare room, a bathroom with shower. You will find all what you need for a pleasant stay: towels, sheets, pillows and blankets. The kitchen is furnished and comfortable to prepare and consume meals. L'appartement est au premier étage et il est lumineux, vaste et meublé. Il est composé d'une cuisine spacieuse avec une petite terrasse, d'une salle à manger avec splendide vue sur la coupole de la basilique Saint-André, de deux chambres à coucher avec deux grands lits, d'une pièce vide, d'une salle de bains avec douche. Vous trouverez le nécessaire pour un agréable séjour : serviettes de toilette, draps, oreillers, couvertures. La cuisine a les ustensiles nécessaires pour cuisiner et manger.
L'appartamento, essendo in centro città, è vicino a bar, ristoranti, pizzerie, gelaterie, negozi e supermercati, tutti raggiungibili comodamente a piedi. The apartement, which is located in the city centre, is near to café, restaurants, pizzerie, ice-cream parlors, shops and markets, easily reachable on foot. L'appartament, grace à son positionnement au cœur du centre historique, est proche des cafés, des restaurants, des pizzerie, des glaciers, des boutiques et des supermarchés accessibles à pied.
Kind host, very comfortable apartment in a great location for going into town.
Linda
2017-03-30T00:00:00Z
Sara and her boyfriend could not have been more amiable and helpful hosts. The appartment is really big and leaves nothing to be desired. It was a really enjoyable stay in Mantova!
Christian
2017-03-10T00:00:00Z
Alloggio molto ampio, possono benissimo condividerlo due famiglie. La casa è pulita e completa di tutto ciò che serve. Sara è stata discreta e disponibile ad ogni richiesta. Sono stato lì con un collega e dopo il lavoro siamo sempre usciti a piedi grazie alla posizione centrale di fronte al castello e a piazza sordello. La piazza è fuori zona ZTL, si può parcheggiare lì e avere l'auto sempre a disposizione per lavoro o uscire fuori Mantova. Sono molto soddisfatto.
Gianluca
2017-01-20T00:00:00Z
Appartamento grande e ben rifornito di tutto . Grandissima pulizia e con molta attenzione e cura in ogni dettaglio che Sara mette a disposizione per i suoi ospiti. L' appartamento si trova ad un minuto di strada a piedi da Palazzo Ducale , in pieno centro. Come già espresso in precedenti recensioni, anch'io e la mia famiglia abbiamo sperimentato e confermiamo la gentile accoglienza e disponibilità di Sara . Non perdetevi un soggiorno a Mantova, città stupenda e il confort , la sicurezza e la comodità di questo alloggio.
Vincenzo
2017-02-19T00:00:00Z
Qualità/prezzo ineguagliabile. Appartamento enorme, eppure caldo e con ottimo wifi. Cucina attrezzatissima. Va bene anche per 6 persone, e molto comodamente. Sara è una persona per bene, e davvero squisita. In pieno centro, parcheggio a 2 min. a piedi.
Massimiliano
2016-12-24T00:00:00Z
L'accoglienza è stata perfetta! L'appartamento è confortevole, pulito ed in una perfetta posizione centrale. Tutto è stato perfetto e di sicuro consiglieremo l'alloggio a chi dovesse richiederci suggerimenti per un soggiorno in questa splendida città! Grazie a Sara ed alla sua squisita cortesia e disponibilità!
Manuela
2016-11-05T00:00:00Z
Una casa confortevole, nel centro di Mantova, ma allo stesso tempo lontana dalla folla. C'è tutto quello che serve e Sara è una perfetta padrona di casa
Maddalena
2017-04-09T00:00:00Z
L'alloggio è bello, grande, pulito e dotato di tutto ciò che serve. La posizione è ottima. Sara è disponibile e veloce nel rispondere ai messaggi. Consiglio vivamente l'appartamento.
Rebecca
2016-12-04T00:00:00Z
Room Type
Entire home/flat
---
Property Type
Apartment
---
Accommodates
4
---
Bedrooms
Mantova, Lombardia, Italy
ENGLISH: Room into an elegant ground floor apartment with exposed beams and antique furniture, located in a residence, surrounded by greenery, close to all amenities and the bus a few meters to reach the Castle and the historical center of Mantua. A few hundred meters from the highway and convenient parking for cars. Verona can be reached in 15-20 minutes on the highway. Tranquility and silence at night. The BREAKFAST, with croissants whole, fresh milk of the farm full, jam or honey, regular coffee, decaffeinated coffee or barley is included. Reserved Porch for relaxation, smoking (only Sigars and Pipe), reading and Breakfast.
Room Type
Private room
---
Property Type
Apartment
---
Accommodates
1
---
Bedrooms
San Giorgio di Mantova, Lombardy, Italy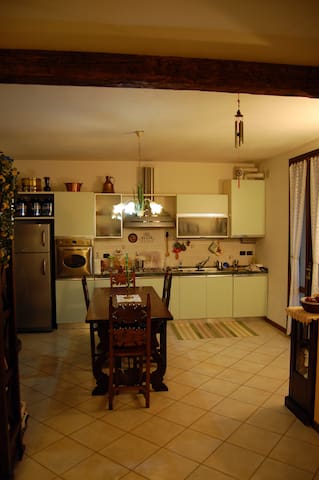 1

–

18

of

130 Flat Rentals
Enter dates to see full pricing. Additional fees apply. Taxes may be added.