3 Bedrooms, 3 Bathrooms, 1 Living Room, 1 Fully Equipped Kitchen, 4 Balconies, 2-Car Garage, View of The Barolo Vineyards Unesco World Heirtage.
The house is divided into a 2-Bedroom apartment and a 1-Bedroom apartment. It is surrounded by Barolo vineyards and very close to Barolo village and many premium wineries.
Privacy, quietness, silence.
Maurizio is a wonderful generous host and the house is great. We were four people doing a wine tasting tour of Piemonte. The location was perfect and the view is magnificent. Don't miss out on the opportunity to ask him for a tour of his vineyard.
David
2017-04-01T00:00:00Z
Hemos estado muy a gusto, muy buen trato y la casa está en una ubicació privilegiada, con unas vistas que quitan el hipo! Totalmente recomendable.
Pep
2017-04-10T00:00:00Z
Ottima accoglienze , Casa bellissima e in un ottima posizione
The House Of Travelers S.r.l.s.
2016-11-06T00:00:00Z
Accoglienza ottima, descrizione perfetta.
Corrado
2016-07-18T00:00:00Z
Room Type
Entire home/flat
---
Property Type
House
---
Accommodates
7
---
Bedrooms
Castiglione Falletto, Piemonte, Italy
Il mio alloggio è nel centro della zona di produzione del vino BAROLO, a 2 km dal centro di Barolo, 5 km da La (URL HIDDEN) mio alloggio è circondato da vigneti e con ampi spazi esterni, giardino, barbecue. Cantina con produzione propria di vino Barolo, Barbera d'Alba, Nebbiolo e Favorita. Possibilità di visitare la cantina e assaggiare i vini, con vendita diretta dei nostri prodotti. Ti piacerà il mio alloggio per questi motivi: la tranquillità, gli spazi esterni, la posizione, l'atmosfera rurale.
Room Type
Private room
---
Property Type
Bed & Breakfast
---
Accommodates
2
---
Bedrooms
La Morra, Piemonte, Italy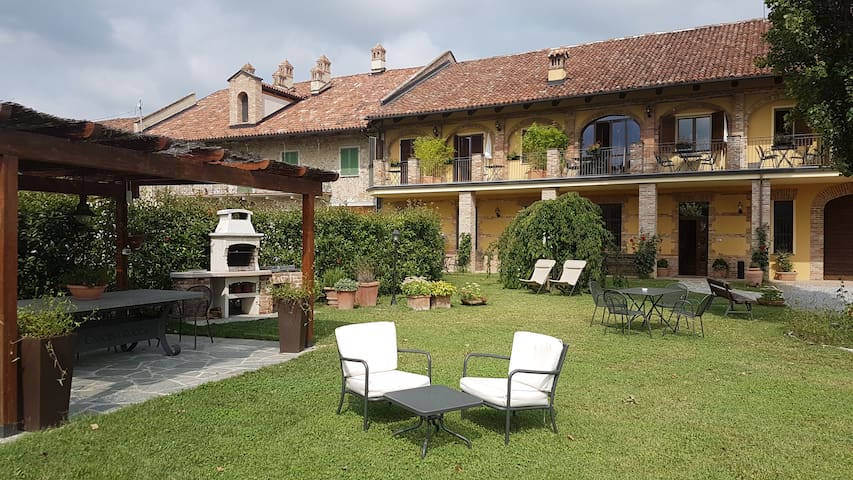 modern apartment with two bedrooms, kitchen and living room. relaxation room. Large terrace. Located on the first floor. Private parking. Close to the center of the country. Possibility of tasting in the adjoining cellar.
Daniela, Vittorio, & Luca were amazing! They greeted us with smiles and went out of their way to make our stay feel special. They helped us book a reservation for dinner on our first night there at Le Torri (a must if you like truffles). We got lost in La Morra by exiting SP3 one exit too early. Yet, they were patient and waited for close to 30 minutes until we could get back on the right path. The rental was spacious, with two beautiful, modern rooms, a wash machine, a large living room, dining room, two bathrooms, and a kitchen that was stocked with enough to encourage us to cook at home for a night. I was not aware that they also owned a winery behind the building. They generously welcomed us for a tour in between our other appointments at wineries. This is walking distance from the village of Castiglione Falletto, where you can find restaurants, a small grocer, historical buildings, and a small shop to taste and buy wine in. We found this location to be ideal for traveling throughout Barolo & Barbaresco. The Mercato, is only a short 10-15 minute drive away if you want a fully-stocked Grocery store. The hospitality of the owners was as amazing as their Baroli. I hope that I will be able to return in years to come; as this defines what a great experience staying in Piedmont can be. We spoke very limited Italian (Thank you, please, hello, ect) and they found ways to communicate with us.
Kirk
2016-11-11T00:00:00Z
It was a privilege to stay for 10 days and we could not have been happier. The photos don't quite do it justice - the apartment is large, brand new and has everything you could need for a comfortable stay. Castiglione Falletto is centrally located in the Barolo area and is a good base for exploring the surrounding villages. It is the perfect place for winery visits with Vietti, Cavallotto, Brovia, Azelia and Paolo Scavino all within walking distance. Le Torri is a great restaurant just a short walk away. Thank you to Daniela, Vittorio and Luca for a memorable stay.
William
2016-12-28T00:00:00Z
I travel to the region often and always try and stay in or near Castiglione Falletto due its central location. Il Girasole's apartment is a new property for me, and I couldn't be happier with it. It presents better in person than in pictures with an expansive and picturesque wrap around balcony that alone is worth the price of admission. Two bedrooms, of which I used only one, are spacious and, as is everything, new, modern and clean. Terrific hot water and wifi helped deliver the key elements of a good apartment for me, though be forewarned that the bedding is decidedly on the firm side. This is a really a very large apartment with a full if modest kitchen, though certainly sufficient for a weeks stay, dining room and living room. As mentioned the location is terrific and Castiglione, while small, does have much of what a traveler needs on offer. In short I found Il Girasole to offer great value, a comfortable stay, in a terrific location. Highly recommended!
gregory
2017-03-18T00:00:00Z
We spent a week at this apartment and absolutely loved it. It's brand new (we were the second guests), immaculate, very modern, and equipped with everything we could possibly need. It's also huge with two large double bedrooms, each with their own big bathrooms, living room, dining room, kitchen, and a massive terrace with views of the hills and vineyards. The location is perfect. It's right on a family-run vineyard and is opposite the hiking trail to Barolo which takes an hour and goes through the vineyards and hazelnut groves. We also did the one hour hike to Serralunga which starts from the centre of the village. Lots of other longer hikes start nearby. Many hill towns including Alba and La Morra are no more than a 15-minute drive away. The village is very cute and only a few minutes walk away. There are three restaurants (we loved Le Torri), two bars, a small shop, and a cantina for trying local wines. A big supermarket is an 8-minute drive away. The house is on a road so it's not a totally rural location. You can hear traffic sometimes but it's not a busy road. We liked the convenience of being able to walk to dinner. Daniela the host is lovely and gave us lots of information and maps for the area and even brought us grapes and tomatoes from her garden. Communication was excellent and check-in was easy.
Erin
2016-09-15T00:00:00Z
This is a perfect place to stay for a Barolo visit. The large apartment is located in a new building and has the most astonishing views. The large balcony means that one can enjoy the views of many of the region's villages and many of the grand cru vineyards. We spent a lot of time just studying the landscape and enjoying the astounding views. The house is itself sitting in the middle of the Rocche vineyard. We stayed there for 6 nights as we travelled every day through the region for winery tastings, dining and, for one of us, moutainbiking (the hiking trails through the vineyards make for good MTB). Nothing is very far: Serralunga, Barolo, Monforte and La Morra are all from 10 to 20 minutes away. I could not think of a better place to use as a central location in the Barolo; it's literally in the centre of the region. Castiglione is a delightful and quiet village. There are plenty of great restaurants. Castiglione does not have the more touristy feel than some of the other villages haves; for us this was perfect. Strolling in the medieval streets of the city is fantastic experience. The hosts are welcoming and attentive and were extremely responsive to any requests we made or clarifications we sought before we arrived. The apartment is new, has excellent facilities and lots of space. We spent the entire time pinching ourselves as how fantastic a place this was. Thank you to Daniela and Vittorio for your hospitality.
Thierry
2016-06-25T00:00:00Z
This is an incredible AirBnb! I was traveling on a wine trip and it was very conveniently located and the facility is actually right in front of the Monchiero winery (little to no noise despite being there in the middle harvest). The hosts are incredibly kind and welcoming, they even gave us a bottle of their rosé to enjoy as an aperitif! They don't speak a lot of English but communication is not a problem at all! They helped us find great places to eat and visit, advised on a grocery store open on Sunday, and even let us borrow a scale. The apartment is incredible - very modern and super comfortable. The views from the wrap around balcony of the surrounding vineyards, La Morra and Serralunga are to die for. It can be a bit echo-y inside. 10 min to Barolo, 15ish min to La Morra, 25 min to Alba, 30ish min to Barbaresco. Perfect if you're visiting for wine
Alexandrea
2016-10-12T00:00:00Z
Heel ruim apartement boven het familie wijnhuis Monchiero. Beneden vinden de wijnproeverijen plaats (helemaal geen last van) en achter het huis wordt de wijn gemaakt oa Barolo. Het appartement is heel schoon en ligt vlakbij het centrum van Castiglione Faletto. Vanaf het balkon (rondom appartement) mooi uitzicht over de wijngaarden en verderop gelegen dorpen. Leuk gebied om allerlei stadjes en wijnhuizen te bezoeken. Zeker een aanrader!
Marloes
2016-09-27T00:00:00Z
Room Type
Entire home/flat
---
Property Type
Apartment
---
Accommodates
8
---
Bedrooms
Castiglione Falletto, Piemonte, Italy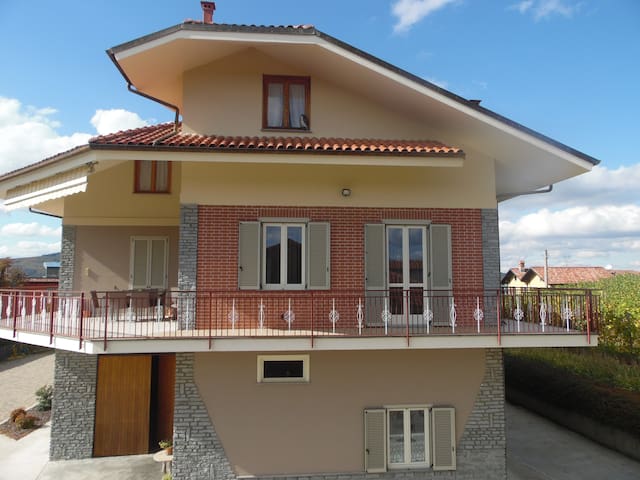 Waking up with a breath taking view over Serralunga's vineyards. Cozy apartment, recently renovated with open space furnished kitchen and living room on ground floor, 2 double bedrooms and 1 bathroom on first floor.
Room type: Entire home/apt Property type: Apartment Accommodates: 4 Bedrooms: 2 Bathrooms: 1 Beds: 3 Check In: 2:30 PM Check Out: 11:00 AM
Serralunga is a quiet town with few bars and restaurants. More attractions can be found in Alba (14,5 Km), Monforte d'Alba (10,3 Km) and other surrounding towns.
Thanks very much for a nice stay at the apartment! Giovanni , the wine is super! Hope to come back soon!
Louw
2016-05-22T00:00:00Z
Fantastic apartment, in the middle of Serralunga. Our hosts were brilliant, could not ask for any more. With views over piemonte, winetasting at host's winery, close to restaurants, the visit could not be better.
Richard Aleksander
2016-09-29T00:00:00Z
Casa Cucco is an amazing place. If you're considering staying here, you shouldn't hesitate for a moment longer. Both Irene and Giovanni (who is just a few yards away at the winery) are the most generous hosts. They are always available when you have a question or to provide recommendations for local restaurants and points of interest. Casa Cucco is a beautiful apartment built into the ancient walls of Serralunga d'Alba. It is perfectly renovated, and the views are incredible. Simply incredible. The listing photos do not do them justice. The apartment is meticulously clean and very nicely furnished. There is even a generous balcony where you can enjoy a dinner or glass of wine alfresco. Parking space is provided just a few steps away. The hosts have thought of everything you need; from the basics - towels, pots and pans, coffee makers etc..to the unexpected - bottles of wine, coffee, pasta. The town itself is out of a picture book. It is a small, quiet hilltop village with a beautiful castle. There are two restaurants, perfect for when you want to be able to walk to dinner. There is also a small store just next door with all the provisions you need: wine, water, cheese and local gourmet specialties. We would go back tomorrow if we could.
Megan
2016-04-01T00:00:00Z
We had a fabulous time at Casa Cucco and loved the apartment in the medieval town of Serralunga d'Alba!! Our tour of Tenuto Cucco was a great addition to our trip and much appreciated! We learned a lot about the wines of the region and Giovanni was very thorough in his tour and overall was a fabulous host!
Monica
2017-03-15T00:00:00Z
Really charming place in the heart of the wine region. The winery next store is also stunning. We were well looked after and it's definitely a good place to stay for being in the region!
Steve
2017-02-03T00:00:00Z
This was by far the nicest airbnb I've ever stayed in... the house was perfect, modern, and in the center of a small town that had a bunch of restaurants and shops as well. Perfect location in the middle of Le Langhe wine country; 20-30 min distance to all major destinations by car. The house was gorgeous, super clean and fully stocked with anything we could have needed including a bottle of wine, snacks, coffee and breakfast for the next morning. Hosts were also very considerate about letting us check in late and check out late. Highly recommended!! Thank you again!!
Katie
2017-03-19T00:00:00Z
Our stay at Casa Cucco was simply amazing, from the moment we arrived after driving through the spectacular rolling hills of Serralunga to the moment we left. The apartment is exactly as described (even better than the pics) and superbly located to all the sights and sounds of the surrounding areas. We would highly recommend a trip to this part of Italy, and in particular staying at Casa Cucco. Thanks again to Giovanni and Irene for making our trip amazing!
John
2016-09-13T00:00:00Z
What a treasure! We were warmly welcomed by Giovanni along with a lovely bottle of wine. The apartment is located in one of the gateways to the village so you have incredible views from every window. It's been beautifully renovated and has everything you could need for your stay. Its location is ideal for exploring the Piedmont area and its a joy to return to each evening. The first night it was a bit difficult getting used to the church bells; however, that soon dissipated. The bed is extremely hard; however, we soon got used to that as well. This is definitely a "going back to place"! Don't miss the opportunity to visit the Tenuto Cucco Winery. They are the owners of the apartment and you will understand why it was so lovingly restored. They also did a remarkable job on the winery. Definitely worth a visit! Grazie Mille!
Leslie
2016-09-18T00:00:00Z
Room Type
Entire home/flat
---
Property Type
Apartment
---
Accommodates
4
---
Bedrooms
Serralunga d'Alba, Piemonte, Italy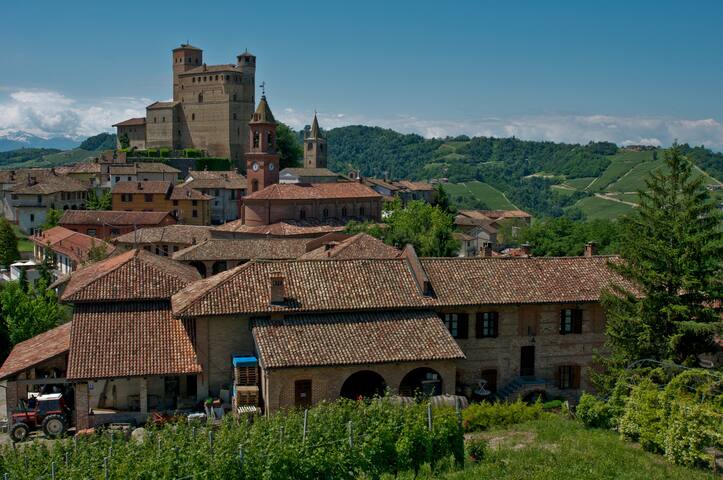 The house has two floors, upstairs two bedrooms and a bathroom. Downstairs a new fully equipped kitchenette and a fireplace, bathroom opening on the terrace. A cellar downstair offers a wide range of wines and a bbq area is also available
The house is in the hamlet of Collaretto , just outside Serralunga d'Alba, in the middle of the cru of Ornato and Vigna Rionda. It 's an ancient farm house newly refitted and equipped with modern facilities. It offers a beautiful view on the hills of Monforte, Castiglione Falletto and Serralunga, in the heart of the Barolo area. It's the perfect place for nature and country life lovers. There are also several trails that depart from the hamlet to other villages. Nice place for hiking and visiting wine cellars all around.
We stayed in the apartment with 4 persons (2 couples) and we really enjoyed our stay! The apartment is recently renovated and had a beautiful terrace overlooking the Barolo vineyards. The location of the apartment was great, just outside the village of Serralunga and all cities in the area (including Barolo and Alba) are easy accessible by car. I would really recommend this apartment to family and friends or go back here when visiting his area again.
Eline
2016-08-25T00:00:00Z
Stefano is a very open, sevice minded and friendly host! His appartment has the most magnificant view on the hills and vinyards of the Barolo. The appartment is clean, cosy and stylish and has all the things that you need to have a wonderful stay. If you visit Serralunga d'Alba, don't forget to have a late and liquid diner at Tre Casa!
Willem
2016-09-12T00:00:00Z
Stefano's home is located a bit outside of Serralunga right in the middle of vineyards. The splendid view is just amazing - beyond words, you just must see it. It let you feel "Barolo" - that's what it is. This was the first time for us to stay there but definitely not the last time.
Doris
2016-09-08T00:00:00Z
Stefano's place was really cosy and was in a magnificent and beautiful spot with a spectacular view. Everything was very clean and had everything you need. Great place and Stefano is a great host!
Niklas
2016-06-16T00:00:00Z
The place was exactly what we were looking for. A central location in the Borolo region for wine tasting. We loved the terrace overseeing the vineyards. The apartment was very well equipped and charming.
Marc
2016-07-22T00:00:00Z
We stayed at Stefano's place for 4 days in May. Stefano was very responsive to all of our needs before and during our stay. The apartment is situated in a gorgeous setting of rolling hills amidst small towns that are a pleasure to explore. It is quiet and peaceful. The apartment itself is tastefully decorated in both rustic and modern charm. It had all of the amenities we needed for comfort and the kitchen was well-equipped for cooking meals. The only thing I will point out is that the second bedroom is a loft space directly above the kitchen that one must pass through to get to the bedroom. So, it lacks some privacy. We were there with 2 couples and one baby and so it was slightly difficult without a door on the second bedroom. Overall, we were very happy with this place and would recommend it!
Sherri
2016-05-11T00:00:00Z
This Airbnb is simply perfect, set in a beautiful peaceful location , high up in the hills surrounded by vineyards. The house itself is designed and decorated to the highest standard, it's extremely comfortable and had everything you need. Stefano was extremely helpful with every aspect and was a pleasure to deal with. Lots of lovely villages nearby to visit, I could highly recommend staying here and we look forward to returning.
Aoife
2016-09-23T00:00:00Z
Stefano is very helpful and suportive! Thanks a lot!
Stephanie
2016-12-10T00:00:00Z
Room Type
Entire home/flat
---
Property Type
House
---
Accommodates
4
---
Bedrooms
Serralunga d'Alba, Piemonte, Italy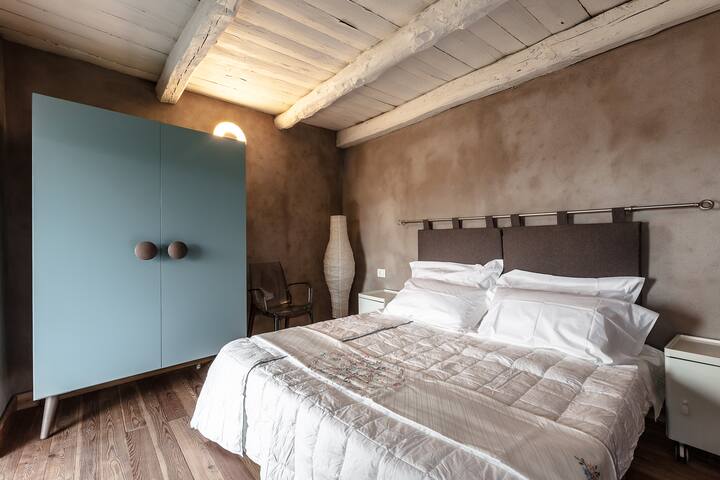 The room is part of a splendid villa with garden on the romantic hills of the Langa of Barolo, in Serralunga d'Alba. The room of 20 square meters is located on the grand floor of the home with wooden roof beams, sloping ceiling. You can stay up to 2 people. The bathroom is spacious with bath. The breakfast is served, in summer, on the patio that opens onto the garden magnificently overlooking the vineyards of Barolo with a breathtaking view of the Langhe hills. The breakfast is an Langa's interpretation of the American breakfast: fresh fruit of the trees of the home, homemade cakes, honey and jam of own production. Fresh homemade bread every day. Salam and cheese typical of the place. Nearby you will find fine restaurants and trattorias serving Langa food. During the summer in the countries of the Langhe tradition is to alternate a typical party with games, music and dancing, as well as barbecue or dinner with typical dishes, accompanied by fine wines. The country is not served by public transportation but is only 15 km far from Alba, accessible by train from the near town. The best way to visit the Langhe is by car or by motorbyke. We are always available to organize visits to wine cellars in Serralunga or in Barolo or in other countryjards, and to prepare itineraries for romantic trips by car or bike, walking or trekking. Bikes are very suitable to visit the Langa . Children of all ages will find themselves at home in the large garden to play with Max and Charlie, the red cat and the black dog of Vivaldo's home or to play in the rumpus room with table tennis or table football. Free wifi is available. Pets are absolutely welcome.
La camera fa parte di una splendida villa con giardino sulle romantiche colline della Langa del Barolo, a Serralunga d'Alba. Borgo medioevale di 500 abitanti situato nel cuore delle Langhe del Barolo, patrimonio Unesco. Serralunga d'Alba ha uno splendido castello medioevale, visitabile e il centro del paesino è un vero tuffo nel passato essendo rimasto praticamente intatto da secoli.
We stayed for 4 nights with Giuliana and her family. It is a beautifull house whith a beautifull view of he Serralunga hills and vineyards. Giuliana was very friendly and helpfull. The bed was very small for the 2 of us. We had to walk down to the cellar for the shower but that did not bother us much. Although we enjoyed our stay, next time we will look for a place with more privacy.
Marcel
2016-10-23T00:00:00Z
Everithing was perfect. The house is amazing and this part of Piemonte region is wonderful, especially for wine lovers. The host was very nice, she really makes me feel like at home.
Emanuele
2016-09-05T00:00:00Z
Soggiorno piacevolissimo, stanza accogliente e pulita, così come il bagno. Proprietari gentili e disponibili. La vista dalla sala è stupenda. Il simpatico gatto rosso dà una spinta in più! Consigliato
Giulia
2016-12-23T00:00:00Z
Casa posizionata nel cuore delle Langhe, in una frazione situata a 2 min di macchina dalla splendida Serralunga. La vista dal giardino è mozzafiato, vigneti a perdita d'occhio. Giuliana e famiglia cordiali e pronti a dare qualsiasi consiglio utile sulla zona. Assolutamente consigliato
Filippo
2016-10-16T00:00:00Z
Casa adorabile,Giuliana e la sua famiglia sono stati molto (URL HIDDEN) risveglio con vista sulle Langhe è impagabile,la camera confortevole e,anche se il letto è alla francese,il silenzio è molto piacevole.
Silvia
2016-09-11T00:00:00Z
L'alloggio é bello e curato in ogni sua parte. La proprietaria é molto carina e disponibile.
Maria Rita
2016-11-01T00:00:00Z
La casa è spettacolare e Giuliana e Aldo lo sono altrettanto persone squisite con le quali si può dialogare per ore e soprattutto sono disponibilissimi a dare info su cosa vedere e dove mangiare che i locali sono quelli che conosco meglio i posti quindi consigliatissimo!
Massimo
2016-10-30T00:00:00Z
Giuliana e la sua famiglia sono stati molto accoglienti e ci hanno dato tanti consigli sui posti da vedere, sui ristoranti e sulla sagre nella zona. La casa è molto pulita immersa nei vigneti con una bellissima vista sulle colline delle Langhe. Ci siamo trovati molto bene!
Roberto
2016-09-25T00:00:00Z
Room Type
Private room
---
Property Type
Villa
---
Accommodates
2
---
Bedrooms
Serralunga d'Alba, Piedmont, Italy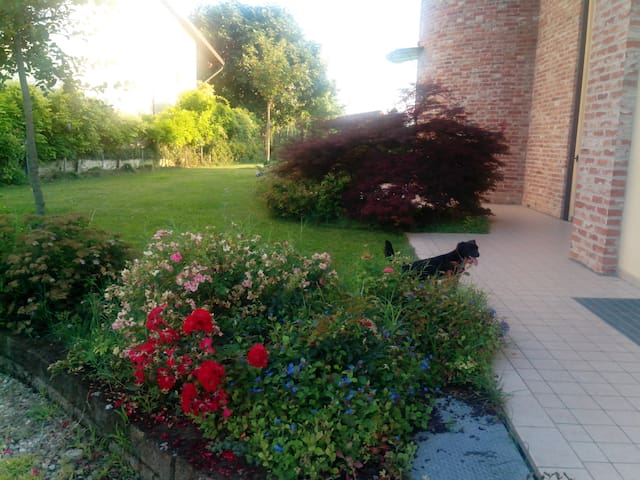 Apartment in eco-friendly home. In the quiet hamlet Annunziata of La Morra, La Notte apartment is the ideal accommodation to enjoy the silent atmosphere of the countryside.
Located on the second floor of a green building house, the apartment is fully furnished and can accommodate up to 5 guests. You'll be greeted with a terrace overlooking the Langhe and Roero hills. The great panorama will make your stay unforgettable! Completely independent apartment with separate entrance. Inside: living area with fully stocked kitchen (you are welcome to cook), one bedroom with double bed, opportunity to put up to three single beds in the private part of the living room, which can be closed, bathroom. The house is equipped with a natural cooling system. Private garden with plays for children and parking. •Terrace, overlooking the hills, furnished with table and chairs •Completely stocked kitchen (hob, microwave, dishwasher, coffee makers, coffeepot, tools, cookwares) •Wi-fi internet connectivity •Natural cooling system. No air conditioning, because it's an eco-friendly house. •Camping bed for free •Safe •Private garden with plays for children •Parking •Expenses included •Prices vary depending on the number of guests •Located within walking distance of two restaurants The apartment, partly surrounded by vineyards, is very quiet.. to enjoy nature in relax and autonomy!
La Morra, capital of the Barolo area, from its Belvedere offers an unmissable view overlooking the hills planted with vines. Renowned for its food and wine and the many wineries, La Morra offers a number of walking routes to the country lanes. Passing through the small roads that wind through the vineyards, you can breathe the charm of these hills, in direct contact with nature. Do not miss the Chapel of Barolo and the centuries-old cedar of Lebanon, which can be seen also from the apartment! Renowned food and wine area, the langa boasts excellent farms and restaurants of high (URL HIDDEN) La Morra you will find more than sixty winemakers, many restaurants and taverns. Among the most famous wines of the area's famous Barolo. Numerous local products, cheeses, hazelnuts, fine ingrendient of regional sweets. Suitable area for nature lovers, in Langa is no shortage of walks through the vineyards and trails.on the hills majestic medieval castles, among which that of Barolo, home to the brand new Wine Museum. Important cities for history and culture, Alba, Bra, Pollenzo and Cherasco, a true pearl of the Langa of Barolo. Just an hour's drive to Turin, a city rich in history and art, which is worth a visit.
A beautiful apartment with the best view in all of Europe. Stunning place to visit. Chiara is a fantastic host. Our only disappointment was that we should have stayed longer.
Mick
2015-06-19T00:00:00Z
La Notte apartment in La Morra is a gem! We stayed here for 5 nights whilst exploring the gorgeous region. The apartment looks the same as the photos and has everything you could possibly need - spacious, immaculately clean, all kitchen requirements, lovely breakfast goodies, washer, secure parking, wifi - but the crowning glory is the terrace overlooking a wide vista of vineyard covered hillsides and the rooftops of Annunziata. We spent every morning and evening out there drinking it all in listening to the church bells. The location is perfect for visiting the wineries and hilltop towns of the Barolo and Barbaresco regions. Chiara is delightful. Only a phone call away for anything you need and her local knowledge is fabulous. We highly recommend La Notte apartment and would love to stay there again when we get back to this part of the world!
Paula
2015-09-12T00:00:00Z
I can't say enough about how wonderful our stay at Chiara's apartment was. Chiara was out of town on the night of our arrival, but everything went smoothly as her kind husband met us and let us in. The apartment is on the top floor of their family home and is stunningly designed and situated with one of the best views in the Langhe (and that is saying something in this area where every road, village, and restaurant seems to have a more breathtaking view than the last). We travelled with an 8 month old baby. Chiara's apartment included a baby bath tub, a crib, and other amenities, such as a baby spoon. We used the living room area, which closes off with curtains and glass doors, as his room, and it worked perfectly. That living room is also much larger than it looks in the pictures and would work as a very nice second bedroom if you are in need of more than one bedroom. The location was also excellent. Annunziata is a small little hamlet outside of La Morra with one Osteria, one convenience store, and many wineries. La Morra is a gorgeous 5 minute drive up the hill, and the village of Barolo is about 8 minutes in the opposite direction. We were perfectly situated for exploring the area. Chiara gave us quite a few recommendations for food and villages to visit, which were all excellent. I also highly recommend taking a night to cook dinner yourself at the apartment, as the views there are better than what you will find at other places. We are so sad that our week is over, but will definitely try to return the next chance we get!
Jonathan
2016-08-06T00:00:00Z
Chiara and Emmanuel's apartment is just the perfect place to enjoy a holiday in La Morra and the Barolo region. Chiara was so helpful, from helping to carry luggage to calling to set up appointments for wine tasting and seeing that all of our needs were met. The apartment has a great view and relaxing on the deck with a glass of wine makes a wonderful evening. We like to sample the local cuisine but also occasionally for a simple evening like to cook ourselves. Her kitchen has all you need to prepare a fantastic meal and is very easy to use and care for. We really enjoyed our stay and hope we can return someday.
Steve
2016-06-26T00:00:00Z
We loved staying at La Notte - it's quiet, peaceful, and the views of the surrounding vineyards were splendid. There are great restaurants nearby - we loved More e Macine and the pizzeria in La Morra when we needed a simple meal (the Chef is certified pizzaiolo napoletano.) Chiara's is a gracious host! She was able to call and make reservations, was warm and helpful - wanting to make sure we had an excellent stay, and gave us a little bag of hazelnut chocolates as a gift when we left. Staying at La Notte was a highlight of our trip and we look forward to coming back some day.
Faun
2015-08-19T00:00:00Z
Very happy with la notte apartment. Chiara was a great host with great restaurant recommendations. She was very timely in getting back to all my emails prior to my stay and even arranged all my winery visits!! I will definitely come back to la notte when I return to the barolo area. The apartment was beautifully equipped and very modern in a quiet neighborhood between la Morra and barolo which is perfect. Easily can access all areas of the region and very close to the barolo alba road
Raphael
2014-11-18T00:00:00Z
La Notte apartment is such an incredible place. The photos do not do it justice. It's spacious, comfortable, and has everything you need to have an amazing time in the Langhe. Its 5-10 mins from everything in Barolo, has some of the best views around and Chiara is an amazing host that will help you make the most of your trip. Look no further, you found the right place.
Andrew
2016-11-17T00:00:00Z
What a beautiful place and what an amazing host. The place has everything you need for a brilliant holiday in Piedmont. The kitchen is fully stocked and the house is so comfortable and relaxing. Thank you Chiara for making our stay so special, we will definitely stay here again next time we visit the region.
Ben
2015-10-24T00:00:00Z
Room Type
Entire home/flat
---
Property Type
Apartment
---
Accommodates
4
---
Bedrooms
Annunziata, Piemonte, Italy
Situatato 450 meters above sea level with stunning views of the Heritage Langhe, surrounded by vineyards and woods. In full contact with nature and with a comfortable atmosphere that will allow you to relax by the pool.
Rustico, ideal for 2-4 persons, about 60 square meters. A 3 km from Mont Albert. From the terrace or by the pool you can admire the splendid castle of Serralunga. Our convenient location enables a convenient recipes from famous wine cellars with typical restaurants: visits to several medieval castles: walks in search of wild orchids and bike tours that will allow you to fully appreciate the nature around you. Strategic position to reach other hamlets such Barolo (13 km) Serralunga d'Alba (12 km) Grinzane Cavour (7 km) Monforte d'Alba (16 km) Bra (22 km) or Alba (11 km) capital Langhe and home to fine wines and truffles.
We had a lovely stay in Tizianas house. It looks like on the pictures and is a hidden gem if you are looking for a quiet place. Would go back any time!
Monika
2015-10-12T00:00:00Z
Highly recommended! Amazing house and amazing host. Unique experience and perfect place to enjoy the Langhe! :) grazie Tiziana
francesca
2016-07-09T00:00:00Z
We really enjoyed our stay in the nice house with a really beautiful view on the vineyards. Tiziana is very helpful an recommended a lot of good places to have dinner.
Nadja
2015-07-02T00:00:00Z
Excellent host. The house is beautiful, and the location is in the middle of rolling hills in Piemontese wine country. It is about 15 minutes outside of the town of Alba, but I didn't mind the commute at all...this place is well worth it! It is within easy driving distance to almost everything. Tiziana has excellent communication and was a very accomodating host. I will definitely be staying here again if the opportunity arises!
Luke
2015-10-05T00:00:00Z
The space is so very romantic. The view is stunning, the pool is calming, a typical Piemonte place to fall in love with. Tiziana gave us a list with all kind of restaurants. Ca del Lupo restaurant in Montelupo Albeze was delicious. Thank you Tiziane. Arriving at the street 'Via Mortizzo' it was a little of a search towards numero 77, because Via Mortizzo has a lot of little roads with a few numbers on each trail. Once you know it is no problem at all, as long as you have (SENSITIVE CONTENTS HIDDEN) Maps. So: we come back next year! Looking forward to it. We will work on our Italian speech
carmen
2015-06-14T00:00:00Z
Fantastic and beautiful location set the scene for what was an amazing visit to Piemonte. Such a peaceful and charming home. Great host.
David
2015-10-02T00:00:00Z
The house in the vine yards is just a jewel. We enjoyed the silence and the great view from the garden and the pool. Alba, Barolo, Bra - all the nice spots are available within 20 minutes. The was nothing we missed the house. In the kitchen we found everything we need to cook. Tiziane was very friendly and we felt comfortable with everything. Rolf & Rebecca
Rolf
2015-09-27T00:00:00Z
Tizianas place was lovely. Small and cosy, perfect for the two of us. We wanted to have a short drive to the wineries of Barolo, La Morra, Serralunga D'Alba and Monforte D'Alba, yet our own place for tranquility, cooking our own food and drinking nice local wines. The house gave us all we asked for and more, with amazing views of Piemonte just outside the window. Would love to come back next spring or fall. Tiziana was helpful and met us outside the house at arrival for keys, and even had prepared a list of recommended restaurants! Grazie Mille!
BellaViktor
2016-10-23T00:00:00Z
Room Type
Entire home/flat
---
Property Type
Apartment
---
Accommodates
4
---
Bedrooms
Montelupo Albese, Piemonte, Italy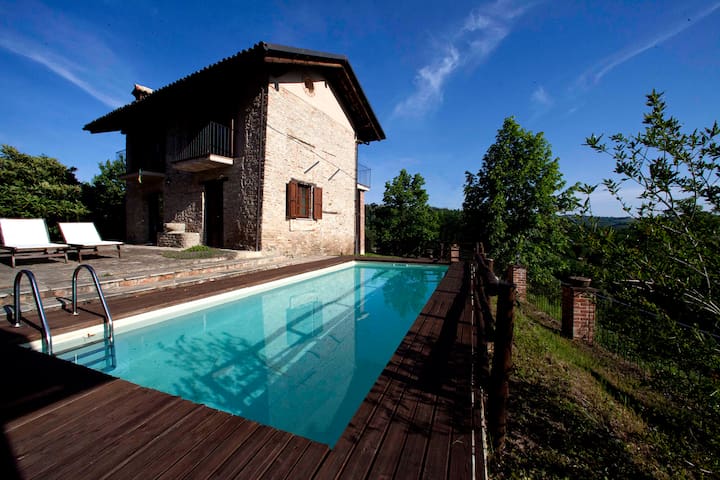 "il vecchio peso" the house is the original weigh bridge house in the centre of the quiet village of Perno a frazione of Monforte d'Alba. Lovingly restored in 2014 to bring back all the original stone work of the house but decorated with modern furnishings With a private garden, large balcony and large living spaces the house is perfect for a getaway in the famous wine country of Barolo. With breathtaking views of the vine covered Langhe hills through to the alps beyond Perno is the perfect base
The house offers space for couples, families or groups of friends to enjoy the Langhe region having their own space but yet being offered all the help and recommendations through the knowledge of the hosts as well as the assistance of the local reference point the amazing Raffaella at Gioco dell'Oca in Barolo. On two levels downstairs features a bedroom, bathroom, sitting/tv area and large reading area connected upstairs by a handmade staircase leads you to the kitchen/living area, master bedroom and ensuite bathroom and out to the terrace and garden
The Barolo wine region is famous for it's natural beauty with the rolling hills enveloped by the famous alps. The region is also famous for it's gastronomic delights including the "king of wines" Barolo and the mazing Piemontese cuisine made famous by the rare and delectable white truffle as well as porcini mushrooms and other great delights. Having run food and wine and cycling tours in the region the hosts can give you a wide range of recommendations for enjoying all the delights that the Langhe region can offer. The region is also very close to major cities of Turin ( 45mins by car) and Milan ( 90 minutes by car) and Genova ( 60 minutes) making these easy day trips to explore the grandeur and delights of these amazing cities. 45 minutes to both the mountains and the sea the region offers the best of both worlds!
The host canceled this reservation 80 days before arrival. This is an automated posting.
Jesslyn
2017-04-11T00:00:00Z
Room Type
Entire home/flat
---
Property Type
House
---
Accommodates
4
---
Bedrooms
Monforte d'Alba, Piemonte, Italy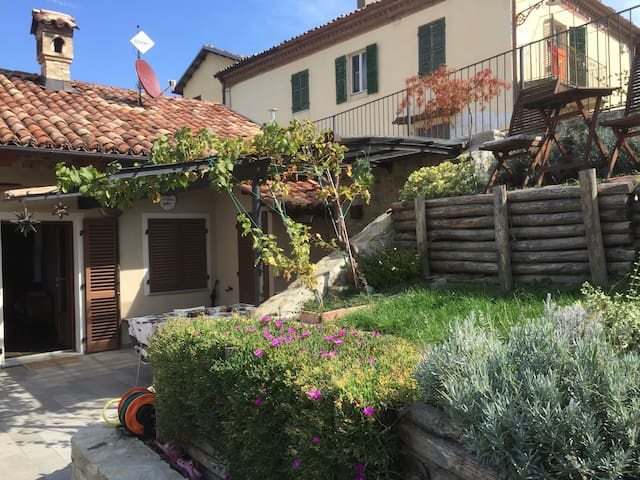 Elegant app.to trilocale in villa on two levels dedicated to Cavour, refined, evocative of the nineteenth century style, 48m² on the first floor + 50 sqm in the upstairs suite. fine finishes. equipped kitchen, sofa bed, two bedrooms, TV, WI-FI, air conditioning. Furnished terrace, parking space. In common area: washing machine and dryer, iron / ironing board. Breakfast in the room or in the common area (Convivio). Access to communal garden and outdoor communal pool.
three-room apartment in villa on two levels Dedicated to Camillo Benso - Politician and entrepreneur and supporter of liberal ideas of civil and economic progress, the statesman Risorgimento Cavour was minister and head of the Government of the Kingdom of Sardinia and in 1861 became the first President of the Council of Ministers of the new state Italian. In May 1832, at only twenty-two years he had been elected mayor of Grinzane, a position he held for seventeen years: the addition of Cavour to the municipal name, asked for and received from the municipality in the year 1916, he represented a sign of sincere gratitude towards' famous statesman. The Décor and furnishings: evoke the first half of Piedmont through the use of beige and gray colors, with walls decorated with grillage colored, silk fabrics, cherry wood furniture and lacquered ivory. Vintage print depicting the statesman at a young age. Location: First floor with adjoining suites on the top floor Nr. Of people: 5 adults or 4 adults and two children under ten years (sofa bed) Living area: 48m² + 50 m² on the first floor in the suite on the top floor - Living room and kitchen on the first floor, bedroom with bathroom, upstairs suite. Furniture: Elegant, refined, evocative of the early nineteenth century Piedmont style, wooden parquet, bathrooms and travertine terrace, painted decorations. Amenities: satellite TV, WI-FI internet access (inclusive). Air conditioning, underfloor heating. Bath in the attic. Equipped kitchen. In common area: washing machine, iron / ironing board, View: Panoramic. External (to use): large panoramic terrace with access from the living area, balcony overlooking the garden. Pool: Yes, shared with guests of the other apartments Access / parking: Parking in the garage in the basement Floor plan Entrance-stay: Living room sofa and chair, dining table, exit to large terrace. Kitchen living room equipped with induction hob 4 burner stove, oven, dishwasher, refrigerator, small freezer, coffee maker, dishes, water and wine glasses, cutlery, accessories for cooking. Tablecloth and napkins in linen. helical spiral staircase to access the upstairs suite Bedroom 1 double bed, bathroom attached to the room, with console and shower. Upstairs suite No. 2 single beds or alternatively a double bed, dresser, desk with antique chair, sofa bed, bath center room. Bathroom with shower and console
Room Type
Entire home/flat
---
Property Type
Serviced flat
---
Accommodates
5
---
Bedrooms
Castiglione Falletto, Piemonte, Italy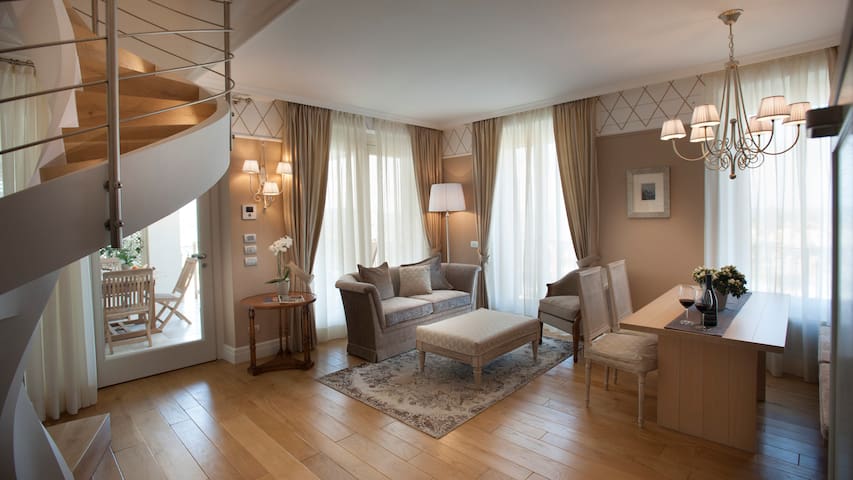 Comfortable apartment just steps from the center of Barolo. Recently renovated it consists of a large kitchen, a living room with sofa bed and a large bathroom. Excellent solution for couples who want to visit the Langhe, the apartment is in fact in the heart of the Piedmont region, 15 minutes' drive from Alba is in a great location for a vacation to discover vineyards, boshi, villages and castles of course to find out many food and wine that the area offers.
Beau logement propre et refait à neuf, situé aux pieds de Barolo. Facile d'accès, parking pour auto, lieu calme et agréable à deux pas des vignes. Équipement complet et confortable. Nous avons été très bien accueillis par Chiara et sa famille très disponibles, amènent et de bon conseil. Globalement très satisfaits de notre séjour chez Marco.
giulio et fabienne
2016-10-30T00:00:00Z
Room Type
Entire home/flat
---
Property Type
Apartment
---
Accommodates
2
---
Bedrooms
Barolo, Piemonte, Italy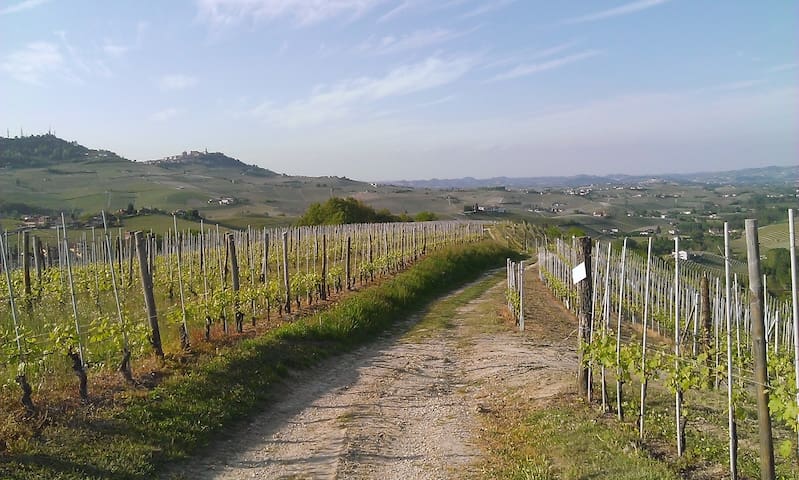 Our apartment is located in Castiglione Falletto, a small medieval hamlet in the heart of the Langhe. Located in the center of the village, the accommodation is suitable for families (with children) and furry friends (pets). Excellent starting point for visiting the vineyards named a world heritage site.
The apartment is about 70 square meters, consists of small entrance, living area with equipped kitchen, 2 bedroom (either with double o twin beds) and bathroom. Ideal for families (also with children) and couples of friends. On request we can add a baby cot for kids up to 2 y.o.
In the heart of the Barolo area and a few kilometers from Alba, the capital of the Langhe and most valuable truffle in the world, is Castiglione Falletto, a small medieval village that now has just over 700 residents. Here the atmosphere is familiar and peaceful, we all know each other and when you meet someone on the street is a must a wave in greeting. The calm is broken mainly by the tolling of the bells that announce the passing of the hours. In the village, in walking distances from the apartment, you will find 3 excellent restaurants serving local cuisine as well as a small grocery store. A bigger supermarket is available in Gallo, 5 minutes driving.
Room Type
Entire home/flat
---
Property Type
Apartment
---
Accommodates
4
---
Bedrooms
Castiglione Falletto, Piemonte, Italy
New attic (102 mq) in the center of Barolo on the second floor, fully furnished. The kitchen is equipped with hob, oven, cooker hood, micro wawes, dishwasher, refrigerator with freezer and washer dryer.
Lodging located in a quiet area, with limited transit cars. Excellent starting point to visit Langhe e Roero.
Barolo village can be reached on foot in every place. Recommendet own car to neighboring countries movements. Public transport insufficient.
Room Type
Entire home/flat
---
Property Type
Apartment
---
Accommodates
5
---
Bedrooms
Barolo, Piemonte, Italy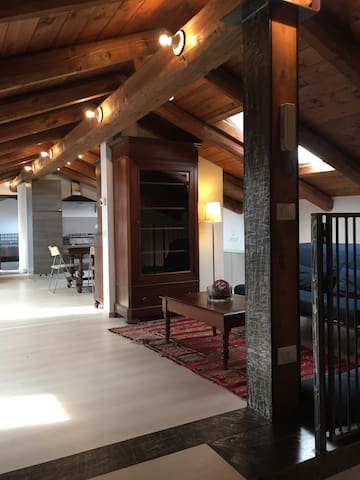 Nice apartment of 50 square meters, recently renovated, part of an old building located in the heart of Barolo, a few steps from the Falletti Castle, seat of WiMu. On one corner of the building is a sacred effigy (only in Barolo) from the second half of the fifteenth century. L 'apartment has a living room, kitchen, bedroom, living room (convertible into a second bedroom) and bathroom with shower.
Room Type
Entire home/flat
---
Property Type
Apartment
---
Accommodates
4
---
Bedrooms
Barolo, Piemonte, Italy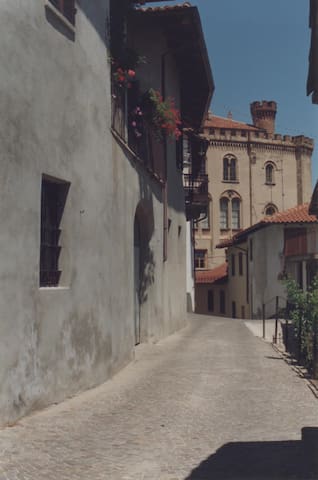 6 km from the center of Alba, a recently renovated house in the hills of Barolo
The house arranged on 2 levels, is composed of a large living area with fully equipped modern kitchen. A small room with bathroom with separate entrance, adjoining the ground floor can accommodate 2 additional people. A large garden overlooking the hills of Serralunga, home of Barolo, is equipped with relaxation area, barbecue area with table suitable to accommodate guests of the house and a nice pool of 6x4 meters ideal for children
Room Type
Entire home/flat
---
Property Type
House
---
Accommodates
13
---
Bedrooms
Castiglione Falletto, Piemonte, Italy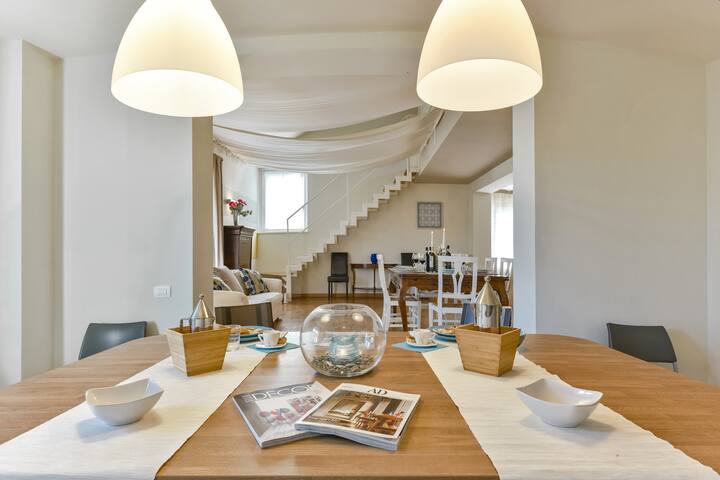 In the historical center of Barolo within walking distance from the castle's oldest floor of houses it has been renovated as an apartment. Cottage with all the amenities. Large terrace under the pergola for the summer, lounge by the fireplace for the winter.
Of 110 square meters it has a double bedroom, a mezzanine with 2 single beds, a dining room, a lounge with fireplace and a large kitchen. The terrace enjoyable in both summer and winter has a swing and a table with wooden chairs.
The district of La Giolitta is positioned in the old haunt of Barolo core, 60 meters from the Marchesi Falletti Castle houses the Regional Barolo and WINE MUseum.
Daniela was such a lovely and pleasant host! Her and her husband came out to greet us and she was easily accessible beforehand. She patiently took the time out to explain the neighborhood to us and even went above and beyond to get us information on future trains we needed to take. Her home is beautiful w/ gorgeous views of the vineyards!! Very rustic and charming and very very spacious and has all the amenities you need, plus more. Her home is within walking distance to all the town's restaurants and stores. She called a taxi for us when we needed. It was also nice and convenient that we could leave our stuff at her place after we checked out. We would definitely recommend her place!
Susie
2015-08-10T00:00:00Z
What an amazing place! Barolo is incredible and the house was beautiful. Photos do not do it justice. Stunning courtyard and so much space. Thank you. Loved our stay
Sarina
2016-09-17T00:00:00Z
We were greeted warmly by Daniella and given a welcoming tour of the large apartment. The apartment is fully outfitted. The unit is perfectly situated in Barolo within easy walking distance to the sights and restaurants. Daniella provided great recommendations for eating and wine tasting.
Charlie
2016-06-03T00:00:00Z
Daniela was the perfect host. She greeted us immediately upon arrival and was easily accessible. She even cooked us a fantastic breakfast on our last morning. The apartment itself was extremely modern, spacious, clean, and in downtown Barolo. I couldn't recommend the host or apartment any higher. You will not be disappointed with Barolo and its people.
Brian
2016-10-04T00:00:00Z
Room Type
Entire home/flat
---
Property Type
Apartment
---
Accommodates
4
---
Bedrooms
Barolo, Piemonte, Italy
la casa più antica della borgata, sogno di una vita per Pippo e Flora.
In 15 anni Pippo & Flora, due persone uniche e di cuore e che forse sono l'attrazione migliore, hanno completamente stravolto e ristrutturato la loro dimora, ma la sua storia la si può ancora percepire attraverso bellissime volte in mattoni a vista e alcuni particolari voluti mantenere per non deturparne la storia. Immersa nella langa, proponiamo una stanza adatta alle notti estive, perché molto fresca, dotata di divano letto matrimoniale e, se necessario, anche di una poltrona letto; entrata autonoma, bagno privato e possibilità di usufruire della cucina secondaria ( cucina degli anni 70 che probabilmente i miei genitori hanno scelto di non buttare perché un ricordo del loro matrimonio). La camera accede direttamente al cortile principale dove c'è un posto auto riservato agli host, mentre passando per la cucina si può accedere al cortile posteriore dove, sotto un terrazza, si può mangiare e rilassarsi.
la casa si trova in una vallata ai piedi della collina di Diano d'Alba. a pochissimo chilometri da Barolo, Serralunga, La Morra, Monforte e tanti altri paesini tipici. una zona ricca di vigneti e cantine.
Famiglia super-accogliente e con un'ottima modalità empatica di relazione comunicativa, unita a capacità di essere presenti, ma non invadenti.
Raffaela
2016-12-03T00:00:00Z
Room Type
Private room
---
Property Type
House
---
Accommodates
3
---
Bedrooms
Diano D'alba, Piemonte, Italy
The B & B House in Barolo is located in the town center, in the heart of the Langhe, in a typical Piemontese house start 900 recently renovated. It 'consists of 3 large rooms with private bathrooms and a common room where breakfast is served.
We have 3 spacious rooms equipped with all comforts and private bathrooms. A bedroom with bathroom is also suitable for people with reduced mobility. We offer our guests a rich breakfast of local products, jams and homemade cakes. Extra bed or cot are available on request and subject to confirmation by the b & b. And 'free internet access available Wi-Fi.
Despite being in the town center, the house is surrounded by nature, with plants that create an intimate and relaxing environment. Opposite they are vineyards and hazel is very near the forest of the Fava, from which you can reach, through paths through woods and vineyards, the village of Monforte.
A great stay at Maria Pia, very patient and warm person, great location for wine and dine, hiking, clean and large room.
Emmanuel
2016-10-17T00:00:00Z
Casa in Barolo is elegant and rooms are so clean and quiet. Bed is comfortable. House has a beautiful outside sitting area and offers a great breakfast. Pia Maria is a superb host who will assist her visitors with all the necessary information about the city and places of interest. This place is a gem!
Bogdan
2016-09-25T00:00:00Z
This was a beautiful and very authentic place to stay in central Barolo. Maria is a great hostess who warmly welcomed us into her lovely b&b. She gave great tips on places to visit and her place is perfectly situated in Barolo. Extremely nice and generous with great home mad jams and cakes for breakfast. Large room tastefully decorated.
Keiko
2015-11-14T00:00:00Z
Maria and her family really made us feel welcome in their beautiful b&b. The room is beautiful and the breakfast is amazing! Maria bakes all the cakes herself and they are the best! I will definitely come back. Thank you for everything!
Diana
2015-09-21T00:00:00Z
Our stay with Maria was outstanding! This location in Barolo is excellent, private parking, secure, and it felt like home. The room was very clean and comfortable. The breakfast Maria put out was a wonderful traditional Piedmonte breakfast. You would be hard pressed to find better accommodations in a top rated hotel. If you are looking for a good place to stay that is more relaxing but still offers access to the many towns and wineries in the Barolo region, you should look no further. The restaurants in Barolo are excellent, and if you are looking to pop into Alba for a more urban experience, it's a short drive away. However the best part is getting back to Barolo and unwinding with a glass of wine and a scenic view (any direction you look.) We cannot emphasize how wonderful our stay was here, and would recommend it to anyone looking to visit the Barolo region. We're certainly already thinking about when our next visit will be.
melissa
2016-04-10T00:00:00Z
The stay was wonderfull, just like the room (bright, spacious, very clean) and the breakfast (lot of homemade stuff which was delicious). Our host was friendly and helpfull and made good recommendations for food and wine
Karin
2016-08-17T00:00:00Z
Maria and her husband are very warm and nice people. They gave us everything we need. The room is spacious and clean. Everything was perfect. I really appreciate Maria and miss her.
Eunju
2016-07-24T00:00:00Z
We booked at short notice and Pia Maria was incredibly accommodating for us. The room was immaculate and as pictured. Parking was great and had great access to a walking track. I can't say enough how amazing Pia Maria was and very helpful with suggesting wineries and was also an excellent cook. Would definitely stay again if we come back to Barolo. Thanks Pia Maria!
Greta
2016-08-20T00:00:00Z
Room Type
Private room
---
Property Type
Bed & Breakfast
---
Accommodates
3
---
Bedrooms
Barolo, Piemonte, Italy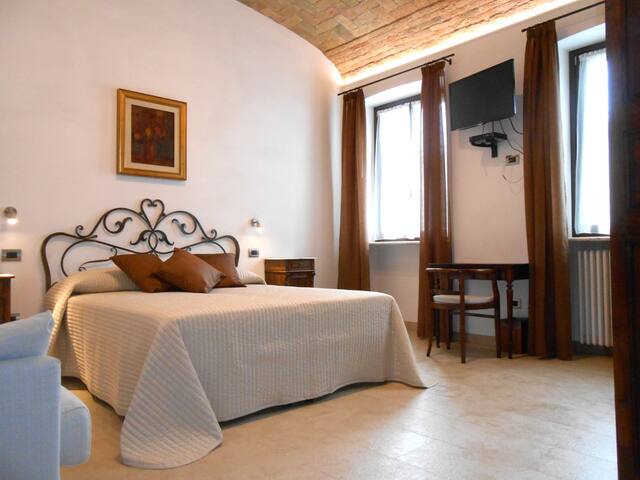 Enter dates to see full pricing. Additional fees apply. Taxes may be added.