7 mins from Downtown Cincinnati & Newport On The Levee. Enjoy the Pet Free 2 Bed/2 Bath Condo. Includes breakfast, coffee, & tea. Make yourself at home. Use the pool, gym, & sauna. Enjoy great food, nightlife, art, & sports event.
My home is your home. Includes Free WiFi and access to the washer & dryer. My home has a spacious, clean, and comfortable living space. The patio is perfect for enjoying your morning coffee or watching the sunset. Take advantage of the gym, sauna, and outdoor pool.
This safe neighborhood is quiet and surrounded by nature. Cincinnati is a fun and friendly town having the perks of both a big city and a small town. Downtown Cincinnati, a 7 min drive, is a great place for nightlife, the arts, parks, and sports. The Banks and OTR are HOT right now! Great food for you foodies!
My wife and I were nervous about finding the perfect place to stay for our honeymoon and when all of the hotels in town were booked for the week all we could think to do was to go on this site. Jasmine was an incredible host, and her home was the perfect place for us to stay on our first week as a married couple. Everything was tidy, well organized, and we enjoyed the freedom we experienced to use whatever we needed. Jasmine knows her way around downtown like the back of her hand and recommended amazing places for us to dine. Overall we had an unforgettable experience!
Nick
2016-07-10T00:00:00Z
Very nice jasmine was indeed! From time I walked in a very nice decorated comfortable feeling when I arrived. Her hospitality was incredible. She made me feel so much at home and very helpful with suggestions around the area. Would definently stay again and enjoy.the description was great and matched perfectly.
Derek
2016-04-03T00:00:00Z
Thank you Jasmine for allowing us to use your home for the monthwe were visiting her family in Cincinnati. Since we were visiting her family they showed us around town and the various restaurants and activities. Jasmine was always ready to be there for suggestions so we could've used her too! We enjoyed our visit hereand plan on coming back perhaps when we visit our kids the next time!The location could not have been better ,we were so close to everything! Jasmine's home was very comfortable and it felt like home to us!
Diane
2017-02-28T00:00:00Z
What an excellent find! We're definitely keeping Jasmine's place in mind the next time we're in the area!
Lane
2016-10-11T00:00:00Z
Jasmine was very welcoming, showed me around the place and we took a few minutes to get to know one another. She's always willing to sit down for a chat, very friendly and caring. The location worked well for me, close to just about anything within the Cincinnati area.
Adam
2016-05-09T00:00:00Z
The apartment matched the description and it looked exactly the same as in the pictures. It was big, beautifully decorated, and very clean and comfortable. The kitchen was well equipped and Jasmine had even stocked the fridge with breakfast food, which was really nice. I didn't have a car during my stay here, but an Uber took me downtown in about ten minutes. You can get easily to downtown Cincinnati and other places nearby, but at the same time you get to enjoy the peace and quiet of this neighborhood. I would warmly recommend this place to anyone!
Taru
2017-01-10T00:00:00Z
Great place in safe neighborhood close to down town river walk and ball field. We were there for a wedding and having two bathrooms was great. Beds comfortable and place clean would recommend this place and would stay here again.
Danielle
2016-10-31T00:00:00Z
The entire visit went very smooth. Jasmine communicated very well and everything we needed for a comfortable stay was provided. Would recommend without hesitation. Location was close to highways which is convenient.
Norman
2016-08-18T00:00:00Z
Room Type
Entire home/flat
---
Property Type
Apartment
---
Accommodates
4
---
Bedrooms
Southgate, KY, United States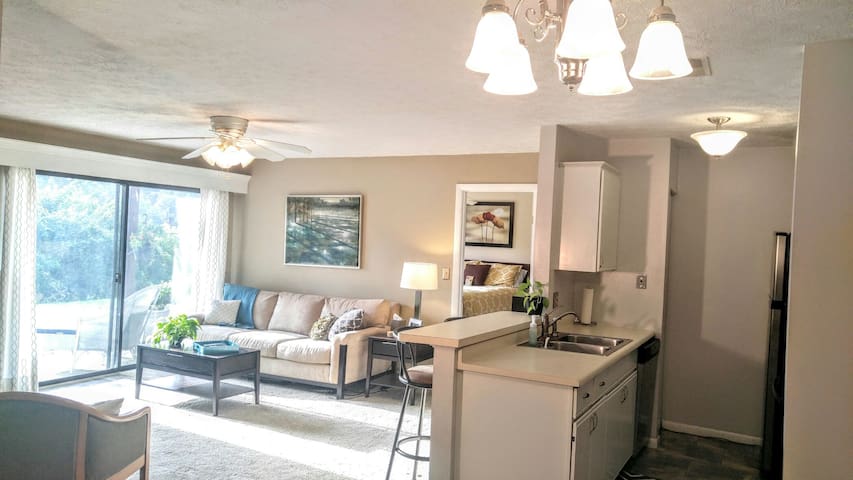 Great condo in a quiet neighborhood near Northern Kentucky University. A spacious open floor plan only 9 miles from downtown Cincinnati and 8 miles from Newport Levee fun. Open floor plan with 3 bedrooms, kitchen, 2.5 baths (including a large bathtub in master suite)& a fireplace. Fully stocked kitchen for your culinary adventures. Tea assortment and coffee available with a traditional coffee maker and hot water kettle. Pool access in summer months and fitness room access available.
2.5 baths, great kitchen, 2 dining tables, 1 king bed, 1 queen bed, 1 twin bed and a pull out sleeper sofa is available in 3rd bedroom. May not be suitable for young children due to stairwell upon entry to upstairs level condo. Once up the stairs, the whole condo is one floor. Plenty of DVDs, Blue Rays and games to play as well as Wii and Xbox games.
Quiet subdivision just minutes from Newport, Florence, Downtown Cincinnati and professional sports stadiums. Walking path around pond in neighborhood. Catch & release fishing allowed. Fun little playground also within walking distance. Restaurants near by that also have gluten free options: Ruby Tuesdays, Long horn steakhouse, La Rosas (italian), Mellow mushroom (great pizza), Chipotle, Pita Pit (mediteranean), Skyline chili and Applebee's. I also recommend Paradise Restaurant and Cafe-Mediterranean and Greek food within walking distance.
The place was far nicer than the pictures display. And spacious! Perfect for our small group. Not too far from the Ark or Museum. We really enjoyed our stay here!!
Monica Cadie
2017-01-05T00:00:00Z
Spacious
Stacie
2017-01-22T00:00:00Z
Amy's place is perfect for families or individuals staying in the area. It is scenic and quiet but closest to all of the amenities that you need. Her home is beautiful, spacious, and the perfect place to unwind. It's even better than the pictures online. As an added bonus, she's a great hostess.
Steve
2016-12-28T00:00:00Z
Room Type
Entire home/flat
---
Property Type
Condominium
---
Accommodates
6
---
Bedrooms
Cold Spring, KY, United States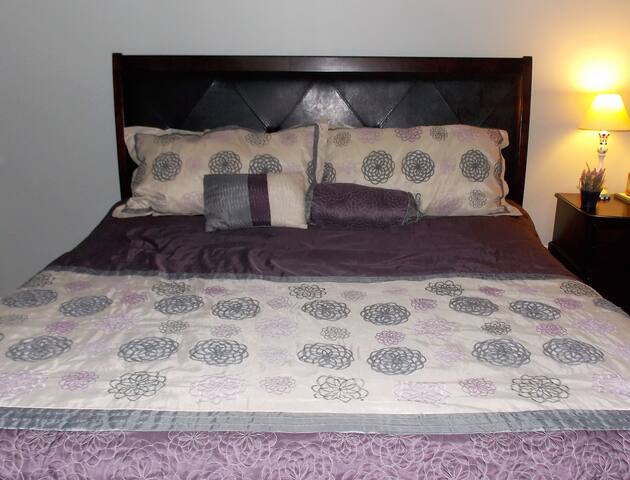 Homey & full of life w/lots of separate spaces! The man cave (sofa bed) & private bedroom (single bed) in the basement can be solely for guests. You may also use our ample kitchen, dining room, living area, bathroom, solarium, covered porch & deck. We live 5 mins from Cincy, 275 or 75. Great for students/parents of NKU, Thomas More, UC & surrounding schools if you need temporary housing. There are several parks near us if you are outdoor enthusiasts like us! MUST LOVE PETS!
A private basement floor & access to all the amenities of home. Close to NKY/Cincy schools, attractions, highways. You need travel no more than 10 mins in any direction to find what you need!
We love the convenient local of our home bc we travel all directions for work & play. We often host bon fires w/friends & have ample space for visitors.
Room Type
Private room
---
Property Type
House
---
Accommodates
2
---
Bedrooms
Covington, KY, United States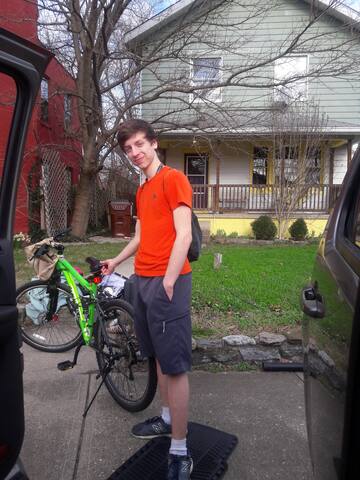 We are minutes from downtown Cincinnati, Ohio and historical Newport, KY. Yet you will be staying on a Horse Farm! We have a hemlock board and batten style cabin just 100 feet from a 22 stall horse barn and indoor arena! Enjoy the sound of nature in a rocker on the porch. We have chickens, a goat, a rabbit and loads of horses! Use the fire pit and enjoy a cocktail while you soak up the country evenings.
The cabin was amazing and quaint. All the staff were excellent and friendly and truly went above and beyond.
Jenna
2016-11-13T00:00:00Z
Everything was great. It was real quiet so I slept well. There was a cat who followed me around and became my buddy. The roosters crow got me up and going in the morning. I just wish I could've stayed a little longer to see more of the horses.
Zack
2016-10-19T00:00:00Z
Noelle was a great hostess. The shower was fully adequate after a few minor adjustments, and the beds were a godsend after our streak of camping in tents. Plus, where else do you get to stay at a horse farm? Very unique experience
Claire
2016-08-28T00:00:00Z
Definitely a great place to get away. Absolute gem! Very private accomidation and friendly people. Will visit again for sure.
Jason
2017-03-12T00:00:00Z
Just as described. We loved it!! Spacious and friendly. Will definitely be back.
Marty
2016-09-05T00:00:00Z
Anna's place was beautiful, cozy and an overall wonderful experience. I highly recommend staying here
Jeff
2017-01-08T00:00:00Z
This place is a great value, would definitely stay again.
Jon
2016-09-25T00:00:00Z
After driving most of the day and evening I arrived at what I would consider feeling right at home! I have always loved horses and ranch life, so bedding down in their comfortable cowboy like bunkhouse felt extremely comfortable! Then waking up to ranch sounds like horses, goats, and a very friendly kitty cat made getting up a joy!
Jonathan
2016-10-10T00:00:00Z
Room Type
Shared room
---
Property Type
Cabin
---
Accommodates
8
---
Bedrooms
Melbourne, KY, United States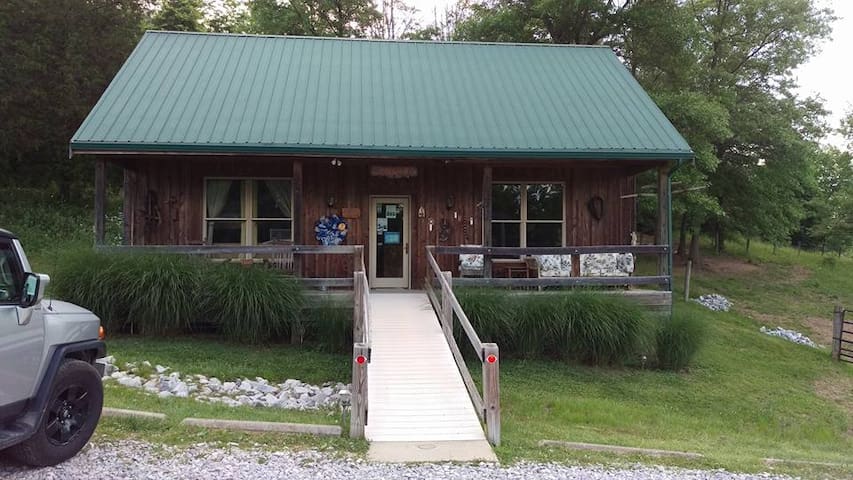 A private, second floor suite in our 100 year old Newport home: bedroom, bathroom, dining room and coffee room where you can sneak a peek of the Cincinnati skyline. We are only a ten minute bus ride (or a 2 mile walk) away from a Red's game!
The private suite in our home, Labbato's on the Knob, is nestled on on top of Old Spaghetti Knob in Newport, KY. Italian immigrants flocked here because of the resemblance to their home country when the area was being settled many years ago. Just minutes away from Newport on the Levee and downtown Cincinnati, the adventurous guest can take the mile long walk to the aquarium or head across the bridge one more mile to a Red's baseball game. The view from up the street offers a breathtaking perspective of the city. Guests can enjoy the privacy of an entire upstairs suite complete with private entrance, bathroom, dining area and bedroom. Although the room is on the smaller side with a full-sized bed, plenty of closet space is available to store your luggage to help keep the room feeling tidy. A mini-refrigerator and microwave are available 24-7 to store and reheat your leftovers from all of the delicious restaurants within the heart of Newport.
The view of the skyline is breathtaking from the top of our street. Enjoy a nice walk in our quiet neighborhood full of wonderful people. We are within walking distance of so many things in Newport and Cincinnati and are steps away from the TANK bus stop which will deliver you practically to fountain square in downtown Cincinnati (unless you get off before, at Newport on the Levee). Our neighbors have been so welcoming of our guests! That is why we ask you to park in the driveway (plus, you always have a spot!). Wallgreens is down the street and open 24-7.
Hosts were great. They communicated quickly via text (which was super easy for me) and left detailed instructions on where to park and how to get in. The neighborhood is pretty busy but considering how many cars were on the street the place was very quiet. It also happened to be hotter than an oven while we were staying- yay humidity! Luckily there was a personal air conditioner in the room. The house was lovely and you get the whole top floor to yourself. I didn't have time but the bathtub looking incredible too.
Zori
2016-07-24T00:00:00Z
Marietta and Perriee were very helpful and accommodating. Had a great a time at a great place!!
Jamie
2016-05-09T00:00:00Z
Marietta and Perriee were extremely accommodating with our late check-in, as well as allowing my significant other and I to meet, and even play with, Mr. Mittens! The space was located only a few minutes from the Aquarium and the Levee, with plenty of shops and restaurants to enjoy. I'm fairly tall (6'3), and really enjoyed the shower and large mirror in the bathroom. Although we did not make use of the sitting area it did offer a beautiful glimpse of the city at night. Overall we thoroughly enjoyed our first Airbnb experience and our gracious hosts. Thanks again! --Garrett and Katie
Garrett
2016-03-07T00:00:00Z
We had an excellent stay! Marietta and Perriee were welcoming and helpful hosts. The accomadations were exactly what we expected and then some. The newly update bathtub was quite nice. We have zero complaints and would love to stay again. We highly recommend this stay for a couple looking for a little romance and a lot of fun.
Jake
2016-06-13T00:00:00Z
Marietta and Perriee's house is adorable! Definitely has a personal touch to it! In addition to the bedroom, there is a small room to eat in and a cute little coffee area so you have plenty of room to yourselves. Our gps sent us to the wrong house but they quickly guided us a few streets over! We came into town for a show and used Uber for the night so it was great that we could park our car in the driveway!
Erica
2017-01-29T00:00:00Z
My husband and I drove up for a Reds game and some skydiving for his birthday. We decided to try AirBnB for the first time at Marietta and Perriee's place and it was wonderful! Easy walking distance to Newport a $10-20 Lyft ride to the game depending on the time. The place itself was exactly what we needed. A comfy bed, tv in the room with a VCR and a selection of VHS and Wii (perriee was gracious enough to offer to help with connecting/disconnecting). Nice clean bathroom with great water pressure in the shower. Marietta and Perriee were AWESOME! Marietta made sure not to message after a certain time since this was a suprise. They were both home when we arrived, gave us our key and showed us around. We even shared a walk into Newpot the first night and were able to find out a little about their lives. Definitely would recommend!
Brandi
2016-05-04T00:00:00Z
We had a great time. Marietta and Perriee were wonderful hosts and we really enjoyed the home, neighborhood and overall experience.
Jenny
2016-07-07T00:00:00Z
Perriee met us and made us feel very welcome. We had the upper floor to ourselves and it was very clean and tidy. It is close to a supermarket and restaurants.which makes it very convenient.
Susanne
2016-01-04T00:00:00Z
Room Type
Private room
---
Property Type
House
---
Accommodates
2
---
Bedrooms
Newport, KY, United States
This home and location have so much to offer!! Plenty of room to have a large group and so much to do close by! You are only a short Uber ride away from all that downtown Cincinnati and Covington have to offer. Fine dining, bars, sporting events (namely the Reds and Bengals), concerts and plenty of entertainment for the kids too, with the Cincinnati Zoo, Newport Aquarium, Museum and Smale Riverfront Park close by. You will certainly appreciate everything greater Cincinnati has just minutes away!
The house offers a nice open layout with almost all new furniture. There is a large front porch to relax on as well. There are 3 large bedrooms and two full baths. If there are more than 7 people, we have a few fold up twin beds that we will have setup and ready to accommodate your large group.
We know many of the neighbors and they are very nice people. We ask that you enjoy yourselves, but on the same token, please be respectful to our neighbors. We have some dining recommendations in the binder on the "welcome table". There are many nice restaurants and many local restaurants that are exclusive to the Cincinnati area that you may want to try while in town. You won't regret it!
Room Type
Entire home/flat
---
Property Type
House
---
Accommodates
10
---
Bedrooms
Covington, KY, United States
Come stay in this peaceful place! All you need is your toothbrush & clothes. Fully furnished & close to interstate/convenient to NKY and Greater Cincinnati areas. 2 FULL KITCHENS, King, 2 Queens, Full & Twin . Hostess wants your stay as amazing as possible! Grill Firepit, deck, fenced yard.
**cable TV is present (x4) at this place.....All the comforts of home!! Fully furnished house PLUS 2 full kitchens. There are two bedrooms...KING size bed on main floor bedroom as well as SMALL couch to sleep on in living room as well as downstairs if needed. Also have twin daybed on main floor. Full bed in basement floor bedroom, as well as 2 additional queen size beds on basement level. Can try and make arrangements for additional sleeping accommodations if needed- JUST INQUIRE BEFORE BOOKING. House has SECOND full kitchen on basement level. Laundry on site. High-speed internet, cable TV, DVD and blue ray, printer available also. Fenced back yard, deck with table and chairs, gas grill and fire pit. Covered front porch with chairs. Urban chicken coop in backyard complete with 8 hens. FRESH EGGS will available during your stay. Many plants, herbs and vegetable garden items on premises,including McIntosh apple tree and two pear trees.
Close to Interstates, Krogers WalMart, local shopping and restaurants & bars. DEFINITELY gonna want to try WALTS HITCHING POST, great food, live music. Reservations encouraged. I have left a collection of menus from area places at the house for your perusal. If you expect to have more than 2 vehicles parked on street during your stay please contact host to discuss those arrangements.
We had a wonderful stay. Tyra as flexible with the arrival time, the place was clean and surprisingly large. The chicken coop (FRESH EGGS) was a fun and interesting part of the house. We would certainly stay here again- we had no issues, and no complaints.
Jack
2016-05-23T00:00:00Z
Great host. Very accommodating and made our trip with friends relaxing and non stressful. Very cute eclectic home.
Amy
2016-10-02T00:00:00Z
Tyra did a great job of making us feel welcome - from meeting me in person to show me the house to having some food and drinks stocked in the fridge. She had a welcome sign on the chalkboard, too! The house is very homey filled with lots of supplies, yet at the same time you definitely feel like you have space for your things. The house was very much as described on-line and great for our party of 5 adults and 1 infant. The big dining room table was perfect for meals and games, while the living room was cozy for talking and watching a movie. We had fun with gathering the chicken eggs and eating them for breakfast. There was no issue of noise from them at all. We enjoyed being so close to CVG for airport runs and being so close to things to do in Newport and in Covington. Thank you!
Jessica
2016-01-19T00:00:00Z
Tyra was an absolutely amazing hostess and we LOVED our stay. She made sure we had everything we needed and really went above and beyond the usual. The house was beautiful. We were very comfortable in the neighborhood and enjoyed our stay. Will book again.
Elsa
2015-05-18T00:00:00Z
Tyra was an amazing host! This being my first Airbnb experience I could not have asked for anything better! Tyra welcomed our group with a box of doughnuts and stocked the fridge with groceries prior to our arrival. It was very sweet of here to go out of her way! We had a large group and we had no problem sleeping everyone as she has 5 beds in the house! I will defiantly be back when in the area!
Bobby
2016-06-13T00:00:00Z
Tyra went above and beyond accommodating the needs of my large group. The house was perfect, from the great wifi connection to the comfy beds and great amenities that you just won't find in a hotel. The location was excellent, a clean and quiet neighborhood, just a super short ride to downtown Cincinnati. I'd highly recommend Tyra's house to anyone travelling to Southwest Ohio or Northern Kentucky. We'll definitely consider her first for any future visits to the area. Thanks for everything Tyra!
John
2016-05-31T00:00:00Z
Tyra went above and beyond to be sure our stay was perfect! She was extremely accommodating with our tough schedule, her house was better than described, and she put a lot of work and time into making sure we were comfortable and didn't have any problems. I would absolutely recommend Tyra for anyone interested in staying in the area, and look forward to staying there every time I am in the area. Thank you!
Kevin
2015-06-12T00:00:00Z
Tyra is a wonderful host. The house is comfy and cosy, the neighborhood is convenient and quiet. Overall we had an excellent stay.
Dee
2015-08-08T00:00:00Z
Room Type
Entire home/flat
---
Property Type
House
---
Accommodates
11
---
Bedrooms
Latonia, KY, United States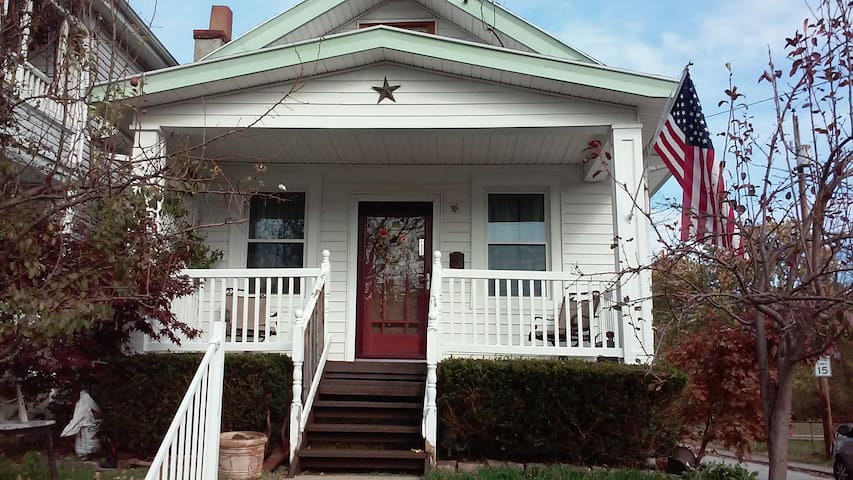 My place is close to local restaurants and coffee shops. Also 15 mintues to Cincinnati.
Room Type
Entire home/flat
---
Property Type
Apartment
---
Accommodates
2
---
Bedrooms
Fort Thomas, KY, United States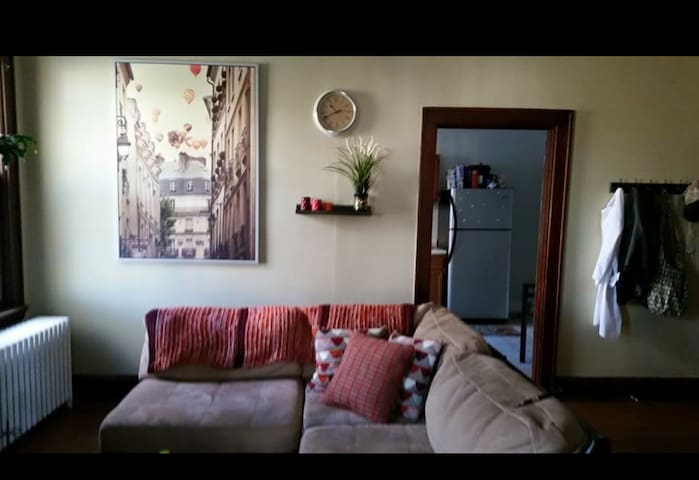 Walking distance to the Newport on the level also at night the backyard has a fire pit and can see fireworks of reds statuim and WEBN fire works when the event is in sept it is hard to get a hotel the price if the room on that weekend will go up according to the need. It is a very eventful event that happens every year over 500thousand show up to be a part of this. You can walk or just sit back in the backyard with a fire pit roast marshmallows or make samores
My home is very close to Newport on the levee where you can find night life entertainment, close to many pubs. The bridge to Cincinnati you can find the Red stadium,the Bengals stadium, the famous Montgomery Inn Ribs boat house. The serpentine wall where they have the famous wEBN. Fireworks on Labor Day. You also can see them from my back yard or walk to the event. So many things to do or walk to. Also there is a bus line a shuttle and the red bicycle you can rent in walking distance.
A park at the end of the street. The soon will be a bicycle path going down to the river. If you need to shop we have a Krogers near by you can even go on line order and pick it up curb side delivery at Krogers
Room Type
Private room
---
Property Type
House
---
Accommodates
1
---
Bedrooms
Covington, KY, United States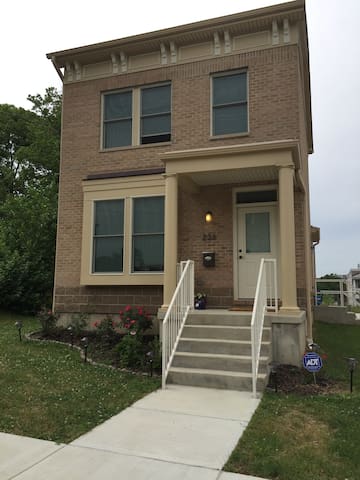 Easy access to downtown Cincy via bus lines or cab. Located in an historic, working class, 'urban-lite' neighborhood with a Kroger, CVS and other stores within walking distance. Enjoy a large kitchen with breakfast, WiFi, cuddly kitties and more!
It's street parking but only 5 minutes to the Ohio River and 10 minutes to Fountain Square in Cincinnati. Looking to be the very best that ever was? My house is a Pokestop near many gyms with plenty of Pokémon in the area!
This neighborhood is described as historic and 'urban-lite'. There is some noise from the streets and we are located 3 blocks from both train tracks and a police station (in addition to the aforementioned amenities). Personally, I love the 'walkability' of the neighborhood, but it is a working class neighborhood that has not undergone gentrification. It's an authentic space.
Jordan was super sweet and helpful with finding parking and moving into my room for the night. She was extremely hospitality with offering food and nicknacks. She was clear with her tour and her cats were precious!
Amy
2016-03-09T00:00:00Z
I stayed at Jordan's house for 5 days during Thanksgiving break, and Jordan had been nothing but a fantastic host. When I first checked in, it was 4 in the morning and Jordan didn't hesitate to welcome me to the house and showed me my room. She even complied a list of Cincinnati's places to go, which is very helpful for me. The condition of the house is very good. The bathroom is organized, the kitchen is fully equipped, and overall it's a cozy place. Overall, my experience is very good.
Nguyen
2015-11-29T00:00:00Z
this is my 3rd time here. while driving to the place, i had the feeling i was going home, i knew the place, the details, the kittens, etc. thanks airbnb for making htis possible.
Ariel
2017-02-16T00:00:00Z
This was my first solo Airbnb experience and it was a good one. Co host Emilee was friendly and very helpful. The cats provided great entertainment. I had privacy to work when I needed it but enjoyed hanging out in the living room chatting as well.
Richard
2017-01-10T00:00:00Z
Jordan was a wonderful host,Nice central location, easy to get to downtown.Communication was prompt and the room was nice and clean for me! I definitely recommend staying here.
Sammy
2016-12-07T00:00:00Z
I didn't get a chance to met her, but everything was there. more than i expected. thank you so much.
Sultan
2017-03-05T00:00:00Z
Jordan was a gracious and welcoming hostess. Everything with the stay went smoothly. Thanks again!
Rebecca
2016-03-30T00:00:00Z
Jordan was so kind to let me stay at her house even though i asked her last minute. She even picked me up in downtown Cincinnati to get to her place. She was a nice and interesting person to be with and the room you get is just perfekt with a nice comfy bed and privacy. I would always recommend to stay at hers :)
Jannik
2015-11-06T00:00:00Z
Room Type
Private room
---
Property Type
Apartment
---
Accommodates
1
---
Bedrooms
Covington, KY, United States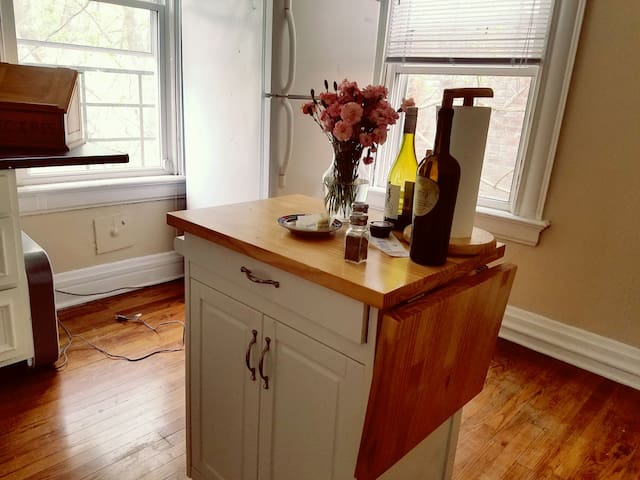 Close to nightlife, the city center, and family-friendly activities. Ideal for for couples, solo adventurers, business travelers, families (with kids), and furry friends (pets). Less than 10 minute drive to Downtown Cincinnati and $10 Uber!
Room Type
Entire home/flat
---
Property Type
House
---
Accommodates
6
---
Bedrooms
Southgate, KY, United States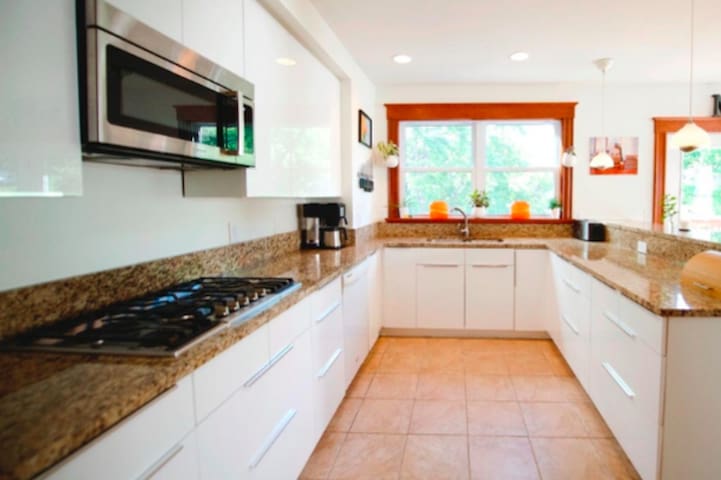 This home is super close to Downtown Cincinnati and you will love it because of the historic charm and spacious rooms! The home is great for couples, families (with kids), big groups, and furry friends (pets).
Room Type
Entire home/flat
---
Property Type
House
---
Accommodates
9
---
Bedrooms
Southgate, KY, United States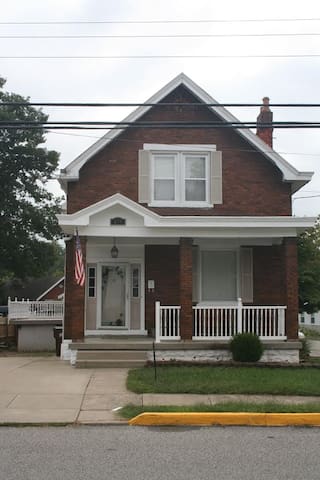 Large bedroom with private bathroom and kitchen and living areas as well. This space is located just 10 minutes south of downtown Cincinnati and 5 minutes from BB&T Arena. Nearby is Newport on the Levee, Over-the-Rhine, the airport, and several parks. Off Street parking makes it easy for guests to park and enjoy their stay.
The bedroom has 1 King Size Bed & includes tvs in each bedroom/living space. The room has a study area for your convenience. This apartment is located on the second floor.
Quiet suburban feel with the city just minutes away. The neighborhood features a park, pool, and a view of the Cincinnati downtown area.
Room Type
Private room
---
Property Type
Apartment
---
Accommodates
3
---
Bedrooms
Wilder, KY, United States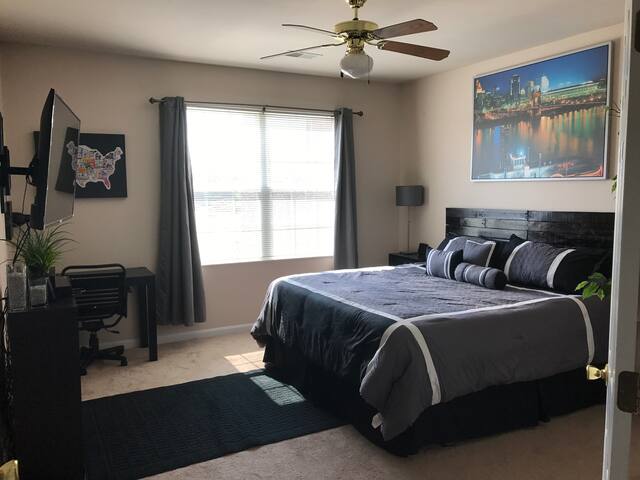 In town to catch a Bengals or Reds Game? My 2 bdrm 2 bath condo is only 6 min away from downtown Cincinnati and Newport on the Levee. We have 2 pools (Memorial day - Labor day), fitness room & wooded view. Cable and internet included. Lyft and Uber pick up avialable!
Best experience ever! Jessica is extremely friendly and really hospitable. The location is a straight shot to downtown Cincinnati and the area is great! Wine country in one direction and the city in the other. There are tons of great restaurants and things to do nearby! And if you need suggestions, Jessica provided some great recommendations to nearby locations! Made the trip a lot easier to navigate and plan out. The stay was great! Jessica has a beautiful home and is probably the friendliest/coolest host out there! She helped us book our trip last minute and was able to accommodate us right away! She is a great host and is highly recommended! She goes way above and beyond as a host! If you are visiting Cincinnati or KY wine country this is definately the place to stay. Thank you Jessica! You were an amazing host and have a beautiful home! You really made our trip! I know if we are ever in the area again, we will be booking with you!
Thomas
2015-11-09T00:00:00Z
Jessica was very helpful in making my stay very pleasant! Very cozy feeling and quick to respond to any questions I had. Jess is a very down to earth person and delightful to talk too! The queen bed was very comfortable. The condo is tastefully decorated, very clean, and includes a large private bathroom, well furnished with plenty of towels and anything else you may require. Location is perfect for visiting the Newport Aquarium, attending a Cincinnati Reds game, or the many attractions offered in Cincinnati. Highly recommend. First class experience!
Rick
2017-01-27T00:00:00Z
Jessica is a great host and the place is very close to Cincinnati. I had a great time.
Juan
2017-01-06T00:00:00Z
Jes is an awesome host! She's so nice, helpful, fun and clean those made me very comfortable staying in her apartment. I was very new to town; she helped me with the directions, places to go and she even took me to the grocery store when I needed. I liked the neighbourhood which was super cool, quiet and relaxing. Jes also let me use the gym and swimming pool. The pool is temporarly closed for the season now but, you can use the gym everyday from 10AM to 10 PM which is really good. The place is in a good location too. I am sure whoever decides to stay in this place will have a great experience. So thank you Jes!
Ali
2016-09-17T00:00:00Z
Jes is a very welcoming host. Her condo is very close to Cincinnati. She had excellent recommendations for activities and restaurants. Her place is very comfortable and an excellent choice if you're going to Cincinnati.
Damien
2016-10-24T00:00:00Z
Jess was very welcoming and accommodating. She was extremely kind and friendly, offering a lot of help with finding the best parts of Cinci. She keeps a lovely apartment. The room and separate bathroom were clean and comfortable. The bed was great. Would definitely recommend.
Joe
2015-10-29T00:00:00Z
Jessica is a great host, super nice and helpful, i really appreciate you opening your home to us, the apt is also super nice and comfy, and close to downtown cincy. thank you
David
2016-08-29T00:00:00Z
The room was perfect and the host the best. It was a great place
Leroy
2016-02-26T00:00:00Z
Room Type
Private room
---
Property Type
Condominium
---
Accommodates
2
---
Bedrooms
Southgate, KY, United States
This room is in a finished basement with one full bath. There is also a living room space, with a pull out couch that can sleep two. Only five minutes from downtown.
Room Type
Private room
---
Property Type
House
---
Accommodates
4
---
Bedrooms
Fort Thomas, KY, United States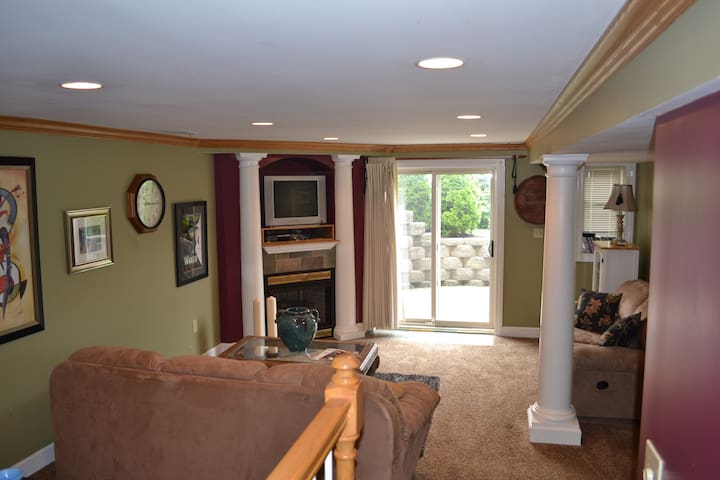 We have apartment separated from house with a loft. Currently has 2 queen size beds but plenty of room to accommodate 6. We can arrange from driving to and from the all-star events - we are only 3.5 miles from the stadium.
Room Type
Private room
---
Property Type
House
---
Accommodates
6
---
Bedrooms
Fort Thomas, KY, United States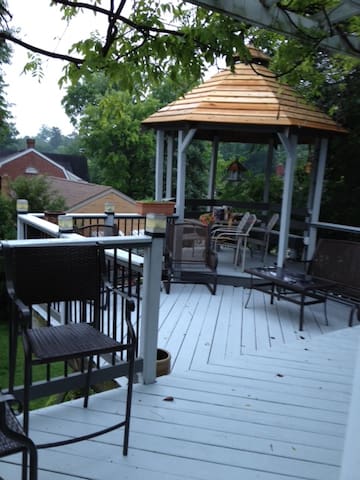 Conveniently located in a quiet neighborhood. Minutes from Cincinnati/Covington Riverfront, Downtown, Recreation, Shops, Dining, Concerts, Stadiums, Conventions, CVG Airport, ARK, AIG and so much more! Quiet and restful, but so close to everything you want to do and see!
You will find our home restful, clean and attractive with many amenities including off-street parking. Three steps up, get your keys from the lockbox and welcome to your home-away-from-home! Your bedroom and bathroom will be comfortable, clean and private. There are new sheets, pillows, towels and chair. Desk, Wi-Fi, Smart TV, Netflix and Blu-Ray/DVD player are included. The shared area with cathedral ceilings includes a bright, eat-in kitchen with new appliances you may use. Coffee and iced tea are always available. The living room boasts a comfortable sectional and a variety of books. Also enjoy out of doors on the deck or patio.
Very conveniently located, Peaselburg is nestled in the hills and valleys on the west side of Covington. Steeped in German heritage, Peaselburg is comprised of hardworking, middle class residents.  Peaselburg contains a great variety of older brick, two-story homes, cottages, town-homes, and apartments. A mixture of cultural backgrounds, churches of many denominations, public and parochial schools, grocery stores, corner pubs, and industrial/commercial businesses can be found. Peaselburg cares about its neighborhood and the neighbors watch out for one another.  Although it is one small burg, Peaselburg is proud to be a neighborhood in the City of Covington.
Room Type
Private room
---
Property Type
House
---
Accommodates
1
---
Bedrooms
Covington, KY, United States
The Guest House at Monte Cassino Vineyard, an architectural gem. At 650 sq ft, this free standing, studio loft space is a ground up restoration of an 1830s summer kitchen. Completed for 2016 season, kitchenette, living and loft are a designer's dream
Cumulating the owners 40 year career in the art/design industry, every detail, from the hand blown glass chandelier to the silverware is a unique experience. Bring your mountain bike or swimming gear.
Secluded but nearby to Cincinnati and businesses
My husband and I stayed in Mark's guest house for 2 nights. The purpose of our trip was to visit a student at Xavier in Cincinnati. Mark made check in and check out a breeze. The city was a short drive and we had no problem utilizing Uber from the city. Marks place was thoughtfully and purposefully designed. We found the guest house to be much more spacious than the pictures imply. Mark made us feel welcome by greeting us and showing us around. He even provided everything we may need to breakfast in the kitchen. The property feels secluded and the guest house is private, surrounded by trees, a stream, and interesting sculptures. We enjoyed the unique fireplace and talking wine with Mark. This is Airbnb at its best, we will certainly be back.
Annamaria
2016-03-21T00:00:00Z
Our stay at the guest house at Monte Cassino was wonderful. The guesthouse is so charming - the perfect mix of historical and modern. While the stairs to the bedroom loft are not for the faint of heart, they didn't bother me. The location was tranquil and felt very safe - almost like being at home. Mark (the host) was amazing. The ideal blend of welcome and hospitality while being respectful of our privacy. I would stay here again in a heartbeat. Thank you Mark!
Kristen
2016-06-23T00:00:00Z
This was a relaxing wonderful place to stay. Unlike a hotel where you want to leave to go out and see things, this adorable guest house draws you in and keeps you there exploring all the amazing art and special touches. The pictures just don't do it justice. The property is huge and we explored only a small portion. We were so lazy we spent our days at the pool on their inflatables and when it became to hot our afternoons sleeping and reading inside. We brought crackers, cheese, chocolate, chips and guacamole and the mini fridge had fruits, yogurt, breakfast bars, muffins, water and juices. There is a Keurig and they provided a nice selection of k-cups. Way above and beyond what we expected as it seems to be run more like a bed and breakfast with a warm, welcoming feeling. Mark and Debbie were friendly but not intrusive as we wanted to decompress and avoided too much company. Covington is a wonderful place to go for dinner and drinks. We loved this place and plan to come back. Might be a bit hot in the loft when the nighttime temperature stays above 75 degrees and the only true privacy is in the bathroom due to the many gorgeous windows allowing you to feel outside even when inside.
Dina
2016-06-14T00:00:00Z
We only decided to travel to Covington because of this amazing property. Mark and his family were just a bonus. My wife and I had such a wonderful time and had the pleasure of getting to know this wonderful couple. We felt at home and with friends. What an adventure and such a magnificent home. We will be back to visit in the future and hope to explore more of their beautiful property.
Daniel
2016-09-06T00:00:00Z
Mark was there to great us when we got in late. The place is beautiful and he made sure we had everything we needed. We enjoyed our stay and my only regret is that we could have used the pool more often. The one time we did get to use it, it was awesome! The place is adorable and my only caution would be to make sure you are comfortable on some steep steps. We were completely comfortable on them and thought the place so was charming. The bed was comfy, the lighting was great, the grounds are gorgeous, the dogs are so sweet and friendly. We got to meet Debi, Marks wife towards the end of the trip and she was delightful as well. I can't imagine a nicer place to stay in this area. It was a great place to stay while visiting family in the area which is what we were doing. It turned a typical family visit into a sweet vacation. And the location is great!!! You can avoid any and all traffic because there are multiple routes at your disposal which will take you to any major area in the region.
Carissa
2016-08-14T00:00:00Z
The guest house was stellar. We absolutely loved the modern/rustic design of the guest house with all the details and artwork. Mark made us feel welcome by greeting us, showing us around and having fruit and other treats ready for us. I wish we had more time to hike the grounds but we are planning to come back soon...
Martina
2016-05-02T00:00:00Z
If you recognize and appreciate the challenges and resourcefulness inherent in repurposing 185 yr old stone walls into a cozy and creatively clever guest cottage, one that evokes Bucks County (Pa), Tuscany, and Soho sensibilities, then you'll love what Mark has created at the secluded end of a hidden drive. A wonderful treat as we celebrated our 27th anniversary with our first Airbnb experience and a long weekend in Cincinnati. We enjoyed local wineries, dining at Cincy's and Newport's waterfronts, and a bicycle tour of historic OTR. All just short drives from Monte Cassino. Also climbed up to Mark's vineyard to enjoy the view. The property offers several charming gathering areas to sit, snack, socialize, and listen to songbirds. Mark is easy to like and was quick and witty with helpful responses. His furry entourage were equally friendly and welcoming. We look forward to returning A few useful details... The loft steps are not for the clumsy, with sleeping upstairs and the bath downstairs; there is no TV- which in hindsight enhanced our enjoyment of the cottage; Uber had difficulty finding the address- also attesting to its seclusion; some might prefer a bit more privacy- in the form of window coverings.
Dana
2016-05-23T00:00:00Z
Overall, my wife and I enjoyed our stay in Mark's guest house. Mark was extremely responsive, promptly answering any questions we had. Moreover, he was there to meet us upon arrival and was easy to find if we had any concerns. He and his wife were very friendly (but not intrusive), flexible on check-in and check-out times, provided some nice breakfast foods, and we enjoyed having a glass of wine with them on our second night. As the pictures show, the inside of the house is beautiful and was very clean upon arrival. Additionally, we really enjoyed the property, especially hiking to the top of the vineyard and laying out by the pool (which is quite private and very relaxing). There were only two concerns during our stay. First, the AC unit in the wall was simply not strong enough to cool the entire house throughout the day (particularly the second floor). I even had a box fan from my trunk to try and push the AC upstairs but it just was not enough to cool the second floor bedroom during daytime hours (high temperatures were about 90 degrees both days of our July stay). While the temperature of the bedroom did improve at night, for most of our stay only half of the house was really kept cool by the AC unit. Secondly, we did find changing clothes a bit challenging. The bathroom is the only room with complete privacy (if curtains are closed behind the glass doors) and there is not much room to change. Every other part of the house is surrounded by windows. While this provided great natural light, it was not ideal when privacy was needed. All in all, while there were a few concerns for us, we would recommend this location to other Airbnb travelers.
Jeremy
2016-07-23T00:00:00Z
Room Type
Entire home/flat
---
Property Type
Cabin
---
Accommodates
2
---
Bedrooms
Covington, KY, United States
Enter dates to see full pricing. Additional fees apply. Taxes may be added.