We hope you have a comfy stay in our cute little cabin. Our yard makes you feel like you're in a tropical paradise! We have an electric gate, you will get a remote to come & go. The pool is clean and there's a 5 mile bike/skate path 2 blocks away!
Our comfy & cozy cabin is private and secure. You have your own parking spot & private entrance. Bedroom has one queen sized, extra-firm OrthoPedic Serta Mattress to insure back support for a good night's sleep. There is an air conditioner in the bedrom to insure the perfect temperature for sleeping. We live in 'Old Pompano' which is a historical landmark from the turn of the Century! Our street name, NE 5th Avenue, has recently been renamed 'Pioneer Drive!' Don't worry, the sign has both names.
We love our neighborhood because of it's quaint charm. There are 7 minor league baseball fields within a quarter mile of our home! Pompano Beach is known for having a lot of parks, where you can go to relax or play sports. (basketball, soccer, etc.) Sometimes we ride bikes to the beach or visit the fishing pier down 14th Steet to A1A. There's a few party boats and charters by the Hillsborough Inlet if you like to go fishing. When we're home we enjoy our tropical paradise and spacious park-like yard (1/2 acre). In contrast to the privacy at home, we are only approximately half hour away from the Fort Lauderdale Airport, and/or the Broward Performing Arts Center in downtown Fort Lauderdale.
We have just returned from an eight day stay with Joanne and Louis Pisani in Pompano Beach Florida. The description of their lovely cabin with a pool on a half acre property was very accurate. We had a restful, quiet and relaxing time at this wonderful retreat from our cold Canadian winter. Joanne and Louis could not have been more accommodating and we enjoyed comfort and privacy. Their friendly and lovable dog Hammy was a big bonus. If we make our way to Pompano Beach again, we know right where we will be going! A+ Jim Dunn Patricia O'Brien-Dunn Unionville, Ontario Canada
James
2015-01-20T00:00:00Z
This was my first airbb experience and I could not have been happier with the way it worked out. Joanne and Lou and Hammy were all a very pleasant surprise. The place was very nice and so much more than hotel room. The outdoor decor was very beachy indeed I went in the pool everyday but one, the da we went fishing. I would recommend in confidence a stay with Joanne and Lou in Pompano for a nice quite getaway.
Paul
2015-01-05T00:00:00Z
Everything was perfect. We really had more than a wonderful time at Joanne´s and Louis`. The little cabin was wonderfully decorated and had everything we needed to feel at home, especially the most comfortable chairs. We also loved swimming in the pool. The property is maintained well, the two put lots of work and love into it. We also became friends with Hammy, the dog, she is fun to play with and one of the friendliest dog we´ve ever met. All in all, we would highly recommend this place and hope to come back one day.
Mischa
2015-03-14T00:00:00Z
Joanne and Louis were great hosts, very welcoming. They gave us some great tips on local restaurants and sights. The house and property are well kept and close to the beach, shopping and eating. We had a wonderful time and would definitely return.
Jon
2016-03-09T00:00:00Z
Lou and Joanne are great people. They made us feel very welcome in their cosy cabin by the pool. It looks like a caribbean beachhouse and I'm sure they loved to decorate it by themselves. The kitchen is big and has everything we needed for cooking, the bed was one of the most comfortable ones we slept in on our trip to Florida. We would have loved to swim in the pool but it was a bit too cold, anyway we enjoyed sitting at it, reading and looking at the beautiful garden. We had a few peaceful days and would definitely come back!
Anne
2015-01-25T00:00:00Z
Joanne and Lou were the most delightful hosts! Joanne made sure everything was perfect on my arrival and could not have been more accomodating. The property is close to everything and feels like a lush tropical paradise.
Kate
2015-03-23T00:00:00Z
Joanne and Louis were a pleasure to meet with their warm personalities, made our stay enjoyable for first time airbnb users. Joanne was very accommodating sense we arrived early in the morning and left early in the morning as well was a big help. The cottage was perfect for what we needed. Located in a quiet neighborhood, between Fort Lauderdale and Boca Raton made it easy to get around without the hassle of being stuck in traffic. And their sweet dog "Hammie" was a plus having around.
jennifur
2015-04-10T00:00:00Z
Room Type
Entire home/flat
---
Property Type
Cabin
---
Accommodates
2
---
Bedrooms
Pompano Beach, FL, United States
My place is close to the airport, the city center, and family-friendly activities. You'll love my place because of the tranquil space/ambiance (8 acres of green pasture with some friendly goats, sheep, chickens and horses). My place is good for couples, solo adventurers, and kids.
This is a getaway space for people that want a place to disconnect from the hustle and bustle of everyday life and get in touch with nature. Everything is outdoors. An outdoor shower + composting toilet, an outdoor kitchen and a fire pit.
Room Type
Private room
---
Property Type
Cabin
---
Accommodates
5
---
Bedrooms
Davie, FL, United States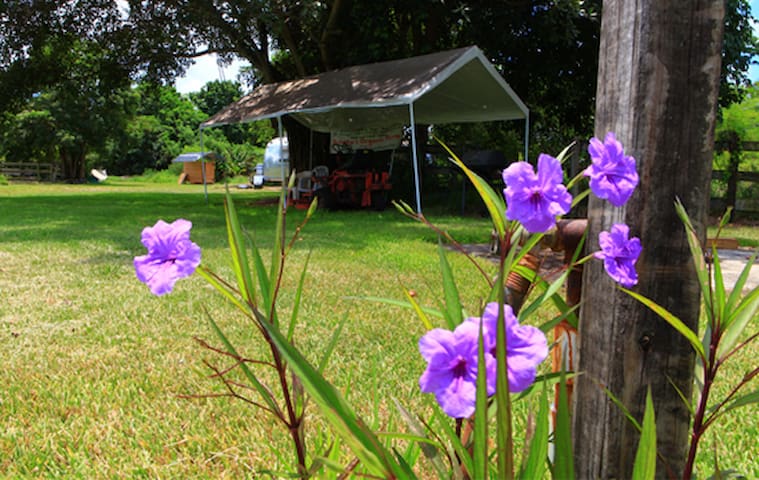 *Please Read* Unique space bedroom is the yellow structure in the photos. Private entrance, queen sized bed, flat screen tv, air conditioning and Wi-Fi. The bathroom is private, but not inside the room, and is connected to the other side of the kitchen, which is screened in and visible from the pool area.
This space was designed to give a real tropical experience. The cabin is surrounded by a jungle of tropical foliage and is reminiscent of Key West.
The neighborhood is low-crime and very quiet. There is also a city park/baseball field one block south, less than a 5 minute walk from my house. Wilton Manors police occasionally drive through the area which keeps crime down as well.
Staying in Eric's tropical accommodation was fantastic, it really did feel like I was in the keys, so pretty outside and welcoming. And the inside was very comfortable and so thoughtfully laid out for guests with information. Eric was a wonderful host, very friendly and was always happy to and quick to accommodate any requests that i had. Would stay again in a heartbeat.
Denise
2015-08-15T00:00:00Z
I loved the stay in this very, very nice place. If I had any questions, Eric responded immediately and helpfully. Moreover, he gave very good recommendations regarding any issues that I might have. I have been living for 18 days and I liked it so much. Everything was as on the photos. Wilton Manors is in general very peaceful place, the neighborhood is very quiet. I give Eric for his hospitality the best stars for being the Super Host. Thank you a lot. Hope I'll have chance to come back.
Daria
2015-11-12T00:00:00Z
First of all, there are two places at Eric's backyard and here starts the confusion.... Once booking was done, a detailed (and over-engineered) instructions are sent by him - add to the confusion that the property is a corner property, so it was tricky to not get lost into the instructions. Also, Eric uses some deadbolt locks with code and you do not get a key. Issue is when the code does not work and it is not possible to reach Eric (guess what, that was me 11pm there). So, the room is small and not as comfortable to justify the price, but still does not too different than described; however, my experience was tense because this issue with the locker. Not a place I'd recommend.
Marcelo
2016-01-07T00:00:00Z
It was a really cute little home. The location wasn't the best, especially if you don't have a car. The place is perfect for a single or for a couples retreat. The backyard was very quiet and relaxing, it was really nice just being able to lay by the pool in the quiet!
Cassandra
2017-02-28T00:00:00Z
Eric was very nice. I really liked his place too. Very clean and beautiful pool area. Highly recommended
Telha
2015-11-23T00:00:00Z
Eric was a great host! He was readily available to answer all of questions and even checked in after our first night to make sure we were settled in. The neighborhood is great and super convenient to bars, great coffee, and food.
Patrick
2017-01-04T00:00:00Z
Everything was as described, very clean and much to our delight. We arrived early and Eric went out of his way to get us started on our stay early. We had great privacy! It was like having a whole house to ourselves, with a very comfortable kitchen, nestled within a lush tropical garden setting. Eric has a great hosting system down to run his rental very efficiently, and he was very responsive to our needs.
Savitri
2016-02-18T00:00:00Z
Eric was an excellent host. He was warm, pleasant, and bent over backwards to make sure that all my needs were satisfied. The place itself is very cool. The indoor/outdoor kitchen is very beautiful and naturey. It was a bit buggy around the time that I went, but Eric was quick to fix the problem and make sure the place was comfortable and accommodating. And the pool was a plus :-)
Dana
2015-10-15T00:00:00Z
Room Type
Entire home/flat
---
Property Type
Cabin
---
Accommodates
2
---
Bedrooms
Wilton Manors, FL, United States
This unit is a unique loft-like space. Walk out to pool and sunny backyard.
Unit 3, the Pelican Suite, is a studio, one bath suite with kitchenette. This self-contained unit is part of a small complex. There is an adjacent three-bedroom house which can be rented separately or combined with this unit if you wish to have the whole complex. See listings for Island City Oasis Full House, Hummingbird Suite or Flamingo Suite for other options. The Pelican Suite is a unique, bright and airy loft-like studio. Entry to this unit is via the pool deck. Inside you will find a large room with concrete floors, a desk, cable TV, kitchenette, large wardrobe, and luxurious bath with a rainhead shower. The kitchenette is equipped with a compact fridge, microwave, coffeemaker, two-burner induction cooktop, dishes, cutlery and other supplies.
Just got home after staying a week at Martin's place. The unit was everything that I had expected and then some. Very clean and comfortable with lots of extra towels, pillows, a small container of milk, orange juice, water to name just a few of the additional items that Martin thought of to make the stay more comfortable and welcoming. The pool area which is right in front of the room is beautiful, parking is right out front of the house, and as a women travelling alone I felt secure at all times in both the unit and the neighbourhood. Finally, I can't say enough about Martin...a lovely guy and caring and responsive host. I definitely will be back.
nicole
2017-04-02T00:00:00Z
My wife and I stayed there for an extended weekend for. It was perfect for what we were looking for. This place had everything we needed, very clean, and Martin was very accommodating and helpful.
Scott
2017-04-10T00:00:00Z
My boyfriend and I stayed in the Pelican Unit 3 this past week, we just returned home and I already miss it :( . It was such a great place to stay, very clean, very modern and had everything we were looking for in a place to stay while in Fort Lauderdale. It was exactly as you see in the photos and probably better when you arrive. It has everything you need, a nice finished bathroom, a little kitchenette to make food and the pool is right outside the door. Everything is clean and the way it looks in the photos, the pool was cleaned almost every other day when needed by the hosts. The pool is basically yours if no one else is staying in the other units. There are 2 other units on the complex, while we were there only 1 of them had an occupant, who we saw only a couple of times. If you like a more private and relaxing experience than going to a hotel then I highly recommend choosing this place. The price was the same that we would have paid to stay in a hotel for a week where you just get a room and then if you want to sit by the pool you'll probably be doing it with a hundred other people, screaming kids running around, etc. If you want a relaxing quiet atmosphere with not a lot of people around then you can't go wrong with this place. Martin and Peter are great hosts, they answered any questions we had in a very short time after emailing them. Checking in and out was a breeze because they have the door locks that all you need is the code they provide, no worrying about a key and potentially losing it at the beach or something like that. They are both very nice and have made a great Oasis to stay at while in Fort Lauderdale. It's like 15-20 minutes from Fort Lauderdale Intl Airport, there are lots of restaurants and bars in the area. It is a very nice neighbourhood, it is close to lots of beaches in Fort Lauderdale, close to a State park that has trails and beaches that you can access, close to lots of shopping malls and pretty much everything you need. We only spent a week there but it felt like longer because we had such a great place to stay that made it feel like home. The next time we return to Fort Lauderdale we will definitely be coming back to Island City Oasis.
Beverly Ann
2017-03-26T00:00:00Z
Room Type
Entire home/flat
---
Property Type
Cabin
---
Accommodates
2
---
Bedrooms
Wilton Manors, FL, United States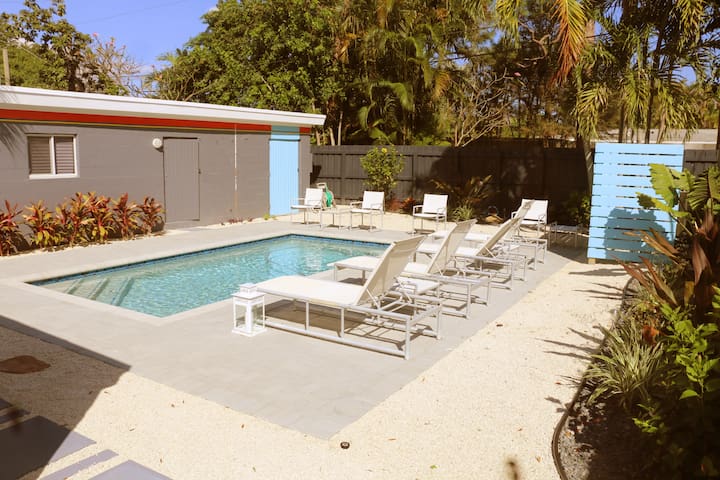 1

–

4

of

4 Cottage Rentals
Enter dates to see full pricing. Additional fees apply. Taxes may be added.