Enter your check in date in the format dd-mm-yyyy
Enter your check out date in the format dd-mm-yyyy
Listings you can book without waiting for host approval.
8 Cottage Rentals
· Crete Region
8 Cottage Rentals
· Crete Region
Enter dates to see full pricing. Additional fees apply. Taxes may be added.
This July and August, you can try one of these 100 highly-rated homes, at all price points, and experience a local's view of Sonoma. 24-hour check-in, Instant Book, and local wine and snacks let you just sit back and enjoy your trip.
The time at Stelio's shelter in the mountains was a great experience! If you like to be alone in the nature, to see the most impressive starry sky you've ever seen and to get the feeling of going back in time to the simple and traditional life on Crete you definitely have to go there. Don't expect too much luxury and just feel comfortable about simplicity, get to know the hospitality of Stelios and his family and relax in a beautiful surrounding! Thank you so much for being such a perfect host!
Samina
September 2016
Stelyos was very kind for the very first moment waiting for us in a crossroad to guide us to his place. He also was very welcoming sharing with us a raki and small conversation. His place is very clean and confortable and he location is very beautiful in the midle of the mountains if you want to relax. It was a pleasure to meet you Stelyos and hope to see you again!
Sara
August 2016
This place is a perfect quite place to hike. Surrounded by beautiful nature you get a private spot in the mountains underneath the stars. Special place for people who are adventurous, know how to survive and are physically able to camp. This was for us a beautiful experience.
Edwin
October 2016
Room type
Entire home/flat
---
Property type
---
Accommodates
2
---
Bedrooms
0
Παράνυμφοι
The host canceled this reservation 2 days before arrival. This is an automated posting.
Helena
Room type
Private room
---
Property type
---
Accommodates
2
---
Bedrooms
1
Kastellos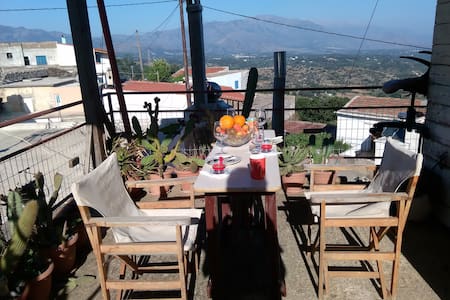 The Olive Shed is so secluded, set amongst 1000s of olive, orange and lemon trees yet close to the beach and Chania. You'll love its views, both to the mountains and the sea. A perfect spot for couples. A place for the barefooted, wild eyed souls, bohemian lovers, wanderlust chasers, sun kissed dreamers, lovers of peace and nature, relax in total seclusion, live with nature all around you. As it is so secluded and off the beaten track, car hire is included in the price of your stay.
The Olive Shed is a unique cabin set amongst its own olive grove. A fully Eco dwelling, built by hand out of wood and beautifully decorated. It has a secluded sun bathing area on the roof with views to the mountains and sea accessed by a simple reclaimed wood staircase...total seclusion.. There are 3 bathing options, an outdoor shower, an outdoor bath and an indoor shower. A full wrap around deck, fire pit a double reclaimed wood day bed is situated on an open deck away from the Olive Shed and dining table set the relaxed scene outside under an olive tree. All the interior furniture and fittings are made from reclaimed wood. A simple kitchen, constant source of fresh oranges from the trees for fresh orange juice. Wood burner indoors for those crisp winter nights, vintage Greek wood burner outside and cosy blankets for outdoor crisp nights under the stars. Storm lanterns every where to give that evening romantic feel to your evening alone together in this beautiful seclusion that is the Olive Shed. The Olive Shed is just for couples, due to its location a hire car is included in the stay rate, if you have a hire car already please message for discount on listed price. If arriving at Chania airport and staying at the Shed, pick up from the airport is included, as it is nearly impossible to give directions on how to get here, but once here its easy... I will be on hand by phone to help your stay be a total chill and relax stay, together with info on some of the off the beaten track beaches that are off the tourist route, yet only 15 to 25 minutes away from the Olive Shed, info on traditional wonderful local taverna's and much more..
The Olive Shed is truly unique, beautiful seclusion awaits you, 1000s of olive trees with beautiful wild flowers, planting and herbs a few steps from the front door....this is truly a special place.. Car included in stay but there are two bikes to use to cycle around this beautiful area is required and lots of beautiful walks surround the Olive Shed 10 minutes from beautiful beaches and 15 minutes from the old town of Chania. Prospective guests: In order to accept your booking, I require a copy of your passport as well as your home address once you have booked the apartment, in the case of an emergency and also to submit my earnings for taxes!l As this is a full eco shed, I need to point out that the toilet is self composting, but so easy to use..the outdoor shower is a cold shower, the bath is heated water and so is the indoor shower. There is no drinking water on tap but plenty of bottled drinking water is supplied. Breakfast and simple meals are cooked on a two burner propane gas stove. Both coffee and tea bags are supplied.
Room type
Entire home/flat
---
Property type
---
Accommodates
2
---
Bedrooms
1
Chania
Giannis and his family were kind. The room was like in the description,not big or luxorious but there was all we needed and there was also a nice little garden outside. The hotel is close to the beach, you can reach it also by walk.
Carlotta
August 2016
Super friendly family business - everyone was helpful and the other guests very friendly. The rooms are set amidst a very lush and green garden and the hotel is a 3 min drive to everything!
Amr
September 2016
Very friendly people!!! They make everything to us felling good. The room is very simple and functional. Altough needs some improve...
Tiago
July 2016
The room looks exactly the same like in the pictures. So there wasn't any surprise ;-) It's quite cosy and very clean ;)
Matt
August 2015
This is a family hotell, wich is a nice place to stay in Falasarna. The westcoast has incredible clear water, are kind of windy, but I liked this part of Crete better than north side, as it is more quite on the west side than in the big citys. But I have to say that the old mother of this place was very enoying. We came in the night, a little after 11 o'clock and we had a very bad experience with this woman. She gave us (me and my boyfriend) a room that was located over the place she was sleeping, and just because we very walking around in our room, putting our lougage in place and so, and of course talking quitly, she came out several times and was very rude to us, her guests. She even told us to get another hotel if where not quite. We had traveled a long distance and were very tierd, and soon to go to bed after the arrivel. Just because we made minimum sound with our voices, even wispering, she was talking to us in a very bad way. This was a very strange situation for us, no body has ever treated us with such disrespect. We had payed for an aircondition, and forgot to close the door for some mintues when we sat right outside our room having a look at the veiw, she came up and slamed with the doors and the window in our room, and actually behavied like a crazy person. I don't know exactly how to put it, but i feel there is a point of saying that this lady brought a very bad mood to the place, and kind of ruined our stay at The golden hotel. We will never go back to the Golden hotel because of this woman, and I will not recomend this place because of her. If you want to stay there, make sure she give you a room on the first level, because the building is made of wood, and are not sound isolated, so you can hear her husband snorring if you stay in the near by of this womans room, but you can not make any sound your self. (very undelicate situation)
Ida
September 2015
very nice place! the host was nice and he solved directly the problem we had with the light in the toilet. The small kitchen inside was very usefull! I really suggest the place but it is not a private house so probably it is better to directly book the room by internet so it is less expensive (no airbnb charges)
Ilaria
August 2015
Nice place!Thanks for all!
Emiliyan
August 2016
We had a nice time here. Everyone was very helpful and nice. 3 min drive to the beach or a 10 min walk! Air conditioner worked great and there was a mini fridge in the room to keep our snacks! Loved the little seating area outside of our room. Thanks again!!
Allison
June 2016
Room type
Private room
---
Property type
---
Accommodates
2
---
Bedrooms
1
falasarna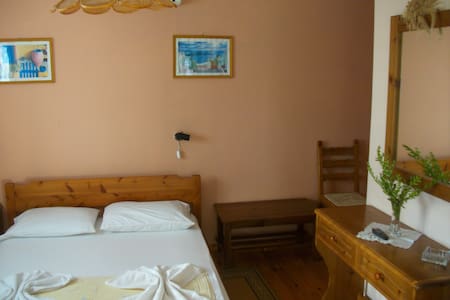 in the middle of olive groves at the edge of the mountain village with a big garden and a splendid view at the surrounding mountains and sea. when you are looking for peace and nature it is a fantastic stay. Its a short walk to the village
The vacation rental has a big open kitchen and is entirely equipped for 4 persons. Kitchen towels, coffee machine, water boiler, electrical cooker with 3 plates, furnace, microwave, refrigerator with freezer. In the living room there is an open fire place, a rotan fair and a radio-CD player. In the bedroom there is a double bed in stone with night cupboards. There is also a large closet with plenty of space. Sheets and blankets are available. The bathroom is equipped with bath and shower, double basin, washing machine and toilet. Bath towels and hairdryer are present. Above the kitchen there is a half open room which is aranched as a second bedroom with double bed. Outside there is a half shadowed terrace aimed at the south and a garden on three levels. A splendid sea view, hills with olive-trees and wild plants.
public transportation to the village is very limited. For that reason we advice to rent a car during your stay.
Room type
Entire home/flat
---
Property type
---
Accommodates
4
---
Bedrooms
2
Schinokapsala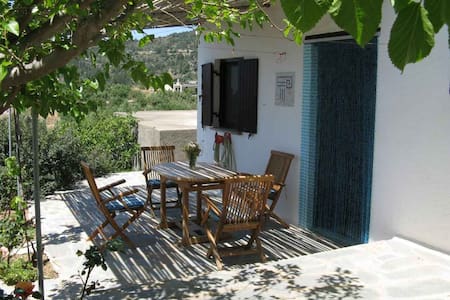 1

–

8

of

8 Cottage Rentals