Apartment on the second floor. Nice on the wind. Living room / kitchen. Separate bedroom. Nice balcony with pool view and partial ocean view.
Rene was able to accommodate our last minute booking request. He responded to us very promptly. We spent one week in Curaçao - 4 nights in Willemstad and 3 nights in Westpunt. After a few busy days in Willemstad we wanted some downtime and I think next time I would stay longer in Westpunt because it's beautiful and very relaxing. The apartments are very comfortable and fully equipped. If you decide to dine out there are several nearby restaurants to choose from - I recommend the catch of the day anywhere you choose. There are snorkels available to borrow if you don't have your own. You can swim with the sea turtles at nearby beach. I did experience a jellyfish sting but was not too painful and the rash didn't last long. Enjoy!!
Nicole
2017-03-06T00:00:00Z
The place is perfect, very confortable and located close to the best beaches (Lagun & Kenepa) I will go back to blue lagun resort!
Isabel
2016-12-31T00:00:00Z
The appartment is a part of the Lagun Ocean Resort. Its a really nice unit with a beautyful garden and pool. The location on the hill next to the beach is great. We loved the view on the sea and the sunrise. The appartment is well equiped, bright and clean. The highlight is the balcony with the little seaview. We used it every day to eat and chill. The week in Lagun was the second part of our trip. The first we spent in Willemstad and visited the city and Banda Ariba, in the second week we started in Lagun to discover Banda Abou. It was the perfect mix for our holidays.
Mariana
2017-02-12T00:00:00Z
Had a great time! Great location! Had a portable crib waiting for us on arrival for our toddler which helped a lot!
Jess
2017-03-12T00:00:00Z
Hi, Very nice apartment. We liked our stay there very much. Everything was okay. Check in and Check out worked perfect. Br Andreas
Andreas
2017-01-19T00:00:00Z
Die Unterkunft war super und der Playa Lagun ist sehr schön. Wir haben uns direkt von den Fischern mit frischem Fisch versorgt - top! Es hat alles reibungslos funktioniert. Positiv überrascht waren wir von der kompletten Ferienanlage, da wir dies in dieser Form so nicht erwartet hatten. Insgesamt kann man diese Unterkunft nur weiterempfehlen - wir kommen gerne wieder :). Cheers Sina & Jens
Jens
2017-03-28T00:00:00Z
Super appartement op een super locatie! We hebben erg genoten van dit ruime, nette appartement.
Sara
2017-04-06T00:00:00Z
Room Type
Entire home/apt
---
Property Type
Loft
---
Accommodates
2
---
Bedrooms
CW, Curaçao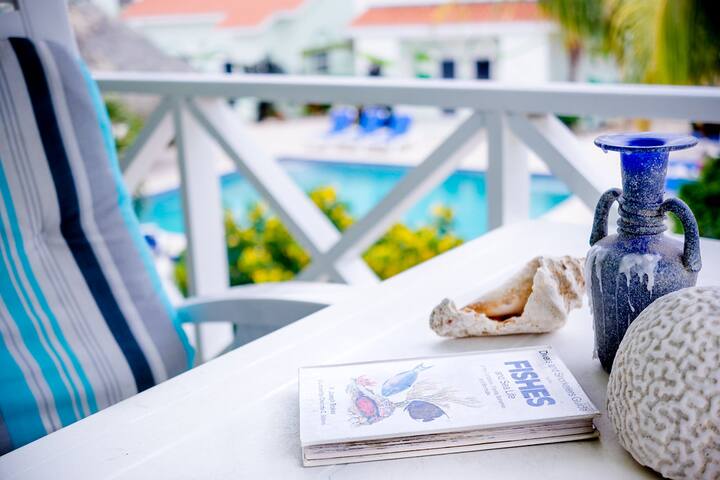 This Loft is a monumental former slavery house on the edge of Pietermaai, an urben area with a lot of bars and restaurants. Special designed for Artist and Free Spirits. The Loft is a cosy split level build house with a comfortable bathroom & bedroom. In walking distance to downtown Willemstad and a 10 minute walk to a small beach, where you can take you're early morning dip in the caribbean sea. The Institute for Performing Arts in Curacao, Stichting Kurá di Arte is right around the corner.
Artiesten en Free Spirits
In het midden van het stadsdistrict Pietermaai. De hipste buurt van het eiland, waar locals en gasten samen komen.
Anja was a responsive and pleasant host but she must take more care about security - there was a break & entry through the window while I was sleeping, while the "house book" said that the area is safe and I can keep the windows open during night (kept them closed but still they broke in). Lots of valuables lost and shock. Pietermaai area is currently NOT safe according to police, so I would recommend this place only to street wise people who are able to take good care of themselves and only after Anja puts bars on windows. Apartment itself is spacious and comfortable with everything you might need. Nature on the island and beaches are delightful.
Uros
2017-03-20T00:00:00Z
Bad a great time in punda! Communication with Anja was the best, very helpful. The beaches are a little away as you see on the map but car rental and bus Station are around the corner. Unfortunatly the House across the Street was just beeing worked on, but i guess thats just Bad luck ;-) I had a great time
Philipp
2017-01-24T00:00:00Z
Unieke plek Centraal in willemstad
Willem
2017-01-08T00:00:00Z
Ein restauriertes, schoenes und schlichtes Gebaeude in der Naehe vom Stadtzentrum. Perfekt fuer Paare.
Kurt
2017-02-10T00:00:00Z
Room Type
Entire home/apt
---
Property Type
Loft
---
Accommodates
2
---
Bedrooms
Willemstad, Curaçao, Curaçao
Hoek studio, geschikt voor 1 tot 4 personen. Het is een met airconditioning uitgeruste kamer, met loft en tv. Compleet uitgeruste keuken inclusief oven en magnetron. Badkamer met warm water en wasmachine. Heerlijk overdekt terras.
Het is een geweldig appartement op een toplocatie met een heerlijk zwembad. Het zwembad was lekker rustig en als er mensen waren zijn deze heel vriendelijk. Dit waren vooral andere beheerders van het resort en af en toe zwommen er gasten. Ik zou zeker al in Nederland maps.me downloaden omdat het lastig te vinden is zonder navigatie. Dit is een offline routeplanner. De beheerder is heel behulpzaam geweest en ook op het eiland was er altijd iemand die kon helpen als er iets was. Wat ik prettig zou vinden is om volgende keer een totaalprijs te betalen ipv achteraf water en elektriciteit. Ik zou deze plek aan iedereen aanraden: alleen, als stel maar ook prima met kinderen!
Frederique
2016-11-19T00:00:00Z
prachtige locatie met een mooie zwembad. leuke en gezellige mensen op het park.
Dames
2017-01-10T00:00:00Z
Room Type
Entire home/apt
---
Property Type
Loft
---
Accommodates
4
---
Bedrooms
Willemstad, Curaçao, Curaçao