Enter your check in date in the format dd-mm-yyyy
Enter your check out date in the format dd-mm-yyyy
Listings you can book without waiting for host approval.
Enter dates to see full pricing. Additional fees apply. Taxes may be added.
Galileo is "lost in nature" but close to all the local sites including Forcalquier. You'll love my place because we are off the beaten track just take a 10 min. ride in a 4x4* made available to change into at our private parking in La Blache. You'll love the views, nature, 400 year old hamlet, oak beams, forests, pool, birdsong & become "Lost in the beauty of Provence" All from the comfort of a property equipped to an internationally high standard. Good for couples, adventurers, and families.
Rod est un anglais charmant qui se soucie vraiment du confort de ses hôtes. Nous avons séjourné avec notre bébé de 1 an, et cest pour cela que le logement n'était pas adapté pour nous. Le logement est vraiment excentré de tout : super quand on recherche le calme absolu mais pas pratique avec un enfant en bas âge, les promenades en poussette étant rendues impossibles. Il faut laisser les voitures sur un parking et descendre en 4x4 pendant au moins 10 minutes. Forcalquier est à 30 minutes de la maison, ça se prend en compte, il ne faut pas avoir oublié quelque chose... Il y avait 3 marches dans l'appartement, que je n'avais pas vues sur les photos et qui ont été dangereuses pour bébé. Un bémol : la piscine n'est pas chauffée et est vraiment fraîche, trop fraîche, je n'ai pas pu m'y baigner, mon fils encore moins. Cela devrait être précisé dans l'annonce car c'était un de nos critères de sélection et nous ne l'avons pas utilisée. Dommage, surtout quand il fait 35° et qu'il n'y a que ça à faire... Deuxième bémol, et là Rod n'y peut rien mais cest à prendre en compte car ça nous a un peu gâché les vacances: présence de mouches par dizaines, qui vous réveillent très tôt le matin... Je pense que le lieu est idéal pour les couples, où les familles avec des enfants ayant déjà quelques années.
anne-sophie
August 2016
Room type
Entire home/flat
---
Property type
---
Accommodates
4
---
Bedrooms
2
Montlaux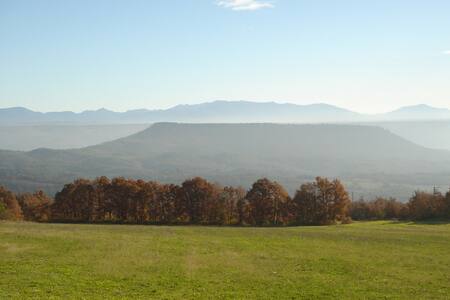 The host canceled this reservation 4 days before arrival. This is an automated posting.
Julie
The Ground floor studio apartment is wonderful, it is well equipped, has a comfy bed and an amazing shower. Nathalie was a wonderful host, very friendly and helpful, her English and my French was limited but this was not a problem. Bedoin, is a lovely little village with good beer and good food, and of course excellent cycling and cycling rental. I was only in Bedoin for one day but cycled Mont Ventoux and went to the lake at Mormoiron nearby. I wish I could have stayed longer, excellent AirBnB.
Sam
August 2016
Great studio well- located on the edge of Bedoin. Well- thought out with small touches like coffee and sugar to make you feel at home. We thoroughly enjoyed our stay! Super studio dans un quartier calme a l'entrée du village. Bien aménagé avec du café pour le matin! Nous avons bien aimé notre séjour.
Naomi
October 2016
Very nice and quite flat with very friendly hosts. Everything worked well. Tres bien!
Stefan
July 2016
This is a one bedroom/bathroom full apartment in the basement of the house. It was perfect for me. It has the perfect location for my cycling trips. It is equipped with refrigerator, stove, and microwave. Nathalie is very friendly and she will receive you at any time. Provided you tell her in advance. I told her I was going to be late and she made arrangements to receive me in the middle of the night. The language barrier is there, but this is what I like about this forum. You get immerse with the culture. She was available all the time. The room is nice and clean. The bed smells good and it's comfortable. Hot shower and clean bathroom. Perfect for a couple cyclists or a single one. Close to awesome Strava segments and to Mont Ventoux. Good to stay on budget during your cycling trip. I recommend this place.
Jose
September 2016
Nathalie is friendly, her hospitality makes your feel welcome and she makes the stay special.
Daniel
September 2016
Great place in the centre of bedoin, very close to everything. Very nice host who was very friendly. The room had everything you could need plus beer!
Stuart
September 2016
Perfect place for a cycle trip to ventoux..even provided a protein shake for after ride!
Ed
September 2016
Room type
Entire home/flat
---
Property type
---
Accommodates
2
---
Bedrooms
0
Bédoin
We had a last-minute need for a place in Apt. Seb was away and had not planned to rent the house, so it was not properly prepared for guests. He was gracious enough to accept us anyway so any deficiencies should not count against him in the least. The house is fascinating with lots of interesting art. It is close to the old center of Apt - though the walk is quite steep. The neighborhood is very quiet. If one uses the big bed downstairs it is a bit of a hike to the bathroom upstairs. And, if you like cats (we do) the resident cats and the neighborhood tribe provide lots of entertainment. The kichen is well equipped and there is a large and private yard with a nice mix of sun and shade.
David
September 2015
Sebastien s´est débrouillé pour que nous puissions obtenir les clés dès notre arrivée du train, en dehors des heures de check in, merci encore! L´appartement est très situé et équipé. Vous vous y sentirez comme à la maison grace à une belle déco. On a passé un bon moment avec Sébastien et ses enfants. Une très chouette rencontre!
Raphael
January 2017
Luberon ingurua ezagutzeko primerako kokalekuan dago etxea. Etxeak bereak izugarrizko aukerak ematen ditu: handia da, hiru logela ditu, litera-oheak eta terraza handi bat espazio ezberdinekin. Autoa etxe aurrean uzteko aukera dago, nahiz eta bertara igotzeko bidea oso-oso estua eta aldapa pikoa izan. Onena da, beste aldetik errepide hobea duela; hortik joanda, autoa urrutixeago utzi behar bada ere. Sebastien oso habegikorra izan da gurekin eta emandako informazioa guztiz egokia eta zehatza izan da. Gomendatzeko modukoa da lekua.
AINARA
August 2015
Le Top du top, Sébastien notre hôte était adorable et chaleureux, il a su préparer notre arrivée pour que nous nous sentions bien ! La maison est superbe avec une belle grande terrasse pour déjeuner avec la vue sur la vallée. Nous sommes très content de ce séjour et nous le recommandons en tout point. Nous y reviendrons avec plaisir !
Nathan
July 2015
Belle villa atypique avec un jardin au calme au coeur d'Apt. Dommage que notre hôte n'ait pas été là pour nous accueillir mais son amie nous a très bien informé concernant la maison. Très bien située, nous avons pu visiter le Lubéron facilement. Bref une adresse à retenir.
MELANIE
August 2015
Seb nous a sympathiquement accueilli dans son agréable maison, point de départ pour de belles balades dans la région. Merci encore
dario
October 2015
Seb è stato un ospite squisito, ci ha illustrato ogni cosa con estrema gentilezza e dato consigli preziosi per organizzare bene i due giorni (pochi in verità per vedere bene la zona) che abbiamo trascorso nel "paese d'Apt". La sua casa è molto carina, ha una specie di deliziosa terrazza per mangiare all'ombra di due immensi alberi (forse tigli); posta in una zona collinare (c'è una salita ripida per raggiungerla), permette di godere di una bella vista sulla cittadina. I suoi 2 gatti sono stati l'amore a prima vista delle nostre figlie, che hanno provveduto a dar loro da mangiare. Davvero consigliabile per chi viaggia con bambini (non piccolissimi, magari, visto che ci sono i letti a castello, ma c'è anche la possibilità di dormire a livello terra, come ha fatto la nostra bimba più piccola)!
Martina
August 2015
Excelente anfitrión y excelente apartamento
Jaime
August 2016
Room type
Private room
---
Property type
---
Accommodates
3
---
Bedrooms
1
Apt
We had a great time with our charming, sympathetic and communicative hosts Laurence and Armand. The pool is gorgeous (!) and you have a lovely view as the house is situated in the mountains over Manosque. Very calm place - ideal for relaxing hours and countryside experience. In the very modern appartment you'll find everything you need to have a great time. Very beaautiful town with a great market of vegetables and more of the regional producers. The region is great for hikes in the beautiful landscape and it's also fun to discover it by bike.
Philipp
August 2016
Just a word could define our week: Exceptionnel!! Our hosts were very kind, flexible, endearing, amiable, introduced us at local tips, food tastes. We were very grateful to meet them and it's a 100% recommendable experience. Apartment was fantastic even better than you can see at photos of their ad. It's well located to see several places of interest: Luberon, Verdon, etc especially to enjoy nature by bike Many Thanks for such a great week! Carlos & Mónica
Carlos
July 2016
Staying in this place was one of our best experiences on Airbnb. Laurence and her husband were super nice, they explained everything in detail and were always ready to help. My poor knowledge of French was quite enough to communicate, and Laurence could also explain in English when necessary. The loft is equipped with everything you need, it was very comfortable, cozy and super clean. The location in calm residential area is covenient for people with a car and can serve as a base to explore Provence region. We would (and I hope will) definitely stay there again if we visit the area.
Vlad
July 2016
Our experience staying at Laurence place in Manosque way excellent. The pool was a delight with the hot summer and our hosts were extremely kind, friendly and helpful. They also let us use their bbq which was pretty cool!
Jeremie
August 2016
très bien reçu ! logement impeccable et décoré avec beaucoup de goût. au calme et non loin des commerces à la fois. à recommander.
Cyril
September 2016
L'appartement est nickel: spacieux, calme, bien équipé, tout y est neuf et la vue est magnifique. Le fait de pouvoir profiter de la piscine est un réel avantage. L'accueil est très chaleureux, Laurence et Armand font tout pour qu'on s'y sente comme à la maison. Je recommande vraiment ce logement.
Karim
June 2016
Certainement notre meilleure expérience Airbnb ! On se sent comme à la maison dans ce petit coin de Manosque grâce à l'exceptionnelle douceur de vivre de Laurence et Armand. Nous avons pu profiter de la piscine à tout moment, du jardin et de l'appartement refait à neuf, confortable et très bien équipé. Une excellente adresse pour passer un séjour détente. Merci à la famille pour avoir été si chaleureuse, discrète et aux petits soins.
Kristel
September 2016
Comme à chaque fois, le séjour s'est très bien passé...cela fait maintenant mon 4eme séjour et Laurence et Armand sont toujours aussi généreux et accueillant. Le studio est quant à lui toujours aussi propre et confortable! LE logement idéal pour vos séjours à Manosque
Karim
June 2016
Room type
Entire home/flat
---
Property type
---
Accommodates
2
---
Bedrooms
0
Manosque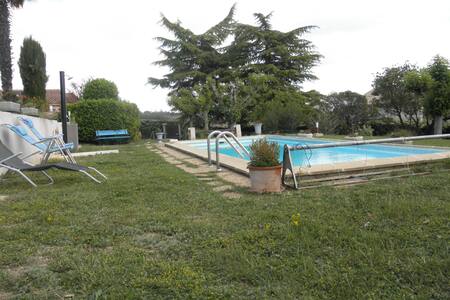 Situated at the foot of Mont Ventoux, with its mythical étape of the Tour de France, Mormoiron is a typical French village, in the heart of Provence. When one climbs the narrow streets, the village offers a wide view of the surrounding undulating vin
Situated at a five minutes walk from the centre of the small village of Mormoiron, ideally suited for cyclists who want to climb Mont Ventoux (7 km to Bédoin). Pleasant pied-à-terre of 49 square meters, all modern comforts. Independent entrance, indoors' storage space for cycles and suitcases, private parking and large terrace, partly covered. Two sleeping areas: a double bed and two singles, large kitchen with dining table, living area, desk, shower room with washbasin and W.C. Facilities : All household linen, babycot, dishwasher, washing machine, oven, micro-wave, television and DVD player, computer and internet. The resident Dutch owner speaks (Dutch) English, French and a little German.
When arriving from Mazan, at the sign of Mormoiron, turn left into the village, continue straight on until the second roundabout. On your right, you will see Le Tilleul Hollandais: Dutch linden in front of the house, linden-green gate and shutters
Room type
Entire home/flat
---
Property type
---
Accommodates
4
---
Bedrooms
1
Mormoiron