A one bed, one bath, waterfront cottage on the grounds of Holly Cove in Onancock. The former studio of artist Abbi Custis. Whether you choose The Studio for creative inspiration, as home base for exploring the Shore or just to relax, we hope you feel at home.
Just 3 miles from the town of Onancock with a water view and waterfront access.
We are 3 miles from the charming town of Onancock, with shops, restaurants, art galleries, a movie theater and a playhouse. We are about halfway between the beaches at Cape Charles and Chincoteague, both are about 45 minutes away.
Channing was a very welcoming and thoughtful host. I cannot even begin to describe the beauty of her property. She has turned a small cottage into a welcoming, bright, cozy experience. I over-pack on every trip and I had a space for everything. She has thought of every need. If you have forgotten something, rest assured that you will be covered. The town - charming, the food - delicious, the views - spectacular, the location - perfect and the host - wonderful. We look forward to planning a longer visit.
(EMAIL HIDDEN)
2017-02-26T00:00:00Z
The property is absolutely beautiful. The studio is extremely clean. Channing really goes the extra mile and has snacks, and drinks, and extra toiletries available.
Mallory
2017-04-02T00:00:00Z
The Holly Cove Studio was a real find! A beautifully decorated cottage in a spectacular setting, with host who do everything to make your visit comfortable and memorable - right down to the home-made muffins. It's an easy drive to Chincateague Island but away from the tourist frenzy, in a lovely historic town. Don't miss it if you're in the area.
Susan
2017-04-04T00:00:00Z
We traveled to the Eastern Shore to attend a wedding shower for our dear friends. The Studio was the perfect place for us to stay for a night. The views are amazing and Channing added personal touches that ensured our stay was wonderful. She even left a basket of toys out for our 10 month old daughter. We would definitely recommend The Studio to anyone visiting the Shore and would love to stay again. Thank you, Channing!
Megan
2017-03-05T00:00:00Z
Great weekend getaway. Cozy, nicely decorated studio in quiet rural location, with lovely water view.
Greg
2017-03-19T00:00:00Z
Room Type
Entire home/apt
---
Property Type
House
---
Accommodates
2
---
Bedrooms
Onancock, VA, United States
Le Muse Artist/Naturalist Retreat. Chesapeake Bay Farm has 1 king-size sleep number dual control bed .Bed in large room with bath across the hall. Crab on the public dock, Hunt,Kayak, bird-watch, hike the marsh or enjoy artistic hobbies. 40 min from Chincoteague Island.
The HOUSE is a 1890's circa built farm (URL HIDDEN) Captain E.J.Russell .The house and property was hit hard by hurricane Sandy and I've been struggling to just revive the house and grounds. I thought Air B N B would be able to help, and at the same time allow me to share the beautiful surroundings with artist and nature lovers. If you are into Hunting , Kayaking ,fishing ,boating art and nature photography, this is the place for you . The house and FARM is in the Chesapeake bay side village of Hunting Creek .You can walk to the dock to crab or fish or launch kayaks. Hunting Creek will promise a magnificent kayak tour. I have cats ,dog and parrots in the home, and geese , horses , peacocks and chickens outside.. It's a farm..! The sounds of nature surround you day and night .Peacocks yell at night and geese and chickens will serve as an alarm clock in the morning.Please , please , do not book, if you are looking for all the comforts of the Holiday Inn or Comfort Suites .. I am NOT a Bed and Breakfast or a hotel.I offer a comfortable, clean, room, in my personal home , with No TV service in the bedroom . I advise against a stay if you are allergic to animals also . The guest bathroom and bedroom are clean, , but the fixtures and furniture are are old. The house is under some renovation.Common room has Satellite TV, which guest are welcome to use . The guest room has a full size bed in a large room, with A/C . Feather bed provided for the winter months . A Bathroom/shower , for guest only, is across the hall. The guest room is the only area of the house that has A/C.. .We have hard water here, which means it's well (URL HIDDEN) fine for showering ,and cooking , but I do provide bottled water for drinking . The sounds of farm life start early here.. roosters , start early and peacocks scream in the (URL HIDDEN) if your sensitive to nature, I'd advise against a stay here..
Bay side village..walk to dock .Bring your crabbing nets Art Supplies , Cameras and kayaks. Hunting Creek is a great kayaking tour. Boat ramp is 1 mile away. Hiking in the marsh is great for camera bugs and hunters. All Artist and Naturalist welcome!
They definitely made us feel welcome. Even waited up to greet us when we arrived late.
Sable
2015-09-05T00:00:00Z
Dawn has a lively place filled with animals! We had a great time staying and slept soundly in her very clean and lovely room!
Rowen
2016-09-24T00:00:00Z
The reservation was canceled 2 days before arrival. This is an automated posting.
Linda
2015-02-26T00:00:00Z
I had a delightful stay at Dawn's place. She is a generous host and provided a very cosy and comfortable room :) Her house is full of character and charm and the animals were very welcoming after a day at the beach.
Rebekah
2015-08-22T00:00:00Z
We loved staying at Dawn's. The guest room probably has the most comfortable bed I ever slept on doing airbnb. There is a large variety of farm animals on the property. We are animal lovers, so naturally this is a rare treat for us! Thank you, Dawn. We highly recommend the stay!
Xuezhou
2016-07-25T00:00:00Z
Dawn was wonderful- but I wish we could have met her in person. She called to prior to arrival to make sure we knew where we were going and to let us know she wouldn't be there. Told us to enjoy her wonderful farm house and all her furry and feathered family. Girls enjoyed feeding the horses apples, riding bikes to the docks, and playing ball with her friendly dog Khaki. The guest room very comfortable with great decor. Girls swam in the pool and then went to bed early since we got up at 5:30 to get to Chincoteage. Our first time staying at an Airbnb and glad Dawn made it a memorable experience.
Tabby
2016-08-11T00:00:00Z
My girlfriend and I stayed at Dawn's place for a couple of days during which we attended the annual Chincoteague pony swim (Chincoteague is about a 40 minute drive away). Her place is very out of the way, yet not difficult to find or navigate to. If you want a quiet retreat in nature, this is the place to choose! Dawn has plenty of wonderful animals, including a dog, cats, geese, chickens, horses and peacocks. The water is only a few minutes walk from the house. The guest room and bathroom are well-maintained, and Dawn herself was very friendly and courteous, even though, workwise, it was her busiest week of the year. I highly recommend this place.
Manu
2016-07-29T00:00:00Z
This is definitely a different experience from a chain hotel, but still quite enjoyable nonetheless. Although I never met the host in person, she's very easy to work with.
xiao
2015-07-26T00:00:00Z
Room Type
Private room
---
Property Type
House
---
Accommodates
2
---
Bedrooms
Parksley, VA, United States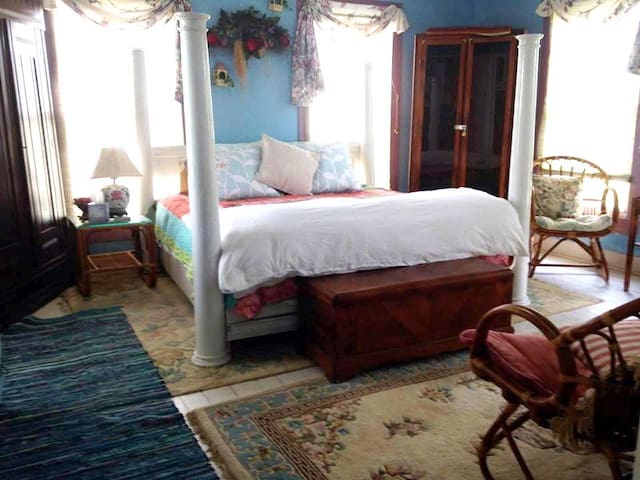 Get away from the hustle and bustle of life and relax by the fire on the Chesapeake or take in dinner and a movie in the historic and quaint town of Onancock on the Eastern Shore of Virginia.
Imagine driving down a long dead end road and discovering a small colony of just 8 cottages nestled along the Chesapeake Bay. Welcome to THE SEVEN MILE COTTAGE in Crystal Beach Colony where daily life is calm, peaceful and untroubled.
This was a wonderful little cottage. It's so peaceful - only a handful of other houses nearby. Easy drive into town and easy drive to Chincoteague and Assateague Islands. The kitchenette has a really nice, large hot plate that you can get quite creative with as well as a crock pot. There's a fire pit, a beautiful view of the bay, and beautiful sunset views. Patty and her husband are super friendly!
Gracjan
2014-04-14T00:00:00Z
This was my second stay at the cottage and I once again loved it. I enjoyed the walks on the beach, watching sunsets and birds. I also continue to be impressed with Patty's organization and hospitality. The cottage is so well equipped, you can't possibly miss a thing, from plates and cups, a coffee maker, a tea kettle, all the way to a corkscrew and a can opener. Patty also left very good quality coffee and essentials such as creamer, sugar etc. Plenty of towels (very good quality). The place is meticulously clean and organized. There a notes pointing to extra blankets, use of a fireplace and an extensive list of local attractions, shopping and restaurants. Thanks Patty! I will be back.
Anna
2015-04-07T00:00:00Z
My family and I had a wonderful stay at Patty's delightful beachside cottage! We were met by her husband Bill who was very kind and helpful. Patty was super responsive and helpful on email before and after booking was made. This is a fabulous treasure of a location! We are so pleased we found this place and we look forward to going back!
Isabelle
2015-10-13T00:00:00Z
We missed this cottage as soon as we left. What a perfect getaway! Patty and her husband, Bill, were very welcoming and made sure we had everything we needed to have a great stay. The cottage was exactly as described, but cuter! I have to admit that I was a little worried because there was not a full kitchen, but honestly, everything we needed was there. We were able to grill up one heck of a dinner and while enjoying the sunset and amazing view of the bay. We hope to return and we will tell all of our friends about this great find. Thank you for a much needed relaxing mini-vacation. Courtney and Scott
Courtney
2014-09-08T00:00:00Z
This was our second time around staying at the Cozy Cottage. We needed to make a quick trip to VA, and Patty was able to accommodate us. I would definitely recommend the Cottage. We will definitely be staying there again. It's so nice falling asleep to the sounds of lapping waves.
Tracy
2014-06-09T00:00:00Z
Patty was a great host even through she wasn't around - responding promptly to queries, checking on our status/needs. The property was exactly as described, clean, inviting, etc. Her husband came mid-way through our stay and helped us with directions and generally made us feel even more welcome!
Michael
2014-08-08T00:00:00Z
We had a great stay at Patty's place! It was clean, comfortable, and sitting on the patio watching the sunset was spectacular. It was extremely peaceful awhile we were there -- there were very few neighbors around and it felt like we had the whole beach to ourselves! Water is very shallow but beautiful. We thought we'd want to do more activities in the area, but it was so nice here we decided we didn't want to go anywhere and just spent the day relaxing. On our way out we stopped at Chincoteague to explore, and while we had fun, we both agreed the bay around Patty's place was just as nice, if not nicer.
Kate
2016-06-14T00:00:00Z
This beautiful beach abode fit all of our needs. My mother and I stayed here during a weekend getaway, and we couldn't have chosen a sweeter spot. The fabulous interior design was only matched by the spectacular views of the Chesapeake Bay and the hospitality and consideration of the hosts. The town of Onancock is large enough to offer a movie theater, several dining options, and a smattering of quant shops, but not large enough to be overwhelming or unwelcoming. If you want a solitary sanctuary or a place to reconnect, I highly recommend this delightful dwelling, as we could not have been happier.
Deborah
2014-03-30T00:00:00Z
Room Type
Entire home/apt
---
Property Type
House
---
Accommodates
4
---
Bedrooms
Onancock, VA, United States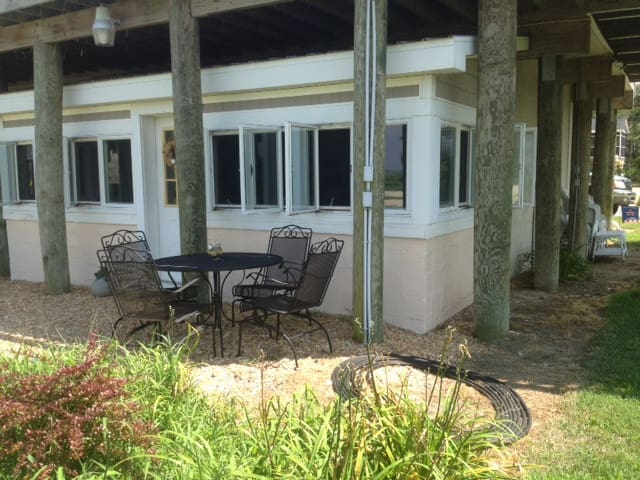 At the end of a long white clam shell driveway, sit a classic Eastern Shore Farm house with adjacent 3 bedroom cottage. The 27 acre compound features brilliant water views, with kayaking, swimming, fishing, crabbing from the private dock and boat ramp.
We had a wonderful time with family and friends at Tucker's place. The location is idyllic and the house is a lovely piece of history. The property manager Jimmy helped us out with some kayak rentals which helped make our stay complete. We hope to return soon!
Thomas
2016-07-16T00:00:00Z
Amazing place to stay with family and friends
Melinda
2016-12-30T00:00:00Z
Tucker's house was truly paradise. We brought a 9-person low-key bachelorette party, and even with a tropical storm, it was perfect — enough space for everyone, wonderful view of the water over the stove, the dock (ideal for having morning coffee), and the beauty and peace of the whole area. We are so grateful to have had a chance to stay here, and we are already planning our next trip back!
Sarah
2016-09-06T00:00:00Z
Tucker was great, he was always quick to respond and very helpful, his place was clean and exactly what my friends and I were looking for also for the price, there is nothing better
Ramsey
2016-08-09T00:00:00Z
Room Type
Entire home/apt
---
Property Type
House
---
Accommodates
12
---
Bedrooms
Onancock, VA, United States
Near the quaint town of Onancock, enjoy a relaxing retreat in our home overlooking the Bay. In a waterfront community, you will have access to our private beach just steps away from the front door. Kayak and Bikes are available to our guests.
We enjoyed our stay at Bay View cottage. The house is located in a waterfront community with a private beach. It's a few miles outside of Onancock, VA, a town of 1300 on Virginia's eastern shore. The house is charming, quiet, and well-equipped for guests. It was a great place to relax, which is what we came to do. We used the house as a base to explore the eastern shore of Virginia. Our original plan was to do some road cycling, but it rained almost every day we were there. No worries. There were plenty of other things to do. We made trips to Chincoteague NWR, Assateague Island, Kiptopeke State Park, and the Eastern Shore of Virginia NWR. Everything was within 60 minutes driving time. Onancock is a charming little town, with a surprising number of restaurants for its size. We had lunch at Janet's and dinner at Mallards and Bizzotto's. We liked Bizzotto's so much we went back a second time. Excellent food and service. The mussels were amazing. We were told that the Corner Bakery and Charlotte Hotel were both excellent, but did not have an opportunity to try them. Debbie was a fantastic host. She was very responsive. Even though she had a Sunday morning check out, she had the house ready for us to check in on Sunday afternoon. The only problem we had during our stay was with the satellite TV system. Debbie's husband called within 5 minutes of my text message to her and walked me through the steps to re-boot the system. I don't think you could ask for a better host. We highly recommend staying at Bay View Cottage. In fact, we may return this fall for the Seagull Century in October.
Bruce
2016-05-08T00:00:00Z
Great communication, quick to respond. Loved the quiet neighborhood and close access to the bay. Our family liked the extra amenities such as internet, kayak, bikes, and grill. The porch was a wonderful location for our pups, we appreciated this being a pet-friendly house. Sunsets from the crows nest were lovely and a great spot to hang out in the evenings. We had a wonderful experience at Debbie's house and hope to return again!
Gwendolyn
2016-06-18T00:00:00Z
We were told where to find the keys to enter the listing and the host said she would be down to meet us at some point but never did come by. There were a few issues, nothing major but the couch had a broken leg that caused it to be lopsided and so really only 1 person could actually sit on it. There was a bench we used but no real comfortable place to sit and unwind. The private beach for this community is virtually useless...not even the people in the area use is. There's a lot of erosion, stumps sticking up and the bugs & flies made sitting there impossible. So we mainly used the house as our base and would leave everyday and explore. We did love the ocean beach at Assateague/Chincoteague (about a 45 min drive north on 13) and the bay beach at Cape Charles (about a 45 min drive south) that had no fly problem at all. We didn't use the kayak that was provided but did rent kayaks from Onancock Marina. Of the 3 bicycles provided only 2 were in working order and we only used one due to one being too small. The house itself is cute, but old and needs a few "(URL HIDDEN) burner on stove is unusable, the towel rack in bathroom kept falling off, the toilet seat in back bathroom was broken, a few light bulbs were burned out. Another things was that the floors in each room all seem to be different heights and we slammed our toes pretty bad going to the bathroom in the middle of the night. Also the rattan rug in the living rooms is more of a hazard than anything and also caused a couple of "trips". Onancock is a lovely town and we love the Eastern Shore but be advised that if you stay in this house you really need to drive to do anything so you will be spending a lot of time in your car.
Terry
2016-09-04T00:00:00Z
Fabulous view of the water (across the street!). Lovely space, plenty of room. Perfect for a low key family vacation.
Sarah
2016-11-27T00:00:00Z
The host canceled this reservation 8 days before arrival. This is an automated posting.
Constance
2017-03-30T00:00:00Z
Debbie was very friendly and very responsive to our questions! She was prompt as possible in helping us deal with a washing machine malfunction! Her home is very attractively decorated and has lots of eye appeal! It was great to have a full kitchen, washer and dryer, and had excellent air-conditioning! The fireplace was a nice touch, but we didn't use it since it was warm weather! It is in a quiet neighborhood with beautiful trees and peek-a-boo views of Chesapeake Bay.
Kathryn
2016-06-12T00:00:00Z
My family and I (total of 8), wanted a quiet weekend away, this place met all our needs. The private beach was simply beautiful! The house was well equipped to meet our needs; e.g. grill, stove, a.c. kayak, bicycles, wifi, cable tv. Thanks for having us, we will definitely be raving about your place.
Nirvaarni
2016-05-31T00:00:00Z
Host was very pleasant and helpful. Had a very nice stay at this cottage. Thanks!
fredrick
2016-05-16T00:00:00Z
Room Type
Entire home/apt
---
Property Type
House
---
Accommodates
8
---
Bedrooms
Onancock, VA, United States
This lovely 3 bedroom, 2 full bath home also includes, central air, TV, Washer/Dryer, gas grill, and a large backyard deck looking onto the water. Located on Underhill creek, our private 300 ft long dock is perfect for crabbing and fishing. Close to the town of Onancock which has nice variety of shops, galleries, and restaurants. Chincoteague (rated a top 10 US island by tripadvisor in 2016) is also only a 45 min car ride away. Or bring a boat to explore all the islands off the eastern shore.
Located in the quiet residential neighborhood of Cashville. For nice variety of shops, galleries, and restaurants, Onancock is only a short 10 min drive away. Other great nearby spot to checkout is Chincoteague island, famous for their wild ponies, and listed as the "Top 10 US islands" by TripAdvisor in 2016. The bayside town of Cape Charles is about an hour drive to the south. Nearby small, but interesting towns include Accomac, Parksley, and Wachapreague.
Beautiful secluded home on the water, perfect for a relaxing holiday weekend with friends or family. This Airbnb was everything it was advertised and Clancy was a responsive host. We spent half a day visiting Chincoteague but enjoyed spending the rest of our time at the house kayaking, crabbing, and smoking meats. It felt like we had the entire Eastern Shore to ourselves. This is an Airbnb home we'd love to visit again should we need another respite from the hustle and bustle of city life.
Brian & Shari
2016-10-10T00:00:00Z
good contact before our stay but no response when we contacted about the trash cans
John
2016-09-23T00:00:00Z
Beautiful secluded location. We especially enjoyed taking the kayaks out and watching the sunset. We visited in early September which was a great time to fish for crabs. They were plentiful straight off the dock and delicious when cooked in the full kitchen. Be aware that the home is far from civilization. There is no internet or cell service - exactly the disconnect I was looking for. Instead, you're treated to beautiful sunsets, tree frogs, and tons of birds. Plenty to stay entertained for 4 days
Edward
2016-09-16T00:00:00Z
There a lot of crabs and easy to catch. We did have a good time!!! Only one problem: no wifi, no phone signal. Other than that everything is great.
Lala
2016-08-22T00:00:00Z
Beautiful scenic as described. View from upstair bedrooms is unbeatable! Though we didn't met, Clancy provided sufficient information on entry and trash disposal. (SENSITIVE CONTENTS HIDDEN) Map was not exactly accurate but eventually we figured it out. We had fun catching crabs and kayaking.
Yun
2016-09-25T00:00:00Z
This was our first time to use Airbnb. We had a wonderful time crabbing, grilling, watching the Olympics on the large tv and taking in the view at this quiet secluded home. There was plenty of space in both the front and back yards for our dog. The kitchen was well organized and easy to find things. There is limited cell service so plan accordingly. A great time to unplug and reconnect as a family! Clancy, thanks for letting us be a part of your home even for a short while.
Christina
2016-08-09T00:00:00Z
The house was well kept and very comfortable. It worked out great as a secluded get away on our travels. It is a great location rate on the water with the wildlife and birds to watch.
Art
2016-07-22T00:00:00Z
Unbelievable area for its natural beauty and historical interest
George
2016-09-11T00:00:00Z
Room Type
Entire home/apt
---
Property Type
House
---
Accommodates
6
---
Bedrooms
Onancock, VA, United States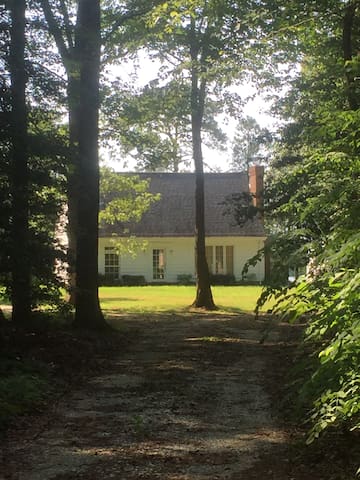 Spacious first floor bedroom with queen bed and adjacent bath. Broadband antennae and gorgeous local architecture. Chickens, turkeys, dogs and a cat. Chef owner so always fantastic food. Kids welcome and can provide air mattress for them if needed, but home is not particularly childproof.
1888 Victorian in historic neighborhood
Architecture and friendly neighbors
I had such beautiful night and so appreciated for being treated as a family member, and also the three lovely doggies.I bet they will identify me in the first place when we meet again.Thank you all again.
PinDong
2017-02-23T00:00:00Z
Room Type
Private room
---
Property Type
House
---
Accommodates
2
---
Bedrooms
Accomac, VA, United States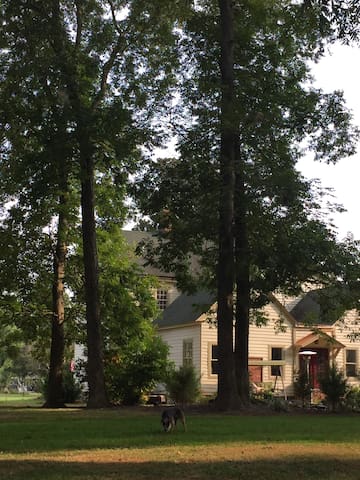 Enjoy the private locaion right on Onancock creek,with a half mile walk to historic town.Fine resturants,performing and movie theatre,kayak rentals,and cool shops.Tri-level deck with grill ,canoe, and paddle boat provided.
Onancock is a Charming Historic Town filled with activities for people of all ages.
We had a wonderful experience at Heartsworth Cottage! We were visiting family who live in town and the back deck was a perfect meeting space for everyone! The house is lovely and inviting, and the town is beautiful and interesting. We will definitely be back.
Lindsay
2016-11-13T00:00:00Z
Wonderful setting. Beautiful, peaceful and relaxing. Very comfortable and convenient
Debora
2016-03-18T00:00:00Z
I had family in for a big celebration - Thanksgiving and a 70th birthday! They all loved the cottage! It was quiet, right on the creek and gave them (and me!) space for the 5 days we were together. I know they'll return again IF I can promise them the cottage
Teresa
2016-11-27T00:00:00Z
Aside from a cemetery in the front yard (literallly 3 feet from front door), no wi-fi and an inaudiable tv from the 1980's...the cottage was adorable! If Joyce had written her description of the property and it's amenities more honestly I would not have had any complaints. But since she advertised sheets, towels, tv and wi-fi we expected these amenities to be at the house. Also, we certainly didn't expect the cemetery in the front yard! A heads up in the property description would have been nice! Also, she never advertised a boat ride, she offered it during our one phone conversation, but she never delivered on this offer. I hope this review makes it to the screen that potential renters see, because what I read on that review was not my full description of the rental!
Alice
2016-08-14T00:00:00Z
Wunderschönes, gemütlich eingerichtetes Ferienhaus in ruhiger Lage und traumhaftem Blick auf den Fluss! Die Ausstattung ist großartig und das Platzangebot größer als erwartet, lediglich das Bett für die 5./6. Person war relativ hart. Für 4 Personen ist das Haus aber perfekt! Ebenfalls tolle und sehr fürsorgliche Begrüßung und Gastfreundschaft durch Joyce und Duke, die unseren Urlaub in ihrem Haus sehr erholsam gemacht haben!
Hartmut
2016-07-28T00:00:00Z
Room Type
Entire home/apt
---
Property Type
House
---
Accommodates
6
---
Bedrooms
Onancock, VA, United States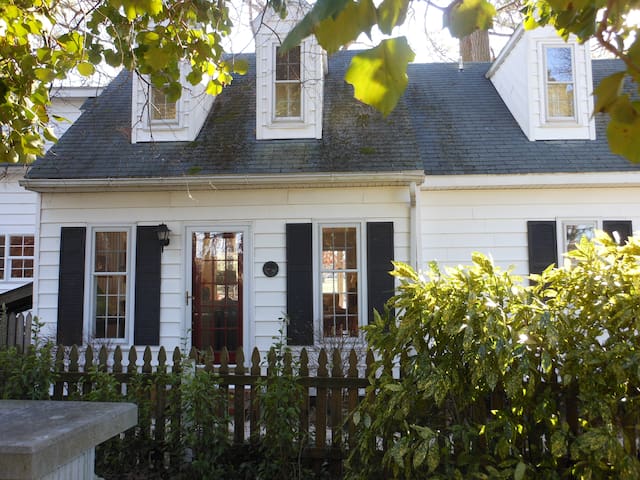 Gorgeous, professionally decorated, waterfront property on the expansive Onancock Creek AND only one block from the adorable town of Onancock. Come see why Budget Magazine just voted Onancock "The Cooolest Small Town in America!"
Gorgeous waterfront property directly overlooking expansive Onancock Creek, largest of the Chesapeake Bay tributaries, AND only one block from the adorable town of Onancock. No wonder Budget Magazine recently voted Onancock 'The Coolest Small Town in America!' Recently decorated top to bottom by award-winning design team JRML of Norfolk, VA, The Shore House is a gorgeous, peaceful and escape. There is no TV, landline or electronics at The Shore House. There is, however, a huge covered deck stretched along the back of the house overlooking the water where you can watch the herons, egrets and osprey to your heart's content. There is also a library tucked amidst the four upstairs bedrooms that overlooks the water and is fully stocked with a wide variety of books. For the few rainy days there is a TV for movie-watching, board games and ITunes. If you want more action you are a short walk from the town of Onancock which has antique stores, wonderful restaurants, a movie theater, a drama theater, a gourmet food/wine shop as well as the town wharf. Park your car and leave it! The house was built in 1999 by a builder for his family and therefore the lay-out is bright, spacious and well designed. The first floor of the house accommodates the master bedroom/bath suite, a full laundry room, a fully equipped kitchen a large family room with a game table, a formal living and dining room. The second floor has two kids rooms with two twins each and a jack 'n jill bath as well as two queen rooms that have a separate bath. Our dock moors our Maycraft motor boat and canoe. These can take you in 15 minutes to remote state-protected beaches where you will be the only ones around for miles! In town, kayaks can be rented as well. The dock is also great for crabbing and the back yard is large enough to accommodate any sporting event imaginable. Within driving distance are two golf courses in Cape Charles (30 minutes), the famous Chincoteague/Assauteague preserve where horses roam on the beaches (60 minutes), several places to charter boats in Wachapreague ('The Flounder Capital of the World', 15 mins) and in Cape Charles. Wallops Visitor Center, the up and coming star of the NASA rocket launching pads, is a 40 min drive north. There are also two grocery stores, fast food restaurants and other restaurants within a five minute drive. In addition, our summer, full-paying guests will have access to the amenities at the Eastern Shore Yacht and Country Club (15 min drive). Guests of ours may use the pool for only $5.00 per person and may pay to use the golf course, dining room etc. This is a very special and generous offer on behalf of the country club and we hope every guest will treat the facility with the utmost respect. There is nothing like the Eastern Shore, the largest stretch of undeveloped waterfront on the Eastern Seaboard. The Shore House puts you in the heart of it all. Keywords: Waterfront, luxury, large, new, spacious home. Perfect for a family reunion or getaway.
We had an excellent stay in Onancock. Gorgeous, clean house with everything we needed! We had quick and efficient communication that allowed for easy arrival. We visited for New Years to escape the city and enjoy the small town. I hope to visit again in the warmer months to take advantage of the lovely screened porch and dock.
Christin
2016-01-02T00:00:00Z
Room Type
Entire home/apt
---
Property Type
House
---
Accommodates
10
---
Bedrooms
Onancock, VA, United States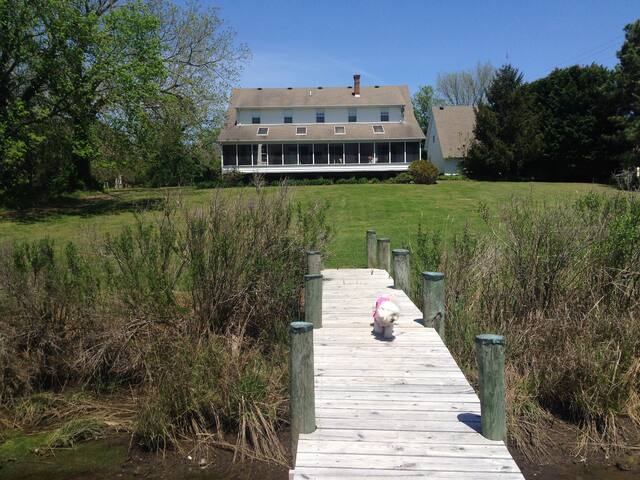 A relaxing cottage in Onancock, walking distance to restaurants, theaters, shops and the Onancock Marina. Spacious enough for a group of friends or family with the cozy feel perfect for a private retreat. The Shore Break Cottage is family friendly and includes a playroom with toys and books.
A perfect spot to spend the night before taking the early ferry to Tangier Island or while biking around the Eastern Shore. Walking distance to downtown restaurants and shops. Comfortable, gathering spaces both inside and out along with three bedrooms, a fully equipped kitchen with gas stove, living room, dining room, two porches and a playroom.
We love our location, just the short walk to town to eat out, catch a movie or visit the shops. There is also a nice park with a playground and big fields where our kids love to play. The well equipped public Marina just a mile away provides easy access to the Onancock Creek and the Chesapeake Bay. Kayaking or boating out of Onancock Creek offers unparalleled opportunity to see wildlife and appreciate the natural beauty of the shore.
Cute little cottage right in the middle of town!! Would definitely recommend to anyone looking to stay in this charming little town!
Kara
2016-10-24T00:00:00Z
The cottage is tastefully decorated, clean, and comfortable.
Patricia
2016-05-03T00:00:00Z
Perfect! Beautifully decorated and clean. Channing thought of everything.
Nikki
2016-04-08T00:00:00Z
Our group of three had a wonderful stay in Channing's beautiful home. We had everything we needed and more, and would absolutely recommend staying at her home in lovely Onancock. I can't wait to visit again!
Rebecca
2016-07-31T00:00:00Z
We were in town for a wedding and 3 couples stayed here for the weekend. Great location, and perfect house!
Henry
2016-09-12T00:00:00Z
We had a wonderful two night stay at the Shore Break. The cottage was as charming in person as it was in the pictures. It really felt like a home away from home. We did the short round trip walk to the quaint Onancock marina with our 9 month old and it seemed like everyone in town waved to us. We also discovered the North Street Market on the way home. The coffee that Channing leaves out for her guests was a really nice touch.
Andrew
2016-04-21T00:00:00Z
Just perfect! One of the best experience we got on Airbnb...
Coralie
2016-06-20T00:00:00Z
Shore Break Cottage was a wonderful place to stay. The cottage is very comfortable and decorated super cute. We had everything we needed in the kitchen and throughout. Channing added special touches such as providing extra toothbrushes, sun screen, bug spray- ( things we may have forgotten to bring). We spent a lot of time on the screened porch. We bought a boat with us and there was plenty of space to park it on the property. We came for a wedding and to explore the Eastern Shore by boat. This was the perfect location as there was a very nice marina just down the street. We will probably come back when we can stay longer.
Dina
2016-06-13T00:00:00Z
Room Type
Entire home/apt
---
Property Type
House
---
Accommodates
6
---
Bedrooms
Onancock, VA, United States
Welcome to the Seven Mile House Up!! This open and airy house sits high on 14 foot pilings and has a massive 62 foot long deck overlooking the Chesapeake Bay. It will be sure to sooth all your worries away the minute you walk through the door!
Imagine driving down a long dead end road and discovering a small colony of just 8 cottages nestled along the Chesapeake Bay. Welcome to THE SEVEN MILE HOUSE in Crystal Beach Colony where daily life is calm, peaceful and untroubled.
We just got back from a long wknd at the cottage. What an experience! I don't even know how to put it into words. My girlfriend and I booked this as first time users of airbnb and I wasn't sure what to expect. The process was seamless. The cottage was beautiful inside. Very nicely decorated. The outside deck was an awesome place to sit and relax. The views from the property were some of the best I have ever seen. The town itself is very small and quiet. We checked out the wharf when we arrived early Friday and had a few beers and appetizers. One Eve we had dinner at the Blarney Stone Irish pub and the food was amazing. We stopped at the corner bakery on the way home for some goodies. Patty and Bill are awesome. I chatted with Patty several times via text and actually got to meet her husband one day. Both are wonderful people and were very helpful with anything that we needed. Planning to head back this fall for some waterfowl and again next summer for a longer vacation. 5 stars!!!
Tim
2015-08-11T00:00:00Z
The experience was incredible! The host was very helpful, and gave clear details on how to get to her home, and gave great suggestions as to activities to do in town. The home was everything we expected- just as the description says, "Million Dollar Views"! It was great to be able to jump in the water whenever we wanted, and watch the lovely sunset at night. The house itself was quite lovely, and fit three people very comfortably. Even though it was pretty hot outside when we were there, the home was cool and refreshing. The windows provided beautiful natural light. The deck was our favorite hang out spot! We were able to cook dinner every night with the cooking supplies provided. The fire pit was an added bonus :) We loved every moment of it, and would highly recommend it! If you end up going, definitely try to go to Chincoteague! Even if you don't see horses, the beach is incredible!
Becca
2015-08-07T00:00:00Z
We wanted to get away for a short respite and this was the perfect spot! The view from the cottage was fantastic, and the setting was very peaceful. Patty and her husband have put a lot of effort into making their cottage a welcoming place to relax. Next time we'll bring our bikes. There are many places to bike, and the town is only a few miles away.
Tracy
2014-04-08T00:00:00Z
Had a great stay at a unique and lovely house. Would do again and reccommend to our friends
Robert
2015-07-11T00:00:00Z
Patty's home is AMAZING. The views of the bay are truly incredible -- the pictures don't do it justice. We loved the mid-century modern decor -- especially the vintage radio collection! The whole house is extremely well equipped -- we had everything we could ever need and more! It was particularly nice to have so much outdoor space. The deck was huge and had very comfortable furniture. The house was a lovely country drive to historic Onancock. The close proximity to a nature preserve provided excellent access to prime kayaking. Overall it was an incredible house, location and stay. It was an added bonus that Patty was so communicative and made the whole experience seamless. We will be back!
Murphy
2015-06-22T00:00:00Z
Patty was a phenomenal hostess! Everything was exactly as she and her description promised upon arrival. She even checked in with us the week prior with details, suggestions and helpful websites. My husband and I absolutely loved it--the house was open and airy, had SO much room and the beach was perfect--we couldn't get our dog to leave when it was time to go! We would recommend Patty & her house to anyone looking to have a relaxing, quiet and beautiful weekend away.
Kristen
2015-09-08T00:00:00Z
The house was awesome! Favorites: view of the sunset and the many outdoor spaces with plenty of seating options. It was the perfect size, super clean, and had everything you could need. The town of Onancock also impressed me. It has some great dining options and small shops. Definitely looking forward to returning soon!
Olivia
2015-07-13T00:00:00Z
We had a great time, very peaceful and quiet. Our kids had a blast playing on the beach, great views from the deck or the beach. The house had everything we needed was very comfortable for our family of four. We really enjoyed the decor of the home, thank you again for sharing!
Nathan
2014-06-29T00:00:00Z
Room Type
Entire home/apt
---
Property Type
House
---
Accommodates
4
---
Bedrooms
Onancock, VA, United States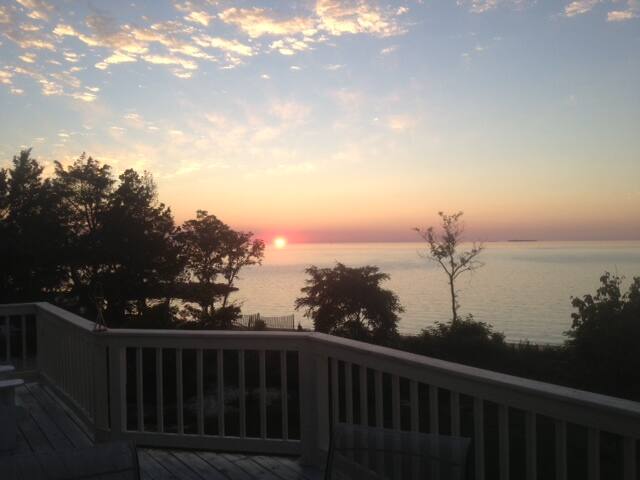 This airy, bright house is designed for easy, spacious living and gatherings. The house has been newly renovated: refinished bedrooms, new master bath with oversized tile shower, newly refinished floors, central air/heat, and gourmet eat-in kitchen - commercial gas stove with grill, griddle, and pasta pot filler tap. WIFI equipped. Clam shell driveway can hold four cars easily.
First floor has a great flow between living room, kitchen, and dining room, includes a butler's pantry, half bath, and mudroom leading to the private backyard. Second floor has three bedrooms, two full baths, and stacking washer/dryer off a spacious hallway.
The Eastern Shore offers Chincoteague National Park (with wild horses and open sandy beach on the Atlantic), many small quiet beaches, nature trails, ideal biking/kayaking, artist trail, seafood restaurants, wineries, and unique shopping – antiques and boutiques. Many boat launches all along the Chesapeake Bay and the Atlantic shores. Come see it all!
Room Type
Entire home/apt
---
Property Type
House
---
Accommodates
6
---
Bedrooms
Parksley, VA, United States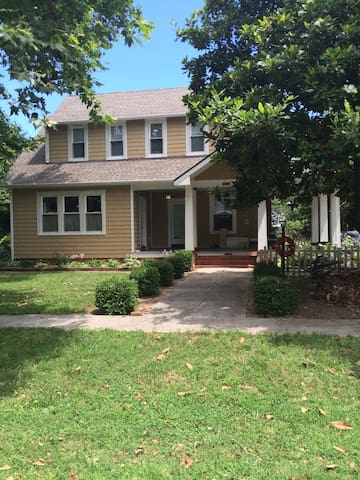 1906 Original two story house set in a charming hamlet on the Eastern Shore of Virginia. 30 mn south or Assateague Island, 45 mn north of Chesapeake Bay Bridge. Live the rural life in the beautiful calm and revigorating Eastern Shore.
An original 1906 house with all wood details intact. Original bathroom and kitchen with functioning necessities. Half an acre garden, 5 minutes walk from town. Shopping on N 13 nearby in Onancock. or Acomack.
The host made us feel very welcome and was readily available by text messaging for any questions we had once we arrived. The house is a lovely old Victorian with beautiful hardwood floors. We loved our stay there. They allow pets and small children!!! They are centrally located to lots of activities and seaside towns on the Delmarva Peninsula. I would suggest asking about bedding and bathing accommodations before confirming the reservation.
Melissa
2014-10-27T00:00:00Z
We loved our stay on the peninsula - lots of great things to do and beautiful beaches and parks to discover. Very grateful for the host's many good recommendations and quick responses by text about inquiries. We were happy with the house, which was as described. There was confusion and a bit of unnecessary back and forth after our visit when the owner informed us of complaints by the housekeeper about things that we thought we had explicitly agreed upon with the owner. This could have been avoided if there had been clearer and more explicit house rules and a check list to clarify expectations.
Florian
2016-07-15T00:00:00Z
Emmanuelle was a great host. Her place was everything as described, with charming touches throughout. We enjoyed the records, especially a Tom Jones record I listened to as a kid. My 5 y.o. daughter also enjoyed the many games and books available, including an original edition of My Father's Dragon.
Jennifer
2015-09-08T00:00:00Z
Emmanuelle was a very responsive and thoughtful host. We had a great time at the house, which is situated in a very quiet, quaint place with very kind neighbors. We had a great time!
Susan
2014-09-21T00:00:00Z
Emmanuelle's home was fantastic. Very spacious and outfitted beautifully. The pictures do not do it justice at all. We truly felt away from it all, but there was plenty to do and see nearby, most notably Assateague island which is easily the most idyllic beach on the eastern shore. Would definitely stay again.
Michael
2014-09-02T00:00:00Z
Emmanuelle's home is a spacious 4-bedroom Victorian with eclectic touches and rustic charm. This is a good place to get away from your daily grind and explore the sleepy Eastern Shore. If you are willing to forego some amenities and adapt to quirks, you'll find this place is a good value in a nice location. There is a learning curve to staying here -- the house is old and not everything works as expected. Also be advised there is also a lot of nature around here, so you will probably see an insect or two during your stay. We mostly had friendly ones like crickets, but if you have a serious bug phobia you might want to think twice. That said, if you're a hardy traveler looking for a good deal in the Parksley area this can't be beat. The town of Parksley has an interesting by-gone atmosphere. It's a sleepy town, and as another commented said you can feel the economic fatigue of the area. But there is a main street with a few shops, and I also recommend strolling the side streets to admire the houses. The nearest grocery store is few miles down the highway in Onley. Onancock isn't far and has some good offerings in terms of food and culture, but our personal favorites were Cape Charles and Chincoteague. Once you get into the rhythm of the Eastern Shore you won't want to leave!
Robert
2015-08-31T00:00:00Z
I only spent three whole days at this lovely Victorian, but they were a blast. Emmanuelle was a terrific host from the jump-off, leaving detailed recommendations on the best places for lunch, dinner and drinks – all of which were perfect. The next-door neighbors were welcoming and friendly, too. The place is about a 15-20 minute drive from the beach on Assateague Island, and the neighborhood is safe and quiet. The house itself was a joy: Roomy, lots of windows and natural light. We stayed in the back bedroom, which had five windows – including a lead glass window that creates prisms when the sun comes up. Gorgeous! We'd recommend this listing to our friends for sure, and we'd love to come back!
Darla
2014-07-20T00:00:00Z
Emmanuelle had very helpful instructions and suggestions for places to eat and things to see. The house was definitely charming, and the kitchen was more than adequately stocked. There was also a sweet little table on the back porch, where we were able to enjoy our meals (and get a little reprieve from the crazy hot weather since there was bit more breeze there). There is great working record player that my daughter was totally entranced by. The town is very quiet and quaint, lots of beautiful homes. There is no shortage of things to do in the area, although you can definitely see that the area is quite economically depressed. The next door neighbors Betty and Victor were so kind and helpful and a pleasure to get to know. What was a little surprising to us was that one of the 4 bedrooms did not have a bed (although there was a mat that was supplied to sleep on). Not what we had in mind. If we had known about it, we would have brought our air mattress from home. Also, for the other 3 bedrooms, they all only had single (twin) beds. The largest had 2 twin beds, but we were expecting at least 1 if not 2 double beds. Keep in mind that we were there on 2 of the hottest days of the year, so letting my daughter sleep with me on a twin bed just was not an option. The other surprise was that the bathroom only had a bath, no shower, not even a handheld shower nozzle. There was a pitcher next to the bathtub to dump water over your body, which certainly got the job done, it just wasn't what we expected. Overall, the beach and the family time and the food made this trip an experience that we are sure to remember for years to come.
Kaysha
2015-07-23T00:00:00Z
Room Type
Entire home/apt
---
Property Type
House
---
Accommodates
6
---
Bedrooms
Parksley, VA, United States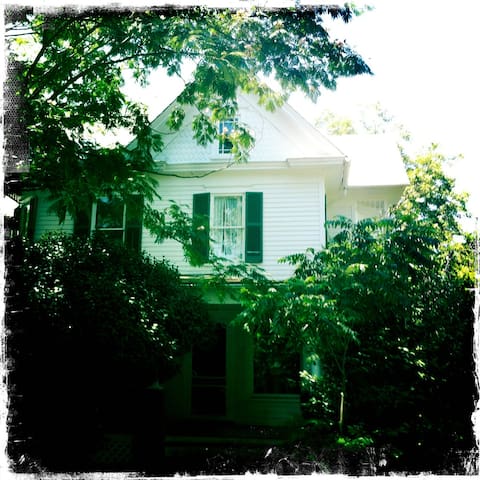 My place is close to family-friendly activities. You'll love my place because of the views, the coziness, and the kitchen. My place is good for couples, families (with kids), big groups, and furry friends (pets).
Gregory was extremely responsive to our questions both pre visit and during our visit. We loved relaxing in this beautiful home. We would have liked to use the outdoor area by the water and the deck and grill, but Mother Nature did not cooperate. A very quiet and remote neighborhood but a very short drive to downtown Onancock which is quaint and lovely with great food and shops. The home is very large and perfect for our group of 10 (5 couples). Kitchen area is great for entertaining a group, lots of room to move around. We didn't use the fireplace but would be nice and cozy on a cool evening. We would definitely stay at Cedar Creek Paradise again!
Debbie
2016-10-23T00:00:00Z
Room Type
Entire home/apt
---
Property Type
House
---
Accommodates
10
---
Bedrooms
Onancock, VA, United States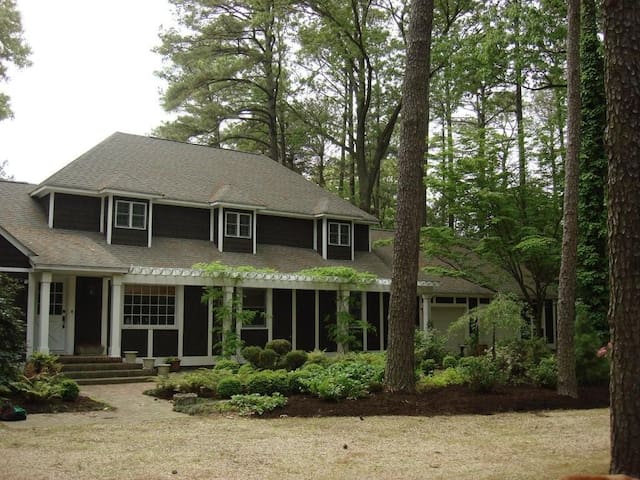 Charming, fully renovated cottage on Hunting Creek. Airy, large studio with deck, four "ocean liner" bunks, full kitchen, full bath, laundry room, sitting area, TV, wifi, DVD, expresso maker. gas grill and access to two kayaks and 3 bikes. Looks out over a private creek and anchorage with docks. Use our crab pots to catch your dinner. Kayak to a deserted island
As the pictures show, we renovated Sunny Bay cottage last year and it is professionally designed. Charming details, such as "ocean liner" bunks, butcher block island, antique furniture, abound. The views are wonderful. Use the deck to watch the sunset. Wake up to the sound of birds.
Walk back in time to when life was lived close to the land and water when you stay at Sunny Bay. There are still working watermen and women in the village. Call and they will bring fresh crabs to the door. Neighbors are welcoming and love to gather on the porch. Stargaze at night with a sparkling display on clear nights. House has docks and a creek leading out to the Bay for easy kayaking or boating. Explore a different deserted island each day. Take the bikes out on the largely flat roads. Visit charming small towns like Onancock and Wachapreague, "the Flounder Fishing Capital of the World (!)" We wanted a beautiful and welcoming place for family and friends and this is it.
Susan was fantastic. She is a great communicator and very generous. She has great suggestions for how to enjoy the area. Her guest cottage is very nice. Modern, clean, comfortable and well appointed interior. The bunk beds and crabbing off the dock were Huge hits with my two kids.
Jen
2016-05-31T00:00:00Z
Room Type
Entire home/apt
---
Property Type
House
---
Accommodates
4
---
Bedrooms
Parksley, VA, United States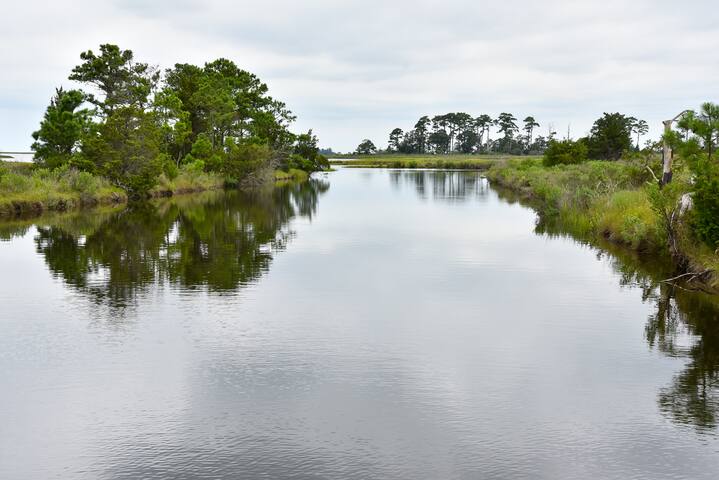 Get your zen on and enjoy the night sky, whispering pines, birds singing, and plenty of yard to stroll about and play games. Screened gazebo for lounging or dinning. Outdoor enclosed shower. Located approx 30 min from Chincoteague National Wildlife Refuge/Assateague Island & NASA's Wallops Island. Great hunting and fishing. A biker's delight. A wonderful retreat for couples, solo adventurers, business travelers, hunters, anglers, and families. Enjoy this grand old farm house, circa 1932.
The owner was helpful, hospitable, and flexible. She has a beautiful home and well kept backyard. She is easy to communicate with and efficient. There was a glitch in the system when I requested to stay at her home and we were able to come to a quick resolution.
Maurice
2016-07-25T00:00:00Z
Room Type
Entire home/apt
---
Property Type
House
---
Accommodates
8
---
Bedrooms
Accomac, VA, United States
Natural beauty and tranquility, breathtaking sunrises and sunsets Spiritual / Writer's / Lover's retreat Watch Wallops Island rocket launches from the property About 30 minutes from Chincoteague Island Birds and wildlife Deep water access at the end of the street leads to private barrier island
Robin was great to work with. She responded to my inquiries quickly. The house was clean and had everything we needed for our stay. The setting is lovely and very relaxing.
Erika
2016-08-06T00:00:00Z
This house is a wonderful get away! The neighborhood is quiet and beautiful! You can see the marsh from the balcony and there are lots of places to sit, relax and enjoy the quiet. Robin provides a very cozy beautiful home which was not far from Chincoteague. The deck was also a lovely place to do yoga on and with the sun. Her music collection and books were wonderful extremely diverse. There's lots of light in her home from the sun and when you have the windows open it's a beautiful breeze flowing through the home. We spent the weekend there in the middle of October and saw spectacular sunsets and sunrises from the deck. Even in October there were mosquitoes that bite through clothing so be sure to cover yourself in insect repellant when heading outside. The beds were extremely comfortable and there's a large kitchen with a big seating area to enjoy if you to have company while cooking. Robin's home was the perfect get away from the hustle and bustle of DC to unwind, recharge and decompress. We hope to make it back again next year! Robin communicated quickly with answers to all of our questions. Thank you, Robin!
Soo
2016-10-17T00:00:00Z
Robin's house is a serene oasis! Can't wait to go back. Watched the sunrise from the deck - beautiful! I could stay there for a week. Love the way it's decorated and you can hear yourself think! Great for a quiet weekend getaway. Loved it!
Nancy
2016-09-11T00:00:00Z
Robin was absolutely easy to communicate with and worked with my shifting schedule effortlessly. Robinsnest is immaculate and upscale in an absolutely tranquil setting. I would have loved to stay longer if my travel schedule allowed for it.
Marshall
2016-04-28T00:00:00Z
What a wonderful 1st Airbnb experience! A brilliant few days in Robinsnest !The house is charming, room is very nice decorated and extremely clean with comfortable bed, great terrace and outstanding views. Very nice, quiet and safe neighborhood. Fantastic accommodation and host! We really enjoyed our time here.
Lenny
2016-06-06T00:00:00Z
Robin was a wonderful host. She gave plenty of recommendations and answered any questions that came up. Everything was exactly as it was expected to be and the house was emmaculate. Plenty of privacy and space for those who like to have their own area and peace and quiet. The view and backyard were amazing as well. Tons of space to hangout but do bring lots of bug spray. A car is needed, but nothing is really too far away. I would definitely stay here again if I have the chance.
Christopher
2016-08-22T00:00:00Z
Robin's home was lovely. It was beyond what I could have imagined. The neighborhood was quiet and private. The house was exactly the space that we needed for my friends and I to get away for the weekend. We loved her big kitchen and table - great for meals, games, and a lot of laughter. The drive was easy to Chincoteague. We wished that we could have stayed longer!
Grace
2016-08-30T00:00:00Z
Robin is a great host. Lots of good tips on things to do in the area. The house was private and quiet, it was incredible! We plan to come back.
Steve
2016-08-17T00:00:00Z
Room Type
Entire home/apt
---
Property Type
House
---
Accommodates
6
---
Bedrooms
Bloxom, VA, United States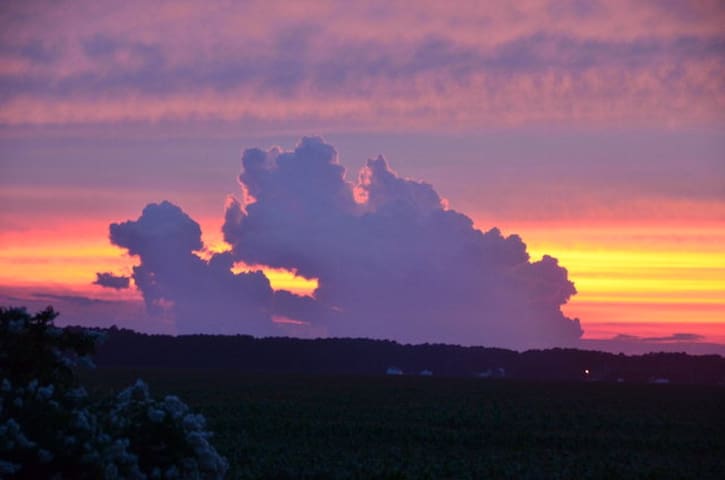 Beautiful "Shore Escape" tucked away in a private waterfront neighborhood 20 minutes from Chincoteague, in view of Wallops Island's famous rocket launch pad! Enjoy nature at this peaceful retreat overlooking Kegotank Bay, Assawoman barrier island & the Atlantic Ocean! Kayak to the barrier islands. A perfect location to explore the shore!
Shore Escape is centrally located between Chincoteague and Onancock in an ideal spot to explore the shore during the day and relax in privacy at night. If you need an extra space to sleep, we do have a blow up bed available. Shore Escape is for nature lovers.
Hopeland is a secluded neighborhood overlooking Kegotank Bay, Assawoman barrier island and the Atlantic ocean with a private boat dock and gazebo to launch kayaks, crab and/or relax.
When we walked in, there was a lovely snack provided by Ginger, that made us relax immediately. Shore Escape is immaculate. When I tell you that the views are gorgeous, this is an understatement - just absolutely beautiful. Each room is exactly as pictured and beds are very comfortable. My family was very relaxed and happy in Ginger's home and isn't that what a vacation is about? The kitchen is well-equipped and cook-friendly. The other amenities are well-thougt-out and very accommodating. There wasn't anything that we wanted to do for which there was not provision. There are, now, houses built next to Shore Escape, but it in NO WAY impedes the feeling of privacy and quiet. We walked to the private dock, each day, and never felt or saw anyone! By the way --- the private dock was amazing. We sat out there and just jaw-dropped. It is so quiet and beautiful. Shore Escape is a well-maintained, quiet and comfortable Air BnB that made our vacation one of relaxation and peace. THANK YOU, GINGER!!!
Melissa
2016-03-25T00:00:00Z
Shore Escape is a very special place and I cannot think of a more beautiful spot to relax. From the welcome gift awaiting me when I arrived - in a spotless and comfortable home - to finding a great selection of kayaks out back, it was truly an awesome stay. Ginger reached out and made sure I had what I needed as well. I had originally planned to tour the whole area, but instead spent almost my entire trip on the water exploring every inch of Kegotank Bay and the pristine shoreline. To me, watching the sunrise from the sunroom in the back of the house and the sunset from the front porch is worth the trip! It's a hard place to leave once you get there!
Ted
2016-08-27T00:00:00Z
Shore Escape was a spacious, comfortable and well decorated house. The views from the house were breathtaking specially from the sun room. With the house came all the necessary gear for outdoor activities, kayaks,beach towels,folding chairs and binoculars for bird watching. We forgot to take our music with us and were pleasantly surprised to find such a large collection of CDs The host were very gracious and gave us a lot of tips on where to go and things to do, the welcome basket was a very nice touch. We were there for the Memorial Day weekend and unfortunately it had rained the whole month of May and the mosquitos were out in full force, if you are planning to go around that time I recommend you bring plenty of mosquito repellent and appropriate clothing if you plan to go hiking/bird watching. The beach was fine.
Fatema
2016-05-31T00:00:00Z
There was a wonderful gift waiting for us when we arrived! Thank you so much! The house was very clean and cozy! The views were beautiful! We visited Chincoteague and Assateague Island. We walked the lighthouse trail and even walked up all 175 steps to the top which was very neat! We visited the Nasa visiting center and the Museum on the Island as well as the education center and Tom's Cove! We played mini golf at Surfside Golf! We paddled out to the Islands and came back with some very neat seashells. There were a lot of firsts for our little family! Our daughter is 4 and son is 7 and they really enjoyed crabbing at the private dock and feeling the ocean on their feet. It was a wonderful thing to catch on film and believe me my wife came back with over 350 photos from our stay! We enjoyed our stay very much!!!! Thanks Ginger!
Larry
2016-07-18T00:00:00Z
Room Type
Entire home/apt
---
Property Type
House
---
Accommodates
6
---
Bedrooms
Bloxom, VA, United States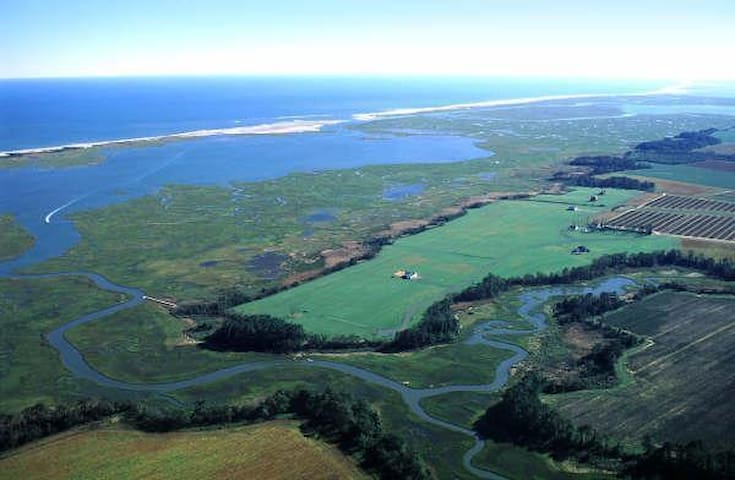 1

–

18

of

26 Home Rentals
Enter dates to see full pricing. Additional fees apply. Taxes may be added.