Just Opened April 15, 2017 Why settle for boring and mediocre hotels or house rentals when you can be living right on the water of the beautiful destin harbor? Centrally located on a private dock , quiet and safe and very serene. Let yourself be greeted by dolphins in the morning while the sun rises and enjoy the sun .This is for people who want something unique and memorable .
There's a down hill slope to go to the dock and houseboat. This is not suitable for disabled or people with knee or hip problems.
Room Type
Entire home/apt
---
Property Type
Boat
---
Accommodates
3
---
Bedrooms
Destin, FL, United States
Beautiful houseboat close to Beach restaurants and watersports
Gorgeous Houseboat in Destin West /Okaloosa Island. If your coming to Destin then you know it's all about the Water. You could stay in a Hotel or Condo and look out at the beautiful view and wish you could be down on the water, or you could literally stay on the water. You could take a Dolphin cruise, or just sit on the front deck and watch them go by. You could rent a Pontoon at $450 a day or spend much less and get a beautiful Houseboat that you can spend the day and night on. There is literally a hole in the floor of the living room that you can watch the fish swim beneath you ( yes it has a removable plexiglass cover). We have built one of the Most Beautiful and Unique Houseboats expressly to make your vacation a Fantastic experience, that you just can't find anywhere else.
Thoroughly enjoyed our stay on the houseboat. Brad has done an amazing job with refurbishing her - the attention to detail and quality finishes are evident throughout. Directions to the marina and houseboat were easy to follow and Brad was there to greet us upon arrival to show us around and answer any questions. All the amenities were provided; it was spacious, clean and bright; beds were comfortable; the galley was a pleasure to use (all new and equipped with stainless steel appliances); both an upper and lower deck plus much, much more! Destin's eating and entertainment establishments are top notch and the houseboat is located right in the heart of it, all within walking distance. We packed a lot into our one day in Destin, but just sitting on Brad's beautiful boat, being entertained by an array of gulls, pelicans, loons and Dolphins while watching the sun go down, is a memory that I will never forget! Thank you Brad, for sharing!
Anna
2016-02-22T00:00:00Z
It was a fun experience to be on a houseboat in the Destin harbor. We had a couple of issues but Brad was immediately available and handled them promptly.
elizabeth
2016-07-18T00:00:00Z
Brad was a great host. Before we got there he asked if there was anything he could stock the boat with - so sweet! He also had a very open check in/out policy and met us at the boat to give us a tour and make sure we were comfortable with everything (being on a boat, it's a little different than your typical stay!). The boat itself was great. We loved hanging out, drinking wine, watching the sunset & playing games on the deck. I will say... it smelled very smokey. Not a complaint, as it does say that smoking is allowed, but don't forget to take that into account if that's something you're particular about. We actually didn't spend much time in the boat, but it was bigger than I anticipated - and even had a second bedroom that I didn't expect (not shown in photos). We used it to store our luggage which was nice. The location is fabulous - walking distance from all of the restaurants and shops along Harborwalk! Thanks for a great stay, Brad!
Molly
2016-02-12T00:00:00Z
Brad reached out to us the night we requested a reservation to give us an idea of what the boat was like. A day before we arrived he again got in touch with us to see if there was anything we wanted the boat stocked with (food, drinks, etc.). When we arrived he not only showed us the things we needed to know about the boat, but also shared some of his story about how he's worked so hard to renevate it, the hard work definitely showed, the boat looked incredible. Brad even went as far as offering to reserve us a hotel room across the street in case the weather got bad and we didn't want to stay on the boat. The combination of how nice the boat was and Brad's hospitality will definitely have us coming back.
Ben
2016-01-31T00:00:00Z
We absolutely loved our stay on the house boat!! Brad did such an awesome job refurbishing it. We had 6 guests and it was definitely snug, but the air mattress and beds were all very comfortable. Brad communicated with us well and went out of his way to make sure we had everything we needed!! The only negative thing I would say is that we couldn't figure out how to make the hot water work in the shower and you do have to drive to get to the good beaches. I have already recommended this houseboat to several friends!
Ellye
2016-04-04T00:00:00Z
A beautiful location and a very responsive host!
Chad
2017-03-05T00:00:00Z
We just got back from living in this wonderful boathouse. It was an unforgettable experience with four little children. It was nice, big space for all 6 of us. We enjoyed the New Years fireworks from the boat. Our kids enjoyed the deck and roof sitting area. They also enjoyed watching TV on the boat while rocking on a boat. Brad was quick to response to our questions and was such a great help in terms of things to do around the area with a family as big as ours. We love this place and would totally recommend it to anyone. The price was right for the season. It was close to restaurants and beaches. It was a wonderful way to ring in the new year! Totally awesome experience.
Vee
2017-01-02T00:00:00Z
What a unique experience staying on the houseboat! Very, very close to top restaurants, I walked to dinner every evening! Right on the water to watch the sunsets and action around the harbor.
Leslie
2016-06-21T00:00:00Z
Room Type
Entire home/apt
---
Property Type
Boat
---
Accommodates
6
---
Bedrooms
Destin, FL, United States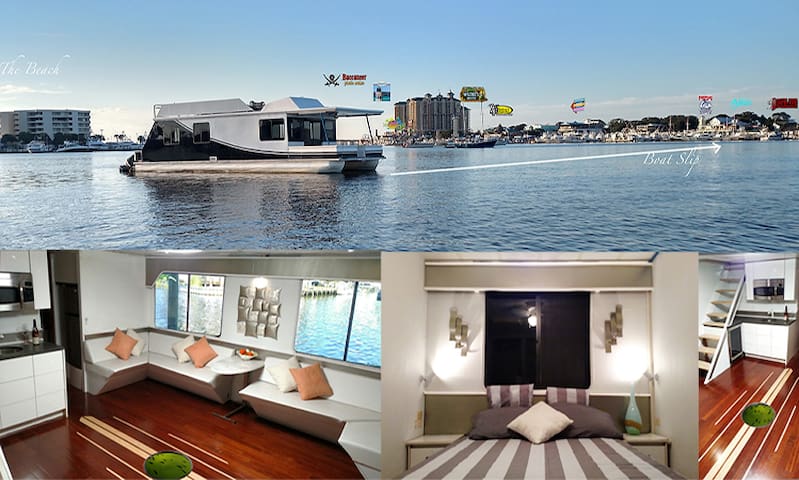 Enter dates to see full pricing. Additional fees apply. Taxes may be added.